March 23, 2020
Orlando, Florida (WWE Performance Center)
Commentary: Tom Phillips and Byron Saxton
Results by: Mike Tedesco of Wrestleview.com
---
Quick Match Results
Andrade & Angel Garza defeated Ricochet & Cedric Alexander via elbow strike by Andrade on Alexander
The Street Profits defeated Shane Thorne & Brendan Vink via frog splash by Ford on Thorne
Aleister Black defeated Leon Ruff via Black Mass
---
In-Ring: Brock Lesnar, Paul Heyman
WWE Champion Brock Lesnar and Paul Heyman are in the ring. The hard camera is pointing at the stage. These are uncertain times, but we have certainty in Lesnar. Drew McIntyre can do anything that he wants to. He can train his ass off, he can go to the gym, and spar with Mixed Martial Artists, but McIntyre cannot beat Brock Lesnar at WrestleMania. Not this most unique, most extraordinary WrestleMania. A WrestleMania too big for just one night. McIntyre can get down on his hands and knees, but God's prayer line will only give him a busy signal. The next time that McIntyre prays for WrestleMania, Lesnar will answer the prayer by making it quick and painless. After what happened at the Royal Rumble and Brooklyn, New York, Lesnar will make it quick but not painless.
Because of what McIntyre accomplished by eliminating Lesnar and winning the Royal Rumble, McIntyre then put Lesnar down on his back three times in Brooklyn. Heyman assures everyone that when WrestleMania is over, McIntyre will be just another bitch wannabe that tried. The greatest champion to ever stand in a WWE ring is the reigning, defending, undisputed WWE Heavyweight Champion of the World: then, now, and forever, Brock Lesnar.
---
From Royal Rumble 2015:
WWE World Heavyweight Championship Match: Brock Lesnar (c) vs. John Cena vs. Seth Rollins
It's an all-time CLASSIC for the #WWEChampionship between @BrockLesnar, @JohnCena and @WWERollins at #RoyalRumble 2015!#RAW pic.twitter.com/3P39euVoy1

— WWE (@WWE) March 24, 2020
They show the classic triple threat match from Royal Rumble 2015 with Brock Lesnar, John Cena, and Seth Rollins. They also showed this match in full on the Raw that was snowed out the night after that Royal Rumble. Lesnar won via an F5 on Rollins.
---
On-Stage: AJ Styles
AJ Styles comes out to the stage with Luke Gallows and Karl Anderson. Styles says WrestleMania is too big for one night. As of last week, it is official that the Phenomenal One and the Phenom will go at it at WrestleMania. Styles doesn't care what night it's on. It could be Saturday or Sunday. Undertaker might care because he's not sure when Michelle McCool lets him out of the house.
Undertaker has lost control of everything. Last week when he came out, he was wearing stretch pants like when you're pregnant. They were maternity pants. It was like a gothic version of The Tiger King. Speaking of tigers, did you see on Undertaker's Twitter account a video of him in the pool with a tiger and his wife.
Video: Undertaker and Michelle McCool make a pitch to save the tiger.
Styles cannot believe this is real. Who is this man? Has he lost complete control of himself? Ever since he lost his match to Brock Lesnar and ended the Streak, he hasn't been the same. Styles wanted to take his soul, but Michelle McCool beat him to it. His mystique is gone. Styles wishes he could say this was the first time it has happened, but he's been doing this for a while. Where has the Undertaker gone? Styles does not want the Mark Calaway posting selfies on Twitter. Styles wants the Undertaker from yesteryear, but he's nowhere to be found. Styles says he'll give the WWE Universe what they want. He'll give the WWE Universe what they want to see.
Styles will bring back the Deadman in a match that he would love to be in: a Boneyard Match. When this is over, he's picked out the perfect plot for Undertaker. Ironically enough, it's the same plot Michelle McCool picked out when she buried his career.
---
Backstage: Andrade, Angel Garza, Zelina Vega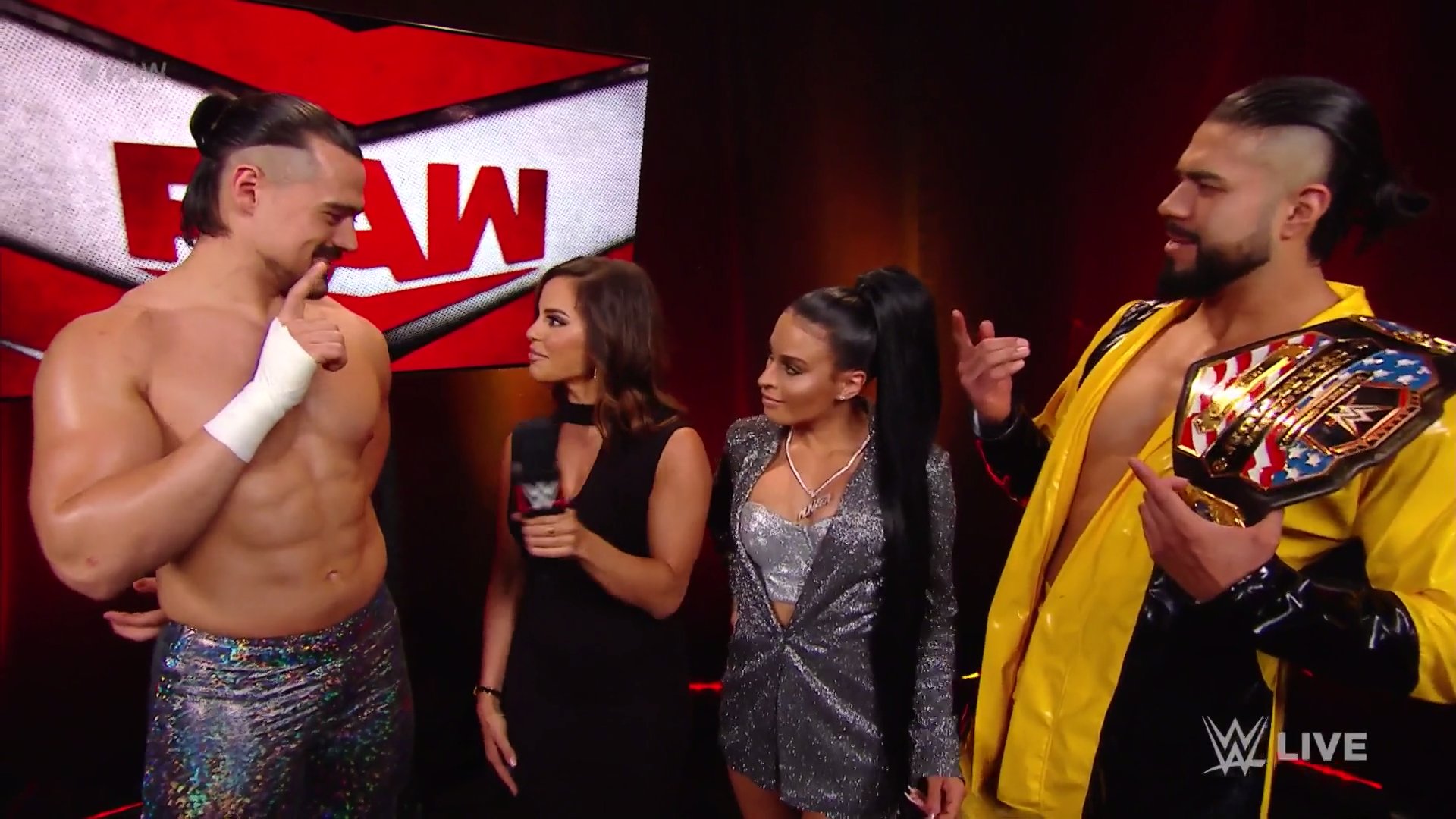 The Street Profits will defend the Raw Tag Team Championship against United States Champion Andrade and Angel Garza.
Charly Caruso is backstage with Andrade, Angel Garza, and Zelina Vega. Vega makes fun of Charly. Tonight, Andrade and Garza will prove that they're the most charismatic team in WWE. Andrade will be the most decorated in champion in WWE after WrestleMania. The Street Profits won't be dancing with the Tag Team Titles much longer. Andrade says they want the titles. Garza says they're men that know what they want. They walk off, but Garza walks back and winks at Charly.
---
Andrade & Angel Garza vs. Ricochet & Cedric Alexander
Before Cedric Alexander makes his entrance, Andrade and Garza try to blindside him. Ricochet wipes them out with a springboard cross-body block.
Ricochet starts the match against Andrade. Ricochet blocks a kick and chops him. Andrade chops back and takes him down. Ricochet takes him down with a head-scissor takeover and dropkicks him for a two count. Angel Garza tags in, but it's not official since he wasn't holding the tag rope. Ricochet punches Andrade to the corner. Garza unties the tag rope and goes to another corner. The referee admonishes him again. Andrade makes a comeback on Ricochet and chops him off the top rope. Garza then sends Ricochet into the LED apron. Alexander chases him away.
Raw Tag Team Champions The Street Profits walk out to join commentary to watch their WrestleMania opponents.
We come back from the break to see Andrade working on Ricochet's arm. Garza tags in. They send Ricochet into the ropes and hit a double-team flapjack/kick to the ribs combo for a two count. Garza rips off his pants and hits Ricochet with double knees. Garza applies a side headlock and tags Andrade in. Andrade punches and boots Ricochet down. Ricochet comes back with a superkick on Andrade. Garza tags in, and Ricochet rolls him up for a two count. Garza dropkicks Ricochet to the corner and knees him. Ricochet fights out of the corner, but Garza kicks him down before tagging Andrade back in. Andrade hits the ropes and does a sunset flip. Andrade then lifts Ricochet up for Garza to dropkick him. Andrade covers for a two count. Ricochet soon comes back with a super hurricanrana on Andrade.
Alexander tags in and takes Garza down a few times before striking away at him. Alexander takes him down and dropkicks him in the head. Alexander boots him back and hits a slingshot flatliner for a near fall. Garza fights back, but Alexander and Ricochet hit an inverted atomic drop/dropkick combo. Ricochet hits a standing shooting star press for a near fall. Andrade chops them back, but they sandwich him with stereo superkicks. Garza goes for a superkick, but Alexander falls way before he even touches him. Garza takes Ricochet down and comes off the second rope, but Ricochet dropkicks him out of mid-air.
We come back from thee break to see Alexander fight Andrade back and hit a big kick for a near fall. Andrade soon hits him with a drop-toe-hold into the corner. Andrade crushes Alexander with double knees in the corner for a near fall. Garza tags in and knees Alexander before hitting a sloppy slingshot inverted suplex for a near fall. Garza clubs away at Alexander and tags Andrade in. Andrade and Garza hit a double-team slam on Alexander, but Ricochet breaks it up. Andrade is knocked out of the ring, and Garza knocks Ricochet out of the ring. Garza knees Alexander in the face for a near fall.
Garza hits a moonsault on Alexander for a near fall. Andrade tags in, and they go for a double-team suplex, but Ricochet breaks it up. Ricochet knocks Garza out of the ring and hits a twisting moonsault plancha on Garza. Alexander then hits a Michinoku Driver on Andrade for a near fall. Alexander pulls on Andrade's tights and his rear end is partly exposed. Andrade clubs Alexander, but Alexander beats him down. Andrade rolls Alexander up before wiping him out with a vicious elbow strike for the win. The referee actually stopped counting, but Alexander didn't kick out.
Winners by Pinfall: Andrade and Angel Garza
The Street Profits make their way down to the ring to "congratulate" them. Andrade and Garza brawl with them, but the Street Profits knock them out of the ring. The Street Profits are in action, next.
---
The Street Profits vs. Shane Thorne & Brendan Vink
Angelo Dawkins takes Shane Thorne down. Thorne sends him into the ropes, but Dawkins shoulder blocks him down. Montez Ford tags in and dropkicks Thorne down. Ford chops Thorne's chest and talks trash. Ford chops him again and mocks Thorne's reaction to the pain. Thorne boots him back and sidesteps an avalanche. Brendan Vink tags in and big boots Ford down. Vink punches Ford and stomps him down in the corner. Vink chops Ford's chest and mocks him. Vink scoop slams Ford and picks up a two count. Vink applies a front facelock. Thorne tags in and crushes Ford with a wild cannonball in the corner for a near fall. Thorne stomps Ford a few times and applies a neck vice. Ford gets out with a jawbreaker. Vink tags in and grabs Ford. Ford flips up and kicks Vink in the head.
Dawkins and Thorne tag in. Dawkins turns Thorne inside out with a shoulder block before hitting Vink with an exploder suplex. Dawkins hits Thorne with a flapjack. Dawkins avalanches both men in the corner before giving Thorne a spinebuster. Ford tags in and hits a big frog splash for the win.
Winners by Pinfall: The Street Profits
---
Video: R-Truth, Riddick Moss
Footage is shown of R-Truth beating Riddick Moss for the WWE 24/7 Championship over the weekend.
---
In-Ring: Shayna Baszler, Becky Lynch
Charly Caruso is shown having a sit-down interview with Shayna Baszler in the ring. Baszler won't answer any of her questions. Baszler says Charly looks afraid of her. Is Charly afraid she'll bite? Baszler says Becky Lynch will lose at WrestleMania. She wants the Raw Women's Title so she can continue to destroy. All of a sudden, Becky Lynch hits Baszler from behind with a chair. Lynch hits her again and walks off pleased.
---
Aleister Black vs. Leon Ruff
The bell rings, and Black looks totally calm while Ruff looks terrified. There is complete silence as Black walks to the middle of the ring and sits down. Ruff tells him to get up, but Black doesn't respond. Black avoids a kick, blocks a second attempt, and Black hits him with Black Mass for the win.
Winner by Pinfall: Aleister Black
---
In-Ring: Kevin Owens, Seth Rollins
Kevin Owens is in the ring. Last week, he answered Seth Rollins' challenge, but Rollins wasn't here. Owens wants to hear from him tonight.
Seth Rollins walks out to the stage. Rollins had a few questions for Owens regarding his comments. This place is pretty nice, but does Owens honestly believe that fighting him in this building gives him the home field advantage. Rollins didn't train here, but Owens did. Owens earned his job in WWE in this building… but does Owens understand how he even got the opportunity to do all those things? Rollins didn't train in this building because it didn't exist when he got to WWE. This building was built on his blood, sweat, tears, sacrifices, and successes. Rollins' first day in WWE was him walking into a dilapidated warehouse and told all his past accomplishments meant nothing. Rollins had to come back and suffer, persevere, and succeed not just for him. Rollins gave up his life's accomplishments for people like Owens to get the opportunity to train in a beautiful building like this. Owens is standing in his way of progress. Owens refuses to fall in line. None of this exists without Seth Rollins. NXT doesn't exist without him, the Performance Center doesn't exist without him. There is no Gargano, Ciampa, Undisputed ERA, Women's Revolution without him. Most importantly without him, there is no Kevin Owens.
Owens says he's not going to listen to this delusional speech. Rollins asks Owens to let him finish. Rollins needs to know why Owens picked WrestleMania of all places to make an example out of him. Does Owens know Rollins' track record at WrestleMania? He won the Intercontinental Championship, Universal Championship, beat Brock Lesnar, Triple H, cashed in Money in the Bank… he has more WrestleMania moments than he can count. Owens has zero WrestleMania moments. Owens' WrestleMania track record reads like this: failure after failure after failure. What about last year? That's right… Owens wasn't even good enough to be on WrestleMania. Rollins says Owens can't beat him on his worst day. WrestleMania is never his worst day. Under pressure, he becomes a god. Rollins says Owens doesn't stand a chance and walks off.
---
From WrestleMania 34:
SmackDown Women's Championship Match: Charlotte Flair (c) vs. Asuka
Truly a HISTORIC battle between @MsCharlotteWWE & @WWEAsuka at #WrestleMania!#RAW pic.twitter.com/YafCVyGAx7

— WWE (@WWE) March 24, 2020
Time to replay another classic match. Charlotte Flair vs. Asuka at WrestleMania 34 in New Orleans.
Charlotte won via Figure Eight, ending Asuka's undefeated streak.
Backstage: Charlotte Flair
Charly Caruso asks Charlotte Flair what it was like to relive that match. Flair says it was inspiring. For Rhea Ripley, it must have been terrifying. Flair beat Asuka's undefeated streak, she retired the Divas Championship, and was one of the first women to main event WrestleMania. Ripley should watch her legacy matches. Woo!
---
On-Stage: Randy Orton
Randy Orton comes out to the stage. Over the last few months, he's done and said things that have been misunderstood. It all came from a place of love, but it's been seen and taken as an act of brutality and violence. Orton is talking to Edge. He is here to respond to his challenge from last week, but he wants to get something off his chest. Orton needs to apologize. Three weeks ago, he lied to Beth Phoenix when he said that Edge is a junkie for the roar of the crowd. Edge isn't that. Edge is a junkie for his own ego. Adam Copeland is a junkie for Edge.
Edge did say something last week that rang true. Orton never had to pay his dues for his opportunity. Orton was handed an opportunity because of what his last name is. Just because he was handed an opportunity, that doesn't guarantee a Hall of Fame career. One year after he was called up to the main roster, he won the Intercontinental Champion. A year after that, he became the youngest World Heavyweight Champion in history.
Edge thinks Mick Foley passed the torch to them. Foley didn't pass him anything. Foley slammed him in thumbtacks, so he beat him, spat in his face, and took the torch. Orton went from a third-generation prospect to the three most deadly letters in sports-entertainment. Edge says Orton doesn't have grit, but that's wrong. Grit isn't sitting on the couch for nine years asking "what if." Grit to Orton is longevity in an industry that seldom has any. Grit is being the one constant in the locker room. Orton looks around and doesn't see anyone that has accomplished near what he has accomplished. Nobody has as much grit as him, including Edge. Edge calls him an entitled brat, but isn't Edge the ultimate opportunist? Edge wouldn't have done the same thing if Triple H offered him to join Evolution? Everything he said the last few months, he's done it because he loves Edge, his family, and daughters. That's why he sent their father back home.
Edge challenged him to a Last Man Standing match at WrestleMania last week. Orton says, "Edge, you may be writing the story, but at WrestleMania I'm going to write the last chapter and end it. I accept." Orton's music plays as the show comes to an end.