April 24, 2020
Orlando, Florida (WWE Performance Center)
Commentary: Michael Cole and Corey Graves
Results by: Roy Nemer of Wrestleview.com
---
Quick Match Results
Money in the Bank Qualifying Match: Baron Corbin defeated Drew Gulak via End of Days
Sheamus defeated Daniel Vidot via Brogue Kick
Lucha House Party (Gran Metalik & Lince Dorado) defeated The Miz & John Morrison via rollup by Metalik on Miz
Money in the Bank Qualifying Match: Lacey Evans defeated Sasha Banks via the Woman's Right
WWE Women's Tag Team Championship: Alexa Bliss & Nikki Cross (c) defeated Carmella & Dana Brooke via modified 3D on Carmella
---
WWE SmackDown kicks off with a small video hyping up the Triple H 25th Anniversary special tonight.
---
In-Ring: The New Day, Lucha House Party, Miz & Morrison, The Forgotten Sons
Live in the WWE Performance Center, it's the new WWE SmackDown Tag Team champions as The New Day come down to the ring. Kofi says last week they became the WWE SmackDown Tag Team champions for the 8th time. Kofi says they have to put respect on Big E's name for winning it. Big E says there's no one there to clap but speaking of 8 times, there is nothing like having their girls back wrapped around their waist.
Kofi says hold on. Let's not get into those details but what he does want to get into is the historical significance that they accomplished. They have more tag team reigns than The Hart Foundation, The British Bulldogs, The New Age Outlaws, Demolition, Edge and Christian and they are proud to have their names etched next to the greatest names. That's more championships than Tom Brady, it's a new day in Tampa.
Out come The Lucha House Party. They congratulate The New Day on winning the titles. But sitting in the back watching team after team getting opportunity and not them.
But they challenge The New Day and as they are talking, out come Miz and Morrison. They walk right through The Lucha House Party and into the ring. Miz says they come out acting like they are legitimate champions. Big E says he beat him in a singles match for the tag team championships. Morrison says they've kept getting the short end of it all. Elimination Chamber, Singles Tag Team ladder match. John Morrison says they have never beaten them in a traditional tag team match. Miz says they don't deserve the titles, they elevate the titles and tag team division. Miz says they want their titles back, right here, right now. In come the Lucha House Party speaking in Spanish and tell them to shut up and here they are, they deserve a chance for the tag team titles. Morrison falsely translates what he said to Miz saying they said they respect them. Kofi says that's not what they said and he won't repeat what they said.
Out come The Forgotten Sons. All four teams in the ring as Miz asks who they are. They introduce themselves and say they served their country. And they have been tossed to the side since they came back. They will now who they are because they are the ones who will reign over the SmackDown tag team division. And it will be forgotten no more. Miz says there's a thing called respect. He has been there for 15 years. They call him a poser. They say he played a Marine in a movie but he's a real life marine. The Forgotten Sons say they can attack anywhere, any time and they wouldn't see it coming as they all fight. Lucha House Party are taken out as Miz and Morrison leave. The Forgotten Sons beat up on The New Day. The Forgotten Sons stand tall.
---
We see a clip from 1995 involving Triple H.
---
Backstage: The Miz & John Morrison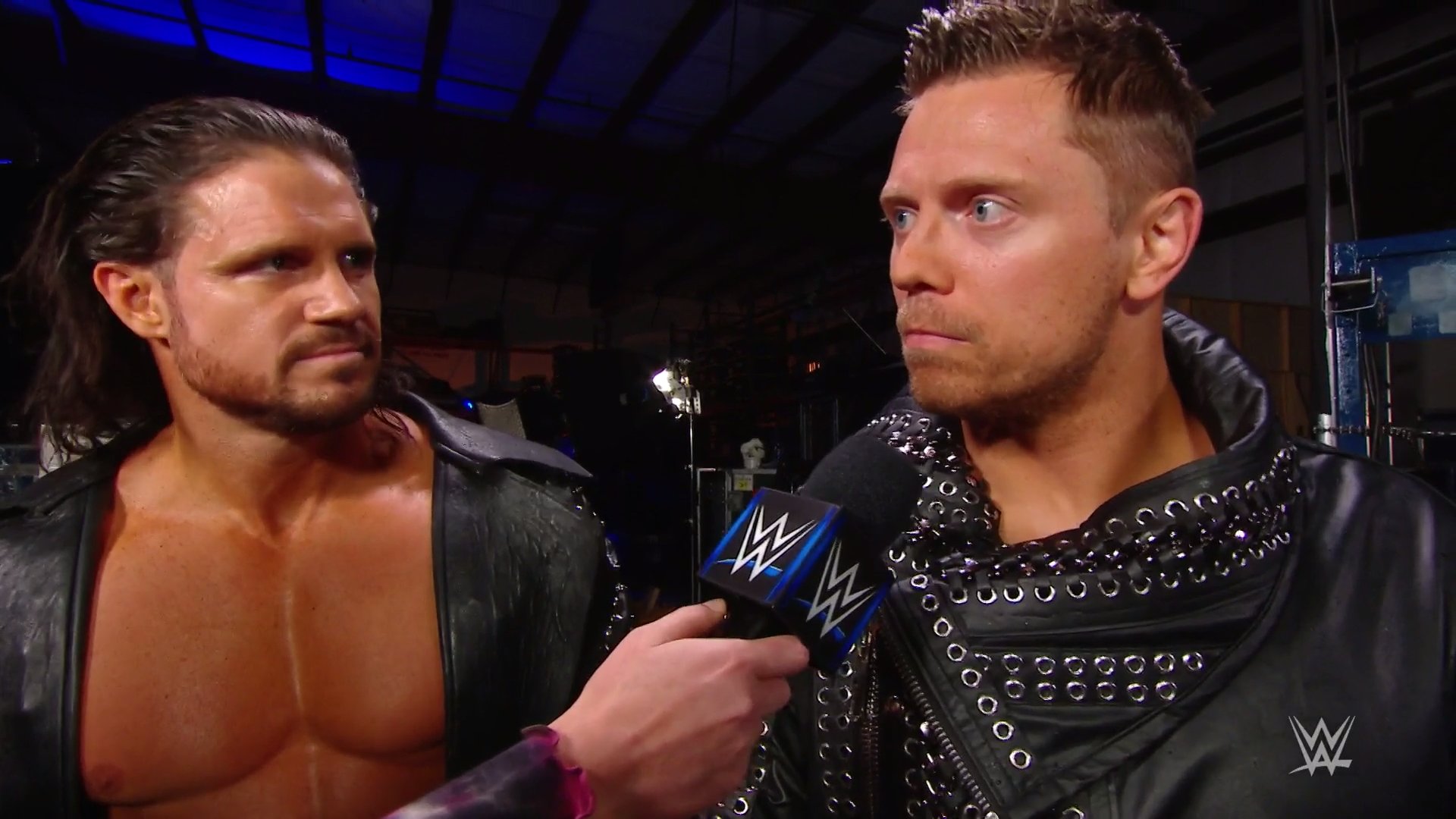 The Miz and John Morrison are backstage and in comes Renee Young. They tell her that they will get a match and make it right against The Lucha House Party tonight.
---
Money in the Bank Qualifying Match
Drew Gulak vs. Baron Corbin
The bell rings and we are under way. Corbin throws Gulak to the outside as Gulak lands on his feet. Corbin talks to Daniel and tells him Gulak doesn't belong in the ring with the big boys. Gulak gets back in the ring as both men lock up. Corbin with a right hand and another. Gulak goes for Corbin's leg and lands a drop kick onto it as Corbin is knocked down to the outside. Gulak with a baseball slide ass he goes to the outside.
Back from commercial, Corbin with a clothesline takes Gulak down. He goes for the cover but Gulak kicks out. Corbin tells Bryan that Gulak has no chance as he hits Gulak with a right hand. Gulak fights back with a right hand and goes for the cover but Corbin kicks out. Corbin first to his feet as he picks Gulak up and drops him. He goes for the cover but Gulak kicks out.
Corbin stomps on Gulak in the corner. Corbin goes for another kick but Gulak catches Corbin's leg and a drop kick by Gulak takes Corbin into the corner. A cross body by Gulak as he geos for the cover but Corbin kicks out and rolls to the outside. Gulak goes to the outside. Corbin goes for a kick but Gulak catches him and a dragon screw throws Corbin into the ring steps.
Gulak throws Corbin back into the ring. A cross body off the top rope by Gulak. He goes for the cover but Corbin kicks out. On the outside, Nakamura and Cesaro beat up on Bryan. Gulak goes to the outside and takes out Cesaro as Corbin pushes Gulak into the ring. Corbin throws Gulak back into the ring and hits him with the End of Days. He goes for the cover and gets the pin.
Winner: Baron Corbin
---
Michael Cole and Corey Graves mention Rob Gronkowski's return to the NFL.
---
Sheamus vs. Daniel Vidot
The bell rings and we are under way. Daniel with forearms but Sheamus catches him and throws him in the corner. Sheamus with right hands followed by a back elbow. A knee to the head by Sheamus. Vidot gets up and the Brogue Kick by Sheamus. He goes for the cover and gets the pin.
Winner: Sheamus
---
Video: Jeff Hardy
Michael Cole and Corey Graves talk about Jeff Hardy and this week it's Jeff Hardy Chapter 3: The Redemption.
---
We see a clip from April 1998 when DX invaded WCW.
---
The Miz & John Morrison vs. Lucha House Party (Gran Metalik & Lince Dorado)
The bell rings and it's Miz and Dorado in the ring. Dorado with kicks followed by a chop to the chest. Dorado jumps off the second rope but Miz knocks him down with a kick. A chop to the chest by Miz as he and Morrison double team Dorado. Morrison is tagged in.
Morrison goes for the cover but Dorado kicks out. Morrison kicks Dorado around the ring. Morrison lifts Dorado up but Dorado with an arm drag. He tags Metalik into the ring as they double team Morrison. Metalik goes for the cover but Morrison kicks out. Morrison back up as he pushes Metalik to the outside and Dorado is tagged in. Dorado gets in the ring and Morrison knocks him down and hits him with a knee to the face. Miz is tagged in as they double team Dorado.
Miz with a left hand as Morrison is tagged back in. They double team Dorado as Morrison lands a standing shooting star. He goes for the cover but Dorado kicks out. Both men back up as Dorado hits him with a right hand but a single leg take down by Morrison. He sends Dorado to the ropes as Dorado hits him with a springboard stunner. Morrison tags Miz into the ring as is Metalik. Chops by Metalik as he lands a bulldog on Miz. Metalik climbs the top rope and goes for a moonsault but Miz gets his feet up. Miz goes for the Skull Crushing Finale as Metalik reverses it into a cover and gets the pin.
Winners: Lucha House Party
John Morrison and Miz are in disbelief in the ring.
---
Money in the Bank Qualifying Match
Sasha Banks vs. Lacey Evans
Sasha Banks walks down to the ring with a picture of Lacey's daughter. The bell rings as Evans goes after Bayley but Sasha attacks her from behind. The fight goes to the outside as Evans throws Sasha into the barricade. Evans grabs Bayley but Sasha throws Evans into the ring post as she lands right hand first.
Banks throws Evans back into the ring. She goes for the cover but Evans kicks out. Sasha keeps attacking Lacey's right hand. Sasha throws Evans into the corner and works on her arm. Evans kicks her away and lands a drop kick. A running knee to the face takes Sasha down. Lacey tries to jump using the ropes but her arm is hurt as Sasha takes advantage of it. Sasha with the double knees off the top rope. She goes for the cover but Evans kicks out.
Sasha working on Lacey's right hand but Lacey trips Sasha up as Sasha lands face first onto the turnbuckle. Evans goes to the outside and slams Sasha's face into the ring post as the referee breaks it up. Sasha on the ring apron as Lacey is back in the ring. Both women on the second rope as Lacey goes for a suplex but Sasha blocks it. Sasha on the top rope stands on Lacey's right arm. Sasha slides into the ring and works on Lacey's right arm. She picks Evans up and a powerbomb. She goes for the cover but Evans kicks out as Sasha reverses it into the Banks Statement. Evans gets out of it.
Evans with a backslide but Sasha kicks out. Both women back up and Sasha with a kick to Lacey's right hand. Sasha runs to the ropes as Evans hits her with the Women's Rights. She goes for the cover but Bayley puts Sasha's right leg on the ropes. Evans goes after Bayley as Sasha rolls Evans up for the cover but the referee is distracted by Bayley. Sasha looks at Bayley and tells her to stay out of it. Sasha turns around and Lacey hits her with the Woman's Right. She goes for the cover and gets the pin.
Winner: Lacey Evans
As Banks and Bayley are leaving, Tamina's music hits. She comes out and hits Bayley with the superkick as she stares at Sasha Banks and heads to the back.
---
Video: Braun Strowman, Bray Wyatt
They air a video package showing the history between Braun Strowman and Bray Wyatt.
---
Backstage: Carmella, Dana Brooke
UP NEXT: @CarmellaWWE and @DanaBrookeWWE look to become @WWE #WomensTagChampions when they challenge @AlexaBliss_WWE & @NikkiCrossWWE on #SmackDown! pic.twitter.com/fjUb08UHTn

— WWE (@WWE) April 25, 2020
Carmella is backstage warming up and in comes Dana Brooke. She tells Carmella she has a Money in the Bank qualifying match next week and she should be focusing on their match. Carmella says they will focus on tonight and they can do this.
---
We see a clip of Triple H from 2001 when he tore his quad and his 2002 return to Raw.
---
WWE Women's Tag Team Championship
Alexa Bliss & Nikki Cross (c) vs. Carmella & Dana Brooke
The bell rings and we are under way. Brooke with a drop kick on Cross takes her to the outside. Carmella with a cross body on Alexa who was checking on Cross on the outside. Nikki throws Carmella into the barricade as Brooke takes out Cross.
Back from commercial, Carmella with a clothesline in the ring takes Alexa down. Carmella with the bronco buster followed by a kick. She goes for the cover but Nikki breaks it up. On the outside Brooke takes Nikki out. Alexa with a baseball slide takes Brooke out.
Carmella goes for the cover but Alexa kicks out. A right hand by Bliss followed by a snap mare. Bliss climbs the second rope but Carmella takes Alexa down as Nikki is tagged in. Carmella goes for the cover on Alexa but Nikki is legal. Nikki takes Carmella down as she tags Alexa. Nikki and Alexa with a modified 3D on Carmella. Alexa Bliss goes for the cover and gets the pin.
Winners: Still WWE Women's tag team champions, Alexa Bliss and Nikki Cross
---
In-Ring: Triple H, Shawn Michaels, Vince McMahon
Triple H's music hits as he comes down to the ring. He jokes about how there's no water bottle for him and he gets in the ring.
As he's about to talk, Shawn's music hits and out comes Shawn Michaels to the ring. Michaels says 25 years of the game. And if you're not down with that, Triple H moves on but Michaels tells him social distancing. Triple H says those are the two words? Michaels says he sent out hundreds of invitations to his closest friends and everyone who cares about him. Michaels says they are all here for him. Shawn says it doesn't look good now as they point to Cole and Corey. Michaels says they are required to be here for the show as Michaels calls Triple H a draw. Michaels says they have been friends for the entire 25 years and before they celebrate, he wants to take a moment to thank him for his 25 year anniversary show on SmackDown. Michaels says that was a good show. Triple H says it was a wild night. Michaels asks what his favorite moment was? Triple H says so many, Michaels says if he had to pick just one from the Shawn Michaels 25 year show, what would it be. Michaels says he can't pick because he never had one! Triple H says he didn't have one? He was supposed to. Triple H says when he gets to the office, heads will roll.
Triple H says it does make him want to thank many people because he worked with incredible athletes. The Rock, Austin, The Undertaker, Batista, Foley, Orton, Michaels. It was incredible and without them, his career would be nothing. Michaels says they probably feel the same as he does to have been able to share the ring with him.
Michaels says it was because of all of those moments that his career began to take off. And there was a thing where he met her, that girl. Stephanie No Fun. Triple H's phone rings as he puts Stephanie on speaker. She says she is watching his celebration and it's incredible. And after that Shawn starts talking about Steph No Fun? Triple H tries to cover up as Steph says she sees Michaels making fun of her and to tell that no good lazy eye as Triple H hangs up. He tells Michaels that Steph says hi as Michaels says he has a lot of wacky people in his life.
Shawn mentions Ric Flair and Evolution, calling it a special moment. Triple H's phone rings and it's Ric Flair. Triple H answers as Flair congratulates him and tells Triple H not to let Shawn superkick him at the end. Ric hangs up.
Road Dogg calls Triple H as Road Dogg says he would have shaved his beard. Triple H hangs up. Michaels says they have to end it as Triple H says he spoke to Fox and they have to wrap it up. Michaels says they haven't even gotten to the Katie Vick segment.
Vince McMahon's music hits and he comes out. Michaels tells Vince he will back off and let them share the moment of 25 years together. Vince congratulates Triple H calling him Paul. Vince says under normal circumstances he would give him a bear hug but there are people standing all over the world in appreciation of this. McMahon said we've heard the Triple H chants many times and the first row would be Hunter's family while the rest of us would chant boring.
Vince says what about the Gobbledy Gooker. They needed a mascot and promoted an egg and it hatches at Survivor Series where The Undertaker made his debut. And there was no reaction when the egg hatched. He's not saying Triple H's moment was more of a Katie Vick thing. Vince talks about the Katie Vick incident and he tells Triple H he doesn't know why he went that low and it was in poor taste. He likened his performance to Bayley, this is your life. Vince says Triple H he loves him as Triple H tells him he loves him.
McMahon says tonight, his performance and himself in general is truly God awful. What a horrible way to go out. It really sucked, it was rotten. He's ashamed of them both. McMahon says good night and let's wrap it up as he leaves. Triple H asks if he's throwing them out as the lights at the Performance Center start going down. We hear crickets as the lights go off.