June 10, 2020
Winter Park, Florida (Full Sail University)
Commentary: Mauro Ranallo, Tom Phillips, and Beth Phoenix
Results by: Mike Tedesco of Wrestleview.com
---
Quick Match Results
Mixed Tag Team Match: Johnny Gargano & Candice LeRae defeated Keith Lee & Mia Yim via roll up by Gargano on Lee
Indus Sher defeated Mikey DelBrey & Mike Reed via sidewalk slam / flying elbow drop double team
Finn Bálor defeated Cameron Grimes via 1916 DDT
Dakota Kai defeated Kacy Catanzaro via GTK
Adam Cole defeated Dexter Lumis via the Last Shot
---
In-Ring: Undisputed Era
NXT Champion Adam Cole makes his way to the ring with Roderick Strong and Bobby Fish. Strong and Fish look on edge after being taken by Dexter Lumis on Sunday.
Cole says the era of Adam Cole as NXT Champion will continue. No one in their right mind thought the Velveteen Dream would beat him for the title. That's not a knock on him. On Sunday, he proved he's one of the very best NXT has to offer. The problem is he isn't Adam Cole, bay-bay. Nobody is Adam Cole. Now that he beat Velveteen Dream, he can't challenge for the NXT Championship as long as the title is around his waist. That begs the question: what's next for Adam Cole and the NXT Championship? It doesn't matter. He has run roughshod over this brand as the most dominant champion in this brand's history. Nobody has held the NXT Title the way he has. Nobody in NXT or WWE will be able to beat him for this championship.
Now that Dream is in the rearview mirror, he wants to shift focus to Dexter Lumis. Lumis is crazy, psychotic, and a freak that always gets in their business. Cole doesn't know if he's obsessed with him or the title, but what he did to Roddy and Bobby at TakeOver: In Your House was despicable. Fish says that creep is obsessed with them and put them in a trunk. Strong says he hates being stuffed in trunks. Fish says Lumis is scared of them. Strong freaks out when he thinks he sees Lumis in the crowd. Cole tells him to calm down. Cole calls out Lumis. Lumis is shown in the crowd, freaking Strong out again. When they turn to look, Lumis is gone. Cole says he has his best friends' backs. Bobby Fish and Roderick Strong are the greatest men he's ever known. Cole says he's not 100%, but that's a day in the life of the greatest NXT Champion of all time. Later tonight, he'll fight Lumis and beat him. Not only will be beat him, he'll send him back to the drawing board where he belongs. That's undisputed.
As they walk off, Lumis is shown again. Strong sees him and scurries away.
Backstage: Undisputed Era, Keith Lee
After commercials, Adam Cole and Bobby Fish are trying to calm Roderick Strong down backstage. NXT North American Champion Keith Lee and Mia Yim walk up. Lee says people have been wondering what's next for him, but he has an idea. Lee appears to be challenging Cole. Cole, Fish, and Strong walk off. Cole shouts, "In your dreams, big man!" Lee says, "Soon enough."
---
Mixed Tag Team Match
Keith Lee & Mia Yim vs. Johnny Gargano & Candice LeRae
The two teams face off in the ring and talk some trash. Yim gets in Gargano's face, while LeRae gets in Lee's. Lee easily picks up LeRae and gently places her near her corner.
Gargano attacks Lee from behind. Yim and LeRae brawl as well. Gargano and LeRae boot them back and go for diving hurricanranas, but Lee and Yim both lift them up. Gargano and LeRae try to grab at each other, but Lee and Yim pull them off. Lee and Yim drive Gargano and LeRae into each other before clotheslining them down.
The bell finally sounds, and it's LeRae starting against Yim. Yim takes her down and punches her. Yim sends her into the ropes, but Gargano pulls his wife out of the ring. Lee grabs them both by the back of the neck. Yim goes for a suicide dive, but the Garganos move. Lee catches Yim, and she smiles. Lee presses Gargano up, while Yim scoops up LeRae. They simultaneously plant them face-first on the apron.
We come back from the break to see LeRae applying a straitjacket to Yim. During the break, Gargano distracted Yim, allowing LeRae to get the advantage. Yim fights up, but LeRae takes her down. LeRae chops the chest and punches her. LeRae knocks her to the corner and taunts Lee. LeRae charges, but Yim moves. Yim quickly grounds her with Sole Food.
Lee tags in, which means Gargano has to come in. Lee shoulder blocks Gargano twice before avalanching him. Lee hits Grizzly Magnum, which hurts Lee's injured hand. Lee grabs Gargano and throws him hard across the ring. Lee scoops Gargano up, and Gargano tags LeRae in. LeRae comes in, and Lee lifts her up as well. LeRae rakes Lee's eyes and goes for a swinging DDT. Lee holds her up, so Gargano kicks Lee. LeRae then DDTs Lee!
Yim runs in and boots and dropkicks LeRae down. Yim chops away at her before hitting a dragon suplex, but Gargano breaks it up. Yim punches away at Gargano and goes for a suplex, but LeRae breaks it up. Yim hits LeRae with a German Suplex before hitting Gargano with a German Suplex! LeRae all of a sudden hits Yim with Sole Food before hitting a springboard moonsault for a near fall! LeRae cannot believe it.
Gargano tags back in, which means Lee is also legal. Gargano punches a stunned Lee on the apron before hitting the ropes, but Yim pulls the top rope down to get him out of the ring. Yim kicks away at LeRae. Gargano gets in the ring, but Lee takes him down with a Pounce. The Pounce sends Gargano into LeRae, who knocks Yim off the apron! Lee checks on Yim from the ring. Gargano stuns him with a superkick before hitting One Final Beat, but it lands Lee right on top of LeRae! Wow! Lee comes to and checks on LeRae before picking up her limp body. Gargano rolls Lee up while Lee is holding his wife, which sends her flying out of the ring! Gargano picks up the win!
Winners by Pinfall: Johnny Gargano and Candice LeRae
Gargano happily waves his unconscious wife's arm in victory.
---
Segment: Damian Priest
Footage is shown of Finn Bálor defeating Damian Priest at NXT TakeOver: In Your House.
Damian Priest was interviewed after the match. Priest says Bálor is really good and he got beat. No excuses. This wasn't about a win or a loss. It was about taking another step in his name living forever.
---
Backstage: Cameron Grimes, Damian Priest
Cameron Grimes is shown backstage. He says he already beat Finn Bálor once. Grimes says his full name is Cameron Confident Grimes. Grimes says he's looking great. He's not sure why William Regal booked this match since he can't get anything out of it other than going 2-0. There's no feat in his eyes. Damian Priest walks up to him. Grimes says he was just talking about how good Priest did at TakeOver. Priest lays him out with a vicious forearm.
---
Video: Io Shirai
Video Package: NXT Women's Champion Io Shirai says it doesn't matter how many opponents she faces, victory will fall from the sky.
---
Indus Sher vs. Mikey DelBrey & Mike Reed
It'll be Saurav starting off and he viciously big boots DelBrey down. Saurav knocks Reed off the apron and tags in Rinku. Rinku annihilates DelBrey with a pair of avalanches. Saurav tags back in, and Indus Sher hits a double-team sidewalk slam/flying elbow drop for the win.
Winners by Pinfall: Indus Sher
---
Backstage: William Regal, Cameron Grimes
We see a referee talking with NXT General Manager William Regal on FaceTime backstage. The referee says Cameron Grimes isn't able to compete tonight. Regal wants to talk to Grimes.
The referee and interviewer find Cameron Grimes talking with some female talents and not looking like he has a broken jaw. They show Regal on FaceTime, and he immediately grabs his jaw. Regal tells him to get prepared.
---
Video: Breezango
Video Package: Breezango highlight package
---
Segment: Tommaso Ciampa
Video Package: Karrion Kross dominates Tommaso Ciampa at NXT TakeOver: In Your House
Ciampa was interviewed after the match at TakeOver, but he isn't talking. Ciampa gets in his car and drives off.
---
Backstage: Rhea Ripley, Robert Stone
Rhea Ripley is being interviewed when Robert Stone walks up looking disheveled. Stone asks if she can feel this client-manager energy. This past Sunday, they were losers. In 2020, Ripley was a huge loser. Ripley is furious. Together they can be like a phoenix rising through the ashes. Stone will do everything for her. Together they'll make the Robert Stone Brand bigger than it ever has been. Ripley says the chances of her joining the Robert Stone Brand are 1 in a million. Stone says, "So you're saying there's a chance." Ripley tells him to follow her. She punches him and slams him into a garbage can.
---
Cameron Grimes vs. Finn Bálor
The bell rings, and Grimes quickly backs to the corner to keep Bálor back. Bálor corners him again, but the referee holds him back. The referee tells Grimes to get out of the corner. They lock up, and Grimes grabs a waistlock. Bálor quickly applies a hammerlock. Grimes hooks a side headlock, so Bálor backs him to the corner. Grimes quickly chops the chest and clubs him in the back. Grimes uppercuts him down and hits the ropes, but Bálor back elbows him. Bálor kicks away at Grimes. Grimes turns him in the corner and shoulders away at him. Grimes digs his shoulder into the midsection. Bálor hits a snapmare and kicks him in the back for a two count. Bálor applies a chin lock. Grimes fights up and chops the chest. Bálor chops back and sends him hard into the corner for another chop. Bálor chops him two more times, and Grimes goes down hard. Grimes hits a rough looking slam on Bálor that spikes him on his shoulder. Grimes then knees him in the midsection.
Grimes chops the chest and steps on the hand. Grimes taunts the crowd before having a whip reversed. Bálor rolls through a sunset flip and dropkicks him in the face. Grimes rolls out of the ring to recover, so Bálor follows him out and chops the chest. Bálor chops him again and sends him into the ring. Grimes quickly explodes out of the corner with a clothesline. Both men are down before Grimes crawls over for a two count. Grimes applies a chin lock, but Bálor fights up. Grimes quickly grounds him and cinches in the chin lock. Bálor tries to fight up, but Grimes slams him into the corner.
We come back from the break to see Bálor fight up from an arm bar. Grimes quickly kicks him down and shouts that he's one step ahead. Grimes says he's not scared of Bálor. Bálor boots him back and hits a flying forearm. Bálor takes him down and hits a double foot stomp. Bálor follows up with a Sling Blade and a Woo Dropkick into the corner. Bálor goes to the top rope for the Coup de Grace, but Grimes moves! Grimes hits an Oklahoma roll for a near fall. Grimes viciously kicks him down and goes for a slam, but Bálor counters into a 1916 attempt. Grimes counters into an inside cradle for a near fall. Bálor hits an elbow drop reverse DDT. Grimes quickly pops up and hits a slam for a near fall. Grimes looks wild.
Grimes sets up for a Cave In, but Bálor avoids it. Bálor hits a Reverse 1916 for a near fall. Bálor goes to the top rope and crushes him with a Coup de Grace. Bálor then lifts him up for a vicious 1916 for the win!
Winner by Pinfall: Finn Bálor
Bálor looks into the camera and says he's won a lot of titles, but not the North American Championship. He calls out Keith Lee.
---
Kacy Catanzaro vs. Dakota Kai
Kai steps up to her and shoves Catanzaro. Catanzaro shoves back, so they lock up. Kai powers her to the corner and pie faces her. Catanzaro goes to the apron, takes Kai down, and hits a slingshot senton. Kai quickly takes her down and goes for a kick, but Catanzaro avoids her and hits a hurricanrana on the floor. Catanzaro gets her in the ring and hits a somersault kick for a near fall. Kai quickly hits a reverse STO into the corner before stomping her. Kai follows up with a running big boot in the corner for a near fall. Kai backs up and charges, but Catanzaro rolls her up for a two count. Catanzaro stomps away at Kai in the corner before hitting a corner clothesline. Kai quickly stuns her with a scorpion kick and hits the GTK for the win.
Winner by Pinfall: Dakota Kai
Kai grabs the camera after the match and says she's coming for the NXT Women's Championship. Kai attacks Catanzaro before Raquel Gonzalez joins in. Kayden Carter runs down and sweeps Kai's feet. Gonzalez chases Carter around before eventually catching her and viciously slamming her down.
---
Video: Timothy Thatcher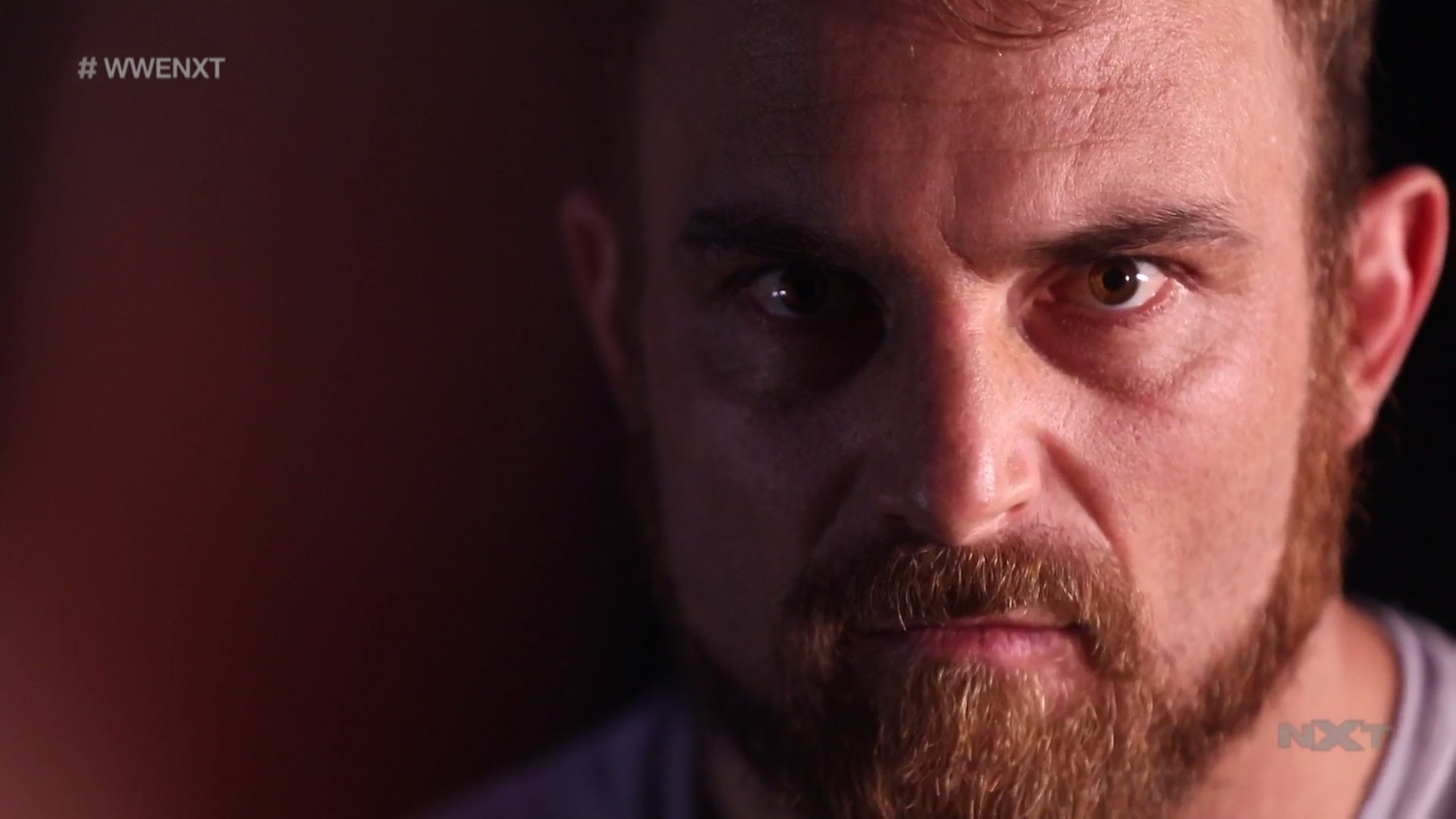 Video Package: Timothy Thatcher "training" some young wrestlers. It will be barbaric and begin next week.
---
In-Ring: El Hijo del Fantasma, Drake Maverick
NXT Cruiserweight Champion El Hijo del Fantasma makes his way to the ring and goes to speak, but he's quickly interrupted by Drake Maverick. Maverick says he wants to congratulate Fantasma. He's a phenomenal competitor. Maverick thanks him for the amazing match. Maverick says everyone should have been talking about Fantasma's journey by debuting in the tournament and winning it all. Fantasma deserves to be NXT Cruiserweight Champion. A light "You deserve it" chant picks up. Maverick says he's had a lot on his brain the past few months. Maverick wonders what would have happened if he had a clear head. Now that he's a full time contracted member of the NXT roster, he wants to look Fantasma in the eye and say he believes and knows he can beat Fantasma if he gives him another opportunity at the NXT Cruiserweight Championship. Fantasma agrees and extends his hand.
The two masked luchadors run down and get on the apron. Maverick and Fantasma prepare to fight. Fantasma then turns around and looks at Maverick. Fantasma then head-butts Maverick down! Fantasma triple-teams Maverick with the two masked men! The masked luchadors remove their masks. It's Raul Mendoza and Joaquin Wilde! Fantasma hits Maverick with the Phantom Driver and takes his mask off! Fantasma says he is Santos Escobar and no one can touch him. Wilde and Mendoza then come off the top rope with a double splash on Maverick! Escobar poses with Wilde and Mendoza.
---
Backstage: Undisputed Era, Dexter Lumis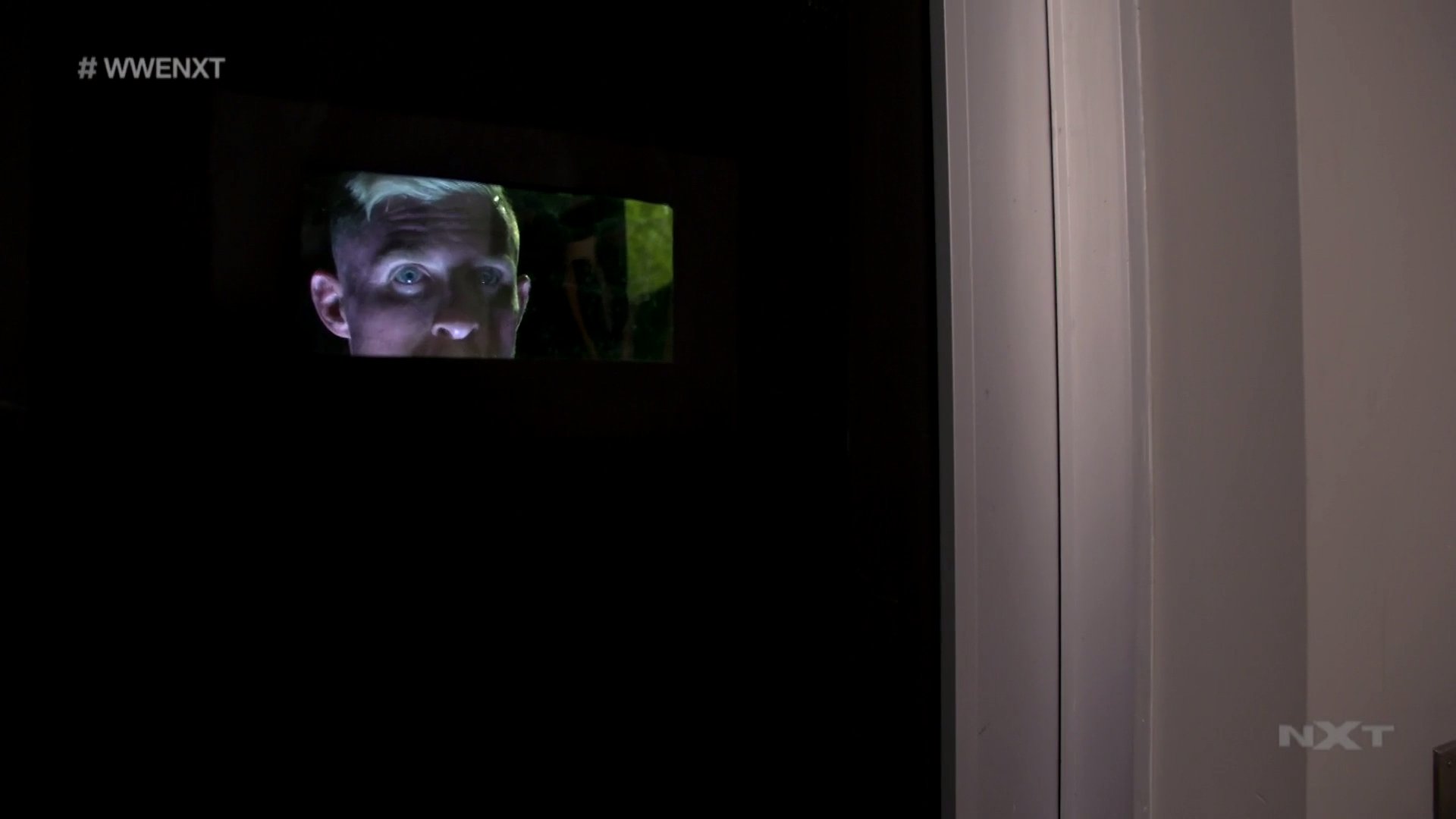 NXT Champion Adam Cole is backstage with Bobby Fish and Roderick Strong. Strong finds a doodle by Dexter Lumis, but Cole and Fish don't believe him. They walk off. Strong sees Lumis looking in through a small window, and he runs away.
---
Next Week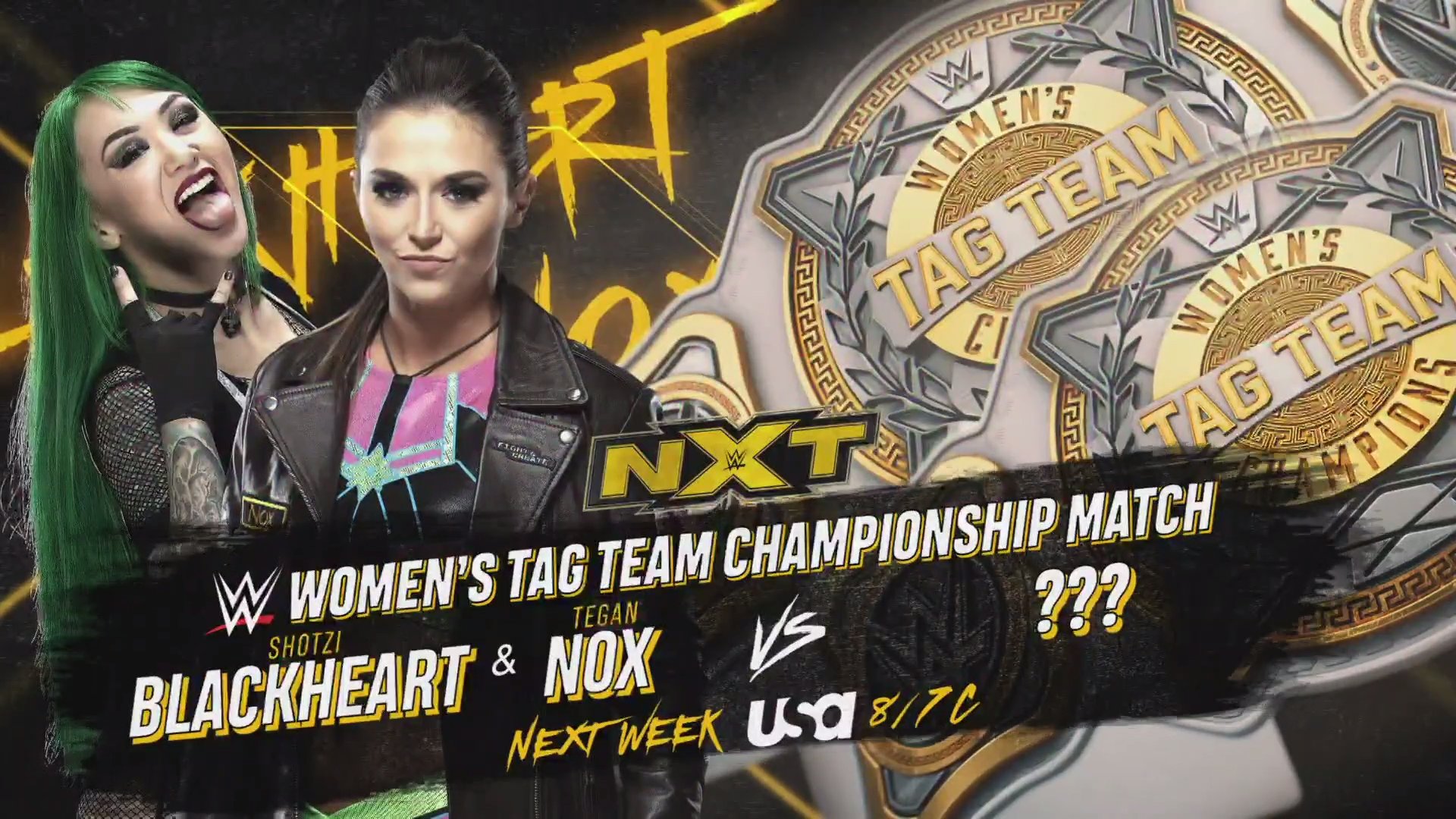 Shotzi Blackheart and Tegan Nox will challenge whoever the WWE Women's Tag Team Champions are coming out of Backlash this Sunday. Imperium will also defend the NXT Tag Team Championship against Breezango next week on NXT.
---
Adam Cole vs. Dexter Lumis
This is a non-title match. They lock up, and Lumis powers him to the corner. Cole shoves him away before turning him around and stomping him down. Lumis quickly turns Cole in the corner and punches away at him. Lumis sends him into the ropes for a back elbow. Cole rolls out of the ring to recover. Lumis follows him out, so Cole gets back in the ring. Cole kicks him and applies a side headlock while calling Lumis a dummy. Lumis throws him off and Cole leans into the ropes. Lumis slides out of the ring and punches him. Lumis follows up with a vicious right hand. Cole is on the apron. Lumis follows him out, but Cole kicks him down to ringside.
We come back from the break to see Lumis fighting up from a chin lock, but Cole drops him with a backstabber. Cole punches away at Lumis, but Lumis just stares at him. Cole calls him a freak and a weirdo. Lumis smiles at him as Cole punches him. Cole hits a swinging neckbreaker and chokes him on the ropes before stomping away at him. Cole takes Lumis down and says he's not in his world. Lumis stares at him and challenges Cole to hit him. Cole hits him, but it's not hurting Lumis. Lumis viciously punches him down before hitting an uppercut. Lumis clotheslines him in the corner and hits a bulldog. Lumis hits a slingshot suplex for a near fall.
Lumis lifts Cole up, but Cole elbows him in the face. Lumis blocks a superkick and hits a German Suplex for a near fall. Cole kicks Lumis before pulling his knee pad down. Cole goes for a Last Shot, but Lumis catches him for a submission attempt. Cole gets out and superkicks him down for a two count. Cole tries for a Last Shot, but Lumis avoids it and hits a vicious spinebuster. Lumis punches away at Cole. Cole crawls to the ropes and pulls Lumis out of the ring. Fish and Strong go to attack Lumis, but he crawls under the ring. Lumis appears behind Cole and drops him with another spinebuster for a near fall. Lumis goes to the top rope for a senton bomb, but Cole gets the knees up. Cole goes for Panama Sunrise, but Lumis catches him for a submission. Cole struggles. Fish distracts the referee while Strong punches Lumis. Cole follows up with a Last Shot for the win!
Winner by Pinfall: NXT Champion Adam Cole
Cole talks trash to Lumis after the match, so Lumis locks him in the Kata Gatame! Fish and Strong break him off, so Velveteen Dream runs down to even the odds. Dream and Fish fight to the back while Strong runs away from Lumis.
Adam Cole celebrates in the ring until the lights go out. A spotlight shows on Scarlett. She slowly walks down to the ring and puts an hourglass on the apron. She turns it over, and the crowd starts chanting, "Tick. Tock." She slowly backs up and walks off. Cole stares at the hourglass as Karrion Kross' logo appears on the screen.