June 1, 2020
Orlando, Florida (WWE Performance Center)
Commentary: Tom Phillips, Byron Saxton, and Samoa Joe
Results by: Mike Tedesco of Wrestleview.com
---
Quick Match Results
Aleister Black defeated Seth Rollins via roll up
WWE United States Championship: Apollo Crews (c) vs. Kevin Owens was no contest when Andrade & Garza attacked both men
Billie Kay defeated Nikki Cross via ura nage
24/7 Championship: R-Truth defeated Rob Gronkowski via roll up to win the title
Nia Jax defeated Kairi Sane via leg drop
Charlotte Flair defeated Asuka by count out
Drew McIntyre defeated MVP via Claymore
---
The Raw video plays, and we go live into the Performance Center to see some NXT stars and Performance Center recruits behind plastic shields clapping on.
---
In-Ring: Seth Rollins, Murphy, Austin Theory
Seth Rollins, Murphy, and Austin Theory make their way to the ring. Rollins is going to host a retirement party for Rey Mysterio. A replay is shown from last week of Rollins threatening to destroy Humberto Carrillo's eye. Theory and Murphy sit at ringside. Rollins says tonight is a huge night for Raw with a lot going on. Rollins will have a match in a few moments with Aleister Black. Black is confused about things going on with Rey Mysterio, so he will enlighten him.
As for Rey Mysterio, he will be on the show later tonight to speak with everyone. It'll be difficult for Mysterio, and he won't announce his retirement. Rollins is taking it upon himself to do it or Mysterio. Mysterio is too humble and modest to come out and call himself a legend. Rollins, as a leader, will appreciate the fact that Mysterio was chosen as a sacrifice for the greater good of Monday Night Raw. Rollins says he wants to appreciate Mysterio.
Video Package: Rey Mysterio career highlight package with Seth Rollins damaging his eye at the end.
Rollins says Mysterio is undoubtedly a first-ballot Hall of Famer. When the time comes, Rollins wants to induct him into the WWE Hall of Fame. Aleister Black runs down and kicks Rollins out of the ring.
---
Seth Rollins vs. Aleister Black
The bell rings, and Black quickly gets the better of Rollins. Rollins quickly leaves the ring and regroups with Murphy and Theory. Rollins pulls Black out of the ring, but Black kicks him in the chest. Rollins dropkicks him getting back in the ring and punches away at him. Rollins chops the chest and hits a snap suplex for a two count. Rollins applies a modified arm bar. Rollins wrenches the arm and knees away at Black before sending him into the ropes and hitting a dropkick. Rollins shouts that Black disrespected Rey Mysterio while choking him on the ropes. Rollins knocks him out of the ring and hits a suicide dive. Rollins sends Black to the corner and kicks him down. Black avoids an enzuigiri and goes for a lift, but Rollins gets out. Black kicks Rollins in the face and charges, but Rollins gives him a back body drop to the floor.
Humberto Carrillo runs down with a steel chair and is scaring Murphy and Theory back. Rollins tells them to stay back.
We come back from the break to see Rollins stomping Black in the corner. Rollins punches him in the kidneys and stalks around the ring. Black fights back, so Rollins sends him into the ropes. Black holds onto the ropes before eating a dropkick. Black fights back, but Rollins levels him with a Sling Blade for a near fall. Rollins hits a running forearm in the corner and goes for a flying knee, but Black moves.
Black punches him back, but Rollins shoves him into the ropes. Black quickly responds with some running forearms. Black takes him down and hits a running knee to the head. Black connects with a springboard moonsault off the middle rope for a near fall. Black goes for a lift, but Rollins backs him into the corner. Black rolls him up for a two count. Rollins gets out and rolls him up with a handful of tights for a near fall. Black connects with a German Suplex for a near fall. Rollins gets away from Black Mass and hits an enzuigiri. Rollins superkicks him and hits a falcon arrow for a near fall. Rollins goes to the top rope for a frog splash, but Black gets the knees up. Black and Rollins fight on the apron before Black kicks him into the ring post. Black then hits Rollins with a moonsault block off the middle turnbuckle.
We come back from the break to see Rollins knock Black down from a superplex. Rollins connects with a frog splash for a near fall. Rollins is not happy. Rollins sets up for a Stomp, but Black avoids it and goes for an arm bar. Rollins boots him in the face and hits a powerbomb. Rollins sets up for a springboard knee, but Black knees him out of mid-air. Black sets up for a Black Mass, but Murphy and Theory get on the apron. Carrillo pulls them down and fights them off. Rollins tries to roll Black up for a two count. Black then rolls Rollins up for the win!
Winner by Pinfall: Aleister Black
Murphy and Theory get in the ring and double-team Black. Carrillo runs in, so Rollins takes him down. Theory and Murphy hold Black up and force him to watch Rollins give Carrillo a vicious Stomp. Black shouts that Rollins is a coward. Rollins yells back and gives Black a Stomp.
---
Backstage: Angel Garza, Zelina Vega
What's cooler than being cool?

ICE COLD.#WWERaw @Zelina_VegaWWE pic.twitter.com/zfNRaFxoMM

— WWE Universe (@WWEUniverse) June 2, 2020
Charly Caruso is backstage with Angel Garza and Zelina Vega. They talk about beating Kevin Owens. If someone is upset with his actions, they've clearly never wanted something as badly as he does. Charly looks totally smitten with Garza. Garza gives her a rose. Vega then takes the rose and rips the petals off.
---
Video: Shawn Michaels
Shawn Michaels picks Edge to win the match against Randy Orton.
---
Backstage: MVP, Lana
MVP is backstage with Lana. She is furious that MVP got into Bobby Lashley's ear. MVP says he has to prepare for a match against Drew McIntyre. Lana says MVP is nothing but a leach trying to revive his washed up career. MVP says that's not true, but even if it was… wouldn't that make two of them? Lana slaps him in the face.
---
In-Ring: Apollo Crews, Kevin Owens
Kayla Braxton is in the ring and welcomes new United States Champion Apollo Crews to the ring. Braxton congratulates him on beating Andrade. How is it being champion? Crews says the list of feelings go on and on. Appreciation, humility, and surreality that he's the United States Champion.
She asks if he's decided his opponent for tonight. Crews says there is a list of superstars he'd like to face for this title. The superstar he picked for tonight is so deserving: Kevin Owens.
Kevin Owens makes his way to the ring. Owens congratulates him and appreciates the opportunity since it's been too long since he had a title, but after what happened with Angel Garza last week this feels like pity. Crews says this has nothing to do with pity. It has to do with respect. Owens says he feels bad. Crews says Owens deserves it. Owens says he feels bad that Crews' title reign is going to be a short one.
WWE United States Championship
Apollo Crews (c) vs. Kevin Owens
The bell rings, and they trade waistlocks. Owens drags Crews off and hits the ropes, but Crews dropkicks him down for a one count. Crews applies a side headlock, but Owens turns it on him and shoulder blocks him down. Crews kips up, so Owens dropkicks him down. Owens clotheslines him out of the ring and hits the ropes. Crews moves, so Owens just exits the ring. Owens avoids a moonsault block off the apron and hits Crews with a cannonball off the apron. Owens gets him in the ring and hits a senton bomb for a near fall. Owens accidentally kicks Crews in the groin, so the referee keeps him back.
Crews gets to his feet and starts brawling with Owens. The fight spills out of the ring as we go to commercial.
We come back from the break to see Owens and Crews continuing to exchange punches. Owens head-butts him and hits the ropes, but Crews boots him back before hitting a powerslam for a near fall. Owens gets out of an Olympic Slam, and Owens superkicks him in the face for a two count. Owens hits a springboard moonsault off the second rope for another two count. Crews connects with an enzuigiri and an Olympic Slam for a near fall. Crews quickly follows up with a standing moonsault for another near fall.
Owens soon comes back with a superkick and goes for a senton bomb, but Crews gets the knees up. Angel Garza and Andrade run down and break up the match. Andrade attacks Crews, while Garza attacks Owens.
No Contest
Apollo Crews & Kevin Owens vs. Andrade & Angel Garza
We join this match in progress. Crews is being worked over before he makes the tag to Owens. Angel Garza quickly tags out. Garza gets a cheap shot in on Owens, and Andrade attacks him for a bit. Crews eventually tags back in. Owens takes Garza down at ringside. Crews gives Andrade an enzuigiri followed by a Toss Powerbomb for the win.
Winners by Pinfall: Apollo Crews and Kevin Owens
---
Backstage: Asuka
The EMPRESS never bows down to ANYONE.#WWERaw @WWEAsuka pic.twitter.com/7fZ2TlQ3km

— WWE Universe (@WWEUniverse) June 2, 2020
Raw Women's Champion Asuka is backstage with Kayla Braxton. The Empress will bow down to nobody, especially Charlotte Flair.
---
Segment: The Street Profits, The Viking Raiders
The Viking Raiders just barely beat The Street Profits in a bowling match. Ivar nearly got kicked out for stealing food. The Street Profits were way behind until they had the desk clerk turn on the laser lights.
---
Nikki Cross vs. Billie Kay
They immediately start brawling before Cross bounces Kay off the turnbuckles. Cross hits a dropkick for a two count. Kay knocks Cross back before hitting the Shades of Kay big boot for a two count. Kay argues with the referee. Kay continues to pick away at Cross before applying a chin lock. Cross fights up, but Kay hits a backbreaker before posing. Kay drops an elbow for a two count. Kay flips out on the referee. Cross makes a comeback until avoids a cross-body block and hits a (sort of) uranage for the win.
Winner by Pinfall: Billie Kay
---
Backstage: Drew McIntyre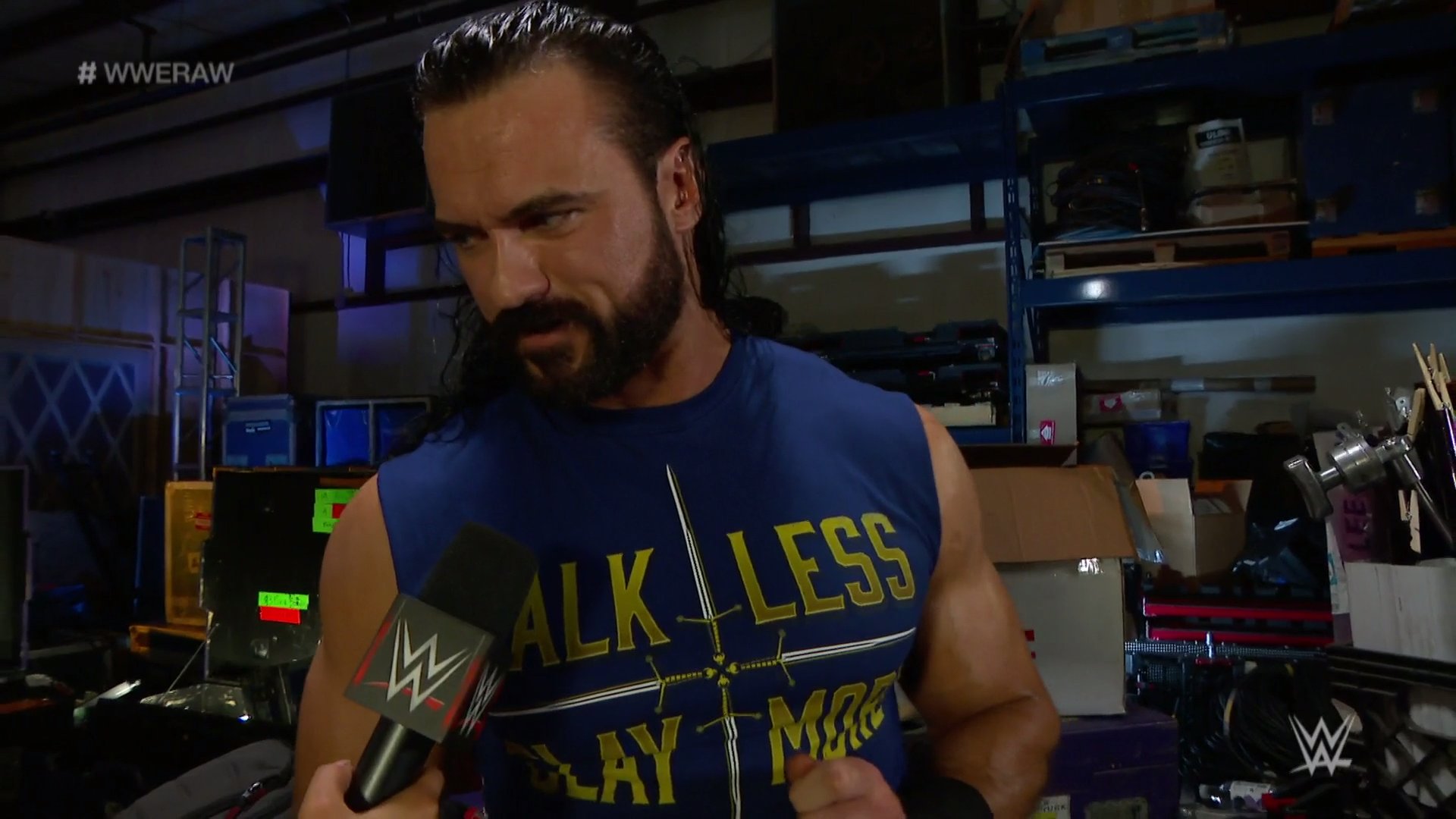 WWE Champion Drew McIntyre is looking forward to inviting Bobby Lashley and MVP on a trip to Claymore Country.
---
Segment: Rey Mysterio, Dominick
Rey Mysterio is shown wearing a mask that has an eye covering on it. Mysterio doesn't know when he can come back yet. Samoa Joe asks if Mysterio is here to retire. Mysterio doesn't know if it's up to him anymore. He could be cleared in a few weeks or never at all. Mysterio says he didn't sacrifice himself.
Dominick Mysterio comes up and says something needs to be done about Seth Rollins. This is BS. Mysterio shouts, "Damn you, Seth Rollins," for making his family suffer watching him with blood running down his face. Mysterio is a man of forgiveness, but he'll never forgive Rollins for what he did to him and his family. Mysterio walks off. Dominick looks into the camera and says, "Seth Rollins, you're a man of scripture… an eye for an eye."
---
Segment: Rob Gronkowski, R-Truth
Earlier today in Foxborough, Massachusetts of Rob Gronkowski recording a TikTok dance. Gronkowski is distracted by someone doing yard work. Gronkowski's friend is wearing a referee's shirt. R-Truth, disguised as someone doing yard work, rolls Gronkowski up to win the WWE 24/7 Championship. R-Truth runs off.
New 24/7 Champion: R-Truth
---
In-Ring: Nia Jax
Nia Jax makes her way to the ring. Footage is shown of Nia Jax interrupting Asuka's title celebration two weeks ago on Raw. Asuka attacked Jax after. Jax says she's been repeatedly attacked by Asuka and Kairi Sane. Asuka didn't earn anything. She got the title due to hormones. Becky Lynch got pregnant and gave Asuka the title. Jax says she's the victim. At Backlash, she'll expose Asuka for the backstabbing charlatan she is.
Nia Jax vs. Kairi Sane
Jax quickly dominates Sane, but Sane fights back. Sane grounds her with a sleeper hold and backhands her. Sane goes to the top rope, but Jax head-butts her. Jax goes for a scoop slam, but Sane counters into a DDT for a near fall. Sane hits a sliding forearm in the corner. Jax rolls out of the ring to recover. Sane goes for a baseball slide, but Jax catches her. Jax then pulls her out of the ring and throws her into the ring steps.
The camera cuts as the match clearly stopped for a few moments. This is where Sane was busted open by Jax. Jax puts her in the ring and hits a leg drop for the win.
Winner by Pinfall: Nia Jax
Asuka runs down to the ring after the match to check on Sane. Jax walks off.
---
Backstage: Randy Orton
Randy Orton says Edge is right. He's phoned it in and half-assed it for 20 years, but he's still accomplished more than anyone in the locker room has. Edge had to scratch and claw. All he had to do was be Randy Orton. At Backlash in what could be the greatest wrestling match ever, all he has to do is prove he's the best wrestler. The storybook ending is going to be rewritten by the three most destructive letters in sports entertainment: R…K…O.
---
Charlotte Flair vs. Asuka
Charlotte Flair says she'll face Rhea Ripley and Io Shirai this Sunday at NXT TakeOver: In Your House. She hopes the people in the crowd can be the next Ripley or Shirai so they can eventually bow down to her. Flair says Asuka has a history of laying down with all she's accomplished. Asuka wants to be Flair.
Asuka quickly grabs at the arm and twists. Asuka avoids a big boot and dances around. Flair shoves Asuka back and kicks her in the midsection. Flair drives her into the corner and shouts that she beat her at WrestleMania and SmackDown. Flair chops away at Asuka's chest. Asuka reverses a whip and goes for a hip attack, but Flair moves. Flair punches her and attacks the knee.
We come back from a very brief break to see Flair still attacking the knee of Asuka. Asuka elbows her in the face, but Flair responds with a forearm. Flair goes to attack the leg, but Asuka moves. Flair still takes her down and talks trash. Asuka fights back and hits some forearms. Flair quickly kicks her in the knee. Flair has a busted lip. Asuka quickly kicks her in the head to take her down.
Asuka hits a hip attack in the corner before connecting with a German Suplex. Asuka floors her with a shining wizard for a two count. Flair takes a moment to recover before taking Asuka down. Flair goes for Natural Selection, but Asuka counters into an arm bar! Flair fights up and applies a high angle Boston Crab. Asuka counters into a roll-up for a near fall. Asuka immediately goes to a knee bar, but Flair powers up and hits a nasty German Suplex.
Flair sets up for a big boot, but Asuka moves. Asuka hits the ropes, but Flair follows her in. Asuka hits her with an arm bar, but Flair fights it. Asuka turns to a triangle choke, so Flair fights up and hits a one-armed sit-out powerbomb for a near fall. Flair cannot believe she didn't put Asuka away. Flair grabs the leg, so Asuka scurries away to the apron. Flair then big boots Asuka off the apron.
All of a sudden, Asuka's music hits, and Nia Jax comes out in Asuka's mask and makeup. Asuka is angry and gets counted out. Jax then runs over Asuka with a shoulder block.
Winner by Count-Out: Charlotte Flair
---
Backstage: Lana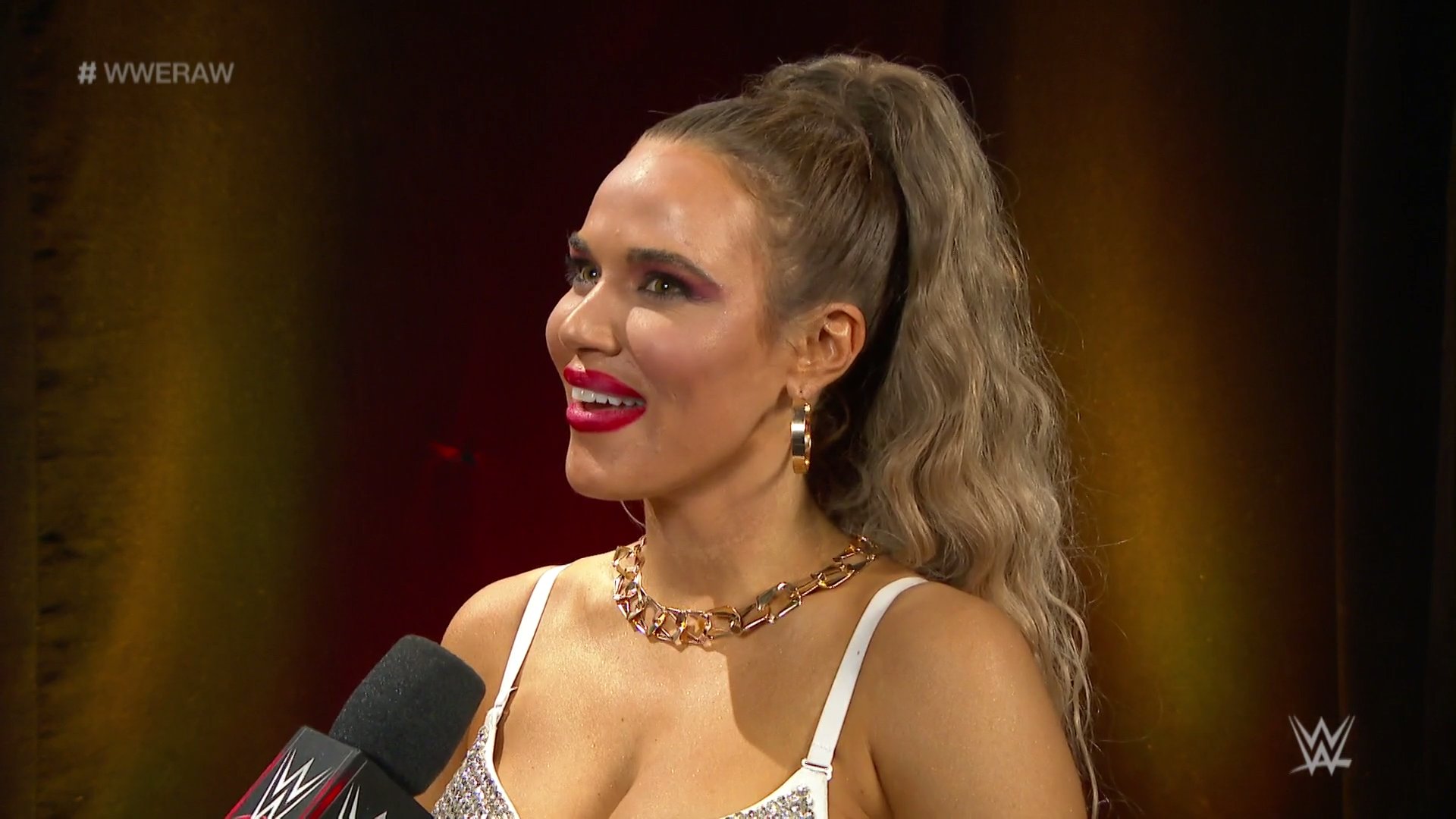 Charly Caruso is backstage with Lana. Charly asks if Lana thinks Bobby Lashley's idea to not have her at ringside was his idea or MVP's. She's not sure. Actually, she's certain it wasn't her Bobby's idea. He'd never do that. Her Bobby requested she not go out to the ring during his match, but he never said anything about MVP's match.
---
Drew McIntyre vs. MVP
Before the match begins, Lana makes her way to the ring. Lashley looks confused. The bell rings, and McIntyre viciously attacks MVP and chops him. MVP goes for a hip toss, but McIntyre doesn't leave his feet. McIntyre clotheslines him down before hitting a Glasgow Kiss that sends him out of the ring. Lashley distracts McIntyre, so MVP sends McIntyre into the ring post and dasher boards. MVP gets McIntyre in the ring and hits a big boot in the corner for a one count. McIntyre comes back with a clothesline and a big boot. McIntyre hits a diving clothesline followed by a kip up. McIntyre sets up for a Claymore Kick, so Lashley pulls MVP out of the ring. McIntyre hits them with a somersault plancha! McIntyre gets him in the ring for a Claymore Kick to pick up the win.
Winner by Pinfall: Drew McIntyre
Immediately after the match, Bobby Lashley applies the full nelson to McIntyre.