August 19, 2020
Winter Park, Florida (Full Sail University)
Commentary: Mauro Ranallo, Vic Joseph, and Beth Phoenix
Results by: Mike Tedesco of Wrestleview.com
---
Quick Match Results
NXT North American Championship Qualifying Match: Johnny Gargano defeated Ridge Holland via One Final Beat
Dakota Kai defeated Jessi Kamea via GTK
Legado del Fantasma defeated Breezango & Isaiah "Swerve" Scott via Phantom Driver by Escobar on Breeze
Shotzi Blackheart & Rhea Ripley defeated Aliyah & Mercedes Martinez via top rope senton by Blackheart on Aliyah
NXT North American Championship Qualifying Match: Velveteen Dream defeated Finn Bálor via Purple Rainmaker
---
NXT North American Championship Qualifying Match
Johnny Gargano vs. Ridge Holland
Gargano sidesteps him and says Holland doesn't belong in the same ring as him. Holland quickly powers him down and uppercuts him. Holland grabs Gargano's arm and wrenches it. Holland turns him inside out with a twist before sending him into the ropes for a hip toss. Holland then hits him with a shoulder tackle that sends Gargano out of the ring. Holland follows him around ringside, so Gargano runs into the ring. Holland catches Gargano trying a plancha, but Gargano gets away. Gargano goes for a kick, but Holland blocks it. Gargano responds with a stomp to the arm.
Gargano attacks the arm and sidesteps an uppercut, causing Holland to hit the rope with his injured arm. Holland soon takes Gargano down and hits a corner clothesline. Holland knees Gargano in the midsection and whips him hard into the corner. Gargano rolls up the corner a la Shawn Michaels. Holland pulls him into the ring and applies a head and arm stretch, but Gargano elbows out. Gargano elbows the arm and forearms him in the face. Holland fights back and forearms him down. Gargano quickly picks the leg and applies a knee bar. Holland uses the free leg to hit some heel strikes to Gargano. Gargano has to let go. Holland shoves him to the corner and goes for a running knee, but Gargano moves. Holland falls out of the ring. Gargano hits him with a suicide dive and knocks him in between the two ladders that are there for decoration.
We come back from the break to see Johnny Gargano down on the mat, and everyone looks stunned. A replay shows that Holland was attempting to do a powerslam and literally spiked Gargano on his head! How Gargano could continue after that is beyond me. Holland checks on Gargano, but the referee backs him up. Gargano then superkicks him for a near fall.
Gargano goes for One Final Beat, but Holland knees him in the face. Holland spins him with a front facelock before hitting a powerslam for a near fall. Holland clubs the back, but Gargano forearms back at him. Holland drops him with a club and goes for a slam, but Gargano attacks the arm. Gargano goes for a Gargano Escape, but Holland gets out. Gargano shoves him and hits a superkick. Holland doesn't go down. Gargano tries some clotheslines, but Gargano doesn't go down. Holland then annihilates Gargano with a vicious shoulder tackle that sends him out of the ring. LeRae checks on her husband. Holland goes over to Gargano and slams him on the apron. Holland gets in the ring, but LeRae grabs the leg. Gargano then low blows Holland while the referee wasn't looking. Gargano hits One Final Beat for the win!
Winner by Pinfall: Johnny Gargano
Gargano holds his neck in pain. Gargano joins Cameron Grimes, Damian Priest, and Bronson Reed in the NXT North American Championship Ladder Match at NXT TakeOver XXX.
---
Dakota Kai vs. Jessi Kamea
Kai takes her down at the sound of the bell and punches away at her. Kamea tries to get away, but Kai stays on her. Kai takes her down for a two count. Kai chokes her on the second rope before clubbing away at her. Kai hits a pair of running big boots in the corner and throws her down for a near fall. Kai applies a straightjacket submission, but Kamea gets out and backs Kai into the corner. Kai goes for a running boot, but Kamea moves. Kamea rolls her up for a near fall. Kamea follows up with a running spin kick before hitting an avalanche in the corner. Kamea kicks her and hits a swinging spinebuster for a near fall. Kai quickly drives her into the ropes throat-first before hitting the GTK for the win.
Winner by Pinfall: Dakota Kai
Kai says she is not afraid of Io Shirai. Shirai is focused on people of Kai's past, but Kai is focused on the future. At NXT TakeOver XXX, she's taking the NXT Women's Championship. It'll feel so good when she kicks her in the face over and over and over… NXT Women's Champion Io Shirai charges down to the ring and attacks Kai. Shirai punches her up the ramp and flattens her on the concrete.
Raquel Gonzalez all of a sudden runs out and hits Shirai with a big boot! Gonzalez puts Shirai on her shoulder and throws her into the ring. Kai gets in the ring and laughs at Shirai. Shirai quickly punches Kai down, so Gonzalez attacks her again. Gonzalez viciously slams Shirai down and smiles at Kai before raising her arm.
---
Backstage: Tegan Nox
Tegan Nox is backstage with McKenzie Mitchell. Nox says what Candice LeRae said about her last week really hurt her. Nox could talk badly about what LeRae has done, but that's not what friendship is. Nox wants to fix what this friendship over a glass of wine. She didn't realize her friendship was annoying to LeRae. She's ready to talk.
---
Video: Finn Balor
"You kept getting chance after chance after chance, and in my book, you failed." @FinnBalor has some words for his 2nd chance opponent, @DreamWWE. #WWENXT pic.twitter.com/lzfa0wSbBb

— WWE (@WWE) August 20, 2020
Finn Bálor says Velveteen Dream has had chance after chance and failed. Tonight, he'll face Dream and it'll be the same result: Finn over.
---
Legado del Fantasma vs. Breezango & Isaiah "Swerve" Scott
The bell rings, and all six men start brawling! Breeze stomps Wilde down, while Fandango concentrates on Mendoza. Scott gets Escobar outside and drives him into the barricade. Order is finally restored. It is Fandango against Mendoza. Fandango chops Mendoza, but Mendoza gets away and snaps him off the top rope. Mendoza drives Fandango's injured shoulder into the turnbuckle. Wilde tags in, but Fandango takes him down. Fandango hits a front suplex on the top rope and tags Breeze in. Breeze knocks Wilde off the top rope for a two count. Fandango tags in and goes for a back suplex, but Wilde sends him out of the ring. Mendoza approaches Fandango, but Scott baseball slides him. Scott sends Wilde into the barricade and kicks Escobar in the face attempting a suicide dive. Breezango then double superkick Mendoza and Wilde.
We come back from the break to see Fandango chopping Wilde in the corner. Wilde reverses a whip to the corner and charges, but Fandango big boots him down. Fandango goes to the top rope, but Escobar distracts him. Wilde then knocks Fandango off to the floor. Wilde gets Fandango in the ring and stomps away at his arm. Escobar tags in, and he quickly tags Mendoza. Legado del Fantasma slam Mendoza on Fandango. Mendoza then hits a springboard moonsault for a near fall. Mendoza continues to target the arm and stomps it. Mendoza stomps Fandango and applies an arm bar. Fandango fights up, but Mendoza hits him with a snap kick to take him down. Mendoza stretches the injured arm on the top rope. Fandango chops back at Mendoza, but Mendoza kicks him in the arm. Mendoza signals to the crowd and wrenches the arm. Mendoza sends him to the corner and tags Wilde in. Wilde and Mendoza attack Breeze and Scott. Mendoza sends Wilde into Fandango, but Fandango drops him out of the ring. Fandango then sends Mendoza shoulder-first into the ring post.
Escobar and Scott tag in. Scott hits Wilde with a clothesline and Mendoza with a back body drop. Scott punches Escobar down three times before punching him to the corner. Scott throws him down and hits a rolling thunder flatliner. Mendoza gets on the apron, but Scott superkicks him away. Wilde grabs the leg, but Scott stomps his hand and kicks him in the face. Scott goes to the top rope, but Escobar wipes him out with a kick out of mid-air! Breeze kicks Mendoza down. Wilde goes for a springboard dropkick, but Scott turns Escobar into it. Scott bumps into Breeze, which seemingly tags him in. Scott hits a JML Driver, but the referee tells him he's not legal. Mendoza and Wilde attack Scott from behind and hit a Russian Leg Sweep/dropkick combo.
Breeze comes in and attacks Mendoza and Wilde. Escobar quickly attacks Breeze and hits the Phantom Driver for the win!
Winners by Pinfall: Legado del Fantasma
---
Pat McAfee is shown arriving to Full Sail University with some friends, including former NFL players AJ Hawk and Darrius Butler.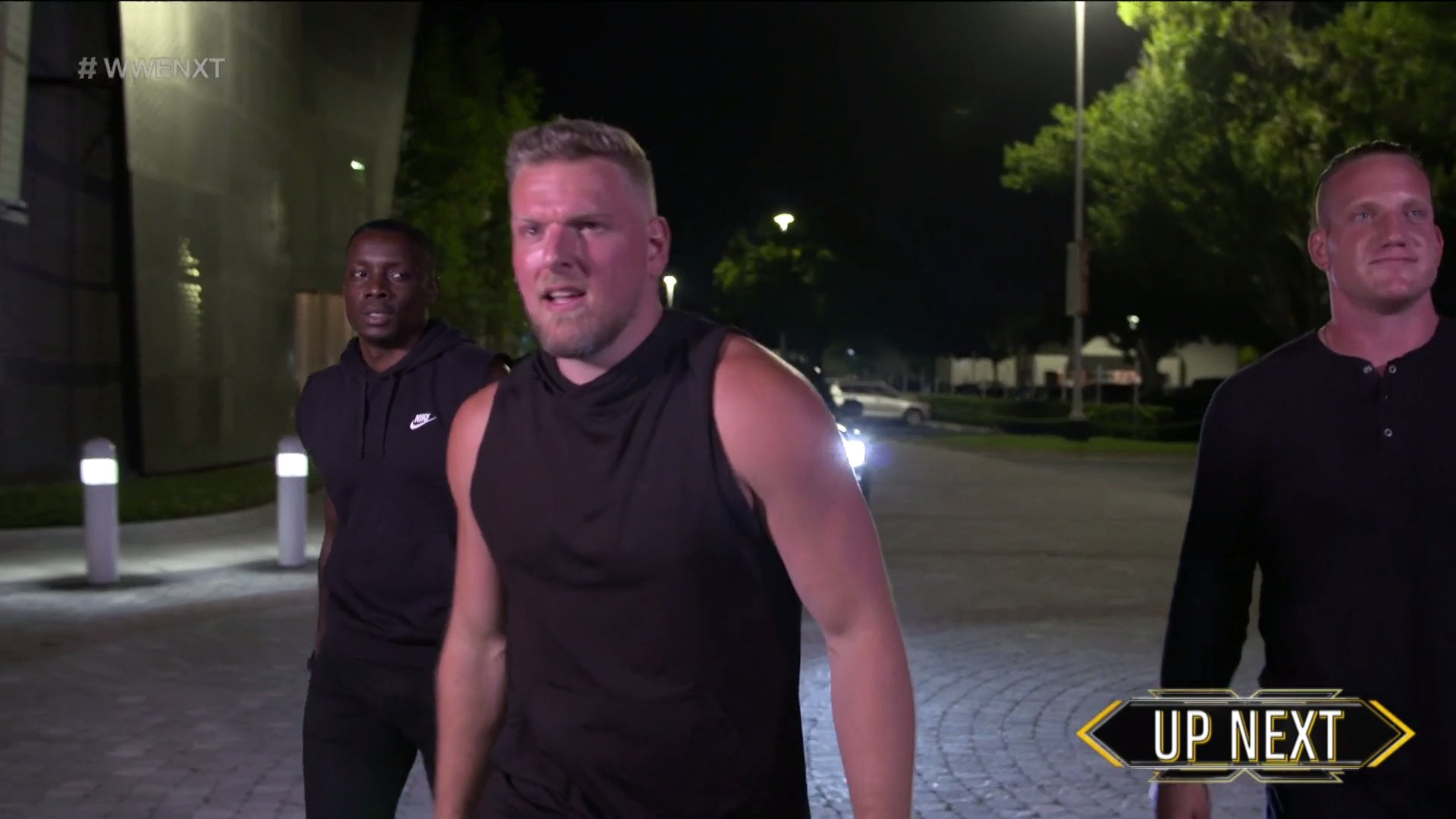 ---
Legado del Fantasma will take on Breezango and Oney Lorcan and Danny Burch on the NXT TakeOver XXX pre-show. The winners will face Imperium for the NXT Tag Team Championship.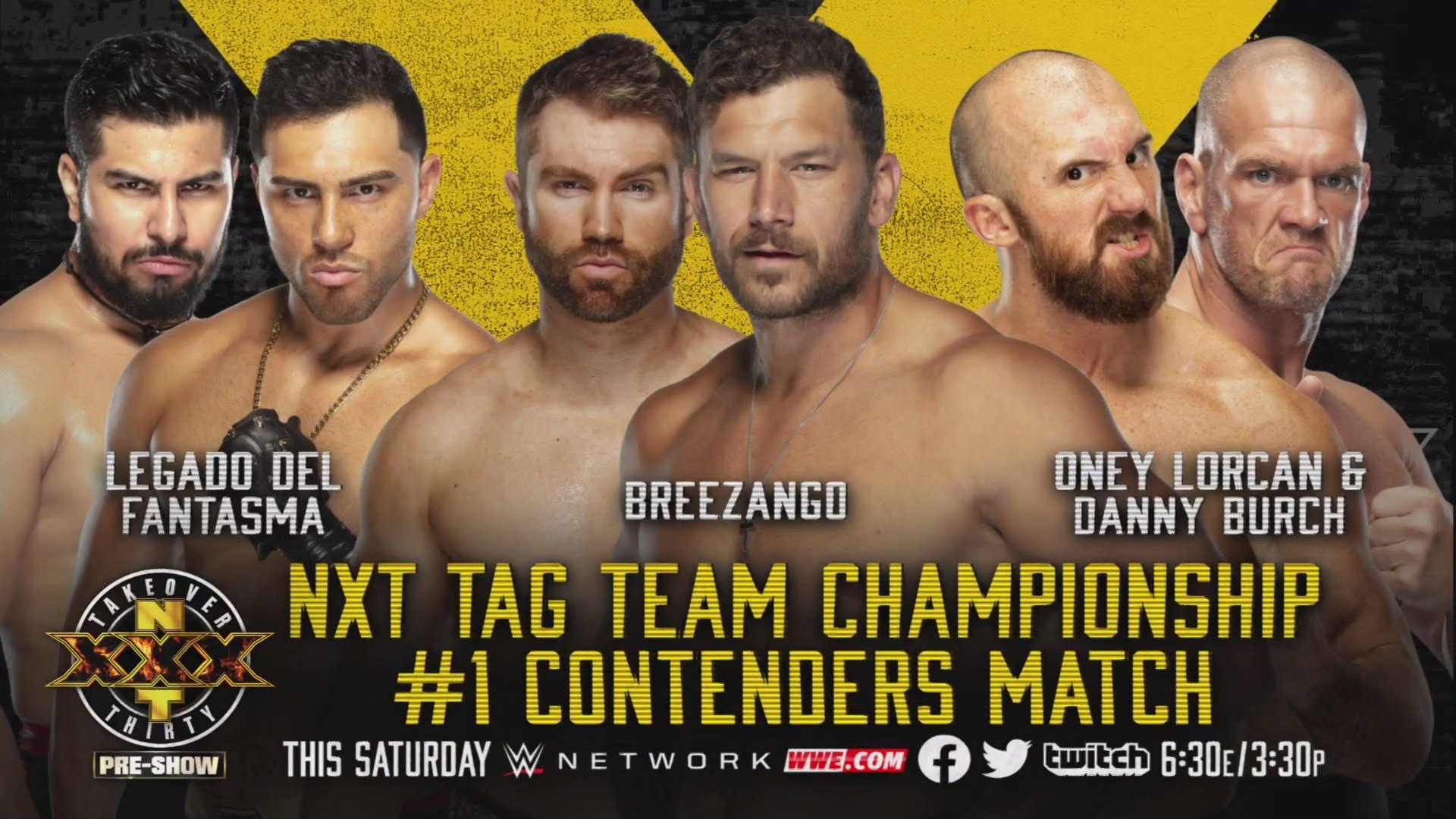 ---
In-Ring: Adam Cole, Pat McAfee
Adam Cole makes his way to the ring with the Undisputed ERA. Cole calls Pat McAfee out. Pat McAfee saunters into the ring with his crew. McAfee says Cole begged him to come here, so he's here with friends that have 28 years of NFL experience. McAfee knows Cole goes nowhere without his three stooges because he'd be nothing without them. Cole knows he can't handle a human like McAfee.
Cole tells the Undisputed ERA to leave the ring. McAfee then bumps fists with his friends, and they leave. Cole says the floor is all McAfee's. McAfee asks if Cole remembers what happened when they met two weeks ago. Shawn Michaels was checking vitals on Cole next to stupid Tom Phillips. Last week, Cole ranted about how he's being held back and McAfee took advantage of a situation. McAfee outsmarted him in his own house and business. Cole said McAfee isn't special. Cole has wrestled all over the world in front of crowds big and small. Cole got to NXT and was the biggest star on this brand. The King of NXT. Cole had all these people fooled… it took McAfee a minute to knock his ass out. How is that not special? McAfee has never been in the ring before and made him look amateur. McAfee made $1 million in seven different professions. As for all the stooges at ringside and the wrestling fans at home, they better hope he doesn't make this his profession because this will be number eight for him. On Saturday, it will end the same way it did two weeks ago. Cole unconscious after throwing a tantrum. Cole only gave him two weeks to prepare. McAfee only needs two weeks to get ready and beat him. Cole will have to tell the world he got beat by an outside. McAfee is next level. He's above Cole as a human and an athlete. It'll end with one swing of his foot to Cole's face, sending it to the moon. The only sound the idiots will hear is BOOM. McAfee throws the microphone at him.
Cole approaches McAfee, but security stops him. Cole attacks them and wipes the security out. McAfee's NFL friends get on the apron, so the Undisputed ERA get in the ring. Cole tells McAfee to have his friends get in the ring. They will mangle him before Saturday. Cole walks up to McAfee and tells him this Saturday at TakeOver, he's going to make him his bitch. Cole backs up and leaves with the Undisputed ERA.
---
Aliyah & Mercedes Martinez vs. Shotzi Blackheart & Rhea Ripley
Rhea Ripley starts against Mercedes Martinez. They brawl, and Aliyah tags in. Ripley throws Aliyah across the ring and tags Shotzi Blackheart in. Blackheart takes Aliyah down and splashes her against the ropes. Blackheart hits a facebuster for a two count. Blackheart welcomes her to the ball pit before hitting a double leg drop. Aliyah gets away, pulling her down by the hair, and tags Martinez in. Martinez attacks Blackheart as we go to commercial.
We come back from the break to see Blackheart hit a diving sunset flip. Aliyah rolls up and hits a neckbreaker for a two count. Aliyah hits a Russian Leg Sweep before tagging Martinez in. Martinez knees Blackheart in the face and stomps away at her. Martinez chokes Blackheart on the ropes. Ripley is held back by the referee from coming in the ring. Aliyah tags in and applies a double underhook. Martinez tags in and uppercuts Blackheart for a near fall. Martinez slams Blackheart down for another two count. Martinez peppers her with some kicks to the face and taunts her. Ripley is pacing on the apron. Blackheart surprises Martinez with a roll-up for a two count. Blackheart then flattens her with a big DDT.
Ripley and Aliyah tag in. Ripley hits a pair of clotheslines and knees her in the face a few times. Ripley hits a snapmare and hits a basement dropkick. Ripley grabs Aliyah by the seat of her pants and gets her in the electric chair for a facebuster. Ripley covers, but Martinez breaks it up. Blackheart runs in and dropkicks Martinez out of the ring. Blackheart tags in while Ripley hits the Riptide on Aliyah. Martinez knocks Blackheart off the top rope. Ripley punches Martinez and brings her into the ring the hard way. Ripley charges, but Martinez sends her into the ring post shoulder-first. Ripley blocks a kick from the apron and powerbombs Martinez over the barricade onto the concrete! Blackheart hits a senton splash off the top rope for the win!
Winners by Pinfall: Shotzi Blackheart and Rhea Ripley
---
Video: Keith Lee, Karrion Kross
Video Package: Preview of Keith Lee (c) vs. Karrion Kross for the NXT Championship at NXT TakeOver XXX
---
NXT North American Championship Qualifying Match
Finn Bálor vs. Velveteen Dream
They approach each other, and Bálor takes him down with a headlock takeover. Bálor rips off some of Dream's entrance gear. Dream turns him over and covers him for a one count. Dream fights up and whips Bálor off. Dream hits the ropes and goes for a sunset flip, but Bálor rolls through. Bálor points at him and lets him know he could have ended him right there. Dream gets out of the ring to rethink his strategy.
We come back from the break to see Bálor punching away at Dream. Dream then hits a Lou Thesz press and punches away at him. Dream taunts the camera before applying a nervehold to Bálor. Dream drives him into the corner and clubs him. Dream punches him in the face before clubbing the back. Bálor blocs a shot into the corner and punches Dream before kicking him in the leg a few times. Bálor drops an elbow on the leg before stretching the leg. Dream's shoulders are down, and he is nearly pinned. Bálor continues to stretch the leg, but Dream makes it to the bottom rope. Bálor continues to stretch the leg out. Dream tries to pull himself up, but Bálor takes him down and applies another leg bar. Dream turns over and uses his good leg to kick Bálor in the face a number of times. Dream hits a wild side kick to take Bálor down for a near fall.
Dream clubs Bálor getting to his feet and punches him down. Dream talks some trash before putting him in the corner. Dream punches him and gyrates in his face before punching him some more. Dream punches him the full 10 times and goes for a side kick, but Bálor moves. Bálor viciously kicks him in the leg to take him down and stomps away at him. Dream elbows Bálor back and hits a springboard double axe handle. Dream grabs Bálor and jumps over the top rope to snap him off the ropes. Dream looks up at the NXT North American Championship hanging above ringside. Cameron Grimes then walks out and talks trash to both men.
We come back from the final break of the evening to see Dream whip Bálor hard into the corner. Grimes is sitting on top of a ladder holding the NXT North American Championship. Grimes is just watching the match. Dream hits Bálor with a backbreaker before gyrating toward Grimes. Dream takes Bálor down again before having a whip reversed. Dream goes for a sunset flip, but Bálor rolls through and dropkicks him in the face. Dream punches Bálor back and goes to the top rope, but Bálor crotches him. Bálor kicks away at Dream's midsection, and Dream collapses to the mat. Bálor chops the chest and sends him to the opposite corner for another chop. Bálor whips him to the opposite corner, and Dream goes over the top rope to the floor in front of the ladders.
Bálor goes outside and stomps away at Dream. Bálor then starts to climb the ladder Grimes is sitting on. Dream pulls Bálor down and drives him into the ring apron sternum-first. Dream gets Bálor in the ring and goes for a Dream-DDT, but Bálor gets out. Dream lifts him up for a Dream Valley Driver, but Bálor gets out and hits a falling elbow drop. Bálor hits a Woo Dropkick. Bálor stares at Grimes and talks a little trash to him. Bálor goes to the top rope, but Dream wipes him out with a superplex.
Johnny Gargano comes down and tips the ladder over, sending Grimes flying into the ring and taking out the referee! Bálor double stomps Grimes. Dream hits Grimes with a famouser. Bálor hits Dream with a Sling Blade and charges, but Dream superkicks him. Gargano picks up the NXT North American Championship at ringside. Gargano goes to leave with it, but Bronson Reed comes down and gets him in the ring. Gargano backs up into Damian Priest. Gargano turns around and goes to hit Priest, but Priest forearms him. Reed throws Gargano out of the ring. Priest then kicks Reed in the face. Dream superkicks Priest, and Reed clotheslines Priest over the top rope. Dream holds up the title, so Bálor clotheslines him over the top rope. Bálor hits Reed and Priest with a somersault senton. Timothy Thatcher attacks Bálor from behind and puts him in the ring. Dream hits Bálor with the Dream Valley Driver. Dream goes to the top rope and hits a Purple Rainmaker for the win!
Winner by Pinfall: Velveteen Dream
Velveteen Dream joins Johnny Gargano, Damian Priest, Cameron Grimes, and Bronson Reed in the Ladder Match for the vacant NXT North American Championship at NXT TakeOver XXX.
Johnny Gargano quickly attacks Dream and picks up the North American Championship. Gargano holds the title up, but Grimes attacks him. Priest chokeslams Grimes, and Reed clotheslines Priest. Reed blocks a kick from Dream and hits a Death Valley Driver. Reed holds up the title to celebrate.