August 24, 2020
Orlando, Florida (Amway Center)
Commentary: Tom Phillips, Byron Saxton, and Samoa Joe
Results by: Mike Tedesco of Wrestleview.com
---
Quick Match Results
Shayna Baszler defeated Bayley by disqualification when Nia Jax attacked Baszler
WWE 24/7 Championship – Fatal 4-Way Match: Akira Tozawa defeated Shelton Benjamin (c), Cedric Alexander, R-Truth via roll up on R-Truth to become the NEW champion
Montez Ford defeated Angel Garza via twisting frog splash
Bianca Belair & The Riott Squad defeated Zelina Vega & The IIconics via KOD by Belair on Vega
Randy Orton defeated Keith Lee by disqualification when Drew McIntyre attacked Orton
Raw Women's Championship – Lumberjack Match: Asuka (c) defeated Sasha Banks via Asuka Lock
Rey & Dominik Mysterio vs. Seth Rollins & Murphy was no contest when RETRIBUTION ran in
---
We watch the Raw intro video and go live into the WWE ThunderDome to see an enormous pyrotechnics display.
---
In-Ring: Drew McIntyre, Randy Orton
WWE Champion Drew McIntyre makes his way to the ring. McIntyre poses and pyro goes off all around the arena, including behind the LED monitors with the WWE fans on it.
Video Package: Drew McIntyre defeats Randy Orton to retain the WWE Championship at SummerSlam
McIntyre welcomes everyone to the first Raw from the WWE ThunderDome. McIntyre asks everyone for a thumbs up, and the virtual crowd responds. McIntyre says he had his greatest challenge to date against an evil man in Randy Orton and he stands here still the champion. McIntyre asks Orton if he wants to know the secret of how he pulled it off. It's simple. He's hungrier than Orton and works harder than him. When the chips are down and Superstars are missing, he digs in and pushes forward because he's so damn proud to be WWE Champion. McIntyre is also this way because of his journey. McIntyre knows what it's like to go through hard times and feel desperate, wondering where your next paycheck is coming from. Some people watching know what that's about. Orton knows nothing about that as he's protected and coddled. No matter how many mistakes Orton made, his inner circle made sure he stayed at the top. Orton kept getting better and is the absolute best, which makes McIntyre sick. Still, last night, Drew McIntyre was that much better.
Thinking back to Backlash, didn't Orton win a match called the "Greatest Wrestling Match Ever"? Then he started bragging about how he's the greatest wrestler ever. Last night, he not only beat Orton, he beat him with a wrestling maneuver. What does that make Drew McIntyre? McIntyre is looking forward to his next challenge, but he knows Orton won't let this go. If Orton wants to come back for more, he'll get to do the one thing he didn't get to do last night: he'll kick Orton's head off and send his ass to Claymore Country.
McIntyre leaves the ring and poses on the ramp. Orton attacks him from behind and throws him into the LED wall. Orton punches him back, but McIntyre fights back. Orton bounces him off the LED board.
They brawl into Gorilla position. Orton rakes the eyes and knocks McIntyre into the wall. Referees pull Orton back, but he escapes and Punk Kicks Drew McIntyre! Orton leaves. McIntyre tries to get to his feet, but he is knocked loopy. Orton then returns and delivers a second Punt Kick to McIntyre. McIntyre is not moving. Orton drops down and whispers to him before walking off.
After commercials, we go backstage to Gorilla Position to see Drew McIntyre fighting up to his feet and shouting that he is fine.
---
Backstage: Nia Jax, Shayna Baszler
Nia Jax is walking backstage when Sarah Schreiber comes up to her. She says Jax has been suspended. Jax says all she had to do was apologize and scares Schreiber away.
Shayna Baszler comes up and says they're all just waiting for Jax to say something to get herself kicked out again. Jax says if she needs help against Bayley she just needs to ask. Baszler says she doesn't need help from a Haystacks Calhoun lookalike. Actually, Calhoun was good looking. Jax says she's rude and looks like an Addams Family reject. Baszler sarcastically welcomes her back.
---
Bayley vs. Shayna Baszler
The Golden Role Models make their way to the ring. Sasha Banks looks unhappy after losing her Raw Women's Championship last night at SummerSlam. Bayley retained her SmackDown Women's Championship with Banks' help.
This is a non-title match. Before the match begins, Nia Jax walks out to the stage.
The bell rings, and Baszler quickly goes for Bayley's arm. Bayley quickly gets to the ropes. Bayley applies a waistlock, but Baszler hooks a hammerlock and takes her down. Baszler grabs the arm, steps on her head, and twists. Baszler then hits an arm breaker. Bayley gets out of the ring to recover. Bayley takes a few moments before getting in the ring and attacking Baszler. Bayley takes her down and stomps her. Bayley then hits a headlock takeover, but Baszler whips her off and hits a big forearm. Baszler connects with a second forearm before kneeing her in the chest in the corner. Baszler talks trash to Banks, so Bayley rolls her up. Baszler kicks out and transitions into a triangle choke. Banks gets on the apron, which distracts Baszler. Bayley attacks her from behind and stomps her in the corner. Bayley hits a textbook suplex for a two count. Banks is holding all three title belts under the control of The Golden Role Models.
Bayley punches Baszler and talks trash. Nia Jax is seen watching on the ramp. Bayley whips her down by the hair and hits an elbow to the back. Bayley follows up with a running uppercut for a two count. Baszler forearms her back and kicks away at her. Baszler charges, but Bayley sidesteps her and sends her out of the ring. Baszler goes to get in the ring, but Jax pulls her off the apron. The referee calls for the bell.
Winner by Disqualification: Shayna Baszler
Baszler quickly fights back and flips Jax over. Jax quickly powers her into the LED apron and puts her in the ring. The Golden Role Models look very happy. Jax takes Baszler down and talks trash. Bayley and Banks root Jax on, but Jax just coldly stares at them. Baszler then gets to her feet and stands alongside Jax. They then join forces to scare back The Golden Role Models.
---
In-Ring: The Kevin Owens Show With Aleister Black
Kevin Owens is backstage wearing a necktie with a t-shirt on. He's looking for Aleister Black and knocks on his door. Owens opens the door and asks if he'll be on The Kevin Owens Show because it's next. Owens gets no response and says he'll see him out there.
After commercials, Kevin Owens is in the ring and welcomes everyone to the first episode of The Kevin Owens Show from the WWE ThunderDome. It's always special to host this show, but having this guest makes it better. This is someone you wouldn't expect to see on his show. They've had a common enemy for a few months and hasn't been seen in a while. Returning to Monday Night Raw is Aleister Black.
Aleister Black comes out with a covering over his eye and sits down. Owens says everyone has been concerned for him since Murphy shoved his eye into the steps. Owens asks how his eye is doing. Black tells him to just show the footage. Owens objects, but Black insists.
Replay: Murphy shoves Aleister Black's eye into the corner of the ring steps last month
Owens says he knows exactly what Black is feeling. Rollins and his disciples can get under your skin and get in your head. They made him question why he even wants to be here. You can ask Rey and Dominik Mysterio about it. Seth Rollins loves to do it. As he told Ric Flair a few weeks ago, he's done a lot of terrible things to get ahead, but Rollins takes it to another level. All of a sudden, Black drops down in pain. Owens gets up and looks concerned. Black all of a sudden blindsides him with a back elbow and wipes him out with a vicious Black Mass. Black angrily walks off.
---
Backstage: Bayley, Sasha Banks
You can hear it.#WWERaw @SashaBanksWWE @itsBayleyWWE pic.twitter.com/YKIiG8ThaG

— WWE Universe (@WWEUniverse) August 25, 2020
The Golden Role Models are talking backstage when Charly Caruso comes up to them. She mentions they barely escaped from Nia Jax and Shayna Baszler. That was intense. Bayley says they just left because Sasha Banks has a title match. After Banks wins her title back, they'll take care of Baszler and Jax.
---
The WWE Universal Championship will be on the line at WWE Payback. "The Fiend" Bray Wyatt will defend the title against Braun Strowman and Roman Reigns.
---
WWE 24/7 Championship – Fatal 4-Way Match
Shelton Benjamin (c) vs. Cedric Alexander vs. Akira Tozawa vs. R-Truth
The bell rings, and Tozawa charges Benjamin. Benjamin takes him down and slams him. R-Truth covers Tozawa, so Benjamin breaks it up. Alexander takes everyone down. Alexander goes for a Neuralyzer on Benjamin, but Benjamin avoids it. Alexander hits a head-scissor on Benjamin into the corner. Benjamin quickly knees Alexander to the floor. R-Truth attacks Benjamin, but Benjamin avoids it. Tozawa goes for a hurricanrana, but Benjamin catches him and powerbombs him over the top rope, but the ninjas catch him. They put Tozawa on the apron, so Benjamin charges. Tozawa gets Benjamin out of the ring. The ninjas hold Benjamin while Tozawa rolls R-Truth up for the win.
Winner by Pinfall and new WWE 24/7 Champion: Akira Tozawa
Benjamin viciously lays out the ninjas as Tozawa runs away with the title.
---
In-Ring: Randy Orton, Keith Lee
Randy Orton is walking backstage when Sarah Schreiber stops him. She asks if he has anything to say about what he did to Drew McIntyre. Orton says he does have something to say and keeps walking.
After commercials, replays are shown from earlier in the night of Randy Orton viciously attacking Drew McIntyre. Orton gave him two Punk Kicks, but McIntyre still walked off on his own power.
Randy Orton makes his way to the ring. Orton says for the longest time he's done what he's wanted to when he wanted to on whoever he wanted. Last night at SummerSlam, he said he would RKO Drew McIntyre, kick him in the skull, and take his title… but he didn't. You can call him a lot of things – a pretty long list – but one thing he's always been is a man of his word. He promised that he would kill the legend of Edge, Christian, Big Show, Ric Flair, and Shawn Michaels… he did just that. Orton is the Legend Killer.
Drew McIntyre comes out here earlier and the opportunity presented itself. He took that opportunity and kicked him in the skull twice. Orton enjoyed it oh so much. Does McIntyre want to know why he kicked him in the skull twice? McIntyre stood in this ring and offered him a rematch out of pity. Who the hell does McIntyre think he is? Orton is the Legend Killer and the greatest wrestler…
Keith Lee's music cuts him off. Lee walks down to the ring and stares right at Orton before smirking. Orton looks at him with some confusion. Lee says Orton seems a little perplexed, but they haven't been properly introduced. Lee says, "Greetings and salutations, Mr. Orton. My name is Keith Lee and I have come here to offer you this spectacular opportunity – this luxury, this privilege – to stop what you're doing for just one moment and bask in my glory." Lee says Orton has been called many things: The Viper, Apex Predator… Legend Killer… He has been called many things: Game Changer, Anamoly… but he is limitless. Since the Limitless One is on Raw and Orton seems to be looking for a fight the likes of which no one has ever felt, with respect to his friend Drew McIntyre, Lee will step up if he's willing to respect the challenge right here and now.
Orton circles around him and confirms his name is Keith Lee. Orton says if he wants to fight him right here and now… maybe later. Orton rolls out of the ring and leaves. Lee smiles.
---
Backstage: Angel Garza, Zelina Vega, Demi Burnett
🌹 @AngelGarzaWwe is in action NEXT on #WWERaw, and it looks like @demi_burnett will be watching! pic.twitter.com/XKfxIap19V

— WWE (@WWE) August 25, 2020
Charly Caruso is backstage when she sees Angel Garza, Zelina Vega, and Demi Burnett. Caruso asks if Vega is finally ready to admit she poisoned Montez Ford. Vega says she had nothing to do with it. That footage had nothing to do with that. Garza says Vega has never been caught before. Vega tells him to shut up. She has a match to concentrate on and leaves. Garza asks if Burnett wants to come to ringside. She says she was talking to Ivar over the weekend. Caruso is also welcome to come. Caruso looks grossed out.
---
Angel Garza vs. Montez Ford
The bell rings, and Garza immediately hooks a side headlock. Ford whips him off leapfrogs him twice, and hits a beautiful dropkick. Ford shakes the ropes and charges, but Garza puts him on the apron. Ford punches him back and comes off the top rope, but Garza dropkicks him out of mid-air! Garza rips his pants off and covers Ford for a near fall. Garza puts him in the tree of woe and hits a running knee for a two count. Ford fights up and goes for an enzuigiri, but Garza avoids it. Garza takes Ford down, and Ivar walks down the ramp. Ivar goes up to Demi Burnett and hands her a turkey leg. She happily accepts it and walks off with Ivar. Garza looks furious.
Garza angrily goes after Ford, but Ford sidesteps him. Ford goes to the top rope, but Garza kicks him. Garza goes for a superplex, but Ford fights it and punches him down to the mat. Ford hits a Twisting Frog Splash for the win!
Winner by Pinfall: Raw Tag Team Champion Montez Ford
---
Backstage: Shayna Baszler, Nia Jax
So, @NiaJaxWWE and @QoSBaszler want the WWE #WomensTagTitles …

Great start. #WWERaw pic.twitter.com/ma2FnNkw21

— WWE (@WWE) August 25, 2020
Shayna Baszler is sitting backstage when Nia Jax walks up to her. Jax says she initially wasn't thrilled with the idea of teaming with her, but now she's sure they can win the Women's Tag Team Titles. Jax wants those titles. Baszler says if she helps her with that, Jax gets off her back and leaves her alone. Jax says as long as she follows her lead and playfully pushes her. Baszler slaps her in the face and walks off. Jax rolls her eyes.
After commercials, it's official: Shayna Baszler and Nia Jax will face Sasha Banks and Bayley for the WWE Women's Tag Team Championship at WWE Payback.
---
Zelina Vega & The IIconics vs. Bianca Belair & The Riott Squad
It'll be Liv Morgan starting against Billie Kay. Kay knees Morgan and tags Peyton Royce in. Royce punches Morgan, but Morgan punches back. Morgan sends her to the corner and avalanches her. Ruby Riott tags in and avalanches Royce. Royce quickly elbows her in the face and tags Kay in. Kay takes Riott down for a two count. Royce tags in, and The IIconics deliver stereo kicks to Riott. Zelina Vega tags in and axe kicks Riott. Vega puts her in the corner and kicks her in the head. Vega hits a running knee in the corner and covers for a near fall. Vega applies a dragon sleeper, but Riott whips her off. Vega knocks Morgan off the apron and gets in Belair's face.
Riott tags Belair in. Belair takes Vega down with some shoulder tackles and knocks The IIconics off the apron. Vega goes for a head-scissor, but Belair lands on her feet. Belair hits a shoulder tackle and claps some syllables. Belair hits a Glam Slam followed by a handspring moonsault, but The IIconics break it up. The Riott Squad runs in and hits step-up enzuigiris on them. Vega rolls Belair up for a two count. Belair forearms her and hits the KOD for the win.
Winners by Pinfall: The Riott Squad and Bianca Belair
---
Backstage: Ricochet, Cedric Alexander, Mark Henry, MVP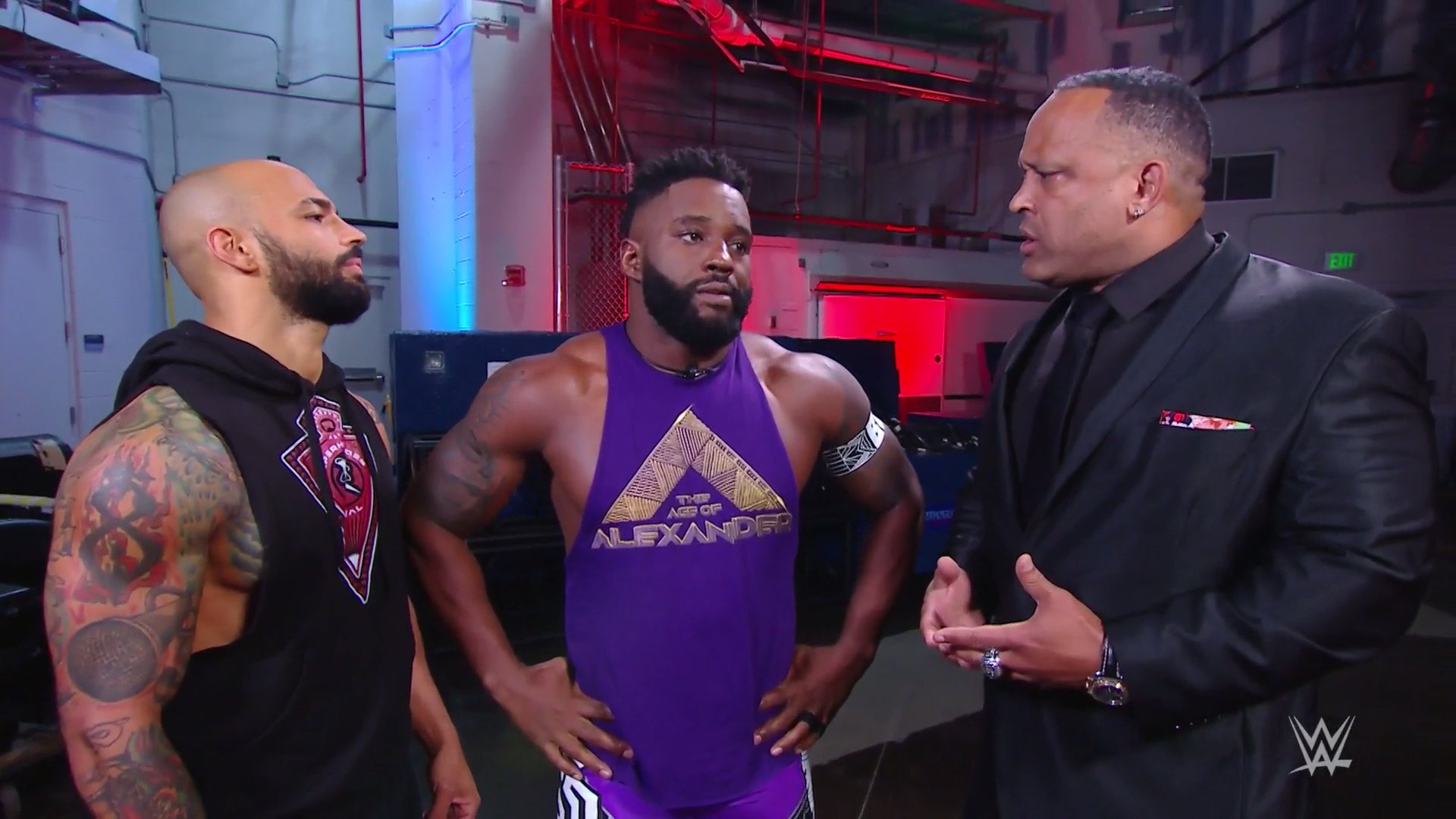 Ricochet and Cedric Alexander are arm wrestling backstage. Alexander wins. Mark Henry walks up and says they need the table. Some stagehands carry it away. MVP walks up and asks Alexander what he's doing. He lost his 24/7 Championship and isn't going after the new champion. Instead he's having fun and losing arm wrestling matches. Ricochet says Alexander already told him no. MVP says he's not talking to him. Why is Alexander going after a man called the One and Only? MVP says they can go back to doing whatever they were doing and stay right where they're at. MVP walks off.
---
Arm Wrestling Match
Bobby Lashley vs. Apollo Crews
WWE Hall of Famer Mark Henry is in the ring. He says it's time to see who is the strongest. He introduces the CEO of the Hurt Business, Bobby Lashley, to the ring. Next out is WWE United States Champion Cedric Alexander. Henry says he's told The Hurt Business, Ricochet, and Cedric Alexander not to come out so it's a fair competition. Lashley says he doesn't need MVP or Shelton Benjamin. Lashley will slam his hand down and beat him up, but not too bad so he can show up this weekend and beat him for the United States Championship. Lashley asks, "Do you got that, little man?" Crews says he'll do the same thing to Lashley he did to MVP last night.
Henry asks if they're ready to go. They lock hands on the table, but Lashley pulls back. Lashley removes his jacket and puts it on the top rope. Lashley then gets in Henry's face. Crews stomps on Lashley's foot and slams Lashley's arm down to win. Henry declares him the winner. Lashley is furious. Lashley attacks, but Crews gets the better of him. Crews goes for a Toss Powerbomb, but Lashley gets out. Crews big boots him and hits a somersault plancha on the rest of the Hurt Business as they run down to the ring. Crews grabs his United States Championship and runs off.
---
Backstage: Rey Mysterio, Dominik Mysterio
Rey, Angie, and Dominik Mysterio are talking backstage. Charly Caruso walks up to them. She asks Rey about the conflicting emotions he must be experiencing. Rey says whatever happens tonight, he's proud of his son. Angie says they're proud of him. Last night, Dominik took on one of the most dangerous superstars in WWE. Rey couldn't ask for more. Charly asks Dominik if he was nervous. Dominik says he was absolutely terrified, but he knew no matter what he had his family in his corner, which gave him the courage to do what he had to do. Rey says Rollins doesn't understand that about their family. They give each other strength. One day, Rollins will have a family of his own and understand what he put Rey through. Rey's family is together and will have to deal with the consequences for the rest of his career. His son became a man and turned into someone he's never seen before. Tonight isn't about winning or losing. He's so proud of Dominik for standing in front of him knowing how much pain he's in. Rey says he loves Dominik so much and knows tonight will be a great night. This is the night he's been dreaming of for many years. Rey has always wanted to share the ring with his son. He'll be damned if Rollins ruins this moment. Rollins likes to talk about the bright future of Raw. He's looking at it in Dominik.
---
In-Ring: Lana, Natalya, Mickie James
Lana and Natalya are in the ring. Lana says they're inducting a special woman into the Hall of Fame. Lana talks about Natalya and how great she is. Natalya says she'll get her WWE Hall of Fame induction because she's the Best of All Time #BOAT, but they're paying tribute to Mickie James tonight. Like every great trail, it comes to an end. Lana says they tried to elevate James and put her on TikTok, but she refused it. They're retiring the Chick With The Kick.
Video Package: A Mickie James highlight package made by Natalya… there's no footage.
They laugh and say that is James' career. Mickie James angrily runs down and punches Natalya down. She then hits Lana with a Mick Kick. James walks off.
---
Raw Underground: Shane McMahon, Bobby Lashley, Dolph Ziggler
Shane McMahon is outside of Raw Underground with the giant bodyguard when The Hurt Business comes up and goes inside.
We join Raw Underground in progress. Bobby Lashley easily chokes a guy out in a front facelock.
Dolph Ziggler gets on the platform and challenges Lashley. Ziggler takes him down with a single leg and applies a front facelock. Lashley angrily takes him down and kicks away at his back. Ziggler kicks him in the head and jumps on his back for a sleeper hold. Lashley tries to roll him off and eventually does. Lashley then shoulder blocks Ziggler off the platform headfirst into a wall. The Hurt Business puts an unwilling participant into the ring… and Lashley knocks him out with a kick that doesn't come anywhere near his head. Shane McMahon asks if anyone else wants to face Lashley. No takers.
---
Randy Orton vs. Keith Lee
They lock up, and Orton hooks a side headlock. Lee lifts him up, but Orton cinches it in to get back on the ground. Lee whips him off, drops down, leapfrogs him, and shoulder blocks him down. Orton looks absolutely surprised. Orton signals he wants to do a test of strength, but he instead kicks Lee in the midsection. Orton uppercuts Lee and goes for a punch, but Lee blocks the punch. Lee crushes his hand, and Orton screams in pain. Lee then hits a standing overhead belly-to-belly suplex. Orton rolls out of the ring to recover. Lee scoops him up, but Orton slides off and sends him into the ring post.
Orton has him in the ring and starts the Garvin Stomps. Orton then rakes Lee's eyes on his kneepad. Orton covers, but Lee powerfully kicks out. Orton applies a deep chin lock. Lee fights up with Orton on his back. Lee backs him into the corner to get out of the hold. Lee avalanches him, hits the ropes, and hits a running cross-body block. Lee pounces Orton out of the ring. Lee puts him in the ring and goes to get in, but Orton kicks him in the chest. Orton hits a draping DDT, gets fired up, and drops down. Drew McIntyre then pulls Orton out of the ring and attacks him.
Winner by Disqualification: Randy Orton
McIntyre attacks Orton and sends him into the barricade. Orton jumps over the barricade and runs away. Lee has disappeared. McIntyre looks intense.
---
Backstage: Drew McIntyre, Randy Orton
Drew McIntyre is walking backstage when Charly Caruso comes out. McIntyre says he's happy for his friend Keith Lee, but he doesn't need help fighting his battles. McIntyre says he doesn't feel good because Orton tried to end his damn career. If Orton is watching… Randy Orton attacks McIntyre from behind and gives him the third Punt Kick of the night! Referees run up and back him up. McIntyre is unconscious this time.
After commercials, Charly Caruso is outside the Trainer's Room. She says she's heard the doctors talking about McIntyre having a possible skull fracture.
---
Raw Women's Championship – Lumberjack Match
Asuka (c) vs. Sasha Banks
Lumberjacks: Ruby Riott, Liv Morgan, Bianca Belair, Mickie James, Shayna Baszler, Lana, Natalya, Peyton Royce, Billie Kay
They circle the ring, and Banks rolls her up for a two count. Asuka kicks her in the knee and sends her out of the ring. Banks shoves Riott and gets in the ring. Asuka quickly hip attacks her back to the floor. Bayley comes up and helps Banks, but the Lumberjacks stop her. The face lumberjacks have a staredown with the heel lumberjacks.
We come back from the break to see Bayley punching Asuka while Banks holds her up. Banks gets Asuka in the ring and picks up a two count. Banks slaps the mat in frustration. Banks charges, but Asuka kicks her down. Asuka goes to the second rope and hits a diving DDT for a near fall. Asuka blocks a kick, takes her down, and goes for the ankle lock. Banks fights it, but Asuka locks it in. Banks rolls through to knock Asuka out of the ring. Banks gets on the apron and dives, but Asuka ducks. Banks takes out the Riott Squad instead. Asuka then takes Banks down. Asuka goes after Bayley, and Asuka takes down Lana, Natalya, and The IIconics to get to her. Banks attacks Asuka from behind and puts her in the ring. Banks goes to the top rope and hits a frog splash for a near fall. Banks is stunned.
Bayley goes to put a chair in the ring, but Shayna Baszler stops her. Banks is surprised by that. Asuka then grabs Banks and puts her in the Asuka Lock for the submission.
Winner by Submission and still Raw Women's Champion: Asuka
The Golden Role Models are furious. Shayna Baszler looks very pleased.
---
Backstage: Keith Lee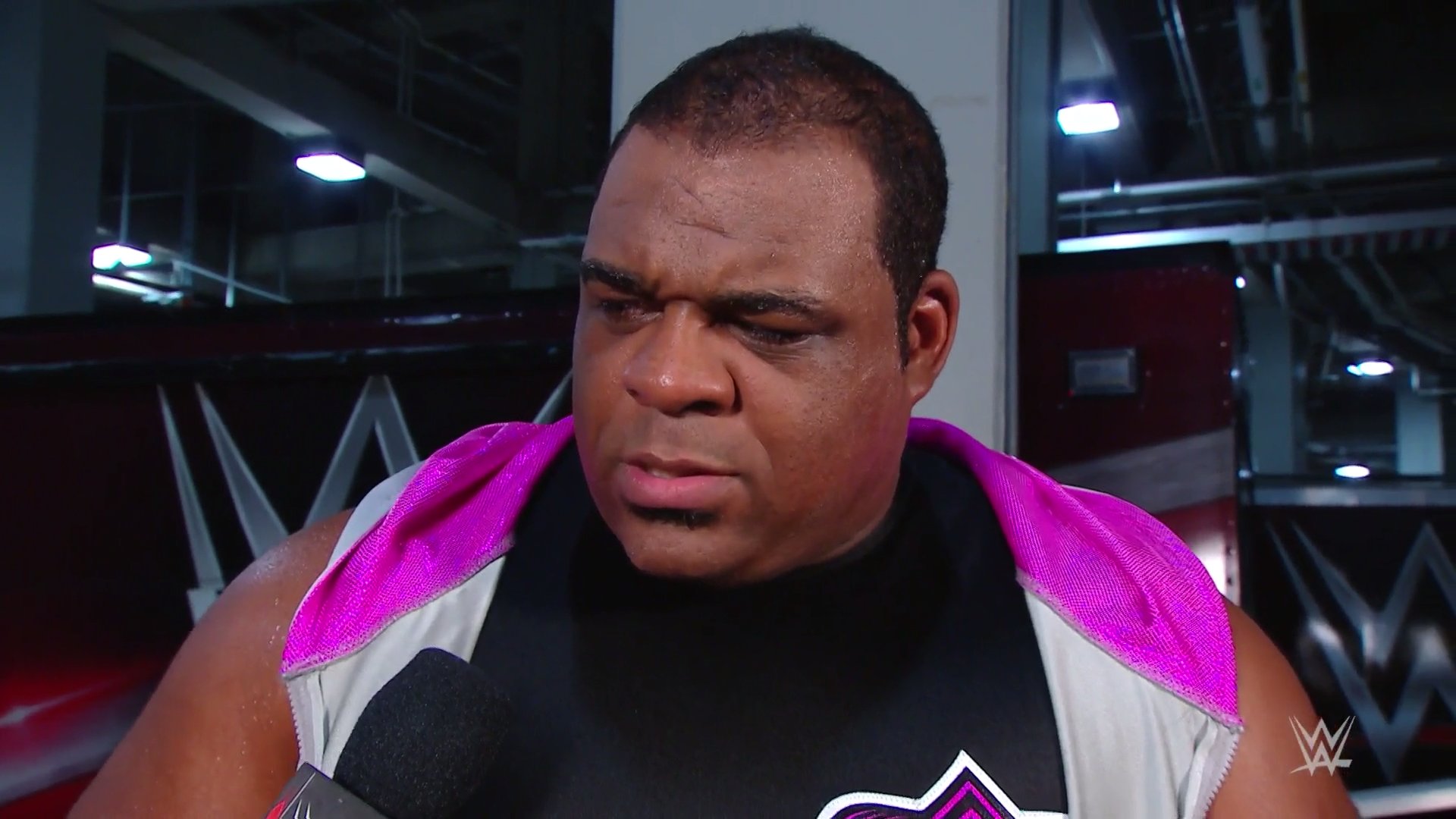 We go backstage to see an ambulance drive off. Charly Caruso says Drew McIntyre was sent to the hospital due to the severity of his injury. McIntyre will undergo more evaluations. Keith Lee is with her. Lee is a close friend of McIntyre. Lee says there's a large portion of him that wanted to tell McIntyre not to interfere in his Raw debut. With his friend being loaded into an ambulance, that changes things. McIntyre is one of the toughest men he's ever met. McIntyre will be ok… but he can't say the same about Randy Orton.
Randy Orton battles Keith Lee this Sunday at WWE Payback.
---
Raw Underground: Bobby Lashley, Cedric Alexander, Ivar, Erik
We go back to Raw Underground to see Bobby Lashley battling Cedric Alexander. Lashley wildly slams him down and tries to apply an arm bar. Alexander taps out.
Ivar attacks Lashley, so The Hurt Business gets involved. Erik runs in to help his partner. Lashley applies a Kimura Lock to Ivar. Erik and Ivar are taken out. Shane McMahon says business is booming with The Hurt Business. We'll see what happens on Raw Underground next week.
---
Rey & Dominik Mysterio vs. Seth Rollins & Murphy
Rey and Dominik Mysterio attack Seth Rollins and Murphy during their entrance. Rey sends Rollins into the barricade. Murphy sends Dominik into the barricade, and Rollins sends Rey over the commentary table. Rollins and Murphy double-team Dominik and put him in the ring.
Dominik starts against Murphy, as the bell rings. Dominik hits a jawbreaker followed by a rolling arm drag. Dominik hits another arm drag, but Murphy blocks a third. Dominik quickly powers him over and dropkicks him out of the ring. Dominik sets up for a plancha, but Rollins grabs the feet. Dominik hits a baseball slide on him and sends Murphy out of the ring. Rey then sends Rollins into the barricade.
The Mysterios knock Rollins into the ropes. Rey goes for a 619, but Murphy pulls Rollins out of the ring. Dominik hits a diving cross-body off the top rope to the floor onto Rollins and Murphy… and Dominik sticks the landing. The Mysterio Family stands tall in the ring.
We come back from the break to see Rollins gutbuster Rey. During the break, Rollins hit a tilt-a-whirl backbreaker. Rollins punches Dominik off the apron and laughs. Rey punches Rollins back and hits a wheelbarrow bulldog. Murphy tags in and stops Rey. Rey kicks Murphy back with an enzuigiri.
Dominik tags in and jumps over Murphy. Dominik clotheslines Murphy down. Murphy reverses a whip, but Dominik connects with another clothesline. Murphy puts him on the apron, but Dominik comes back with a springboard cross-body. Dominik boots Murphy back and elbows him in the head. Dominik hits a hurricanrana into the ring post. Dominik goes for a leap, but Murphy catches him. Dominik counters into a DDT, but Rollins breaks up the pin. Rollins distracts Dominik, and Murphy blindsides him. Rollins goes for a Buckle Bomb on Dominik, but Dominik gets out.
Rey tags in and hits a springboard seated senton. Murphy blind tags in while Rey puts Rollins in position. Rollins avoids a 619. Murphy attacks Rey, but Rey puts him in position. Dominik tags in, and The Mysterio Family hit stereo 619s. The lights flicker as Dominik goes to the top rope. Rollins shoves Dominik off the top rope. Rey chases Rollins into the ring. RETRIBUTION gets in the ring.
No Contest
RETRIBUTION attacks the Mysterio Family as Rollins and Murphy run off. Rollins and Murphy happily watch from the stage as RETRIBUTION destroys Dominik and Rey. They slide Rey out of the ring onto his chest and send Dominik into the barricade. They send Rey head-first into the ring post and continue attacking both him and Dominik. RETRIBUTION poses on the apron, and Rollins looks really happy.