September 14, 2020
Orlando, Florida (Amway Center)
Commentary: Michael Cole, Byron Saxton, and Dolph Ziggler/MVP
Results by: Mike Tedesco of Wrestleview.com
---
Quick Match Results
The Street Profits defeated Cesaro & Shinsuke Nakamura via frog splash by Dawkins on Cesaro
Cedric Alexander defeated Ricochet via Lumbar Check
Raw Women's Championship: Asuka (c) defeated Mickie James via inexplicable referee stoppage
Bobby Lashley defeated Erik via the Hurt Lock
Steel Cage Match: Seth Rollins defeated Dominik Mysterio via the Stomp
Kevin Owens defeated Aleister Black via Stunner
The Riott Squad defeated Natalya & Lana via facebuster and Riott Kick on Lana
Drew McIntyre vs. Keith Lee was no contest when RETRIBUTION interfered
---
The Raw video plays and we go live into the ThunderDome. Thunder rumbles, and Michael Cole welcomes us to the show. Tom Phillips and Samoa Joe are off this week.
An In Your Face edition of #WWERaw with @ByronSaxton, @MichaelCole and @HEELZiggler on the call starts RIGHT NOW on @USA_Network! pic.twitter.com/sGTrrQARWj

— WWE (@WWE) September 15, 2020
---
In-Ring: Drew McIntyre, Adam Pearce, Keith Lee
WWE Champion Drew McIntyre makes his way to the ring. We see a video package highlighting his return to Raw last week. McIntyre gave Randy Orton three Claymore Kicks, causing Orton to be taken away in an ambulance.
McIntyre says Randy Orton broke his jaw, but he's back. It doesn't take a rocket scientist to see that Orton meant to do a lot more. McIntyre considers himself lucky his jaw is fractured. Randy Orton should consider himself lucky that his head is still attached to his body after three Claymore Kicks. McIntyre is going to give everyone a medical update. WWE medical personnel told him to take some time off with a non-displaced fracture, but he'd forfeit his WWE Championship. One bad shot and he'll have his jaw wired shut, but he'd rather that than ever give up his title.
McIntyre says maybe Orton should tell his nurse to turn the volume up for this next part. They've both taken a ride in the ambulance due to the WWE Championship, so maybe someone should take a ride in the ambulance FOR the WWE Championship. At WWE Clash of Champions, he wants to defend the title against Orton in an Ambulance Match because the rules don't apply to them anymore.
Orton might not make it to Clash of Champions after he kicked him in the head three times with the Claymore Kick, the most deadly move in sports entertainment. McIntyre didn't mean to make that move. He was wearing tight pants and was worried about splitting them since Scottish people don't wear underpants. McIntyre kicked his legs up and knocked his opponent out. McIntyre knew if he could develop that move, it would be deadly. McIntyre shows a comedy picture similar to what Orton showed on Raw a few weeks ago of all his Claymore Kick victims.
WWE Official Adam Pearce walks out to the stage. Pearce says the severity of Orton's injuries are unknown. Orton might not be able to face McIntyre in any title match. That changes tonight. The match against Keith Lee becomes about more than bragging rights among old friends. If Lee beats McIntyre and Orton can't make it to WWE Clash of Champions then Lee faces McIntyre for the WWE Championship.
Pearce walks off, and Keith Lee walks out. Lee gets in the ring, and they shake hands. McIntyre goes to walk away, but Lee hangs on. Lee then goes to leave, but McIntyre pulls him in.
---
The Street Profits vs. Cesaro & Shinsuke Nakamura
Cesaro and Shinsuke Nakamura are shown in a pre-taped promo. Cesaro said they're going to ruin the perception that The Street Profits are the best tag team. Nakamura said if the Profits want the smoke, they'll get it.
The bell rings, and Cesaro immediately floors Angelo Dawkins with a running uppercut. Cesaro drops him on the top rope and tags Nakamura in. Nakamura knees Dawkins. Cesaro and Nakamura then hit a flying knee/gutwrench suplex combo. Nakamura kicks Dawkins in the head and forearms him in the corner. Nakamura sends him to the corner and charges, but Dawkins boots him back and clotheslines him down. Montez Ford tags in and hits Nakamura with a big dropkick. Dawkins drops Ford onto Nakamura, but Cesaro runs in. The Street Profits quickly fight back and knock Cesaro out of the ring with a double dropkick. Ford goes for a somersault senton, but Cesaro and Nakamura catch him. They then powerbomb Ford on the edge of the barricade! Ford's back bent at a rough angle.
We come back from the break to see Ford sidestep Cesaro, sending him shoulder-first into the ring post.
Dawkins and Nakamura tag in. Dawkins hits a pair of clotheslines followed by a spinning back elbow. Cesaro runs in, but Dawkins hits a flapjack. Dawkins catches Nakamura with an exploder suplex for a two count. Dawkins sends Nakamura to the corner and goes for a corkscrew avalanche, but Nakamura sidesteps him. Nakamura puts him in the ropes and hits a sliding German Suplex. Nakamura charges, but Dawkins hits him with the Cash Out. Ford tags in and goes for a Frog Splash, but Nakamura gets the knees up! Cesaro knocks Dawkins out of the ring. Nakamura covers, but Ford kicks out. Cesaro tags in and hits a Cesaro Swing into a Nakamura kick. Dawkins breaks up the pin.
Cesaro viciously stomps away at Dawkins before choking him on the bottom rope. Nakamura kicks Dawkins in the face. Ford attacks Cesaro, but Cesaro comes back with a Very European Uppercut. Somehow Ford kicks out. Nakamura goes for a running knee into the steps, but Dawkins moves. Nakamura holds his knee in pain. In the ring, Cesaro beats on Ford in the corner. Cesaro goes for a deadlift superplex on Ford and Dawkins blind tags in. After landing on the canvas, Dawkins hits Cesaro with a Frog Splash for the win!
Winners by Pinfall: Raw Tag Team Champions The Street Profits
---
Backstage: Angel Garza, Lana, Andrade, Zelina Vega
We see Angel Garza talking to Lana backstage. Lana cannot believe Mickie James has a title shot when Natalya deserves it. She's the #BOAT and the winningest female in WWE history. Garza says this is unfair. Lana's passion for justice is intoxicating. Zelina Vega walks up and tells Lana to give them a second. Vega says Garza abandoned Andrade two weeks in a row and their Tag Title opportunities have vanished. Now he's hitting on Lana. Garza says he's tired of being blamed. Andrade lost their opportunities. Andrade gets in his face and they argue. Vega breaks it up and says she can't do this anymore before walking off. Garza and Andrade begin to brawl.
---
In-Ring: The Hurt Business, Ricochet, Apollo Crews
Business is BOOMING.#WWERaw #HurtBusiness @The305MVP @Sheltyb803 @fightbobby @CedricAlexander pic.twitter.com/vgO346bVJv

— WWE (@WWE) September 15, 2020
Replay: Cedric Alexander joins The Hurt Business last week on Raw
The Hurt Business makes their way to the ring. MVP says The Hurt Business has an official announcement: business is booming! The CEO Bobby Lashley is firmly in possession of the United States Championship, Shelton Benjamin upgraded from the Gold Standard to platinum, and Cedric Alexander is officially with them. Alexander says his social media blew up with whiners talking about him turning on his friends. Alexander says this is his job and he'll do what he has to do when he has to do it. No one knows what it's like to be Alexander to come to Raw and get beat up. On Tuesday, he can't play with his kids and family. Being with Ricochet left him hurting. Now that he's with The Hurt Business…
Ricochet and Apollo Crews interrupt him. Crews says they need to call it like it is: Alexander sold them out. Alexander is too weak-minded and allowed himself to be manipulated. Alexander has to live with the consequences of that decision. They always had his back. Alexander says that's wrong. How many times did he catch a beating for Crews when he WAS United States Champion? Benjamin says Alexander doesn't owe them an explanation. Ricochet tells Benjamin to mind his own business. Ricochet says it is what it is… Alexander joined The Hurt Business. Alexander stabbing him in the back hurt more than any beating from The Hurt Business. They're not here to ask Alexander why. They're here to tell him that if he thought it was bad with The Hurt Business attacking him, they're now coming for him.
Cedric Alexander vs. Ricochet
Ricochet quickly takes Alexander down and punches him. Alexander comes back with a knee and sends him into the ropes, but Ricochet holds on. Ricochet knocks Alexander out of the ring. Alexander avoids a dive, but Ricochet manages to kick him in the face and hit a second rope moonsault block to the floor. Benjamin approaches, but Crews takes him out. Lashley clotheslines Crews down before lifting him up. Erik of The Viking Raiders runs down and brawls with Lashley.
We come back from the break to see Alexander applying a grounded bearhug to Ricochet. Ricochet fights out, but Alexander takes him down. Ricochet forearms him back, but Alexander viciously knees him in the ribs and dropkicks him in the back for a two count. Alexander crossfaces Ricochet a few times and stomps him. Alexander fishhooks Ricochet's nose and punches him down. Ricochet quickly reverses a whip to the ropes and dropkicks him down.
Both men are down. MVP shouts that Alexander needs to get up and whoop that man. They get up, and Ricochet punches away at Alexander. Ricochet chops Alexander and stares at The Hurt Business. Alexander takes Ricochet down, but Ricochet kicks him in the face. Ricochet hits a dragon suplex and bridges for a near fall. Ricochet goes to the top rope, but Benjamin distracts him. Ricochet goes for a 630, but lands on his feet when Alexander moves. Alexander avoids a dropkick and hits a Michinoku Driver for a near fall. Alexander then hits a RIDICULOUS Lumbar Check for the win!
Winner by Pinfall: Cedric Alexander
Segment: RETRIBUTION
The lights go out immediately following Alexander's victory. RETRIBUTION's logo appears on the screen. One of the members says they are the product of empty promises, lies, and betrayal. They once trusted, but now they want with eyes wide open. The tall one says the people are waste and byproduct. When you treat others like garbage, you are garbage. They once believed that their time at the Performance Center would lead to fame. They refuse to suck up to a regime. While they enjoy the last days of oblivion, they're prepared to show who they are.
The lights go out and come back on. The Hurt Business is ready for a fight, but RETRIBUTION doesn't show up.
---
Backstage: Mickie James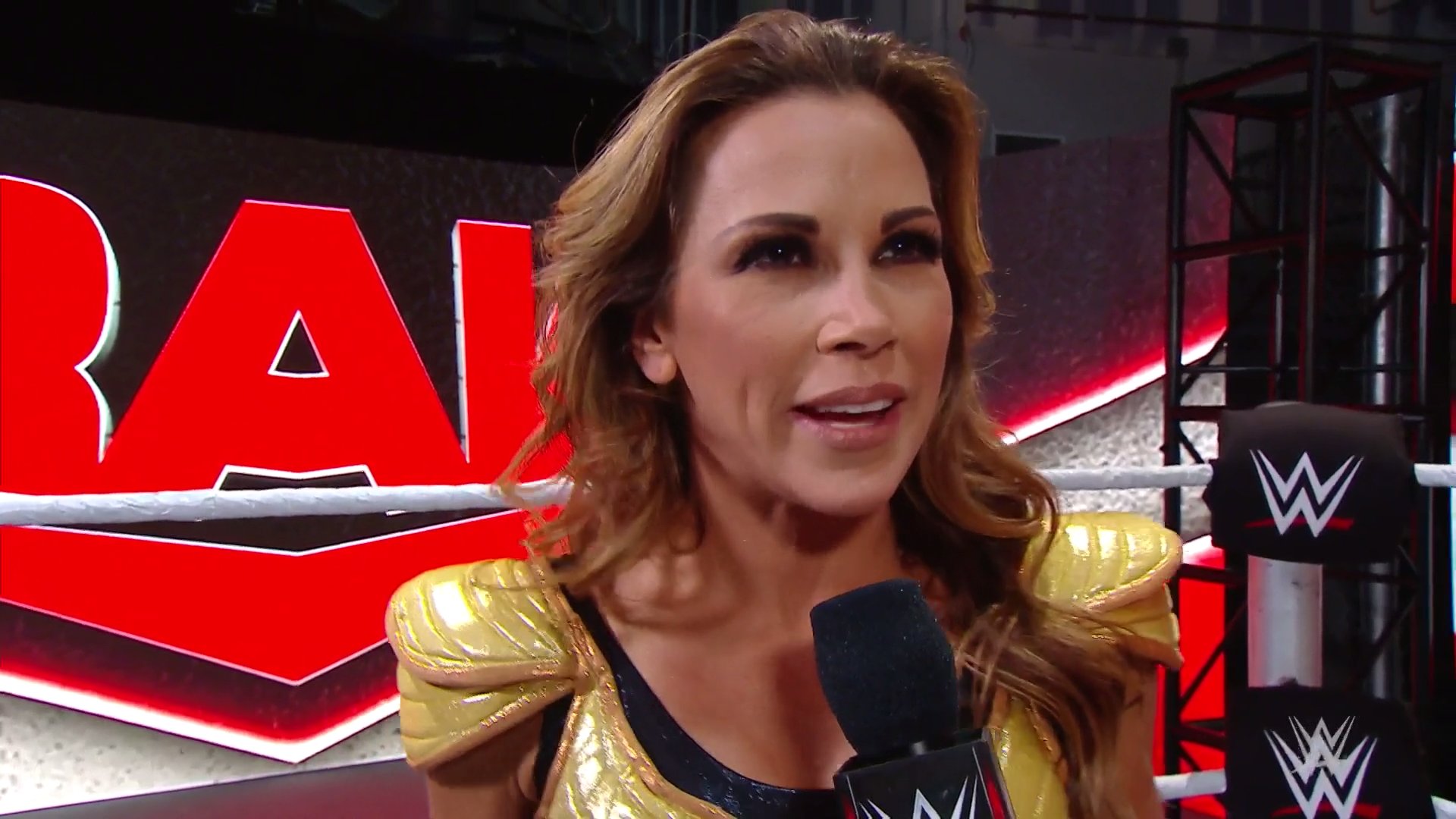 We go backstage to see Sarah Schreiber. She's interviewing Mickie James. Mickie says with wisdom comes clarity. She has what it takes to win the Raw Women's Championship, but she knows this could be her last chance.
---
Backstage: Adam Pearce, The Hurt Business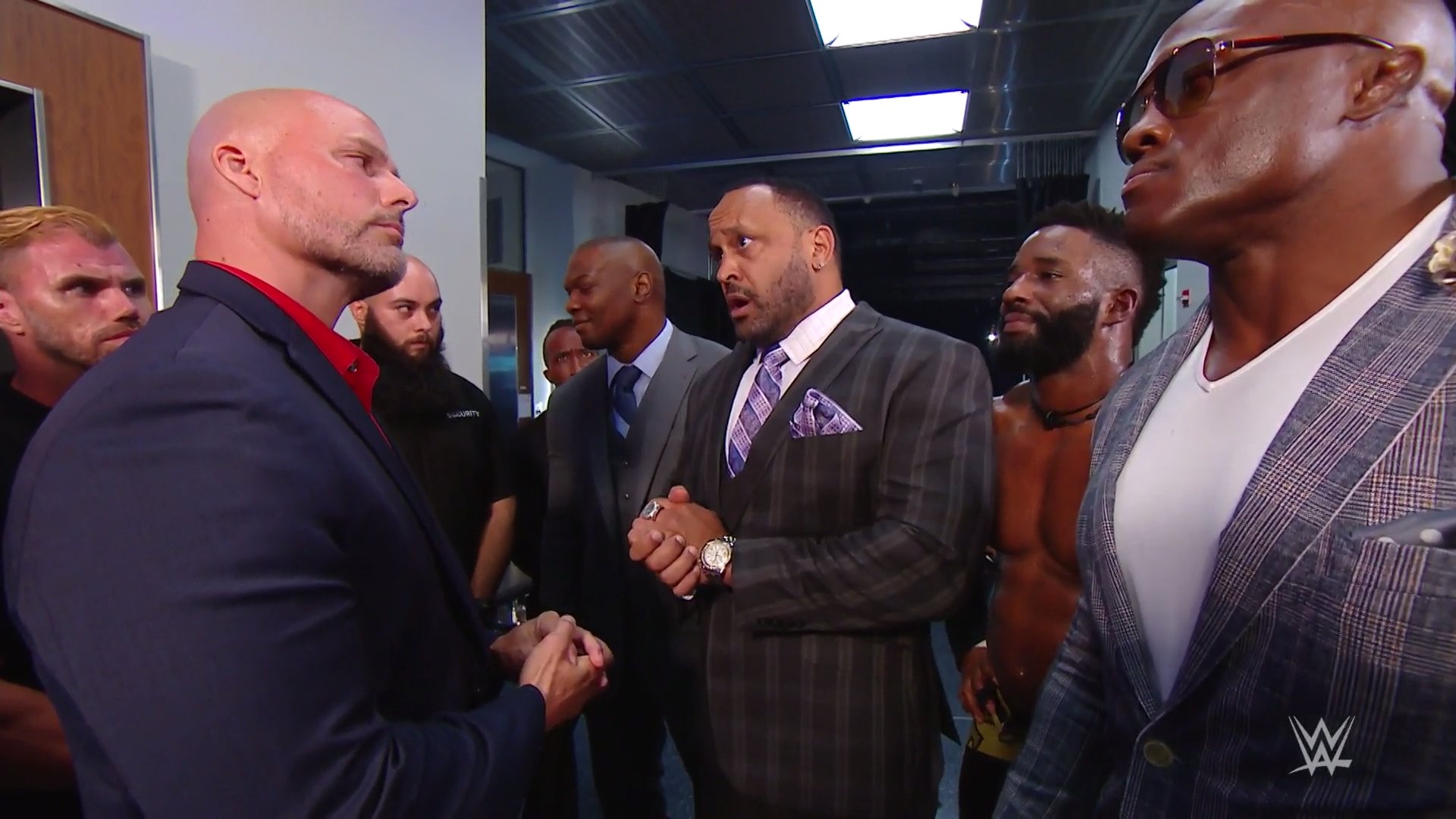 WWE Official Adam Pearce is yelling at security over RETRIBUTION invading the broadcast. The Hurt Business walks up. MVP says Pearce needs to do something about RETRIBUTION or he'll be looking for a new job. Maybe it's time for Pearce to upgrade security from boys to men. The Hurt Business wants to go after RETRIBUTION. Pearce thanks them for volunteering, but they laugh. MVP says the bill will be in the mail.
---
Raw Women's Championship
Asuka (c) vs. Mickie James
The bell rings, and they lock up before dropping down to the mat. Asuka covers for a one count. Mickie rolls her up for a one count. Mickie catches her with a sloppy jackknife pin for a two count. Mickie taunts Asuka, so Asuka takes her down. Mickie quickly takes Asuka down and hits a neckbreaker for a two count. Asuka soon comes back with a knee to the face for a near fall. Asuka goes for a running hip attack, but Mickie moves. Mickie then hits a Mick Kick that sends Asuka out of the ring.
We come back from the break to see both women down. They start trading punches before Mickie goes for an Asuka Lock. Asuka backs her to the corner and elbows away at her. Mickie boots and elbows her back. Mickie then hits a hurricanrana. Mickie kicks her in the midsection and hits a pump kick. Asuka quickly hits the ropes and hits a hip attack. Asuka gets fired up and charges, but Mickie hits a flapjack. Mickie gets up and mocks Asuka. Mickie goes to the top rope, but Asuka cuts her off. Mickie punches her off and hits a flying Thesz Press for a two count. Asuka then rolls her up for a two count.
They trade punches before Asuka ducks a Mick Kick. Asuka takes her down with a nasty backfist before kicking away at her chest. Mickie blocks a big kick and applies a single leg. Asuka goes for the bottom rope, so Mickie pulls her to the middle of the ring. Asuka counters into a roll-up for a near fall. Mickie hits a weak Mick Kick and covers, but Asuka grabs the bottom rope to break it. Asuka goes for an arm bar, but Mickie rolls her up for a two count. Mickie goes for her DDT, but Asuka gets out. Asuka soon takes her down and applies an Asuka Lock. Mickie tries to roll over to pin her and then the referee just ends the match…
The decision is Mickie James couldn't continue. Mickie James and Asuka both look upset with that.
Winner and still Raw Women's Champion: Asuka
In-Ring: Zelina Vega, Asuka
Zelina Vega immediately charges to the ring. Vega says she's wasted part of her career managing selfish ingrates just like Asuka. Asuka is an ingrate. She was handed the Raw Women's Championship by one of the greatest in the world. Asuka has been reckless with it and defending against the superstars of yesterday, but she forgot about the best of today. Vega says Asuka doesn't need to wonder if she's ready for Asuka. Vega is ready for the title. Asuka takes the microphone and shouts at her. Vega then slaps her in the face and leaves the ring.
---
Backstage: Keith Lee
Charly Caruso is backstage with Keith Lee. Lee says people have worked their entire careers for an opportunity like he has tonight. Lee says he and McIntyre have been honest with each other. Lee is honest that he doesn't like McIntyre interfering in his matches. To become WWE Champion, he'll do what he must. Charly asks if Lee will take advantage of the fractured jaw. Lee doesn't want to take advantage of an injury to his friend, but to come here and become WWE Champion… he'll do what he must.
---
Bobby Lashley vs. Erik
MVP will be on commentary for the next match.
Michael Cole tried to explain what happened to Ivar last week and said, "He hurt his, um, cervical…?"
Lashley powers Erik to the corner, but Erik turns him and punches away at him. Lashley reverses a whip to the corner, but Erik knocks him back and hits a running double knee. Erik flips Lashley over and knees him in the face for a near fall. Erik knees away at Lashley and hits the ropes, but Lashley hits a one-armed slam. Lashley lifts Erik over his shoulder and slams him down for a near fall. Lashley applies the Hurt Lock for the submission.
Winner by Submission: WWE United States Champion Bobby Lashley
---
Backstage: Kevin Owens
We go backstage to see Kevin Owens brooding. Sarah Schreiber asks why Aleister Black attacked him. Owens says maybe it's the frustration of knowing that after a year and a half of sitting in a dark room begging for people to pick a fight with him, no one cared enough to do it. Owens is wondering how he'll inflict enough pain on Black so they're even. How can he inflict enough punishment so Black runs to his hiding spot? How can he be assured that the beating he gives to Black tonight reminds him not to pick a fight with him? Owens isn't worried about doing any of those things because he's Kevin Owens. Owens walks off, and Aleister Black shows up behind him.
---
Raw Underground: Shane McMahon, Braun Strowman
#TheMonster is HERE!! 👀#WWERaw #RawUnderground @BraunStrowman @shanemcmahon pic.twitter.com/3YTHLaW5Ho

— WWE (@WWE) September 15, 2020
Shane McMahon is outside Raw Underground with the tall security guard. Braun Strowman walks up and says he's pissed off and wants to take it out on someone. Either they open the door or he'll use them to open it. Strowman enters Raw Underground.
---
Backstage: Seth Rollins, Murphy
Video Package: Dominik Mysterio and the Mysterio Family beat Murphy into submission last week on Raw
We go backstage to see Seth Rollins. Murphy knocks on the door and sheepishly walks in. Rollins says he's been waiting for Murphy all night. Murphy says what the Mysterios did to him… Rollins says he understands the Mysterio Family beat him silly, but it is part of the process. Now they have to look to the future for an opportunity. Rollins is locked in a Steel Cage with Dominik Mysterio. This is the perfect opportunity to teach the young man and the world a lesson. Rollins asks Murphy if he is prepared for his role. Rollins has something important for him to do. Murphy says he's ready. Rollins slaps him in the face and grabs him by the beard. Rollins tells him to stay in the back so he doesn't have to deal with his stupid mistakes. Rollins slaps him again and Murphy says, "Yes, sir!" Rollins walks off.
---
Commercial: R-Truth, Liv Morgan
We go backstage to see WWE 24/7 Champion R-Truth talking trash to a Kit-Kat bar. Liv Morgan walks up and grabs a bar.
---
Video: Mandy Rose
As announced on #TalkingSmack, @WWE_MandyRose is on her way to #WWERaw! pic.twitter.com/MWgo9Eak0r

— WWE (@WWE) September 15, 2020
Mandy Rose is coming to "Mandy" Night Raw.
---
Backstage: Mysterio Family
Charly Caruso is backstage with the Mysterio Family. Dominik says if he's going to follow his dreams and follow in his father's shoes, he can't turn down any challenge. Rey Mysterio knows how difficult cage matches can be, so they'll be out there to support him. Once that cage door shuts, Dominik is all alone… but so is Seth. Rey has seen the fire in Dominik's eyes when he talks about his family. Should Seth be worried about Dominik?
---
Steel Cage Match
Seth Rollins vs. Dominik Mysterio
The bell rings, and Rollins cackles. Rollins kick and clubs Dominik down on the canvas. Rollins sends him into the ropes, but Dominik ducks a clothesline, twists around, and hits a side Russian Leg Sweep. Dominik begins to climb the cage, but Rollins pulls him off. Dominik counters into a DDT for a near fall. Dominik starts to climb the cage, but Murphy appears outside and gives Rollins a kendo stick. Rollins hits Dominik with the kendo stick and sends him into the cage wall. The Mysterio Family looks concerned.
We come back from the break to see Rollins grinding Dominik's face on the cage wall before avalanching him into the wall. Rollins taunts the Mysterio Family before having a whip into the cage wall countered on him. Dominik starts to climb, but Rollins grabs him in powerbomb position. Dominik counters into a hurricanrana into the cage wall. Rey slides a kendo stick into the cage. Dominik clubs away at Rollins' back with the kendo stick before sending him into the cage a few times. Dominik hits a sitout spinebuster for a near fall.
Rollins counters a kendo stick shot into a catapult, but Dominik starts to scale the cage. Rollins follows him and they trade punches standing on the top rope. Rollins quickly trips him and crotches him on the top rope. Dominik is in pain, but he manages to pulls Rollins' leg to crotch him as well. They both fall to the canvas in pain. Rey opens the cage door as Dominik crawls toward it. Murphy grabs Rey and slams him into the barricade before slamming the door, but the door hits Rollins in the head! Murphy cannot believe it. Murphy starts climbing the cage wall to cut Dominik off, but Dominik punches him to the floor. Dominik then hits Rollins with a Frog Splash for a near fall.
Dominik starts to climb, but Rollins cuts him. Rollins scales the cage to grab him and hits a superplex back into the ring followed by a falcon arrow for a near fall! Wow! Rollins begins to taunt the Mysterio Family. Dominik rolls him up for a near fall. Rollins immediately comes back with a Stomp. Rollins hits a second Stomp for the win.
Winner by Pinfall: Seth Rollins
Rollins gets out of the ring and embraces Murphy before viciously attacking him. Rollins drives him into the barricade before throwing him into the cage wall. Rollins screams in Murphy's face and is angry that Murphy didn't follow directions. Rollins then slams the cage door into Murphy's face. Rollins walks off. The Mysterio Family checks on Dominik in the ring.
---
Raw Underground: Dolph Ziggler, Riddick Moss, Braun Strowman
We go to Raw Underground to see Dolph Ziggler, who was commentating on Raw an hour ago, beating some guy into submission. Riddick Moss wants to step up to Ziggler. Ziggler goes for a takedown, but Moss stays standing. Ziggler grabs the leg and uppercuts him. Moss responds with a big slam. Moss starts punching him, but Ziggler takes him down and applies a deep chin lock. Moss twists out and elbows him in the head. Braun Strowman then runs onto the platform and sends Ziggler flying with a shoulder block. Strowman takes out Moss and slams Ziggler.
---
Backstage: Drew McIntyre, Keith Lee
WWE Champion Drew McIntyre is backstage with Charly Caruso. McIntyre says he hopes Keith Lee does whatever it takes to win the title. McIntyre says he waited to attack Randy Orton last week. After Orton hit Lee with the RKO, he made the attack. Maybe Lee could've kicked out, but maybe not. Keith Lee walks up and tells McIntyre not to drag his name in the mud. The only match he beat Orton in is the one McIntyre didn't interfere in. Lee says McIntyre is concerned he'll beat him tonight and at WWE Clash of Champions. McIntyre says he's not worried. Lee puts a hand on McIntyre's shoulder, which McIntyre slaps away. McIntyre warns him, so Lee does it again. McIntyre connects with a stiff punch to the jaw. They begin to brawl backstage until officials finally break them up.
---
Raw Underground: Titus O'Neil, Braun Strowman
Titus O'Neil walks up to Raw Underground and is let in. Inside, Braun Strowman is still killing guys. Riddick Moss runs back in, but Strowman big boots him out of the ring. Titus O'Neil runs in and takes Strowman down. Strowman quickly gets up and chokes him out with a front facelock. Shane McMahon runs in to get Strowman off O'Neil.
---
Kevin Owens vs. Aleister Black
Kevin Owens makes his entrance, but Aleister Black attacks him from behind.
After commercials, we join this match in progress. Black kicks Owens in the face, but Owens comes back with a clothesline and a senton splash for a two count. Owens sends him to the corner, but Black quickly takes him down with a leg trip. Black kicks away at the midsection and twists the knee. Owens fights up and drops Black over the top rope. Owens sets up for a somersault plancha, but his leg is too hurt. Black grabs him and slams the knee off the apron. Black continues to attack the knee and takes Owens down. Black puts the leg on the ropes and attacks it. Owens fights back and knocks him down. Owens grabs him, but Black takes him down and applies a knee bar. Owens screams in pain and gets to the bottom rope. Black backs up, and Owens superkicks him down. Owens cannot put any pressure on the knee.
All of a sudden, the lights flicker. Owens hits a Stunner on Black for the win.
Winner by Pinfall: Kevin Owens
---
Backstage: Drew McIntyre, Keith Lee
Here we go again!#WWERaw @DMcIntyreWWE @RealKeithLee pic.twitter.com/4U66Ny8z8A

— WWE (@WWE) September 15, 2020
We go backstage to see WWE Champion Drew McIntyre preparing backstage. He has a big welt on his shoulder. Keith Lee comes up and punches away at him. Adam Pearce runs up and threatens to cancel the match. They stop brawling.
---
The Riott Squad vs. Natalya & Lana
WWE Women's Tag Team Champions Nia Jax and Shayna Baszler are on commentary.
Lana starts against Liv Morgan and takes her down for a two count. Lana stops Morgan from making a tag, but she's rolled into the ropes. Ruby Riott tags in. They double-team Lana with a double knee facebuster followed by a Riott Kick for the fast win.
Winners by Pinfall: The Riott Squad
Nia Jax and Shayna Baszler attack Natalya before grabbing Lana. Nia Jax clears the commentary table off. Jax then hits Lana with a Samoan Drop through the commentary table.
---
Raw Underground: Braun Strowman, Riddick Moss, Dolph Ziggler, Dabba Kato
We go back to Raw Underground to see Braun Strowman annihilating some guy. Riddick Moss comes back and rips off his t-shirt. Strowman knocks him down. Dolph Ziggler attacks from behind. Ziggler and Moss double-team Strowman, but Strowman fights them off. Strowman knocks Moss out with a punch and hits Ziggler with a powerslam. Dabba Kato gets on the platform, but Shane McMahon steps in. McMahon says this match will happen next week on Raw Underground.
---
Drew McIntyre vs. Keith Lee
If Keith Lee wins this non-title match, he'll face Drew McIntyre at WWE Clash of Champions for the WWE Championship if Randy Orton is unable to compete.
The bell rings, and Lee powers McIntyre to the corner and shoulders him. Lee sends him to the opposite corner, but McIntyre boots him back. McIntyre sends him to the corner, but Lee connects with a boot to the fractured jaw. Lee then Pounces him out of the ring. McIntyre holds his jaw at ringside.
We come back from the break to see McIntyre fight back at Lee with some stiff chops. Lee jabs him in the jaw and fights back. McIntyre responds with some chops before Lee reverses a whip into the ropes. McIntyre ducks a clothesline and takes him down. McIntyre goes for a slam, but Lee elbows him in the jaw. McIntyre responds with a head-butt followed by an overhead belly-to-belly suplex. McIntyre goes to the top rope and hits a diving clothesline.
McIntyre kips up and gets pumped up. McIntyre goes for a Future Shock DDT, but Lee pushes him off. McIntyre comes back with a spinebuster and covers for a near fall. Lee blocks a suplex from McIntyre and breaks the grip. McIntyre punches him, but Lee responds with a Grizzly Magnum, elbows him, and crushes him with a clothesline for a near fall. McIntyre comes back with a jawbreaker and goes to the top rope. Lee stuns him with a head-butt that knocks McIntyre to the apron. Lee goes to the second rope and pulls McIntyre up, but McIntyre fights him. Lee fights back and hits a superplex for a near fall.
Both men slowly get up. McIntyre stuns Lee with a stiff chop to the chest. Lee avoids a Claymore Kick and goes for a Spirit Bomb, but McIntyre gets out. They then wipe each other out with stereo running cross-body blocks.
RETRIBUTION runs in and a bunch of them surround all four sides of the ring. They wipe out Drew McIntyre and Keith Lee. They seem to hold off for a moment before assaulting them again.
No Contest
The Hurt Business makes their entrance and comes out to square off with RETRIBUTION. The Hurt Business removes their jackets and ties before walking down. A big brawl breaks out with RETRIBUTION and The Hurt Business. All of a sudden, Lee and McIntyre hit stereo somersault planchas to wipe everyone out and end the show.