September 28, 2020
Orlando, Florida (Amway Center)
Commentary: Michael Cole, Byron Saxton, and Samoa Joe
Results by: Mike Tedesco of Wrestleview.com
---
Quick Match Results
Raw Women's Championship: Asuka (c) defeated Zelina Vega via Asuka Lock
Keith Lee defeated Andrade via Spirit Bomb
Mandy Rose & Dana Brooke defeated Natalya & Lana via knee strike by Rose on Lana
Kevin Owens defeated Aleister Black by disqualification when Black accidentally hit the referee
WWE 24/7 Championship – Triple Threat Match: R-Truth (c) defeated Akira Tozawa and Drew Gulak via Attitude Adjustment on Gulak
Murphy defeated Dominik Mysterio via roll up with handful of tights after distraction by Aalyah
Ricochet, Apollo Crews & Mustafa Ali defeated The Hurt Business (MVP, Shelton Benjamin & Bobby Lashley) via 450 by Ali on MVP
WWE Championship: Drew McIntyre (c) defeated Robert Roode via Claymore
---
In-Ring: Drew McIntyre, Ric Flair, Big Show, Christian, Shawn Michaels, Randy Orton
We go live into the WWE ThunderDome. "The Nature Boy" Ric Flair, The Big Show, Christian, and Shawn Michaels all make their entrances. They all got involved in the Ambulance Match at WWE Clash of Champions, attacking Randy Orton.
Shawn Michaels welcomes everyone to Monday Night Raw. HBK then introduces the man that defeated Randy Orton last night, WWE Champion Drew McIntyre. McIntyre makes his entrance doing the Ric Flair strut. McIntyre embraces some of the legends and poses.
McIntyre says this is pretty cool to be standing in the ring with four legends. McIntyre has known these guys for a long time. He grew up with The Big Show and Christian. They traveled the world through his 20s. Christian always watched his back and gave him advice. Big Show was like a big brother to him. As for Shawn Michaels, he wouldn't be where he is not without him in NXT. As for Ric Flair, he loves his stories. When he came here, Ric Flair was still on the active roster before a certain someone retired him.
Now they're all here because of one Randall Keith Orton. Last night at Clash of Champions, they went to war. In the end, he beat Orton's ass and stands here as the WWE Champion. HBK says they're here to collectively thank McIntyre for whooping Orton's ass. As they were recovering from what Orton did to them, they got together and showed up last night. They know McIntyre wasn't aware of that, they wanted to get revenge. If McIntyre is upset about them interfering in the match, it was Flair's fault. Flair laughs. McIntyre says he's proven he can beat Orton at SummerSlam. Things are so personal, he doesn't care about who attacks him.
Randy Orton appears on the big screen. Orton says he hopes McIntyre is enjoying this moment because it won't last. This is not over until he says so. If McIntyre thinks he went through hell last night, he has no idea what hell is… but he will. Orton won't be finished with him until he is WWE Champion. McIntyre asks if he'll beg for another match. Orton says he doesn't need to beg for anything. He'll get a title match because he's Randy Orton and a 13-time WWE Champion. The only reason he's here today is to remind everyone that there's a price to be paid when you cross the Legend Killer. Orton then grabs his bag and leaves the arena.
McIntyre says Randy Orton has left the building. Now McIntyre is standing in the ring among legends trying to cement his legacy. McIntyre is putting his title on the line tonight. He doesn't feel great, but this is the kind of champion he wants to be. McIntyre issues an open challenge to anyone in the back he hasn't faced yet with the title on the line. McIntyre says he'll catch up with the WWE Legends later. McIntyre begs someone to step up tonight.
---
Backstage: Zelina Vega, Asuka
This thing almost started BACKSTAGE…@WWEAsuka defends her #WWERaw #WomensTitle in a #WWEClash of Champions rematch against @Zelina_VegaWWE 𝑵𝑬𝑿𝑻! pic.twitter.com/gMmrjDmQZu

— WWE (@WWE) September 29, 2020
Footage is shown of Zelina Vega attacking Asuka after losing to her at Clash of Champions.
Kayla Braxton, normally on SmackDown, interviews Zelina Vega about coming up short against Asuka last night. Vega says Asuka isn't ready for her tonight. Raw Women's Champion Asuka walks up and asks Vega if she's ready to lose to her one more time. Officials separate them.
---
Raw Women's Championship
Asuka (c) vs. Zelina Vega
The bell rings, and Vega quickly hits a flying forearm. Asuka quickly fights her down and applies an arm bar. Vega gets a foot on the bottom rope. Asuka pulls her down and shouts. Vega kicks Asuka in the arm that was injured last night. Vega goes for a head-scissor takeover, but Asuka throws her down. Vega then applies a nice hammerlock/octopus stretch combo. Vega stretches her and elbows her in the ribs while keeping the hold applied. Asuka fights out and covers Vega for a two count. Vega dropkicks her out of the ring and jumps off the apron, but Asuka kicks her out of mid-air.
We come back from the break to see Vega kicking away at Asuka's arm. Vega talks some trash and slaps her in the face. Asuka smiles and unloads on Vega with punches. Asuka sends her into the ropes and hits a knee lift to the face. Asuka hits a hip attack in the corner followed by a rough German Suplex. Asuka follows up with a running kick to the face for a near fall. Asuka goes for another German Suplex, but Vega elbows her. Asuka goes for a kick, but Vega ducks and applies a hammerlock. Vega wraps herself around Asuka to put more force on the hold. Asuka powers her up to hit a suplex.
Both women are down. Asuka gets her to her feet. Vega takes her down and rolls her up, but Asuka kicks out and goes for an Asuka Lock. Vega quickly gets to the ropes. Vega hits a backstabber, but Asuka kicks out. Vega cannot believe it. Vega kicks away at her and goes to the top rope. Vega goes for a moonsault, but Asuka gets the knees up. Asuka immediately applies the Asuka Lock for the submission.
Winner by Submission and still Raw Women's Champion: Asuka
---
Backstage: Ric Flair, Big Show, Christian, Shawn Michaels
Ric Flair, The Big Show, Christian, and Shawn Michaels are sitting together backstage.
---
Andrade vs. Keith Lee
We come back from the break to see Andrade in the ring. Zelina Vega is being tended to by the referees. Andrade says she would be nothing without him. She blamed him for everything, but she lost to Asuka twice. Now Angel Garza is injured. Andrade was the one holding this team together. Andrade is the greatest in WWE. Who wants to face him?
Keith Lee answers the call.
Lee quickly takes Andrade down with a back elbow before wrenching the arm. Lee lifts him up by the arm before letting him down. Andrade forearms out, but Lee takes him down. Lee charges, but Andrade trips him into the corner. Andrade knee and kicks away at Lee. Lee reverses a whip, leapfrogs him, drops down, and hits a running cross-body block. Lee gets fired up and avalanches Andrade in the corner. Lee throws Andrade across the ring and avalanches him again. Andrade quickly ducks a clothesline and dropkicks him in the knee. Lee drops Andrade on the apron, but Andrade goes to the top rope. Andrade jumps, but Lee catches him. Andrade gets out of a slam and hits a chop block followed by a low dropkick to the head. Andrade hits the running double knees in the corner. Andrade powers Lee up, but Lee counters into a Spirit Bomb for the win.
Winner by Pinfall: Keith Lee
---
Backstage: The Hurt Business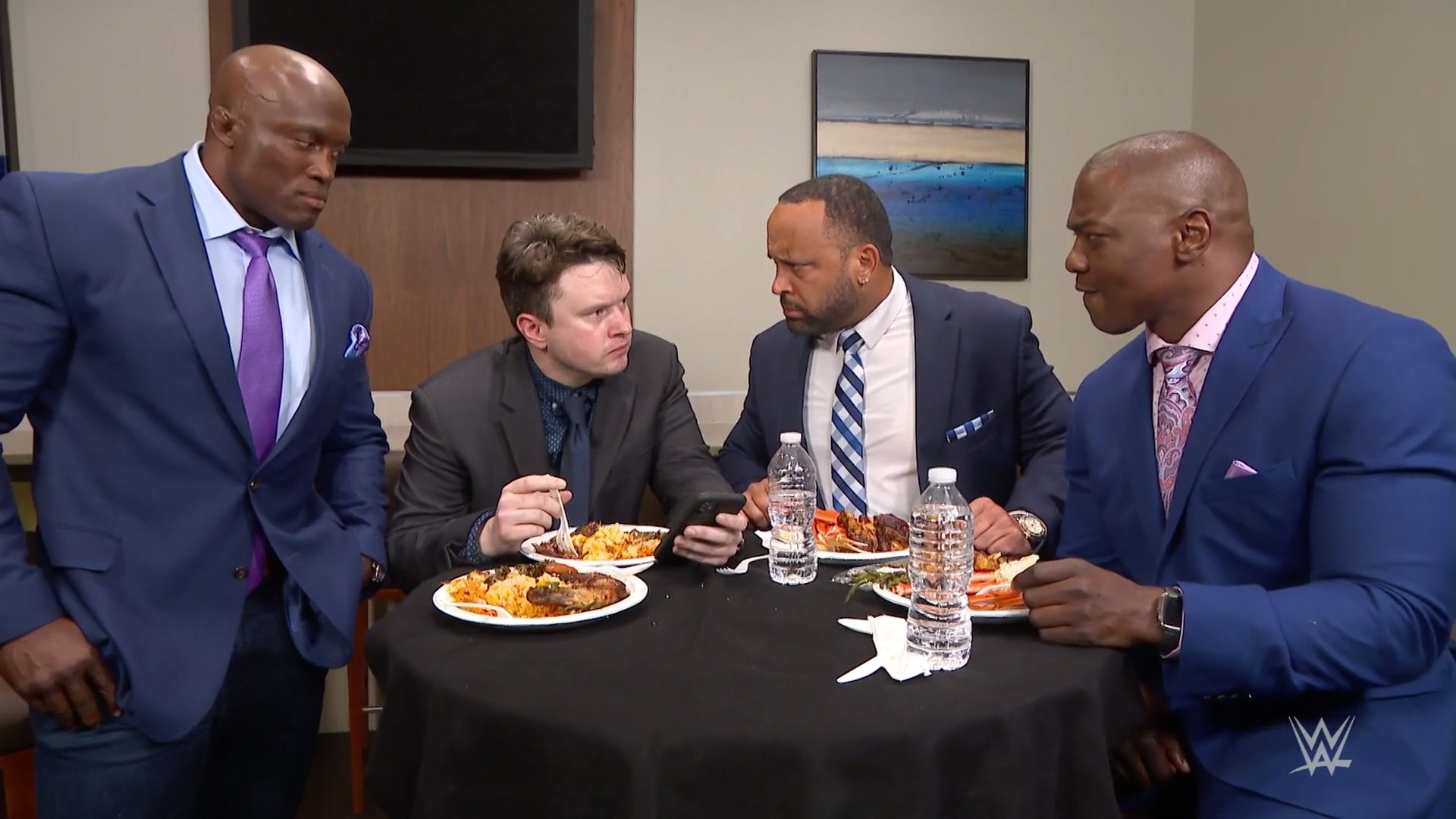 Some random guy is sitting with MVP and Shelton Benjamin eating a plate of food. WWE United States Champion Bobby Lashley walks up and says the guy is in his seat. The guy moves over and keeps eating, so Lashley tells him to get out of his seat. The guy gets nervous and starts to leave. Lashley tells him to leave his plate. The Hurt Business laughs and starts eating the guy's food.
---
Segment: R-Truth, Akira Tozawa, Drew Gulak
Footage is shown of Akira Tozawa being eaten by a shark last week on Raw.
WWE 24/7 Champion R-Truth is playing chess with Little Jimmy. A ninja walks up to him and hands him a note. There are two notes: one in Japanese, one in English. If R-Truth is reading this, he has been eaten by a shark. Their battle were epic, making his sensai Kung-Fu-Naki proud. The ninja opens the briefcase and inside is Tozawa's black belt. Akira Tozawa sneaks up and pins him for the 24/7 Title. The ninja then hits Tozawa with the briefcase to win the 24/7 Title. It's revealed to be Drew Gulak. R-Truth then hits Gulak with the briefcase and pins him to get the 24/7 Title back. Gulak and Tozawa chase him.
R-Truth will defend the WWE 24/7 Championship against Akira Tozawa and Drew Gulak later tonight.
---
Backstage: Murphy, Seth Rollins
Is that … @WWE_Murphy's phone?#WWERaw @WWERollins pic.twitter.com/3Bs5un67xM

— WWE Universe (@WWEUniverse) September 29, 2020
Replays are shown of Seth Rollins insinuating Aalyah Mysterio is not Rey's daughter. Rey said she's naive and knows nothing about their world. She got mad and walked off.
Murphy is sitting backstage when Seth Rollins catches up with him. Rollins hugs him, but Murphy doesn't embrace him back. Rollins cannot wait for The Mysterio Family to be on The King's Court. It's a big night for them. Rollins asks why Murphy is dressed to compete. He doesn't have a match. Rollins tells him to get into the suit he bought for him. Murphy walks off, and Rollins looks concerned. Rollins picks up Murphy's cellphone and pockets it.
---
The WWE Draft is coming on October 9 and October 12.
---
In-Ring: The King's Court w/ The Mysterio Family
WWE Hall of Famer Jerry "The King" Lawler is in the ring for The King's Court. Lawler mentions that Rey Mysterio might not be Dominik's actual father. The Mysterio Family make their entrance. Lawler asks Rey to comment on what happened. Rey says Seth Rollins cannot control his own house, so he's trying to disrupt his. Rey is the father of Dominik and Aalyah. He and Angie worked hard to build a family. Dominik and Aalyah have been his whole life since the day they were born. It takes an evil and sinful human being to fabricate the lies Seth Rollins has.
Dominik says this has gone on for way too long and has gone way too far. The next time he sees Rollins, he'll end him. Lawler says we didn't see any evidence that Dominik isn't Rey's son. What we did see is Aalyah being upset by Rey's words, walking off, and being comforted by Murphy. Aalyah says her parents have a certain image of her, but she's 19-years old. As for Murphy, he came and sat next to her. She doesn't know what to think about him. What she does know is the people that surround themselves around Rollins need to reevaluate themselves.
Seth Rollins appears on the big screen. Rollins says he's probably the last person they want to see. He understands that. What Rollins has to say is important. It'll bother him as much as the Mysterios. What he's going to tell them is the truth. One of them isn't being 100% honest with the family. The truth is Aalyah is not telling the truth about how she feels about his disciple, Murphy. Why would they believe him? They don't have to believe his words. They can see it for themselves.
Rollins shows off some text messages between Aalyah Mysterio and Murphy. Aalyah even wished him a happy birthday. Rollins says this is for the greater good. Aalyah says Murphy isn't like Rollins and walks off. The Mysterio Family chases after her.
Backstage: Seth Rollins, Murphy, Dominik Mysterio
A LOT just happened in these few seconds.#WWERaw @WWERollins @WWE_Murphy @DomMysterio35 pic.twitter.com/COZzn7BKP4

— WWE Universe (@WWEUniverse) September 29, 2020
Murphy gets in Rollins' face. Rollins asks if the truth isn't important in their relationship. Murphy grabs Rollins by the suit, and Rollins laughs. Dominik Mysterio all of a sudden blindsides Murphy and punches away at him until officials pull him away.
---
Natalya & Lana vs. Mandy Rose & Dana Brooke
Natalya and Lana are in the ring complaining about Nia Jax and Shayna Baszler. They should be WWE Women's Tag Team Champions and demand the titles be stripped from Jax and Baszler. Adam Pearce walks out and says they can't strip Jax and Baszler of the titles. In the spirit of competition, they can earn their way to opportunity agains the newest members of Raw's Women's Division: Mandy Rose and Dana Brooke.
Mandy Rose starts against Natalya. Mandy attacks her before tagging Dana Brooke in. Dana hits a suplex. Lana blind tags in and kicks Dana. Natalya tags in and stomps Dana down. Natalya hits a snapmare, and Lana kicks her in the face. Lana picks up a two count. Lana applies a chin lock, but Dana fights up. Lana grounds her, but Dana eventually tags Mandy. Mandy takes Lana down and hits a TERRIFYING inverted slam that nearly lands Lana on her head. Natalya was super late breaking up the pin. Dana takes Natalya out. Mandy hits a pump knee strike for the win.
Winners by Pinfall: Mandy Rose and Dana Brooke
---
Backstage: Aleister Black
Footage is shown of Aleister Black attacking Kevin Owens last week.
Aleister Black says Kevin Owens says he's a good man, but he thrives in a system that manipulates viewers. Owens has a knack for betraying people. Owens left him to be with his family. Black says it doesn't matter how much people forget and forgive. Black removes his eye covering and has a different colored eye. He won't forgive or forget.
---
Backstage: Shawn Michaels, The Big Show, Christian, Ric Flair, The Street Profits
GET US TO THIS PARTY.#WWERaw @AngeloDawkins @MontezFordWWE @RicFlairNatrBoy @ShawnMichaels @WWETheBigShow @Christian4Peeps pic.twitter.com/R6UCJKN73f

— WWE Universe (@WWEUniverse) September 29, 2020
Shawn Michaels, The Big Show, Christian, and Ric Flair are still playing poker backstage. HBK is really low on chips. Raw Tag Team Champions The Street Profits walk up to them with solo cups and salute them.
---
Kevin Owens vs. Aleister Black
Owens quickly dropkicks Black down and knocks him out of the ring. Owens viciously attacks him and chops the chest. Owens sends him into the ring, but Black attacks him coming in. Black stomps away at him, but Owens fights back with a forearm. Black quickly sends Owens to the corner and elbows him. Black hits a snapmare and covers him for a two count. Owens powers Black to the corner and chops the chest. Black quickly fights back at him and viciously takes him down. Black knees Owens and sends him to the ropes, but Owens reverses the whip. Owens takes him down and attacks the throat. Owens kicks him in the head and chops him. Black angrily boots him in the face and punches him. Owens quickly rolls him up for a two count. Owens sends Black into the ropes, but he lowers his head and eats a kick. Owens immediately responds with a clothesline. Owens clotheslines him down and hits a senton splash. Owens turns him inside out with a German Suplex. Black rolls out of the ring to recover. Owens gets on the apron and hits a senton bomb on Black to the floor!
We come back from the break to see Owens attacking Black. During the break, Owens hit him with a DDT. Black fights back with kicks and digs his knee into Owens' face. The referee admonishes Black. Owens kicks and chops Black back. Black hits a snapmare and kicks him hard in the chest for a near fall. Black continues to attack Owens and viciously kicks him in the back of the neck for a near fall.
Black backs up to the corner and waits for Owens to get up. Owens avoids a pump kick and superkicks Black down for a near fall. Owens punches away at Black and kicks him in the face. Owens goes to the top rope, but Black cuts him off. Owens fights him off and goes for a splash, but Black gets the knees up. Black hits a running pump kick for a near fall. Black is infuriated. Black kicks away at Owens until the referee backs him up and argues with him. Black angrily starts punching at Owens against the ropes and accidentally hits the referee. The referee calls for the bell.
Winner by Disqualification: Kevin Owens
Black is furious and yells at the referee. Owens drops Black with a Stunner. Owens says he'll keep fighting while Black keeps being a bitch.
---
Backstage: Mustafa Ali, The Hurt Business, Apollo Crews, Ricochet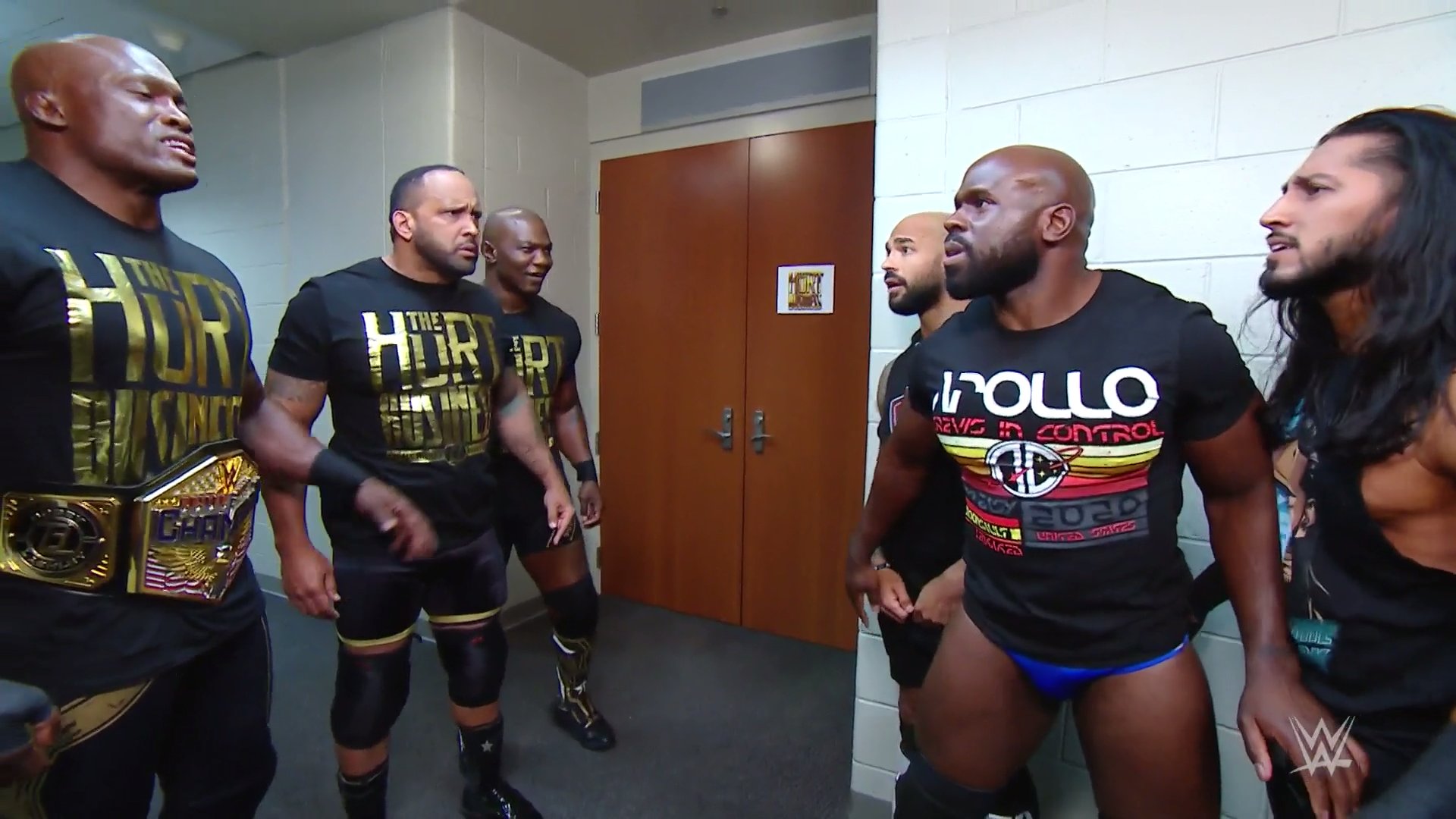 Mustafa Ali walks out of a room and nearly bumps into The Hurt Business. They get in his face until Apollo Crews and Ricochet run up to help. They say this isn't over.
---
WWE 24/7 Championship – Triple Threat Match
R-Truth (c) vs. Akira Tozawa vs. Drew Gulak
Gulak and Tozawa double-team R-Truth. They take him down with a hard whip to the corner. Tozawa covers, but Gulak pulls him off. Gulak covers, but Tozawa pulls him off. R-Truth attacks them both, but the soon cut him off. They hit a double-team suplex and both apply a submission. Gulak then attacks Tozawa for a near fall. They go back to attacking R-Truth before Gulak sends Tozawa out of the ring. They accidentally hit the referee, Jessika Carr, but that wasn't the finish so she doesn't sell it. Gulak applies the Gu-Lock to R-Truth. R-Truth gets out as Tozawa hits Gulak with a top rope senton splash. R-Truth takes Tozawa down with a sit-out front suplex. R-Truth then gives Gulak an Attitude Adjustment onto Tozawa for the win.
Winner by Pinfall and still WWE 24/7 Champion: R-Truth
---
Backstage: Mandy Rose, Dana Brooke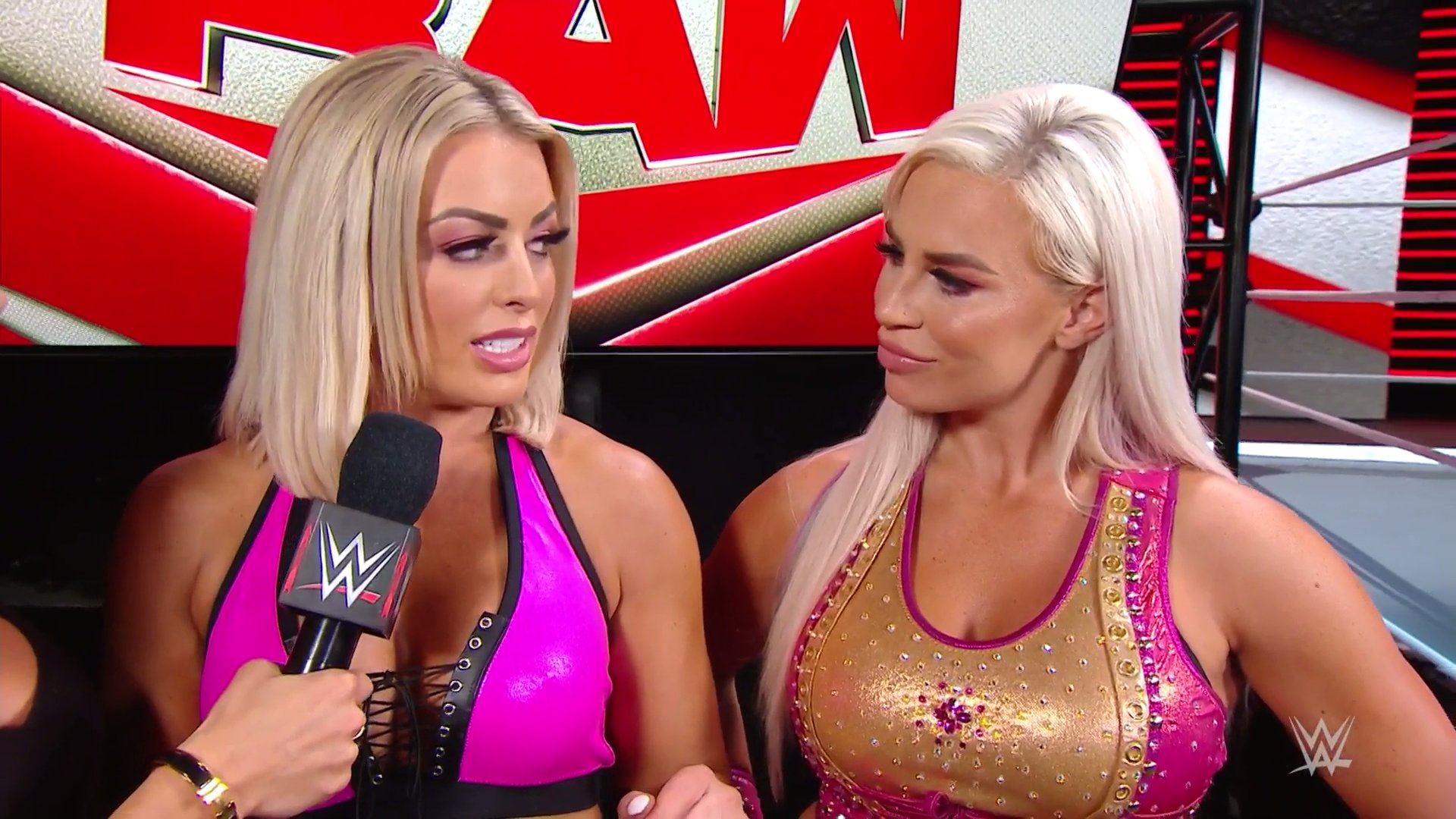 Charly Caruso is backstage with Mandy Rose and Dana Brooke. They compliment each other and talk about The Riott Squad being next in line for the Women's Tag Titles. They'll be watching and coming for the titles. They look over and see Dominik Mysterio warming up. He'll face Murphy, next.
---
Murphy vs. Dominik Mysterio
The bell rings, and Mysterio immediately attacks Murphy. Murphy knocks him back, but Mysterio takes him down. Mysterio punches away at him before Murphy gets up and stomps him in the face. Mysterio quickly sends him out of the ring, but Murphy pulls him out of the ring. Mysterio sends Murphy into the barricade chest-first before putting him in the ring. Mysterio goes to the top rope, but Murphy gets out of the ring. Murphy ducks a baseball slide, but Mysterio sends him into the commentary table. Murphy then sends Mysterio over the commentary table. Murphy grabs him and bounces him off the apron. Mysterio takes him down on the apron and puts him in the ring. Mysterio goes to the top rope and hits a cross-body block, but Murphy rolls through and grabs the tights for a near fall. Murphy stomps him, but Mysterio fights back. Mysterio floors Murphy with a beautiful right hand. Mysterio talks a little trash and punches at the dazed Murphy. Mysterio hits the ropes, but Murphy takes him down with a flying knee strike. Murphy angrily stomps away at Mysterio. Mysterio comes back with a jawbreaker before kneeing him. Murphy hits a spin kick to the midsection and stomps the foot. Mysterio quickly sends him into the corner and hits a big tornado DDT. Mysterio angrily stomps away at Murphy until the referee backs him up. Mysterio gets him out of the ring and sends him into the barricade and apron a few times.
Mysterio goes under the ring and grabs a kendo stick. Aalyah Mysterio runs down and tries to stop Dominik. Dominik tells her to go to the back. Dominik gets in the ring, and Murphy is trying to talk to him. Aalyah shouts from ringside. Murphy then rolls Dominik up with a handful of tights to win.
Winner by Pinfall: Murphy
Dominik chases Murphy out of the ring with kendo stick shots. Aalyah stands in Dominik's way so Murphy can escape. She says Murphy is not like Seth Rollins. Dominik says he's trying to protect the family and says their dad was right. She is naive. Aalyah slaps Dominik in the face and walks off.
---
Backstage: Dolph Ziggler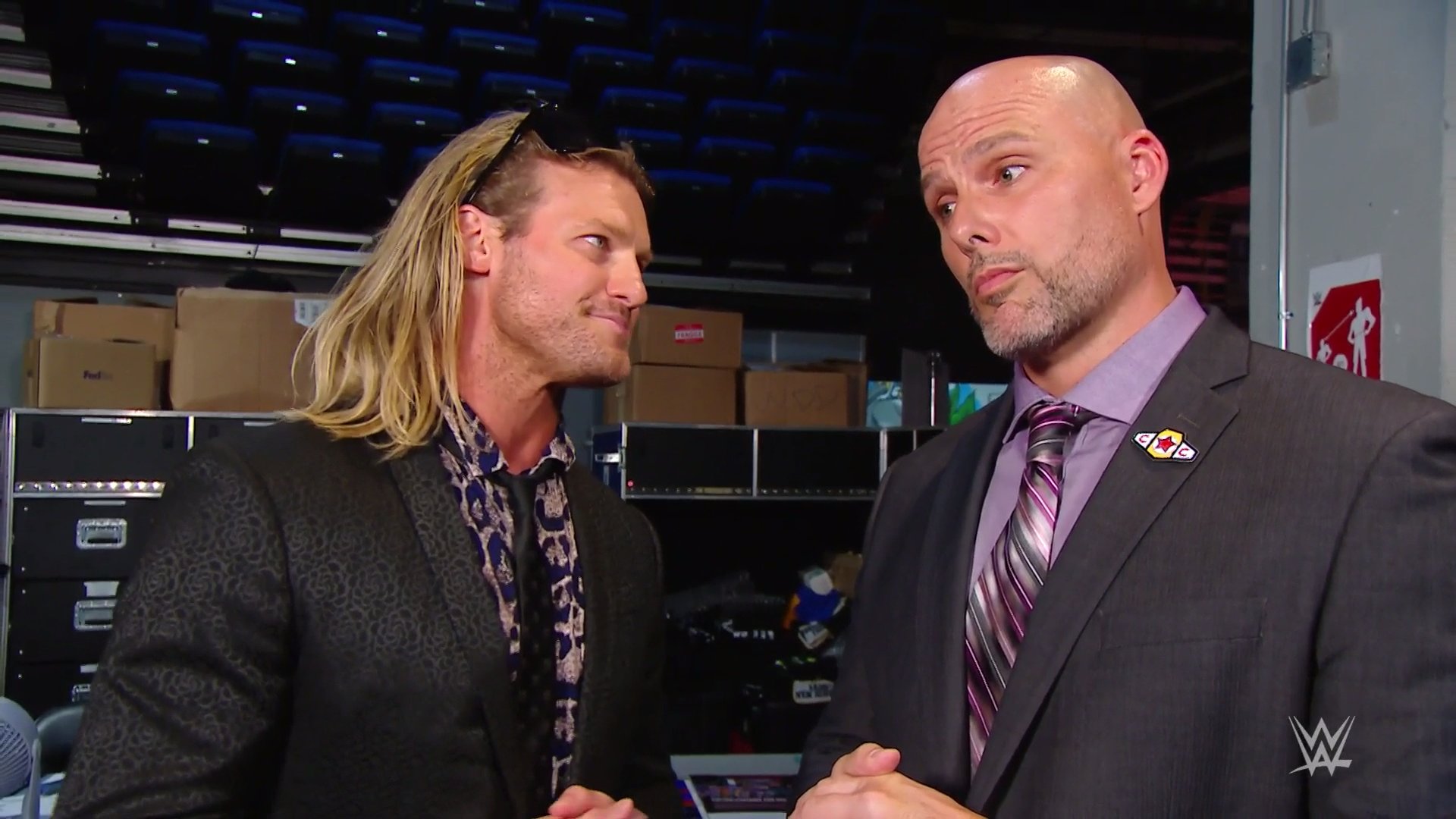 Dolph Ziggler catches up with Adam Pearce backstage and has an idea.
---
The Hurt Business (MVP, Shelton Benjamin & Bobby Lashley) vs. Ricochet, Apollo Crews & Mustafa Ali
The #HurtBusiness was ready to go in Six-Man Tag Team action on #WWERaw until…#RETRIBUTION?!?!?!?!? pic.twitter.com/QedYSQDaGj

— WWE (@WWE) September 29, 2020
The Hurt Business makes their entrance. MVP talks about Apollo Crews making the same dumb mistakes every week. Cedric Alexander had a slip up against him last week, so they sent him to Hurt Business Boot Camp. Crews is never getting the United States Championship back. Every time he tries, he gets dropped.
Ricochet, Apollo Crews, and Mustafa Ali make their way to the ring and start brawling with The Hurt Business. The match has not started yet. RETRIBUTION makes the lights flash and their logo appears. The Hurt Business gets in the ring and gets ready for a fight.
We join this match in progress. Shelton Benjamin takes Apollo Crews down. MVP tags in and attacks Crews. MVP sends him to the corner for a running big boot, but Crews moves. Lashley runs in and knocks Ricochet and Ali off the apron. Crews hits Lashley with a German Suplex. Crews fights back at MVP and Benjamin before hitting MVP with a cross-body block.
Benjamin and Ricochet tag in. Ricochet hits a springboard cross-body block and kicks him before hitting a springboard moonsault block. Ricochet follows up with a standing shooting star press for a near fall. Ricochet goes to the second rope for a Phoenix Splash, but Benjamin moves. Benjamin rocks him with a running knee lift and tags MVP in. They send Ricochet into the ropes for a flapjack. MVP covers for a near fall. Ricochet gets out of the Playmaker and kicks MVP down.
Ali tags in and clotheslines MVP before hitting a running forearm. MVP reverses a whip, but Ali ducks a clothesline and dropkicks him down. MVP reverses a whip and knees him. MVP lifts him up, but Ali slides off and hits a leaping neckbreaker. Lashley breaks up the pin. Lashley grabs Ali and brings him out of the ring. Crews takes Lashley down. Benjamin takes Crews out, and Ricochet hits Benjamin with a somersault senton off the apron. Ali botches a Satellite DDT and goes to the top rope. Ali hits a 450 Splash on MVP for the win.
Winners by Pinfall: Ricochet, Apollo Crews, and Mustafa Ali
---
Backstage: Shawn Michaels, The Big Show, Christian, Ric Flair
NAITCH is going home a little bit richer tonight … WOOOOO!#WWERaw @RicFlairNatrBoy @WWETheBigShow @ShawnMichaels @Christian4Peeps pic.twitter.com/gzLPu5kr97

— WWE Universe (@WWEUniverse) September 29, 2020
We go backstage to see that Ric Flair has smoked Christian, The Big Show, and Shawn Michaels in a game of poker. He struts off.
---
Video: Bianca Belair
Take a good look at the FAST-EST of @WWE!

It's @BiancaBelairWWE!#WWERaw pic.twitter.com/Q2EZxMVsrb

— WWE (@WWE) September 29, 2020
Bianca Belair is shown annihilating a bunch of people on a race track.
---
Video: RETRIBUTION
Video Package: RETRIBUTION is part of the Raw roster
---
WWE Championship
Drew McIntyre (c) vs. Robert Roode
WWE Champion Drew McIntyre is in the ring and wants to know who is going to step up. Dolph Ziggler makes his entrance and points to the stage. Robert Roode makes his entrance!
The bell rings, and Roode attacks McIntyre by kicking him in the legs. Roode puts the leg over the rope and kicks it. McIntyre throws him off, but Roode quickly goes back to him. McIntyre's leg was injured at WWE Clash of Champions last night. Roode rakes McIntyre's back, which was lacerated by the ambulance windshield last night as well. McIntyre punches back at Roode and chops him a few times. McIntyre sends him to the corner. Roode goes for a slingshot, but McIntyre kicks him. McIntyre grabs Roode at ringside and hits an inverted Alabama Slam on the apron.
We come back from the break to see McIntyre trying for a superplex, but Roode knocks him into the tree of woe. McIntyre sits up and hits a belly-to-belly superplex.
Dolph Ziggler pulls Roode out of the ring. McIntyre attacks Ziggler and pulls him into the ring. Roode chop blocks the leg of McIntyre and starts to viciously attack it. Roode slams the leg off the ring post before slamming it on the commentary table. Roode puts him in the ring and comes off the top rope with a diving clothesline for a near fall. Roode then applies a Figure Four Leglock. McIntyre screams in pain, but he eventually turns Roode over to reverse the pressure. Roode gets to the bottom rope to break it.
McIntyre hits a Glasgow Kiss followed by a clothesline and an overhead belly-to-belly suplex. McIntyre hits another overhead belly-to-belly suplex before kipping up, but his knee gives out. Roode hits a Double R Spinebuster for a near fall. Roode boots McIntyre back, but McIntyre comes back with a Future Shock DDT attempt. Roode counters into a pin for a two count. McIntyre quickly hits the Future Shock DDT for a near fall. McIntyre sets up for a big boot, but Ziggler shoves Roode out of the way and takes it. Roode hits the Glorious DDT, but McIntyre kicks out! McIntyre fights out of another Glorious DDT attempt and hits the Claymore Kick for the win.
Winner by Pinfall and still WWE Champion: Drew McIntyre
---
Backstage: Randy Orton, Ric Flair, Shawn Michaels, The Big Show, Christian
We go backstage to see a janitor pushing a cart. The janitor, who is obviously Randy Orton, takes a chair off his cart and walks up to the Legends Lounge. Orton reveals himself and puts on night vision goggles. Orton gets in the room and startles the legends. Orton turns off the lights and all we hear are chair shots. Orton turns the lights back on soon after and looks at the destruction. Orton leaves, puts his disguise back on, and rolls the cart away as WWE officials run into the room.