November 30, 2020
Orlando, Florida (Amway Center)
Commentary: Tom Phillips, Byron Saxton, and Samoa Joe
Results by: Mike Tedesco of Wrestleview.com
---
Quick Match Results
Symphony of Destruction Match: Jeff Hardy defeated Elias via top rope swanton bomb through a table on the outside
Slapjack defeated Ricochet via saito suplex after interference by RETRIBUTION
Asuka & Lana defeated Nia Jax & Shayna Baszler via shining wizard by Asuka on Baszler
Cedric Alexander defeated Xavier Woods via Lumbar Check
Sudden Death Triple Threat Match: AJ Styles defeated Keith Lee and Riddle via Phenomenal Forearm on Riddle
Dana Brooke defeated RECKONING via roll up
Drew McIntyre & Sheamus defeated The Miz & John Morrison by disqualification when AJ Styles attacked McIntyre
---
In-Ring: A Moment of Bliss With Guest Randy Orton
Alexa Bliss is sitting cross-legged on a stool. She welcomes everyone to a super exciting episode of A Moment of Bliss. She introduces her favorite superstar, Randy Orton, to the ring.
Randy Orton's music hits, and he comes out to piped in boos from the WWE ThunderDome speakers. Orton looks cautious as he makes his way to the ring. Bliss says someone is in a foul mood, but she gets it. She wouldn't be in a phenomenal mood if this happened to her last week: footage is shown of "The Fiend" Bray Wyatt costing Orton a match against AJ Styles to get into the "Sudden Death" Triple Threat Match.
Bliss says she cannot believe HE did that to Orton. Bliss would wonder to herself why The Fiend would do that to her. Orton says he knows Bray Wyatt very well, but he hasn't been formally introduced to The Fiend. However, Bliss has. Bliss says The Fiend is one of her best friends. Orton says he has a lot in common with The Fiend, but the one main difference is all his pain and suffering is worn on his exterior for everyone to see. All of Orton's pain and suffering has been suppressed deep down so he can blend in. The voices… he hears voices and so does The Fiend. Another similarity. The voices The Fiend hears belong to Orton.
Bliss says that isn't what The Fiend told her. Orton says The Fiend didn't tell her all about him. Years ago, Orton had to figure out what Bray Wyatt's weakness and vulnerability was. Orton found it and burned it to the ground. Orton knows what he needs to do. He needs to find The Fiend's weakness and vulnerability. Orton looks Bliss in the eye and says he has. She smirks at him. Bliss asks if that's what the voices in Orton's head are telling him. Bliss gets to her feet and asks if the voices are telling him lies. Bliss asks, "Who's manipulating who?"
The lights start to go out in the WWE ThunderDome. Orton says, "See what I mean?" More lights go out, and Bliss says, "See what I mean?"
The lights completely go out. When the lights come on, the arena is bathed in red light and the high pitched scream is heard. Orton is holding Bliss in his arms while The Fiend stares at him from across the ring. The Fiend cautiously approaches him and puts his arms out to receive Bliss. Orton tosses Bliss into The Fiend's arms and gets out of the ring shouting, "Who's laughing now?" Orton laughs up the ramp.
---
Symphony of Destruction Match
Jeff Hardy vs. Elias
A number of guitars and a drum kit are shown on the stage. They will be used during the Symphony of Destruction match. This is the final chapter in the rivalry between Jeff Hardy and Elias. There are other instruments surrounding the ringside area.
The bell rings, and Hardy starts punching away at Elias. Elias quickly knees him and sends him into the ropes. Elias lowers his head and eats a kick. Hardy goes to clothesline him over the top rope and Elias jumps early. Hardy then hits a baseball slide. Hardy grabs a violin and jumps off the steps to hit Elias, but Elias knees him out of mid-air. Elias bounces Hardy off the apron and puts him in the electric chair position. Elias then slams him into the apron.
Elias bounces Hardy off a baby grand piano… and the lid starts moving. WWE 24/7 Champion R-Truth is under the lid. The competitors all run out looking for the title. Drew Gulak and Lince Dorado are taken down by Hardy and Elias. Hardy and Elias then hit them with guitars.
We come back from the break to see a shirtless Elias punching away at Hardy. Hardy comes back with a clothesline, an inverted atomic drop, a double leg drop to the midsection, a low dropkick, and a big splash for a near fall. Hardy starts to clap his hands and goes for a Twist of Fate. Elias counters into Drift Away, but Hardy gets out. Elias then sends Hardy headfirst into a guitar wedged in the corner. Elias pulls him into the ring and picks up a near fall.
Elias pulls out some guitar picks and loads up his fist with the sharp edges sticking out. Elias then punches Hardy in the face with his loaded fist. Elias grabs him by the head and punches him again. Hardy holds his forehead in pain. Elias then digs the picks into Hardy's forehead. Elias pulls Hardy outside and bounces him off a drum set a few times before slamming some drumsticks on his head. Elias then sends him headfirst into the ring post. Hardy is down next to a gong. Elias goes for a running knee, but he hits the gong when Hardy moves. Hardy attacks Elias and throws him into the bass drum. Hardy digs his boot into Elias' throat.
Hardy gets him in the ring and grabs an acoustic guitar. Elias cuts him off with a kick and sends him ribs-first into the corner. Elias puts him in the electric chair position again, but Hardy counters into a hurricanrana. Elias grabs a guitar, but Hardy boots him back. Hardy goes for Whisper in the Wind, but Elias hits him with the guitar in mid-air! Elias covers, but Hardy grabs the bottom rope to break it. Elias tries again, but Hardy kicks out.
Hardy gets out of the ring. Elias follows him out holding the neck of a broken guitar. Elias shouts about Hardy trying to end his career. Elias tries to stab him with it, but he hits an amplifier, which electrocutes him. Hardy then hits him with a standing bass. Hardy puts him on a table and puts some small violins on top of him. Hardy goes all the way to the top rope and stands on the top of the ring post. Hardy hits a Swanton Bomb to the floor through the table… and the back of Hardy's head hits the bottom step of the ring steps! Wow! The referee checks on Hardy, but he says he's ok to continue. Hardy covers for the win.
Winner by Pinfall: Jeff Hardy
---
Backstage: Riddle, Keith Lee
Riddle finds Keith Lee backstage and talks a mile a minute about their opportunity tonight. Lee walks away while Riddle is still talking.
---
Ricochet vs. Slapjack
Mustafa Ali is backstage with RETRIBUTION. Why can't Ricochet see what's happening to him have happened to all of them. The promises led to nothing. Their dreams turned into nightmares. Ricochet should be standing next to them. Slapjack says he used to be blind to the corruption, but Ali helped him see he was a husk of a man. The rest of the world saw him as a joke, but Ali saw him as a weapon for RETRIBUTION. Ricochet made the decision to not join, but Slapjack will make him feel the consequences of that action. Maybe Ricochet will see what he sees.
After commercials, we go to the ring. Ricochet ducks a clothesline and hits a springboard cross-body block. Ricochet punches away at Slapjack and chops the chest. Ricochet whips him hard into the corner and avalanches him. Ricochet points at Ali, and Slapjack attacks. Slapjack puts him in the corner, but Ricochet boots him back before hitting an elbow. Slapjack then pulls him off the second rope and hits a cannonball in the corner for a two count. Slapjack applies a chin lock, but Ricochet fights up. Slapjack puts him in the corner, but Ricochet boots him back and hits a dropkick. Ricochet blocks a punch and punches Slapjack back. Slapjack reverses a whip, but Ricochet hits a running forearm. Ricochet punches away at him and hits a running shoulder. Ricochet hits a springboard clothesline followed by a standing shooting star press for a two count.
Ali motions to the back, and Mace and T-Bar run down. Ricochet throws Slapjack at them and hits a running plancha on them. Ricochet gets Slapjack in the ring. Dana Brooke turns Ali around and slaps him. She was attacked two weeks ago by Reckoning. Ricochet takes Slapjack down and kicks T-Bar down. Mace meets the same fate. Ricochet scares Ali off the apron. Slapjack then hits a Saito Suplex for the win.
Winner by Pinfall: Slapjack
---
In-Ring: Miz TV With Guest Sheamus
The Miz and John Morrison are in the ring. Miz welcomes everyone to Miz TV. The Miz talks about "Miz & Mrs" before saying he's the face of the USA Network. Miz pulled a few strings to get Sheamus on the show.
Sheamus makes his entrance. They ask about his Thanksgiving, but Sheamus isn't interested. Morrison says he's here to they can know their enemy. Sheamus says he doesn't want to waste his time. Miz says they want to know about Drew McIntyre. Sheamus says now he's getting to the point. What does he want to know? Miz says Sheamus returned McIntyre's chest from Scotland, a truly touching moment. What did Sheamus get in return? McIntyre was disrespectful. Miz asks Morrison why McIntyre forgot about Sheamus. Maybe he had something better to do, let the success get to his head, or Sheamus would be jealous he's WWE Champion. They shout, "CORRECT!"
Sheamus says when he gives a friend a gift, he doesn't expect anything in return. It was McIntyre's heirlooms. They are like brothers. Miz makes fun of him and says to save the sappy stuff. McIntyre has something Miz wants… as does Sheamus. Morrison says if they were really brothers, McIntyre would give him a WWE Championship opportunity. Miz says once he gets the WWE Championship, Morrison is first in line. That's what real friends do. During their tag team match tonight, Sheamus can cash in years of frustration and he can cash in his "Money in the Brank" (not a typo) contract. Sheamus laughs at Miz' sense of humor. Miz asks Sheamus how it feels to be an afterthought. When is the last time he tasted a WWE Championship? 5 years ago for 2 months? Miz says Sheamus can laugh at his career because it is a joke.
Sheamus angrily gets to his feet and takes off his jacket. Sheamus says the difference between him and Miz is Miz runs his mouth and talks about what he will do. Sheamus likes to use his hands. Sheamus attacks them and gets Miz out of the ring. Sheamus beats on Morrison, but Miz attacks him from behind with the Money in the Bank contract. Miz and Morrison stand tall over Sheamus.
---
Non-Title Match
Asuka & Lana vs. Nia Jax & Shayna Baszler
Footage is shown of Asuka and Lana beating Nia Jax and Shayna Baszler last week. Asuka is backstage with Lana and is getting pumped up. Sarah Schreiber asks Lana about their strategy, but Lana says she wouldn't understand.
Nia Jax and Shayna Baszler are backstage with Sarah Schreiber blaming each other for last week's loss. Baszler says as an athlete, losing to Asuka is one thing. However, losing to Lana… ugh. They'll beat Asuka and put Lana through a table.
Shayna Baszler will start against Lana. Baszler quickly takes her down before slamming her. Baszler applies a waistlock, but Lana hits a takedown and rolls her up for a two count. Baszler immediately runs her over with a clothesline. Baszler shouts at Nia Jax that she's got this. Lana stuns Baszler and tags Asuka. Nia Jax runs in. Lana pulls the middle rope down way too soon, so Jax has to charge and just jump out of the ring. That looked awful. Asuka and Lana go for stereo baseball slides, but Jax and Baszler catch them and sling them into the barricade a few times.
We come back from the break to see Lana fighting Jax, but Jax lifts her up. Lana slides into a sleeper hold, but Jax slings her down. Jax blocks a slap, shouts at her, and elbows her in the face. Jax then chokes her on the ropes. Jax throws Lana across the ring and taunts her. Lana tries to swing back, but Jax doesn't feel it. Baszler tags in, and she viciously wrenches Lana's leg. Baszler stomps on the ankle, and Lana screams in pain. Baszler throws Lana out of the ring and tags Jax in. Jax talks some trash and sends her into the barricade. Jax goes to lawn dart her into the ring post, but Lana slides off and sends her into the ring post. Lana looks for a count-out, but Jax gets in the ring.
Baszler tags in, but Asuka manages to tag Lana as well. Asuka runs wild on them and hits Baszler with a missile dropkick and a hip attack. Asuka kicks away at the chest and goes for a shining wizard. They then hit each other with kicks. Lana tags herself in and goes to the top rope. Lana hits Baszler with a cross-body block, but Baszler rolls through and applies a Kirifuda Clutch. Jax pulls Asuka off the apron, but Asuka fights her off and breaks up the hold with a shining wizard. Lana covers Baszler for the win.
Winners by Pinfall: Raw Women's Champion Asuka and Lana
---
Backstage: Sheamus, Drew McIntyre
👀#WWERaw @DMcIntyreWWE @WWESheamus pic.twitter.com/Jrexf70W6Q

— WWE (@WWE) December 1, 2020
Sheamus is backstage holding his back. WWE Champion Drew McIntyre walks up and is laughing. McIntyre says it was kind of funny. The Miz was right… it was must see TV. Sheamus sarcastically thanks him for coming out to help him. If the roles were reversed, Sheamus would do the same. McIntyre says that's why they've always gotten along. Is Sheamus ready to fight? Sheamus says that was an appetizer. Tonight, they'll finish it.
---
Xavier Woods vs. Cedric Alexander
The New Day are in the ring with microphones as we come back from the break. Kofi Kingston puts over Xavier Woods becoming the host of G4. Woods says being a sports-entertainer is important to him, as is becoming a future King of the Ring. Woods thanks everyone who has been in an UUDD video and watched it. If you've supported him ever, it means more to him than they'll ever know. Kingston says in an effort to get ready for hosting G4, he can take us through their defeats over The Hurt Business.
They run through some dream sequences of each time The New Day defeated the Hurt Business. The Hurt Business comes out and takes exception with this. MVP says if they put the titles on the line again, it'll be different. Cedric Alexander gets in the ring and says tonight is going to be a nightmare. Alexander then attacks him from behind as Woods gets ready. Alexander then lifts up Woods' Raw Tag Team Championship.
We join this match in progress. Woods is attacking him, but Alexander makes a comeback. Woods fights back and knocks him out of the ring before hitting a baseball slide. Woods puts him in the ring and goes for a slingshot DDT, but Alexander counters into a gutbuster on the top rope. Alexander kicks him in the back and chokes him with his t-shirt. Woods soon begins to fight back with some chops. Alexander reverses a whip, but Woods slides through the legs and forearms him down. Woods hits a side kick to the face and kicks him in the midsection. Woods drops him in the ropes and splashes him. Woods gets in the ring and hits an Honor Roll for a near fall. Woods goes for a powerbomb, but Alexander counters into a brainbuster for a near fall.
Alexander viciously kicks Woods in the back until knocking him out of the ring. Alexander knocks him off the apron and tries for a suicide dive, but Woods sidesteps him and sends him into the barricade. Woods gets Alexander in the ring. Alexander then stuns him with a Lumbar Check for the win.
Winner by Pinfall: Cedric Alexander
---
Backstage: Riddle, AJ Styles
Riddle comes up to AJ Styles and Omos. Riddle walks up to them. Riddle talks a bunch and cracks Omos up. Riddle says Styles is super cute, so Styles shoves him.
---
Sudden Death Triple Threat Match
Keith Lee vs. AJ Styles vs. Riddle
The bell rings, and Riddle tries to take Styles out with a running knee. Lee knocks Riddle out of the ring and sets up for a suicide dive, but Riddle and Styles move. Lee manages to put the brakes on. Lee gets out of the ring and chases Styles into the ring. Styles attacks Lee as he gets in the ring. Riddle cuts Styles off and kicks and punches away at him. Styles reverses a whip and hits a throat thrust to take Riddle down. Styles punches him. Lee grabs Styles by the throat before grabbing Riddle. Lee leapfrogs them both before hitting Riddle with a running cross-body block for a two count. Lee forearms Riddle into the ropes before putting him in the corner and punching away at him. Lee kicks Styles and sends him into Riddle. Lee sends Styles into the ropes and hits a wild back body drop. Lee annihilates Riddle with a running forearm in the corner. Riddle fights back, but Lee cuts him off and clubs him down. Lee stands on Riddle's hand. Riddle fights back, but Lee takes him down. Riddle ducks a right hand and kicks Lee to the apron. Lee grabs Riddle by the throat and pushes him to the corner. Styles grabs Lee and bounces him off the apron. Lee pushes Styles into Omos. Omos puts Styles on the apron. Styles hits Lee with a running knee. Riddle knocks Styles off the apron and hits Lee and Styles with a springboard Floating Bro.
We come back from the break to see Riddle kicking Lee and hitting Styles with a Broton. Riddle kicks Lee again and hits him with two Brotons for a one count. Riddle hits Styles with a gutwrench suplex before going for a Broton, but Styles kicks him out of mid-air! Lee grabs Styles and viciously whips him to the corner, but Styles drops down and slides into the ring post!
Lee avalanches Riddle in the corner and throws him across the ring. Lee avalanches Riddle in the corner and throws him across the ring again. Riddle fights back, but Lee head-butts him. Lee tries for a Spirit Bomb, but Riddle counters into a triangle choke attempt. Lee uses Riddle as a weapon to knock Styles down. Lee lifts Riddle, but Riddle cinches in an arm bar. Riddle gets to his feet and kicks Lee in the neck. Riddle hits Styles and Lee with running forearms. Riddle hits Styles with an exploder. Riddle charges Lee, but Lee wipes him out with a Pounce! Lee covers Riddle for a near fall.
Styles crushes Lee with a strike combo to take him down to a knee. Styles hits a running forearm shiver for a near fall. Styles goes to the top rope, but Lee head-butts him down. Lee climbs to the middle rope, but Riddle cuts him off. Riddle attacks Lee and lifts him up for a powerbomb, but Lee is too heavy. Lee takes Riddle out with a belly-to-belly throw. Styles hits Lee with a cross-body block for a two count. Styles attacks Riddle for a two count. Styles goes for a Styles Clash on Riddle, but Lee stops it. Riddle kicks Lee and hits Styles with an overhead kick. Riddle hits a bridging German Suplex on Styles for a near fall. Riddle flips through a suplex from Lee and they trade forearms. Lee hits Grizzly Magnum, but Riddle responds with two Final Flash knees. Styles then hits a Phenomenal Forearm on Riddle out of nowhere for the win!
Winner by Pinfall: AJ Styles
AJ Styles is the #1 Contender for Drew McIntyre's WWE Championship at WWE TLC.
---
Backstage: The Miz, John Morrison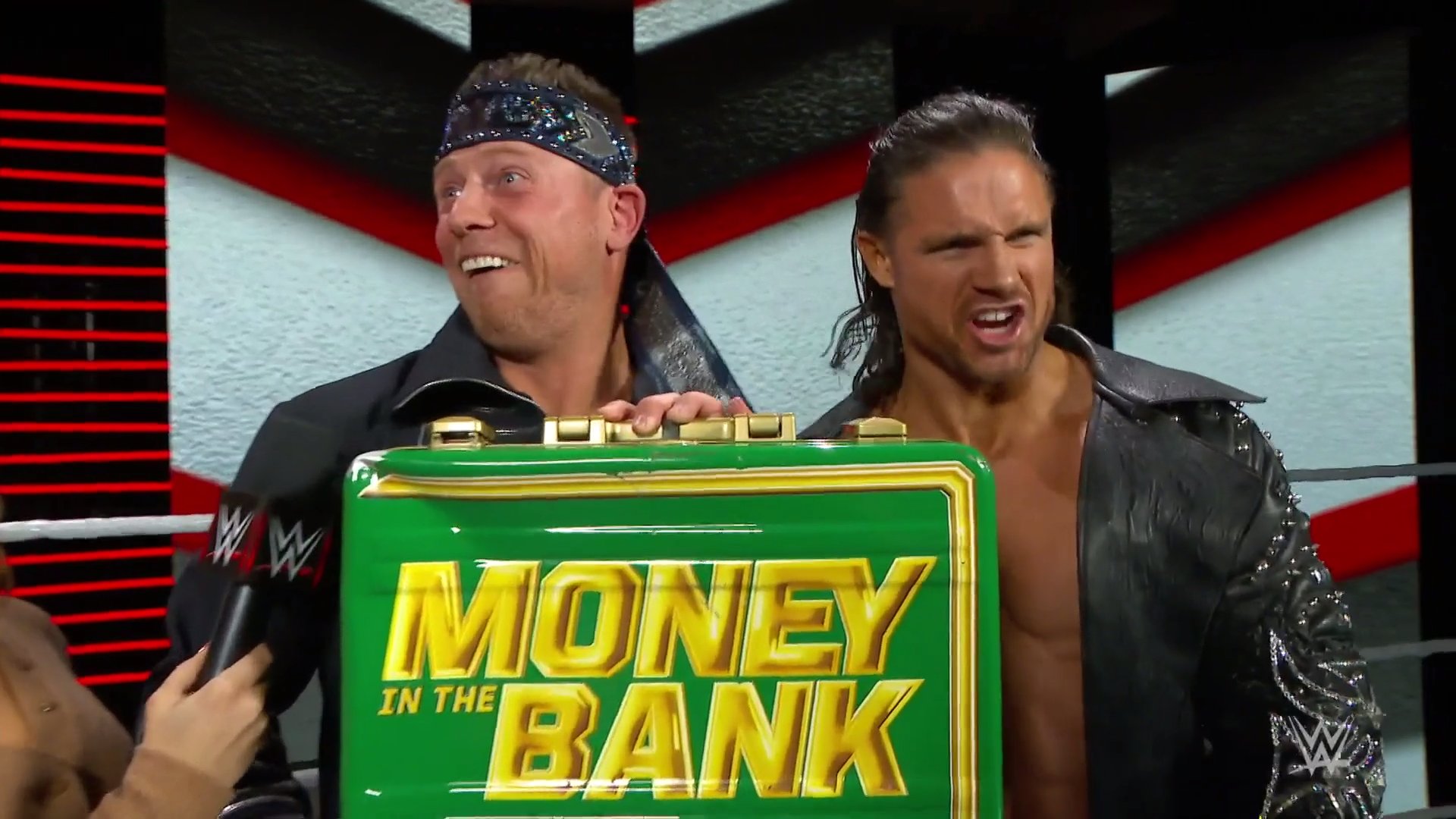 Charly Caruso asks The Miz and John Morrison is they have a strategy for tonight after their attack backfired. Miz says Drew McIntyre has a partner he can't trust, as well as the looming threat of the Money in the Bank briefcase. Caruso says Miz is just rattling off facts and no real plan.
---
Dana Brooke vs. RECKONING
Reckoning hits Brooke with a dropkick to start the match. Reckoning goes for a boot, but Brooke avoids it. Brooke punches away at her, and Reckoning's mask immediately falls off. You can clearly see it is Mia Yim, but the announcers pretend not to know. Brooke sends her to the corner, but Reckoning pops out with a clothesline. Reckoning chops Brooke's chest and punches her. Reckoning hits a snapmare followed by a surfboard stretch. Brooke fights up and hits a jawbreaker. Brooke boots Reckoning back and elbows her. Brooke hits a pair of clotheslines followed by a handspring back elbow. Brooke throws her down. Ali gets on the apron, but Brooke scares him back. Brooke avoids a shot from Reckoning and rolls her up for the win.
Winner by Pinfall: Dana Brooke
Mustafa Ali is furious and shouts that there is no failure in RETRIBUTION.
---
Backstage: AJ Styles, The Miz, John Morrison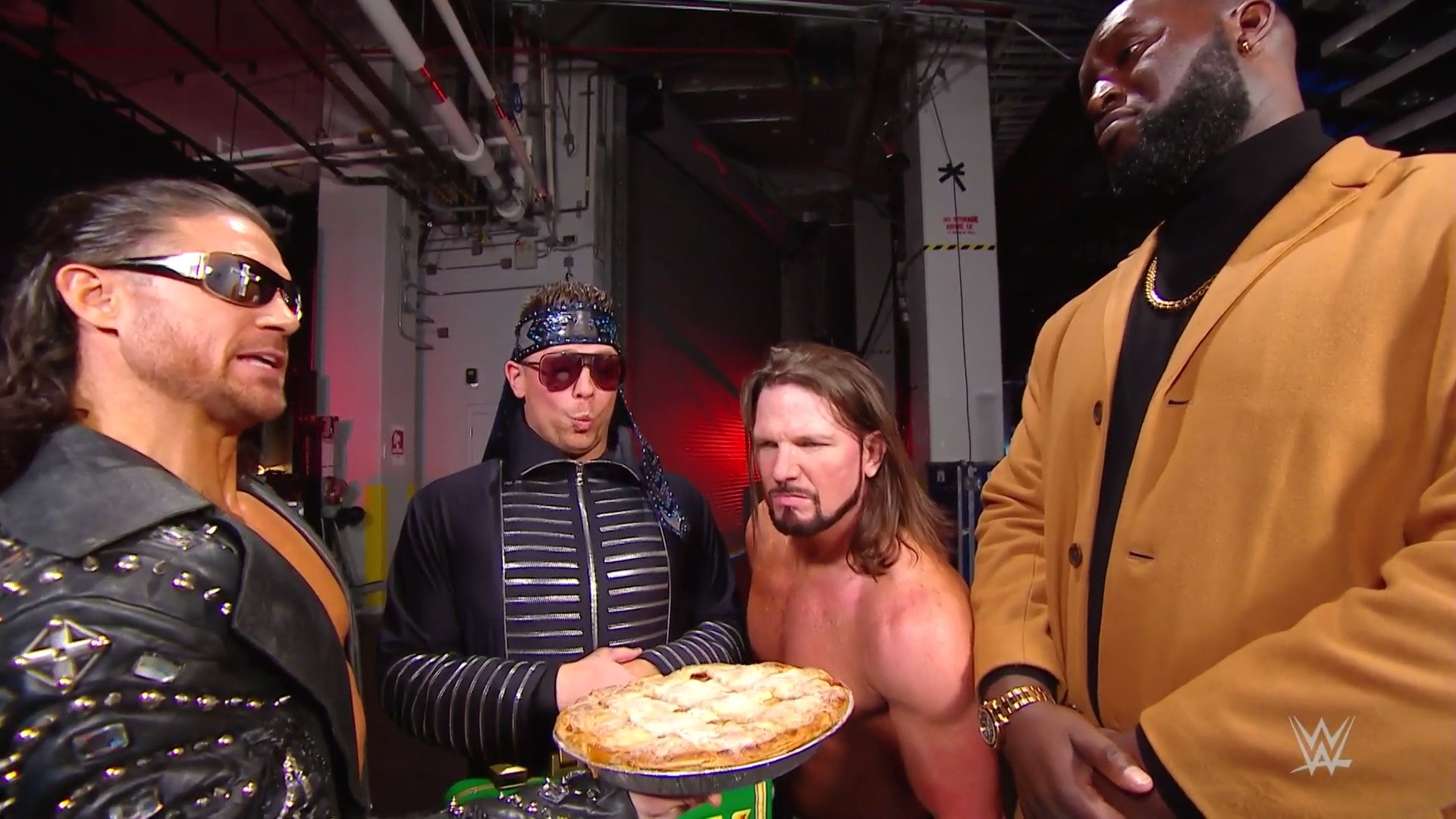 AJ Styles is backstage with Omos. The Miz and John Morrison walk up to him and offer him a peach pie since he's from Georgia. Styles says he knows they want his help, and he agrees to help. Miz asks why he's so willing to help. Styles says it would be easier to beat Miz at TLC than Drew McIntyre. Styles sarcastically says, "I'll see you out there, Champ." Styles asks for the pie, which Morrison gives him. Omos says that's not pie. It's a cupcake…
---
Backstage: Riddle, MVP, Bobby Lashley
Riddle is backstage holding his neck when MVP walks up to him. MVP asks what happened out there. Riddle says losing sucks, but at least he had the opportunity unlike Bobby Lashley since MVP cost him. Riddle says he has a business proposition. MVP asks if he's giving him a pitch, but Riddle says he's not into baseball. Riddle says he is into gardening. MVP says Riddle is dumb and ridiculous and is glad he lost. Riddle gets angry, so Bobby Lashley comes up from behind and wipes him out with the Hurt Lock. Lashley and MVP walk off.
---
Backstage: Sheamus, Keith Lee
Sheamus is warming up when Keith Lee walks up and asks if he's turning on Drew McIntyre. Sheamus says it's none of Lee's business. Sheamus excuses himself to turn on his tag team partner.
---
In-Ring: Drew McIntyre
Charly Caruso introduces WWE Champion Drew McIntyre to the ring. McIntyre makes his entrance with the sword. She says he has been a busy man and asks him to take us through the last two weeks. McIntyre says he's a man of his word. He promised to Claymore Randy Orton's head off and take back the title. That's what he did. Then he said he'd knock Roman Reigns off his pedestal, and he did. McIntyre kicked out of Spear after Spear. Reigns feared him, so his cousin Jey Uso interfered so he could win the battle. Reigns may have won the battle, but he'll win the war when their paths cross again. You can believe that.
McIntyre says it's time to look ahead to TLC. She mentions he'll be facing AJ Styles at TLC. How does he keep his focus on Styles with the looming threat of The Miz cashing in Money in the Bank. McIntyre says he has no beef with Styles. This match will be phenomenal. As for The Miz, he'll give him some advice. The briefcase is the only thing keeping him relevant. Don't cash it in. If he does, he'll stuff Morrison into the briefcase and then shove it where Miz' sun doesn't shine.
Drew McIntyre & Sheamus vs. The Miz & John Morrison
Sheamus starts the match against The Miz. Sheamus powers him to the corner and hits a fallaway slam. Miz rolls out of the ring, but McIntyre puts him right back in the ring. Sheamus takes Miz down and shoves him to his corner. John Morrison tags in and ducks a clothesline. Sheamus then clotheslines him down. Sheamus stomps Morrison down in the corner. McIntyre then tags himself in. McIntyre shoves Morrison to the corner before wiping him out with a giant shoulder block. McIntyre takes Morrison down before tagging Sheamus in. Sheamus viciously knees Morrison to the apron. Sheamus then starts up the 10 Beats of the Bodhrán, but Miz cuts it off. Sheamus then gives him the 10 Beats of the Bodhrán. Sheamus grabs Morrison and hits a rolling senton. Sheamus then grabs Miz and hits a rolling senton onto Morrison!
Sheamus calls Styles out, so Styles gets up from the commentary table. They talk trash to each other. Sheamus then cuts Miz off. Sheamus turns and sees Omos. Sheamus then turns into a baseball slide from Morrison that sends him over the commentary table.
We come back from the break to see Sheamus fight out of a neck vice from Morrison. Morrison quickly takes Sheamus down and tags Miz in. Miz hits a kneeling DDT for a near fall. Miz knees Sheamus in the back and rips at his face. Morrison tags in and knees Sheamus in the face. Miz hits a running boot, and Morrison follows up with a standing shooting star press for a near fall. Morrison kicks Sheamus in the ribs before applying a body scissor. Morrison applies a rear naked choke, but Sheamus fights out. Sheamus fights up and elbows out. Sheamus ducks a kick and viciously knees him in the face.
McIntyre and Miz tag in. McIntyre clotheslines Miz twice before sending him into the ropes for a belly-to-belly overhead suplex. McIntyre hits a second one. Morrison runs in for a springboard kick, but McIntyre avoids it and hits him with a belly-to-belly overhead suplex. McIntyre then hits Miz with a neckbreaker and kips up. McIntyre shouts it's time to have some fun. Sheamus wants to be tagged in. McIntyre goes to tag him, but Morrison pulls Sheamus off the apron and sends him over the barricade. AJ Styles then wipes out McIntyre with a Phenomenal Forearm.
Winners by Disqualification: WWE Champion Drew McIntyre and Sheamus
Styles tells The Miz it's time to cash in. Morrison hits McIntyre with Starship Pain. Miz then hits a Skull Crushing Finale on the WWE Champion. Omos hands Styles the Money in the Bank briefcase, and he hands it to the referee. The Miz grabs the briefcase and gets in Styles' face. Miz then hands the referee the briefcase. McIntyre comes to and knocks Morrison out of the ring before hitting The Miz with a Claymore Kick. The Money in the Bank briefcase has not been cashed in.
McIntyre gets up and angrily stares at Styles. Omos pulls Styles out of the ring and carries him away. Styles says Omos saved McIntyre tonight.