January 31, 2021
St. Petersburg, FL – Tropicana Field
---
Quick Match Results
Kickoff Show – WWE Women's Tag Team Championship: Shayna Baszler & Nia Jax defeated Asuka & Charlotte Flair (c) to become the NEW champions via leg drop by Jax on Flair after Lacey Evans hit Charlotte with a loaded Woman's Right (10:30)
WWE Championship: Drew McIntyre (c) defeated Goldberg via Claymore (2:30)
WWE SmackDown Women's Championship: Sasha Banks (c) defeated Carmella via Bank Statement (10:25)
Women's Royal Rumble Match: Bianca Belair won, entering at #3 and last eliminating Rhea Ripley (58:50)
WWE Universal Championship Last Man Standing Match: Roman Reigns (c) defeated Kevin Owens via guillotine choke (24:54)
Men's Royal Rumble Match: Edge won, entering at #1 and last eliminating Randy Orton (58:30)
---
Kickoff Show
WWE Women's Tag Team Championship
Asuka & Charlotte Flair (c) vs. Shayna Baszler & Nia Jax
A few minutes in, Asuka went to the top, but Jax climbed to the middle rope and went for a Samoan Drop, but Asuka reversed into a not very powerful powerbomb. Asuka made a hot tag to Charlotte, who hit Baszler with several chops, then hit a double Natural Selection on both Jax and Baszler at the same time.
Charlotte went to the top, but Baszler pulled her down. Jax hit a sloppy Samoan Drop, then Baszler kicked her hard in the chest for a near fall.
On the outside, Asuka went after Jax, but Jax tossed her over the announce table. Charlotte went to the top and hit a moonsault to the outside on both Jax and Baszler.
Ric Flair's music suddenly hit and he came out with a smile on his face. Off the distraction, Baszler rolled up Charlotte for a near fall. Charlotte then locked on a Figure Eight, but Lacey Evans grabbed Charlotte's hair and pulled her down to the mat. Charlotte chased Lacey away and locked on the Figure Eight again…
Ric Flair gave Lacey a foreign object, and she hit Charlotte with a loaded Woman's Right from the outside, which the ref didn't see.
Jax hit Charlotte with a leg drop and got the win, and we have new champs.
Not a good match…
Winners and NEW Women's Tag Team Champions: Shayna Baszler & Nia Jax (10:30)
---
WWE Championship
Drew McIntyre (c) vs. Goldberg
Goldberg's music hit and he got his full entrance, emerging from a door backstage and pyro on the stage. McIntyre came out next.
They faced off in the ring, and McIntyre hit Goldberg with a headbutt, then a spear. He took him to the outside, but Goldberg speared him through the crowd barricade. Tom Phillips said that the bell hasn't rung so the match hasn't officially started yet.
McIntyre sold like he was in a lot of pain, holding his ribs. The bell rang, Goldberg charged at McIntyre but McIntyre nailed him with a Claymore! 1, 2, Goldberg kicked out.
McIntyre went for another Claymore, but Goldberg moved and hit him with a spear… and a second. 1-2-no.
Goldberg went for the Jackhammer and hit it. 1-2-McIntyre kicked out! Goldberg looked shocked.
He set up for another spear… but McIntyre moved and he ran into the turnbuckle. Claymore by McIntyre! 1-2-3!
Winner: Drew McIntyre (2:30)
After the match, they faced off in the ring, then embraced, and McIntyre raised Goldberg's arm.
---
WWE SmackDown Women's Championship
Sasha Banks (c) vs. Carmella
Carmella dominated the match and taunted Banks for the first several minutes. On the outside, Banks landed in Reginald's arms, and she gave him a hurricanrana. The ref then tossed Reginald out, and he went to the back.
Carmella hit a suicide dive to the outside and landed pretty badly on her chest/face.
In the ring, Sasha went for a frog splash, but Carmella got her knees up. Later, Sasha jumped off the top again, but Carmella nailed her with a superkick, the another for a near fall. Carmella screamed in frustration.
Carmella went to grab Banks on the mat, but Banks locked on the Bank Statement… and Carmella tapped.
Pretty decent match. Carmella looked impressive.
Winner: Sasha Banks (10:25)
---
Backstage: The New Day, Sami Zayn
"I see EVERYTHING! I have eyes at the back of my head!" – @SamiZayn

You sure about that? 😂 #RoyalRumble @WWEBigE @AustinCreedWins @TrueKofi pic.twitter.com/8mnG6nD8PR

— WWE Universe (@WWEUniverse) February 1, 2021
Backstage, Big E asked Xavier Woods if RETRIBUTION beat his ass last week and the week before, and Woods, ashamed, said they did. He tried to pump him up for the Royal Rumble.
Sami Zayn walked up to talk trash, but Kofi Kingston came up from behind and yelled to scare Zayn. Woods said he wasn't medically cleared to compete tonight, but tonight, if one of The New Day win the Royal Rumble, they all win the Royal Rumble.
---
Musical Performance: Bad Bunny
They introduced "one of the biggest Latin artists in the world," Bad Bunny, who performed his "hit song," "Booker T." Booker T the wrestler stood on the stage with his arms folded like a statue as Bad Bunny performed the song, then Booker said "Can you dig it, sucka?" after it was over.
---
Women's Royal Rumble Match
Jerry Lawler joined the commentary team for this match.
#1: Bayley – Bayley had "COLE" (for Michael Cole) shaved into the back of her head above her neck.
#2: Naomi – Naomi, who has been out for months, made her return.
#3: Bianca Belair – Belair immediately went after Bayley.
#4: Billie Kay – She went to the announce table and gave 8×10 photos of herself to the announce team, then she sat in a chair at the table, got a headset, and did commentary.
#5: Shotzi Blackheart – Shotzi entered on her tank. Billie Kay tried to give her a headshot photo, but Shotzi didn't want one and shot something from the tank at her.
#6: Shayna Baszler – Billie tried to give her a headshot photo, but Baszler punched it and choked Billie.
#7: Toni Storm – Toni didn't want a headshot from Billie either. Baszler suddenly tossed Blackheart out. Shotzi Blackheart was eliminated by Shayna Baszler.
#8: Jillian Hall – Billie asked her if she wanted to team up and be "Billie and Jillie" and Hall said she loved it, and Billie finally entered the ring.
#9: Ruby Riott – Billie and Jillie tried to help out and team up with Ruby, but she didn't seem too interested.
#10: Victoria – The returning Victoria entered and hit some offense, including a pretty sloppy leg drop on Naomi.
#11: Peyton Royce – Peyton grabbed Victoria, and Billie Kay grabbed her too. The former IIconics smiled and both kicked Victoria at the same time. Ruby looked mad at Billie and Billie looked ashamed. Billie was then attacked by someone from behind, temporarily breaking up the IIconic reunion.
#12: Santana Garrett
#13: Liv Morgan – Jillian Hall suddenly turned on Billie Kay and hit her with a Samoan Drop. A few seconds later, Billie kicked Jillian in the face and eliminated her! Jillian Hall was eliminated by Billie Kay. Ruby Riott and Liv Morgan then tossed Billie out from behind as she was celebrating. :-( Billie Kay was eliminated by the Riott Squad.
#14: Rhea Ripley – Ripley was next, and tossed out Toni Storm. Toni Storm was eliminated by Rhea Ripley. Baszler locked on a Kirifuda Clutch on Victoria over the top rope and dropped her out. Victoria was eliminated by Shayna Baszler. Ripley then kicked out Santana Garrett. Santana Garrett was eliminated by Rhea Ripley.
#15: Charlotte Flair – Charlotte hit a flurry of offense. Riott and Royce fought on the apron, Bayley slid to the outside and powerbombed Riott out. Ruby Riott was eliminated by Bayley.
#16: Dana Brooke – Brooke hit a flipping senton off the top onto several wrestlers. Bayley and Liv Morgan fought near the ropes, and Peyton kicked Morgan out. Liv Morgan was eliminated by Peyton Royce.
#17: Torrie Wilson – Torrie hit some offense on several wrestlers. Ripley powerbombed Dana Brooke on the apron and eliminated her. Dana Brooke was eliminated by Rhea Ripley.
#18: Lacey Evans – Ric Flair's music hit and he came out on the stage, then Lacey Evans came out. Charlotte looked pissed in the ring. Lacey entered the ring slowly, and Charlotte immediately attacked her. Then went under the ropes to the outside and Charlotte attacked her there. Charlotte climbed back to the ring, Peyton tried to eliminate her, but Charlotte tossed Peyton over. Peyton Royce was eliminated by Charlotte Flair. Baszler kicked out Torrie Wilson! Torrie Wilson was eliminated by Shayna Baszler. Belair clotheslined Bayley, knocking her out. Bayley was eliminated by Bianca Belair.
#19: Mickie James – James squared off with Charlotte Flair and they went after each other.
#20: Nikki Cross – Cross went after everyone in the ring.
#21: Alicia Fox – R-Truth's music suddenly hit and he ran onto the apron. Alicia Fox yelled at him… 24/7 guys chased after Truth… He fought them off in the ring, then Alicia Fox rolled up Truth… 1-2-3. Alicia Fox is the NEW 24/7 Champion.
#22: Mandy Rose – Mandy knocked Fox out of the ring. Alicia Fox was eliminated by Mandy Rose. R-Truth rolled Fox up and won back his title. R-Truth is the NEW 24/7 Champion. The 24/7 guys chased after Truth, and Alicia joined the chase.
#23: Dakota Kai – Woman's Right by Lacey on Mickie James, and she's out. Mickie James was eliminated by Lacey Evans.
#24: Carmella – Ripley grabbed Dakota Kai and tossed her out hard. Dakota Kai was eliminated by Rhea Ripley. Ripley then eliminated Mandy Rose. Mandy Rose was eliminated by Rhea Ripley. Carmella slowly entered with Reginald. Nikki Cross tried to immediately toss her out, but Reginald caught Carmella and helped her back in, where she eliminated Nikki Cross. Nikki Cross was eliminated by Carmella.
#25: Tamina – Carmella fell to the outside into Reginald's arms again, but Tamina superkicked Reginald, and Carmella landed on the floor and was eliminated. Carmella was eliminated by Tamina (?). Naomi fell to the outside onto her back, but her feet were up in the air and the ref said she wasn't officially eliminated because her feet didn't touch the ground. Naomi grabbed Bianca Belair's hair braid and pulled herself back up into the ring.
#26: Lana – Lana, who had a sour look on her face, was next.
#27: Alexa Bliss – A cheerful Firefly Fun House Bliss was next. Everyone attacked Alexa… parts of the ThunderDome screen started to go out and Alexa looked like she was about to "transform"… but Rhea Ripley tossed her out from behind before she could. Alexa Bliss was eliminated by Rhea Ripley.
#28: Ember Moon
#29: Nia Jax – Baszler kicked Lacey Evans out. Lacey Evans was eliminated by Shayna Baszler. Baszler put Ember Moon on the apron, then Jax knocked her out. Ember Moon was eliminated by Nia Jax. Jax then tossed out Naomi. Naomi was eliminated by Nia Jax. Baszler wanted to attack Tamina, but Jax said she's "family"… but they then did double team her and toss her out. Tamina was eliminated by Nia Jax and Shayna Baszler. Jax then suddenly tossed Baszler out. Shayna Baszler was eliminated by Nia Jax. Jax said "sorry, I had to do it." Lana climbed onto Jax's back… Jax shook her off and ran at Lana, but Lana ducked, pulled the top rope down and Jax fell out! Nia Jax was eliminated by Lana.
#30: Natalya – Natalya was attacked by Jax and Baszler on the entrance ramp. Natalya hugged Lana, but then attacked her from behind and tossed her out. Lana was eliminated by Natalya.
Final four remaining: Bianca Belair, Rhea Ripley, Charlotte Flair and Natalya. Natalya tried to eliminate Ripley, but Belair hit Natalya from behind and knocked her out. Natalya was eliminated by Bianca Belair.
Charlotte, Belair and Ripley were the final three. They all faced off, the Ripley and Belair double teamed Charlotte. Charlotte was able to knock down Belair, then faced off with Ripley. Charlotte got knocked to the apron, and Belair and Ripley knocked her out! Charlotte Flair was eliminated by Bianca Belair and Rhea Ripley.
Belair celebrated, but Ripley tried to knock her out. They both hung from the top rope, but both were able to keep their feet from touching the ground. They fought near the apron again and each almost eliminated the other. Ripley went for the Rip Tide, but Belair countered into a KOD attempt… but Ripley got out… and Belair clotheslined Ripley over the top rope to the outside!! Rhea Ripley was eliminated by Bianca Belair.
Bianca Belair won the Royal Rumble (58:50), entering at #3. Commentary said that she set the women's Royal Rumble time record, staying in for over 56 minutes.
Belair was interviewed in the ring after the match and she cried, saying "I did it" and she will be the EST at WrestleMania.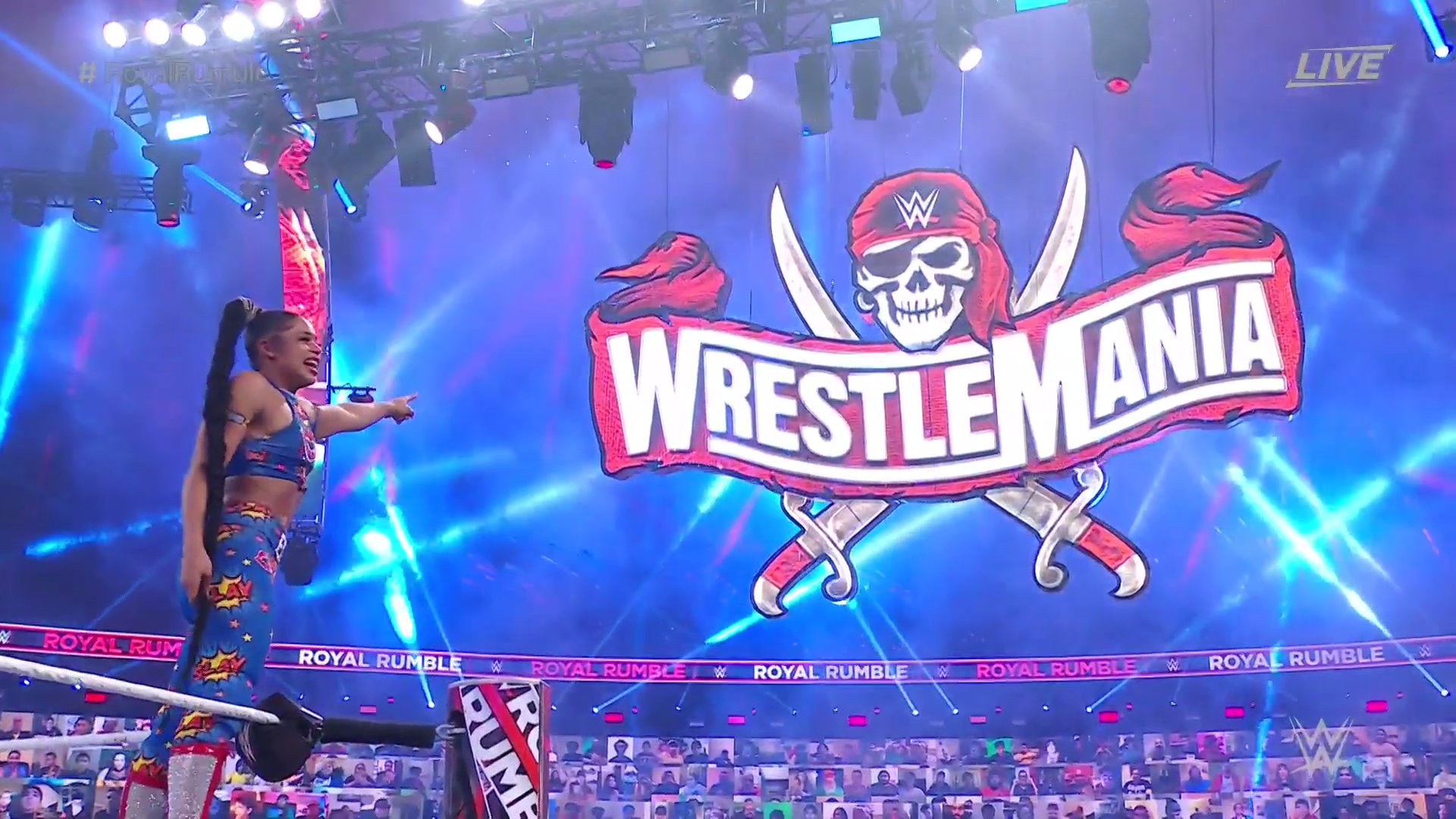 ---
Backstage: The Miz, John Morrison, Bad Bunny, Booker T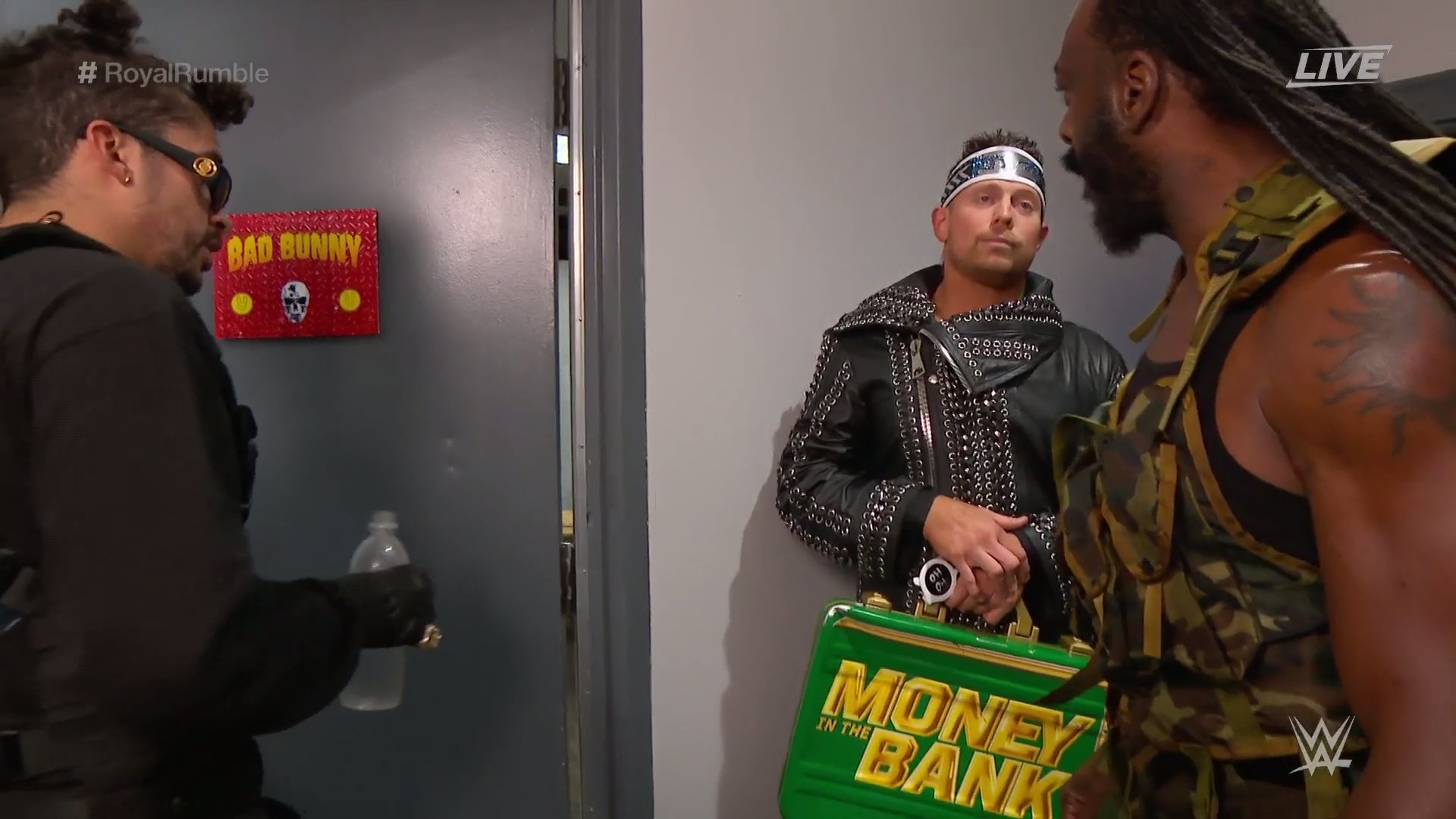 The Miz and Morrison knocked on Bad Bunny's door and said they should team up because they'd make him a superstar, but he said "I'm fine." The Miz was angry and started bashing Booker T, when Booker T showed up from behind and said "Tell me you did not just say that…" then went into Bad Bunny's dressing room.
---
Segment: R-Truth, Peter Rosenberg
So, recent turn of events, @Rosenbergradio is the NEW #247Champion! Is this real life? #AndNew #RoyalRumble @RonKillings pic.twitter.com/AGJxZVc23K

— WWE (@WWE) February 1, 2021
At the Kickoff desk, they recapped some stuff, then R-Truth came in. Peter Rosenberg said that John Cena was here. Truth got excited, and Rosenberg gave him a low blow then pinned him to win the 24/7 Championship.
New 24/7 Champion: Peter Rosenberg
---
WWE Universal Championship Last Man Standing Match
Roman Reigns (c) vs. Kevin Owens
Owens went for a Stunner seconds into the match, but Reigns countered into a Superman punch. Popup powerbomb by Owens. Later on the outside, Reigns speared Owens. The ref is counting every time someone goes down. WWE Last Man Standing matches are not fun to watch…
They brawled on the outside for what felt like 10 minutes, and Reigns knocked Owens off the stage through a table below. Owens got up before the count of 10. He walked to the backstage area, and Reigns suddenly drove up in a golf cart and drove right into Owens, who smashed off of the windshield. Owens got up at the count of 9. Reigns yelled at Owens to stay down. Owens hit a popup powerbomb on Reigns on top of a table, then climbed up on some crates and hit Reigns with a splash through the table. Reigns got up at 9. Owens put Reigns on another table, then got on a fork lift and lifted it up… He climbed up the lift and jumped off with a huge senton through the table on Reigns. Cool… Reigns got up at 9. Reigns' face had blood on it.
Owens brought Reigns back to the stage area, but Reigns nailed him with a spear out of nowhere through the LED board. Owens got on his feet at 9. Reigns punched him with handcuffs, but Owens hit him with a Stunner.
Owens handcuffed Reigns to a low part of the set and Reigns couldn't get up… The ref counted to 9, but Reigns grabbed the ref and tossed him into part of the set, knocking him out. Low blow by Reigns on Owens… Paul Heyman arrived with keys to unlock Reigns. A new ref came out and started counting. Heyman was having trouble unlocking the cuffs, but finally did it after like a minute or two. The ref stopped counting, and Reigns was eventually able to crouch and get on his feet, technically breaking the count even though it was way over 10 seconds.
Guillotine choke by Reigns on Owens… the ref counted to 10… and Reigns is the winner.
Winner: Roman Reigns (24:54)
---
Men's Royal Rumble Match
#1: Edge
#2: Randy Orton – Edge attacked Orton as he was making his entrance, then attacked him around the outside.
#3: Sami Zayn – Zayn was next and helped Orton attack Edge.
#4: Mustafa Ali – Ali also attacked Edge, making it three on one.
#5: Jeff Hardy – Hardy came out and went after Randy Orton, but Zayn and Ali attacked him. But Hardy hit a Whisper in the Wind on them. RKO by Orton on Hardy. Zayn talked trash to Hardy, but Orton hit Zayn with an RKO. And an RKO by Orton on Ali… Spear by Edge on Orton. They rolled to the outside and Edge put Orton on the announce table… Orton went for an RKO, but Edge countered into a DDT onto the table.
#6: Dolph Ziggler – Edge repeatedly attacked Orton with a steel chair until refs pulled him away. Ziggler snuck up on Jeff Hardy and eliminated him. Jeff Hardy was eliminated by Dolph Ziggler. Zig Zag by Ziggler on Edge. Ziggler, Zayn and Ali tried to toss Edge out, but he hung on. Refs checked on Randy Orton on the outside.
#7: Shinsuke Nakamura – Nakamura hit Ziggler with several kicks.
#8: Carlito – Carlito entered with an apple. Nakamura grabbed it from him, but Carlito hit him with a Backstabber. Randy Orton was helped down the ramp by refs, acting like he was unable to walk on his leg.
#9: Xavier Woods – Woods went right for Ali.
#10: Big E – E went right after Sami Zayn, doubleteaming him with Woods. Midnight Hour by The New Day on Zayn, and they tossed him out. Sami Zayn was eliminated by The New Day.
#11: John Morrison – Woods and Ali fought on the apron. Big E tried to save Ali, but Ali kicked Woods out. Xavier Woods was eliminated by Mustafa Ali. Big E was angry and tossed Ali out. Mustafa Ali was eliminated by Big E.
#12: Ricochet – He hit a flurry of offense until John Morrison attacked him and slowed him down.
#13: Elias – He fought with Carlito, then tossed him out. Carlito was eliminated by Elias.
#14: Damian Priest – It's Damian Priest from NXT. He went after Elias, then Ricochet, then Morrison, then tossed out Elias. Elias was eliminated by Damian Priest. Randy Orton was shown back in the trainer's room having his leg checked on.
#15: The Miz – The Miz went over to the DJ setup for Bad Bunny on the stage and smashed it with his Money in the Bank briefcase. In the ring, he hit a Skull Crushing Finale on Big E, then he and Morrison doubleteamed Ricochet, then Ziggler. Bad Bunny walked down the aisle, upset at having his DJ stuff destroyed, but he was stopped by refs. Damian Priest came up from behind Miz and Morrison and tossed them out. The Miz and John Morrison were eliminated by Damian Priest. Bad Bunny climbed to the top and hit a dive onto Miz and Morrison on the outside.
#16: Riddle – Riddle went after Nakamura.
#17: Daniel Bryan – Ricochet hit a cool backflip German suplex on Bryan.
#18: Kane – It's Kane… Kane tossed out Ziggler. Dolph Ziggler was eliminated by Kane. Chokeslam onto Ricochet to the outside. Ricochet was eliminated by Kane. Kane faced off with his former Team Hell No partner Daniel Bryan, and they hugged in the middle of the ring, but Kane grabbed him by the throat and chokeslammed him. Priest then faced off with Kane, but Priest got the best of him and tossed him out. Kane was eliminated by Damian Priest.
#19: King Corbin – Nakamura went after Corbin, but Corbin hit him with a Deep Six and clotheslined him out. Shinsuke Nakamura was eliminated by King Corbin.
#20: Otis – Otis hit a sick suplex on Damian Priest, tossing him like a rag doll, then another nice suplex on Riddle. Otis went to the second rope, but Corbin knocked him out of the ring. Otis was eliminated by King Corbin. Yes Kicks by Bryan on Corbin.
#21: Dominik Mysterio – Mysterio went after Corbin, but Corbin took him down… Corbin tried to toss him out but Dominik countered and eliminated Corbin! King Corbin was eliminated by Dominik Mysterio.
#22: Bobby Lashley – He knocked down Riddle, then tossed Dominik out with ease. Dominik Mysterio was eliminated by Bobby Lashley. Lashley clotheslined Priest out of the ring… Damian Priest was eliminated by Bobby Lashley. He then faced off with Big E, and Riddle came in to attack Lashley.
#23: The Hurricane – He gave Big E a thumb to the eye, then tried to chokeslam both Big E and Lashley, but they picked him up and tossed him out. The Hurricane was eliminated by Big E and Bobby Lashley.
#24: Christian – Riddle, Big E and Edge attacked Lashley, while Christian pulled down the top rope and Lashley was eliminated. Bobby Lashley was eliminated by Christian, Riddle, Big E and Edge. Edge and Christian hugged in the ring. Riddle also tried to embrace them, but they attacked him.
#25: AJ Styles – Omos was at ringside with Styles. Spear by Edge on Styles.
#26: Rey Mysterio – Mysterio almost eliminated Styles, but Omos held Styles up and pushed him back in the ring. Omos then grabbed Big E and pulled him over the top out of the ring! Big E was eliminated by Omos. Omos then threw Big E into the announce table.
#27: Sheamus – He pounded on Riddle's chest, then Edge's. Backbreaker on Styles. Brogue Kick on Christian, and a Brogue Kick on Bryan. Mysterio went for a 619 on Styles, but Omos blocked it. Rey went over the top, then tried a springboard on Styles, but Omos grabbed him and tossed him out! Rey Mysterio was eliminated by Omos.
#28: Cesaro – There was a brief reunion of "The Bar" with Sheamus, but Cesaro gave Sheamus a big swing. Then a swing on Bryan that lasted for a long time…
#29: Seth Rollins – Seth Rollins is back. Cesaro tried to eliminate him fast, but couldn't.
#30: Braun Strowman – Strowman tossed Styles to the outside but Omos caught him. Cesaro was tossed out by Strowman. Cesaro was eliminated by Braun Strowman. Clothesline to Sheamus. Sheamus was eliminated by Braun Strowman. He tried to toss Styles again, but saw Omos, so he tossed him out of the other side of the ring. AJ Styles was eliminated by Braun Strowman.
Seven wrestlers remaining: Braun Strowman, Edge, Christian, Riddle, Daniel Bryan, Seth Rollins, Randy Orton (being checked on by trainers). Bryan and Riddle went face to face and exchanged blows. Missile dropkick by Bryan off the top on Riddle. Seth Rollins was hanging out on the outside for several minutes. Stomp by Rollins on Bryan, and he tossed Bryan out. Daniel Bryan was eliminated by Seth Rollins. Riddle then faced off with Rollins and threw him over the top, but to the apron. Riddle then jumped over the top to the apron for whatever reason, and Strowman attacked him, then Rollins hit Riddle with a Stomp on the apron. Riddle was eliminated by Seth Rollins.
Seven wrestlers remaining: Braun Strowman, Edge, Christian, Seth Rollins, and Randy Orton. Rollins tried to team up with Strowman, but Strowman didn't want any of it and attacked him. Strowman then went after Edge and Christian. They doubleteamed Strowman and tried to eliminate him, but Rollins shoved them all and eliminated Christian and Strowman! Braun Strowman and Christian were eliminated by Seth Rollins. Rollins went for the Stomp on Edge, but Edge grabbed him and tossed him out! Seth Rollins was eliminated by Edge.
Edge thought that he'd won, but all of a sudden, Randy Orton entered the ring and hit him with an RKO! Orton tried to toss out Edge, but Edge reversed and tossed Orton out! Randy Orton was eliminated by Edge.
Edge won the Royal Rumble (58:30), entering at #1 and last eliminating Randy Orton. He lasted over 58 minutes.
Edge celebrated in the ring and pointed at the WrestleMania sign as pyro went off behind it.