February 1, 2021
St. Petersburg, Florida (Tropicana Field)
Commentary: Tom Phillips, Byron Saxton, and Samoa Joe
Results by: Mike Tedesco of Wrestleview.com
---
Quick Match Results
WWE United States Championship: Riddle defeated Bobby Lashley (c) by disqualification because Lashley wouldn't break the Hurt Lock
Xavier Woods defeated Mustafa Ali via crucifix pin
Damian Priest defeated The Miz via the Reckoning
Raw Tag Team Championship: The Hurt Business (Shelton Benjamin & Cedric Alexander) (c) defeated Lucha House Party via Pay Dirt by Benjamin on Metalik
#1 Contender Triple Threat Tag Match: Lana & Naomi defeated Charlotte Flair & Asuka and Mandy Rose & Dana Brooke via Rear View by Naomi on Asuka after Charlotte left the match to follow Ric Flair backstage
Jeff Hardy & Carlito defeated Elias & Jaxson Ryker via Swanton Bomb by Hardy on Elias
Alexa Bliss defeated Nikki Cross via modified Sister Abigail
Edge defeated Randy Orton via spear after a distraction by Alexa Bliss
---
In-Ring: Drew McIntyre, Edge, Sheamus
WWE Champion Drew McIntyre makes his way to the ring. Still photos are shown of McIntyre's victory over Goldberg last night at the 2021 Royal Rumble event. McIntyre welcomes everyone to Monday Night Raw. This is no ordinary episode of Raw. We're officially on the Road to WrestleMania! It started last night. McIntyre says the Royal Rumble was awesome. McIntyre went to war with Goldberg and earned his respect. Goldberg also earned McIntyre's respect. McIntyre says all the matches were awesome, including Bianca Belair solidifying herself as the future. Then the Men's Royal Rumble match…
Edge's music hits, and the winner of the 2021 Royal Rumble Match makes his way to the ring. Edge has a noticeable limp. McIntyre says ever since he came to America and WWE, he was always around Edge. Edge was the World Champion and looked out for him. McIntyre was there when Edge had to retire. McIntyre will never forget how Edge handled that. McIntyre also remembers last year's Royal Rumble match. McIntyre was being choked in the corner by AJ Styles and then heard Edge's theme song. Last night, Edge entered the Royal Rumble at No. 1 and won the whole thing. McIntyre is happy for him.
Edge appreciates the compliments. Edge really likes McIntyre and has been a mentor to him, so he has to be blunt: what is wrong with McIntyre? Edge won the Royal Rumble last night. That means he can challenge McIntyre for the title at WrestleMania. Edge is an immediate and viable threat. Instead of kicking his head off when he came through the ropes, he's showering him with compliments. McIntyre says that's something an opportunist would do. That's not the kind of champion McIntyre is. Edge says that's correct — McIntyre is not him.
Sheamus' music hits, and he walks out to the ring. Sheamus says the Rated R Superstar is back and congratulates Edge. However Sheamus isn't happy. Who is Edge to question McIntyre as a man? This man carried this company through uncharted waters while Edge was at home sitting on his arse nursing his triceps. McIntyre has been his friend for years. McIntyre may want to take the high road, but Sheamus sure as hell doesn't. McIntyre steps in and says he appreciates the enthusiasm, but he's got this. McIntyre asks if Edge will make his decision after the Royal Rumble or does he have to do it for him? Edge says he's been in this game a long time. He's the Ultimate Opportunist. Edge will let them know when he makes his decision. Whoever he chooses, Edge is walking out of WrestleMania as a champion. Edge then walks off.
McIntyre watches Edge leave and holds up the WWE Championship. When he turns around, Sheamus, his best friend, delivers a devastating Brogue Kick to him! Sheamus walks off with a scowl on his face while McIntyre holds his jaw.
---
Backstage: Sheamus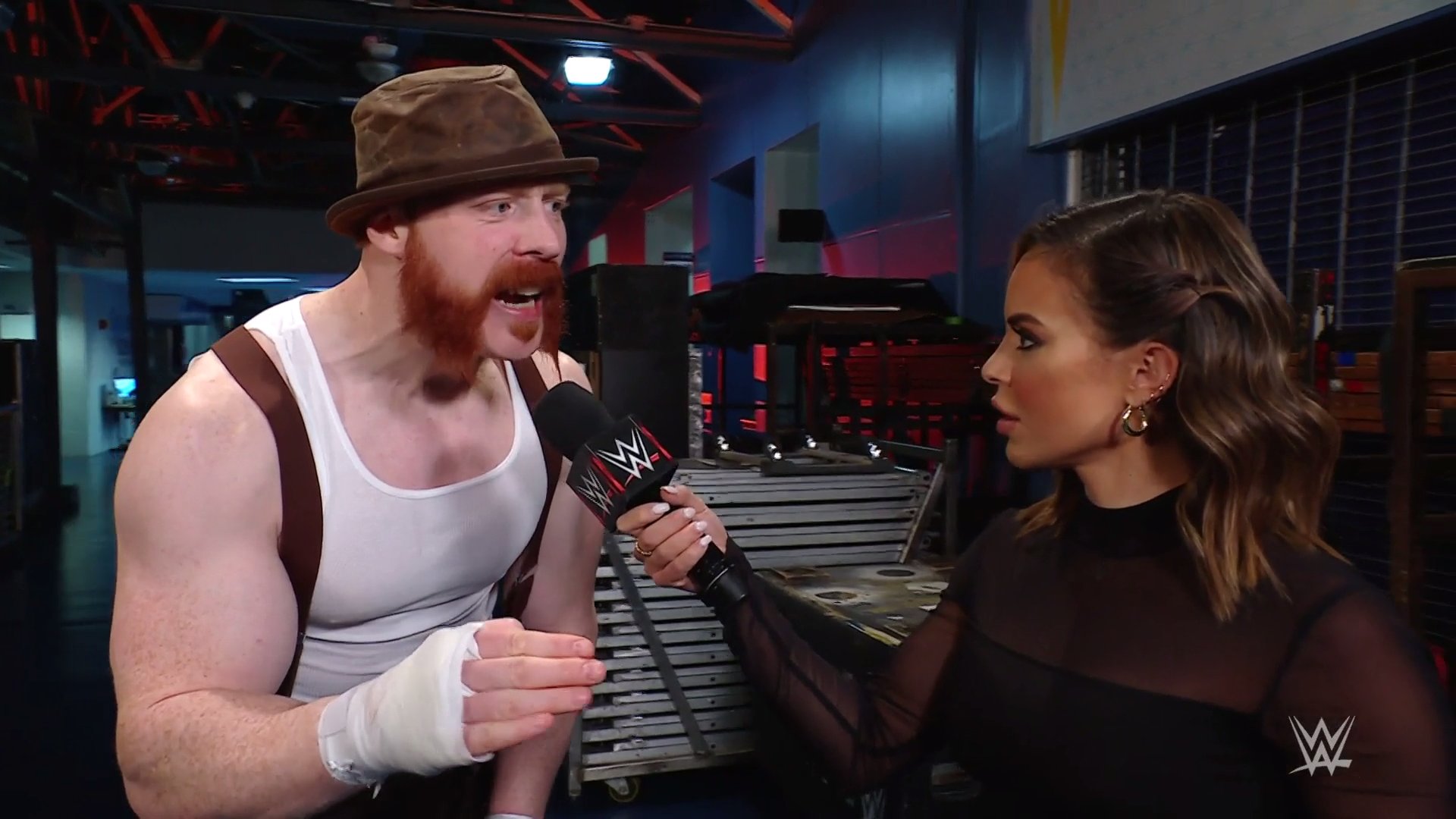 After commercials, Charly Caruso catches up with Sheamus backstage and asks what just happened. Sheamus says everybody is Drew McIntyre's friend. Drew McIntyre is no longer his friend. Sheamus wants the WWE Championship. Drew Gulak comes up with Sheamus' bags, and Sheamus walks off.
---
WWE United States Championship
Bobby Lashley (c) vs. Riddle
Footage is shown of Bobby Lashley attacking Riddle following his Gauntlet Match victory last week. Riddle has a noticeable black eye from last night's Royal Rumble.
The bell rings, and Riddle attacks Lashley. Lashley quickly takes him down and clubs him. Lashley hits the ropes, but Riddle forearms him. Riddle knees him, but Lashley hits a wild slam before punching away at him. Lashley hits a delayed release suplex. Lashley charges, but Riddle hits him with a hurricanrana over the top rope. Riddle then hits a springboard Floating Bro to the floor! Riddle gets Lashley in the ring. Riddle gets on the apron, but Lashley grabs him with the Hurt Lock. The referee admonishes him, but Lashley won't release. The referee then counts to 5 and throws the match out.
Winner by Disqualification: Riddle
Bobby Lashley remains the WWE United States Champion
Lashley finally releases him, and Riddle falls to the floor in a heap. Lashley goes outside and puts the Hurt Lock back on Riddle. MVP tries to reason with Lashley. Lashley throws Riddle down and gets in MVP's face. Lashley then puts the Hurt Lock on Riddle a third time and throws him over the barricade. Lashley then walks off with fury on his face.
---
Segment: Bad Bunny
HE'S HEEEEEEEERE!@sanbenito has arrived on #WWERaw! pic.twitter.com/4uxm48zULa

— WWE (@WWE) February 2, 2021
Bad Bunny drives up in a nice car.
---
Segment: Riddle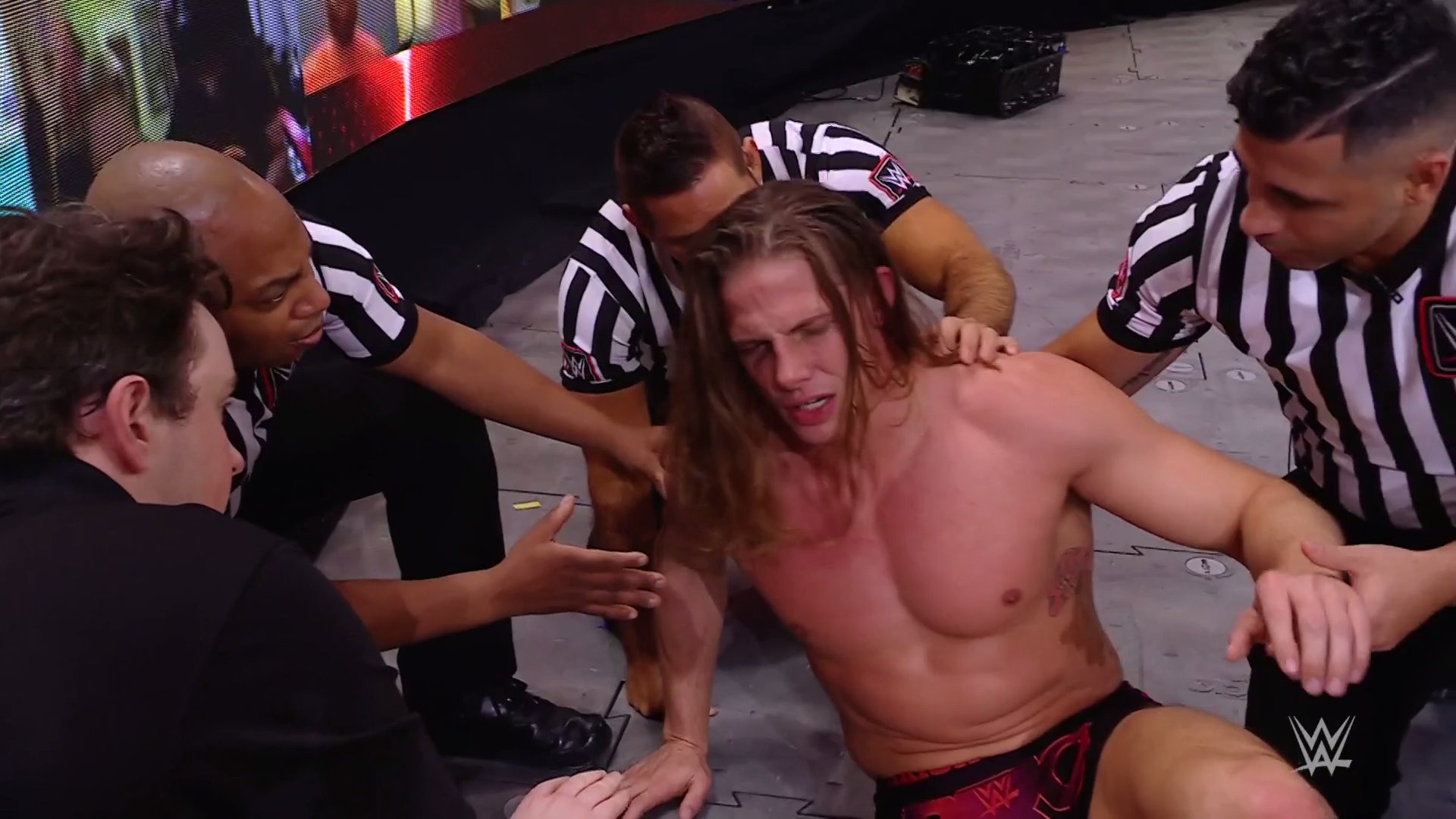 Trainers are tending to Riddle, who is regaining consciousness behind the barricade. Riddle doesn't know what happened to him or who he was wrestling. Riddle is disoriented.
---
Backstage: Randy Orton
Randy Orton is backstage. Orton didn't think Edge would return or win the Royal Rumble. Edge entered in the match at No. 1 and won the whole thing. Orton sarcastically congratulates him. The problem is he told the world that Edge was done, but he's not. Edge is making Orton out to be a liar after all he did for him. Orton gave him countless RKOs, a Punt Kick, and even RKO'd his wife… all because he loves him. Edge thinks he's going to WrestleMania, but he's not. Orton will take him out. Tonight there will be no compassion, mercy, or main event at WrestleMania.
---
Xavier Woods vs. Mustafa Ali
Xavier Woods is backstage with Kofi Kingston. Woods says he's so happy Kingston is back. He's still in a rivalry with RETRIBUTION, but he's going to even it up now. Kingston says Mustafa Ali has lost his damn mind, but he's got his back because NEW DAY ROCKS! Xavier Woods makes his entrance with Kofi Kingston by his side.
They lock up, and Woods powers him to the corner. Ali turns him around in the corner and punches him. Woods quickly fights back and clotheslines him over the top rope. Woods attacks him at ringside and puts him in the ring. RETRIBUTION slowly approaches him and distracts Woods. Woods gets in the ring, and Ali hits a swinging neckbreaker. Ali punches and applies a chin lock. Ali releases and chops the chest in the corner. Ali sends him sternum-first into the corner and takes him down for a two count. Ali keeps him grounded and applies a chin lock. Woods fights up and punches away at Ali. Woods has a whip reversed on him, but Woods hits a head-scissor takeover and punches him. Ali knocks him back and goes for a diving DDT, but Woods avoids it. Woods his a discus clothesline, but T-Bar pulls him off from the pin. Kingston jumps off the steps, then off T-Bar, and tackles Slapjack! Ali rolls Woods up, but Woods counters into a crucifix pin for the win!
Winner by Pinfall: Xavier Woods
Woods and Kingston celebrate going up the ramp. Woods says it's now 2-2.
---
Edge will appear on Friday Night SmackDown, as will the winner of the Women's Royal Rumble, Bianca Belair.
---
In-Ring: Miz TV with Bad Bunny
The Miz and John Morrison make their way to the ring. They talk about the Royal Rumble, but the best performance goes to Bad Bunny. They put Bad Bunny over and introduce him to the ring.
Bad Bunny walks down to the ring and grabs a pink microphone. Miz calls him "Mr. Bunny" and thanks him for being here. Miz wants to clear the air on any misunderstanding they have from last night.
They show a video of Bad Bunny's performance from last night's Royal Rumble. Bad Bunny performed his song "Booker T" before being asked by Miz and Morrison to make a song about them. Bad Bunny turned them down. Later on, Miz destroyed Bad Bunny's DJ stand, leading to Bad Bunny coming out to confront him and Morrison. Damian Priest eliminated Miz and Morrison from the Royal Rumble. Bad Bunny then hit them with a cross-body block to the floor.
Miz says they did things they probably both regret last night. Two wrongs don't make a right. Miz apologizes from the deepest part of his heart. Bad Bunny accepts his apology. Miz asks if there's anything Bad Bunny wants to say to them. Bad Bunny has nothing to say. Morrison says Bad Bunny cost them their shot at WrestleMania. Miz says he heard from a little birdie that Bad Bunny wants to be a WWE Superstar. Bad Bunny says it is one of his dreams. Miz says many superstars under his learning tree have had successful careers. Take Daniel Bryan: he made an average looking B+ play and made him a beloved international superstar and a WrestleMania main eventer. Imagine what they could do for Bad Bunny's career. They could teach him how to be a WWE Superstar. All they ask in return is a favor in helping them record an album. They'll get Grammys while Bad Bunny will get a Slammy. Morrison makes up a song and Miz joins in. Bad Bunny looks like he's going to be sick.
Bad Bunny says they are… special, but he's not interested. Miz isn't happy. First he doesn't apologize and now he's not interested. Bad Bunny isn't talking to Shakira or J'Lo. He's talking to Miz and Morrison in their ring and their show. Bad Bunny tells them to relax. The only reason he came here is because a good friend wanted to be on Miz TV.
The lights go out, and Damian Priest's music hits. The Archer of Infamy makes his debut on WWE Raw. Priest gets in the ring and drills Miz with a right hand.
The Miz vs. Damian Priest
Priest quickly claps Miz' ears and takes him down with a spinning wheel kick. Miz quickly gets out of the ring to recover. Priest hits a somersault senton on Miz and Morrison before shaking hands with Bad Bunny. Priest gets Miz in the ring and takes him down for a two count. Priest lifts Miz, but Miz rakes the eyes and sends him shoulder-first into the ring post. Priest holds his head in pain. Miz kicks and punches Priest in the corner before backing up and hitting his patented corner clothesline. Miz taunts Bad Bunny and hits a diving axe handle on Priest for a two count. Miz punches away at Priest before choking him on the ropes. Miz then splashes him on the ropes.
Miz taunts Bad Bunny, so Bad Bunny starts shouting back. Priest makes a comeback on The Miz, hitting a clothesline and a diving back elbow in the corner. Priest hits a Broken Arrow for a near fall. Morrison gets on the apron and distracts Priest. Priest then charges into a big boot from Miz. Morrison distracts the referee while Miz goes for the Money in the Bank briefcase, but Bad Bunny takes it away. Morrison gets in Bad Bunny's face. Bunny gives him the briefcase… and hits him in the face with the pink microphone! Miz is furious. Priest hits Miz with the Reckoning for the win.
Winner by Pinfall: Damian Priest
Damian Priest goes up the ramp celebrating with Bad Bunny.
---
Raw Tag Team Championship
The Hurt Business (Shelton Benjamin & Cedric Alexander) (c) vs. Lucha House Party
MVP will be on commentary for this match.
Shelton Benjamin starts against Lince Dorado. Benjamin quickly takes him down. Gran Metalik is tagged in, but Benjamin counters a double-team. Metalik quickly comes back with a hurricanrana. Cedric Alexander tags in, but the Lucha House Party gets the best of them heading into a commercial.
We come back from the break to see Dorado fight up from a chin lock. Dorado hits a Golden Rebound and rolls him up, but Benjamin gets up and lifts him. Benjamin hits a gutbuster for a near fall. Alexander tags in and hits a snap suplex for a two count. Benjamin tags in and knees Dorado. Dorado tries to hit a hurricanrana, but Benjamin powers him up. Dorado then counters into a DDT. Alexander tags in and flips Dorado, but he lands on his feet and dropkicks him.
Metalik tags in and knocks Benjamin off the apron. Metalik flips over a strike from Alexander and rebounds off the ropes with an arm drag. Metalik spins on the ropes and hits a takes him down. Metalik comes off the top rope, but Benjamin (just barely) catches him. Metalik then hits a suicide dive on Benjamin! Alexander grabs Metalik, but Metalik takes him down. Dorado hits a top rope splash, and Metalik, who tagged back in, hits a senton bomb… but Benjamin breaks it up! Benjamin gets Dorado out of the ring. Alexander knees Metalik in the face. Alexander shouts that he's done playing games and is pumped up. Benjamin tags himself in and hits Pay Dirt for the win.
Winners by Pinfall and still Raw Tag Team Champions: The Hurt Business
MVP quickly gets in the ring and cools Alexander down. They all celebrate.
---
Backstage: Charlotte Flair, Asuka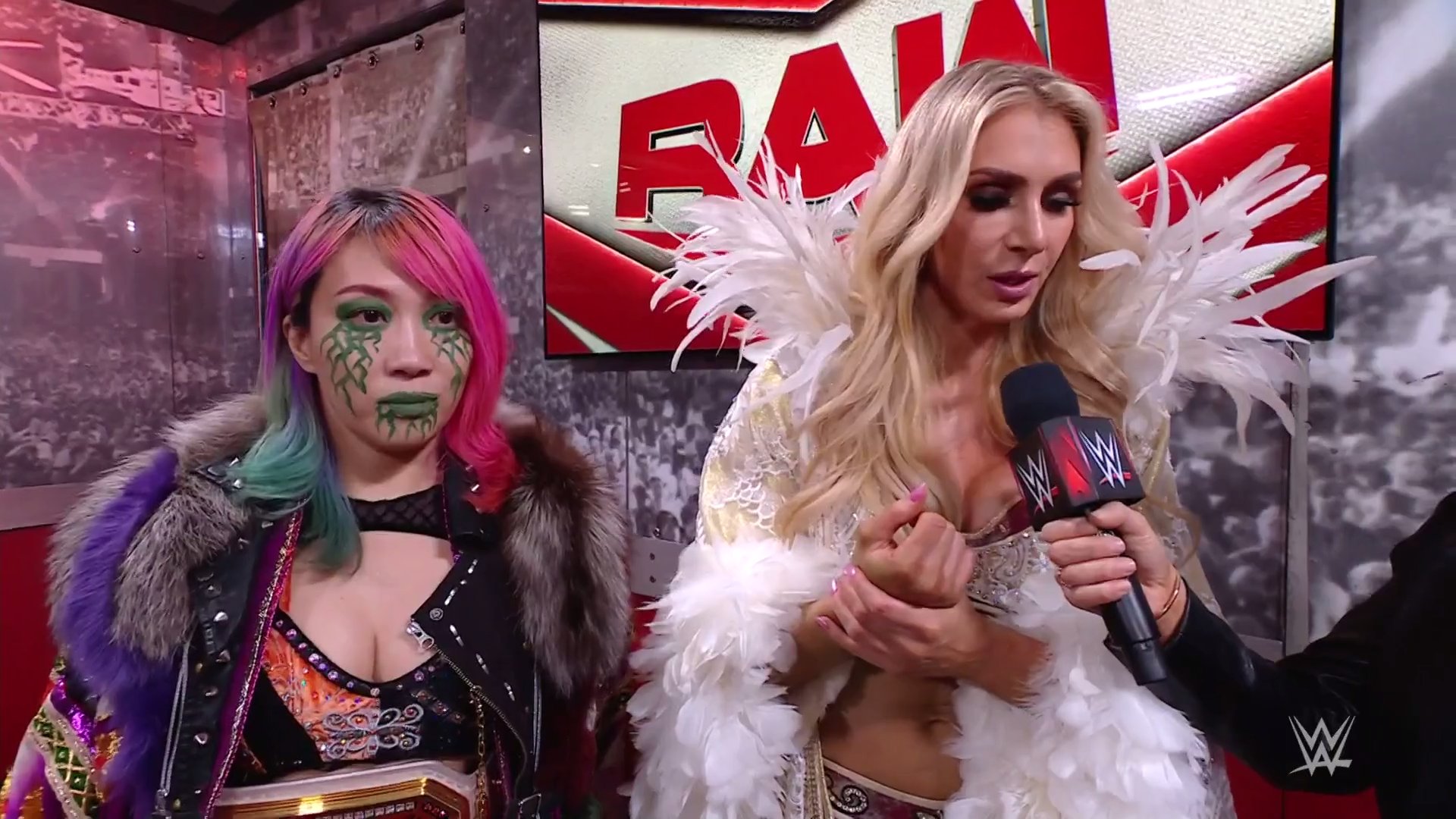 Video Package: Ric Flair and Lacey Evans cost Charlotte Flair and Asuka the WWE Women's Tag Team Championship
Sarah Schreiber interviews Charlotte Flair and Asuka. Flair says she's sorry they lost last night and feels bad she let her partner down. Asuka says she was ready for Nia Jax and Shayna Baszler, but Flair wasn't with the distraction. Now they'll win the title back after getting this win tonight.
---
#1 Contender Triple Threat Tag Match
Charlotte Flair & Asuka vs. Lana & Naomi vs. Mandy Rose & Dana Brooke
Charlotte Flair starts against Naomi. Naomi drops down, and Flair does a handspring. Naomi hits a hurricanrana, but Flair takes her back down. Mandy Rose tags herself in, as does Asuka. They go for dropkicks before taking each other down. Lana and Dana Brooke tag in. Brooke hits Lana with a handspring back elbow. Rose tags in and takes Lana down, but Asuka breaks it up. Asuka tags in, as does Brooke. Rose and Brooke hit Asuka with a double-team flapjack. They knock Flair off the apron and pose coincidentally right as we're going to commercial.
We come back from the break to see Flair take Brooke down before driving her head into the mat a few times. Rose tags in and elbows Flair. Flair quickly shoulders her back and rolls her up for a two count. WWE Women's Tag Team Champions Nia Jax and Shayna Baszler are watching backstage. Rose punches away at Flair and tags Brooke in. Brooke splashes Flair for a two count. Brooke hits some of the worst forearms I've seen in a while in the corner and tags Rose in. They go for a double-team suplex, but Flair flips through and double clotheslines them.
Asuka tagged in and takes Rose down. Asuka hits a hip attack in the corner followed by a German Suplex. Asuka hits a shining wizard for a two count. Asuka hits a missile dropkick on Rose, so Lana tags herself in. Flair also tags in. Flair takes Lana down for a two count. Naomi tags in and hits Flair with a sit-out jawbreaker. Naomi punches away at Flair and hits a springboard kick for a near fall. Lana tags in and splashes Flair on the ropes. Flair quickly big boots Lana down and goes for a Figure Four, but Lana kicks her away. Rose runs in and takes Flair down. Naomi takes Rose out, and Brooke takes Naomi down. Asuka hits Brooke with an attack. Flair hits Rose with Natural Selection…
…but Ric Flair makes his way to the stage with Lacey Evans. Flair tags herself out and leaves the match. Naomi tags in and hits Asuka with a Rear View for the win. Flair goes backstage to confront her father and her tormentor.
Winners by Pinfall: Lana and Naomi
---
Backstage: Drew McIntyre
Charly Caruso is backstage with WWE Champion Drew McIntyre. She mentions it's been a whirlwind for him with Edge winning and possibly challenging him. Now Sheamus turned on him. McIntyre says it would be an honor to face Edge at WrestleMania. As for Sheamus, families fight all the time… but this was different. McIntyre gets emotional and says he doesn't know what this is. If Sheamus is willing to throw away their 20 year friendship with all the ups and downs, spending Christmas Day in a diner because they had no one else, over the WWE Championship, then so be it. If Sheamus wants the match… he's got it.
---
Elias & Jaxson Ryker vs. Jeff Hardy & Carlito
Video Package: Carlito career highlight reel.
This is Carlito's first match on Monday Night Raw since April 12, 2010.
Carlito starts against Elias. They lock up, and Elias powers him to the corner. Elias wrenches the arm, but Carlito responds with a back elbow. Carlito wrenches the arm and takes Elias down with a snapmare for a one count. Carlito wrenches the arm and tags Jeff Hardy. Hardy comes off the second rope with a club to the arm. Elias quickly knees Hardy and tags Jaxson Ryker in. Hardy hits Ryker with an inverted atomic drop, double leg drop, low dropkick, and a splash for a one count. Hardy wrenches the arm, but Ryker powers him to the corner. Elias tags in, so Hardy wrenches the arm. Ryker grabs at Hardy to distract him, so Elias blindsides him. Ryker tags in and bounces Hardy off the turnbuckle for a two count. Ryker connects with a suplex for a two count. Elias tags in and takes Hardy down. Carlito is frustrated standing in his corner unable to do anything. Elias hits a scoop slam and tags Ryker in. Ryker goes for a diving head-butt, but Hardy moves. Hardy then hits Ryker with a mule kick.
Carlito tags in and clotheslines Ryker. Ryker bumped way too early. Carlito hits a back elbow and slips. Carlito kicks Ryker and knees him in the face. Ryker ducks a clothesline, but Carlito dropkicks him down before kipping up. Carlito sends him into the ropes, but Ryker takes him down by the hair. Elias tags in and rolls Carlito up for a two count. Carlito flips through a back suplex and hits Elias with a Backstabber. Hardy tags in, and Carlito hits Ryker with a baseball slide. Hardy hits Elias with a Swanton Bomb for the win.
Winners by Pinfall: Jeff Hardy and Carlito
---
Backstage: Edge
Video Package: Edge vs. Randy Orton
Edge is backstage. Edge says he's ecstatic because he won the Royal Rumble, but on the other hand there is always this black cloud that hangs over his head and his family's head. It's Randy Orton. Last night in the Royal Rumble, Orton had the chance to go bell-to-bell just like he did, but he didn't. Orton pretended to have a knee injury and came in at the end, but Edge beat him. Edge went bell-to-bell. Orton needs to stop talking about loving his family. Edge is beat up, but he'll take this match. Tonight, he'll put Orton in the rear view. Edge has to get his family out of the black cloud so he can walk into the main event of WrestleMania to take back a championship he never lost. Tonight, he'll get closure for him and his little girls for not being able to piggyback them or put them to bed. Tonight, this ends. Edge looks psychotic.
---
Backstage: Edge, Damian Priest
Amazing.@ArcherofInfamy just got words of encouragement from @EdgeRatedR. What a first night on #WWERaw! pic.twitter.com/WzjQ2KQxST

— WWE (@WWE) February 2, 2021
After commercials, Edge is walking backstage when he walks up to Damian Priest to tell him he did a good job. Edge shakes his hand and walks off, endorsing Priest.
---
Alexa Bliss vs. Nikki Cross
Alexa Bliss makes her way to the ring childishly skipping to the ring. The bell rings, and Bliss quickly ducks a clothesline. Cross shouts at her, wondering what Bliss wants from her. They lock up, and Cross applies a side headlock. Cross hits a headlock takeover and shouts that Bliss was her best friend. Bliss applies a head-scissor, but Cross gets out and gets to her feet. Bliss smiles at her and adjusts her pigtails. Cross bounces her off the turnbuckle and shoulders her. Cross hits a running cross-body block for a two count. Cross hits a snap suplex for another two count. Bliss fights up with a jawbreaker and slaps away at Cross before punching her down. Bliss enthusiastically celebrates and covers Cross for a two count. They pipe in cheers for her. Bliss dropkicks Cross and stands on her. Bliss slams her face off the mat a few times before doing hopscotch. Bliss then kicks her in the ribs for a two count. Bliss applies a body-scissor. Bliss gets her up and signals for a Mandible Claw, but Cross takes her down with a neckbreaker followed by a cannonball.
Alexa Bliss' old music hits and now ridiculously she's all of a sudden in her Goddess attire. Cross looks confused. Cross kicks her and hits a short-arm clothesline. Cross avalanches her in the corner, so The Fiend's music hits. The camera cuts, and Bliss is all of a sudden back in her little girl gear. Bliss shoulder blocks Cross down and smiles at her. Bliss hits a modified Sister Abigail DDT for the win.
Winner by Pinfall: Alexa Bliss
Randy Orton's music hits. Orton walks right by Bliss without even making eye contact. She scowls at him. The main event is next.
---
Randy Orton vs. Edge
This is Edge's first match on Monday Night Raw since March 28, 2011.
Edge charges into the ring and takes Orton down before punching him. Edge takes him down again for a two count. Edge sets up for Anti-Venom, a head and arm choke submission, but Orton takes him down. Orton stomps Edge in the corner and chokes him. Orton punches away at him before kneeing him in the face. Orton continues to attack, but Edge fights back with an Edge-O-Cution for a near fall. Edge sets up for a Spear, but Orton counters into a snap powerslam. Orton then sends Edge shoulder-first into the ring post. Orton whips Edge shoulder-first into the ring steps.
We come back from the break to see Orton punching away at Edge, who is stumbling around the ring. Edge takes Orton down for a two count. Edge goes to the top rope, but Orton cuts him off. Orton sets up for a top rope superplex, but Edge fights it and attacks the knee. Edge knocks him down, but Orton quickly responds with a straight right hand. Orton tries again for the superplex, but Edge fights him off again. Edge hits some head-butts to drop him to the mat and connects with a top rope diving clothesline. Edge crawls over and covers, but Orton kicks out.
Orton angrily gets up and sets up for an RKO, but Edge counters into an Edge-O-Matic for a near fall. Edge pulls himself up, while Orton pulls himself up on the apron. Edge then charges into Orton and knocks him off into the barricade. Edge goes outside and gets Orton in the ring. Edge gets in the ring, but Orton slides out. Orton thumbs Edge in the eyes as he comes after him and hits a back suplex on the commentary table. Orton gets Edge in the ring and starts to stalk him. Orton grabs the legs and hits a guillotine catapult into the bottom rope. Orton catches him with a draping DDT and drops down.
Orton drops down when some creepy music plays. Alexa Bliss is sitting on the top rope with black liquid falling out of her mouth. Edge then crushes Orton with a Spear for the win.
Winner by Pinfall: Edge