Results by Jamie Rush of Rajah.com and Richard Trionfo of PWInsider
March 3, 2021
Orlando, FL – Capitol Wrestling Center
Commentary: Vic Joseph, Wade Barrett, Beth Phoenix
---
Quick Match Results
Non-Title Match: Oney Lorcan & Danny Burch defeated Tommaso Ciampa & Timothy Thatcher via assisted spike DDT on Thatcher
Ember Moon defeated Aliyah via The Eclipse
WWE Women's Tag Team Championship: Nia Jax & Shayna Baszler (c) defeated Dakota Kai & Raquel Gonzalez via Kirifuda Clutch by Baszler on Kai
Cameron Grimes defeated Bronson Reed via the Cave-In after interference by LA Knight
Breezango vs. Ever-Rise never started due to Legado del Fantasma attacking both teams
Finn Balor defeated Roderick Strong via Coup de Grace and 1916
---
Non-Title Match
Oney Lorcan & Danny Burch vs. Tommaso Ciampa & Timothy Thatcher
We head into the Capitol Wrestling Center as the NXT Tag-Team Champions Danny Burch and Oney Lorcan make their way to the stage. The two champs make their way down the ramp and enter the ring as they await their opponents for the evening. Out next is Tommaso Ciampa and then Timothy Thatcher. The referee in the center of the ring and signals for the bell. The bell rings and the match begins!
The match gets underway with Thatcher and Burch starting the action! A Side headlock takeover is counted into a near fall before Thatcher goes for an arm lock. He has to release it when they get into the ropes. Bad News Barrett is relishing the action in the ring, referring to his countrymen as "Trans-Atlantic brawlers."
Thatcher and Burch back in action as the two continue to duke it out inside the ring, throwing uppercuts into they push their way into the face corner so Ciampa can tag in. They push their way to the opposite corner and Lorcan tags himself in too. Lorcan throws a chop after a ref break and Ciampa looks at him like he's stupid, then UNLOADS with a couple chops of his own. Lorcan grabs Ciampa by the beard, but he breaks free and they counter each other move for move until Ciampa hits a knee to Lorcan.
Burch tries to interfere and Ciampa teases a suicide dive, but Thatcher gives him an uppercut on the outside. Thatcher tags in and gets a near fall before it's broken by a fish hook and a chop block to the left knee. Burch tags back in and hits a clothesline. Thatcher rolls outside to sell the impact and teases that his knee is jacked up in the process. Ciampa runs over to check on him and the ref comes out of the ring too as we go to commercial.
As we return from commercial break, and we see that Thatcher has made his way back into the ring. Lorcan is in the ring focusing on the leg of Thatcher as the match continues! Thatcher finally able to kick Lorcan away and Burch heads to his corner to make the tag. At this point he goes straight for the leg. Thatcher kicks him away too and dives for Ciampa to make the tag to enter into the match. To start off, Ciampa immediately cleans house on everybody in sight. He lays in right hands in the face corner to Burch and tags Thatcher so he can add uppercuts. They keep tagging each other in to soften Burch up. Thatcher throw Burch and applies a sleeper. Lorcan tries to break it up and fails.
Both heels take a series of closes fists to the chest. Eventually Ciampa is knocked out so the heels can work Thatcher two on one but he gets back to brawl and all four men wind up laying on the pretty black mat selling. Imperium have made their way to the entrance ramp and are standing there watching the action. The distraction of their arrival prevents Thatcher from making a hot tag to Ciampa, and Ciampa himself gets knocked off the apron when Lorcan tags in. Lorcan and Burch hit their assisted spike DDT and get the three count as the NXT wrestlers watching boo.
Winners: Oney Lorcan and Danny Burch
---
In-Ring: Roderick Strong, Finn Balor
Next we hear the entrance theme for Undisputed Era's Roderick Strong, as he is making his way to the ring. We once again head to commercial break!
As we return from commercial break, Strong begins on the mic, "Adam Cole… get your ASS out here RIGHT NOW! Adam, if any single one of us, ever meant a THING to you, just a little bit… PLEASE get out here, RIGHT NOW!"
With that statement, Undisputed Era's music sounds, "When are you going to learn?" Balor begins. The crowd pops as Finn Balor makes his way to the stage with a microphone in hand. Finn continues, "Adam Cole is NOT gonna come out here for you. What do you think? Adam is gonna come out here and offer some explanation?" as Balor makes his way into the ring. Roderick cuts him off stating Undisputed Era was doing perfectly fine until BALOR showed up. Strong then adds he believes this all to be Balor's fault. Balor responds it isn't his fault, their "brotherhood" fell apart because of this title. "I know how to get Adam out here… next week Adam Cole vs. Finn Balor for the NXT Championship!" Balor states.
Balor adds, "As for you Roddy, you'll never be a leader, you'll always be a follower. Until you get a little more greedy and a little more selfish, and until you do, you'll never…" Strong cuts him off by attacking him inside the ring. NXT officials attempted to break the two up, powering them into opposite corners. The crowd begins an "NXT! NXT!" chant. Balor continues trying to stomp at Roderick as he is exited from the ring.
The commentary team then notes that Roderick Strong is blinded by emotion, but picking a fight with Balor isn't the right answer to solve the problem. Vic tells us Wade is a remote correspondent again this week. We then are informed that Johnny Gargano has been giving some weird messages regarding "The Way" we are sent into a video package.
---
Segment: The Way Therapy Session
All four members of The Way are sitting side by side on a couch across from a therapist/doctor as she begins to speak. "I appreciate you all being here, but normally I see my patient one on one…" the doctor begins. Johnny then states that they are worried about Dexter Lumis who as Gargano puts it, "is a problem affecting all of us." When the doctor asks Theory about this "problem", Austin Theory states he doesn't have a Dexter Lumis problem, he was on vacation. LeRae says being locked in a closet is not a vacation. The doctor asked if Theory was afraid to tell his friends (Gargano corrects the doctor, "FAMILY"). Austin states it was just two dudes hanging out. Hartwell is sitting next to LeRae doodling something and mumbling retorts defending Lumis. Gargano asks what she's drawing on the steno pad, Hartwell responds, "nothing… it's private".
"Let me see it!" Gargano asks… Hartwell states it's private. Gargano grabs the notepad and it states, "Mrs. Indi Wrestling Lumis" with hearts all around it. Gargano says, "I gave you that name, that was a GIFT, that was a CHRISTMAS PRESENT… You just ruined Christmas!!" Gargano then turns back to the doctor asking how Lumis isn't in jail yet for what he did! The doc says Gargano's hostility about Lumis is exposing some deep-rooted issues of his own. Gargano says this is not about him, as he adds he is "not here to be therap-ied on", Theory is. Gargano is told to calm down but he stands up and continues ranting. The woman tells him to get out. Gargano goes on about how this is his office now. She tells him to get out again and then slams the door in his face. He says she's very unprofessional but he will be out in the hallway if they need him. The segment is to be continued as we go back to commercial.
---
Backstage: Cameron Grimes, William Regal
Everybody has a price… 𝘦𝘹𝘤𝘦𝘱𝘵 for @RealKingRegal. 💰

No amount of money is going to get @CGrimesWWE out of his match with @bronsonreedwwe TONIGHT! pic.twitter.com/agHTpXCgfp

— WWE (@WWE) March 4, 2021
As we return from commercial break, Cameron Grimes walks into the "Head Up's" of NXT and slams down a huge stack of cash on the production desk. Grimes states he wants to change the name of the Capitol Wrestling Center. At this point, the NXT General Manager William Regal approaches Grimes but Grimes is too concerned with counting his money. Regal tells Grimes to stand up. Regal says Grimes hit a crew member last week and now Regal has a potential lawsuit on his hands.
An unconcerned Grimes simply offers to "buy the guy off" but Regal states that he will handle it. Regal notes that it's Grimes he has to worry about. Grimes counts more money and says everybody has a price. Regal responds that he doesn't know what that means. Before exiting, Regal announces Grimes vs. Bronson Reed for tonight and walks off. Grimes isn't happy and says it would be easier if he gave Regal some money. Grimes yells about WWE Hall of Famer Ted DiBiase Sr. once again to end the segment.
---
Aliyah vs. Ember Moon
As we return to the ring inside the Capitol Wrestling Center, the fans begin to boo as we see Robert Stone and Aliyah with Jessi Kamea representing The Robert Stone Brand as they all hit the stage. They make their way down the ramp and enter the ring as Aliyah awaits her opponent for this evening's single's match. Out next is Ember Moon who is accompanied by Shotzi Blackheart as the too ride out on Blackheart's tank together! The two head down the ramp and Moon steps into the ring for her match up. The referee signals for the bell, the bell rings and the match is officially underway!
To start off the action, Moon and Aliyah meet in the center of the ring and immediately lock up with one another. They continue on by trading holds inside the ring. Finally Moon has had enough, and she nails the first actual takedown in the match. Moon follows up with a second Arm Drag, sending Aliyah down to the mat once again. At this point, Aliyah does her best to crawl over to Stone and Kamea but Moon quickly grabs her and drags her back to the center of the ring. Back to her feet, Aliyah drops Moon now. Aliyah proud of her accomplishment, showboats then follows up with a Forearm to Moon.
Moon shakes it off and has some words for Aliyah, who isn't taking her seriously. Moon baits Aliyah in and slams her for a pop. Aliyah rocks Moon but Moon forearms her in the face. Moon with a takedown now. They go to the apron and Moon shoves her down on the floor. Moon brings Aliyah back in as Stone distracts her. Shotzi runs over and Stone backs off. Aliyah leaps off the apron but Moon catches her. Aliyah slides out but Moon kicks her in the mouth. Moon drops Aliyah from the apron. Moon brings it back in the ring for a 2 count. Aliyah mounts some offense for a 2 count now as Stone cheers her on. Aliyah shoved her knee into the back of Moon as Moon is still on the mat.
An angry Moon then is able to counter as she mounts offense of her own on Aliyah. Moon follows up as she dropkicks Aliyah, then turns and proceeds to yell something at Stone. Moon then follows up with with a Spinebuster for the cover. Aliyah is able to kick out at the two. Finally, we see both Stone and Kamea interfere which forces Blackheart to take care of business as she takes them out with a Splash from the steel ring steps at ringside. To end the match, Moon hits The Eclipse on Aliyah for the three count pin to win the match.
Winner: Ember Moon
Immediately following the match, Blackheart is in the ring where she stands tall in the ring with the victor, Ember Moon. The Robert Stone Brand recovers at ringside as we head into replays from the match.
---
Backstage: Tommaso Ciampa, Timothy Thatcher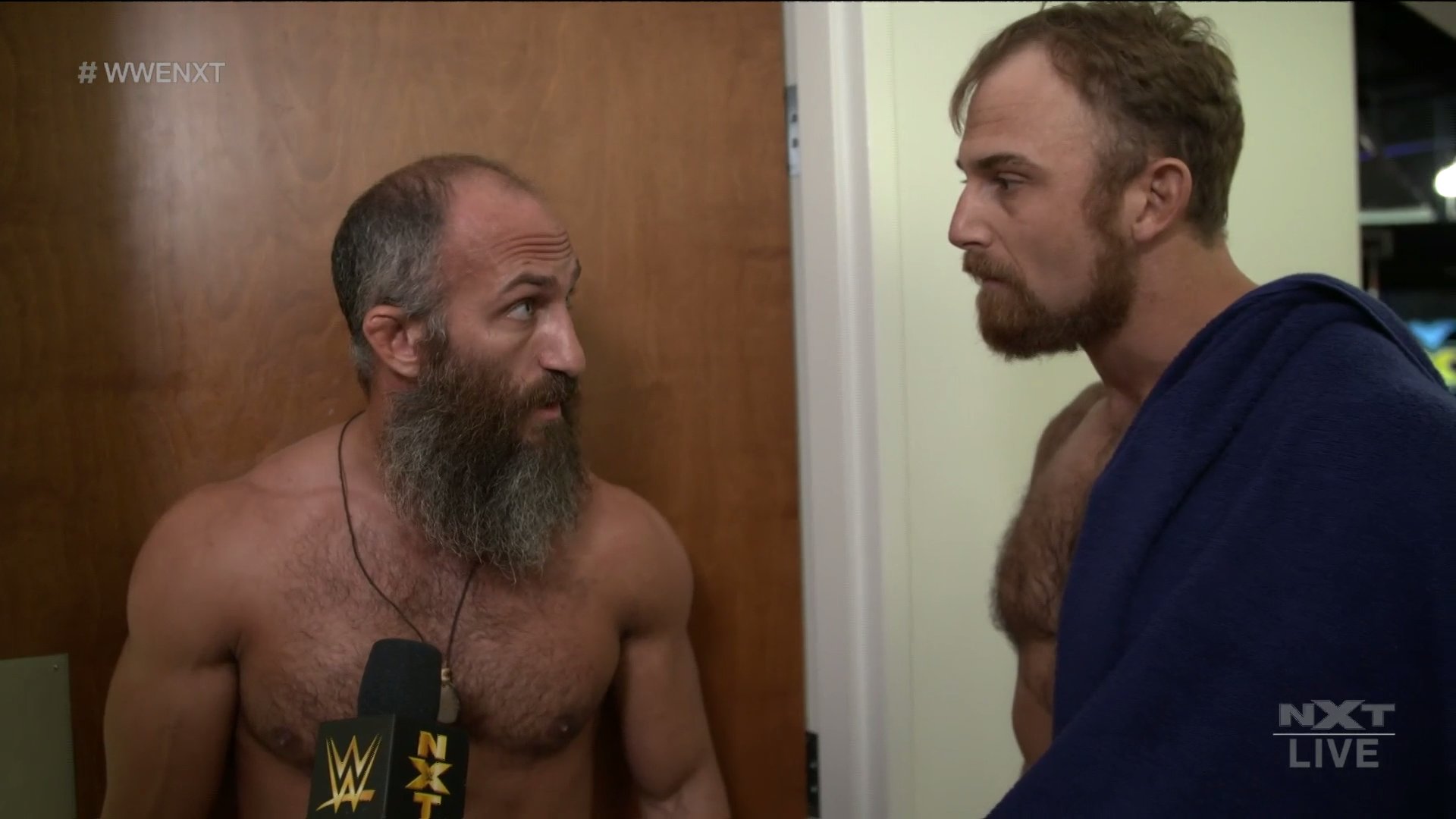 At this point we head backstage where McKenzie Mitchell walks up to both Timothy Thatcher and Tommaso Ciampa who are backstage following their match with Imperium, not looking too happy. Mitchell starts off by asking them what happened earlier during the match. Thatcher responds by saying, "we all come from somewhere and we all have a past." Then Ciampa interrupts and states that Thatcher's past with Imperium is exactly that, the past. Ciampa cuts the interview short as the two then walk off to their locker room.
---
Video Package: Io Shirai, Toni Storm
As we once again return from the commercial break, we immediately head into a video preview for the WWE NXT Women's Championship match with Io Shirai vs. Toni Storm for the title and their comments leading up to the match.
---
Remaining results via Rich Trionfo of PWInsider
WWE Women's Tag Team Championship
Nia Jax & Shayna Baszler (c) vs. Dakota Kai & Raquel Gonzalez
Shayna and Dakota start things off and Nia tags herself in. They lock up and Nia sends Kai to the mat. Nia tosses Kai across the ring and hits a splash into the corner. Shayna tags in and she punches Dakota. Shayna sends Kai into the corner. Shayna pats Dakota on the forehead when Dakota covers up in the corner. Shayna with a take down and she works on the wrist and tries to stomp on the elbow but Shayna misses. Kai with a slap and they miss splashes into the corner. Kai with an elbow and a rollup for a near fall. Kai with an arm drag and flying mare.
Shayna with a leg sweep and she sends Kai to the floor. All four women face off on the floor. They return to the ring and Gonzalez tags in. Raquel has some words for Shayna and she pushes Baszler. Gonzalez blocks a single leg take down and applies a waist lock and takes Shayna to the mat. Shayna with a wrist lock.into a hammer lock. Raquel with a slam and Dakota tags in and hits an assisted double stomp for a near fall. Shayna with a kick to the leg and she gets a near fall.
Nia tags in and she sends Kai to the mat. Shayna tags back in and punches Kai followed by a snap mare and kick to the back for a near fall. Shayna with an arm bar. Raquel tags in and she kicks Shayna in the corner. Raquel with an arm bar and she tags Kai back in. Raquel with an Irish whip and Kai with a running boot but Shayna rolls to the floor. Shayna blocks a running kick and drops Kai on the apron. Shayna sends Kai back into the ring. Nia tags in and applies a stretch muffler and spins Kai around. Nia with a head butt and sends Kai to the mat.
Nia with another stretch muffler and she swings Kai into the turnbuckles. Nia gets a near fall. Nia catches Kai off the turnbuckles and Baszler tags in and and knocks Raquel off the apron. Nia drops Kai to the mat and Shayna with a running knee for a near fall. Kai with an elbow to Shayna and a kick to Nia. Shayna stops Kai but Kai with a kick and a thrust kick. Raquel tags in and she drop kicks Shayna and follows with a shoulder tackle and fallaway slam. Raquel with another fallaway slam and splash into the corner. Raquel with a spinning power slam for a near fall.
Shayna escapes a choke slam and tags in Nia. Nia with a head butt and she misses a splash and Raquel with shoulders in the corner followed by kicks. Nia knocks Raquel down after Shayna distracts Raquel. Shayna with a knee to the jaw for a near fall. Shayna with the Kirifuda Clutch Raquel with a boot to Shayna and Kai tags in. They hit Go 2 Kick for a near fall. Raquel and Nia battle but Nia sends Raquel over the top rope with a clothesline. Kai tries to get Shayna up but her knee gives out. Dakota goes for Go 2 Kick but Shayna blocks it and Shayna with the Kirifuda Clutch. Kai rolls over and gets a near fall. Shayna reapplies the Kirifuda Clutch and Nia tries to distract the referee but Gonzalez tags in and kicks Nia off the apron but takes out the referee as well.
Nia sends Raquel into the apron but Raquel sends Nia and herself over the announce table.
Shayna has Dakota in the Kirifuda Clutch and Adam Pearce comes out and sends a referee to the ring and he sees Dakota is out and calls for the bell.
Winners: Shayna Baszler and Nia Jax (retain championship)
---
Segment: The Way Therapy Session
After a sneaky strategy by @JohnnyGargano, now @CandiceLeRae & @indi_hartwell got shown "The Way", leaving @austintheory1 all by himself in therapy!#WWENXT pic.twitter.com/QaqNmsqjPd

— WWE NXT (@WWENXT) March 4, 2021
We go back to the therapy session and Austin is asked about Dexter. He says Dexter just needs a friend. Candice says that Dexter doesn't want friends. Austin knows why Candice might not like Dexter. Indi says he is okay. Candice reads text messages from Johnny and the therapist sends Candice and Indi into the hallway again.
The therapist tells Austin this is a safe space and she asks him what happened during those three days with Dexter Lumis.
---
Segment: Isaiah "Swerve" Scott
We are back with Isaiah Scott in the studio. He says he wants to talk about opportunities. Leon Ruff seems to have fallen into the North American Championship. Swerve says he has to claw and scratch for no opportunities. Leon, do you think this is a Fantasy World? This is the CWC. This is Swerve's House. You don't want to go to war with someone who cares less than you. Swerve is just different. I just care any more.
---
In-Ring: LA Knight
LA Knight makes his way to the ring. Knight says he has waited entirely too long to stand in this very ring and stare down the barrel and say let me talk to you. You don't understand. I am not going to talk about childhood dreams. Do you think this is a dream? This is business. This is my business. My business is whipping someone else's ass when they step in the. I changed the game at Takeover. People say I am the Tom Brady of wrestling but Tom Brady wishes he could be LA Knight. I didn't come in here as the first round draft pick, but I will be the one setting trends and records.
You have your Johnny Garganos, your Kyle O'Reillys, your Adam Coles, and your Finn Balors. They have their kicks, flips, and dives. I ain't going to meet you with flash or pizzaz. I did not come here to do anything fancy, but i get the job done. I am the last of a dying breed.
You have people saying that LA Knight might be the greatest NXT Superstar. Don't call me the G.O.A.T. If you want to call me the thing that sets me apart from everyone else, call me LA Knight. That is just a fact of life.
---
Bronson Reed vs. Cameron Grimes
Was that 𝘤𝘰𝘯𝘴𝘪𝘥𝘦𝘳𝘢𝘵𝘦 or 𝘤𝘢𝘭𝘤𝘶𝘭𝘢𝘵𝘦𝘥 of LA Knight? 🤔 🎩 #WWENXT @TheEliDrake @CGrimesWWE @bronsonreedwwe pic.twitter.com/BegF53yr65

— WWE (@WWE) March 4, 2021
Grimes tells Reed he has a deal for him. Grimes starts counting off some money and Reed punches Grimes. Reed gets Grimes up but Grimes gets to his feet. Reed blocks an Irish whip and then catches Grimes and drops him onto the apron and then to the floor. Grimes goes for a sunset flip but Reed holds on to the ropes and then drops down and gets a near fall.
We are back and Reed sends Grimes back into the ring. Grimes with an enzuigiri and tries for an O'Connor roll but Reed holds on to the ropes. Grimes with a Spanish Fly Cross Body for a near fall. Grimes punches Reed and Reed pushes Grimes away. Grimes with a knee to the ribs and applies a rear chin lock. Grimes with a knee to the head. Grimes stomps on the hand and kicks Reed in the chest and head. Grimes with more kicks but Reed starts to block kicks and he connects with forearms. Reed with a running body block. Reed with a splash into the corner followed by a choke slam attempt but Grimes with an elbow and forearm. Reed with a clothesline.
Grimes kicks Reed in the head and Reed runs into a boot in the corner. Grimes goes to the apron. Grimes takes his hat and he leaves but Reed with a suicide dive onto Grimes. Reed sends Grimes back into the ring but LA Knight tosses Grimes' hat in the ring. The referee takes the hat and turns his back on the action in the ring. Knight drops Reed on the top rope and Grimes with Cave In for the three count.
Winner: Cameron Grimes
---
Backstage: William Regal, Adam Pearce
WWE Official @ScrapDaddyAP has a LOT of explaining to do to #WWENXT General Manager @RealKingRegal after what went down in the #WomensTagTitles Match tonight……. pic.twitter.com/RTyth07I4C

— WWE (@WWE) March 4, 2021
Adam Pearce and William Regal are in an office talking about something.
---
Backstage: Kayden Cross
McKenzie is with Kayden Cross and she is asked about Kacy's injury. Kayden says it pisses her off to see her friend in pain. She does not care about Xia Li. She took my girl out and now I have to take her out. Does Xia think what she did is going to scare her off? She only sees red. No fear and no hesitation. Next week, she can come and get it.
---
Segment: The Way Therapy Session
.@JohnnyGargano fooled us all. 💵

We will ever find out what really happened between @austintheory1 & @DexterLumis? #WWENXT @CandiceLeRae @indi_hartwell pic.twitter.com/p4TOq6l6qh

— WWE (@WWE) March 4, 2021
We return to Theory Therapy as we are down to one on one. The therapist asks Austin what happened. Austin says it was a great time. He says he was in a small room with the windows boarded up. He watched TV all day and ate cereal. He is asked if Dexter is a good guy. The therapist says she talked to Dexter Lumis earlier today. She says that he couldn't wait to get rid of him. Lumis said Theory was the most obnoxious person he was ever around.
Theory starts to cry and he runs out of the room into Johnny's arms.
Johnny calls the therapist a monster and he tells Austin that
Johnny tells the 'therapist' she was great, especially kicking them out. She calls them a bunch of idiots.
---
Breezango vs. Ever-Rise
As Fandango and Breeze start on the stage, they are attacked by Raul Mendoza and Joaquin Wilde. They send Breeze happy place first into the ring post.
Parker and Martel applaud what Wilde and Mendoza did and then they realize that Wilde and Mendoza are pissed. Martel and Parker leave the ring and they say they don't want any trouble.
Santos Escobar attacks Martel and Parker. Martel is sent into the plexiglas while Parker is sent into the ring steps.
Santos Escobar says do not mistake last week's events for weakness. If you do, this is what awaits you.
---
Next Week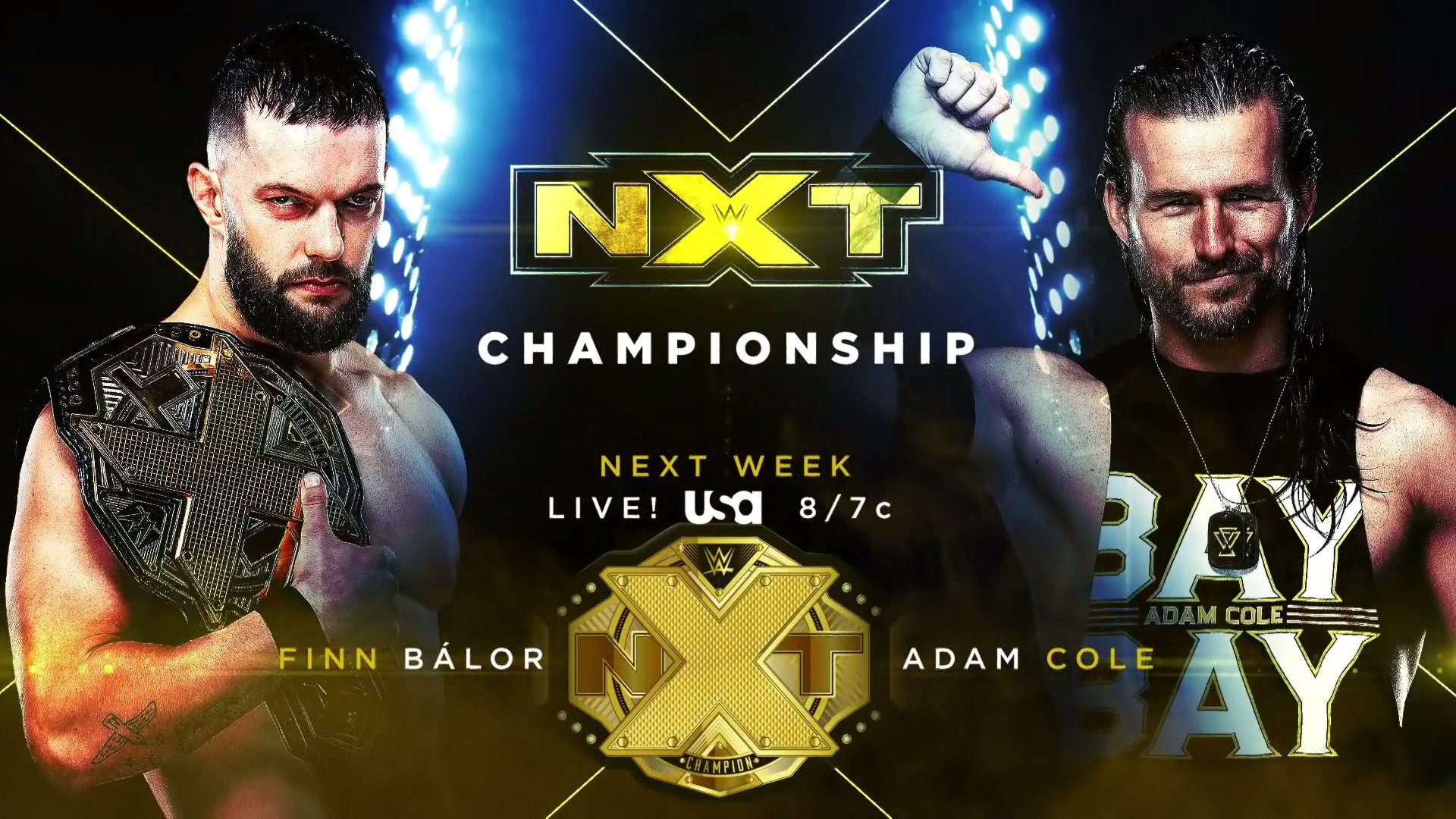 Next week, we will see Kayden Carter versus Xia Li in addition to the NXT Women's Championship Match between Io Shirai and Toni Storm and the NXT Men's Championship Match between Finn Balor and Adam Cole.
---
Video Package: Next Week's NXT Championship Match
We take a look at the Men's Championship Match.
Finn Balor says him being the champion makes this the most important title. Adam Cole says Balor is good, but he is no Adam Cole.
Finn Balor walks in the back and we go to commercial.
---
Backstage: William Regal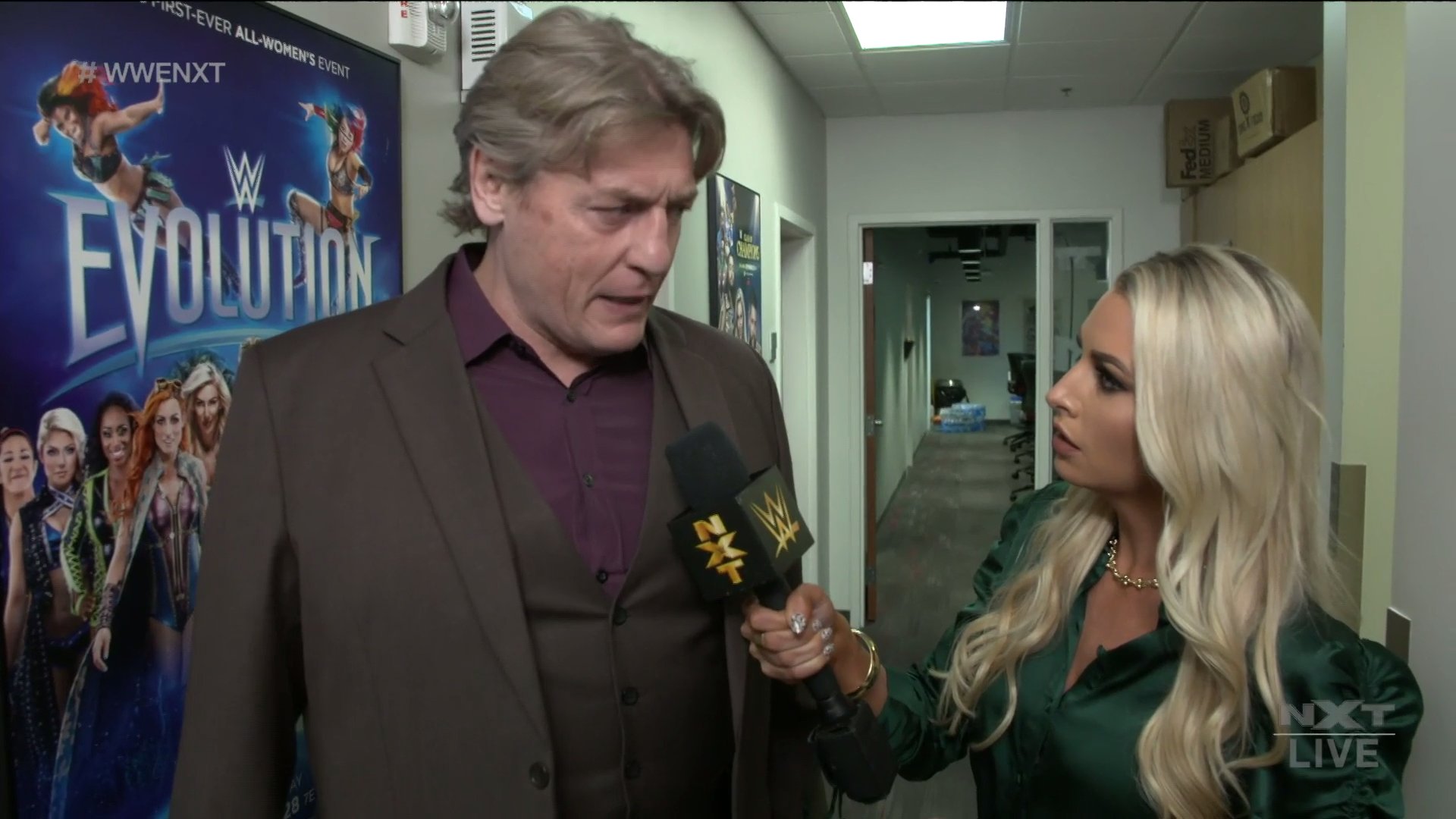 We are back and McKenzie and William Regal walk in the back.
William Regal says that because of what happened earlier in the Women's Tag match, he will make an announcement next week that will change the landscape of NXT
---
Finn Balor vs. Roderick Strong
They lock up and go around the ring. Balor with a waist lock take down and Strong gets a near fall. Balor with a front face lock and Strong with a snap mare into a reverse chin lock. Strong with a forearm and chop. Balor gets a near fall. Balor with a reverse chin lock and Balor goes for a triangle but Strong with a near fall. Strong goes for a Strong Hold but Balor avoids it and applies a side head lock. Balor with a crucifix for a near fall. Balor with an arm bar. Balor turns it into a cobra clutch.
Balor holds on to the cobra clutch while Strong tries to escape. Strong with a snap mare to escape followed by a back breaker to Balor. Strong kicks Balor and connects with a forearm to the back. Strong stretches Balor in the ropes. Strong kicks Balor. Strong with a forearm. Balor with a kick and Strong with a chop. Strong with a sunset flip but Balor rolls through and hits a drop kick because no one can do a sunset flip any more.
Balor with a snap mare into an arm bar and hammer lock. Balor with a hammer lock using his feet and he drops back to the mat to add more pressure to the shoulder. Balor with an arm bar. Strong backs Balor into the corner and sends Balor into the turnbuckles. Strong with chops and he sends Balor into the turnbuckles. Strong with more chops. Balor with an arm wringer. Balor with a kick to the arm and then boots to the head. Balor with an arm bar. Balor continues to work on the arm with a hammer lock and he leans back to add more pressure. Balor continues to drop back onto the mat as he works on the shoulder. Balor with uppercuts to the arm.
Balor with an arm bar. Strong with a power slam to get out of the hold and both men are down. Strong with forearms and knees. Strong with a back breaker for a near fall. Strong with another back breaker. Balor with an arm drag into a cobra clutch. Strong with punches. Balor with a chop followed by an Irish whip and chop. Balor with another Irish whip and chop in the corner. Strong with a clothesline and both men are down. Strong with forearms and chops followed by a gourdbuster slam. Strong with running forearms and an Olympic Slam. Strong with a Gibson Driver for a near fall. Balor with slingblade.
Balor goes for a running drop kick but Strong blocks it and goes for a Strong Hold and he turns it into a Liontamer. Balor goes for a rollup but Strong counters for a near fall. Strong goes for the double knee gutbuster but Balor counters with a double stomp. Strong with a kick but Balor with a Pele Kick. Strong misses a jumping knee and Balor with a reverse DDT. Balor with a running drop kick and then Balor goes up top for Coup de Grace and hits it. Balor with 1916 for the three count.
Winner: Finn Balor
After the match, Balor celebrates his victory in the ring and he looks at the stage and sees Adam Cole standing there.