Results by Mike Hogan of Rajah.com
Tuesday, April 13, 2021
Orlando, FL – Capitol Wrestling Center
Commentary: Vic Joseph, Wade Barrett, Beth Phoenix
---
Quick Match Results
NXT Tag Team Championship: MSK (c) defeated Killian Dain & Drake Maverick via "End of Transmission" on Maverick
Mercedes Martinez defeated Jessi Kamea via Air Raid Crash
NXT Cruiserweight Championship: Kushida defeated Santos Escobar (c) via rollup to become the new NXT Cruiserweight Champion
Isaiah "Swerve" Scott defeated Leon Ruff via JML Driver
Eight Person Tag Team Match: Shotzi Blackheart, Ember Moon, Dexter Lumis & Bronson Reed defeated The Way (Johnny Gargano, Austin Theory, Candice LeRae & Indi Hartwell) via Tsunami Splash by Reed on Theory
---
In-Ring: Karrion Kross, Scarlett
We open our show straight in the Capitol Wrestling Center, black and white video on our screen as Scarlett leads our new NXT Champion, Karrion Kross, to the ring. Fog fills the ring as Scarlett sings along with "fall and pray!" The lights cut on and red strobes highlight the champion, wearing a leather jacket and street wear. The crowd breaks out into a "Karrion" chant. Kross gets on the mic. "I told you, time always comes full circle. It was only a matter of time until I was standing back in this ring, my ring, with this title. My title. As the NXT Champion." He compliments Mr. Bálor, calling him one of the greatest champions of all time and that wherever he goes, championships have followed. He compliments the crowd, calling them rowdy as they start new chants. Kross continues on, stating that Bálor thought Kross' emotions would be a weakness. But, Kross states that anything that is mastered can be controlled. He tells the crowd that NXT has the hungriest competitors around, and he goes on to promise that he will retain his championship and tells everyone that in the end, everyone will pay the toll as time's up.
---
NXT Tag Team Championship
MSK (c) vs. Killian Dain & Drake Maverick
MSK is announced out first, surprisingly to boos and thumbs down from the bulk of the live audience. After a commercial break, we return to the Capitol Wrestling Center. Out comes the challengers, Killian Dain and Drake Maverick, to the cheesy music as always. Wade Barrett, Vic Joseph and Beth Phoenix are our commentary team and debate the theme music. The bell rings and we start with Nash Carter and Killian Dain! Dain takes control right away, using a series of suplexes and fists to pound the youngster down. Dain tags in Drake Maverick. Drake fails to contain Carter, and Carter tags in Wes Lee. Drake and Wes both showcase their speed and agility briefly. Maverick with a pin attempt. Maverick attempts to drag Lee over to the corner, so he can tag in Dain, but Lee flips Maverick into the MSK corner and tags in Carter! Carter with a Bronco Buster and a pin attempt. MSK use tags to allow them both to stay in the ring and double team Maverick. Finally, though, Maverick escapes and makes the hot tag to Killian Dain! Dain cleans house, taking out both members of MSK. Dain follows Lee outside. Carter with a suicide dive attempt on Dain, who shrugs it off. We go to break with Dain in control.
Back from the break finds Maverick at the mercy of Carter in the ring. Carter tags in Lee. Carter does a standing moonsault and Lee slams Carter down, crashing him into Maverick. Pin attempt but Dain makes the save. Drake makes the tag to Dain. Dain fights off MSK for a bit before the numbers overcome him. Carter and Lee work over Dain briefly. Dain and Maverick regain the upper hand. Dain with a big Powerbomb on Wes Lee. Dain attempts to Powerbomb Drake onto Lee, but Lee moves and Dain Powerbombs his own partner! The ref gives both teams a lot of lateral. Maverick is legal. Carter sends Dain out of the ring and tags in Lee. MSK work together to hit what Vic Joseph called the "End of Transmission." Lee covers and picks up the win!
Your Winners and STILL NXT Tag Team Champions, MSK!
Alexander Wolfe, Killian Dain's former SAnitY teammate, shows up in the ring and smiles as he greets Dain. Imperium then strikes, beating down Dain before Wolfe and company stand tall over him.
---
Backstage: The Robert Stone Brand, Mercedes Martinez
Robert Stone is backstage and wearing rhinestone gloves. He's talking with Jessi Kamea when Mercedes Martinez walks up and demands money that he owes her. Aaliyah and Kamea exchange words and we go to break.
---
Earlier Today: Roderick Strong & Marina Shafir
Roderick Strong arrives in a suit, accompanied by his wife Marina Shafir.
---
Video: Unsanctioned Match
We then get a video package from the Adam Cole/Kyle O'Reilly Unsanctioned match from TakeOver as the Undisputed Era is, seemingly, no more. We see where both men were carted out on stretchers and rode in an ambulance with William Regal. We then end it with "security video footage" of Cole and O'Reilly both being wheeled down a hospital hallway side-by-side together, and Cole repeatedly yells to Kyle that he's a dead man.
---
Jessi Kamea vs. Mercedes Martinez
Martinez makes her way to the ring, where Kamea already awaits. The Robert Stone Brand are at ringside to support their compatriot. Kamea attacks Martinez immediately as the bell rings. Kamea takes control for about a minute, using strikes, a suplex and a springboard leg drop to keep Martinez grounded. Martinez fights back and promptly dismantles Kamea with ease in a very short match, winning with an Air Raid Crash.
Afterwards, Martinez threatened Robert Stone at ringside then told the commentary team that she's coming after Raquel González.
Your Winner, Mercedes Martinez!
---
Backstage: The Way
"And I'm just hoping I end up in the ring the same time as @DexterLumis, so I can take care of 𝙢𝙮 business." – @indi_hartwell

You do you, girl. #WWENXT #InDex @JohnnyGargano @CandiceLeRae @austintheory1 pic.twitter.com/8UiQ3l5pt6

— WWE NXT (@WWENXT) April 14, 2021
Mackenzie is backstage with The Way. She asks them about the eight-person tag match they have tonight. Gargano fires up, telling her that this is the first time The Way has ever been in the ring all together at the same time. They each cut a mini promo about an opponent, with Indi Hartwell saying that she hopes to be in the ring at the same time as Dexter Lumis so she can take care of her business, and then grins as her allies look at her oddly. They end the segment and we head to break.
---
NXT Cruiserweight Championship
Santos Escobar (c) vs. Kushida
Santos Escobar makes his way out to the ring, accompanied by Legado. Escobar gets some cheers from the crowd and does his promo in both English and Spanish. Escobar says that one year ago, the Cruiserweight title was forgotten. But thanks to the Emperor of Lucha Libre, Santos Escobar, the Cruiserweight title is big time and bigger than ever. Santos says that he is now the undisputed Cruiserweight champion, and praises his history while adding that his son will be a future champion. Santos offers and open challenge to whomever, and immediately Kushida comes out!
Kushida gets in the ring and Santos readies up. They briefly brawl before the bell. After the bell, Kushida with a snapmare on Santos. Santos and Kushida do a beautifully athletic sequence of high-octane move and counter-move. The sequence goes on for half a minute and ends with Kushida going for a Hoverboard Lock. Escobar makes the rope break. Kushida attacks the arm again and Escobar rolls out the ring. Kushida streaks across and threatens a suicide dive, but instead rebounds off the ropes (think: Ricochet) and lands in the middle of the ring in "shades of Jushin Liger" per Vic Joseph. We go to picture-in-picture commercial break. During the break, Escobar maintains control and works over Kushida. Escobar with working holds and strikes to wear down Kushida's midsection, and a snap suplex to ground him once again. At one point, Escobar pulls Kushida by an arm and leg on the apron, stretching him around the ringpost as the ref warns.
When we return both men have moved to the ring. Escobar hits a running clothesline on Kushida in the corner. Kushida rolls out and falls to the floor. We're reminded that Escobar has been champion for over 320 days. Escobar sends Kushida into the steel steps, again focusing on the arm as Beth Phoenix speculates it's meant to weaken any future Hoverboard lock. Santos Escobar grabs Kushida by the legs and swings him into the steel steps. Escobar uses the steel steps to wedge into Kushida, causing his challenger to scream in pain. The action returns to the ring and Escobar gets a close two. Escobar puts Kushida in a calf-assisted Nelson hold. Escobar breaks it and yells insults to Kushida, calling him a loser and kicking him. Escobar continues to insult and strike, and hits a running knee strike in the corner. Escobar sets Kushida on the top rope then hits a top rope Hurricanrana, covering for a two. Kushida still manages to kick out.
Escobar uses another rear arm stretch submission to wear down Kushida. Over-confidence gets the best of Escobar, however, as Kushida starts his comeback. Kushida comes off the ropes on fire. Kushida with snap suplex, a stiff kick to the side and rams Escobar into the corner. Kushida and Escobar climb the turnbuckles, battling. Kushida with a middle-rope superplex. Kushida with a bridging suplex for a close two–Escobar had a foot on the rope! Kushida attempts a Hoverboard Lock again. Escobar counters and hits a step-up Enziguri that drops the challenger. Kushida counters with a kick of his own and both men are down in the ring! Kushida with a series of kicks. Escobar fires back with a back stabber. Escobar tries to roll up Kushida; Kushida counters and rolls up Escobar. Escobar counters, and this goes back and forth for a few moments until Kushida picks up the pin fall with a rollup!
Your Winner and NEW NXT Cruiserweight Champion, Kushida!
Kushida quickly leaves the ring and poses at the top of the ramp as a graphic comes on the big screen, congratulating him on becoming the new Cruiserweight champion. Escobar is, understandably, pissed in the ring.
---
Backstage: Timothy Thatcher & Tommaso Ciampa
We transition to a video promo that shows Thatcher and Ciampa sitting somewhere in the back. They talk about coming through things stronger, and Ciampa is done with Walter. They cryptically tease a team-up again before flat-out challenging MSK for the tag team championship. Ciampa exclaims, "MSK, we're coming (for you)." Ciampa flips over his chair and walks off as we go to break.
---
Backstage: William Regal, Kushida and Jordan Devlin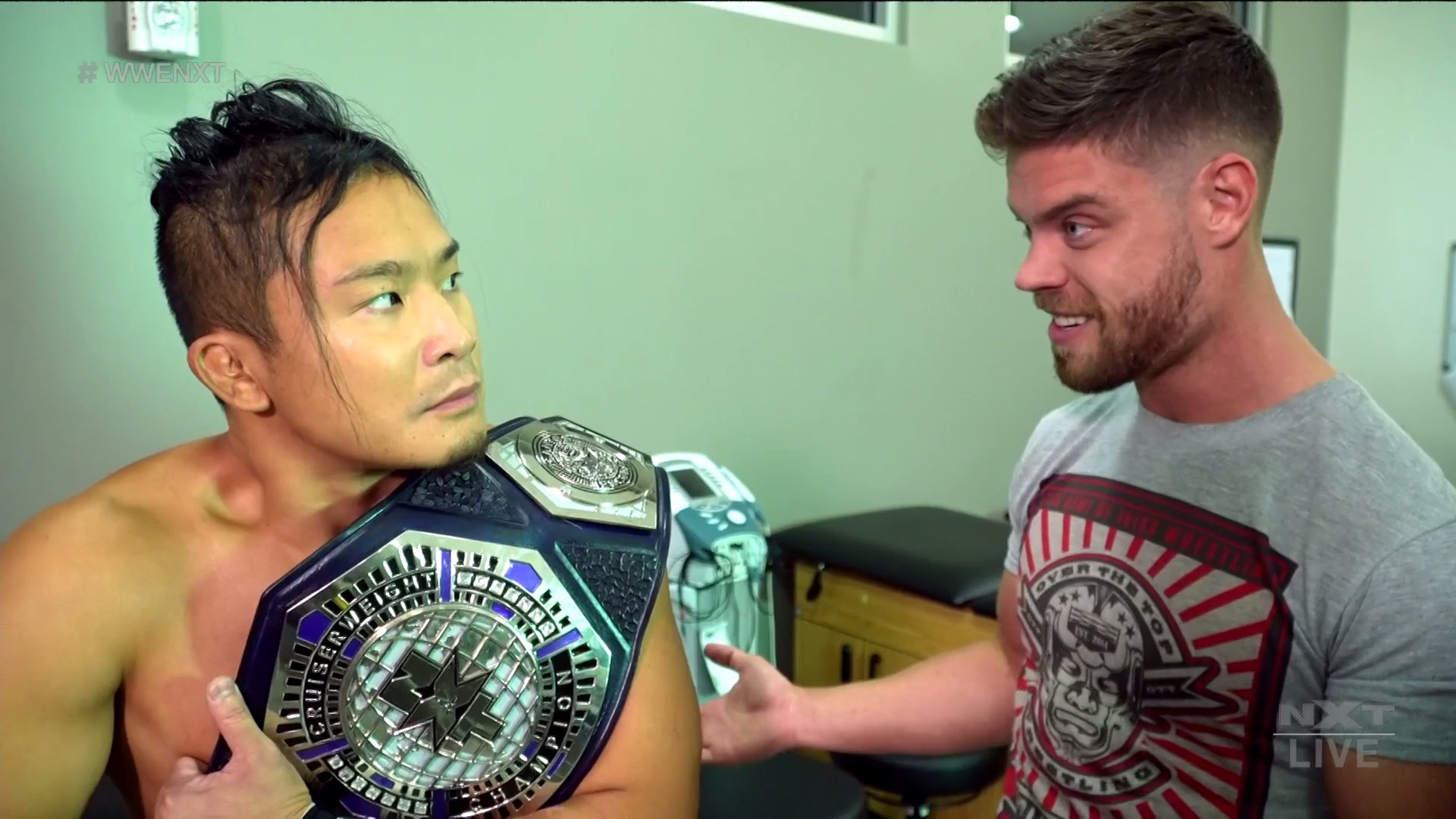 Regal congratulates Kushida backstage when Finn Bálor Jordan Devlin walks up. He explains to Kushida that he's the "man around here" before walking off.
---
In-Ring: Raquel González, Dakota Kai, Franky Monet, Rhea Ripley, Bianca Belair
We return to the ring where Dakota Kai awaits with a microphone. Kai welcomes the new NXT Women's champion and out comes González! González and Kai are both all smiles. The crowd starts a "you deserve it" chant. Raquel tells us that a year and a half ago was the biggest night in NXT history when NXT went live on the USA Network, and González was supposed to have her big debut. But she wasn't ready, and she went home that night then swore it would never happen again. So she busted her ass to move faster, train heavier, work harder and now she stands here as our NXT Women's Champion. Fans yell "you earned it". Raquel says that the one person who respected her dedication was Dakota Kai. Without Kai, she wouldn't have debuted at TakeOver Portland and they made their mark together as a tag team. González and Kai take credit for being the most dominant women's tag team in the division for months. González says the González Era will begin. And suddenly…
They're interrupted as Franky Monet makes her way out with a dog in arm. She gets on mic and addresses the champ and Kai. "Congratulations, champ…I'm here to formally introduce myself to you and the world, I am…Franky Monet!" She then states that the best division on the planet has gotten a little bit shinier, a little bit bougier, and a lot better. She tells González that she'll be seeing a whole lot more of her. González says "ah, mi amor, you're lucky I'm in a good mood tonight. Because if you interrupt me ever again, this cute poochy? I'm going to shove it up your (butt)." Franky exits, grinning, and adds "Okay, cabrona, I'll see you every single tuesday, 'champ'." Monet then exits when suddenly…
Rhea Ripley makes her way out as the crowd erupts for the new Raw Women's champion! Rhea gets in the ring and stares face-to-face with González. Rhea raises her belt, as does González, and they smile clinking their titles together and smile and hug when suddenly…
The other home-town NXT heroine, BIanca Belair, makes her way out dancing to her music. The three champs stand in the ring, hugging and holding their titles up. An older image of them from a few years ago, together, is shown on the screen in the background. All three champions hold their belts high as the crowd starts a hugely loud "NXT" chant. The champs embrace once more, all smiles and tears and hugs as the crowd continues to cheer them on.
---
Backstage: Pete Dunne
Pete Dunne tells us that he's the best wrestler in all of NXT and he dares anyone to prove him wrong. He reminds us that he defeated Kushida last week. Now it's time for Dunne to get back to what he came here for–championship gold. We go to break.
---
Backstage: William Regal, Sarray
Regal tells us that it's taken a lot of time and negotiation, but he's signed the Warrior of the Sun, Sarray (I may be spelling it wrong). He points out past Japanese legends such as Io Shirai and Asuka who have helped make NXT the best women's division on the planet. Sarray will make her debut next week.
---
Backstage: William Regal, Roderick Strong
When Mackenzie asks him about Sarray, Regal mentions that it took a few years but he's excited for Sarray to join. He then excuses himself as he has business to attend to in his office. When he enters, Roderick Strong & Marina Shafir await him. Roderick Strong hands Regal a manila envelope containing papers–he's leaving. Regal tells him that he's welcome back to NXT anytime.
---
Leon Ruff vs. Isaiah "Swerve" Scott
Swerve comes out with Ruff already in the ring. Both men start off fast. Both are highly agile and fast, and engage in a couple of sequences of move-and-counter-move. Ruff takes an early lead but Scott takes control back. Ruff runs into a suplex. Ruff to the outside. Swerve charges along the apron and kicks Ruff in the face, laying him out as we go to commercial. When we return Swerve is still in complete control. Swerve whips Ruff into the corner and punishes Ruff with brutal chest chops and strikes. Ruff starts his comeback now, firing up and taking Swerve down twice. Ruff goes up top and dives off but Swerve intercepts him and counters it into a submission attempt. Ruff reverses that, hits a cutter and sends Scott outside! Ruff goes up top and dives out of the ring onto Swerve as the crowd erupts in another "NXT" chant! Ruff goes right back up the ropes and dives off once again, taking Swerve down with a devasting kick. Ruff and Swerve both climb the same turnbuckle. Swerve shoves Ruff off, so Ruff retaliates with a step-up head kick and follows it up with a top-rope Hurricanrana! Ruff crawls over, covering for only a close two! We get replays of the beautiful Hurricanrana. Ruff and Swerve try to chop each other down. Ruff looks for a rebound move but Swerve prusues and catches Ruff with a big forearm. Ruff takes Swerve down with headscissors and rebounds off the ropes with a kick. Swerve slams Ruff down; Ruff counters by rolling Swerve up and getting as close to three as one can get. Ruff and Swerve go back up top. Ruff looks for another top-rope Hurricanrana but Swerve counters. Swerve dives off and tosses Ruff behind him, letting Ruff's face smash into the turnbuckle. Swerve hits a JML Driver in the ring and finally picks up the win after a very impressive match.
Your Winner, Isaiah "Swerve" Scott!
---
Backstage: Zoey Stark, Mercedes Martinez
She's asked about her TakeOver performance. Stark tries to make a case for a title shot. Mercedes Martinez walks up and tells that she's next in line, not some rookie like Stark. It sounds like a set up for a match next week. We go to break with our main event up next!
---
Video: Imperium
---
Backstage: Isaiah "Swerve" Scott, Leon Ruff
.@swerveconfident might be done with @LEONRUFF_, but @LEONRUFF_ is certainly not done with @swerveconfident. #WWENXT pic.twitter.com/CqDuSKBo5u

— WWE NXT (@WWENXT) April 14, 2021
Mackenzie asks Swerve about his match and asks if the bad blood with Ruff is over. He starts to reply that he's made a statement when Ruff ambushes him from behind, ramming him with an equipment cart and beating him until officials send him away. Ruff tells Swerve it's not done til he says so.
---
Eight Person Tag Team Match
Shotzi Blackheart, Ember Moon, Dexter Lumis & Bronson Reed vs. The Way (Johnny Gargano, Austin Theory, Candice LeRae & Indi Hartwell)
When we return to the ring, Dexter Lumis and Bronson Reed are ready and in the ring. Ember Moon and Shotzi BLackheart, our NXT Women's CHampions, come out riding Shotzi's tank. Out next is The Way (Johnny Gargano, his wife Candice LeRae, Austin Theory and Indi Hartwell.) We start things with Lumis and Austin Theory. Theory picks up Lumis and runs him into the corner, following it up with several shoulder thrusts to the gut. Austin whips Lumis and chases, but Lumis counters with a Lou Thesz Press. Austin escapes to The Way's corner to tag in…Indi Hartwell pleads to be tagged in but Candice LeRae tags her self in. Candice marches over to Dexter and tells him to get out. Shotzi and Ember are quick to enter the ring and take out Candice, forcing her to tag in her husband Johnny Garagno. Shotzi and Ember hesitantly approach Dexter Lumis before tagging him in. Lumis easily handles Gargano. Gargano is sent to the outside. Hartwell calls over to Lumis, and Lumis stands right in front of the love-sick Hartwell until LeRae rips her off the apron. Gargano uses the distraction to take control as we go to picture-in-picture break.
During the break, Gargano continues to work over Dexter Lumis. Gargano and Theory tag and continue using working holds to wear down the neck and shoulder. Lumis with a desperation back drop as we return from the break. Reed makes the hot tag. Reed runs over Austin Theory. Reed then runs over Gargano. Gargano and Theory stumble into the same corner. Reed charges and squashes them both in the corner. Reed lifts both men up onto his shoulders and hit a double Samoan Drop! Reed covers but LeRae & Hartwell make the save. Moon & Blackheart hit the ring and brawl with LeRae & Hartwell. LeRae takes down Blackheart in the ring as Hartwell and Moon roll outside. Candice climbs up on the top turnbuckle and dives, hitting Bronson Reed with a missile dropkick–and simply bouncing off of him with no effect! Gargano follows it up with a dropkick of his own, and this time the big man is stumbled. The Battle of the Sexes begins as Ember Moon brawls with Gargano and Candice LeRae attacks Lumis, taking him out with a suicide dive. Shotzi begs Reed to use her as a weapon, so Reed throws Shotzi over the top rope and onto those gathered outside! Lumis and Gargano are in the ring, and Lumis puts Gargano in a submission hold.
Indi Hartwell comes over, unsure of what to do–assist her The Way leader Gargano or assist her crush, Lumis. Hartwell is tripped up and falls flat. Lumis breaks the submission on Gargano to check on Indi. Indi pretends to be out and when Lumis comes over, she puckers her lips to kiss him–only to be cock-blocked by Gargano, who sends Lumis out of the ring with a kick. Hartwell lays on the apron again and Lumis walks over to check on her. Lumis picks up Hartwell and carries her in his arms up the ramp as she looks over his shoulder, winking at the camera before feigning injury.
In the ring, Reed helps Ember Moon to stand on his shoulders. Moon dives off and hits the Eclipse on Austin Theory! LeRae sends Moon out of the ring. Reed climbs up the ropes but Gargano attacks the big man before he can splash Theory. Reed throws Gargano off, and Gargano crashes onto Theory. Candice runs over and up the turnbuckles. Candice LeRae actually tries to suplex Reed off the top but can't. Blackheart runs over and takes out LeRae, allowing Reed to fly off the top–finally–and hit the Tsunami on Austin Theory. Reed covers and picks up the win!
Your Winners, Dexter Lumis, Bronson Reed, and NXT Women's Tag Team Champions Ember Moon & Shotzi Blackheart!
We get replays, especially of Dexter Lumis picking up Indi Hartwell and carrying her to the back. Beth Phoenix announces their "celebrity couple name" as "InDex".
We're told that next week will see the return of Kyle O'Reilly and we end our program with The Way up the stage as the winners celebrate in the ring.