Results by Mike Tedesco of Wrestleview.com
October 18, 2021
Sacramento, California (Golden 1 Center)
Commentary: Jimmy Smith, Corey Graves, and Byron Saxton
---
Quick Match Results
King of the Ring Semifinal Match: Xavier Woods defeated Jinder Mahal via springboard flying elbow
Austin Theory defeated Jeff Hardy via modified facebuster
Big E & Drew McIntyre defeated Dolph Ziggler & Robert Roode via Big Ending by Big E on Roode
Mansoor defeated Cedric Alexander via slingshot neckbreaker
RK-Bro (Randy Orton & Riddle) defeated Street Profits by disqualification when AJ Styles & Omos attacked Orton, then everyone
Queen's Crown Semifinal Match: Doudrop defeated Shayna Baszler via lying on top of Baszler as Baszler locked on the Kirifuda Clutch
Finn Balor defeated Mace via Coup de Grace
Raw Women's Championship: Bianca Belair defeated Charlotte Flair (c) by disqualification when Flair hit Belair with a chair
---
In-Ring: Charlotte Flair, Bianca Belair
Charlotte Flair wants to know where her balloons and champagne are. She wants to know where the Raw roster is giving her farewell hugs. Where are the "Thank you, Charlotte" chants? This is her last night on Raw and she has to defend the title against some rookie flash in the pan in Bianca Belair? This is bullcrap. This is a conspiracy. Belair isn't even on the show yet but has two title matches. One against her and one at Crown Jewel. They call Flair entitled? Belair couldn't even beat her. You can't beat this opportunity. Not this time or anytime. Tonight, Belair will learn how far she still has to go. Belair has beaten Bayley and Sasha Banks. Becky Lynch couldn't beat Belair on her own, but no one can climb the mountain of Flair.
Bianca Belair's music cuts her off. Belair says this is justice served. She has showed up and showed out since she got here and deserves the rematch. No matter what brand she's on, she's the one to watch because she always shines. Lucky for Flair, she won't be her problem because Flair won't even go here anymore. Flair should use this opportunity to make herself rougher, tougher, and maybe kinder. Belair is taking her title to Crown Jewel and returning to Raw with that title and the SmackDown Women's Championship. How's that for a rookie?
Flair attacks Belair and goes for a big boot, but Belair fights her off. Belair goes for the KOD, but Flair gets to the apron. Belair hits a handspring kick to knock her to the floor.
---
Backstage: Xavier Woods & Kofi Kingston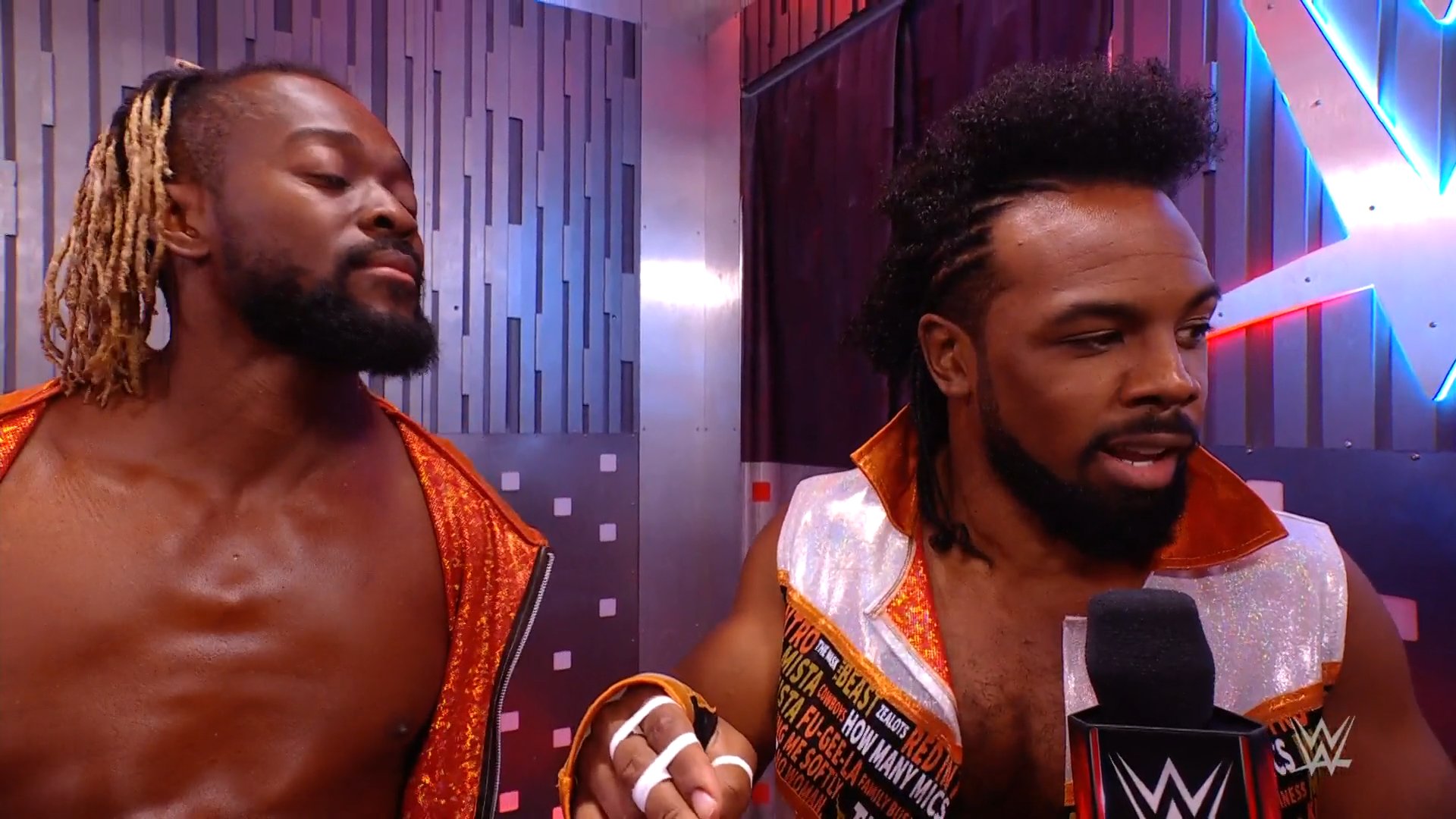 Footage is shown of Xavier Woods beating Ricochet in the King of the Ring tournament. Jinder Mahal also beat Kofi Kingston.
Xavier Woods and Kofi Kingston are backstage. Kevin Patrick asks how Woods is preparing. Woods says he cannot wait to join the other Kings of the Ring from the past. Kingston says this means a lot to Woods and will be out there to support him. It's all about the crown. Woods says we're in the castle of the Sacramento Kings. This Thursday he'll be sitting with the crown on his head as King Woods.
---
Next Monday will be the season premiere of Monday Night Raw, when the new drafted rosters will come into effect.
The Sacramento Kings are shown at ringside.
.@SacramentoKings in the HOUSE on #WWERaw! pic.twitter.com/qAxR5Q5Jtk

— WWE (@WWE) October 19, 2021
---
King of the Ring Semifinal Match
Xavier Woods vs. Jinder Mahal
They lock up, and Mahal quickly takes him down before taunting the crowd. They lock up again, and Mahal powers him to the corner. Woods turns him and shoves him back. Mahal kicks Woods and sends him into the ropes. Woods holds the ropes and boots Mahal back. Woods knocks him into the ropes and dropkicks him. Woods chops Mahal back and goes for the 10 punches, but Mahal gets away. Woods chops him and goes for the 10 punches again. Mahal shoves him off and shoulder blocks him down. Mahal hits a headlock takeover, but Woods fights up. Woods connects with an enzuigiri that stuns Mahal. Woods gets out of a tilt-a-whirl and hits a leg sweep. Woods hits a low dropkick for a two count. Mahal quickly pops up and hits a back suplex. Mahal stomps Woods and punches him in the face. Mahal knees him in the spine and applies a side headlock. Woods gets out of a scoop slam and rolls him up for a two count. Woods catches him with an O'Connor Roll for another two count. Woods charges Mahal in the corner, but Mahal hits a back body drop over the top rope. Woods hits the ring steps on the way down.
We come back from the break to see Woods hit a jawbreaker, but Mahal quickly fights back. Mahal gets him on the apron and punches him down. Woods tries to fight back and goes for a slinging DDT, but Mahal gets out. Mahal slams him for a near fall. Mahal tries for the Khallas, but Woods fights out. Mahal viciously slams him down and taunts the crowd. Woods avoids a knee drop and superkicks him. Woods comes off the top rope after being distracted. Mahal avoids him and hits the Khallas, but Woods grabs the bottom rope before the count of three!
Mahal puts Woods on the top rope, but Woods knocks him down to the canvas. Woods walks the ropes and hits a big flying elbow drop for the win!
Winner by Pinfall: Xavier Woods
Xavier Woods will face Finn Balor in the finals of the King of the Ring tournament at WWE Crown Jewel.
---
Backstage: Austin Theory, Reggie, R-Truth
Footage is shown of Austin Theory cheating to beat Jeff Hardy last week on Raw.
Sarah Schreiber asks Austin Theory about beating Jeff Hardy, but he's cut off by WWE 24/7 Champion Reggie being chased by the 24/7 geeks. R-Truth catches Reggie, but Theory breaks it up. R-Truth isn't happy with him and says he'll see Theory in the ring. Theory just needs to ask his mom if he can stay up past his bedtime.
---
Austin Theory vs. Jeff Hardy
R-Truth comes out and says he didn't accept this match for himself. He accepted it for his friend, Jeff Hardy.
Hardy takes it to Theory quickly and rolls him up with a handful of tights for a two count. Theory yells at the referee and eats a dropkick from Hardy. Theory gets out of the ring and sweeps Hardy down on the apron. Theory then hits a neckbreaker off the apron.
We come back from the break to see Hardy fight back at Theory. Hardy hits a flurry of offense culminating with a big splash for a two count. Hardy knocks Theory out of the ring and avalanches him off the ring steps. Hardy gets Theory in the ring and snaps him off the top rope. Hardy goes to the top rope for a Swanton Bomb, but Theory shakes the ropes. Theory hits a modified facebuster for the win.
Winner by Pinfall: Austin Theory
Theory takes a selfie with a fallen Hardy next to him. Hardy gets up and hits a Twist of Fate before taking a selfie with Theory.
---
Big E & Drew McIntyre vs. Dolph Ziggler & Robert Roode
Footage is shown of Big E and Drew McIntyre brawling last week.
WWE Champion Big E and Drew McIntyre are backstage. They agree to co-exist and say may the best man win.
In the ring, Big E quickly takes Ziggler down and gyrates. Ziggler fights back and gyrates, so Big E takes him down. Drew McIntyre tags in and kicks Ziggler down. McIntyre throws Ziggler to the corner and chops the chest. McIntyre chops the chest again, but Ziggler stomps the foot and rakes the eyes. Roode tags in and puts McIntyre in the corner for the 10 punches. McIntyre fights back and tags Big E in. Roode applies a side headlock, but Big E whips him off, leapfrogs him, and hits a back elbow. Big E knocks Ziggler off the apron and pulls Roode over the apron to club the chest. Big E goes for a splash on the apron, but Ziggler pulls Roode away. Ziggler goes for a famouser on Big E, but Big E throws him into the timekeeper's area. Roode then sends Big E into the ring steps.
Ziggler and Roode take it to the WWE Champion Big E as we come back from the break. Big E eventually takes Ziggler down.
McIntyre tags in and clotheslines Roode twice before hitting a pair of overhead belly-to-belly suplexes. Ziggler runs in and meets the same fate. McIntyre connects with a neckbreaker on Roode and kips up. McIntyre grabs Ziggler and hits an inverted Alabama Slam onto Roode! McIntyre lifts Roode, but Roode slides off and tries to send him into Big E. McIntyre puts the brakes on. Ziggler pulls Big E off the apron. Roode hits a Double R Spinebuster for a near fall. Roode throws Ziggler into the air for a famouser on McIntyre for a near fall! Roode whips Ziggler to McIntyre, but McIntyre moves. McIntyre hits the Glasgow Kiss. Big E gets on the apron, and McIntyre tags him in. They are co-existing. Big E hits Roode with the Big Ending for the win.
Winners by Pinfall: WWE Champion Big E and Drew McIntyre
Big E goes to celebrate, but McIntyre turns him around and shakes his hand. McIntyre goes to leave, but Big E turns him around. They jawjack a bit.
---
Backstage: Street Profits, AJ Styles & Omos
The Street Profits talk about coming back to Raw. AJ Styles and Omos tell them to watch themselves since they'll soon be the Raw Tag Team Champions again.
---
Mansoor vs. Cedric Alexander
Footage is shown of Mansoor being attacked by Mustafa Ali last week.
Alexander takes it to Mansoor at the start, but Mansoor takes him down and hits a standing moonsault for a two count. Alexander hits a wild pumphandle suplex. Alexander follows up with a spinebuster before beating him down. Alexander covers for a two count. Alexander applies a waistlock and elbows away at Mansoor's body. Mansoor screams in pain as Alexander applies a modified camel clutch. Mansoor fights up and drops him with an enzuigiri. Alexander fights back and sends him into the ropes, but Mansoor counters with a reverse DDT. Mansoor hits a slingshot neckbreaker for the win.
Winner by Pinfall: Mansoor
Mustafa Ali cuts off the celebration and cannot believe Mansoor is still out here smiling like a fanboy. It's pathetic. This Thursday in Mansoor's hometown, Ali will wipe the smile off his face. Ali will also wipe the smiles off everyone's faces at Crown Jewel. Mansoor shouts at Ali to shut the hell up. Mansoor tells him to look at him. Mansoor says he's not smiling now, but he'll be smiling ear to ear when he beats him at Crown Jewel.
---
Interviews: Bobby Lashley, Goldberg
Bobby Lashley and Goldberg are shown in separate locations. Goldberg says he will kill Lashley at Crown Jewel. Lashley says that Goldberg is talking about something illegal, but Goldberg doesn't understand that he's getting Lashley with no restrictions. It's No Holds Barred. He will end Goldberg on Thursday. Goldberg says, "Kill ya Thursday, Bobby!"
---
Backstage: RK-Bro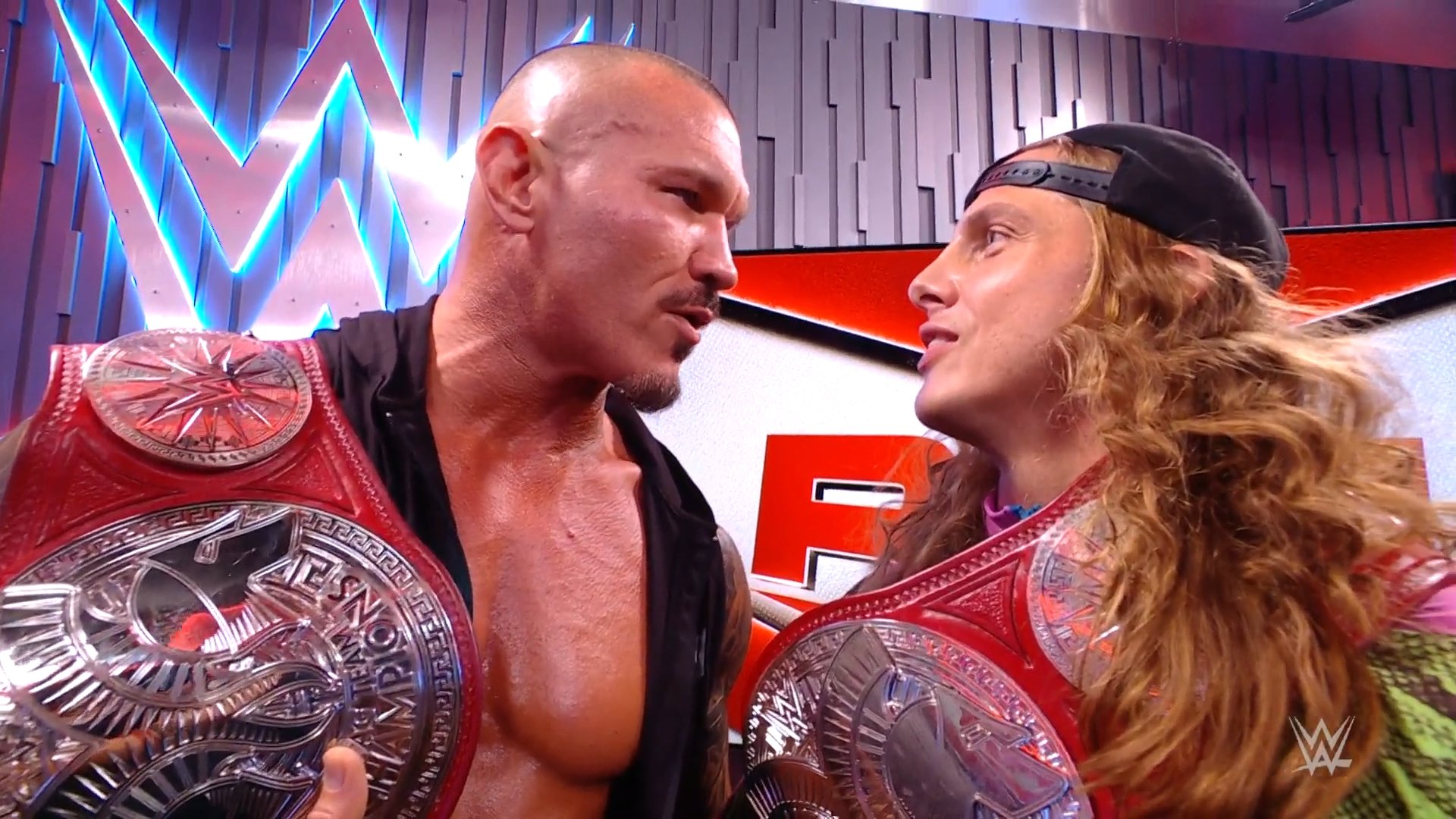 Footage is shown of Riddle being destroyed by Omos last week.
Raw Tag Team Champions RK-Bro are backstage. Riddle is going on and on about Orton, but Orton tells him that he didn't have a plan for him.
---
RK-Bro (Randy Orton & Riddle) vs. Street Profits
Both teams go back and forth in this non-title match. We go into the commercial break with Riddle connecting with a springboard twisting plancha only for Ford to follow up with a somersault senton of his own.
Back from the break, the two teams continue to go back and forth until Randy Orton tags in. Orton sets up for the finish, but AJ Styles and Omos come out. Omos makes his way down the ramp alone. Orton turns and eats a Phenomenal Forearm from Styles. The referee calls for the bell.
Winners by Disqualification: Raw Tag Team Champions RK-Bro
Styles and Omos wipe out both teams and stand tall.
---
Queen's Crown Semifinal Match
Shayna Baszler vs. Doudrop
Zelina Vega comes out to watch this match.
Baszler peppers Doudrop with kicks to the hamstring before eventually kicking her down. Baszler applies the Kirifuda Clutch, but Doudrop fights out. Baszler takes her down and applies the Kirifuda Clutch again. Baszler holds it on forever until Doudrop lies on top of her and picks up the win.
Winner by Pinfall: Doudrop
Doudrop will face Zelina Vega in the finals of the Queen's Cup Tournament.
---
Backstage: Rhea Ripley, Nikki A.S.H., Bianca Belair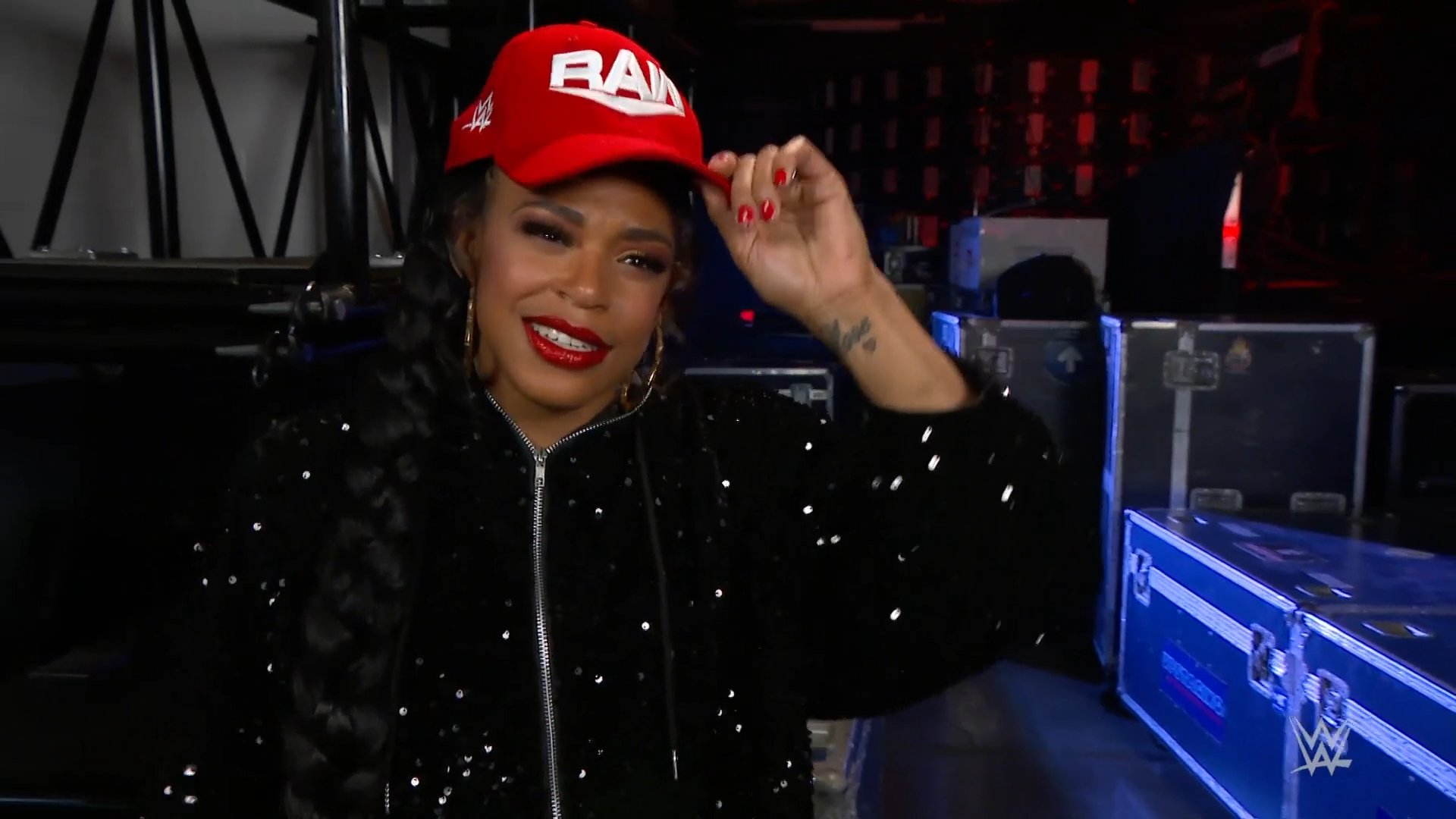 WWE Women's Tag Team Champions Rhea Ripley and Nikki A.S.H. welcome Bianca Belair to Raw.
---
Finn Balor vs. Mace
Xavier Woods is on stage wearing the crown.
Mace takes it to Balor early on, but Balor soon gets the advantage and finishes him off with a Coup de Grace.
Winner by Pinfall: Finn Balor
Finn Balor confronts Xavier Woods on the stage. Kofi Kingston steps between them to keep the peace.
---
Backstage: John Morrison, The Viking Raiders
John Morrison is meditating backstage. The Viking Raiders don't understand what he's doing.
---
Raw Women's Championship
Charlotte Flair (c) vs. Bianca Belair
They lock up, and Flair takes Belair down with a waistlock. Belair fights up and hits a waistlock takeover. Flair elbows her off. They go for dual dropkicks and kip up in a stalemate. Flair kicks Belair in the midsection and sends her to the corner. Belair slingshots over her, does a backflip, and slaps her rear end. Belair shoulders Flair in the midsection. Flair knees Belair back and stomps her in the corner. Belair reverses a whip to the corner, but Flair rolls up the turnbuckle. Belair kicks her down and goes for a handspring kick, but Flair avoids it. Flair grabs Belair and throws her over the commentary table.
We come back from the break to see Flair taking it to Belair with kicks and chops before hitting a back suplex. Flair kips up and taunts the crowd. Flair goes for a handspring moonsault, but Belair gets the knees up. Belair takes her down and hits a handspring moonsault for a two count. Belair hits Flair with a nice delayed vertical suplex for a near fall. Belair stomps away at Flair and hits the ropes. Flair gets the knees up on a big splash and rolls her up for a near fall. Flair powers her up and powerbombs her down for a near fall. Flair groans in frustration.
Flair stomps Belair and goes to the top rope. Belair rolls away, but Flair lands on her feet and hits a standing moonsault for a near fall. Flair's mouth is busted open. There is blood all over her chin. Belair rolls her up with a crucifix for a two count. Flair goes for a DDT, but Belair crushes her with a spinebuster. Flair quickly rolls out of the ring and lets out an audible cuss. Belair grabs her and puts her in the ring, but Flair rolls back out. Belair attacks her at ringside and throws her over the commentary table.
Back from the final break of the evening, Flair chops Belair down. Flair pummels her with forearms to the spine before sending her to the ropes. Flair lowers her head and eats a kick. Belair lifts her, but Flair rolls her up for a two count. Flair rolls her up for another two count. During the commercial break, Flair hit Belair with a plancha. Flair grabs Belair on the apron and tries to suplex her in, but Belair fights it and forearms her in the face. Belair goes to the top rope, but Flair boots her off. Flair goes to the top rope and hits a moonsault block to the floor!
Flair gets Belair in the ring and goes for Natural Selection, but Belair avoids it. Belair rolls her up for a two count. Belair slams her down for another near fall. Belair looks totally frustrated. Belair lifts her for the KOD, but Flair gets out and snaps her off the top rope. Flair charges the ring and tries for a few roll-ups, but Belair avoids them. Flair connects with a big spear for a near fall. Flair is furious and grabs the braid before dragging Belair near the corner. Flair goes for a moonsault, but Belair moves. Belair then turns her inside out with an inverted German Suplex for a near fall.
Belair stomps Flair and goes to the top rope. Flair big boots her down on the top rope and goes for a superplex. Belair fights her off and hits a sunset flip powerbomb for a near fall! Belair grabs Flair, who is at ringside, and Flair drives the steel chair into her midsection.
Winner by Disqualification: Bianca Belair
Charlotte Flair remains Raw Women's Champion
Belair smacks Flair in the back a few times with the chair and Raw quickly comes to an end.