Results by Mike Hogan of Rajah.com
November 23, 2021
Orlando, FL – WWE Performance Center
Commentary: Vic Joseph, Wade Barrett & Beth Phoenix
---
Quick Match Results
Tommaso Ciampa defeated Grayson Waller via Fairy Tale Ending
Kacy Catanzaro & Kayden Carter defeated Persia Pirotta & Indi Hartwell via splash by Kacy off of Kayden's shoulders onto Indi
Santos Escobar defeated Malik Blade via Phantom Driver
Cora Jade defeated Mandy Rose via rollup after a distraction by Kay Lee Ray
Ivy Nile defeated Yulisa Leon via dragon sleeper
Briggs & Jensen defeated Grizzled Young Veterans via high/low on Drake
North American Championship Triple Threat Match: Carmelo Hayes (c) defeated Johnny Gargano and Pete Dunne via top rope leg drop on Gargano after Tony D'Angelo attacked Dunne on the outside
---
Tommaso Ciampa vs. Grayson Waller
As we get the usual WWE opening logo, we hear Grayson Waller's voice over the reel of clips as he demands it be stopped. We cut to the ring where Waller runs down Ciampa for not being in the reel, then lays into the Rock and how the people turned on him, followed by Roman Reigns. He praises Roman and runs down the fans, claiming they've all turned their backs on the greats. As he list names, daddy's home.
Ciampa immediately heads to the ring and the ref separates both men. The bell rings and both go at it. Waller constantly shows Ciampa disrespect. The crowd hits several "Ciampa's gonna kill you" chants throughout the match. Ciampa snaps on Waller and beats him into the corner then beats him down to the canvas. Tommaso stomps a mud-hole in Waller as the hot NXT crowd cheers him on and begs for one more time. Waller takes control after tripping Ciampa off the middle ropes and connecting with a neck breaker.
Ciampa looks to take control back with a back drop but Waller has it scouted and hits another neckbreaker. Waller focuses strong kicks on Ciampa's back and neck. Waller uses the ropes to choke Ciampa, much to the chagrin of the ref. Waller uses another choking crank between the ropes as the ref warns and the crowd chants "you suck" at Waller. Waller hits a huge spine buster on Ciampa then pulls off his elbow pad Rock-style and looks to hit a People's Elbow! Ciampa avoids it and fires up his comeback, fighting Waller and sending him flying out of the ring. Waller crashes into the table. Waller has no time to recover as Ciampa takes him out with a running clothesline. Ciampa throws Waller across the commentary desk as the fans flip out and we go to break.
During the break. Throughout the commercial, Waller dominated after taking the lead from Ciampa. Waller uses a running clothesline to great effect and works the neck of Ciampa with a foot choke as the ref warns him yet again Waller slows the pace with working holds. At one point, both men exchange chops and blows, with Waller sending the champ into the mat. Again and again, Waller attempts to choke Ciampa.
Back from the break. Waller leaps off the top turnbuckle but Ciampa counters him, catching the youngster in mid-air with a kick. Both men pick up the pace with each attempting multiple roll ups. Waller takes a beating from Ciampa, including a loud, hard knee strike. Ciampa with a sit-out slam and pin attempt. Waller again goes up top. This time, however, Ciampa follows and the two struggle up top. Waller shrugs Ciampa off but Ciampa runs back up. Ciampa hits an Air Raid Crash off the middle rope! Ciampa covers for a close two. Waller is hanging in there!
Ciampa looks for a Fairy Tale Ending but Waller counters and hits several knees. Unique move from Waller that leaves the champ down. Waller hits a springboard elbow drop for a close two. The crowd breaks out, justifiably, into a "this is awesome" chant. Waller rolls into the ring from the outside, but Ciampa reverses things into a Widow's Bite. Ciampa hits the Fairy Tale Ending and picks up the win.
Winner: NXT Champion Tommaso Ciampa
---
Backstage: LA Knight and Joe Gacy
LA Knight is interviewed and, as usual, cuts a great promo running down Grayson Waller after several weeks of conflict. Joe Gacy walks up and tells Knight that there's always a safe space out there (the ring). Knight snaps on Gacy, telling him he somehow made things perverted, and the interview ends with Knight walking off and creeped out by Gacy.
---
Backstage: Toxic Attraction & Dakota Kai
are you okay, @DakotaKai_WWE? #WWENXT #NXTWarGames @WWE_MandyRose @gigidolin_wwe @jacyjaynewwe pic.twitter.com/TdFvhvWBpK

— WWE NXT (@WWENXT) November 24, 2021
Toxic Attraction arrive and Dakota Kai joins them, walking silently beside them. Rose ignores her and tells the rest of Toxic Attraction that she won't need them out there tonight when she takes on Cora Jade. She tells them that they'll have their hands full with Raquel Gonzalez.
---
In-Ring: Cameron Grimes, Duke Hudson
Cameron Grimes comes out, sporting a different and neater hair style and beard than in times past. It looks really good on him. The crowd chants "to the moon!" over and over to support Grimes. Grimes speaks, addressing all the people who tried to put him down in the past. He states it didn't matter how many times he had to sleep on a concrete floor or scrape together change to eat, "Cameron Grimes holds it down!" The crowd pops big. Grimes states he's made it through the industry, he's become filthy rich, but his hair and beard were grown out to remind himself of when he had nothing. He addresses Duke Hudson–the man who cut Grimes' hair and beard last week–and demands Hudson come out.
Duke Hudson speaks via the tron. He questions why Grimes is mad as last week, he took a lot of money from Hudson in their poker game and a free haircut. He states he was trying to make Grimes look more like a human being than a troll. He declines Grimes' challenge. "Sorry but not sorry!" Grimes replies to Duke, telling him that he's gutless and nutless. Grimes states he wants to go all in. "Duke Hudson, Cameron Grimes. NXT WarGames. Hair versus hair!" The crowd pops and Hudson accepts as he wouldn't mind taking a little more off the top. "You're on. And at WarGames? I'm going to take the rest." He holds up a baggie holding Grimes' hair that Hudson liberated last week.
---
Backstage: Pete Dunne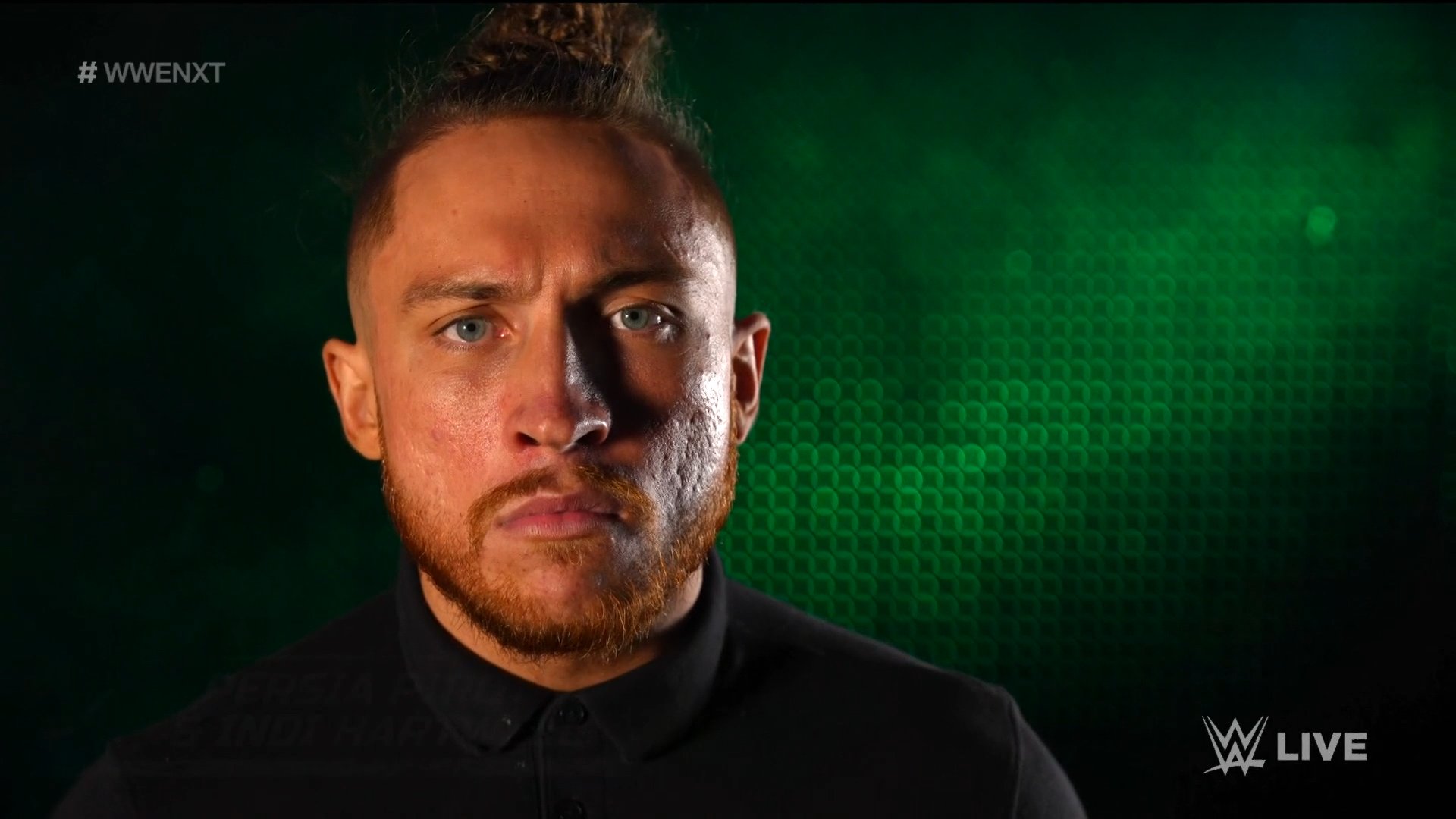 Dunne cuts a promo on Gargano and Hayes for their triple threat match tonight.
---
Backstage: Persia Pirotta & Indi Hartwell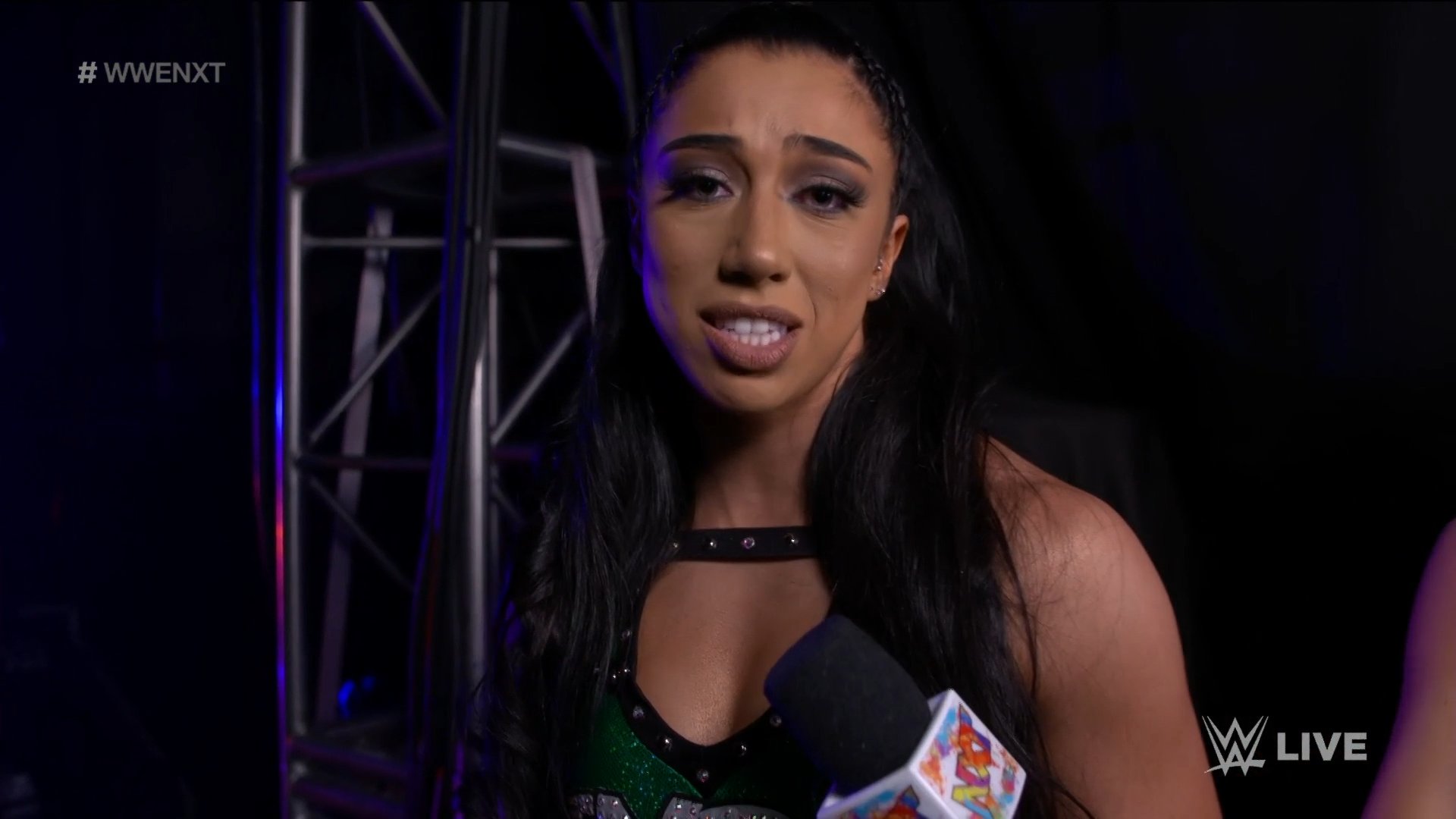 Indi is questioned about Dexter, who had his hand broken last week. Indi is shook up as he can't draw to express himself. Persia offers to fight their match solo but Indi stated she was good to go. We head to break.
---
Video Package: Tiffany Stratton
We see a vignette for Tiffany Stratton, who says her dad has been paying for her tennis lessons and now she has the best serve at her country club, and now her dad thinks she's ready for NXT.
---
Persia Pirotta & Indi Hartwell vs. Kacy Catanzaro & Kayden Carter
When we return from break, Indi and Persia are already in the ring. Kacy and Kayden come out to new techno music and dance to the crowd's liking. We start with Kayden and Persia. Kayden speeds off the ropes, bouncing back and forth across the ring until the powerhouse Persia drops Kayden with a shoulder thrust. Indi looks for a possible Powerbomb but Kayden counters it into a headscissors. Indi and Kayden are legal. Kayden tags in Kacy and the two use the tandem offense they're becoming known for. Kacy covers Indi and Persia enters, pulling Kacy off. Indi counters a whip attempt and sends Kacy into the friendly corner. Persia is tagged in. Kacy unloads on Persia but Persia absorbs it all and hits the Lawn Dart on Kacy.
Indi is tagged in and looks to cover Kacy. Kayden enters, much like Persia did earlier, and interrupts the pin. Persia is tagged back in and rams Kacy into the corner. Kacy fights out of it and Persia tags in Indi. Indi is too focused on her hand and fingers–her mind's on her husband, whose hand and fingers are hurt–and doesn't realize Kacy is legal instead of Kayden. Indi is double-teamed by the duo and KC2 pick up the win.
Winners: Kayden Carter & Kacy Catanzaro
---
Backstage: Andre Chase, Cameron Grimes
Chase is taking his students on a tour of the Performance Center when he sees Cameron Grimes and tells his students that this is a teachable moment. Grimes tells him to go to hell.
---
Santos Escobar vs. Malik Blade
Santos is escorted out by Elektra Lopez, Mendoza & Wilde. After a brief break, his opponent is announced. Malik Blade is already out and we get the bell–we're off! Escobar dominates early on. The youngster Blade impresses in the small spurts of offense he gets but Escobar handily puts him away with a Phantom Driver.
Winner: Santos Escobar
In-Ring: Legado del Fantasma, Kyle O'Reilly & Von Wagner, Imperium
LDF get on the mics and Wilde & Mendoza attempt to make a case for a title shot. Kyle O' Reilly & Von Wagner come out and run down LDF. Imperium show up, in the stands, and insult the crowd and all the Superstars in the ring. Marcel calls Wagner "Lurch" and Wilde & Mendoza "clowns." Imperium informs both teams that neither can stop the Era of Imperium. Fabian tells them that they don't care who wins–whomever does, however, will get a title shot at WarGames!
---
Backstage: Io Shirai, Zoey Stark, Raquel Gonzalez, Cora Jade
Io Shirai, injured Zoey Stark who's also on crutches, and Raquel Gonzalez meet up with Cora Jade. They need a fourth member for the upcoming WarGames. Cora Jade tells the trio to find a fourth while she kicks some "Toxic Attraction ass." We go to break.
---
Backstage: Tony D'Angelo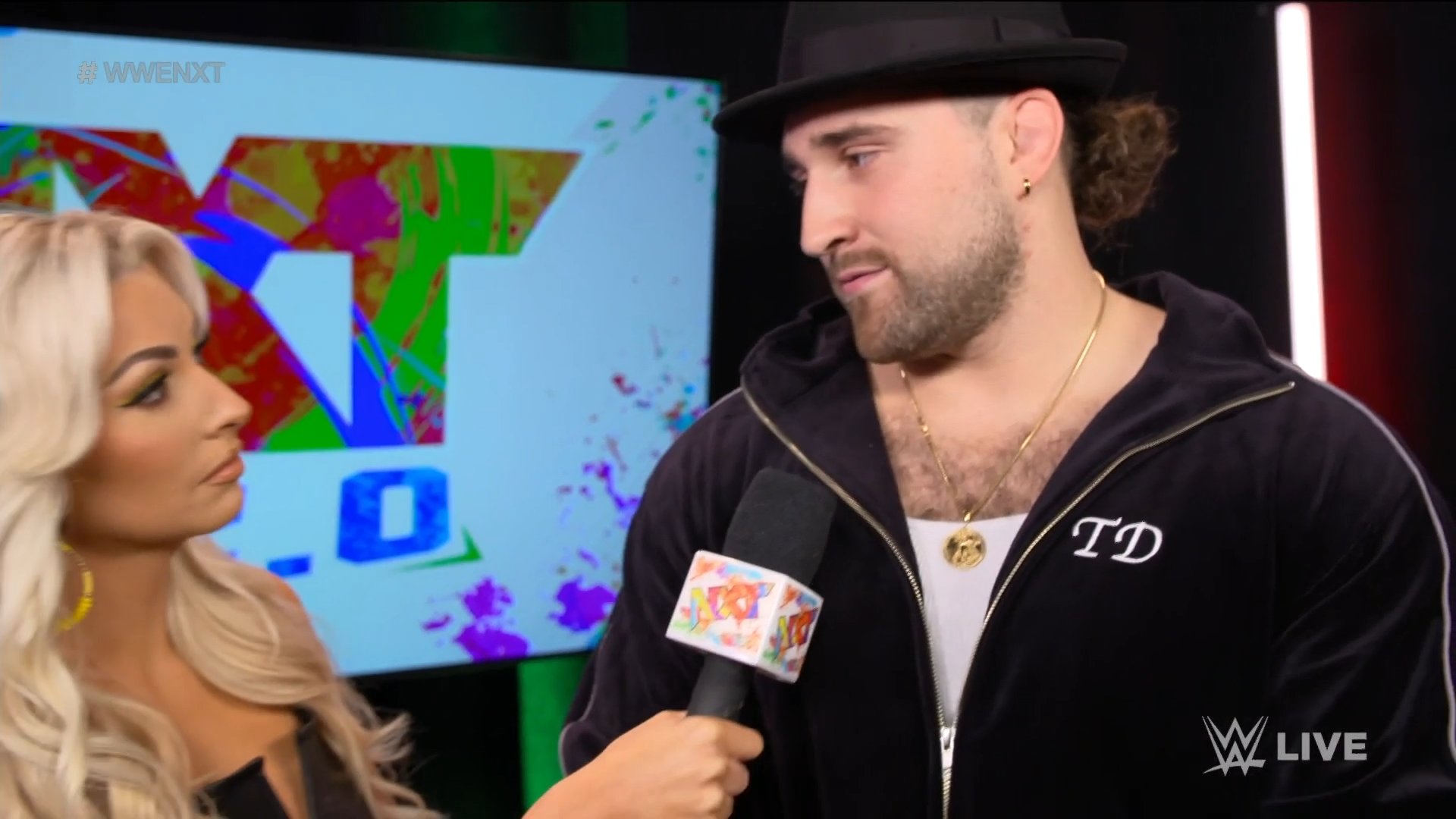 Tony is interviewed and asked about tonight's main event–the triple-threat match for the North American Championship. He then runs down the various odds and offers her chances to place bets with his guy "Hesh" (a nod to The Sopranos).
---
Mandy Rose vs. Cora Jade
Our champ, the toxic yet attractive Mandy Rose, is out first. Next out is Cora Jade with her skateboard. Jade tries to start off hot but the veteran Rose takes control. Rose utilizes working holds, each focused on Jade's neck, and punishes her with a strong suplex. Jade fires up after a few long moments, taking advantage of Rose's cockiness. Jade flies around the ring and takes Rose down with a headscissors. Rose weathers the barrage and takes control, laying out Jade in the middle of the ring. Kay Lee Ray comes out with a baseball bat and breaks a laptop at ringside. Cora Jade uses the distraction to roll up Rose and pick up the huge upset win!
Winner: Cora Jade
---
Backstage: Carmelo Hayes, Trick Williams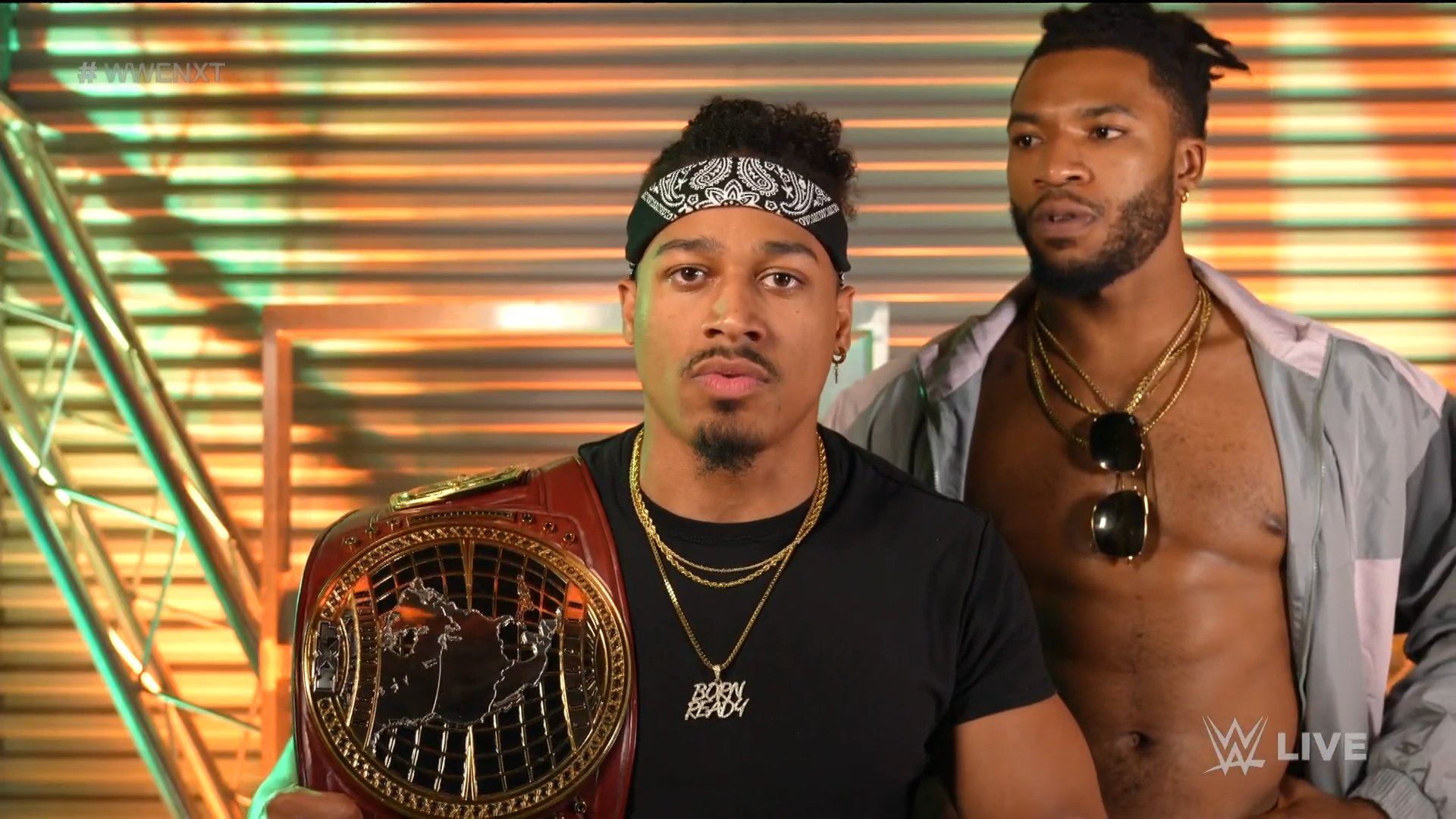 Hayes and Williams cut a promo on Gargano and Dunne.
---
Backstage: Joe Gacy, Harland
Gacy cuts a promo and says he's here to open the eyes of the blind. Harland puts his hand on his shoulder and Gacy holds it.
---
Backstage: Io Shirai, Zoey Stark, Raquel Gonzalez, Cora Jade, Kay Lee Ray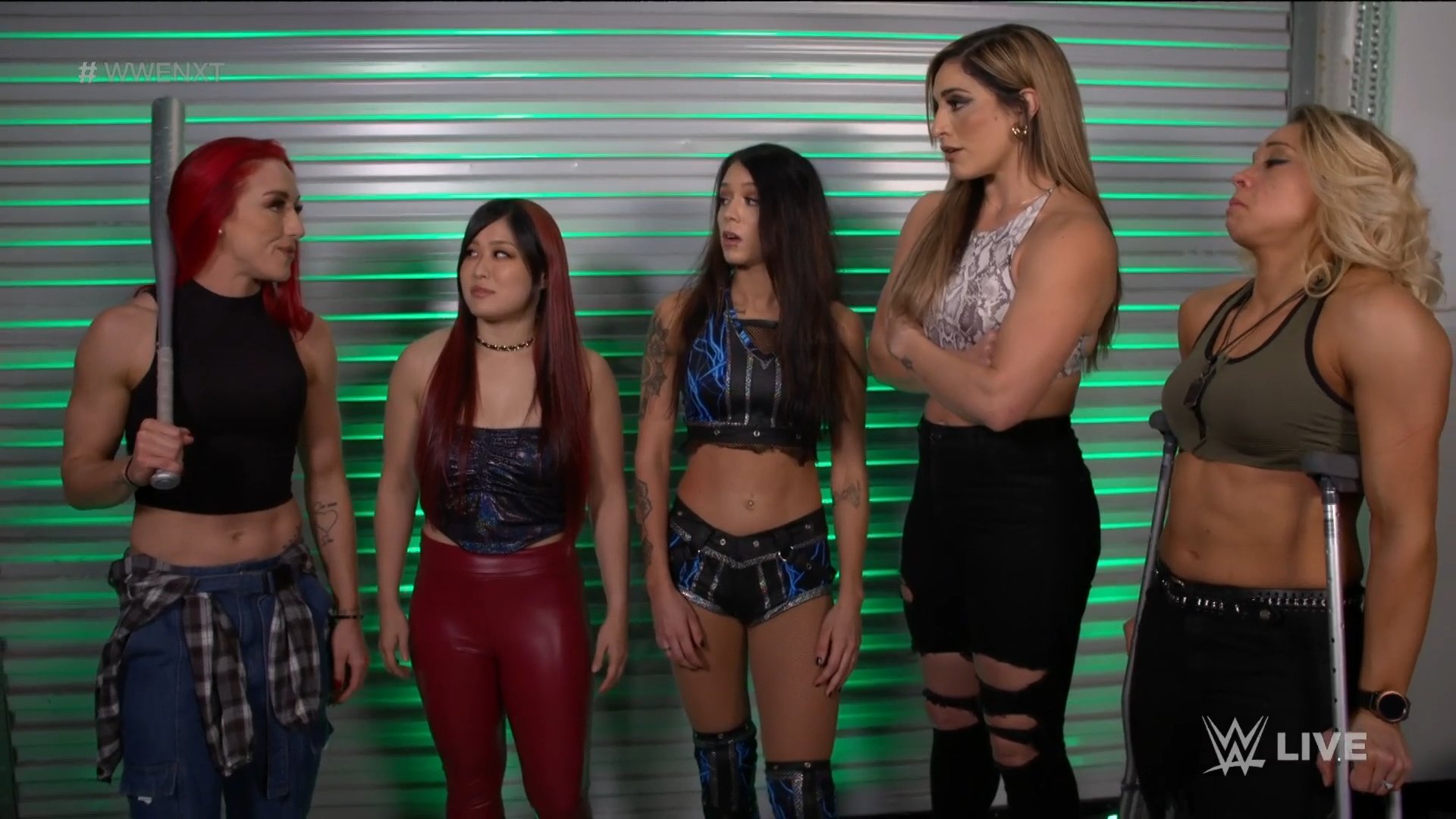 Cora Jade, Io Shirai, Raquel Gonzalez and the injured Zoey Stark are discussing their need of a fourth member. Kay Lee Ray walks up and tells them she's on their team, and she'll win the Advantage Match for them as well.
---
In-Ring: Joe Gacy, Harland, LA Knight, Grayson Waller, Diamond Mine
Joe Gacy is already in the ring when we cut to it. LA Knight makes his entrance, ready for his match against Gacy, but is attacked by Grayson Waller. The two brawl, guided by refs, up the ramp and to the back. Gacy sits on a chair in the ring and "take this time to discuss how we can fix–" Before he can finish his statement, the Diamond Mine arrive! Malcolm Bivens is pissed at Gacy's action last week. He tells Joe that he should take his "thesaurus-green ass and step out of our ring!" Gacy tells Bivens that he has respect for some things, but he does not have respect for Roderick Strong. Joe Gacy claims that Strong's last name is a symbol of toxic masculinity, and states that the Cruiserweight title is also toxic as it contributes to body shaming due to the weight limit. Bivens offers a challenge, Gacy accepts, and we move on.
---
Segment: MSK
MSK are driving to find their shaman when they're pulled over for going too slow. The cop asks them what's in the bag they have, but they're saved by someone else driving by really fast, forcing the cop to follow them instead.
---
Ivy Nile vs. Yulisa Leon
Nile won a quick match via dragon sleeper.
Winner: Ivy Nile
---
Vignette: Solo Sikoa
A vignette airs for Solo Sikoa.
---
Backstage: LA Knight, Grayson Waller
SECURITY!!! #WWENXT @GraysonWWE @LAKnightWWE pic.twitter.com/D0F6nE5hTm

— WWE NXT (@WWENXT) November 24, 2021
Knight and Waller continue to brawl backstage as officials break it up.
---
Vignette: Boa
Boa says Mei Ying passed on her strength and spirit but he cannot control it.
---
Briggs & Jensen vs. Grizzled Young Veterans
Briggs and Jensen start the match in impressive fashion, taking it to the GYV. Jensen likes to showboat and Drake slaps him for it. Drake flees the ring as Jensen follows. Drake slides into the ring and Jensen follows–unaware that Drake made a blind tag! Jensen focuses on Drake until Gibson attacks him from behind. Gibson works Jensen's neck with a variety of holds, yanking it back at one point with an elbow.
Gibson eats a back suplex as Jensen desperately seeks to gain separation. Drake takes the tag in and blocks Jensen. The two lock up and Jensen attempts to power forward. Jensen uses a back body drop to gain freedom and tag in Briggs. Briggs hits the ring on fire and single-handedly takes out both of the GYV. The crowd is hot behind Briggs. Briggs looks for a Powerbomb but Drake floats over. Drake drops to the mat and claims his knee is injured. Briggs finds Gibson on an apron and runs over, knocking him off. He charges Drake in the corner. Briggs tags in Jensen and the duo drive the faux-injured Drake into the mat and hit him with a high/low to pick up the big win.
Winners: Briggs & Jensen
---
North American Championship Triple Threat Match
Carmelo Hayes (c) vs. Johnny Gargano vs. Pete Dunne
Gargano is out first as we head to a break. If Gargano were to win, he'd be the first-ever four-time champion. When we return, Pete Dunne and North American Champion Carmelo Hayes are already down at the ring. Gargano is looking a little more ripped than usual. And, also as usual, Hayes is escorted by Williams. We get the bell and we're off. The crowd is hot this entire match and shoots off several chants.
All three clash. Gargano looks for a GargaNo-Escape but Dunne escapes. Gargano and Dunne engage in a series of move-and-counter-move. Very impressive spot that elicits a cheer from the crowd. Hayes stops the friendly exchange afterwards by attacking both Dunne and Gargano. Dunne drops Melo and looks for a leg submission. Gargano breaks it up. Dunne takes down Gargano and locks both men in a leg submission at the same time! Williams reaches into the ring and drags Hayes out of the move and Dunne eventually loses the hold on Gargano. Carmelo wisely waits outside as Gargano and Dunne go at it. Hayes uses a springboard splash to take down both men and looks for pins on both.
Gargano gets a turn being in control and takes out the Bruiserweight an the Champ at ringside. Gargano hulks up in the ring as we go to a picture-in-picture commercial break. Gargano battles Melo but Hayes takes the lead when eh blocks a springboard spear. Hayes with a springboard strike of his own on Gargano which garners a two-count. Hayes turns his attention to the Bruiserweight. Pete Dunne's having none of it, countering a whip with a Strong Irish Whip of his own. Dunne looks for a modified Dragon leg hold. Hayes approaches and Dunne hits a suplex while still holding the leg lock. Dunne returns to working over Gargano's joints, specifically focusing on his right knee. Dunne reserves big rights for Hayes, sending the champ out of the ring.
Back from the break. Hayes, Dunne and Gargano clash in the middle of the ring. Hayes strikes both with fists. Both men work together to slug Hayes. Gargano and Dunne each hit forearm smashes at the same time. Gargano looks for a dropkick but Dunne drops Gargano and hits him with a running kick. Dunne rushes the champ and locks in an arm submission. Gargano gets back in the mix.
Gargano with a slingshot spear. Dunne attempts a Bitter Ending but Gargano floats over and counters it into a Tornado DDT, covering for a close two! The crowd is on fire. All three Superstars pick up the pace of the match, with each man getting their fair shot at the others. All three rise slowly, exhausted. Hayes charges Dunne who dodges and drops the champ with a kick. Dunne stomps Hayes' elbow. Gargano takes out Hayes with a huge clothesline that sends Hayes flipping in the air and elicits a "holy shit" chant. Gargano takes Hayes down in the corner. Gargano with a kick to Williams, who stands outside the ring. Gargano hits Dunne with a kick and looks for a Slingshot Spear again but Dunne shoves Gargano's face down into the mat! Dunne hits the Bitter End. Tony D'Angelo hits the ring and drags Dunne out, beating him at ringside. This allows Hayes to hit Gargano with a top-rope leg drop and pick up the win
Winner and STILL North American Champion: Carmelo Hayes
Hayes, Williams, Grayson Waller and D'Angelo beat down Gargano and Dunne until Tommaso Ciampa hits the ring, chair in hand. LA Knight joins the fray and helps clear the ring. Bron Breakker comes out to a big pop, gets on a mic and yells "WarGames!" Sirens and klaxons blare loudly as Bron and crew hit the ring. Breaker, Hayes, Waller, and D'Angelo brawl with Ciampa, Knight, Gargano & Dunne as we end our program–and get our men's WarGames teams!