Results by Mike Hogan of Rajah.com
Friday, November 12, 2021
Norfolk, VA – Scope Arena
Commentary: Michael Cole & Pat McAfee
---
Quick Match Results
Six-Woman Tag Team Match: Sasha Banks, Naomi & Aliyah defeated Shotzi, Shayna Baszler & Natalya via roll up by Aliyah on Natalya
Los Lotharios (Angel & Humberto) defeated Shinsuke Nakamura & Rick Boogs via springboard kick and leg sweep combo on Nakamura
Jeff Hardy defeated Sami Zayn via swanton bomb. Zayn was removed from the Survivor Series team as a result of his loss.
King Woods defeated Roman Reigns by disqualification when the Usos interfered
---
In-Ring: Sonya Deville, SmackDown Survivor Series Team
Sonya welcomes the members of the SmackDown women's Survivor Series team. Shayna Baszler gets solid heat, Natalya gets a mixed reaction, Aliyah gets little reaction from the in-house crowd but the digital audience loves her, and Shotzi Blackheart gets a decent reaction from the live crowd while the digital crowd drowns her in boos. Last but never least is the team captain, Sasha Banks, who makes her way down to the ring as Shotzi glares at the Boss. Naomi makes her way out and everyone begins to brawl. The Boss and the Queen of Spades go at it in the ring as the other four women brawl around the outside of the ring. Sonya Deville fails to contain the chaos and summons assistance as we head to break.
Six-Woman Tag Team Match
Sasha Banks, Naomi & Aliyah vs. Shotzi, Shayna Baszler & Natalya
We return from break and this match is official. Sasha Banks and Natalya get a bit heated in their exchange and Baszler comes in. Baszler with a cheap shot to Naomi. Banks streaks over and tags in Aliyah–who's making her SmackDown match debut per Michael Cole–and the two work together to execute a hurricanrana. Cover for a two. Shotzi comes in and takes Aliyah into the heel corner. All three women then begin a circle of tag-in, kick Aliyah for the ref's 5 count, tag-out. This goes on for several moments until Aliyah rolls up Nattie. Natalya kicks out and punishes Aliyah for it. Baszler comes in and attempts a Kirifuda Clutch. Aliyah athletically rolls out of the Clutch and tags in Naomi! Naomi hits the ring and drops Baszler with a dropkick.
Naomi misses a blind tag from Natalya and Baszler. Naomi looks for a springboard onto Baszler and the legal Natalya grabs Naomi's head, slamming her down. Natalya beats Naomi at the ringside, executing a pair of suplexes. Natalya takes it back into the ring and hits a third suplex for a close two. Natalya looks for another but Naomi blocks it. Natalya immediately shuts down any attempt at offense with a speedy clothesline. Natalya sends Naomi outside and distracts the ref. Baszler casually grabs Naomi and sends her hard into the barricade as we go to break.
Back from the break. Baszler drops Naomi as she tags in Shotzi. Shotzi with a running knee to the back followed by a close pin attempt. Naomi tries to bull her way over to her corner but Shotzi forces Naomi back into the corner. Pat McAfee continues to call Naomi "Naiomi" while Cole calls her Naomi. Natalya hits a cheap shot on Naomi as the trio successfully keep the ring cut in half. Baszler is in next and works Naomi's left shoulder with a wrench. Naomi looks to escape and Baszler locks in the Kirifuda Clutch! Naomi drops her legs out from under her, pulling Baszler down into a modified backpack stunner! Naomi with a desperate attack and both women with hot tags! Aliyah comes in and drops Natalya with not one, but two Lou Thesz presses! Aliyah flies all over the ring, being given ample opportunity to show off her agility and athleticism. Aliyah escapes a Sharpshooter attempt. Nattie retaliates with a Michinoku Driver, but Aliyah kicks out! Natalya looks for a Discus strike but Aliyah ducks under it! Chaos ensues during the pin attempt. Sasha Banks hits a Meteora off the apron and onto Baszler; Naomi takes out Shotzi at ringside. IN the ring Natalya locks a Sharpshooter on Aliyah! Nattie holds the middle rope, out of sight of the ref! Naomi spots it and strikes Natalya with a rope whiplash. Aliyah uses the momentum to roll up and pin Natalya! The crowd rewards the rookie with a big pop after a great match that's ending had them all on their feet.
Winners: Aliyah, Sasha Banks and Naomi
---
Backstage: Sami Zayn, Jeff Hardy
Zayn is shown giving his typical fare of a speech. The camera pulls back to reveal he's babbling on to himself in the mirror. Jeff Hardy walks up behind him, blue paint adorning his face. We then catch Roman Reigns with Paul Heyman walking backstage before we head to a break.
---
Backstage: Aliyah, Sonya Deville
Aliyah is asked about her win–her first match on SmackDown, her first win, and her pinning Nattie. Aliyah says she's on cloud nine after being added to the SmackDown Women's Survivor team as well as winning her debut. WWE Official Sonya Deville comes up and informs Aliyah that she has some bad news: Aliyah is no longer on the Survivor Series team. Aliyah is heart broken and Deville offers no excuse as she heads off.
---
Backstage: Roman Reigns, Paul Heyman
Roman insults Kayla when she ambushes Heyman as usual. He tells her that she can only be there for one of four reasons, runs them down, then insults her intelligence. He then tells Heyman to handle the interview and leaves. Heyman goes on to state that Woods will bend the knee for Roman Reigns, or else Roman will bend the knee to King Woods and abdicate his Universal championship. Heyman states its a verbal, and binding, agreement. McAfee and Cole are shocked by this.
---
Shinsuke Nakamura & Rick Boogs vs. Los Lotharios (Angel & Humberto)
Rick Boogs strums the guitar and does call & response with the crowd, firing them up and getting them to welcome Intercontinental Champion Shinsuke Nakamura! The crowd pops big for the champ and his guitar lick-repeating friend. The crowd chants along with the main rhythm of Nakamura's theme as he does his drunken-artist gimmick. We head to break with this match up next, as McAfee flips out on the announce desk as usual when Nakamura & Boogs are out.
Back from the break. Real-life cousins Angel Garza & Humberto Carrillo–now known as Los Lotharios–make their way out and we start with Humberto and Boogs. Boogs sends Humberto into the corner then plays air drums in the ring. Carrillo watches for a moment then charges in. Boogs drops Carrillo with ease, runs across and hits a sliding thrust chop while screaming high pitch. Next Boogs, in a truly impressive display of strength and OP core strength, uses a gut-wrench slam to chain with a continuous gut-lift offensive stretch. Boogs falls victim to a cheap shot from Garza. Carrillo takes Boogs into the corner and Los Lotharios start a series of quick tags and confine Boogs to the Lotharios corner. Garza rips his pants off and hits a basement dropkick right to Boogs head! Garza spends a little too long taunting, and Boogs hoists Garza up in a Razor's Edge formation. Garza escapes but both men go for tags.
Nakamura flies around the ring, sending Garza out of the ring and taking down Carrillo repeatedly. Nakamura with his new sliding mat DDT move. Nakamura gears up for a Kinshasa but Garza rips Carrillo out of the ring. Garza and Carrillo double team Nakamura after taking out Boogs at ringside. Los Lotharios execute a double finisher to pick up the win. The crowd boos loudly.
Winners: Los Lotharios
---
Backstage: Adam Pearce, Von Wagner, Sami Zayn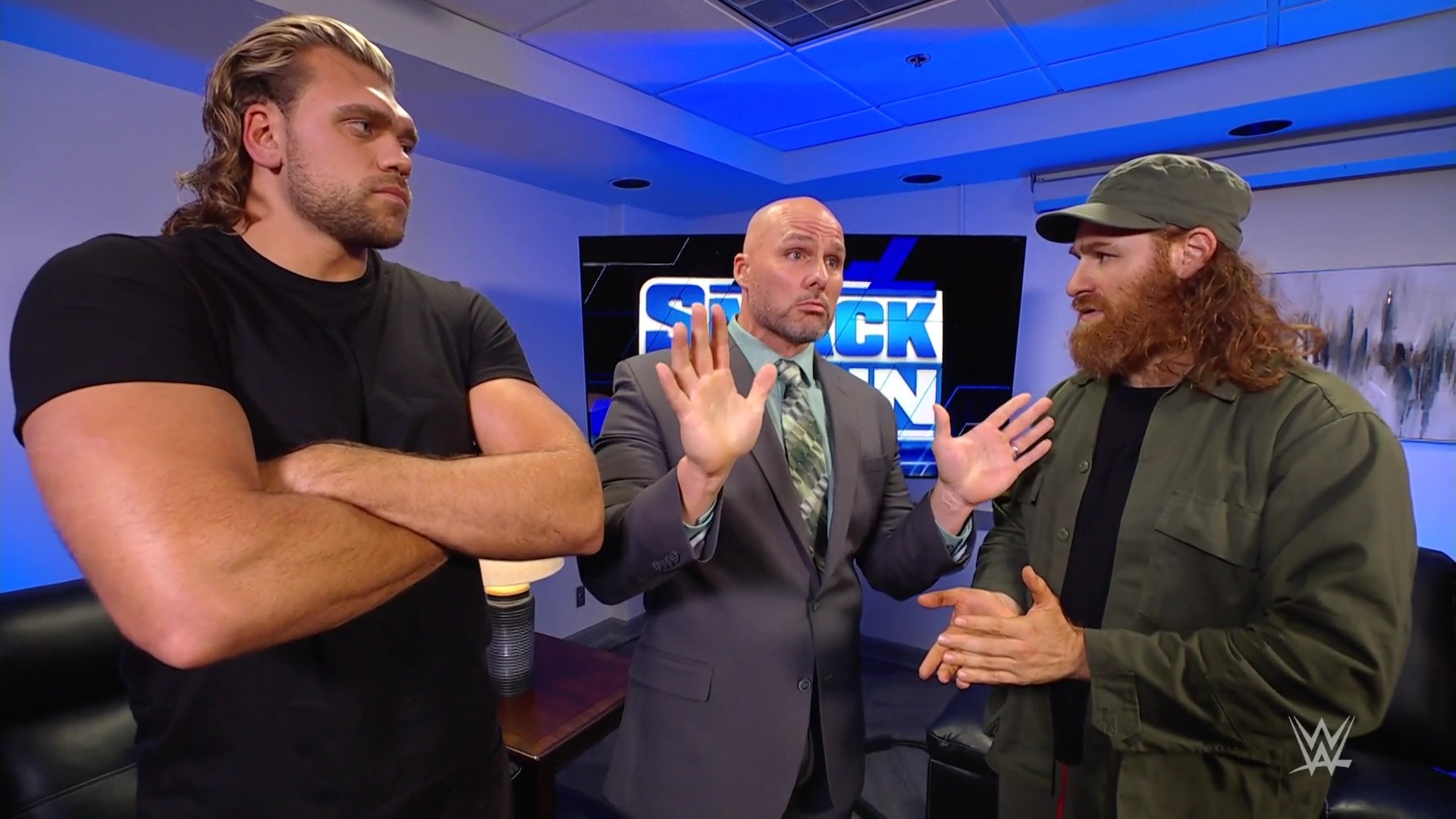 NXT 2.0's Von Wagner, besties with "Cool" Kyle O'Reilly, is now apparently Adam Pearce's bodyguard. Zayn tries to argue that Hardy doesn't deserve to be on the team. Pearce decides Zayn should face Hardy. Zayn tries to object but is intimidated by Wagner.
---
In-Ring: Charlotte Flair, Toni Storm
Flair comes out to a great reaction from the crowd. The piped-in digital crowd boos the Queen, but the flesh-and-blood crowd are behind her. We head to break. When we return, we're reminded that WrestleMania 38 tickets went on sale today and get a quick video hyping the event in Texas today. Afterwards, our Queen is ready to address us. No, not the Queen Zelina Vega or Queen of Spades Shayna Baszler.
The crowd welcomes Flair and she tells the crowd "It's good to see you guys, too!" She then pivots. "Becky Lynch, my Survivor Series opponent, has gone on from being the Lass-Kicker to the Man to Becky Two-Belts to Big Time Becs," she starts, as she claims Lynch has essentially lost her way. She does acknowledge that Lynch won two belts at WrestleMania 35, then beat Belair in 26 seconds at SummerSlam, but after Survivor Series a week from Sunday Lynch will have a new name. She gets the crowd to chant "uh oh" as she says a series of phrases, reiterating that Becky Lynch will be known as "Becky Uh-Oh." The crowd eats it up. Flair points out that two weeks ago, she gave Shotzi a shot and made Shotzi a star. She takes credit for making Lynch a star and states that her new nickname should be the "Star-maker".
Enter Toni Storm to new theme music! Storm points out the hypocrisy from Flair and also points out that Charlotte's not defended her title in a hot minute. She challenges Flair to a title shot later tonight, and the crowd hotly supports this. Flair, therefore, declines to a huge jeer.
---
Backstage: King Woods
"@WWERomanReigns WILL bend the knee…"

SO SAYS THE KING! #KingWoods @AustinCreedWins #SmackDown pic.twitter.com/qCFZ17SPTJ

— WWE (@WWE) November 13, 2021
King Woods, dressed regally, is asked about the bending of the knee tonight. King Woods cuts a great promo, addressing the attack on Kofi last week and Kofi's absence tonight, plus Big E's beatdown on Monday and acknowledges it's been a rough week for the New Day. King Woods then calls himself the Clotter of Bloodlines and pledges to force Roman to bend the knee.
---
Backstage: Aliyah, Mustafa Ali, Ricochet
Aliyah is backstage and on her cell, upset about being removed from the team without a reason. Ali walks up and speaks words without saying anything, it was impressive really. Ricochet walks up next and tells her not to listen to Ali and that she should keep her head up high and keep moving forward.
---
Jeff Hardy vs. Sami Zayn
Hardy comes out to a huge pop. We're told there's a special stipulation: the loser of this match will be removed from the SmackDown Survivor Series team.
After a break, Zayn's out to his new theme and we're ready for our match. McAfee points out Hardy's been wrestling since he (McAfee? Hardy? Both, technically) were in high school. He praises Hardy's veteran legacy. IN the ring, the match is back and forth. Each man delivers a few strikes and attempts a pin before giving way to the other. Zayn finally establishes a brief, early lead as the crowd boos the Great Liberator as he liberates Hardy's face from its face paint. The crowd with a loud chant for Hardy. Outside the ring, Hardy and Zayn battle. McAfee marks out big time for Hardy. Hardy sends Zayn into the barricade. Hardy looks for his patented vaulting steel step leg splash and Zayn moves. Hardy crashes hard into the barricade and we head to break.
Back from the break. During the break, Zayn maintained control over Hardy. As we cut back to the arena, Zayn covers Hardy. Hardy kicks out at two. Zayn slaps on a sleeper on a seated Hardy. The crowd is hot for Hardy, cheering their hero on as we get replays of Zayn clotheslining Hardy. Zayn with another sleeper as Hardy rises. Zayn converts it to a side headlock. Hardy fights free and hits his iconic inverted Atomic Drop and double leg drop combination on Zayn and a senton, covering for a very close two. Hardy heads up top and hits Whisper in the Wind on Zayn! Zayn kicks out at two and the crowd is shocked and coming alive even more! Pat McAfee calls for more vintage Hardy in Survivor series. Hardy looks for a Twist of Fate but Zayn rolls him up. Hardy escapes and Zayn again rolls Hardy up. This time, Zayn places both feet on the middle of the rope! The ref catches him and chastises him. Hardy comes over, hits a Twist of Fate and strips off the shirt. The crowd goes apeshit as Hardy climbs the turnbuckles and hits a top rope Swanton, picking up the win! Sami Zayn is now removed from the Survivor Series team.
Winner: Jeff Hardy
---
Coming Next Week: Xia Li
Soon.#SmackDown @XiaWWE pic.twitter.com/LHJHtV5aMb

— WWE (@WWE) November 13, 2021
Xia Li will debut next week on SmackDown.
---
Backstage: Hit Row, Jinder Mahal, Shanky
Hit Row raps backstage, then elsewhere, Jinder Mahal and Shanky rap in response.
---
Backstage: Ridge Holland, Cesaro
.@RidgeWWE says that he and @WWESheamus will be a better team than #TheBar! #SmackDown @WWECesaro pic.twitter.com/DJLdLxUBwE

— WWE (@WWE) November 13, 2021
Ridge Holland cut another promo stating how Sheamus showed Holland the way and he's proud to follow in his footsteps; Cesaro reminded Holland that they were the Bar, and with Sheamus' "attitude lately, just watch out." Holland then told Cesaro that Sheamus will return next week and that Sheamus & Holland will be better than the Bar ever was. We get more video hype for Survivor Series which is just ten days away.
---
Roman Reigns vs. King Woods
Our Universal Champion makes his way out for our main event and fourth match of the night. As usual, Paul Heyman escorts Roman Reigns to the ring. We're reminded Roman Reigns' reign is at 438 days. Brock Lesnar held the title for 503 days, we're reminded, so don't expect Roman to drop the title for at least 76 days. Roman begins his entrance at 9:36pm. Reigns entered the ring at 9:39pm. He has the Hulk Hogan/John Cena/Roman Reigns crowd effect in full force–they love to cheer him and they love to jeer him. Pat McAfee hails Roman Reigns as being the GOAT. Cole points out that Lesnar may be indefinitely suspended but he is still a looming threat. Roman hoists his title ninety seconds later at 9:40. We head to a break before King Woods' entrance and we're reminded that by the end of tonight, King Woods will either bend the knee to Reigns or Reigns will bend the knee to Woods. Woods makes his way out to his new "bow down" theme and we finally get the bell at 9:46. Both men clash with the bell. Roman leaps up with a big forearm. Woods takes control early on as his speed gives him an advantage. Reigns is left briefly in shock at the speed and voraciousness of Woods. Reigns takes control after a few moments with a big lariat. Reigns takes King Woods outside and slams him into the commentary table with a Uranage. We go to break.
Back from the break. Cole informs us that Reigns has controlled the entire break. Reigns punishes King Woods in the ring, shutting down an attempt at offense and dragging the King into the corner. Reigns fires off a dozen strikes as the ref counts a warning. Woods gets desperate and looks for a shoulder thrust but Roman absorbs it. Woods with a big strike to Roman's left ear and Roman checks it frequently. Woods uses the middle rope to vault into the ring from the apron and hit a low-altitude Tornado DDT.
Both men are down for a few long moments. Both rise and unleash on each other, with Woods firing a flurry of right forearms. Reigns throws a knee. Woods dodges a clothesline, then another! Woods with a Mule kick on a rebounding Reigns and covers for a close two! Woods with a sliding strike and a cover for another two. Woods climbs the turnbuckles but is too slow. Reigns recovers and sends the King crashing down, covering for a two. Reigns posts up in the corner and the crowd chants "ooo-ah!" with the Champ. Woods dodges Reigns' charge and drops Reigns. Woods goes up top and hits a Coast to Coast springboard elbow drop! Woods covers but the Usos pull Woods out! Woods wins by DQ!
Winner by Disqualification: King Woods
The Usos work together to destroy King Woods. They retrieve Woods' crown and Roman kneels in the ring. The Usos carefully bring the Crown into the ring and place it on Roman's head. It looks like a Burger King crown from the 1990's. King Roman Reigns rises and the Usos bow to him as the crowd boos and we fade to black.