Results by Paul Nemer of Wrestleview.com
December 17, 2021
Rosemont, IL – Allstate Arena
Commentary: Michael Cole and Pat McAfee
---
Quick Match Results
Sasha Banks & Toni Storm defeated Shotzi & Charlotte Flair via roll up by Storm on Flair
The Viking Raiders defeated Jinder Mahal & Shanky via top rope splash by Ivar on Shanky
Ridge Holland defeated Cesaro via powerslam after a distraction from Sheamus
Naomi defeated Shayna Baszler via roll up
The New Day defeated The Usos via Trouble in Paradise by Kingston on Jimmy
---
Sasha Banks & Toni Storm vs. Shotzi & Charlotte Flair
Shotzi starts off against Storm. Headlock by Storm, followed by a take down. Both women back up. Arm twist by Storm. Storm tags in Sasha. Shotzi tags in Charlotte. Charlotte and Sasha lock up. Hurricanrana by Sasha. Sasha attempts two pinfalls, but Charlotte kicks out. Toni Storm gets the tag. Charlotte fought back and kicked Sasha from the apron to the outside. Storm takes down Flair face first, 1,2 but Shotzi breaks up the count. Shotzi sends Storm to the outside.
Banks and Storm double suplex Shotzi, cover 1,2 by Shotzi kicks out. Storm tags in Sasha, they double team, Sasha covers,1,2 but she kicks out again. Sasha knocked Flair off the apron. Shotzi hits her from behind and tags Fair. Flair chops banks out of the ring. Banks driven into the barricade. Back in the ring, Flair covers, 1,2 but banks kicks out. Flair applies pressure to the neck of Banks. Flair delivers a backbreaker, covers, 1,2 but she kicked out again. Shotzi gets the tag. Sasha tags in Storm. Storm in control. Flair gets the tag again and drives Toni Storm to the outside.
Storm tags in Banks and Bank goes after Flair. They exchange a couple of moves each. Banks delivers the double knees in the corner, covers 1,2 but Flair kicks out. Both get back up and exchange more shots. Roll up by Sasha, but Flair kicked out. Banks goes to the top rope. Storm tags herself in. Cross body by Storm on Flair, covers, 1,2 but Flair kicked out. Flair lays her out, goes on the top rope, moonsault by Charlotte, but she lands on her feet. Charlotte attempts a backflip, but Storm counters and rolls her up backwards for the win.
Winners: Sasha Banks & Toni Storm
---
Backstage: The New Day, The Usos
King Woods is being treated like royalty in the back. The Usos interrupt. They exchange some verbal jabs. The Usos say that they will beat Woods and Kingston tonight and at Day 1.
---
Backstage: Natalya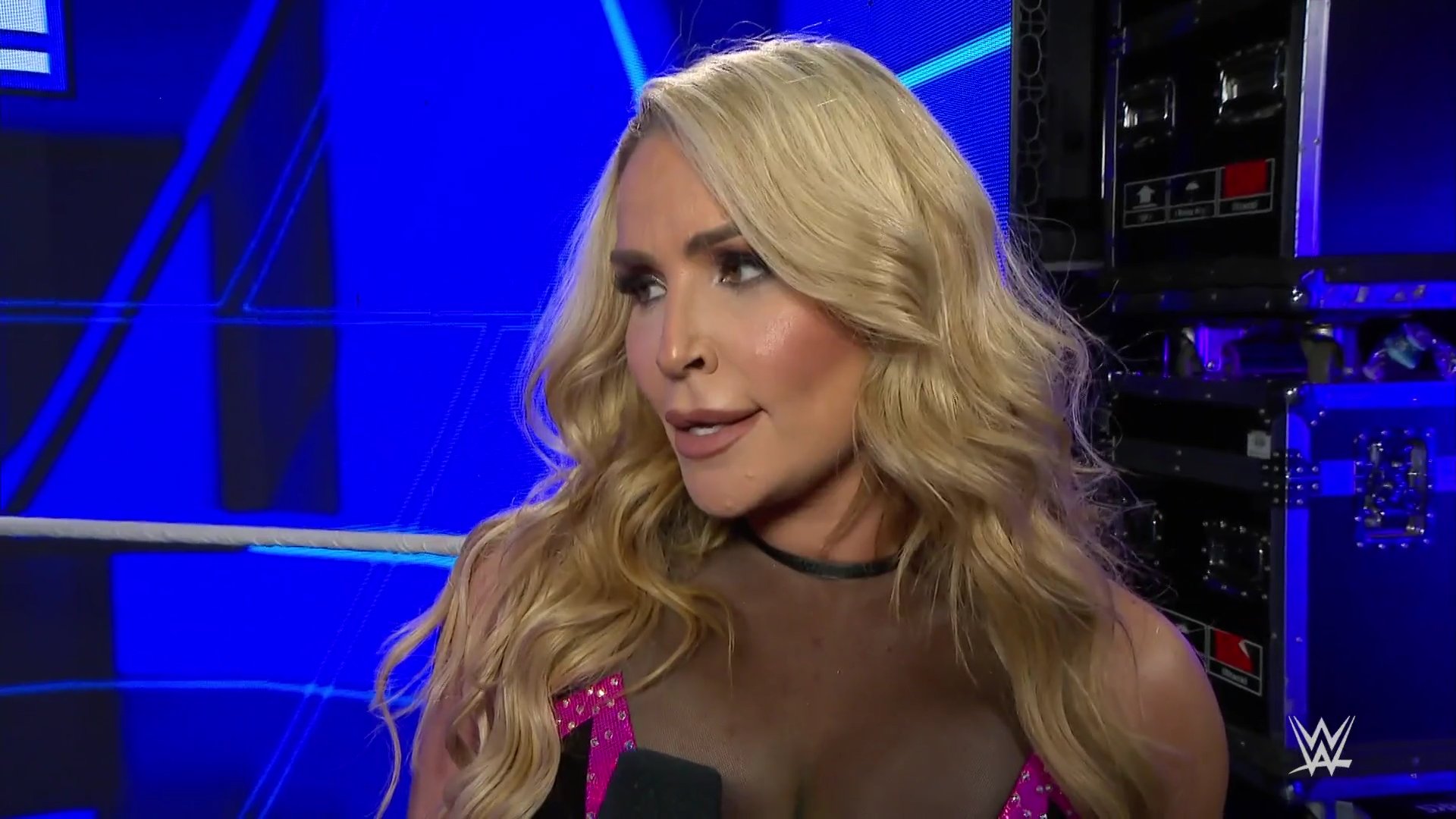 Back from commercial – backstage, Natalya cuts a promo on Xia Li.
---
The Viking Raiders vs. Jinder Mahal & Shanky
The Viking Raiders doing a number on Jinder. Jinder fights back and tags Shanky. Shanky delivers a sidewalk slam on Erik, he covers, 1,2 but Erik kicks out. Shanky has Erik in the corner and delivers a couple of elbows. Shanky is in control. Mahal gets the tag. He is also doing a number on Erik. Erik finally tags in Ivar. Ivar takes down Jinder with a side slam. Clothesline by Ivar. Erik gets the tag and slams Ivar on Jinder and covers, 1,2 but Jinder kicks out. Shanky gets the tag. So does Ivar. The Viking Raiders double team Shanky. Ivar on the top rope and splash on Shanky for the win.
Winners: The Viking Raiders
---
Backstage: Happy Corbin, Madcap Moss
A clip from last week's Smackdown was shown where Adam Pearce confronted Drew McIntyre about his sword. Where Drew eventually put the sword right through a desk.
Happy Corbin and Madcap are shown this week with the desk that has Drew's sword stuck in it.
---
Parking Lot: Paul Heyman, Brock Lesnar
#TheBeast is here!!!#SmackDown @BrockLesnar @HeymanHustle pic.twitter.com/wXAqVGkk41

— WWE (@WWE) December 18, 2021
Paul Heyman is shown in the parking lot seeing a car door open thinking is was Roman Reigns. Brock Lesnar came out. Heyman tells him he was expecting somebody else. Lesnar replies "Maybe Roman…Good luck with that."
---
In-Ring: Happy Corbin, Madcap Moss, Drew McIntyre
Corbin welcomes us to Happy Talk. They have the desk with them. If you're happy and you know it, clap your hands… He sad that they have a new addition to Happy Corbin, referring to Drew's sword. He says that for him it can be used as a cigar cutter, cutting your nails with it… Corbin asks Madcap for a joke. He tells off a few jokes about Drew. Corbin says that he wants Madcap to have the sword, it's his gift to him. Madcap attempts to take the sword out of the table, but he couldn't. Corbin tries and he couldn't either. Drew's music hits and he makes his way out.
Drew gets in the ring, while they are both still trying to get the sword out. He asks them if they are having some performance issues. Madcap attacks him, but Drew fights back and throws him to the outside. He knocks down Corbin. Drew takes out the sword from the desk. Segment ends with Happy Corbin and Madcap at ring side looking at Drew holding the sword.
---
Backstage: Sami Zayn, Adam Pearce, Sonya Deville
A Gauntlet Match next week to determine the No. 1 contender to the #ICTitle??!?#SmackDown @ScrapDaddyAP @SonyaDevilleWWE @SamiZayn pic.twitter.com/OnzzuNZkKI

— WWE (@WWE) December 18, 2021
Sonya and Adam are talking to Sami Zayn. Sami says that he earned a Universal championship match. Blames Lesnar. He said he was robbed last year from the Intercontinental title. Next week they put Zayn a Gauntlet match with 11 other men and the winner gets a shot at the WWE Intercontinental championship.
---
Cesaro vs. Ridge Holland
Holland attacks Cesaro from behind before the bell rang. Cesaro is down and rolls to the outside standing in pain.
Cesaro gets back in the ring and the match officially starts. Cesaro has his ribs taped up. Holland in control over a hurt Cesaro. Abdominal stretch by Holland. Cesaro ends up fighting back and delivers a back suplex. Delivers a few blows in the ring, then gets sent to the outside. Cesaro uppercuts Holland on the outside. Cesaro tosses him back in the ring. Sheamus distracts Cesaro. This allowed Holland to deliver a powerslam for the win.
Winner: Ridge Holland
---
Backstage: Drew McIntyre
Drew McIntyre is shown backstage looking for Corbin.
---
Naomi vs. Shayna Baszler
Naomi says that every year she makes a Christmas list. This year, what's on her list is to face Sonya DeVille one on one. She calls Sonya out Sonya comes out and says that this is so unprofessional. When she has the suit on, she cannot touch her. Sonya says that she has another opponent for her. She has someone who is far more superior, Shayna Baszler. Shayna attacks Naomi from behind. She goes after Naomi's left knee. Sonya asks the referee to ring the bell.
Shayna got a bit cocky early in the match, and Naomi rolled her up quickly for the win.
Winner: Naomi
---
Backstage: Happy Corbin, Madcap Moss
.@DMcIntyreWWE vs. Madcap @riddickMoss at #WWEDay1???#SmackDown @BaronCorbinWWE pic.twitter.com/Qyd0BwmqcX

— WWE (@WWE) December 18, 2021
Happy Corbin and Madcap are shown hiding and then they get interviewed. Corbin says that Drew McIntyre will lose against madcap at Day 1. Madcap wasn't too happy that Corbin had made the match.
---
The New Day vs. The Usos
Jey Uso started off against Kofi. They exchange a few moves. Chops by Kofi, and Jimmy tags himself in. Jimmy hammers away on Kofi. Sleeper lock by Jimmy. Kofi delivers a superkick and crawls to make the tag, but the official did not see the tag. Usos double teamed Kofi. Usos in control.
Kofi finally tags in King Woods. Clothesline by Woods. Russian leg sweep by Woods. Woods sends Jimmy over the top rope. Woods goes on the top rope and delivers a leg drop and covers, 1,2 but Jimmy kicks out. Kofi tags himself in and all four men are going at it. Jey delivers the superkick on Kofi, covers, 1,2 but he kicks out. Jimmy gets the tag and goes on the top rope, but the referee didn't see it. Usos argue the referee. Usos being distracted, this allowed Kofi to deliver a spinning kick to the head and get the win.
Winners: Kofi Kingston and King Woods
---
In-Ring: Roman Reigns, Paul Heyman, Brock Lesnar
Roman Reigns is shown arriving to the building with Paul Heyman being right there to greet him. We go to commercials.
WWE Universal Champion Roman Reigns comes out with Paul Heyman. The Usos join them in the ring. Heyman hands Reigns the microphone. "Chicago, acknowledge me!"
Reigns says that he doesn't like it when his cousins lose. "You know that right Jay? But we're family." Roman points to Heyman and says "But you, you're not my blood." Reigns tells Heyman that he cannot have people disrespect him. Reigns has a few questions. "Can I trust you wise man?" Reigns asks Heyman is he knew that Brock was going to be at SummerSlam and Brock's suspension was going to be lifted? Fans chanted "You screwed up." Reigns says "You're damn right he screwed up." Reigns asks him "Are you a special council or are you an advocate?" This whole time, Paul Heyman was quiet. Heyman has his hand on his face and his eyes closed. "Before you say anything, I want you to acknowledge me with the truth. Are you protecting Brock Lesnar?"
Paul Heyman says "My Tribal Chief, I am not protecting Brock Lesnar from you. I am protecting you from Brock Lesnar" Roman Reigns and Heyman hug, then Reigns fires Paul Heyman and delivers the Superman punch.
Roman gets a steel chair and puts it under Heyman's head. He grabs another chair and Brock's music hits and he walks out. The Usos run to attack Lesnar and they get mauled by Brock. F5 on both of them.
Lesnar gets in the ring and Reigns starts hitting him with the steel chair multiple times. Lesnar grabs Reigns and delivers the F5. Lesnar picks Roman up again and delivers another F5. The show goes off the air.