Results by Mike Tedesco of Wrestleview.com
January 10, 2022
Philadelphia, Pennsylvania (Wells Fargo Arena)
Commentary: Jimmy Smith, Corey Graves, and Byron Saxton
---
Quick Match Results
Raw Tag Team Championship: Alpha Academy defeated RK-Bro (c) via World's Strongest Slam by Otis on Orton – New Champions
6-Man Tag Team Match: Apollo Crews, Dolph Ziggler & Robert Roode defeated Damian Priest & The Street Profits via Zig Zag by Ziggler on Dawkins
Seth "Freakin" Rollins defeated Big E via the Stomp
Omos defeated Nick Sanders via tree slam (squash match)
AJ Styles defeated Austin Theory by disqualification when Grayson Waller attacked Styles
#1 Contender Triple Threat Match: Doudrop defeated Bianca Belair and Liv Morgan via Bonzai Drop by Doudrop on Morgan after Becky Lynch cost Belair the win
---
In-Ring: Brock Lesnar, Paul Heyman, Bobby Lashley, MVP, Hurt Business
WWE Champion Brock Lesnar makes his way to the ring alongside his advocate, Paul Heyman, to a huge response from the Philadelphia crowd.
Bobby Lashley and MVP are shown watching backstage. Cedric Alexander and Shelton Benjamin come up to them and say they're glad to see Lashley back. Lashley says there is no more Hurt Business. The All Mighty works alone. They need to get out of here because he works alone.
Lesnar and Heyman are in the ring. "Ladies and gentlemen, my name is Paul Heyman, and tonight, as his advocate, I have the honor and privilege to present to you the reigning, defending, undisputed WWE Heavyweight Champion of the World, Brock Lesnar!" Lesnar is pumped up and shouts, "Phila-FREAKIN-delphia!"
Before Lesnar can say much more, Bobby Lashley's music hits. Lashley and MVP come out to the ring. MVP says it is his honor to present to you "The All Mighty" Bobby Lashley. Lashley says it is an honor to finally be able to stand in the ring with Brock Lesnar. It is an honor to share this spotlight with Lesnar. As one super athlete to another super athlete, it is an honor to be able to look Lesnar right in the eye and, with all due respect, tell him that for 20 years Lesnar has been ducking and running from him. Lesnar laughs at Lashley. Lesnar says with all due respect, it's an honor for him to be in the ring… with himself. Lesnar apologizes because, for the last 20 years, he's been winning championships in this ring and other rings. This doesn't fall on him. It falls on Lashley. Lesnar didn't have a clue who he was until he met him at Day 1. It's Lashley's fault for not climbing the ladders of success and not entering the same arenas he's been in. If Lashley had done that, they'd have already met and Lesnar would have already beaten him… with all due respect! Lesnar says Lashley and MVP are dressed really fancy.
Lashley chuckles and says Lesnar is a comedian. Lashley says at the Royal Rumble when he beats Lesnar for the title and Lesnar starts a tour as a stand-up comedian, they'll be in the front row because he's funny. Lesnar says he's funny AND he's money. Lesnar calls Heyman over and says, "Knock, knock." Heyman says Lesnar is doing a "knock-knock" joke in Philadelphia and he thought he had seen it all. Heyman asks who is there. Lesnar says, "Bobby." Heyman asks, "Bobby who?" Lesnar says, "Exactly!" The crowd laughs and chants, "Bobby who?" Lesnar says it's impossible to beat him and it's more impossible to beat him when Lashley is a Brock Lesnar wannabe. Lesnar drops the microphone and walks off with Heyman. Lashley looks insensed.
Cedric Alexander and Shelton Benjamin attack Lashley from behind. Lashley immediately fights them off and crushes Alexander with a one-armed spinebuster. Lashley goes outside, lifts Benjamin, and drives him headfirst into the ring post. Lashley then drives Alexander into the barricade before lifting him and driving him headfirst into the ring post. Lashley leaves Alexander and Benjamin down in a heap at ringside. Lashley has a cut on his left cheek.
---
Backstage: RK-Bro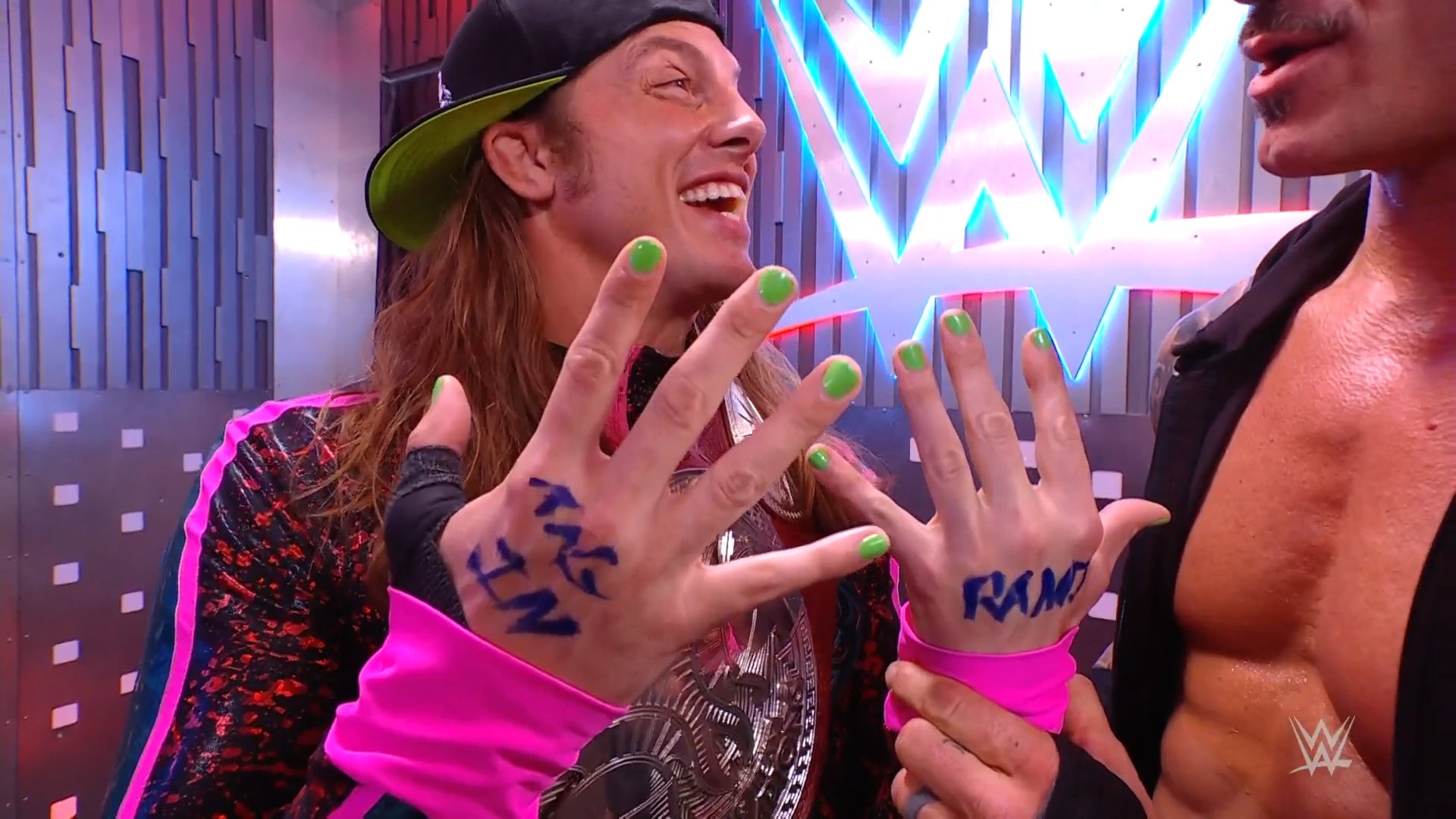 A replay is shown from last week's Raw of Alpha Academy defeating RK-Bro in a non-title match.
Riddle is backstage when Randy Orton walks up to him. There's loud audio feedback heard. Orton says they lost to Alpha Academy last week because Riddle didn't tag him in. Tonight, they have a second chance, but the stakes are higher because the titles are on the line. They have to face an Olympian in Chad Gable and a tree trunk in Otis. Orton says he has an idea if Riddle gets lost out there. Orton starts to explain, but Riddle gets lost again. Orton grabs a marker and writes on the top of Riddle's hands, "Tag in Randy." Orton goes to walk off, but he knows Riddle wants to say something. Riddle wants to go out for cheesesteaks after the show. Orton says he likes Geno's Steaks for a Philly Cheesesteak.
---
Raw Tag Team Championship
RK-Bro (c) vs. Alpha Academy
It's Riddle starting against Chad Gable. They lock up, and Riddle applies a waistlock. Gable twists out and hits a drop-toe-hold before floating over to a front face lock. Riddle twists out and hits a waistlock takeover. Gable quickly rolls into the ropes and gets to his feet. They lock up again, and Gable immediately wrenches the arm before hitting a snapmare. Gable applies a chin lock and cinches it in. Riddle finally twists out and goes for an armbar, but Gable grabs the bottom rope to break it. The crowd is pumped up. Gable punches Riddle and whips him to the corner, but Riddle slingshots over him and kicks him high in the chest. Riddle connects with a Broton, and Gable rolls out of the ring. Riddle goes to the apron and hits a running PK. Riddle this a springboard twisting moonsault to the floor before posing with Orton!
We come back from the break to see Gable taking it to Riddle. Riddle comes back with a roll-up for a two count. During the break, Gable hit Riddle with a dragon screw off the second rope. Gable hits another dragon screw and tags Otis in. Gable shoulders Riddle before Otis clotheslines him down. Otis lifts Riddle, but Riddle slides off. Riddle knocks Gable off the apron and hits Otis with a top rope Floating Bro.
Orton and Gable tag in. Orton gets a HUGE reaction. Orton hits a trio of clotheslines and kicks Otis. Orton then hits Gable with a snap powerslam. Orton puts Gable on the apron before snapping Otis off the top rope. Gable gets out of a hanging DDT by snapping Orton off the top rope. Gable goes to the top rope, but Orton crotches him up there. Orton grabs Gable and connects with a top rope superplex. Riddle gets the crowd fired up as Orton drops down. Otis goes to grab him, but Orton gets away. Riddle goes after Otis, but Otis floors him with an elbow. Orton ducks Gable and Gable hits Otis, inadvertently tagging him in. Otis blindsides Orton and hits him with a HUGE front slam for the win! New champions!
Winners by Pinfall and new Raw Tag Team Champions: Alpha Academy
---
Backstage: Damian Priest, Street Profits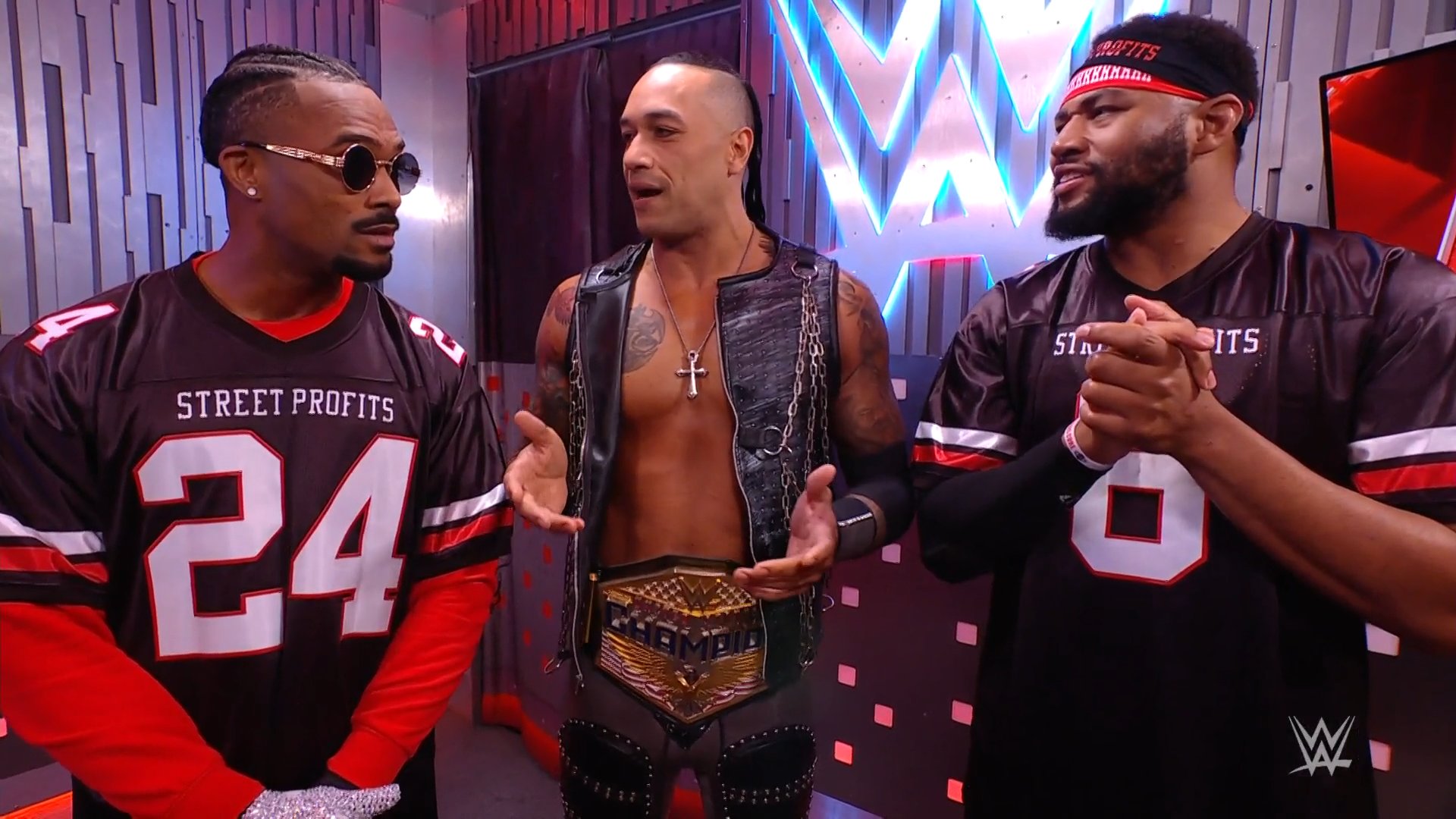 WWE United States Champion Damian Priest officially declares himself as entered into the Royal Rumble.
Damian Priest is backstage with The Street Profits. Priest says in a month it'll be every man for himself, but he's glad they have his back against The Dirty Dawgz and Apollo Crews. Montez Ford wonders what side of Priest they're going to see. Priest says Ziggler, Roode, and Crews have been beaten by both sides.
---
Backstage: Bianca Belair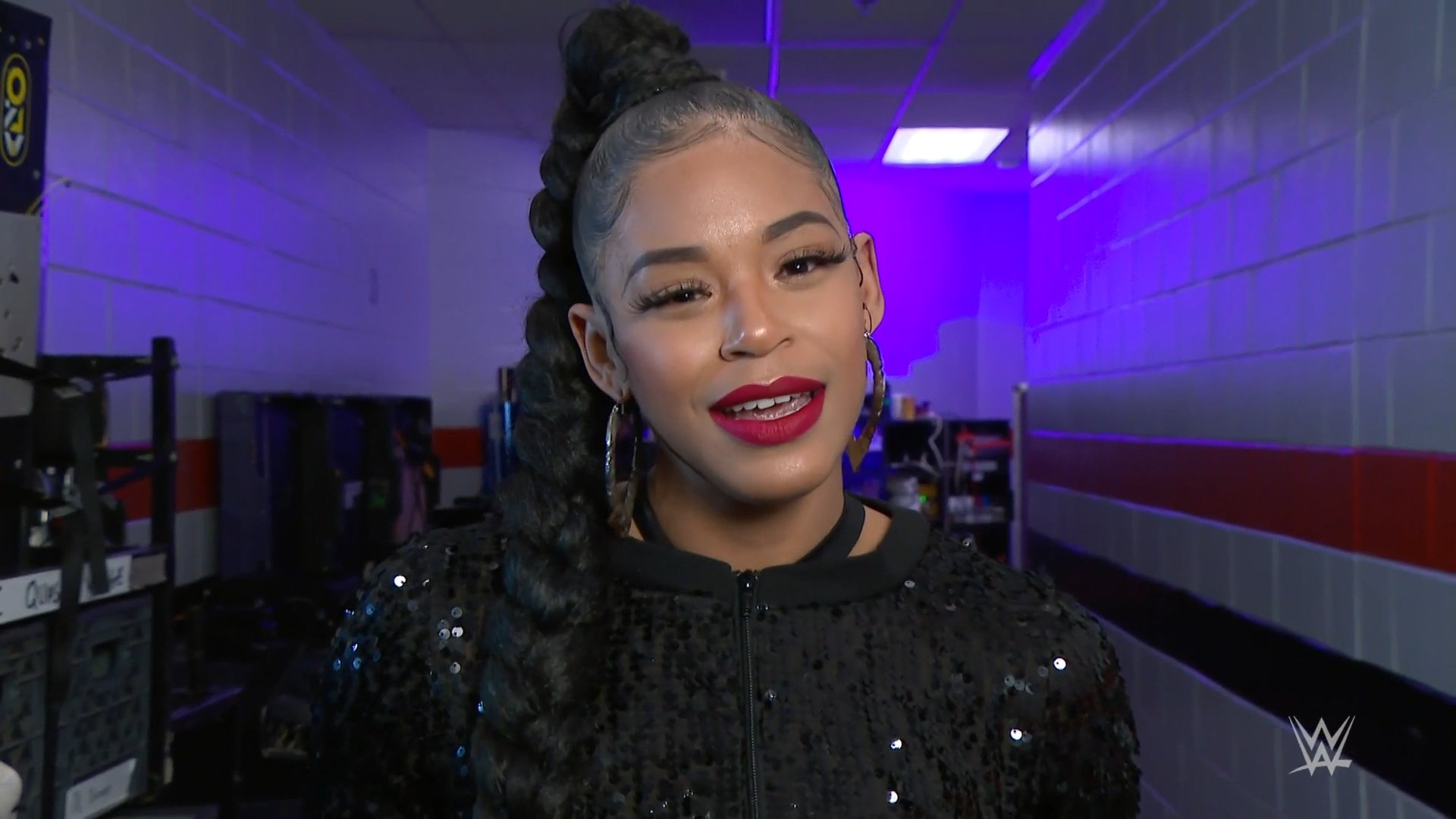 Bianca Belair is shown backstage. Belair says she proved why she's the greatEST and strongEST when she won the Royal Rumble and won the main event of WrestleMania. Last year, she won the Royal Rumble. They year, she's walking out of the event as the champion when she beats Becky Lynch for the title. All she has to do is beat Doudrop and Liv Morgan.
---
6-Man Tag Team Match
Damian Priest & The Street Profits vs. Apollo Crews, Dolph Ziggler & Robert Roode
Montez Ford starts against Apollo Crews. Ford does some flips and dropkicks Crews for a one count. Crews quickly attacks Ford and tags Dolph Ziggler in. Ziggler attacks Crews and taunts Damian Priest. Ford quickly rocks Ziggler with a right hand. Ziggler, it should be noted, has a beard. Ziggler misses an avalanche in the corner. Priest tags in and punches away at Ziggler. Priest hits Ziggler with a flapjack before fighting off Robert Roode, who tried to interfere. Priest then knocks Crews off the apron. Priest hits Ziggler and Roode with running back elbows. Priest goes for a Broken Arrow on Ziggler, but Roode pulls him away. Ford and Dawkins knock Roode and Crews away. Priest then wipes out Ziggler with a big clothesline.
We come back from the break to see Crews military pressing Ford up in the air. Crews drops him down and hits a standing moonsault for a near fall. Ziggler tags in and punches Ford. Ziggler taunts Priest and hits Ford with a big dropkick for a near fall. Ziggler applies a modified chin lock to Ford. Ziggler kicks him and goes for a Zig-Zag, but Ford counters into a powerbomb.
Roode and Dawkins tag in. Dawkins runs wild and floors Roode with a big back elbow. Crews runs in, but Dawkins hits him with an exploder. Ziggler meets the same fate. Dawkins hits Roode with a facebuster before hitting him with an avalanche. Dawkins hits a neckbreaker, but Crews breaks it up. Priest knocks Crews out of the ring and sets up for a powerbomb, but he's distracted by Azeez. Ford wipes out Crews and Azeez with a somersault senton. Roode rolls Dawkins up in the ring for a near fall. Dawkins attacks Roode, but Ziggler blind-tagged in and hits a Zig-Zag for the win.
Winners by Pinfall: The Dirty Dawgz and Apollo Crews
---
In-Ring: Seth Rollins, Big E
Seth "Freakin'" Rollins is in the ring in a wild fur coat. Rollins is fired up and excited for the Royal Rumble. Is he excited because two nincompoops in Brock Lesnar and Bobby Lashley are going to punch each other and fall over? Nah. Maybe it's the fact that 30 men and women will compete in two Royal Rumbles for a shot at WrestleMania? That's not bad, but no. He's excited because it's the night he will become the new Universal Champion. It'll be the Visionary vs. The Tribal Chief. The Revolutionary vs. The Head of the Table. Brother vs. Brother. It's Roman Reigns vs. Seth "Freakin'" Rollins.
How did Seth Rollins get this title match after being screwed at Day 1? Did he get an advocate or a special counsel? He doesn't need a penguin-looking snake oil salesman to represent him. He's Seth "Freakin'" Rollins. There are a few things that are certain. Death, taxes, and Rollins beating Reigns every single time.
Big E makes his way to the ring and sarcastically says this is incredible news. Big E says he is as excited as Gritty would be after a big Flyers win. Rollins doesn't know who Gritty is. Big E says he is officially in the Royal Rumble match. Big E is going to WrestleMania to win a title. Rollins says if Big E wants to face him for the title, he'll beat him anytime. Big E says they should do it tonight. Rollins says he'd rather wait for a better town. Big E goads him into the match and Rollins agrees.
Seth "Freakin" Rollins vs. Big E
They lock up, and Big E applies a side headlock. Rollins whips him off and drops down before hitting a dropkick. Big E falls into the ropes. Big E drops down and leapfrogs him before hitting a belly-to-belly side suplex. Big E hits the ropes, but Rollins boots him back. Rollins knocks him out of the ring and hits a suicide dive. Rollins gets in the ring for a second one, but Big E forearms him back. Big E puts Rollins on the apron and sizes him up. Big E then pancakes him with a big splash on the apron.
We come back from the break to see Big E puts Rollins in the ring. They exchange chops, but Big E soon tosses him with a belly-to-belly before turning him inside out with a whip to the corner. Rollins soon slingshots over him and drops him with a DDT. Rollins knocks Big E out of the ring and floors him with a diving knee to the head off the apron. Rollins gets Big E in the ring and comes off the top rope with a flying knee to the face. Rollins applies a chin lock to the former WWE Champion. Big E fights up, but Rollins knocks him back to the corner. Rollins charges, but Big E connects with a uranage.
Big E comes back with a pair of clotheslines. Rollins head-butts out of a suplex and charges, but Big E sends him to the apron. Big E hits the ropes and spears him off the apron!
We come back from the break to see Big E get out of a rest hold from Rollins to hit a pair of overhead belly-to-belly suplexes. Big E then hits a belly-to-belly side suplex. Big E gyrates in the ring and hits a big splash. Big E starts to clap his hands and goes for a Big Ending. Rollins slides out and escapes a uranage. Rollins elbows him in the face and tries for a suplex. Big E won't budge. Rollins soon comes back with a step-up enzuigiri before rolling him up for a two count. Rollins superkicks him for another two count. Rollins finally hits a frog splash for yet another near fall. Rollins sets up for a Stomp, but Big E counters into a powerbomb for a two count. Big E immediately transitions into a Stretch Muffler. Rollins punches out and elbows him in the face. Rollins hits the ropes, but Big E hits a Bossman Slam for a near fall. Big E cannot believe it.
Big E goes for another spear off the apron, but Rollins knocks him back. Rollins goes to the top rope, but Big E cuts him off. Big E goes for a Big Ending off the second rope, but Rollins fights out of it. Rollins misses a diving knee. Big E goes for a Big Ending, but Rollins gets out and goes for the Pedigree. Big E gets out of it, but Rollins attacks and elbows him in the back of the neck. Rollins connects with a Stomp for the win!
Winner by Pinfall: Seth Freakin' Rollins
---
In-Ring: Rhea Ripley, Nikki A.S.H.
Rhea Ripley and Nikki A.S.H. are in the ring with Sarah Schreiber. Shreiber asks about a big announcement. Nikki says they are challenging Carmella and Queen Zelina for the WWE Women's Tag Team Championship again. Ripley looks disconcerted and says that's not what they talked about. Schreiber says they're not on the same page. Ripley goes to speak, but Nikki cuts her off. Ripley says they shouldn't do this out here. Nikki says they're going to do this right now.
Ripley says it's time for them to go their separate ways. Nikki doesn't understand and asks if it's because she was the one that got pinned last week. Ripley wants to do this civilly and says Nikki is making her uncomfortable. Nikki says Ripley made her believe in herself. Ripley says she still believes in Nikki and hopes Nikki never stops. They hug in the ring. Nikki poses on the ropes. Ripley goes for a fist bump, but Nikki cheap shots her and punches away at her. Nikki walks off and says superheroes don't need friends.
---
Backstage: Dana Brooke, Reggie, R-Truth, Akira Tozawa, Tamina, Omos
WWE 24/7 Champion Dana Brooke is backstage when Reggie walks up with cheesesteaks. Reggie says the title is in danger. R-Truth walks up and asks what ingredients they got. Akira Tozawa pops out of a garbage can. They throw a cheesesteak and it hits Tamina. Reggie and Dana Brooke run away. Reggie bumps into Omos, and Omos angrily lifts him up. Dana yells at Omos to drop him. Omos tells Reggie to watch what he does tonight because it'll be worse next week.
Omos makes his way to the ring.
---
Backstage: Doudrop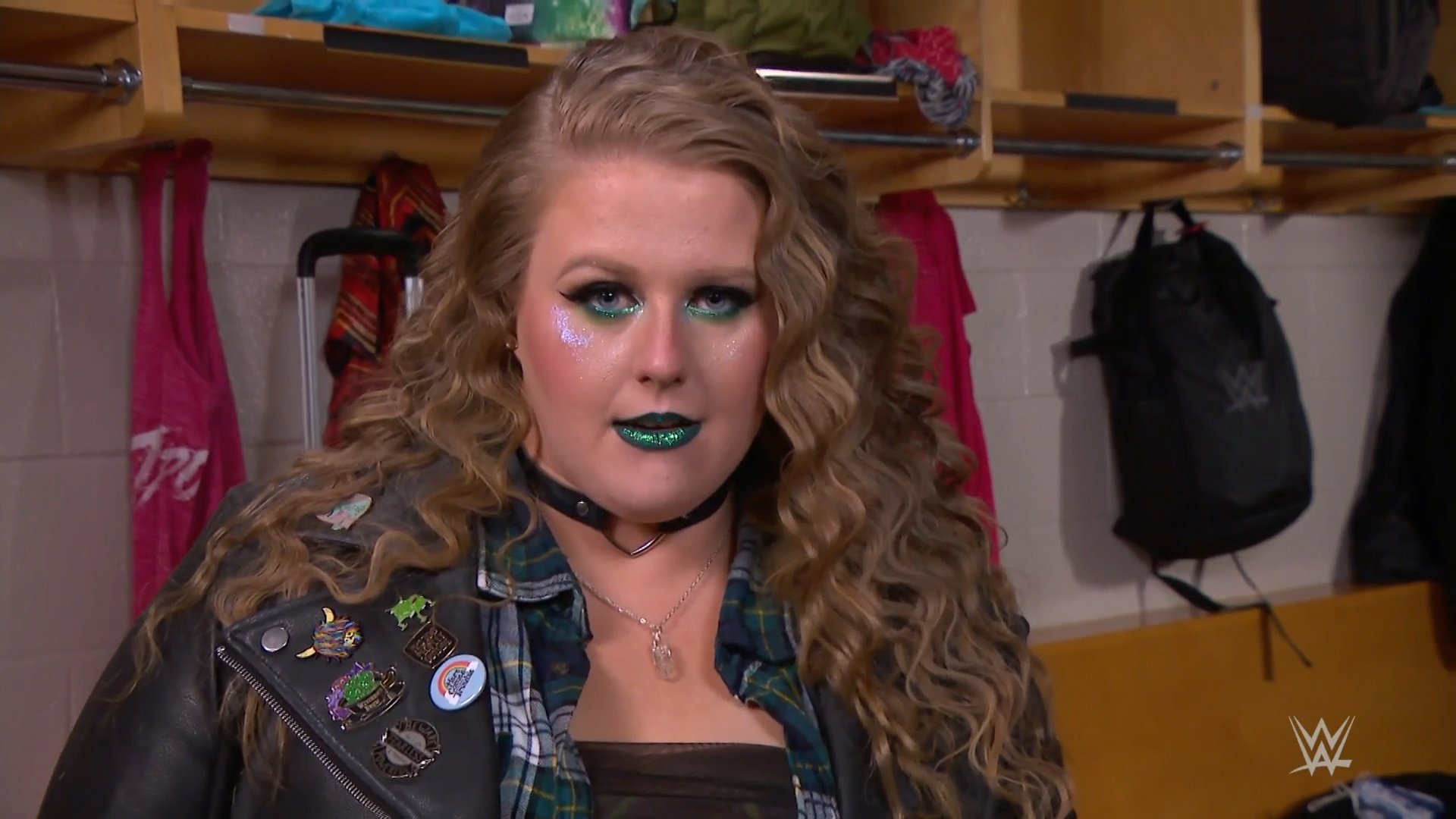 Doudrop says Bianca Belair and Liv Morgan cut in front of the line all last year and wasted opportunities. They overlooked Doudrop. This will be the year Becky Lynch gets "Doudropped."
---
Omos vs. Nick Sanders
Nick Sanders is a local competitor. Sanders runs into Omos and falls down at the sound of the bell. Omos steps on his ankle and lifts him by his throat. Omos slams him down before avalanching him in the corner. Omos puts Sanders in a fireman's carry and slams him down. Reggie and Dana Brooke are watching backstage. Omos lifts Sanders and hits a double-hand choke bomb. Omos puts a foot on the chest to pin him.
Winner by Pinfall: Omos
---
In-Ring: Edge, Beth Phoenix, The Miz, Maryse
Edge greets Philadelphia and welcomes them to The Cutting Edge. Edge puts over how beautiful his guest is. They're the Grit Couple that will face the IT Couple. His guest has thighs that can crack a coconut, his wife, Beth Phoenix.
WWE Hall of Famer Beth Phoenix makes her way to the ring. Edge says they're going to compete together at the Royal Rumble. Edge wants to remind everyone how much ass she kicked. If this was the 1970s, she'd be on the Broad Street Bullies. Just like the Flyers collected cups, they have 35 WWE championships between them. They're also the only married couple in the Hall of Fame. His wife is a wrecking machine.
Video Package: The career of Beth Phoenix
Phoenix says she loves all the compliments from her husband. Flattery will get you everywhere. Phoenix says she's here to talk business. She's heard enough from Miz and Maryse. At the Royal Rumble, they'll shut their mouths for good.
The Miz and Maryse come out to the stage. Miz says Philadelphia is filthy. Miz agrees with Ben Simmons. He'd turn down big money just to not live here. Miz turns his attention to Edge and Beth Phoenix. Miz accuses Edge of using his wife to fight his battles after he had Edge beat at WWE Day 1. Edge says Miz used his wife to avoid a Spear. Miz says that's slander. Maryse is a fine talent. His sources at the USA Network said they were making a video for Beth, so he had them do one for Maryse.
Video Package: The career of Maryse
Miz asks if they realize how big of a star his wife is and how lucky they are to see her live and in person. Edge and Beth Phoenix are lucky to be in a ring with her. Edge says Maryse is a former champion and they respect her. They don't want to take anything away from her career, but his wife can deadlift a Buick. Beth smashes things, mostly people. If he had to step into the ring with his wife, he'd have the same look. Beth says Maryse is all of a sudden shy after she interfered in her husband's matches. Now that Beth is back, Maryse is quiet as a mouse. At the Royal Rumble, she'll wreck Maryse. The crowd will change, "Au Revoir."
Miz says Beth Phoenix really wants to speak French with them… Miz tells Maryse to say how she'll make Beth wish she was retired. Maryse walks off in fear. Beth says before Miz goes to hightail it out of there, if Adam doesn't get to him first, she'll knock Miz's teeth down his throat.
---
AJ Styles vs. Austin Theory
Austin Theory is warming up backstage. Kevin Patrick asks for a comment. He's going to beat AJ Styles and make Mr. McMahon continue to invest in him. McMahon told him to not screw this up.
The bell rings, and Styles knocks him to the corner before chopping the chest. Styles avoids a slingshot and hits Theory with a backbreaker. Theory knocks Styles back and clotheslines him in the corner. Theory takes him down and hits a slingshot double stomp. Theory slams him for a two count. Theory applies a waistlock. Styles fights out and hits a dropkick. Theory gets in the ring and knocks Styles to the floor. Theory rolls and hits a dropkick that knocks Styles off the apron.
We come back from the break to see Styles fighting back. Styles goes for a Styles Clash, but Theory counters into a fisherman's neckbreaker on the knee for a near fall. Theory drops Styles on the apron, but Styles knocks him back. Styles goes for a Phenomenal Forearm, but Grayson Waller pulls him off the apron and attacks him.
Winner by Disqualification: AJ Styles
Theory takes a selfie with them and walks off. Styles fights back at Waller and puts him in the ring. Waller quickly escapes. A random shot of the curtains is shown.
Kevin Patrick interviews Grayson Waller. Waller says Styles just got a taste of what he'll do to Styles tomorrow on NXT 2.0. The Phenomenal One will feel the Grayson Waller effect.
---
Backstage: Liv Morgan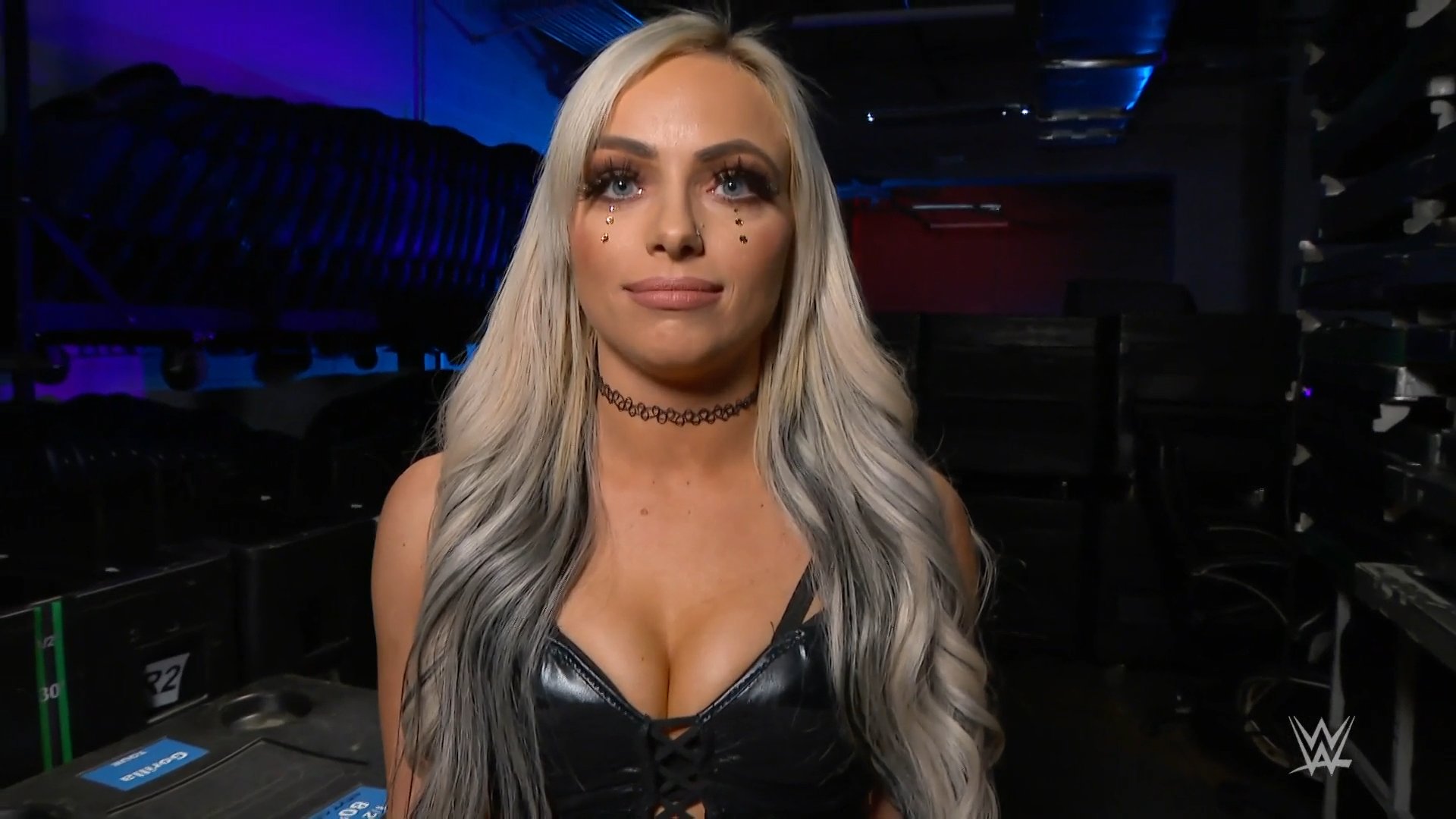 Liv Morgan says it may be a new year, but she's got the same attitude that got her title opportunities. When she wins tonight, she'll finally beat Becky Lynch for the title.
---
Segment: Alexa Bliss
Alexa Bliss, still in her female fiend gear, is sitting with a psychologist. Newton's cradle is going off, so she uses magic to make it stop. The psychologist says he can help her. He shows footage of Charlotte Flair destroying the Lilly doll. Bliss looks infuriated. He asks how it makes her feel. She forces a smile and says it makes her thirsty. She pours a glass and overflows the cup. She grabs the man by the tie and asks how that makes him feel. He says, "Not great." She says she feels pretty dandy and smashes the pitcher against the wall. She starts to destroy his office. He teaches her a breathing exercise. She continues to smash things and screams.
---
In-Ring: Becky Lynch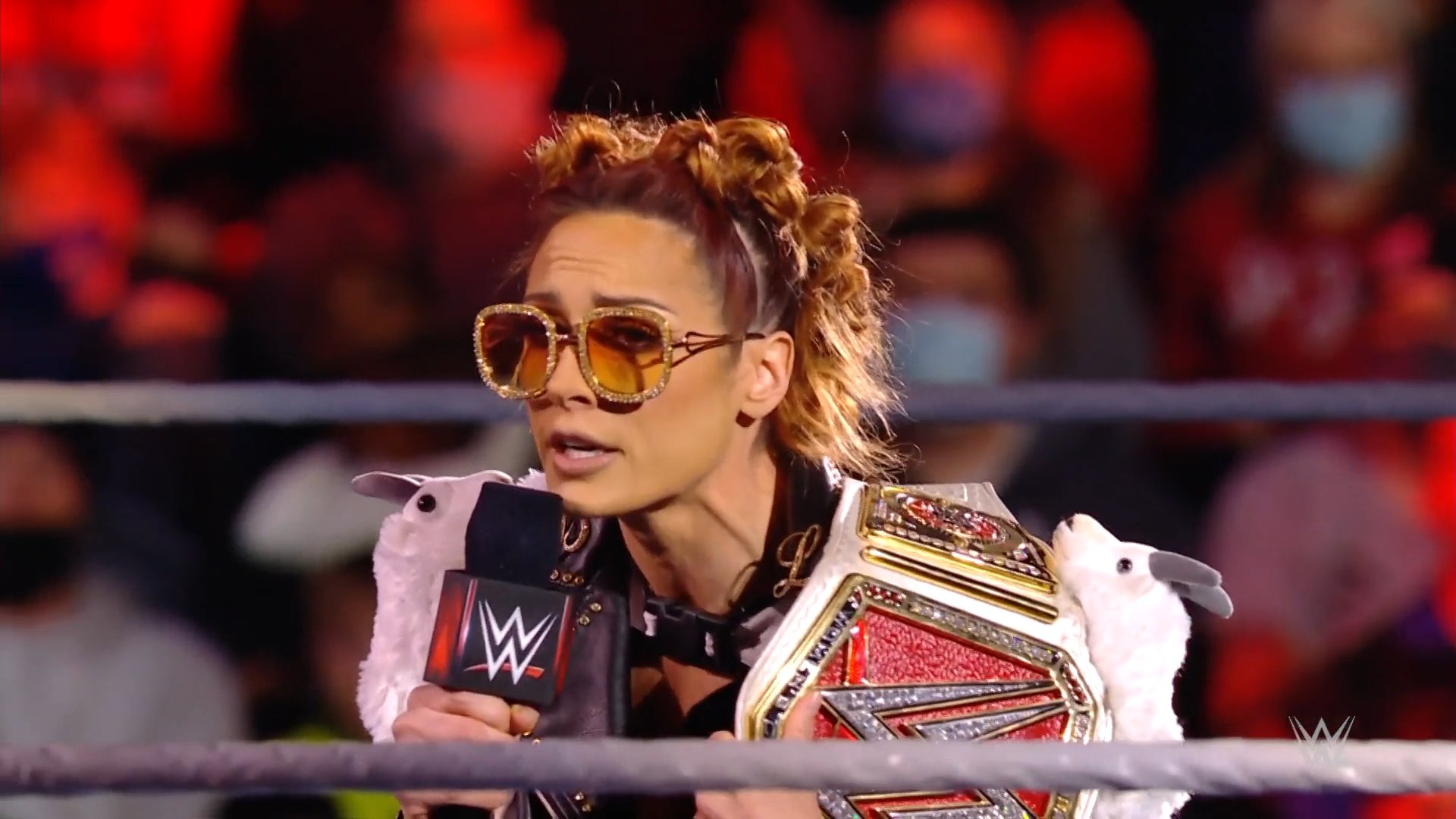 Raw Women's Champion Becky Lynch is in the ring. The crowd is chanting her name. We have three women back there ready for a big-time triple threat match. Each woman is fantastic in their own right. You've got Liv Morgan, who should back down, but she won't. You've got Bianca Belair, who she beat at SummerSlam. Then there's Doudrop that will take what she wants. Anything can happen. Each woman has notions of grandeur. They think they'll be the one to overthrow her. This will be a battle for the ages. They'll fight for the right to tell their grandkids that they lost to Big Time Becky Lynch.
---
#1 Contender Triple Threat Match
Bianca Belair vs. Liv Morgan vs. Doudrop
Becky Lynch will be on commentary for this match. The winner will face Becky Lynch for the Raw Women's Championship at the Royal Rumble.
The bell rings, and Doudrop takes it to Belair and Morgan. Doudrop hits Belair with a nasty Saito Suplex. Belair soon knocks Doudrop out of the ring, but Doudrop grabs the ankle and drags her out of the ring. They brawl before patiently waiting for Morgan to hit them with a somersault senton. Morgan gets Belair in the ring for a two count.
Belair fights Morgan off and shoulder blocks her down. Belair soon cartwheels over her and taunts her. Morgan fights back with a hurricanrana and taunts Belair. Belair shoulders Morgan in the corner before avoiding Doudrop. Belair leaps on Doudrop, but Doudrop counters into a powerbomb attempt. Belair slides off and knocks Doudrop back. Belair hits a back suplex on Morgan, and Doudrop splashes them both! Doudrop hits Belair with a Michinoku Driver. Doudrop catches Morgan diving at her and hits her with an electric chair drop onto Belair. Doudrop covers them both for a near fall.
Doudrop applies a chin lock to Morgan, but Morgan soon fights up. Doudrop puts her in the corner and avalanches her. Doudrop sizes her up and misses a cannonball in the corner. Morgan jumps on the back of Doudrop and stomps on her, but Doudrop slings her over the top rope. Morgan hits the steel steps on the way down to the floor!
We come back from the final break of the evening to see Belair trying to lift Doudrop. Doudrop gets out and head-butts her. Doudrop whips Belair to the corner but misses a running shoulder. Morgan flips over Doudrop and hits Belair with a head-scissor off the top rope. Morgan rolls Doudrop up for a one count. Belair then spears Doudrop down.
Belair and Morgan get to their feet. Doudrop rolls out of the ring. Belair and Morgan punch it out in the ring. Morgan takes Belair down and applies a Rings of Saturn. Belair screams in pain, but she soon gets to her feet with Morgan on her back. Belair goes for a slam, but Morgan counters into a double knee facebuster. Doudrop gets in the ring and meets the same fate from Morgan. Morgan kicks Belair into the turnbuckles and puts her on the top rope. Morgan goes for a super back suplex, but Doudrop cuts them off. Doudrop powerbombs Morgan and covers, but Belair hits Doudrop with a 450 splash!
All three women are down. Belair covers Doudrop, but she kicks out. The kick-out sends Belair onto Morgan, who also kicks out. Belair hits Doudrop with a spinebuster before slamming Morgan onto Doudrop. Belair hits a standing moonsault on Morgan and Doudrop. Belair hits a KOD on Morgan and covers, but Becky Lynch runs in and attacks her! Lynch throws Belair out of the ring. Belair is infuriated and chases Lynch around the ring. Belair catches her and attacks her. Lynch fights her off and sends her over the commentary table!
In the ring, Doudrop puts Morgan in the corner and hits a Banzai Drop for the win!
Winner by Pinfall: Doudrop
Becky Lynch gets in the ring and looks at Doudrop before slapping her in the face. Doudrop shoves her out of the ring and poses. Lynch says Doudrop only won because she helped her.