Results by Mike Tedesco of Wrestleview.com
March 14, 2022
Jacksonville, Florida – Vystar Veterans Memorial Arena
Commentary: Jimmy Smith, Corey Graves & Byron Saxton
---
Quick Match Results
Non-Title Match: Damian Priest defeated Finn Bálor via the Reckoning
Omos defeated Commander Azeez via choke bomb
Liv Morgan defeated Queen Zelina via Ob-Liv-ion
The Mysterios defeated Cedric Alexander & Shelton Benjamin via frog splash by Dominik on Alexander
Bianca Belair defeated Doudrop via KOD
Riddle defeated Montez Ford by disqualification when Otis attacked Riddle
Kevin Owens defeated Seth "Freakin" Rollins via Stunner
---
In memory of Scott Hall "Razor Ramon": 1958 – 2022.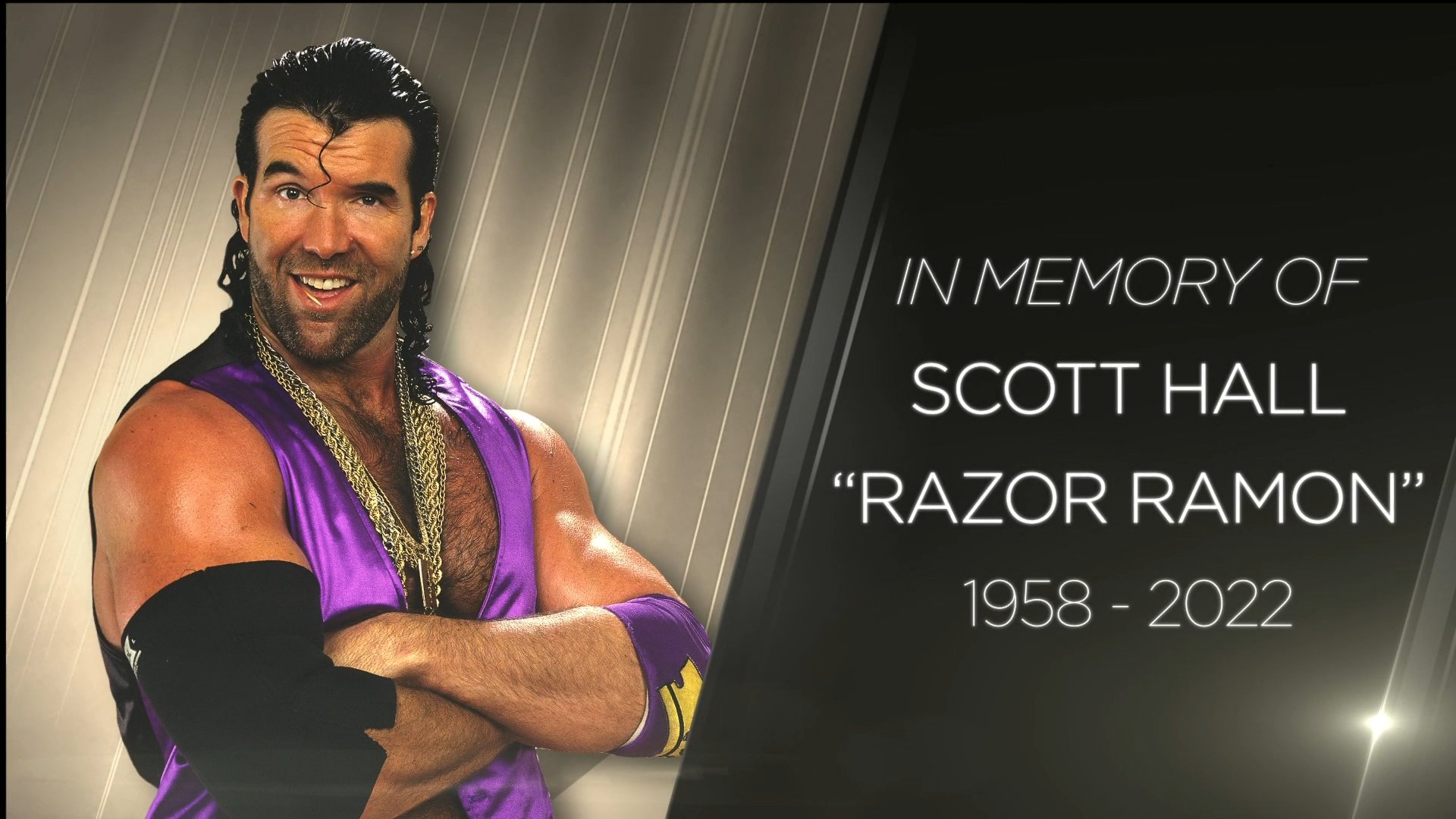 ---
In-Ring: Kevin Owens
A video kicks off the show highlighting Kevin Owens calling out "Stone Cold" Steve Austin to appear on The KO Show on WrestleMania. The next day, Austin confirmed that Owens has awakened something inside him and he will be at WrestleMania.
Kevin Owens makes his way to the ring. Owens says, "Hey yo!" What we're looking at right now is the happiest Canadian camper in the world because he is going to WrestleMania! Owens said he used his superior Canadian intellect to get on the card. Since none of the yellow teethed Texans can turn down a challenge, he challenged the embodiment of Texas itself. Owens knew Austin would accept. Owens is proud of himself because now the entire world and the USA get to witness the most stupendous KO Show of all time when he stuns Stone Cold all throughout Texas. The only can that will be opened up in Texas is a nice Canadian beer. Owens doesn't even like beer, but he'll make an exception on that night. Nobody will be saying "Oh hell yeah" when he's done with him. Everyone will be saying "Oh hell no" as they watch him beat the living hell out of Austin. Owens says, "And that's the bottom line because KO said so!" Owens then hits the cameraman with a Stunner!
---
Non-Title Match
Finn Bálor vs. Damian Priest
Before the bell rings, Austin Theory makes his way to the ring. We see replays of Theory challenging Pat McAfee to a match at WrestleMania, a day after Vince McMahon granted McAfee a match at the event. A week later, Theory returned to SmackDown and smacked the headphones off McAfee. McAfee then viciously attacked Theory.
Austin Theory will be on commentary for this next match.
The bell rings, and Bálor takes Priest down with a Woo Dropkick. Bálor attacks him, but Priest knocks him back and hits a knee to the midsection. Priest throws Bálor to the corner, but Bálor spins him around and shoulders away at him. Bálor sweeps the legs and goes for a double stomp, but Priest moves. Priest gets out of the ring after Bálor dropkicks him. Bálor goes for a kick to the face, but Priest blocks it and takes him down. Priest attacks him at ringside and hits a Razor's Edge on the commentary table!
We come back from the break to see Priest hit a big flatliner for a two-count. Priest kicks Bálor in the chest a few times before hitting a spinning forearm to the face. Bálor responds with some chops, but Priest claps the ears. Priest charges him in the corner, but Bálor boots him back. Priest reverses a whip, but Bálor soon takes him down and hits a double stomp to the midsection. Bálor hits a Sling Blade and goes for a Woo Dropkick, but Priest kicks him in the head. Priest scoops him up, but Bálor slides off and hits a falling elbow. Bálor connects with a Woo Dropkick and goes to the top rope. Austin Theory distracts Bálor, so Priest capitalizes. Bálor kicks Priest in the face and gets out of the ring to dropkick Theory out of his chair.
Bálor gets in the ring, and Priest connects with a Reckoning to pin the WWE United States Champion.
Winner by Pinfall: Damian Priest
After the match, Theory gets in the ring and hits Bálor with an ATL. Theory takes some selfies with the fallen United States Champion.
---
Backstage: Seth Rollins
Can @WWERollins find a Road to #WrestleMania?#WWWERaw pic.twitter.com/v10DXbcbFA

— WWE (@WWE) March 15, 2022
A furious Seth "Freakin" Rollins, sporting a black eye, is interviewed by Kevin Patrick. Patrick mentions Kevin Owens has a path to WrestleMania, but Rollins doesn't. Rollins doesn't speak. The crowd chants, "Cody" in the background.
---
Omos vs. Commander Azeez
They take their time before locking up and getting in a stalemate. Azeez hits the ropes, but Omos shoulder blocks him out of the ring. Azeez gets back in the ring, but Omos knocks him away. Apollo Crews distracts Omos, so Azeez snaps him off the top rope. Azeez punches Omos to the corner and avalanches him. Azeez kicks Omos and goes for a suplex, but Omos powers him up and hits a release suplex on Azeez! Omos hits a double-hand choke bomb for the win.
Winner by Pinfall: Omos
Omos grabs Crews at ringside and pulls him into the ring. Omos hits a vicious chokeslam and celebrates.
---
Backstage: Kevin Owens, Seth Rollins
Did @WWERollins just get an idea for #WrestleMania? 🤔#WWERaw pic.twitter.com/NpLVl1eTRw

— WWE (@WWE) March 15, 2022
Kevin Owens checks on Seth "Freakin" Rollins backstage and says he knows times are tough, but he can still get on WrestleMania. Owens tells him to come up with something. Rollins just has to think. Rollins is the visionary. He has to think back to all the WrestleMania moments he created. Rollins beat Triple H, Brock Lesnar, and lost to Owens. Rollins can do it again. Owens wants to help him. They can build something together. Rollins puts his hands up to silence Owens. Rollins laughs and runs off. Owens smiles and says he thinks he helped.
---
Liv Morgan vs. Queen Zelina
Replays are shown of Rhea Ripley and Liv Morgan beating Carmella and Queen Zelina last week on Raw to earn their way into WrestleMania. Carmella left Queen Zelina high and dry to flirt with her fiancee, Corey Graves.
Zelina quickly takes Morgan down and applies a modified straitjacket hold. Zelina cinches it in before letting go and posing. Zelina bounces her in the corner and takes her down. Zelina connects with a knee to the jaw for a two-count. Morgan comes back with a roll-up, but Zelina kicks out. Morgan rolls her around the ring and pins for the same result. Morgan rolls her around once again, but it's yet another kick out. Morgan dropkicks her down and sends her to the corner. Morgan goes to the second rope, but Carmella distracts her. Zelina hits a powerbomb on Morgan.
Rhea Ripley scares Carmella away, and she runs into Corey Graves's arms. Zelina isn't happy with the distractions at ringside. Morgan hits the Ob-Liv-ion for the win.
Winner by Pinfall: Liv Morgan
---
In-Ring: Seth Rollins, Kevin Owens, Sonya Deville
Seth "Freakin" Rollins is in the ring and says he has a plan to get to WrestleMania. Rollins thought all hope was lost when he and Kevin Owens lost the Tag Team Title match last week. Then his best friend reminded him who he is. He is a visionary and a revolutionary. Rollins has a plan, but he wants Owens to be out here. Rollins calls Owens out and wants to party in Jacksonville.
Kevin Owens makes his way to the ring. Owens can't wait to hear this. Rollins asks everyone if they're ready, and everyone is. Rollins says Owens has a talk show in The KO Show. His guest will be "Stone Cold" Steve Austin. What if Rollins also had a talk show like "Freakin' Speakin' with Rollins" or bring back "The Rollins Report" and had Austin as his guest? Owens says Austin is his guest and this is nonsense. Owens wants to go backstage and see Becky Lynch and the baby. Rollins suggests they have a match tonight and the winner will have Austin as a guest at WrestleMania. Owens declines it. Owens already pissed Austin off and tells Rollins to get his own idea.
Rollins shouts that he needs this. WWE Official Sonya Deville tells them to hold on. Deville likes Rollins's idea. Tonight's main event will be Kevin Owens versus Seth "Freakin" Rollins. If Rollins beats Owens, he will replace him at WrestleMania. Owens is infuriated, and Rollins dances around the ring.
After commercials, Kevin Owens is complaining to WWE Official Sonya Deville about what just happened and how unfair it is to him.
---
The Mysterios vs. Cedric Alexander & Shelton Benjamin
The Miz and Logan Paul make their way to ringside to commentate on this match.
Dominik Mysterio starts against Shelton Benjamin. Dominik hits him with a hurricanrana, but Cedric Alexander blind tags in and attacks him. Alexander applies a bear hug. Dominik fights up, so Alexander stops him. Dominik hits a jawbreaker and a neckbreaker. Rey Mysterio tags in and hits a big head-scissor takeover on Alexander. Rey tries to slide through his legs, but Alexander catches him. Rey knocks Benjamin away and hits a springboard tornado DDT on Alexander for a near fall. Rey hits Benjamin with a step-up enzuigiri. Alexander cuts Rey off and goes for a powerbomb, but Rey counters into a head-scissor into Benjamin. The Mysterios hit Alexander with a double 619. Rey dives off the apron with a clothesline on Benjamin. Dominik hits Alexander with a nice Frog Splash for the win.
Winners by Pinfall: The Mysterios
The Miz and Logan Paul attack The Mysterios after the match. They go to double-team Rey Mysterio, but Mysterio knocks them back. The Mysterios surround Logan Paul and send him into the ropes. They go for a double 619, but Miz pulls Paul out of the ring.
---
In-Ring: Edge
Edge comes out to new music. It's "The Other Side" by Alter Bridge. Edge says he is the benchmark and better than everyone in the industry. Since he came back two years ago, he hasn't shown that aptitude. The Edge that came back intent on pleasing everyone was weak. Edge realized the people don't matter to him. In trying to appease everyone, he took his eye off the prize and allowed Randy Orton to tear his tricep off the bone. That Edge allowed Seth Rollins to cost him the World Title and enter his house to piss on his territory. It allowed the cosplayer Roman Reigns to stack him at WrestleMania.
If AJ Styles was facing that Edge at WrestleMania, he'd leave that Edge in the dust. That Edge is dead. Now he sits perched on his Mountain of Omnipotence looking down at everyone. Edge won't be judged by anyone in the crowd, the locker room, or AJ Styles. A "You suck" chant picks up. Edge will hand out the verdicts around here and would apologize if he cared, but he doesn't. If AJ Styles makes it to WrestleMania with two generational talents facing each other for the first time on the grandest stage of them all, Styles will be judged. Edge drops the microphone and psychotically smiles.
---
Vignette: Veer Mahaan
Are you READY for @VeerMahaan to come to #WWERaw? pic.twitter.com/UmwiI422rJ

— WWE (@WWE) March 15, 2022
Veer Mahaan is coming to Raw.
---
Bianca Belair vs. Doudrop
Replays are shown of Bianca Belair viciously whipping Raw Women's Champion Becky Lynch in the midsection with her ponytail two weeks ago on Raw.
Backstage, Bianca Belair is asked about Becky Lynch's complaint about her hair. Belair says she's going to concentrate on her opponents and not worry about what Lynch says. We go to commercials.
Doudrop kicks and clubs Belair at the sound of the bell. Doudrop puts her in the corner and stomps her. Belair avoids an avalanche and knocks her back. Belair puts her into the ropes, but Doudrop shoulder blocks her down. Belair kips up before slingshotting over Doudrop and doing a handspring. Belair goes for a dropkick, but Doudrop holds the ropes. Belair avoids a senton splash and hits a handspring standing moonsault. Belair goes for a KOD, but she can't get Doudrop up. Belair rolls out of the ring to recover. Belair leapfrogs an attack and pushes her into the ring apron. Doudrop quickly shoves her into the barricade and goes for a cannonball, but Belair moves.
We come back from the break to see Belair fight out of a hold from Doudrop. Doudrop quickly hits a Michinoku Driver for a near fall. Doudrop charges her in the corner, but Belair moves. Belair fights her and hits a dropkick to the corner. Belair shoulders away at Doudrop before having a whip to the corner reversed. Belair slaps her fanny and flips over Doudrop. Belair goes for a suplex on Doudrop, but Doudrop counters. Belair slides out and boots her back. Belair comes back with a big spinebuster. Belair follows up with an impressive KOD for the win.
Winner by Pinfall: Bianca Belair
Raw Women's Champion Becky Lynch sweeps the feet and pulls Belair out of the ring by the braid. Lynch bounces her off the commentary table and is fired up. Lynch puts a chair around Belair's head and uses the braid to drive her into the ring post! Belair grabs her throat as Lynch walks off.
---
In-Ring: Riddle, Randy Orton, The Street Profits
Replays are shown of RK-Bro winning the Raw Tag Team Championship last week on Raw. After the match, Randy Orton called Riddle his friend.
Riddle says he has been replaying last week's events over in his head and can't believe they're going to WrestleMania. Orton says this is his 18th WrestleMania appearance, but his first as Tag Team Champion and the first with a partner. Orton says since Riddle threw a party for him last time, he wanted to do it this time, but party planning isn't his thing. Riddle loves it. Riddle mentions that Orton got him balloons for his birthday in 10 months. Orton has a big gift for the two of them. Riddle pulls out a tiny green bag…
The Street Profits interrupt and are fired up to be in Jacksonville. Montez Ford reminds them that they pinned RK-Bro a few weeks ago. Since they're now the Raw Tag Team Champions, they're challenging RK-Bro for WrestleMania. Orton says they had to do so much to get to the titles once again. The Street Profits can't just expect to get a shot. They had to win a Spelling Bee. Orton thanks them for coming, but the answer is no. Angelo Dawkins says when it comes to the titles, they're not bros. Ford says they're not asking… they're telling them they're wrestling them at WrestleMania.
Orton says no one has ever told him what to do in the ring. The Undertaker, Shawn Michaels, and Vince McMahon can't tell him what to do. Orton warns them to leave or he'll listen to the voices in his head and make them leave. Riddle steps between them and says The Street Profits make a good point. They have to face somebody at WrestleMania. Riddle says it's the right thing to do. Orton says they're lucky Riddle is so cool. As far as the challenge for the titles at WrestleMania goes, they accept.
Ford says they appreciate Riddle talking some sense to his bro. Next time they come back to Jacksonville, they'll teach them not to throw a party that is such ass. Riddle is furious and says he shouldn't disrespect Orton. Riddle doesn't want to wait until WrestleMania. Dawkins says if Riddle wants a match with Montez, then it's on. Orton cuts off Dawkins before he does his catchphrase and says the three most dangerous letters in sports entertainment: RK-Bro.
Riddle vs. Montez Ford
They lock up, but Ford soon takes him down with a stomp to the foot. Ford attacks and goes for a move, but Riddle counters into a triangle. Ford gets out with a roll-up for a two-count. Ford puts Riddle in the corner and takes him down. Riddle powers Ford up and hits a gutwrench suplex. Riddle rolls through and hits a second gutwrench suplex for a two-count. Riddle kicks away at Ford's chest and hits a fisherman's suplex with a bridge for a two-count. Riddle hits a Broton for another two-count. Riddle lifts Ford for a gutwrench, but Ford counters into a roll-up before hitting a dropkick. Ford then clotheslines Riddle out of the ring. Ford goes to the top rope and leaps to the floor. Riddle catches him and goes for a German Suplex on the floor. Ford flips through it and hits a clothesline off the steel steps.
We come back from the break to see Ford take Riddle down and hit a big splash. Ford goes to the top rope for a Frog Splash, but Riddle moves. Riddle kicks him in the head and kips up before hitting a pair of running forearms. Ford gets out of an exploder, but he runs into a snap powerslam. Orton is fired up at ringside. Riddle hits a draping DDT and starts to stalk Ford. Orton is getting the crowd going. Ford pushes the RKO away and kicks him in the head. Ford lifts him, but Riddle slides off and hits an RKO!
At ringside, Otis runs down and sends Orton into the barricade. Chad Gable then takes out Dawkins by sending him into the post. Riddle goes to attack Otis, but Otis pulls him out of the ring and takes him down.
Winner by Disqualification: Riddle
Alpha Academy hits Dawkins with a German Suplex/clothesline combo that spikes him on his head. Otis hits Ford with a Vader Bomb, and Gable follows up with a moonsault. Alpha Academy poses in the ring.
---
Video Package: RIP Scott Hall
The commentators sadly talk about the legendary Scott Hall, who passed away a few hours ago after being removed from life support earlier today. Corey Graves is emotional.
Video Package: The life and legacy of "The Bad Guy" Scott Hall
The crowd loudly applauds Scott Hall. Rest in peace, big man. A "Razor" chant picks up. I have chills and tears in my eyes watching that.
---
Kevin Owens vs. Seth "Freakin" Rollins
If Seth "Freakin" Rollins wins, he'll replace Kevin Owens in the "Stone Cold" Steve Austin segment at WrestleMania.
They cautiously approach each other and Rollins rolls him up for a one-count. Rollins smiles at him. Owens goes for a test of strength and then tries to surprise him with a Stunner. Rollins gets away. Owens says Rollins should have thought better. This is his spot. They get into a brawl before Rollins drives him to the corner. Rollins wildly punches Owens down before staring at the WrestleMania sign. Owens turns Rollins and chops away at the chest before stomping him. Rollins kicks him in the midsection and chops him. Rollins punches him down, and the referee backs him up. Owens takes him down and punches at Rollins. Rollins fights back and clubs Owens back. Rollins sends him into the ropes, but he lowers his head and eats a kick. Rollins comes back with a clothesline and kicks him in the back. Rollins drops a knee for a one-count. Owens rolls out of the ring and attacks Rollins as he comes out. Owens attacks the knee and drives it into the barricade.
Owens gets Rollins in the ring and continues to attack the knee. Owens applies a knee lock, but Rollins fights out of it. Owens stomps him out of the ring. Owens punches him on the apron and slams the leg on the apron. Owens goes for a powerbomb on the apron, but Rollins counters into a back body drop. Rollins gets in the ring and goes for a suicide dive, but Owens catches him. Owens hits a fallaway slam into the barricade and a senton splash.
We come back from the break to see Owens fight Rollins off and hit a tornado DDT. Owens hits a second DDT for a near fall. Owens knocks Rollins to the corner and crushes him with a cannonball for another near fall. Owens goes back to kicking the injured knee, so Rollins punches back at him. Owens kicks him in the knee and sends him to the ropes for a Pop-up Powerbomb, but Rollins gets away. Rollins pulls him face-first into the turnbuckle. Rollins chops the chest a few times, but Rollins punches back. Owens reverses a whip, but Rollins counters with a Sling Blade. Rollins avalanches Owens and sends him to the opposite corner. Owens drops him on the apron. Rollins knocks Owens back and hits a springboard knee to the face.
Owens rolls out of the ring to recover, so Rollins crushes him with a suicide dive. Rollins gets Owens in the ring, but Owens rolls back out. Rollins then hits another suicide dive that sends Owens over the commentary table! Rollins gets in the ring and looks for a count-out, but Owens gets in at nine. Rollins immediately superkicks him and goes to the top rope for a Frog Splash, but Owens just barely kicks out!
Rollins shouts that he needs this. Rollins slaps Owens and puts him on the top rope. Rollins goes for a superplex, but Owens pushes him off. Rollins scales the ropes, but Owens counters into a twisting superplex for a near fall. Owens goes for a Swanton Bomb, but Rollins gets the knees up. The crowd chants, "This is awesome!" Owens floors Rollins with a clothesline and goes for a Stunner, but Rollins counters with a roll-up. The referee is out of position, and Rollins has Owens pinned for over three seconds. The referee counts, but Owens kicks out at two. Rollins argues with the referee and turns into a Stunner from Owens! Rollins isn't going to WrestleMania!
Winner by Pinfall: Kevin Owens
A dejected Rollins looks up at the WrestleMania sign. Rollins is not going to WrestleMania.