Results by Mike Tedesco of Wrestleview.com
March 28, 2022
Pittsburgh, Pennsylvania – PPG Paints Arena
Commentary: Michael Cole, Jimmy Smith, Corey Graves and Byron Saxton
---
Quick Match Results
Rey Mysterio defeated The Miz via roll up
2-on-1 Handicap Match: Omos defeated The Viking Raiders by count out when Omos clotheslined Erik and he rolled out of the ring and got counted out
8-Woman Tag Team Match: Sasha Banks, Naomi, Liv Morgan & Rhea Ripley defeated Queen Zelina, Carmella, Shayna Baszler & Natalya via the Riptide by Ripley on Zelina
Austin Theory defeated Ricochet via ATL
2-on-1 Handicap Match: Drew McIntyre defeated Happy Corbin & Madcap Moss via Claymore on Moss
RK-Bro defeated The Usos by disqualification when The Street Profits attacked RK-Bro
---
In-Ring: Brock Lesnar
WWE Champion Brock Lesnar makes his way to the ring to a big reception.
Video Package: SmackDown recap of Brock Lesnar chasing off The Bloodline and destroying security guards with a chair.
Lesnar is bobbing his head to his music and wearing a cowboy hat. Lesnar says, "Your WWE Champion is in the house." For the last 20 years, that loudmouth Paul Heyman has been doing all the yapping for him, but he has to do this. Lesnar shouts, "Ladies and gentlemen, welcome to Monday Night Raw!" Lesnar says that felt good, but it sounded like it sucked. He won't do that again.
What he doesn't suck at is handing out country ass whippings. This Sunday at WrestleMania – he's going to spoil his game plan for Roman Reigns. This is a spoiler: they're going to take a trip down memory lane. They're going to take a trip down the streets of Suplex City. They'll stop by Beast Broadway and hit the carnival. They're gonna go for a ride on the F5 and nobody survives that ride. The crowd says, "What?" Lesnar says Steve Austin will be there as well. Austin is an ass-kicker like him, but he never kicked Lesnar's ass.
After the carnival, they'll hit a wedding. They're going to be wedding crashers. His title will marry Reigns's title. It'll have a baby in the Unified Title, and Lesnar will have full custody. The crowd cheers. Lesnar is in a great mood. In six days at WrestleMania, he finally gets his hands on Roman Reigns. There's no more running and nowhere to hide this Sunday. This Sunday at WrestleMania, he'll stand about Reigns with two titles, raise them to the sky, and they will chant, "Ladies and gentlemen, your new reigning, defending, unified heavyweight champion of the world, Brock Lesnar!" Lesnar drops the microphone and walks off.
---
In-Ring: The Miz & Logan Paul
The Miz is in the ring. Miz is sure that Rey Mysterio has a fun costume set up for WrestleMania. Mysterio has so many costumes and masks, except for the one he stole from him last week. So many people are telling him to give the mask back, but he doesn't have it. It belongs to the new greatest luchador of all time, Lucha Logan!
"Lucha" Logan Paul makes his way to the ring to boos from the crowd while wearing Rey Mysterio's mask. The crowd loudly boos him. Miz says unmasking Rey Mysterio is the most disrespectful thing he could do to a luchador, but he wants to keep taking respect from him. Miz wants another mask. They both want a mask to wear at WrestleMania.
Rey Mysterio's music hits, and he storms out to the stage with his son, Dominik. The Mysterios get in the ring. Dominik takes Miz down and punches away at him. Logan Paul escapes the ring and avoids Rey. Logan avoids Dominik getting in the ring. The referee ejects Dominik from ringside after he goes after Paul. Dominik is furious.
The Miz vs. Rey Mysterio
The bell rings, and Miz clubs away at Mysterio. Miz whips Mysterio to the corner, but Mysterio slingshots over him. Mysterio kicks at Miz, but Miz reverses a whip. Mysterio fights back with a head-scissor takeover. Mysterio then slides out of the ring and goes after Logan Paul. Paul runs away, and Miz grabs Mysterio to drive him into the barricade. Miz gives Mysterio a kneeling DDT on the floor.
We come back from the break to see Miz punching at Mysterio on the top rope. Mysterio punches him off and hits a flying seated senton. Mysterio chops away at Miz and sends him into the ropes. Miz goes for a sunset flip, but Mysterio rolls through and kicks him in the head. Logan Paul is rooting Miz on at ringside. Mysterio shouts at Paul. Miz punches Mysterio and goes for a powerbomb. Mysterio counters into a roll-up for the win!
Winner by Pinfall: Rey Mysterio
Mysterio furiously looks at Logan Paul at ringside wearing his mask. Dominik returns to ringside and throws Paul into the ring! Rey puts Paul into position. They go for a double 619, but Paul gets out of the ring. Rey manages to reach over the top rope and rip his mask off Paul.
Miz runs into the ring, but they send him into the ropes. The Mysterios hit Miz with a double 619! Dominik connects with a big frog splash on Miz. Rey follows up with an Eddie Guerrero shimmy and a frog splash in honor of the late great Hall of Famer. The Mysterios stand tall, as Logan Paul looks upset.
---
Coming Next Week: Veer Mahaan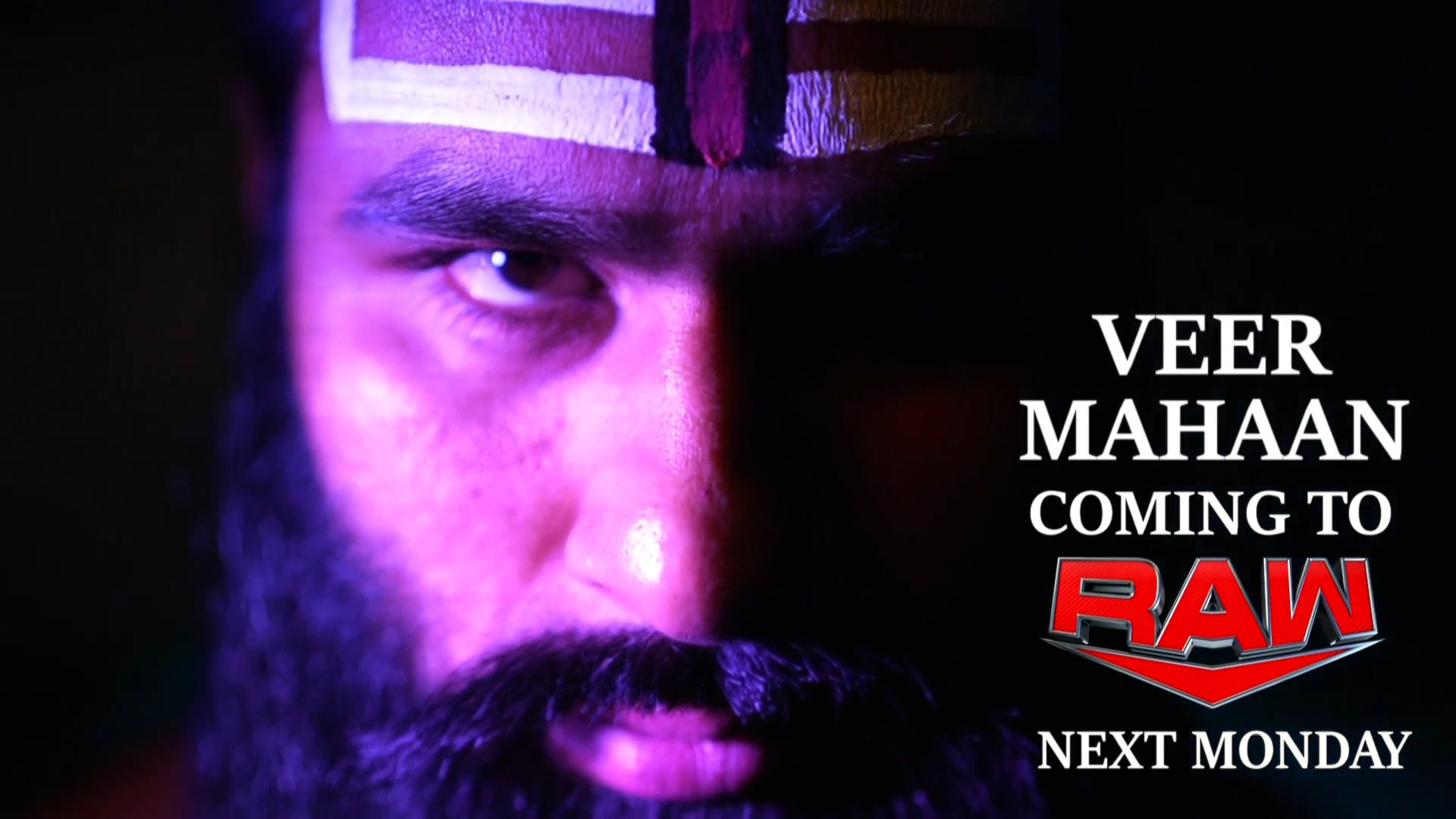 Veer Mahaan is coming to Raw next week.
---
Earlier Today: Seth Rollins & Vince McMahon
Seth "Freakin" Rollins went to Vince McMahon's office at the WWE Headquarters earlier today. Rollins learned that he will indeed be part of WrestleMania, but his opponent will be handpicked by McMahon. Rollins won't know who it is until that person is announced at WrestleMania.
Seth "Freakin" Rollins will fight a mystery opponent on WrestleMania Saturday.
---
2-on-1 Handicap Match
Omos vs. The Viking Raiders
Erik starts against Omos. Omos immediately and viciously clotheslines him down. Erik rolls out of the ring and looks like he's in a lot of pain. Erik holds his head, and the referee counts him out.
Ivar angrily gets on the apron, but Omos kicks him right back to ringside. Omos has the referee raise his hand up in the air.
Winner by Count-Out: Omos
In-Ring: Omos, Bobby Lashley
Kevin Patrick gets in the ring with Omos and says he's undefeated. No one has knocked Omos off his feet. Is there a WWE Superstar that Omos feels could threaten him at WrestleMania? Omos says he will dominate everyone.
Bobby Lashley's music hits, and the former WWE Champion comes out to a big reception. Lashley gets in the ring and looks furious. Lashley gets in Omos' face, but Omos shoves him away. Lashley goes for a shoulder block, but Omos doesn't go down. Omos grabs him by the head and talks trash before throwing him to the corner. Lashley is irate and goes for another shoulder block, but Omos doesn't go down. Lashley hits the ropes, ducks a clothesline, and shoulder blocks Omos. The giant is down! Omos rolls out of the ring and is furious. Lashley points at the WrestleMania sign. Omos nods his head and screams.
Later in the night, it's made official: Bobby Lashley will battle Omos on WrestleMania Sunday.
---
Backstage: Dana Brooke & Reggie, Tamina & Akira Tozawa, R-Truth
WWE 24/7 Champion Dana Brooke and Reggie are walking backstage. Reggie has something he wants to say, and he gets down on one knee to propose to her. Dana says yes.
Tamina all of a sudden attacks them, but Reggie pulls her off and they escape. Akira Tozawa shows up in a suit and proposes to Tamina. She pulls him up to his feet and accepts!
R-Truth is shown watching with binoculars and says this gives him an idea. R-Truth says, "By the power vested in me!"
---
In-Ring: Roman Reigns, Paul Heyman, The Usos
WWE Universal Champion Roman Reigns makes his way to the ring alongside his special counsel, Paul Heyman, and the SmackDown Tag Team Champions, The Usos. The crowd is buzzing for him. Reigns says, "Pittsburgh… acknowledge me!" Reigns was going to talk about being the last needle mover and how he used to run Monday Night Raw before FOX begged him to come over and save SmackDown. Reigns has done it all. The crowd shouts, "WHAT," so Reigns says he'll smash them like he'd smash "Stone Cold" Steve Austin and like he'll smash Brock Lesnar.
Reigns has done everything except beat The Beast at WrestleMania. That pisses him off. A "Suplex City" chant picks up. Reigns says what really bothers him about Brock Lesnar is just a couple of weeks ago, he was out for blood. This was personal to him, but Lesnar has already spilled his blood. In 2018 at WrestleMania 34, he busted his head wide open. Reigns bled all over New Orleans. Lesnar smashed his face to the point that his children didn't recognize him, his wife wanted him out of the business, his father doubted him, and his family was ashamed. Now it's just a game to Lesnar. The Tribal Chief has changed the game. They're going to take everything from Lesnar. Reigns took his advocate and made him a wise man. Reigns became the longest-reigning champion and spilled his blood at Madison Square Garden. This Sunday, he'll make his final move and take the title. Then Lesnar will know what it's like to make it personal because Reigns will make it personal. Reigns yells, "It's always been personal… to me!" Reigns calmly puts the microphone down and poses with The Bloodline.
---
8-Woman Tag Team Match
Sasha Banks, Naomi, Liv Morgan & Rhea Ripley vs. Queen Zelina, Carmella, Shayna Baszler & Natalya
Replays are shown of Queen Zelina and Carmella brawling last week before joining forces to take out Rhea Ripley, Liv Morgan, Natalya, and Shayna Baszler. Backstage, the WWE Women's Tag Team Champions are posing for photos. They brag about beating everyone up last week. Natalya and Shayna Baszler walk up and say they're not getting one over on them ever again. They're going to tear the other teams apart. Maybe they'll let Zelina and Carmella live long enough to see it.
In the ring, Natalya starts against Liv Morgan. Natalya takes her down and goes for a Sharpshooter, but Morgan gets out. Morgan hits a head-scissor takeover and tags Rhea Ripley in. Ripley hits a low dropkick to a seated Nataly before tagging Naomi in. Natalya fights Naomi off and tags Shayna Baszler in. Baszler punches at the midsection and tags Queen Zelina in. Zelina stomps Naomi down and waves at the crowd. Naomi hits a jawbreaker and a bulldog into the corner. Sasha Banks tags in. Banks and Naomi hit dual dropkicks on Zelina, but Carmella breaks up the pin. Carmella boots Naomi away. Baszler kicks Naomi out of the ring. Morgan knocks Baszler out of the ring. Everyone runs in and gets a shot in. It's down to Carmella and Banks. Zelina pulls Banks out of the ring. She sends Banks into the barricade and connects with a running knee.
We come back from the break to see Banks take down Carmella. They go at it for a bit, and Banks takes a Hart Attack from Natalya and Baszler. Eventually, the ring is cleared, and Ripley hits Zelina with a Riptide for the win.
Winners by Pinfall: Sasha Banks, Naomi, Liv Morgan, and Rhea Ripley
---
In-Ring: Kevin Owens
Video Package: The incredible career of "Stone Cold" Steve Austin
Kevin Owens says nobody does video production better than WWE. That wasn't as good as his tribute to "Stone Cold" Steve Austin was last week. That's the Austin everyone remembers. Everyone is ecstatic that "Stone Cold" is his guest on The KO Show at the main event of WrestleMania Saturday. Last week wasn't just a tribute for Austin, but it was him doing everyone a favor. Owens dressed as Austin is the closest they'll ever get to the old "Stone Cold" they used to admire. That "Stone Cold" has been gone for 19 years. What? 19 years! This is the Austin that has been drinking himself into oblivion for 19 years now. He's so bored on his stupid ranch that he's begging people to be on his stupid podcast to relive the old days. That Austin still sounds like "Stone Cold." We saw the heavily edited video of Austin and he talked a big game. Austin is not coming to WrestleMania to pick a fight with Kevin Owens. Austin knows what would happen if he picked a fight with Owens. Austin is going to have a nice conversation about his career. Owens is so honored that he accepted the invitation that he'll allow it. Austin will have the biggest platform of his career and get the sendoff Austin thinks he deserves.
Owens will even do something special. He hates beer, but he'll drink one with Austin. They'll sit in the middle of the ring at AT&T Stadium. They'll toast to Austin finally and officially passing the torch to Owens as the new "Stone Cold" and the true master of the Stunner. Owens asks the crowd to give him a "Hell Yeah" if they think his Stunner is better than Austin's. The crowd boos. Owens warns Austin that if he tries to pick a fight with him at WrestleMania, he'll take him down. Owens finishes by saying, "And that's the bottom line 'cause KO said so!"
---
Ricochet vs. Austin Theory
Theory stomps Ricochet down at the start of the match and connects with a fallaway slam. The crowd chants, "We want Pat." Pat McAfee is from the Pittsburgh area. Ricochet fights back and sends Theory to the corner. Ricochet knees him back and hits a springboard clothesline. Ricochet connects with a standing shooting star press for a two-count. Theory tries to fight back, but Ricochet floors him with an enzuigiri. Ricochet goes to the top rope, but Theory crotches him up there. Theory connects with an ATL for the win.
Winner by Pinfall: Austin Theory
Theory takes a selfie with the fallen Ricochet after the match.
---
In-Ring: Bianca Belair, Becky Lynch
Bianca Belair makes her way to the ring. This is the first we've seen her since Raw Women's Champion Becky Lynch tried to crush her throat two weeks ago. Belair says Lynch came out last week and talked about all the things she'd do to keep the title around her waist. Two weeks ago, she found out how low she'd go. Lynch was threatened by her existence and tried to take her out. Lynch managed to get her out for a week, but she's back on Raw like she never left. After all Lynch did, she's still standing here. Lynch has tried to do everything she could since SummerSlam to take her out, but she's still here.
What else does Lynch have? Absolutely nothing! There's nothing Lynch can do to stop her from taking the title. Belair is taking the title and walking out as Raw Women's Champion. There's not a damn thing Lynch can do about it.
Becky Lynch's music hits, but she doesn't come out. Belair turns around and sees Lynch trying to blindside her with a chair. Belair beats her down in the corner and goes for the chair, but Lynch pulls her down by the hair. Lynch drives the chair into Lynch's midsection and smashes it on her back.
Lynch shouts that she said she was coming for her hair and takes a pair of scissors out of a black bag! Lynch grabs the ponytail and goes to cut it, but Belair fights up and hits a KOD! Belair picks her up and hits a second KOD on the Raw Women's Champion. Belair then applies a body scissor and cuts Lynch's hair! Belair continues to cut the hair until WWE Officials and referees run in to break it up. Belair picks up a handful of hair and happily walks away.
Lynch comes to in the ring and sees chunks of her hair all around the ring. Lynch screams and rips at her hair before saying she's going to end Belair's career at WrestleMania.
After commercials, Raw Women's Champion Becky Lynch is backstage holding clumps of her hair and furiously looking in the mirror. Sarah Schreiber comes up to her, but Lynch slams the microphone out of her hand. Lynch looks into the camera and says, "Bianca, you bitch!"
---
2-on-1 Handicap Match
Drew McIntyre vs. Happy Corbin & Madcap Moss
Drew McIntyre starts against his WrestleMania opponent, Happy Corbin. They lock up, and McIntyre quickly gets the better of him. Corbin tags Moss in. McIntyre brings him into the ring the hard way and takes it to Moss. McIntyre throws Moss back to his corner, but Corbin refuses to tag in. McIntyre hits Moss with a Glasgow Kiss and a Claymore for the win.
Winner by Pinfall: Drew McIntyre
Corbin immediately attacks McIntyre from behind. Corbin sends him into the ring post shoulder-first a few times before hitting the End of Days. Corbin grabs McIntyre's claymore sword he's named "Angela" and walks off with it! Corbin celebrates with Moss and the sword on the ramp.
---
Backstage: Edge
Edge is backstage. Last week on Raw, he had a choice to make. Does he blast AJ Styles with a chair or let fate take its course? Edge is taking fate into his own hands. It's serendipity that it needed to be Styles. They need each other. Edge pulled off the veil of mediocrity to remind Styles that he's great. Edge needed Styles to become what he's become. Edge is the benchmark of WWE. They've gone to better places. Edge is soaring. For the last 20 years, they've been running wild and blowing roofs off arenas. They'll meet for the first time in a match for the ages. Edge knows he's living inside of Styles' head. This Sunday is Styles' judgment day. Styles' judgment is sealed.
Backstage: AJ Styles
AJ Styles is seething backstage. Sarah Schreiber asks for a reaction to Edge's comments. Styles says Edge used a lot of words to justify another cheap attack. A month ago, Edge hit him twice with a steel chair. Since then, the music changed and his mood changed. It seems to be done to get in his head. Mission accomplished. Edge wants the pitbull, but he'll get something worse than that. Edge wants to destroy him, but the feeling is mutual. The judgment is in and Styles will beat Edge in a match the WWE Universe will never forget this Sunday at WrestleMania.
---
The Usos vs. RK-Bro
Rick Boogs plays a riff on stage and says he's here to rock with Shinsuke Nakamura. They'll be on commentary for the next match.
SmackDown Tag Team Champions The Usos make their way to the ring. They yell at their WrestleMania opponents Nakamura and Boogs.
Randy Orton and Jimmy Uso start the match. Orton knocks Jimmy to the corner, but Jimmy chops his way out. Orton quickly takes him down and tags Riddle in. Orton flips Riddle onto Jimmy. Jey runs in, and The Usos try for stereo superkicks. RK-Bro blocks it and goes for dual RKOs. The Usos escape and get in the faces of Nakamura and Boogs. Orton and Riddle hit The Usos with back suplexes on the commentary table!
We come back from the break to see Orton clothesline Jimmy down and start stomping the limbs. Orton rakes the face with his boot and tags Riddle in. Riddle kicks Jimmy in the chest and hits a deadlift gutwrench suplex. Jey tags in and forearms Riddle in the face. Riddle quickly kicks Jey to the corner and forearms Jimmy. Riddle hits a running forearm on Jey followed by an exploder and a Broton. Riddle covers for a one-count. Jey reverses a whip to the corner, but Riddle slingshots over him. Jey reverses a whip and hits a Samoan Drop for a near fall. Jimmy tags back in and punches away at Riddle. The Usos double-team Riddle with a wishbone split. Jimmy gets a cheap shot in with a forearm. Orton is furious in his corner. Riddle tries for a comeback, but Jey cuts him off. Jimmy tags in and applies a chin lock. Riddle fights up, so Jey tags in. Riddle takes it to Jey, but Jimmy blind tags in and kicks Riddle down. Jey then dropkicks Riddle out of the ring. Jimmy sends Riddle over the barricade into the timekeeper's area.
Back from the final break of the evening, Jey takes Riddle down and taunts the crowd. Jey jaw-jacks for too long and pays for it with a strike from Riddle.
Orton and Jimmy tag in. Orton connects with a pair of clotheslines and goes for a snap powerslam, but Jimmy holds the ropes. Jey blind tags in. Orton soon hits Jimmy with a snap powerslam and goes for a draping DDT, but Jey, the legal man, rolls Orton up for a two-count. Orton quickly hits Jey with a snap powerslam. Orton goes for a hanging DDT on Jey, but Jimmy grabs the legs. Riddle kicks Jimmy in the face from the apron and goes to the second rope for a Floating Bro to Jimmy on the floor!
Orton hits a hanging DDT and stalks Jimmy for an RKO. The Street Profits then run in and attack Orton!
Winners by Disqualification: Raw Tag Team Champions RK-Bro
The Street Profits take it to RK-Bro. Nakamura and Boogs run in and attack The Usos. Boogs presses Jimmy above his head and drops him on the top rope. They brawl up the stage.
In the ring, Ford goes for a Frog Splash on Orton, but Riddle hits Dawkins with an RKO. Ford jumps off the top rope and lands on his feet. Riddle pops Ford up for an RKO from Orton! The crowd chants, "One more time," and Orton drops Ford with another RKO. Orton grabs Dawkins and sends him into Riddle for an RKO. RK-Bro poses to end the show.