Results by Mike Tedesco of Wrestleview.com
March 7, 2022
Cleveland, OH – Rocket Mortgage FieldHouse
Commentary: Jimmy Smith, Corey Graves & Byron Saxton
---
Quick Match Results
Raw Tag Team Championship Triple Threat Match: RK-Bro defeated Alpha Academy (c) and Kevin Owens & Seth Rollins via Riddle stealing a pinfall Gable after Owens hit Gable with a Stunner and Rollins hit him with a Stomp – NEW Champions
WWE 24/7 Championship: Dana Brooke (c) defeated Tamina via reversing a Boston Crab into a pinfall
Bron Breakker & Tommaso Ciampa defeated Dolph Ziggler & Robert Roode via military press powerslam by Breakker on Ziggler
Omos defeated Apollo Crews via tree slam
Liv Morgan & Rhea Ripley defeated Carmella & Queen Zelina via Riptide by Ripley on Zelina
Finn Bálor defeated Austin Theory by disqualification when Damian Priest attacked Balor
---
MSG Show Highlights
The scene that shocked the @WWEUniverse over the weekend at #WWEMSG.@WWERomanReigns @BrockLesnar @HeymanHustle#WWERaw pic.twitter.com/BqcUomjvn4

— WWE (@WWE) March 8, 2022
Footage is shown from the WWE Live Event at Madison Square Garden this past Saturday. After Brock Lesnar defeated Austin Theory to retain the WWE Championship, WWE Universal Champion Roman Reigns and The Bloodline viciously attacked him. They left Lesnar broken and bleeding in Madison Square Garden.
The Raw video plays, and we go into the Rocket Mortgage FieldHouse to see a big pyrotechnics display.
---
In-Ring: Kevin Owens, Seth Rollins, Alpha Academy
Kevin Owens and Seth "Freakin" Rollins make their way to the ring. Rollins is fired up to kick off Monday Night Raw. Tonight, they're becoming the Raw Tag Team Champions. Owens says they're finally going to get their path to WrestleMania. Rollins says it wasn't that long ago they tried to figure out what WrestleMania would look like without them. Owens says even though he has to compete in a dump like Dallas to be at WrestleMania, he at least gets to do it with his best friend.
Replays are shown from two weeks ago on Raw when Owens and Rollins beat RK-Bro to earn their way into the Raw Tag Team Championship match. Rollins says that was great from two weeks ago, but last week was even better when they beat Alpha Academy. Owens says they are undeniable. It's undeniable that Shorty G and his partner suck. It's undeniable that RK-Bro sucks.
Raw Tag Team Champions Alpha Academy interrupts them. Chad Gable comes out to the stage shushing them. The victory last week was erroneous. For the dumdums in Cleveland, that means it was a joke. Gable was still recovering from a Stunner that Owens gave him. Gable is an Olympian and a holder of a Master's Degree. If anyone deserves to compete at WrestleMania, it's Master Gable and his number one pupil, Otis. Tonight, they're finishing this and waltzing onto the Grandest Stage of Them All to defend the titles.
Backstage: RK-Bro
#TheViper is as intense as ever!@RandyOrton @SuperKingofBros #WWERaw pic.twitter.com/2ddBNRb24T

— WWE (@WWE) March 8, 2022
RK-Bro is shown backstage. Kevin Patrick asks if they have any words. Riddle says he has a big vocabulary, but he can't get them all out. Randy Orton says he has one word for the bro: win! They have to win by any means necessary. They've worked too hard for too long to not kick everyone's ass in the ring and take the titles back.
Raw Tag Team Championship – Triple Threat Match
Alpha Academy (c) vs. RK-Bro vs. Kevin Owens & Seth Rollins
The bell rings, and Seth "Freakin" Rollins superkicks Chad Gable out of the ring. Rollins goes for a superkick on Riddle (all three teams have a person in the ring), but Riddle avoids it. Rollins eventually takes Riddle down with a Sling Blade. Kevin Owens tags in and hits Riddle with a senton splash. Owens blocks a kick from Riddle and stomps his bare foot before hitting a DDT. Owens gets Riddle to his feet and chops the chest. Riddle elbows Owens back before Gable drags him out of the ring. Gable hits an exploder suplex on the floor on Riddle. Gable gets in the ring and goes for a German Suplex on Owens. Owens doesn't budge, so Gable goes for a fireman's carry. Owens gets out and hits an enzuigiri. Owens goes to the second rope and hits a slingshot elbow drop for a two count. Owens chops the chest and tags Rollins back in. Rollins hits a drop-toe-hold and Owens hits a senton splash. Rollins covers Gable for a two count. Rollins goes for a suplex, but Gable flips through. Rollins instead drives him into the turnbuckle sternum-first and elbows him. Riddle elbows Gable as well. Riddle drops Rollins on the apron, but Rollins takes him down quickly. Rollins then hits a double cross-body block on Gable and Riddle.
Owens tags in and knocks Otis off the apron. Owens hits a cannonball on Riddle in the corner followed by an enzuigiri on Gable. They send Gable out of the ring. Rollins and Owens get the crowd fired up. Rollins hits Gable and Riddle with a suicide dive. Rollins throws Gable into the ring, and Owens hits him with a Swanton Bomb for a near fall!
We come back from the break to see Otis running over everyone. Otis hits Rollins with an exploder suplex over the top rope. Otis attacks Riddle in the corner before standing on him. Otis hits Riddle with a big splash and covers. Otis lifts Riddle's shoulders before the three-count, a very cocky move. Gable tags in and shoulder blocks Riddle down. Gable stretches Riddle's legs and tags Otis back in. Otis stomps the leg and applies a submission. Riddle fights up, so Otis sends him to the corner and takes him down. Otis goes for a Vader Bomb, but Riddle avoids it.
Randy Orton and Gable tag in. Orton hits Gable with a pair of clotheslines and a snap powerslam. Rollins, the other legal competitor, also takes a snap powerslam. Orton knocks Owens off the apron. Orton has Gable and Rollins on the apron and hits a double draping DDT! The crowd is hot for Orton. Orton gets fired up and goes for an RKO on Gable, but Gable escapes. Orton avoids a Stomp and hits Rollins with an RKO. Owens pulls Orton out of the ring before the three-count. Orton quickly hits Owens with a back suplex on the commentary table. Gable meets the same fate. Orton tries to give Otis a back suplex on the table, but he can't lift him. Riddle attacks Otis and calls Orton over. RK-Bro hits Otis with a double-team back suplex on the commentary table!
Back from the break, Riddle counters a German Suplex from Gable into a roll-up for a near fall. Riddle goes to the top rope and hits Gable with a Floating Bro, but Owens breaks up the pin. Owens goes for a scoop slam on Riddle, but Riddle slides into a sleeper hold. Owens then hits a backpack slam onto Gable with Riddle on his back!
Orton tags in and punches away at Owens. Orton hits Owens with his patented headlock backbreaker for a two-count. Otis runs in and hits Orton with a falling front slam. Otis then slams Riddle down. Otis goes to the apron and tags himself in. Otis hits Riddle with a Vader Bomb. Gable tags in and hits Riddle with a moonsault, but Rollins breaks it up. Otis puts Rollins in the corner and charges, but Rollins sidesteps him. Otis hits the ring post shoulder-first. Gable goes to the top rope, but Rollins crotches him up there. Rollins chops Gable's chest and climbs to the second rope. Gable punches him off, but Rollins scales the ropes and goes for a superplex. Gable fights it and drops down. Gable goes for a super front suplex, but Owens breaks it up. Otis grabs Rollins and Owens, and we've got a Tower of Doom spot. Otis with a double powerbomb on Rollins and Owens, while Rollins and Owens hit Gable with a double-team superplex.
Riddle gets in the center of the ring and meets with Orton. We've got a melee in the ring now!
Back from yet another break in this match, everyone is down at ringside. Riddle and Gable get in the ring, and Riddle sends him back out with a Bro To Sleep! During the commercial break, Owens hit everyone with a Swanton Bomb off the top rope to the floor!
Riddle goes to the top rope, but Rollins crotches him into the tree of woe. Rollins hits a diving double stomp on Riddle for a near fall. Rollins angrily sizes up Riddle, but Riddle counters him into a triangle choke. Rollins fights up to his feet and tries for a pin, but Riddle bridges. Gable wipes them out with a diving head-butt. Orton runs in, but Gable hits him with a German Suplex. Gable then hits a rolling German Suplex on Rollins before giving the same to Riddle. Gable hits an exploder suplex on Riddle and goes to the top rope. Gable goes for a moonsault, BUT ORTON HITS HIM WITH AN RKO FROM OUT OF NOWHERE!
Otis quickly knocks Orton out of the ring. Rollins and Owens hit Otis with superkicks to get him out of the ring. Rollins hits Gable with a Buckle Bomb. Owens hits Gable with a Stunner and Rollins immediately follows up with a Stomp! Riddle knocks Rollins away and covers Gable for the win!
Winners and new Raw Tag Team Champions: RK-Bro
Rollins and Owens look completely stunned. Their Road to WrestleMania has been shut down. Rollins walks off in a catatonic state.
RK-Bro celebrates with the Raw Tag Team Titles in the ring. Kevin Patrick asks what this victory means to them. Riddle says they're going to WrestleMania. Orton says he's been doing this for a long time and is having the most fun of his career with Riddle. Orton is going to use the "F-Word" for the first time in his career. Riddle is his friend. Orton doesn't have a lot of friends and Riddle is one of them. They're going to WrestleMania. A dejected Kevin Owens walks off.
---
WWE 24/7 Championship
Dana Brooke (c) vs. Tamina
Earlier today, Reggie gave Dana Brooke a good luck kiss. Elsewhere backstage, Tamina viciously kissed Akira Tozawa.
Tamina clotheslines Brooke down and punches away at her. Brooke fights back and hits a cartwheel back elbow in the corner. Tamina immediately barrels her over with an avalanche. Tamina applies a Boston Crab to Brooke. Brooke twists into a pin.
Winner and still WWE 24/7 Champion: Dana Brooke
Akira Tozawa says the real winner of this match is the love of his life, but Tamina walks off on him.
---
Backstage: Seth Rollins
Seth is speechless.@WWERollins #WWERaw pic.twitter.com/8RDAgMuvrc

— WWE (@WWE) March 8, 2022
Seth "Freakin" Rollins (with a cut on his left eye) is standing backstage and looking off into the distance. Kevin Patrick asks for a comment, but Rollins says nothing.
---
In-Ring: The Miz, Logan Paul, Jerry Lawler
Replays are shown of The Miz and Logan Paul destroying The Mysterios two weeks ago.
The Miz is in the ring and says, "Cleveland, I'm home!" The crowd gives him a nice hand. Miz appreciates the respect. Miz says Cleveland is awesome. What they just saw moments ago is him and Logan Paul giving The Mysterios a taste of a Skull Crushing Finale. Miz has a replay showing Dominik Mysterio disrespecting him and Paul.
Miz introduces Cleveland native Logan Paul to the ring. Paul comes out drinking his company's drink and slaps hands with The Miz. Paul greets Cleveland, and his hometown boos him. Paul says it is good to be home. Paul is honored to tag with The Miz at WrestleMania and honored to be back in Cleveland. Paul goes over his Cleveland credentials and talks about how he placed fifth in the state as a wrestler. Paul has nothing but respect for Cleveland because the city made him into the man he is. The crowd boos.
Miz says Logan Paul did it on his own. Logan Paul didn't have a father that made a YouTube channel for him. Rey Mysterio got Dominik into this company and he doesn't deserve it. The Miz then introduces Cleveland fan Jerry "The King" Lawler to the ring.
WWE Hall of Famer Jerry "The King" Lawler comes out wearing a Cleveland Browns jersey. Lawler says this is awesome. Lawler goes over his Cleveland credentials and says he was here in 1964 when the Cleveland Browns won the NFL Championship.
Lawler says it's great to be here for The Miz's homecoming. Lawler is looking at Miz standing beneath the WrestleMania sign and thought how cool it would be to have WrestleMania in Cleveland. Logan Paul thinks it's an awesome idea. Miz isn't quite so sure. Lawler says Miz was out here singing Cleveland's praises. Miz says Cleveland isn't a WrestleMania city. The crowd boos him. Miz says this city couldn't handle WrestleMania's pyro since the lake would catch on fire. Miz says he doesn't even live here anymore. Everyone leaves this city. LeBron James won a championship and left. The same reason Cleveland will never host a Super Bowl is the same reason it will never host WrestleMania. The Miz and Logan Paul are taking their talents to WrestleMania because winners leave Cleveland. Miz and Paul walk off as the crowd loudly boos.
---
Backstage: Bron Breakker, Tommaso Ciampa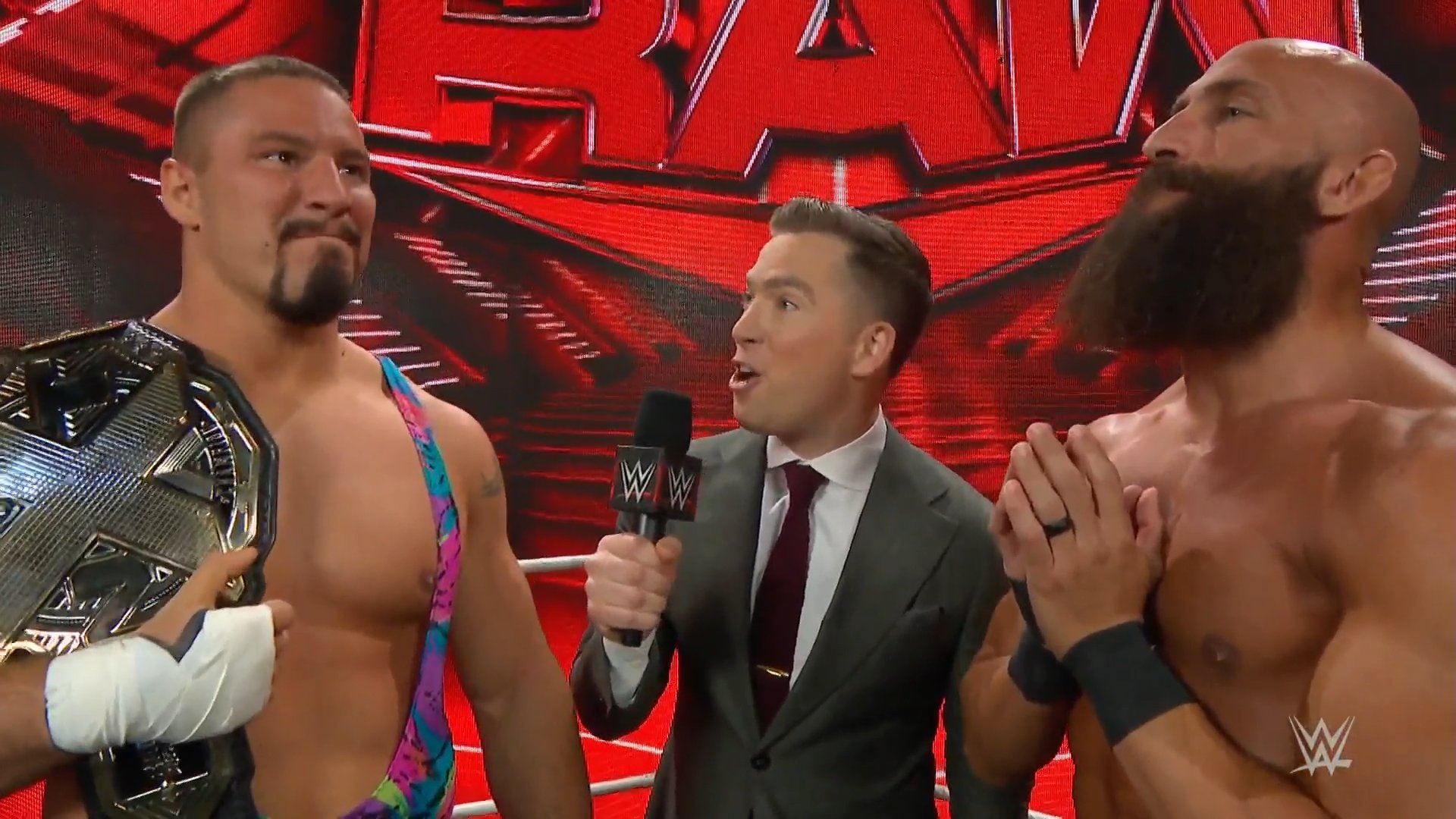 Kevin Patrick is backstage with NXT Champion Bron Breakker and Tommaso Ciampa. Breakker says it's great to be on Raw. While he's representing NXT, he wants to make the most of this opportunity to get his hands on Dolph Ziggler and his goon Robert Roode.
---
They show a graphic for Gable Steveson.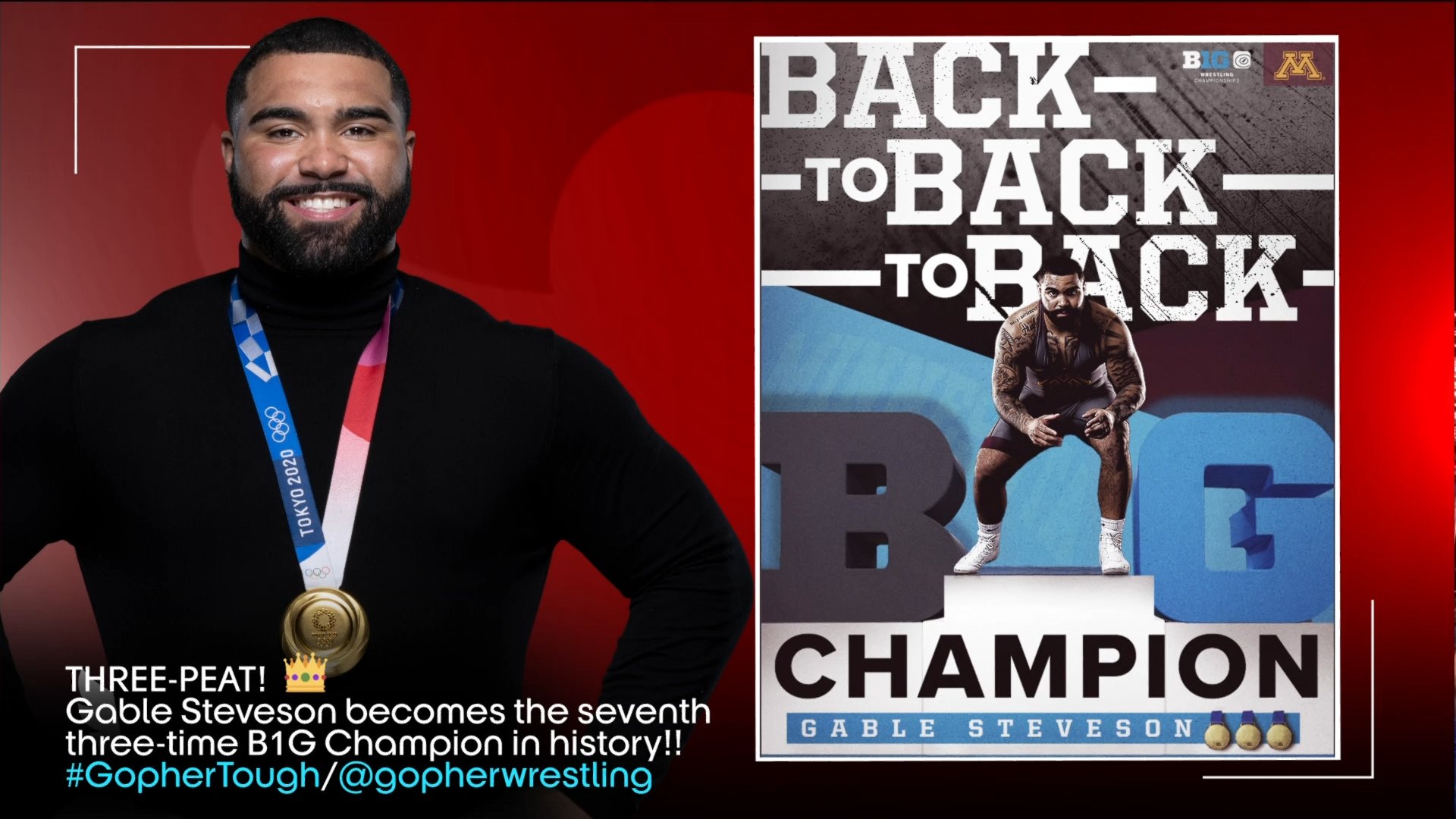 ---
Backstage: The Street Profits
The Street Profits are walking backstage when Sarah Schreiber stops them. She asks about their place on the WrestleMania card and how disappointed that they aren't on the card. Montez Ford says four weeks is plenty of time for them to get onto WrestleMania. Last week, they pinned the new Raw Tag Team Champions RK-Bro. If anyone is next in line for a title shot, it's them. Angelo Dawkins says Alpha Academy can go to the back of the line. They can make it to WrestleMania.
---
Bron Breakker & Tommaso Ciampa vs. Dolph Ziggler & Robert Roode
Breakker and Roode lock up. Breakker rolls him around and hits a powerful delayed vertical suplex. Tommaso Ciampa tags in and kicks Roode. Ciampa chops Roode's chest before having a whip to the corner reversed. Ciampa puts the brakes on and clotheslines Roode down for a two-count. Ciampa applies a chin lock, but Roode fights to his feet. Ciampa elbows away at Roode and Ziggler. Ciampa knocks Ziggler off the apron, and Roode hits Ciampa with a Double R Spinebuster. Ziggler goes for a cheap shot on Breakker, but Breakker avoids it. Breakker pulls Ciampa out of the ring.
We come back from the break to see Ziggler take Ciampa down for a two-count. Roode tags in. They send Ciampa into the ropes for a double-team back elbow. Roode drops a knee for a two-count. Ciampa eventually gets away and tags in Breakker.
Breakker runs over Ziggler and Roode. Breakker hits Ziggler with a belly-to-belly suplex before attacking Roode. Ziggler fights back, but Breakker crushes him with a spinebuster. Breakker pulls the straps down and charges, but Ziggler knees him in the face. Breakker quickly responds with a clothesline and takes a moment to recover. Breakker presses Ziggler up but drops him when Roode distracts him. Ziggler rolls him up with a handful of tights, but Breakker kicks out. Breakker goes into the ring post shoulder-first and eats a Zig-Zag, but Ciampa breaks up the pin. Breakker avoids a superkick from Ziggler and hits a military press powerslam for the win.
Winners by Pinfall: Tommaso Ciampa and NXT Champion Bron Breakker
Dolph Ziggler congratulates Breakker on getting over The Dirty Dawgz. Ciampa and Breakker worked well as a tag team, but tomorrow night they're against each other. Dolph Ziggler will be the NXT Champion tomorrow night.
---
Omos vs. Apollo Crews
Video Package: Omos destroying people. Omos is backstage and asked about his WrestleMania path. Omos has destroyed everyone and deserves to be on WrestleMania.
Omos points at Commander Azeez and says he's next. Crews stumbles Omos with a dropkick, but Omos quickly clotheslines him down. Omos applies a surfboard stretch to Crews and holds it for a few before letting go. Omos stares at Azeez. Omos gets Crews on the apron and forearms him down to ringside. Omos gets Crews back in the ring and sends him to the corner. Crews avoids an avalanche and kicks Omos back. Crews leaps off the second rope, but Omos catches him and hits a double hand choke bomb for the win.
Winner by Pinfall: Omos
Commander Azeez checks on Crews, so Omos turns to face him. They size each other up in the ring before Omos laughs and walks off.
---
In-Ring: Edge
Video Package: AJ Styles accepts Edge's WrestleMania challenge. Edge then destroyed him with two con-chair-tos.
Edge makes his way to the ring with no music and a purple spotlight. Edge says, "You think you know me?" Edge says he needed to wake up the bulldog in AJ Styles for WrestleMania. Edge is in love with this side of him. Edge is standing on the mountain of omnipotence and it is phenomenal. Edge has a psychotic look on his face and we fade away.
---
Backstage: Kevin Owens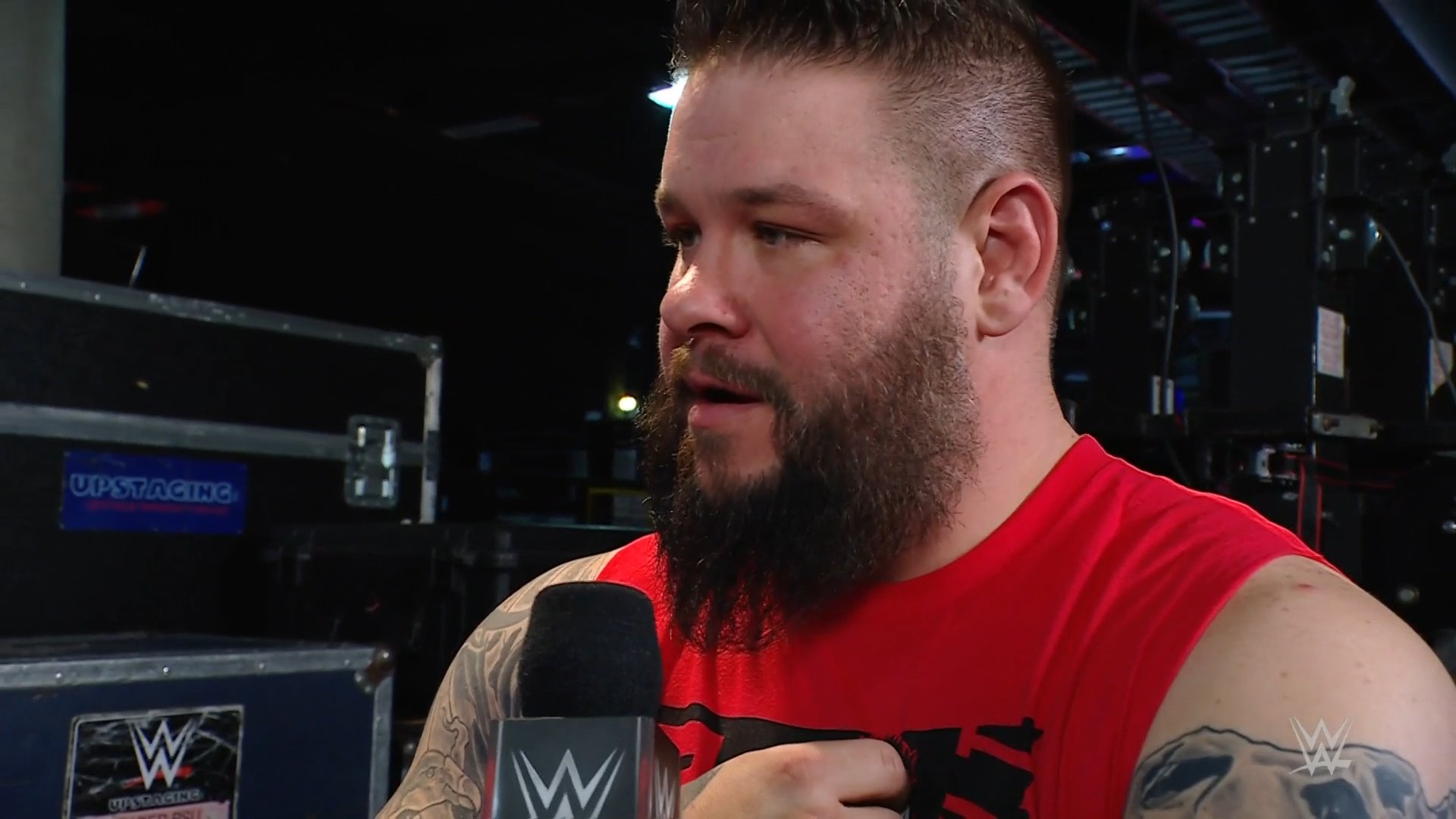 Kevin Owens is pacing backstage. Kevin Patrick asks where Owens's mindset is at. Owens says he's not as distraught as his tag team partner. That feeling he felt at the end of the match won't happen again. Owens has had an epiphany. It's an idea so brilliant that no one else can have it. That idea will change his WrestleMania future. Owens isn't ready to share it because some details have to be ironed out. Owens has a plan and will share it later tonight.
---
Carmella & Queen Zelina vs. Liv Morgan & Rhea Ripley
Carmella and Liv Morgan start the match. Morgan quickly takes her down and tags in Ripley. Ripley powers Carmella down until Carmella tags Zelina in. Zelina looks nervous but knocks Morgan off the apron. Ripley goes for a delayed vertical suplex and big boots Carmella at the same time. Zelina counters the suplex into a DDT.
The commentators state that if Morgan and Ripley win, they'll be put into the Women's Tag Team Championship match at WrestleMania.
Zelina takes it to Ripley before Carmella tags in. Carmella applies a chin lock, but Ripley fights out and kicks her in the face. Carmella is wearing a protective mask.
Morgan and Zelina tag in. Morgan takes her down and dropkicks her against the ropes. Morgan knees Zelina in the face and hits a missile dropkick for a two-count. Zelina hits a jawbreaker, but Morgan comes back with a roll-up for a two-count. Zelina goes for a tag, but Carmella has her mask off and is talking to Corey Graves. Morgan hits Zelina with a double knee facebuster and tags Ripley in. Ripley hits the Riptide for the win.
Winners by Pinfall: Liv Morgan and Rhea Ripley
Queen Zelina and Carmella will now defend the WWE Women's Tag Team Championships against the teams of Sasha Banks and Naomi, and Rhea Ripley and Liv Morgan. This will happen on WrestleMania Sunday.
---
Hall of Fame Announcement: Vader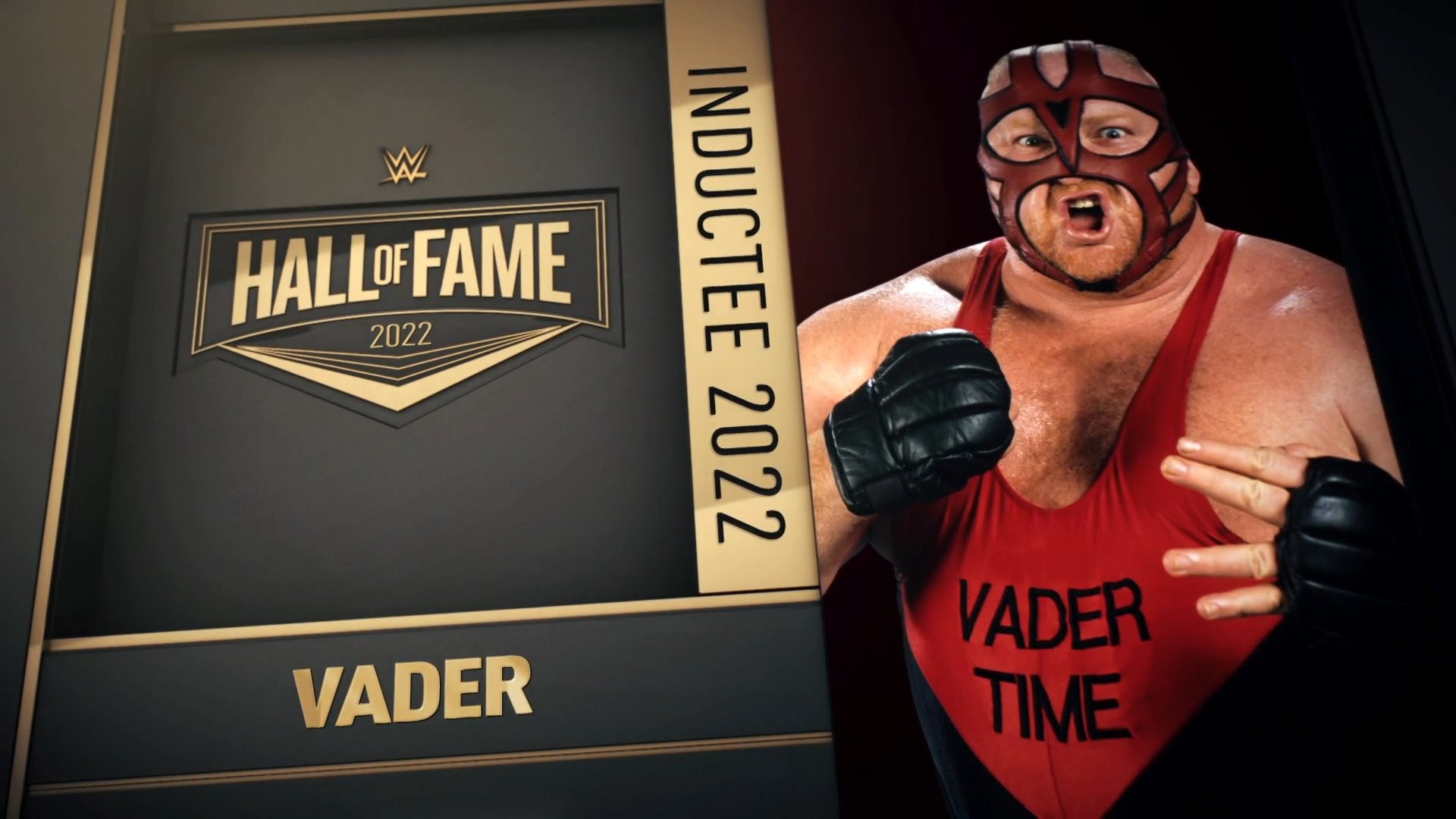 Vader is announced as the latest inductee into the WWE Hall of Fame: Class of 2022.
---
Finn Bálor vs. Austin Theory
Replays are shown of Vince McMahon appearing on The Pat McAfee Show and offering him a match on WrestleMania. Austin Theory came out on SmackDown and said that he's McAfee's WrestleMania opponent and will beat him to a pulp.
Bálor sidesteps Theory and punches him down. Theory fights back and takes him down before attacking him in the corner. Theory takes Bálor down and stomps away at him for a two-count. Theory knees Bálor in the midsection as he fights up. Theory forearms him in the lower back and rips at the face. Theory talks some trash before elbowing Bálor in the back of the head. Bálor reverses a whip, but Theory goes for a sunset flip. Bálor rolls through and hits a low dropkick. Theory rolls out of the ring and bounces Bálor off the apron. Bálor gets out of an ATL and hits a Sling Blade on the floor.
We come back from the break to see Theory hit a rolling dropkick for a near fall. Bálor fights up from a rest hold and boots him back. Bálor hits a running forearm before having a whip reversed. Bálor hits a diving forearm before sweeping the feet and hitting a double stomp. Bálor viciously chops him in the corner before taking him down and wildly stomping away at him. Theory rolls to the apron to recover. Bálor grabs him and tries to suplex him into the ring, but Theory blocks it. Theory takes him down and hits a slingshot stomp. Theory connects with a suplex for a two-count.
Bálor twists out of a hold, but Theory connects with a fisherman's neckbreaker over his knee for a near fall. Theory punches the mat in frustration. Theory points at the WrestleMania sign. Theory goes for the ATL, but Bálor counters into a falling elbow drop. Bálor hits a Woo dropkick and goes to the top rope. Bálor goes for a Coup de Grâce, but Priest grabs him by the throat and throws him off the top rope. The referee calls for the bell.
Winner by Disqualification: Finn Bálor
Priest grabs Bálor in the ring and hits a Crucifix Powerbomb before leaving. Theory gets in the ring and takes a selfie. Theory picks Bálor up and hits an ATL before doing a selfie with the fallen United States Champion.
---
Backstage: Bianca Belair
Replays are shown of Bianca Belair whipping Becky Lynch in the midsection last week on WWE Raw.
Kevin Patrick asks Bianca Belair if she'll use her hair as a weapon at WrestleMania. Belair warns Lynch not to touch her hair. Belair is a WrestleMania main eventer and doesn't need a weapon. The scars may last forever, but what won't last forever is Becky Lynch's title reign.
---
In-Ring: Kevin Owens
Kevin Owens says is officially not going to have a match at WrestleMania, but he thinks he has another way. This is depending on the response to his challenge. Owens wants to have the biggest KO Show in history, but he has to invite some Texas trash. Maybe he could invite that blowhard JBL, but he's not interesting. Maybe it could be Booker T, but he spent his time as a member of Harlem Heat and then as King Booker with a horrible accent. Owens has no time for hypocrites. Then there's Shawn Michaels. HBK is a proud Texan, but Owens is a proud Canadian. Out of respect to Bret "The Hitman" Hart, HBK is not invited.
Owens wants to invite a broken-down shell of his former self like Texas. This person is living on past glory and needed knee braces when his career was going on. Nothing would make him happier to beat this guy down at WrestleMania and give him a Stunner the world will talk about for years before pouring a glass of milk on his lifeless body. Owens knows he's watching and doesn't think he's going to show up. The bottom line is he is calling out "Stone Cold" Steve Austin!
The commentators talk about Kevin Owens's challenge. The KO Show with special guest "Stone Cold" Steve Austin would happen on WrestleMania Saturday if Austin accepts.