Results by Mike Tedesco of Wrestleview.com
April 25, 2022
Knoxville, Tennessee – Thompson-Boling Arena
Commentary: Jimmy Smith, Corey Graves & Byron Saxton
---
Quick Match Results
Raw Women's Championship: Bianca Belair (c) defeated Sonya Deville via KOD after Carmella and Zelina's interference backfired
Veer Mahaan defeated Sam Smothers via Camel Clutch submission (squash match)
Arm Wrestling Challenge: Bobby Lashley defeated Omos
Mixed Tag Team Match: Special Guest Referee R-Truth: Tamina & Akira Tozawa defeated Dana Brooke & Reggie via senton by Tozawa on Reggie
Damian Priest defeated Finn Bálor via flatliner
Mustafa Ali defeated The Miz via roll up
8-Man Tag Team Match: Cody Rhodes, Ezekiel & RK-Bro defeated Seth "Freakin" Rollins, Kevin Owens & The Usos via RKO by Orton on Jey Uso
---
In-Ring: Randy Orton, Riddle, Cody Rhodes, Seth Rollins, Ezekiel, Kevin Owens, The Usos, Adam Pearce
Raw Tag Team Champion Riddle is in the ring. The ring is surrounded by WWE Raw performers, including Seth "Freakin" Rollins, The Street Profits, Bobby Lashley, and Veer Mahaan. Riddle welcomes everyone to the show and says we'll be celebrating one of the greatest WWE Superstars.
Video Package: The 20-year career of Randy Orton
A "Randy" chant picks up. Riddle introduces his best friend, The Viper, The Apex Predator, and The Legend Killer, Randy Orton!
Raw Tag Team Champion Randy Orton comes out to a tremendous ovation from the Knoxville crowd. Orton gets in the ring, and the crowd chants his name. Orton says he appreciates Riddle for doing this. Knoxville is where Orton was born. It's on Wikipedia. It's cool that they're doing this here. It's been a hell of a journey with a lot of ups, downs, twists, and turns. Orton hopes the people aren't sick of him because he's not going anywhere anytime soon. 20 years flew by in a flash. Orton has made a lot of relationships and had some killer matches against some badass men like John Cena, Triple H, The Undertaker, Shawn Michaels, and Mick Foley. It's because of Mick Foley that he became The Legend Killer and he's even here. Orton thanks Foley, as well as Triple H and Ric Flair.
There's one thing that's different these days. Orton is having more fun right now than he's ever had in his entire career. It's because of Riddle. Orton loves him and embraces him. An "RK-Bro" chant picks up. Orton wants to let the WWE Universe know that they've had some ups and downs, twists and turns, but they always came back and supported him. Without them, there is no Randy Orton. Orton says he loves the crowd. Another "Randy" chant picks up.
Riddle says he has a surprise for Orton. This man wanted to come out and tell him how much a mentor Orton is to him. He's a second-generation superstar that looks up to Orton as a locker room leader. This person says he's friends with Orton.
Riddle introduces "The American Nightmare" Cody Rhodes to the ring. Rhodes comes out to a nice ovation and embraces the former leader of Legacy.
Rollins has had enough and sarcastically says this is so cute. Rollins warns Orton not to trust Rhodes. Rhodes isn't out here to show love. Rhodes is here to steal the spotlight just like he tried to do to Rollins at WrestleMania. Rollins gets in the ring and wants to let Rhodes in on a secret: not everything is about him. Rhodes agrees. Rollins says tonight is specifically about Randy Orton. Rollins dressed in his finest suit for the occasion to celebrate 20 years in the past. Rollins says Orton's best years are behind him. Orton is the past, but not the present and the future. Neither is Rhodes. The next generation of WWE Superstars won't be inspired by a Nightmare, a Bro, or a Viper. They'll be inspired by a visionary and a revolutionary in Seth Rollins.
Ezekiel gets in the ring and says he hates to interrupt, but as the newest superstar around he wants to say congratulations. Ezekiel introduces himself to Orton as Elias' younger brother. Ezekiel claims he and his brother would watch Orton dominate on TV as The Legend Killer.
Kevin Owens comes through the crowd screaming that Ezekiel is a liar. Owens says he talks and sounds like Elias because he is. Owens gets in the ring and tells Orton not to let Ezekiel lie to him. Ezekiel is a disgusting piece of trash. He may have passed a lie detector test. Owens is the only one that's still sane around here.
SmackDown Tag Team Champions The Usos come out to the ring. They say they were 15 years old when Orton debuted. Jey has a favorite Randy Orton story. They used to watch him as youngsters, but now their favorite moment will be when they beat him to unify the Tag Team Titles and cement their legacy.
WWE Official Adam Pearce comes out to the stage. Pearce wants to stop this before it tarnishes the night. In commemoration of Orton's 20th anniversary, Seth "Freakin" Rollins will team with Kevin Owens and The Usos to take on Ezekiel, Cody Rhodes, and RK-Bro! Owens punches Ezekiel down, so Orton drops him with an RKO. The Usos back off.
---
Backstage: Kane, Bianca Belair
Mayor Glenn Jacobs (WWE Hall of Famer Kane) is backstage talking with Bianca Belair. Belair will defend the Raw Women's Championship against Sonya Deville next.
---
Raw Women's Championship
Bianca Belair (c) vs. Sonya Deville
The bell rings, and they immediately go at it. Belair shoulder blocks Deville down, and Deville gets out of the ring. Deville pulls Belair out of the ring, but Belair sends her over the commentary table. Deville grabs her ankle in pain and is counted out.
The ring announcer goes to announce Bianca Belair as the winner, but Deville says she did not lose. There was water everywhere. This match will restart with no count-outs.
The bell rings again, and Belair goes at Deville. Belair goes for a suplex on the floor, but Deville blocks it and drives her into the LED apron. Belair fights back, but Deville pulls at the braid. Belair counters and sends her into the timekeeper's area. Deville hits Belair in the midsection and spine with a chair. The referee calls for the bell.
Deville says Belair cheated first by using a foreign object with her hair. This match will be restarted with no count-outs or disqualifications. The bell rings, and Deville calls Queen Zelina and Carmella down to the ring.
We come back from the break to see Carmella holding up Belair and Deville punching away at her. Belair boots Deville back and knocks Carmella away. Belair hits a spinebuster on Deville, so Zelina runs in and jumps on Belair's back. Deville kicks Belair in the midsection. Deville and Zelina send Belair to the corner. Deville shoulders Belair in the corner. Belair knocks Zelina and Carmella away before sidestepping Deville. Belair gets in the ring and goes for a slam on Deville, but Deville counters into a roll-through into the turnbuckle. Deville sets up a steel chair and hits a DDT on it. Deville covers for a near fall.
Zelina wedges the chair in the corner, but Belair sends Deville headfirst into it. Belair knocks Zelina and Carmella away before hitting Deville with the KOD for the win.
Winner by Pinfall and still Raw Women's Champion: Bianca Belair
---
Backstage: Carmella, Queen Zelina, Sonya Deville
Replays are shown of Bianca Belair defeating Sonya Deville moments ago.
Carmella and Queen Zelina are arguing backstage. Sonya Deville walks up and is furious with them. They didn't deliver the Raw Women's Championship to her, so she's denying them another title opportunity. They're not happy, so Deville slaps Queen Zelina in the face. Carmella goes to hit Deville, but Deville warns her that she's still her boss. Carmella says this was all Zelina's fault. Deville slaps Carmella in the face and walks off.
---
Backstage: Edge & Damian Priest
UP NEXT on #WWERaw@EdgeRatedR@ArcherofInfamy pic.twitter.com/8zMX5uHQD7

— WWE (@WWE) April 26, 2022
Replays are shown of Edge and Damian Priest viciously attacking AJ Styles last week. They attacked his arm.
Edge and Damian Priest are shown backstage. Edge is sitting on a throne. Edge mentions how everyone is wondering why he's changed, but he's the same. Edge insults the town, as well as Mayor Kane and the Tennessee Volunteers. They're dealing out punishment to AJ Styles. Later tonight, Damian Priest will beat up Finn Bálor and finish their unfinished business. They laugh ominously.
---
Veer Mahaan vs. Sam Smothers
Replays are shown of the destruction caused by Veer Mahaan.
Mahaan immediately and viciously attacks Smothers at the sound of the bell. Mahaan avalanches him in the corner and hits him with a Million Dollar Arm clothesline. Mahaan applies the Cervical Clutch for the submission.
Winner by Submission: Veer Mahaan
Mahaan throws Smothers out of the ring and reapplies the Cervical Clutch. Referees run down to help, but they are ineffective. Mahaan slams Smothers on the commentary table and applies the Cervical Clutch on the table. Smothers passes out from the pain. Mahaan stands over the broken local competitor.
---
Arm Wrestling Challenge
Omos vs. Bobby Lashley
Omos is in the ring with MVP. MVP calls out Bobby Lashley for being foolish and selfish for thinking he can go to WrestleMania without him. The crowd gives MVP the "What" treatment, which upsets him.
Bobby Lashley comes out to the ring to interrupt the promo. The Arm Wrestling Challenge starts up. Omos gets the early advantage, and MVP talks trash the whole time. Lashley then rallies back and defeats Omos.
MVP pretends to hit Lashley with his cane. The distraction allows Omos to blindside Lashley. Omos wipes Lashley out with a clubbing blow and slams the arm wrestling table down on top of him a few times. Omos throws the table out of the ring. MVP holds Omos back from doing more damage.
---
Mixed Tag Team Match
Special Guest Referee: R-Truth
Dana Brooke & Reggie vs. Tamina & Akira Tozawa
Video Package: The Double Commitment Ceremony from last week
Brooke and Tamina start the match out, but Reggie and Tozawa soon tag in. Reggie gets the better of Tozawa, so Tamina tags back in. Tamina teases kissing Brooke, but Tozawa tags in. Tozawa kicks Reggie down and hits a top rope senton splash for the win.
Winners by Pinfall: Tamina and Akira Tozawa
After the match, Tozawa tries to roll up Brooke, but R-Truth breaks it up. R-Truth then rolls Brooke up and tries to count his own pin, but she escapes.
---
In-Ring: Becky Lynch, Asuka
Becky Lynch makes her way to the ring looking very dejected. This is her first appearance since losing the Raw Women's Championship to Bianca Belair at WrestleMania. We'll hear from her next.
A bleak-looking Becky Lynch is in the ring. Lynch says it's been three years since she's been on Raw without her championship. She doesn't recognize herself without the title and doesn't know who she is. This is rock bottom. Lynch says she has hit rock bottom. Lynch then gets fired up and says if she's hit rock bottom, then the only direction to go is up. This is the start of a Becky Lynch comeback. She'll beat Bianca Belair for the title and never lose it again. No one can stop her.
Asuka makes her way to the ring! Asuka comes out to a huge ovation. Asuka gets in the ring and shouts in Japanese. Lynch looks furious. Asuka says she'll stop Becky Lynch because no one is ready for her. Asuka flicks Lynch's nose. An irate Lynch swings at her, but Asuka ducks it. Lynch escapes the ring.
---
Backstage: The Street Profits
Replays are shown of The Street Profits defeating Raw Tag Team Champions RK-Bro last week in a non-title match.
The Street Profits talk about tonight's main event. They say they'll be waiting to see who wins the Title Unification Match. They're next in line.
---
Finn Bálor vs. Damian Priest
Edge and Damian Priest come out to the ring on a platform that slowly drives them toward the ring. Edge is sitting on the throne. They're known of Judgement Day.
The bell rings, and Priest quickly takes it to Bálor. Priest throws him to the corner and wails away at him. Bálor sidesteps an avalanche and punches at the midsection of Priest. Bálor clotheslines Priest out of the ring. Priest pulls him out of the ring, but Bálor fights back. Priest clubs him and hits a Crucifix Powerbomb on the apron.
We come back from the break to see Priest taking it to Bálor. Bálor fights back and goes to the top rope, but Edge stands up from his throne, which causes a devastating distraction. Priest pulls Bálor off the top rope and hits South of Heaven. Priest follows up with a flatliner for the win.
Winner by Pinfall: Damian Priest
---
In-Ring: The Miz, Theory, Mustafa Ali
The Miz has WWE United States Champion Theory come to the ring. Miz puts him over as a United States Champion that is going to bring prestige back to the title. This prestige hasn't been seen on that title in 12 years. Theory points out that Miz was champion 12 years ago. Theory puts Miz over. Miz says everyone will be coming for him as champion, but he can't take every challenge.
Mustafa Ali makes a real surprise return. Miz and Theory make fun of him for trying to legitimately quit the company. Ali says he's here on Raw and wants to take the United States Championship from Theory. Theory declines the challenge. Ali says he's spineless and makes fun of The Miz. Theory defends Miz and says he just texted Mr. McMahon, who put Miz in a match with Ali. Miz is not happy. Miz says Ali will wish he got his walking papers. Ali slaps Miz in the face.
Mustafa Ali vs. The Miz
Ali takes it to Miz early on, but Miz quickly gets the better of him. Miz turns him inside out with a knee to the midsection and whips him hard into the corner. Ali comes back with some kicks, but Miz kicks out. Miz fights back, but Ali rolls him up for the win.
Winner by Pinfall: Mustafa Ali
Tommaso Ciampa attacks Mustafa Ali from behind on the entrance ramp after the match.
---
Backstage: Rhea Ripley, Liv Morgan
Replays are shown of Rhea Ripley attacking Liv Morgan last week on Raw.
Rhea Ripley says she won the Raw Women's Championship but has since been in the tag division with disappointing partners that aren't as good as her. Ripley says they tried to bring her to their level, but she won't go. Liv Morgan viciously attacks Ripley.
---
Backstage: Kevin Owens, Chad Gable, Otis, Seth Rollins, The Usos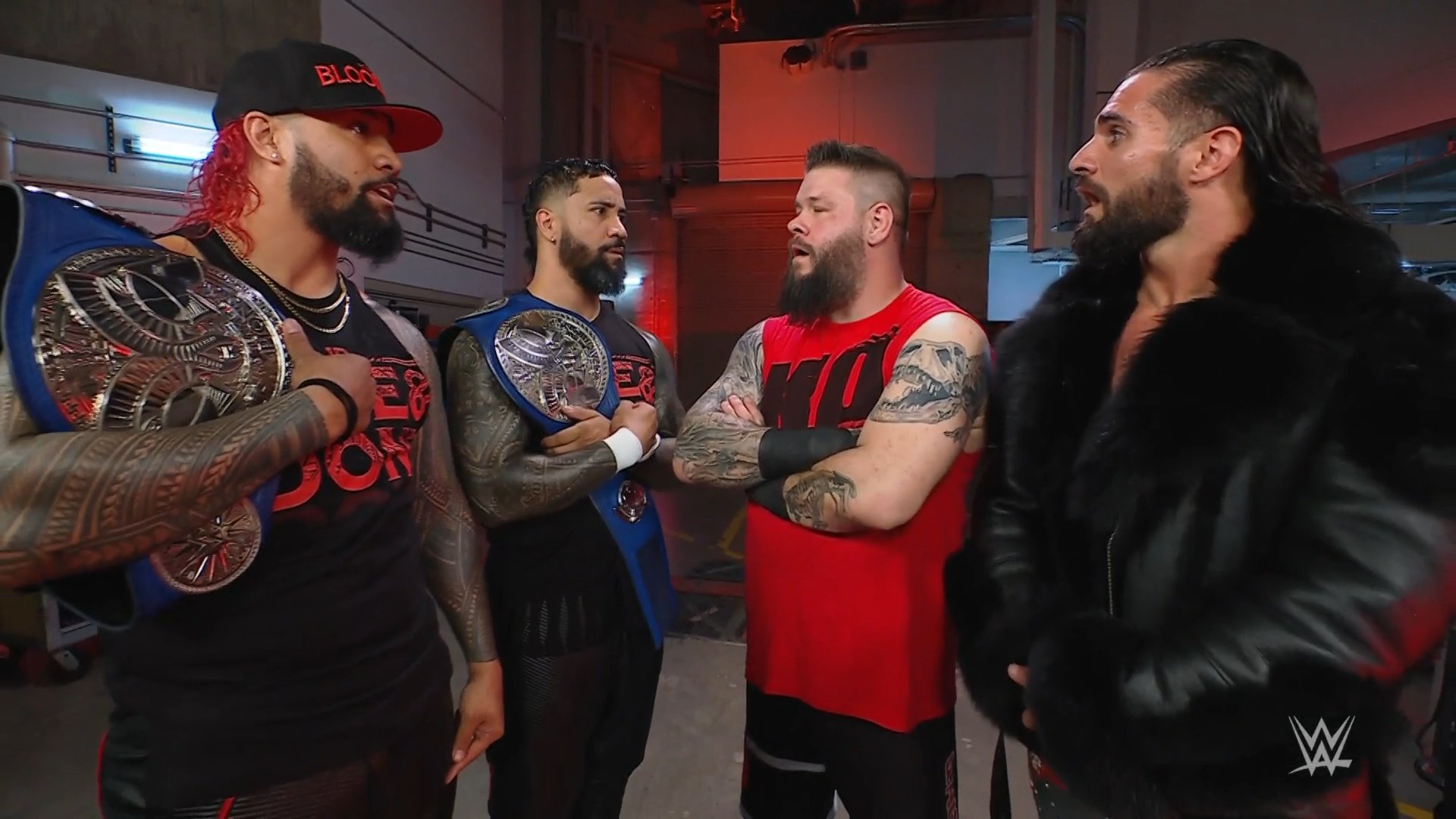 Kevin Owens is talking with Chad Gable and Otis about the Lie Detector Test from last week. Owens says he's not paying him. Seth "Freakin" Rollins walks up and wants to game plan with him, but Owens is upset that Rollins insulted him last week. Owens says he's a better friend to Rollins. They argue until The Usos walk up and say they better get the win tonight or The Tribal Chief won't be happy. Rollins says this is their show, but Owens walks off on him.
---
Backstage: MVP, Omos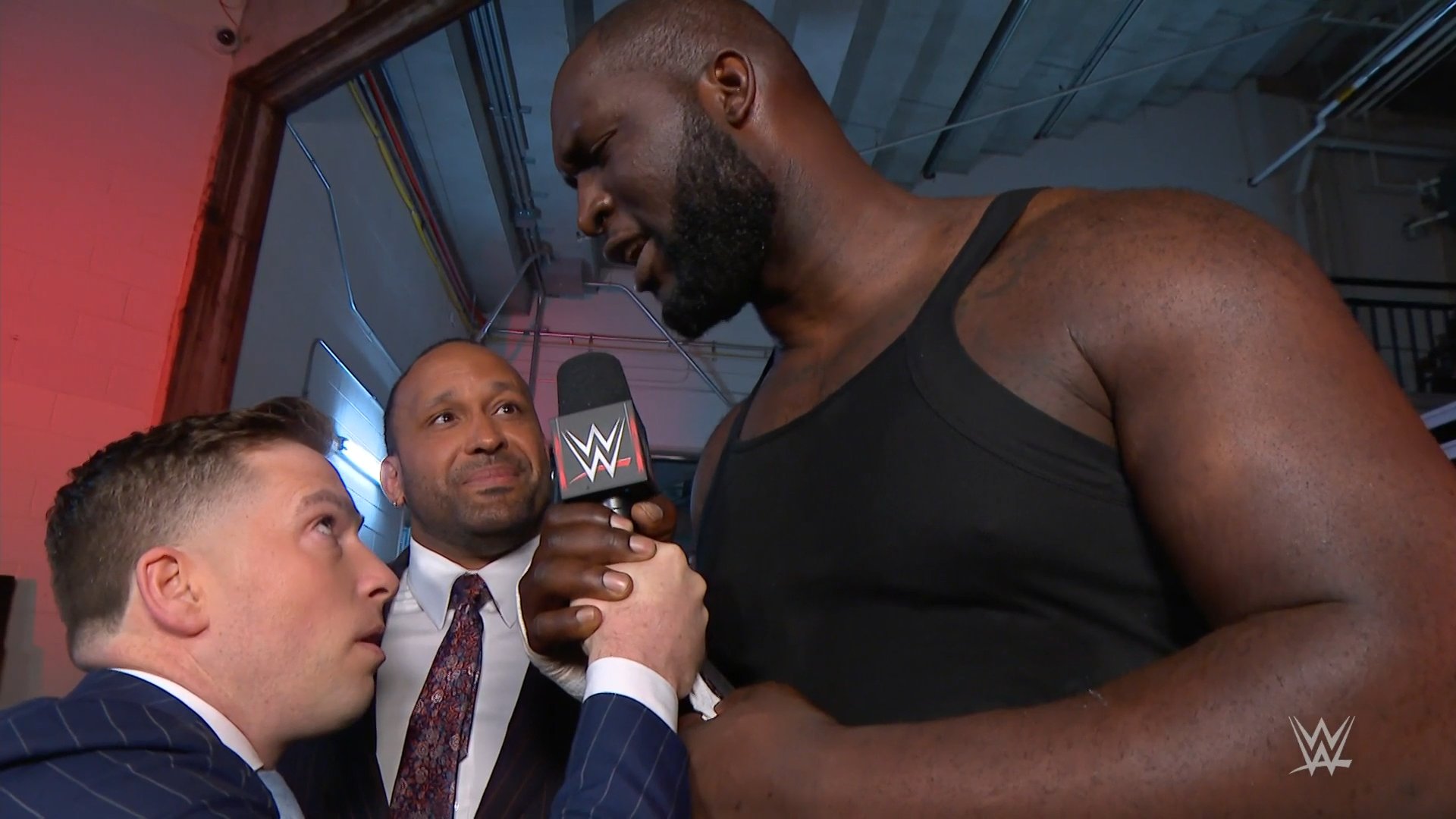 Replays are shown of Omos attacking Bobby Lashley after losing to him in an Arm Wrestling Challenge earlier tonight.
Kevin Patrick asks MVP and Omos about attacking Bobby Lashley after losing. MVP says Lashley didn't look like a winner laying there after Omos beat him down. Omos is challenging Bobby Lashley to a match at WrestleMania Backlash.
---
8-Man Tag Team Match
Cody Rhodes, Ezekiel & RK-Bro vs. Seth "Freakin" Rollins, Kevin Owens & The Usos
Before the match begins, Ezekiel attacks Kevin Owens. A giant brawl breaks out that ends with Rhodes, Ezekiel, and RK-Bro standing tall in the ring.
Order was restored over the break, and we join this match in progress. Ezekiel takes it to Jimmy Uso. Ezekiel boots him in the face and pins him with a backslide for a two-count. Ezekiel powers Jimmy up for a delayed twisting suplex for another two-count. Ezekiel wrenches the arm and lifts Jimmy before tagging Riddle in. Riddle kicks Jimmy in the chest and hits a snapmare. Randy Orton, the man of the night, tags in. Orton flips Riddle onto Jimmy before doing the Garvin Stomps. Cody Rhodes tags in, and he punches Jimmy before stomping him down. Rhodes hits Jimmy with a release vertical suplex. Seth "Freakin" Rollins distracts Rhodes, but Rhodes drops down and uppercuts Jimmy. Jey Uso blind tags in and hits Rhodes with a Samoan Drop for a one-count. Jey punches Rhodes and applies a front facelock. Rhodes fights back and punches Jey. Jey fights back with an uppercut that floors The American Nightmare. Jimmy tags back in. The Usos hit Rhodes with a wishbone split. Jimmy chokes Rhodes on the middle rope. Owens gets a cheap shot in. The Usos double-team Rhodes before tagging Rollins in. Rollins goes after his WrestleMania Backlash opponent, but Rhodes sidesteps the avalanche. Rollins quickly boots Orton off the apron, but Rhodes soon takes him down. Ezekiel tags in, and he clotheslines Rollins twice before hitting a high knee. Ezekiel hits a spinebuster for a near fall. Ezekiel presses Rollins up, but Rollins gets out. Riddle tags in and takes it to Rollins. Riddle goes for a Broton, but Rollins gets the knees up. Riddle elbows him back and goes to the top rope, but Jimmy sweeps the feet. Rollins hits an inverted superplex on Riddle!
We come back from the break to see The Usos dominating Riddle. Riddle boots Jimmy back and goes to tag in Orton, but Jimmy stops him. Riddle flips through and hits a Ripcord Knee. Orton prepares to tag in, but he's pulled off the apron by Rollins. Jey tags in and hits a running hip attack. Owens tags in and hits Riddle with a Swanton Bomb for a near fall. Jey tags back in, but Riddle chops him back. Jey blocks a kick and hits an enzuigiri, but the force knocks him into Orton.
Orton hits Jey with a pair of clotheslines and a snap powerslam. Jimmy runs in and takes a snap powerslam. Orton knocks Owens and Rollins off the apron. The crowd is loud for Orton. Orton grabs Jey and tries for a draping DDT, but Jey gets off the apron and pulls him out. Orton bounces him off the commentary table and hits a back suplex on the table. Rollins jumps off the apron, but Orton avoids it and hits a back suplex on the apron. Orton pokes Owens in the eyes, prompting him to scream, "Ow my eyes!" Orton hits a third back suplex on the table.
Orton hits Jey with a draping DDT and gets the crowd going. Rollins attacks Orton from behind. Rhodes hits Rollins with a Disaster Kick. Orton hits Rollins with an RKO. Owens goes for a Stunner, but Orton gets out and hits an RKO. Orton avoids a superkick from Jimmy. Riddle catapults Jimmy into Orton for an RKO. Jey comes off the top rope, but Orton hits him with an RKO out of nowhere for the win!
Winners by Pinfall: Cody Rhodes, Ezekiel, and Raw Tag Team Champions RK-Bro