Results by Jerome Wilen of Wrestleview.com
April 22, 2022
Albany, NY – MVP Arena
Commentary: Michael Cole & Pat McAfee
---
Quick Match Results
Xavier Woods defeated Butch via DDT and roll up
Gunther defeated Teddy Goodz via powerbomb in a squash match
Riddle defeated Jey Uso via roll up after putting his knees up to counter the Uso splash
Madcap Moss defeated Angel via the Punchline
Lumberjack Match: Drew McIntyre defeated Sami Zayn when Zayn was able to run into the crowd and out of the match again
---
In-Ring: Charlotte Flair, Ronda Rousey, Drew Gulak, Adam Pearce
The opens with Samantha Irvin introducing Adam Pearce, who is in the ring with the contract signing setup. Pearce welcomed everyone SmackDown and then introduced SmackDown Women's Champion Charlotte Flair.
The arena is sold out and loud!
After Flair came to the ring, Pearce introduced Ronda Rousey to a huge pop. Pearce tells them two signatures are needed to make the match official, but the contract is nowhere to be seen. Pearce looked around for it. Out comes Drew Gulak, with the contract. Pearce then apologizes and says Gulak is his new assistant. Gulak made his way into the ring with the contract and grabbed the mic. Gulak told Pearce he is super-pumped for this opportunity and also said he takes it very serious.
Gulak told the fans to look to the big screen for a special Power Point presentation for the rules of the I Quit Match. Flair then told him to shut up before she makes him quit the job before he gets started. Rousey then had some words of support for Gulak. Flair then taunted Rousey for losing at WrestleMania 38. the fans in the arena began to chant "you tapped out!" Flair insisted she was adjusting her bra. Flair then stood up at the table and went over all the the different ways she could make Rousey quit. Flair then raised the title and said she will find a way to win like she did at WrestleMania. Flair then sat back down and signed the contract as Rousey looked at her with a smirk.
The fans in the arena began chanting for Fans Rousey. Flair then interrupted the chants and reminded them of who won at WrestleMania. Rousey then started talking and Flair again interrupted the fans with a reminder of her win at WrestleMania. Rousey then said there will be no referee to save Flair this time, and that this time Flair will have to say Rousey is better than her, and she will quit. Flair then flipped over the table. She then grabbed a kendo stick that was hidden under the table and attacked Rousey with it.
Rousey caught the third swing and took Flair down. Rousey then hit Flair with the kendo stick. now. Gulak then grabbed the stick. As Gulak prepared the contract, Rousey grabbed him and applied the Piper's Pit submission. Rousey stood over Gulak as he clutched his arm. He then gives Rousey a pen. Rousey took the pen, applied the armbar again on Gulak and while signing the contract.
---
Butch vs. Xavier Woods
The ending of the match saw Woods get Butch on his shoulders, but Butch clawed at his ears and was able to get free. Butch came back with more offense before he spiked Woods down on the mat attempting the pin, but only had gotten a two count. As Butch showed frustrated, Woods dropped him with a DDT and rolled him up for the pin.
Winner by pinfall: Xavier Woods
Post-Match: Butch got angry as Sheamus and Ridge attempted to calm him down. Butch then left the ring and went over the barrier into the crowd. Butch then grabbed a WWE crew member and tossed him over the barrier. Sheamus and Ridge looked on as Butch again took off through the crowd.
---
Backstage: Aliyah, Ricochet, Jinder Mahal, Shanky
Backstage, Aliyah gave praise to Ricochet for his win over Jinder Mahal. Ricochet then said it is an honor to be the Intercontinental Champion.
Jinder Mahal and Shanky then approached Ricochet and Aliyah. Mahal mocked Ricochet until Shanky came in an interrupted. He then challenged Ricochet to a match for later in the night. Ricochet accepted the match, as Mahal was confused.
---
Gunther vs. Teddy Goodz
Gunther defeated Teddy Goodz in a squash match in a match that was just above two minutes. Gunther applied a sleeper and then hit a powerbomb for the win.
Winner: Gunther
---
Backstage: RK-Bro, Drew McIntyre, Sami Zayn
McIntyre walks up to RK-Bro backstage and he and Orton stare each other down. Riddle calms things down and says he signed up RK-Bro to be part of McIntyre and Zayn's lumberjack match tonight. McIntyre says he saw RK-Bro stand up to the Bloodline last week so they're OK in his book, and Orton says he and Drew are good. They walk away and Sami Zayn is shown lurking and watching them in the background.
---
Video Promo: Xia Li
Xia Li cuts a promo backstage saying she sees no one worthy of her protection, so now she will protect herself.
---
Riddle vs. Jey Uso
The ending of the match saw Riddle go for the RKO, but Jey avoided it and then hit a pop-up neck breaker. Riddle then fought back with a running knee, but Jey came back and hit a superkick. Jey then hit the Uso splash, but Riddle put up his knees up and rolled up Jey to get the 1, 2, 3.
Winner by pinfall: Riddle
Roman Reigns and Paul Heyman watched the match in the back. Reigns was disappointed after seeing Riddle defeat Jey.
---
In-Ring: Sasha Banks, Naomi, Natalya, Shayna Baszler
There was a segment that set up Natalya and Shayna Baszler as the next challengers for the WWE Women's Tag Team Championships.
Kayla Braxton interviewed Banks and Naomi in the ring. Braxton then recapped Naomi and Banks issuing their challenge before WrestleMania 38. The fans in the arena then began to chant "You deserve it."
Banks and Naomi ran down everyone they beat and then said they have no competition left. Natalya and Shayna Baszler then interrupted the interview. Natalya said they never beat them for the Championships. Baszler said she promised to win the tag team titles and then pushed Banks down. Naomi held Banks back as Baszler and Natalya walk off.
---
Vignette: Raquel Rodriguez
Raquel Rodriguez will wrestle on SmackDown next week.
---
Backstage: Madcap Moss, Happy Corbin
Backstage, Happy Corbin came up to Madcap Moss. Corbin said Moss made his point and he is willing to forgive him. Moss then mocked Corbin for being bald. Corbin then walked off as Moss laughed.
---
Madcap Moss vs. Angel
The ending of the match saw Moss catch a crossbody, then hit a big fall-away slam. Moss then unloaded with strikes. Moss clotheslined Humberto to the floor when he tried to enter the ring. Moss dropped Angel with The Punchline for the win.
Winner by pinfall: Madcap Moss
Post-Match, Moss celebrates when Happy Baron Corbin suddenly attacks him from behind. Corbin beat Moss down and stomped on him in the corner. Corbin then grabbed Moss and hit him with the End of Days. Corbin left the the ring, grabbed the Andre the Giant Memorial Battle Royal trophy, put it on his shoulders and left with it.
---
Backstage: Sami Zayn, Roman Reigns
Sami Zayn is seen around backstage. He approaches the locker room door of Roman Reigns. Sami then hesitates – then came a commercial.
The Bloodline is backstage. The Usos are disappointed with the loss to Riddle. Jey Uso said that it won't happen again.
As Roman Reigns looked disappointed, Paul Heyman walked up and said that they have a guest, which is Sami Zayn. Zayn said it's good to see Reigns. He started off by acknowledging him and saying how good his work has been as of late. Sami then went on about how Reigns is the locker room leader. He said he has heard and seen things. He said that he saw Drew McIntyre getting chummy with RK-Bro, and now they are going to be Lumberjacks in his match against McIntyre. Sami then said to Reigns he is not a a rat or a snitch, but he knows they said some disrespectful things about Reigns and his family. Sami then says his reputation has taken hit after hit, and that people think he is afraid of McIntyre. Sami then said he needs to beat Drew to get back the respect that he owed. He then said to Reigns he was thinking that he could maybe get some help. Sami told Reigns he would be more than helpful in return if Reigns helped him out. Sami said that he could be a very valuable ally to The Bloodline. Sami then fell to his knees begging Reigns for help. Sami then said he needs Reigns to acknowledge him, because he is acknowledging Reigns. Sami then gets up and sarcastically said that was a great talk, alright. Sami then walked off.
Reigns then told The Usos there are people trash talking him on his show and told The Usos to take his name out of their mouths.
---
Segment: Lacey Evans
Michael Cole sends us to Chapter 3 of the Lacey Evans Story.
---
Next Week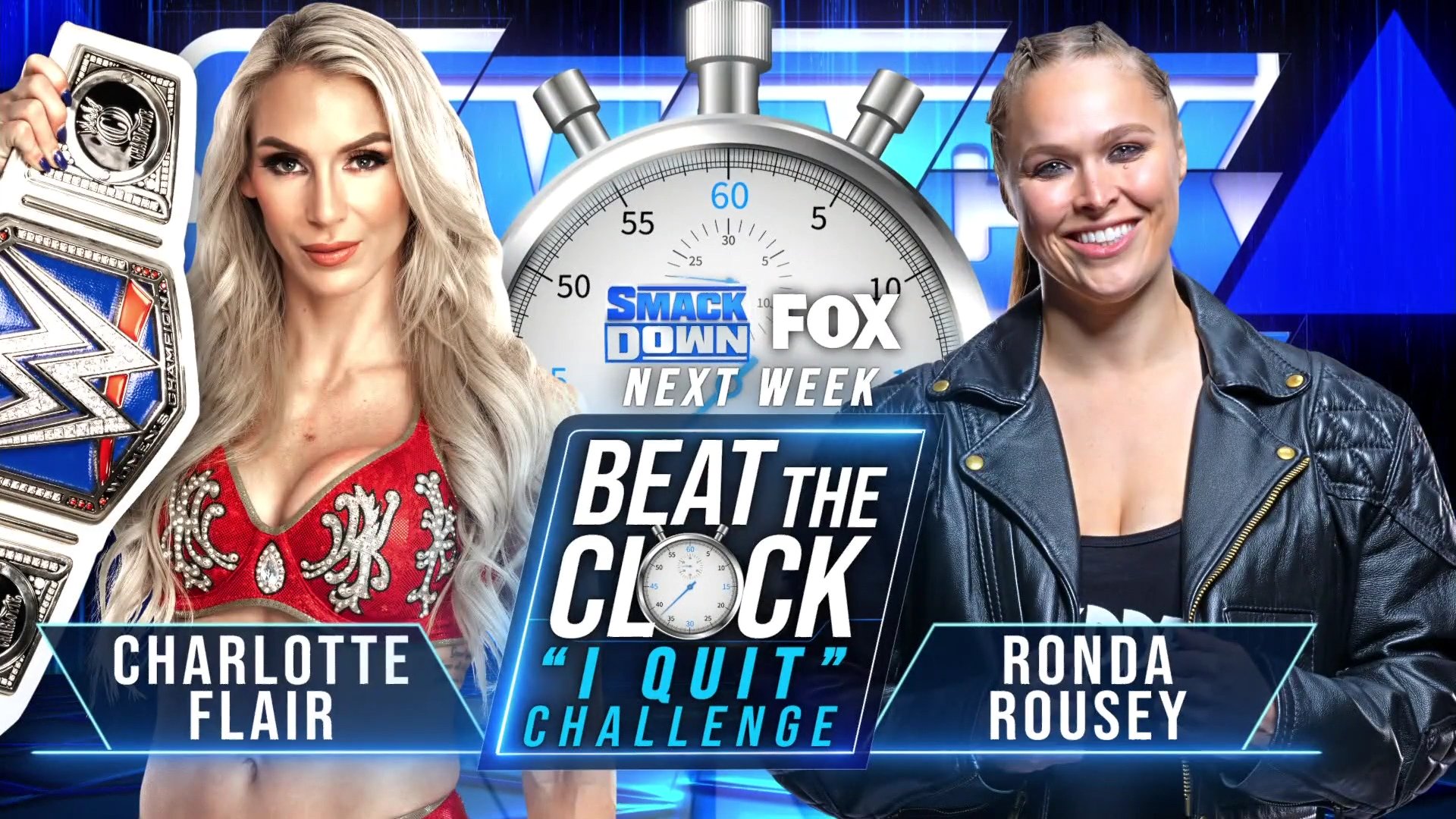 – Intercontinental Championship: Ricochet (c) vs. Shanky
– Charlotte Flair & Ronda Rousey "Beat the Clock I Quit Challenge"
---
Lumberjack Match
Drew McIntyre vs. Sami Zayn
Results of this match by Richard Trionfo of PWInsider.com
The bell rings and Sami goes to the floor and he is sent back into the ring. Sami rolls back to the floor and he goes to the face side of the ring and they stop Sami from going into the crowd. Drew tosses Sami into the turnbuckles and punches him. Drew with a chop. Drew with another chop. Sami sends Drew over the top rope to the floor when Sami drops down. Holland and Sheamus attack Drew and then send Drew back into the ring.
Sami chokes Drew in the ropes. Sami tries to kick Drew to the floor and he gets Drew to the floor in front of the heels and Sheamus and Holland with punches before sending Drew back into the ring. Drew with a head butt and both men are down. Drew with an overhead belly-to-belly suplex followed by a second one and a neck breaker. Drew sets for a Claymore and Sami goes to the floor on the face side and The Usos with a double super kick to Orton and then they attack Riddle. The Usos take their title belts and leave.
All of the lumberjacks brawl because it has to happen. Drew keeps Sami from getting away. Drew picks up Sami on his shoulders and sends Sami back into the ring. The heels attack Drew and the faces fight the lumberjacks. All of the lumberjacks are in a group in the aisle and Drew with a flip dive onto everyone and the blast zone causes a Sin Caraing of the lumberjacks.
Sami goes into the crowd and Drew gets back into the ring.
Adam Pearce says he should have known that Sami would run away from a lumberjack match. Next week, he will face Drew in a steel cage match.
Jinder Mahal attacks Drew from behind and kicks him like a snare drum. Jinder and Shanky kick Drew. Drew blocks Khallas and Drew with a head but. Drew with a head butt to Shanky. Drew figures if he can't Claymore his opponent, he can do it to a former band mate. Drew with a Claymore to Jinder.