Results by Mike Tedesco of Wrestleview.com
May 23, 2022
Evansville, Indiana – Ford Center
Commentary: Jimmy Smith, Corey Graves, and Byron Saxton
---
Quick Match Results
6-Man Tag Team Match: Riddle & The Street Profits defeated Sami Zayn & The Usos via RKO by Riddle on Zayn after The Usos walked out on Zayn
Damian Priest & Rhea Ripley defeated AJ Styles & Liv Morgan via roll up by Ripley on Morgan after interference by Edge
Alexa Bliss defeated Nikki A.S.H. via Twisted Bliss
Cody Rhodes defeated The Miz by disqualification when Seth Rollins attacked him
Ezekiel defeated Chad Gable via roll up
MVP defeated Bobby Lashley by count out because Lashley was attacking Omos on the outside
Becky Lynch defeated Asuka via roll up
---
In-Ring: Riddle
Replays are shown of The Usos defeating RK-Bro to unify the Tag Team Championship on SmackDown. After the match, The Usos and Roman Reigns destroyed RK-Bro.
The Street Profits and Riddle will battle Undisputed Tag Team Champions The Usos and Sami Zayn later tonight.
Riddle makes his way to the ring. Riddle says he's here with a heavy heart. Randy Orton is his best friend and mentor. Orton is his dude and bro. Riddle looks out into the crowd sadly, and they chant, "RK-Bro." The last couple of years has been hard for Orton. The last couple of months, even though they've been having the time of their lives, Orton has been having a hard time. Orton's back has been giving him trouble. Last Friday before the unification match, Orton could barely walk. Riddle knew about it going in, but Orton didn't want to disappoint Riddle or the fans.
RK-Bro lost to The Usos. The Usos are one hell of a team, but for The Usos to win that way with Roman Reigns that piece of trash helping is bad. Reigns is "nothing but a tribal piece of trash." Riddle assures the people that he will get his vengeance on Roman, Jey, and Jimmy, as well as any one part of The Bloodline. Before the end of his career, Riddle swears he'll get his vengeance.
Riddle loves and appreciates Orton. A "Randy" chant fires up. Riddle doesn't know what the future holds for RK-Bro. Riddle doesn't know if RK-Bro will ever be a thing again. The WWE Universe can help him with one thing… Riddle starts up an "RK-Bro" chant. They oblige him.
6-Man Tag Team Match
Riddle & The Street Profits vs. Sami Zayn & The Usos
Before the match, The Usos talk about how great they are. Everyone is twos while they're the ones.
As The Usos make their entrances, Riddle and The Street Profits charge them. Sami Zayn gets involved. There's a massive brawl, and referees run out to try to restore order.
Back from the break, the order has been restored and the referee calls for the match to start. It's Angelo Dawkins starting against Sami Zayn. Zayn backs up to the ropes almost immediately. Zayn grabs a side headlock, but Dawkins whips him off. Zayn shoulders him, but Dawkins bounces back with a shoulder tackle. Dawkins sends him into the ropes and connects with a dropkick. Dawkins avalanches him and tags Montez Ford in. Ford hits a nice dropkick and kips up before getting a two-count. Ford wrenches the arm of Zayn and Riddle tags in. Riddle knocks The Usos off the apron, but Zayn quickly attacks the injured ribs. Zayn stomps away at Riddle's injured ribs. Zayn stands on the ribs before punching him down. Zayn applies a body scissor. Riddle tries to fight back, but Zayn knocks him in the ribs. Jey Uso tags in, and he slowly enters the ring before posing. Riddle grabs Jey and powers him into the corner before viciously kicking away at him. Riddle hits a fisherman's suplex for a two-count. Ford tags back in and whips Jey into the ropes for a big clothesline. Jimmy Uso blind tags in and pulls down the top rope to get Ford out of the ring. Ford is sent into the steel ring steps before eating a superkick. The Usos stand over Ford as we go to the commercial.
We come back from the break to see Zayn applying a chin lock to Ford. Ford fights up and elbows him. Zayn hangs on and slams Ford down. Zayn grabs Ford, but Ford comes back with a back suplex. Ford tries to make a tag, but Zayn knocks Dawkins off the apron. Jey grabs Riddle and hits a back suplex on the barricade. Zayn takes Ford down and tags Jey in. Jey punches away at Ford. Ford gets away and knocks Zayn off the apron. Jey goes for a back suplex, but Ford flips through and hits an enzuigiri.
Riddle and Zayn tag in. Riddle hits a snap kick on Zayn before flipping through a suplex from Jimmy. Riddle hits a Ripcord Knee on Jimmy before hitting Jimmy and Zayn with back-and-forth forearms. Riddle hits Jimmy with an Exploder Suplex before hitting Zayn with one. Riddle hits a Broton on Jimmy before hitting one on Zayn. Dawkins runs in and takes Jimmy and Jey out with elbows. Ford then wipes out The Usos with a somersault senton!
In the ring, Riddle grabs Zayn and hits Randy Orton's draping DDT. Riddle sets up for an RKO before he's distracted by The Usos. The Usos avoid an attack and walk off on Zayn. Zayn is stunned. Riddle hits Zayn with an RKO for the win.
Winners by Pinfall: Riddle and The Street Profits
---
In-Ring: Bobby Lashley, Omos, MVP
The commentators announce that Bobby Lashley will battle Omos inside of Hell in a Cell.
Bobby Lashley says he beat "The Nigerian Giant" Omos last week. A cage wasn't enough. He'll face Omos one more time at Hell in a Cell. Tonight, he has an All Mighty Challenge that MVP and Omos will want to hear about. Lashley calls them out to the ring.
MVP and Omos come out to the stage. MVP says they don't just do what Lashley wants. Lashley thinks he's the top dog, but MVP is a maverick. If it wasn't for some faulty equipment last week, they'd be having a different talk. Lashley tells MVP to shut his mouth because no one wants to hear from him. Lashley has a stipulation. It's obvious that he's not done with Omos. A regular match would not be enough for them. Lashley wants to have a match tonight with the winner picking the stipulation for the match against Omos. MVP says Lashley barely survived his match last week. Lashley says he has Omos at Hell in a Cell, but tonight he has unfinished business with MVP. MVP looks worried. Lashley says he wants to battle MVP with the winner picking the stipulations between him and Omos.
MVP shouts that he made Lashley and is responsible for his success. MVP will be responsible for his downfall. MVP will pick a stipulation that the All Mighty cannot overcome. Lashley asks when is the last time MVP won a match. Lashley made MVP. At Hell in a Cell, he'll destroy Omos. Tonight, he's putting MVP in the Hurt Lock. MVP whispers in Omos' ear. Omos walks down to the ring. Lashley prepares for Omos but then turns to punch MVP off the apron. Omos checks on his manager, and they walk off. MVP is irate.
---
Backstage: Dana Brooke, Adam Pearce, Becky Lynch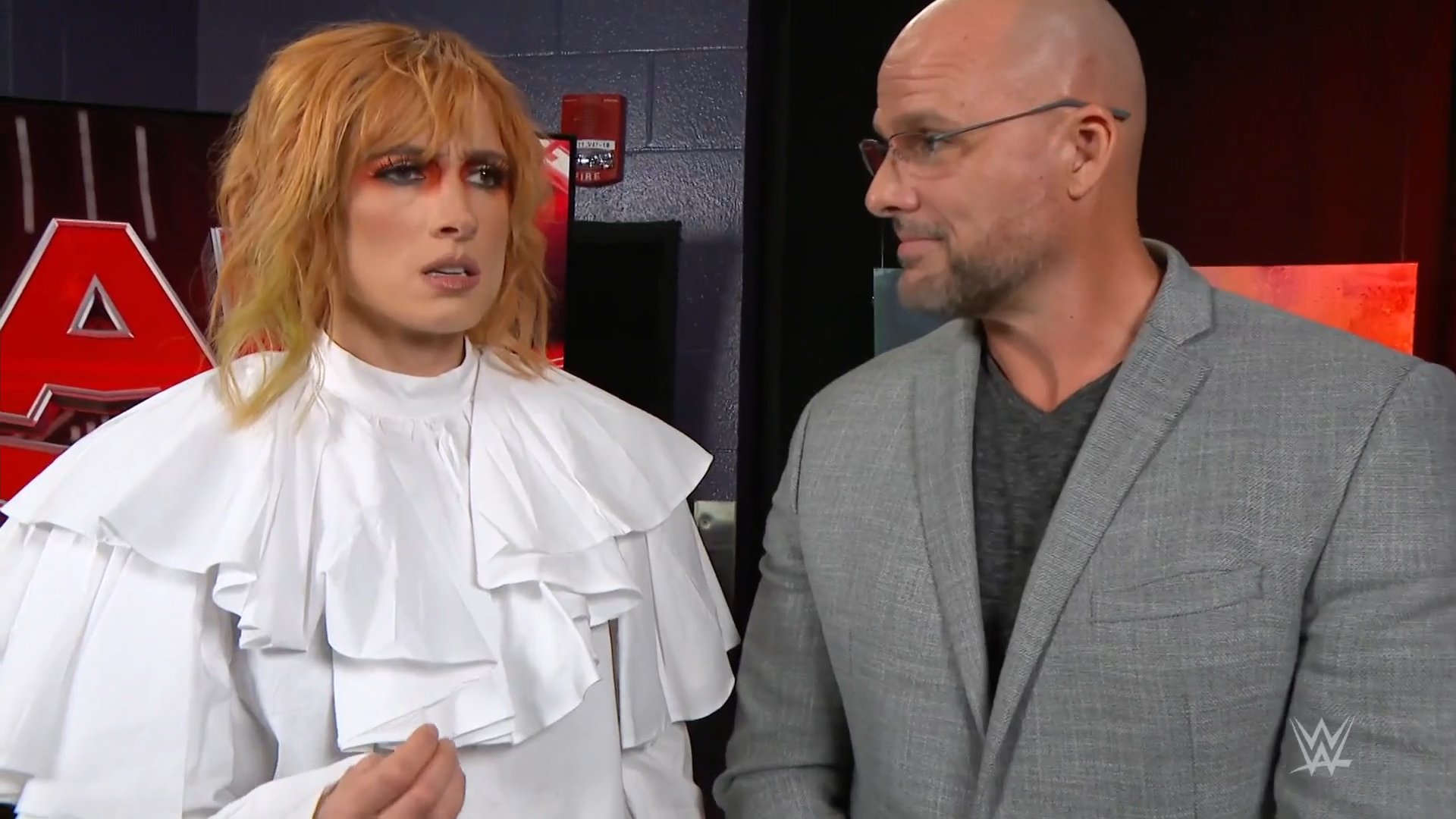 WWE 24/7 Champion Dana Brooke tells WWE Official Adam Pearce that she wants Carmella when she's cleared to compete. Becky Lynch blows by her and talks about how Asuka cheated. Lynch says the loss should be stricken from the record. Pearce says Lynch will have a rematch against Asuka. If Lynch wins, she'll have the Raw Women's Championship match at Hell in a Cell… with Asuka included. Lynch is not happy.
---
In-Ring: The Judgment Day
The Judgment Day is in the ring. Damian Priest tells the WWE Universe to rise, but they won't. Priest just walks around the ring shouting, "Rise," and wants them to show proper respect to The Judgment Day. Last week, Edge offered the opportunity to anyone intelligent enough to follow their mission statement and join them. Priest says one aspect of that mission statement is modesty. He and Rhea Ripley are different from everyone. They didn't see it, but Edge did. Edge showed them the way and set them free. Otherwise, they'd be sheep like the rest of the people. The truth hurts. The one attribute they're all missing is the courage to be who you are. No one in the crowd has the courage. They can help all of them, but they first have to help themselves.
Rhea Ripley says she knows Liv Morgan uses her heart more than her head. She needs to stop listening to the peasants on Twitter and the simpletons here. Ripley would forgive Morgan for the past failures if she starts thinking for herself. Morgan can save herself as Ripley did by joining The Judgment Day.
Edge says The Judgment Day is truth. This is in front of everyone's faces, but they're afraid to see it. It's power, physical and mental. They can rewrite their career and sit under his learning tree watching every ounce of energy and sweat that he puts in to be the best. Imagine Tom Brady, Wayne Gretzky, or Michael Jordan offering this olive branch. He wasn't handpicked to sit at the top of the mountain like a John Cena. Edge is a miracle of his own hard work. The people just eat Cheetos in their cubicles. The people are afraid to grab life by the throat. They're not afraid of it. The crowd chants that they suck. Edge says someone will be smart and savvy enough to accept their invitation. Could it be Tommaso Ciampa, Corey Graves, Alexa Bliss, Drew McIntyre, or AJ Styles? Styles has to realize that standing shoulder-to-shoulder with them is better than eye-to-eye. Maybe eventually Styles' kids will call him Uncle Edge. The choice is Styles'. Choose wisely.
Damian Priest & Rhea Ripley vs. AJ Styles & Liv Morgan
AJ Styles starts against Damian Priest. Priest quickly wrenches the arm and shoulder blocks him down. Priest continues to attack the arm, but Styles twists back. Styles ducks an elbow and applies a side headlock. Priest whips him off, but Styles holds the ropes and elbows him back. Priest grabs him, but Styles knocks him away. Priest quickly attacks and sends him into the ropes. Styles rolls under a clothesline and dropkicks Priest. Rhea Ripley tags in, so Liv Morgan is automatically legal. Ripley shoves Styles, so Morgan attacks her. Ripley quickly thwarts the attack and head-butts her. Ripley throws Morgan across the ring. Morgan boots Ripley back and goes for a cross-body block, but Ripley catches her. Ripley goes for a delayed vertical suplex, but Morgan slides through and hits a backstabber. Priest pulls Ripley out of the ring. Morgan hits Ripley with a suicide dive, and Styles knees Priest in the face.
Styles and Morgan stand tall in the ring. Morgan puts Ripley back in the ring and stomps her. Ripley quickly cuts her off with a boot to the face. Ripley hits a big vertical suplex for a two-count. Ripley puts her on the top rope, but Morgan knocks her away and hits a flying hurricanrana for a two-count.
Priest tags in, so Styles is legal. Priest whips Styles to the corner, but he misses an avalanche. Styles hits a running forearm on Priest in the corner. There seems to be some miscommunication. Priest forearms Styles out of the ring and drops him on the apron.
We come back from the break to see Priest stop Styles from making a tag. Styles fights away and pulls the top rope down. Priest gets on the apron, but Styles wipes him out with an overhead kick. Morgan tags in, which means Ripley is automatically in. Morgan takes it to Ripley and hits a knee in the corner. Morgan elbows her back and hits a missile dropkick. Morgan hits a springboard double knee facebuster. Edge puts Ripley's foot on the bottom rope before the three-count. Styles attacks Edge, so Priest joins in. Styles knocks Priest away. Morgan goes for ObLIVion, but Edge holds Ripley's back and Morgan goes down, and Ripley cradles her for the win.
Winners by Pinfall: Damian Priest and Rhea Ripley
Edge gets in the ring, so Styles attacks him. The rest of Judgment Day gets in the ring and triple-team him. Edge hits Styles with a Spear while Priest hits a spin kick. Ripley attacks Morgan and hits her with the Riptide. The Judgment Day stands tall once again.
---
Backstage: The Miz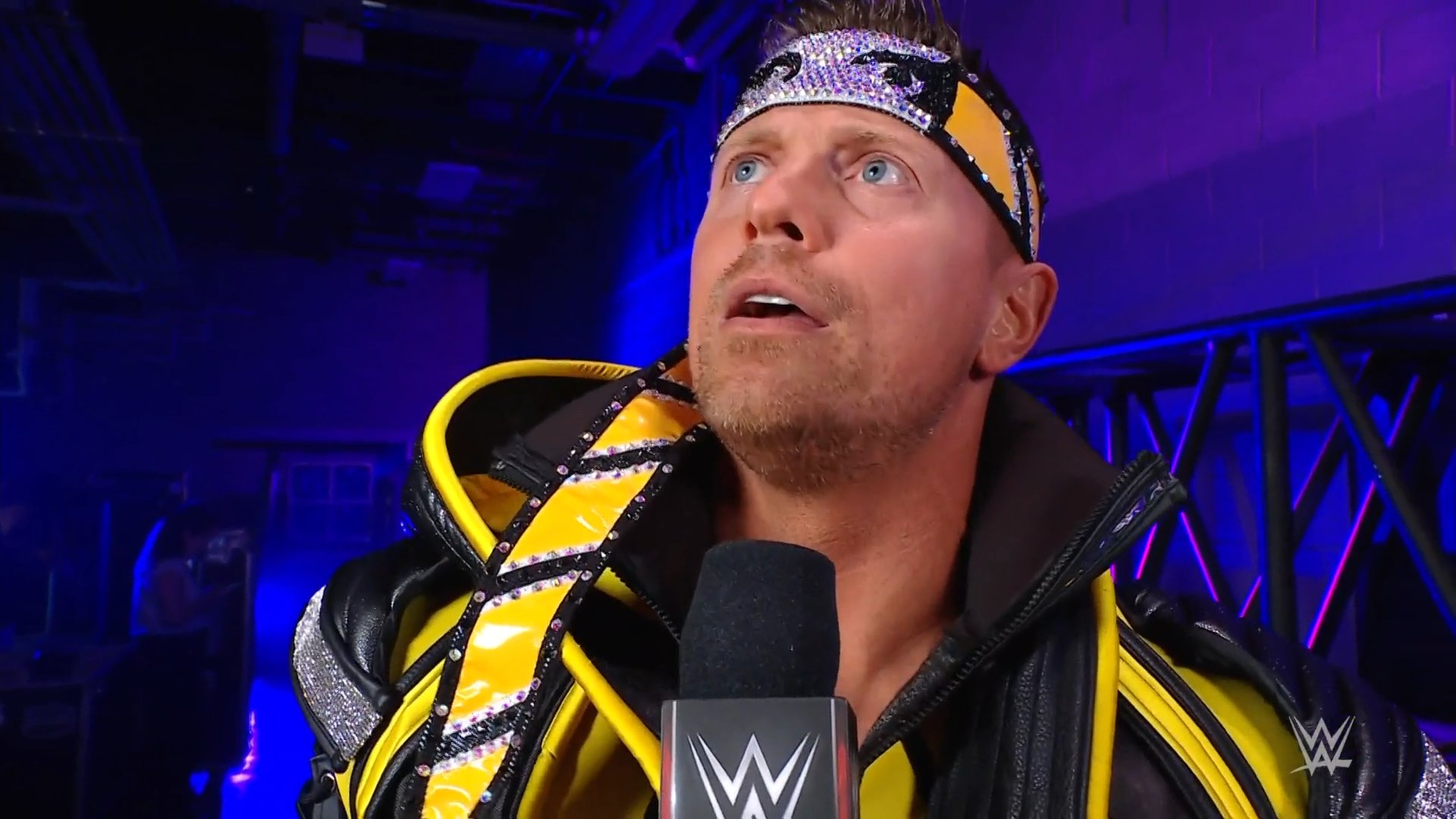 The Miz is interviewed by Kevin Patrick. Miz says Cody Rhodes' ego is out of control and he'll bring him down.
---
In-Ring: Jerry Lawler, Veer Mahaan, The Mysterios
WWE Hall of Famer Jerry "The King" Lawler talks about Veer Mahaan having one of the more anticipated debuts in recent memory. Lawler calls him a "lion of a man" and has him come down to the ring.
Veer Mahaan makes his way to the ring. Lawler asks about his success, but Mahaan won't answer. Lawler continues to ask him questions to no avail. Lawler then starts cracking jokes that he claims The Mysterios told him about Veer, such as he's so hairy that Bigfoot took a picture of him. Veer says Rey Mysterio is a legend, but he's gone soft by looking out for his son. Veer had to take them out. Veer shakes Lawler and they drop the microphone. Veer picks it up and resumes the posing he was doing with Lawler. Veer says he smells feat on Lawler, but Lawler says it's just his cheap cologne. Veer has had enough of the jokes and threatens him.
The Mysterios make their way to the ring. They attack Veer at ringside, but they can't take him off his feet. Veer eventually backs up.
---
Alexa Bliss vs. Nikki A.S.H.
Alexa Bliss is backstage with Sarah Schreiber. Bliss says it's great to be back. She doesn't like what Sonya Deville has done, but tonight she's facing her former tag partner Nikki A.S.H. They used to be best friends, but now she's friends with a doll while Nikki dresses like a superhero.
Alexa Bliss makes her entrance. Nikki takes Bliss down quickly, but Bliss soon knocks her out of the ring. Doudrop checks on her, so Bliss pulls Nikki by the hair into the ring. Nikki quickly attacks Bliss and whips her hard into the corner for a two-count. Bliss soon fights back with a dropkick. Bliss knocks Nikki back and takes a few moments to head to the top rope for Twisted Bliss to pick up the victory.
Winner by Pinfall: Alexa Bliss
---
Backstage: Seth Rollins
Looks like @WWERollins has a countdown of his own!#WWERaw pic.twitter.com/BFmH6kV7mR

— WWE (@WWE) May 24, 2022
Kevin Patrick is backstage with Seth "Freakin" Rollins. Rollins is not happy that Cody Rhodes has a countdown timer for his Raw arrival. Rollins has a countdown in his head for Hell in a Cell.
---
Backstage: Asuka
Is that @WWEAsuka doing an impression of @BeckyLynchWWE?!#WWERaw pic.twitter.com/SzYbddO6zx

— WWE (@WWE) May 24, 2022
Sarah Schreiber is backstage with Asuka. Asuka makes fun of Becky Lynch and calls her a crybaby.
---
Cody Rhodes vs. The Miz
The bell rings, and Miz soon chops Rhodes before hitting a headlock takeover. Rhodes fights out and hits Miz with a headlock takeover. Miz fights up to his feet and whips Rhodes off. Rhodes leapfrogs him and drops down for an uppercut. Rhodes hits the ropes, but Miz knocks him down. Rhodes catches Miz with a sloppy roll-up for a two-count. Rhodes quickly dropkicks him out of the ring. Rhodes goes for a suicide dive, but Miz forearms him. Miz comes off the top rope, but Rhodes punches him. Rhodes hits a delayed front suplex and stands tall. Miz fights back and hits a diving sunset flip. Rhodes fights back and takes Miz down for a two-count. Miz drops Rhodes crotch-first on the top rope. Miz punches him and big boots him to the floor.
We come back from the break to see Rhodes avoid Miz' patented corner clothesline. Rhodes hits a flying forearm before connecting with a snap powerslam. Rhodes hits an uppercut followed by a Cody Cutter. Rhodes grabs the legs and lets out a "WOO" before applying a Figure Four Leglock. Miz screams in pain and claws his way to the bottom rope. Miz pulls himself out of the ring. Rhodes goes to the top rope, but Seth "Freakin" Rollins runs down and pushes him off to the floor!
Winner by Disqualification: Cody Rhodes
Rhodes fights back at Rollins, but Miz attacks him from behind. Rollins and Miz double-team Rhodes at ringside. They then whip him hard into the steel ring steps. Rhodes hits his knees and is in a lot of pain. Rollins goes to the child whom Rhodes gave his weightlifting belt and steals it from him. Rollins goes back to Rhodes and smacks the belt off his back. The crowd loudly boos, as Rollins walks off.
Rhodes slowly gets to his feet and hobbles around ringside holding the belt. Rhodes gives it back to the kid before asking for assistance from the referee to get to the back.
---
Chad Gable vs. Ezekiel
Kevin Owens is seated at ringside for the next match.
Ezekiel takes it to Gable early on until Otis grabs the ankle. Gable hits a chop block and attacks the knee of Ezekiel. Owens is pleased at ringside. Ezekiel fights back, but Otis gets on the apron and clotheslines him. The referee catches him on the apron and ejects Otis from ringside. Owens tries to sneak in, but he's caught. The referee ejects him, too. Ezekiel rolls up Gable for the win.
Winner by Pinfall: Ezekiel
Owens and Alpha Academy chase Ezekiel out of the ring. Owens says he doesn't care what he calls himself: Ezekiel, Elias, or Giuseppe. Owens just wants to beat the hell out of him and he'll do it in Chicago at Hell in a Cell. Ezekiel agrees.
---
Backstage: Cody Rhodes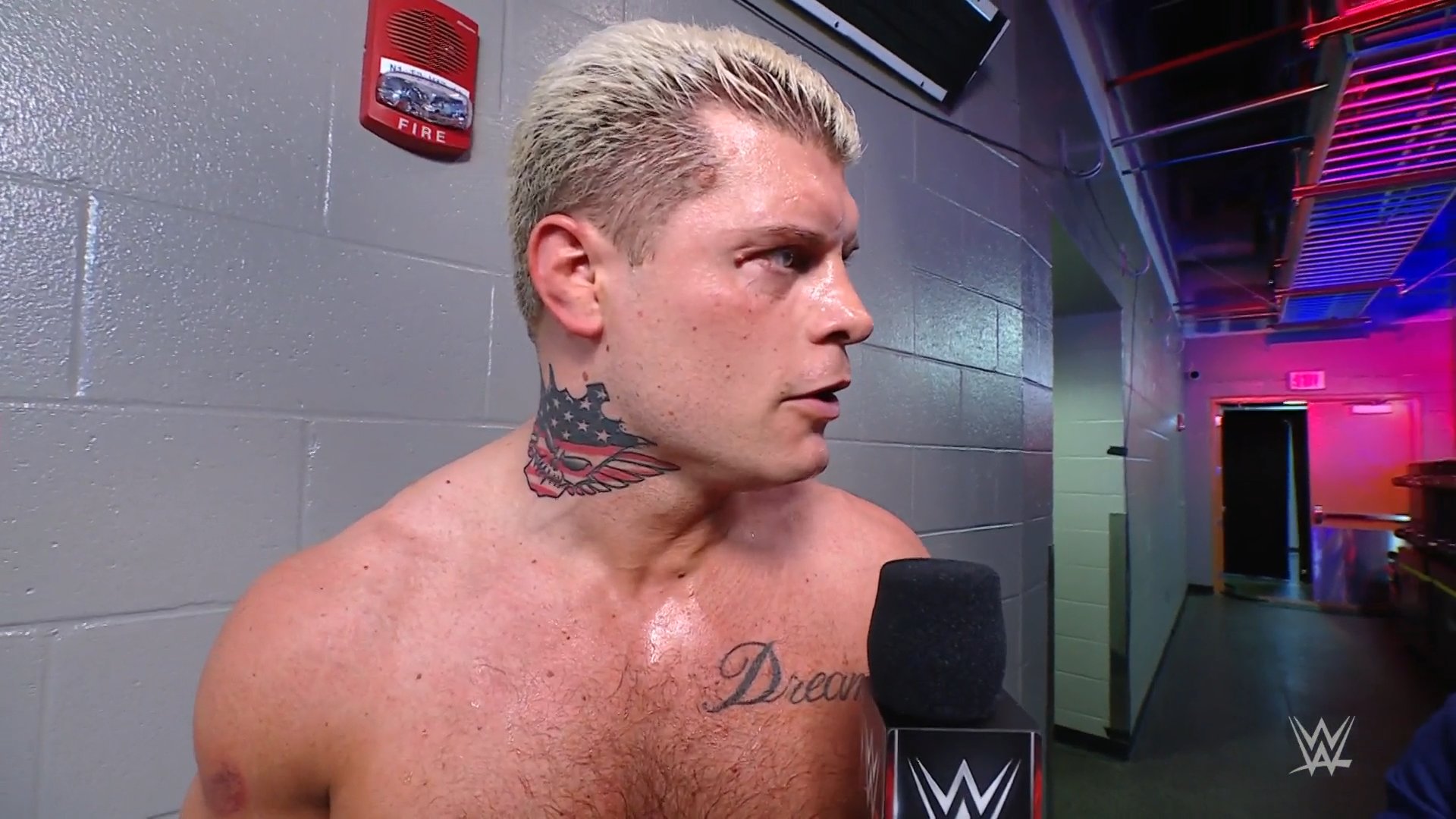 Cody Rhodes is asked about his health backstage. Rhodes says he's standing. It's dawning on Seth "Freakin" Rollins that he could go 0-3 against The American Nightmare.
---
Bobby Lashley vs. MVP
The winner of this match will choose the stipulation for Bobby Lashley vs. Omos at Hell in a Cell.
The bell rings, and MVP immediately gets out of the ring. MVP takes a few moments before getting back in the ring. MVP quickly puts himself through the ropes to keep Lashley back. MVP then gets out of the ring. Lashley is not pleased. Lashley goes outside and chases him into the ring. MVP goes to stomp him as he gets in the ring, but Lashley moves. MVP's knee gives out. Omos clotheslines Lashley at ringside. Lashley is put back in the ring and MVP big boots him in the corner. MVP shouts that he made Lashley and slaps him in the face. Lashley grabs him by the throat and hits a flatliner. Lashley is fired up. Lashley knocks MVP out of the ring and scoops him up before driving him into the ring post. Lashley puts MVP in the ring and ducks a clothesline from Omos. Lashley punches Omos and clotheslines him into the timekeeper's area. The referee counts Lashley out.
Winner by Count-Out: MVP
MVP celebrates before bumping into Lashley. Lashley applies the Hurt Lock and throws his former manager down.
---
Asuka vs. Becky Lynch
If Becky Lynch wins, she'll be added to the Raw Women's Championship match at WWE Hell in a Cell.
They go back and forth to start the match. They brawl to the apron, and Lynch drives Asuka hard into the ring post.
Lynch takes it to Asuka as we come back from the final break of the evening. Lynch hits a flying leg drop for a two-count. They then take each other out with dual clotheslines. The crowd does dueling chants for them. Asuka fights back and hits a German Suplex followed by double knees to the face for a near fall. Asuka continues to take it to Lynch and connects with a superplex for another near fall.
They brawl out of the ring. Asuka knees Lynch in the face, and she falls into Belair's lap. Asuka goes to kick Lynch, but she wipes out Belair. Lynch throws Asuka down and gets in the ring. Asuka is nearly counted out but gets in at nine. Lynch rolls her up immediately for the win.
Winner by Pinfall: Becky Lynch
Bianca Belair will now defend the Raw Women's Championship against Asuka and Becky Lynch at WWE Hell in a Cell.