November 19, 2017
Houston, Texas
Commentary: Michael Cole, Tom Phillips, Corey Graves, Booker T, Byron Saxton
---
Kickoff Show
Elias vs. Matt Hardy
The crowd was like 85% empty, it seemed, and the announcers said that people were still filing in and the show was sold out. Elias started to sing a song about how people in Houston are stupid, but Matt Hardy's theme interrupted. This was a really basic WWE match. Elias worked on Matt's shoulder for most of the match. In the end, Elias won via his "Drift Away" finisher.
Winner: Elias (~9 minutes)
---
Kickoff Show
Cruiserweight Championship Match
Enzo Amore (c) vs. Kalisto
Enzo cut a standard promo on Kalisto before the match. Enzo controlled most of the match until Kalisto went for the Salida del Sol, but Enzo escaped. He went for the Jawdonzo, but Kalisto held on to the ropes. Really sloppy. They went back into the ring and Enzo hit the Jawdonzo for the win. Not a good match…
Winner: Enzo Amore (~9 minutes)
---
Kickoff Show
Kevin Owens and Sami Zayn vs. Breezango
Owens and Zayn entered first and got on the mic. Owens said they didn't come to Survivor Series to compete with two clowns. Zayn said that it was a disgrace and an insult that they were relegated to facing Breezango. Owens said they should be leading Team SmackDown to victory tonight, but they aren't because of Shane McMahon. Owens and Zayn said that they felt unsafe and that their lives were in danger because Shane McMahon forced Raw to retaliate against SmackDown and made it an unsafe environment.
Breezango interrupted. Breeze said that they got an anonymous tip about two optical offenders harassing the WWE Universe. He said their un-manicured facial hair was at least ten violations and they pulled out a bunch of fashion violation tickets and threw them at Owens and Zayn.
Another basic, boring match. After a bunch of rest holds and stuff, Fandango went for a top rope leg drop but missed. Owens then hit him with a pop up powerbomb for the win.
Winners: Kevin Owens and Sami Zayn (~8 minutes)
---
The Shield vs. The New Day
The New Day cut a promo, then there was video recap of their feud. The match finally started at 7:15. Rollins and Ambrose wrestled in the terrible jarring half Raw / half Shield t-shirts. All five commentators were on commentary at the same time…
After a while, Reigns nailed Woods with a Superman Punch. Reigns went for a spear, but Woods kicked him. Later, Rollins hit Kofi with his knee finisher, then Ambrose hit him with the Dirty Deeds, but Xavier broke up the pin. Reigns and Ambrose tossed Big E and Kofi into the guard rail on the outside, then the Shield went for their triple powerbomb finisher, but Big E and Kofi broke it up. Big E picked both Rollins and Ambrose on each shoulder, and Kofi and Xavier jumped off the top and helped hit the Big Ending on both, but Reigns ran in and attacked.
On the outside, Rollins hit his knee finisher on Woods and Ambrose hit the Dirty Deeds on Big E. In the ring, Reigns nailed Kofi with a spear. The Shield went up to the middle rope and hit a Triple Powerbomb on Kofi for the win.
Winners: The Shield (~21 minutes)
---
Backstage: Stephanie McMahon and Women's Team Raw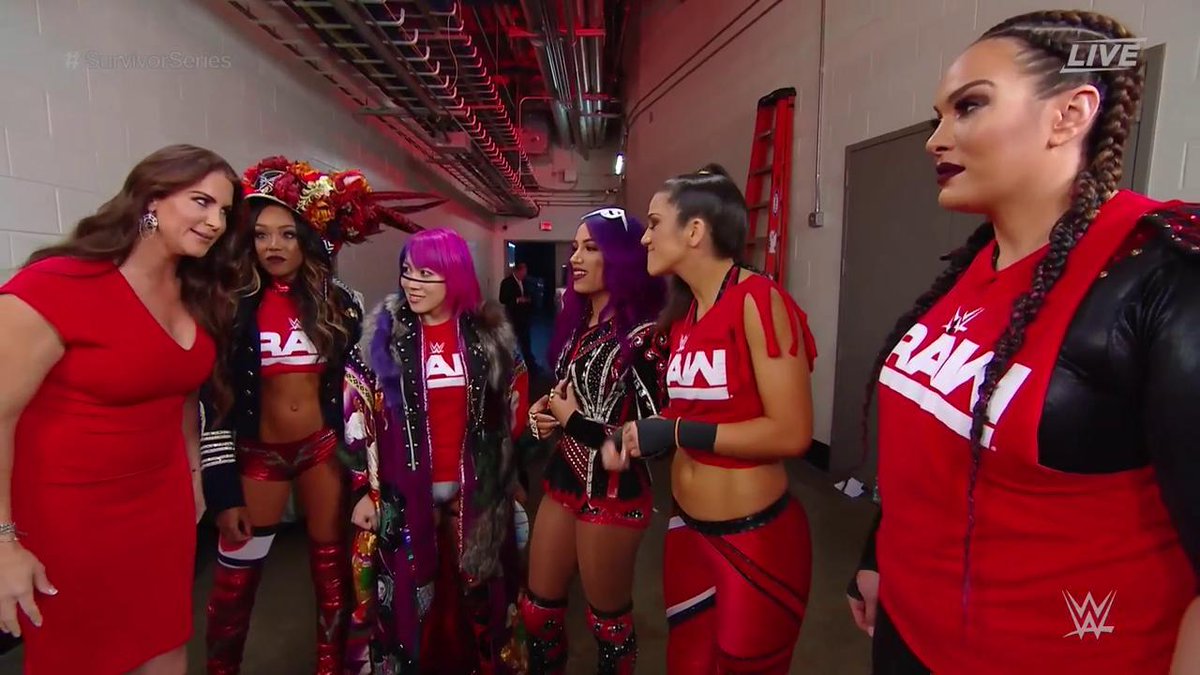 Stephanie McMahon was backstage with the women's Team Raw and gave them a pep talk.
---
Women's 5-on-5 Elimination Match
Team Raw (Alicia Fox, Asuka, Bayley, Nia Jax, Sasha Banks) vs. Team SmackDown (Becky Lynch, Carmella, Naomi, Natalya, Tamina)
So many entrances. Everything is taking so long. Like two minutes into the match, Becky Lynch hit Alicia Fox with a Becksploder, but Bayley tagged Alicia in without Becky realizing. Bayley rolled Becky Lynch up and she was eliminated. Becky Lynch was eliminated.
Carmella superkicked Bayley, then Tamina hit a top rope splash and Bayley was out. Bayley was eliminated.
Nia Jax and Tamina then faced off and exchanged headbutts. Nia took control and Lana got up on the apron, but Nia nailed her and knocked her out of her shoes. Tamina then nailed Nia and hit her with a splash off the apron onto the outside. The ref counted to 9 and Tamina rolled back into the ring, but Nia was counted out. Nia Jax was eliminated.
Naomi suddenly rolled Alicia Fox up and she appeared to kick out, but the ref said it was 3 I guess. The commentators were confused, but Alicia was eliminated I guess… Really sloppy. Alicia Fox was eliminated.
Sasha immediately ran in and locked on the Bank Statement on Naomi and she tapped. Naomi was eliminated.
Asuka and Carmella came in and Asuka made quick work of her, eliminating her with a kick. Carmella was eliminated.
It was down to 2 on 2. Asuka and Sasha Banks vs. Natalya and Tamina. Bank Statement on Natalya, but Tamina broke it up. Natalya then locked on the Sharpshooter, Tamina nailed Asuka, and Sasha tapped. Sasha Banks was eliminated.
Tamina dominated Asuka for a couple of minutes until she tried a top rope splash and missed. Asuka then locked on an arm lock submission and Tamina tapped. Tamina was eliminated.
Asuka then attacked Natalya and locked on the Asuka Lock, forcing Natalya to tap. Natalya was eliminated.
Winners: Team Raw (Asuka Survives) (~18 minutes)
---
Backstage: Stephanie McMahon and Daniel Bryan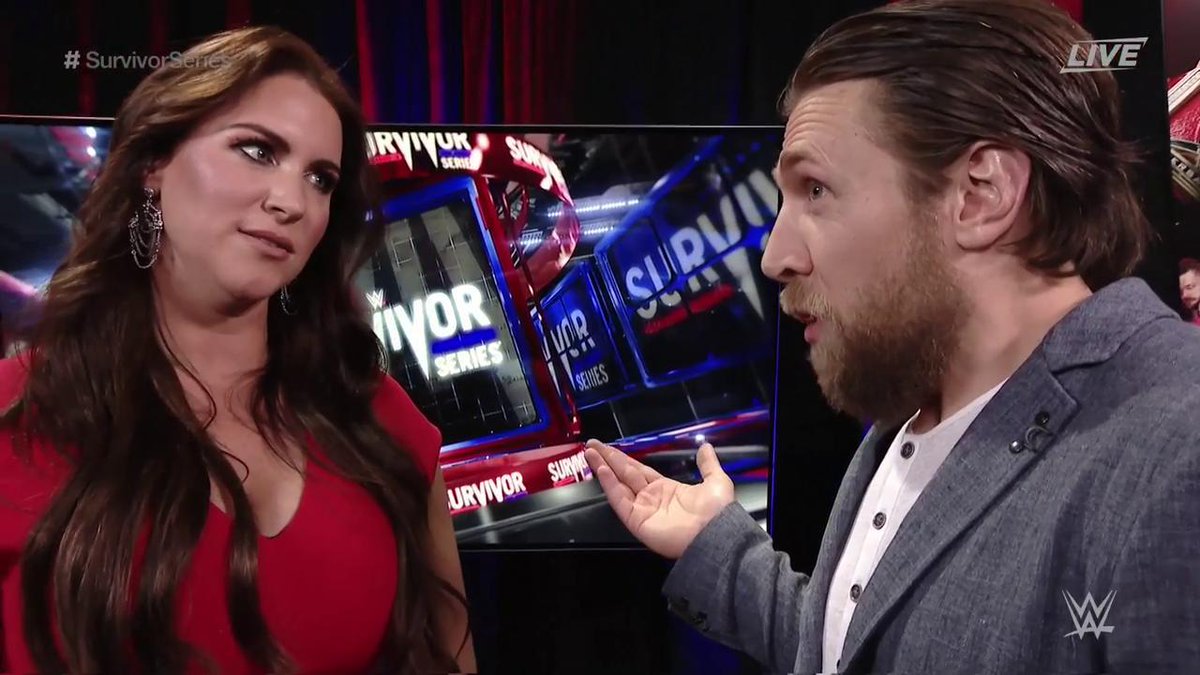 Stephanie McMahon and Daniel Bryan were in a backstage segment that went on really long, where they talked about how their respective brand is better. Stephanie said that when Shane is incapacitated after tonight, Bryan will have "full autonomy" over SmackDown.
---
Intercontinental Champion The Miz vs. United States Champion Baron Corbin
Maryse was shown sitting at ringside and she and The Miz kissed. Bo Dallas and Curt Axel (wearing a neck brace) accompanied Miz. Nightmarish, dizzying camera work in this match. Worse than usual. A few minutes in, Bo Dallas attacked Corbin's knee while the ref wasn't looking. Later, Dallas tried to interfere again but Corbin tossed him into the ring and hit him with the End of Days. He went for the End of Days on Miz, but Miz broke it up and hit a DDT. Miz hit a few yes kicks on Corbin, then ran at him from the corner for a running dropkick, but Corbin grabbed him and hit him with the End of Days for the win.
Winner: Baron Corbin (~9 minutes)
Corbin was interviewed by Renee Young in the ring after the match. Corbin said that he just shut Miz's mouth, and the mouths of everyone watching at home.
---
Backstage: Paul Heyman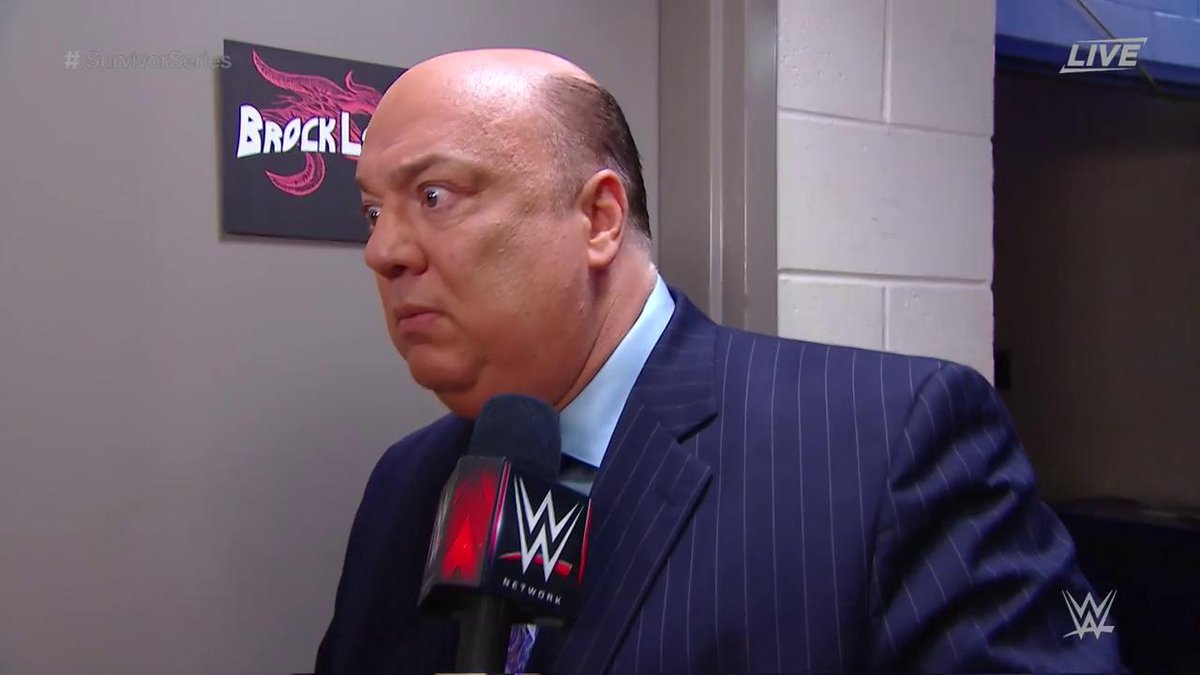 Paul Heyman was interviewed backstage outside of Brock Lesnar's locker room and did his usual schtick.
---
Raw Tag Team Champions Cesaro and Sheamus vs. SmackDown Tag Team Champions The Usos
After a few minutes, Cesaro spun one of the Usos around and locked on a Sharpshooter, but he grabbed the ropes to break it up. Sheamus hit the White Noise, but Jimmy Uso broke up the pin. The Usos went for a superkick on Sheamus but Cesaro pushed him out of the way and took the bullet. Sheamus went for the Brogue Kick but missed and was nailed with a double superkick. Top rope splash by one of the Usos on Sheamus for the win.
Winners: The Usos (~16 minutes)
---
Backstage: Jason Jordan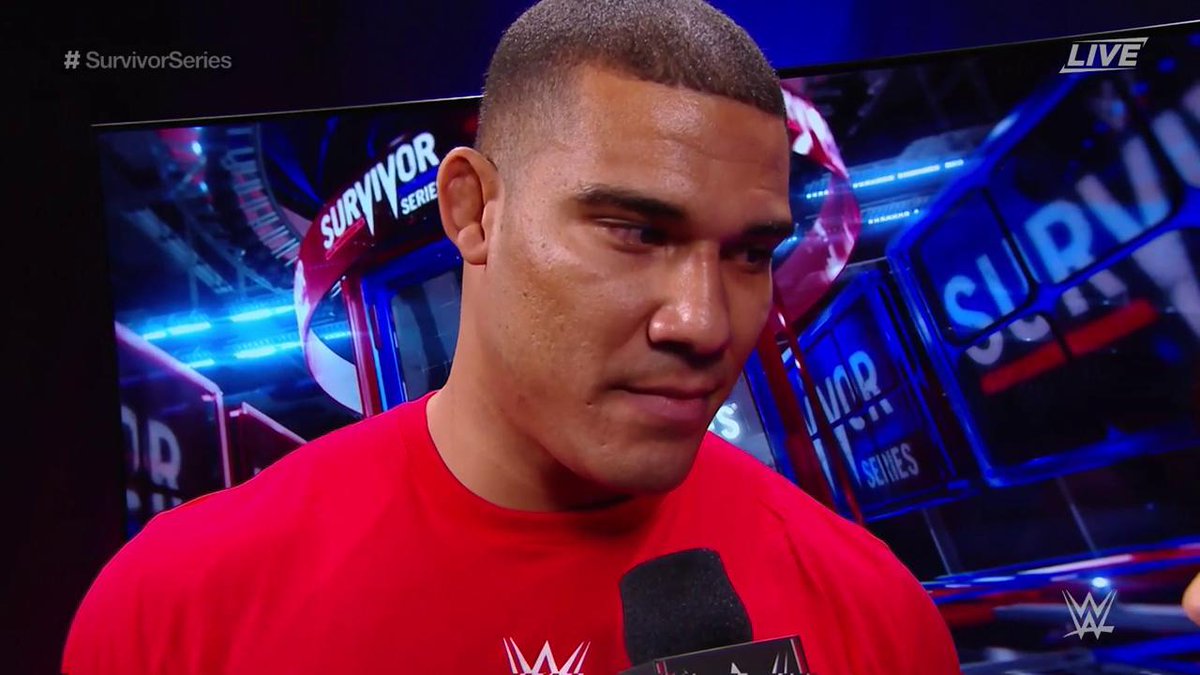 Jason Jordan was interviewed backstage and was booed. Jordan said he was still disappointed that he was taken out of the match. He said he was 100% tonight and if anything goes down, he would be ready to step in. He said he hopes Triple H is eliminated, but still hopes Team Raw will win.
---
Raw Women's Champion Alexa Bliss vs. SmackDown Women's Champion Charlotte Flair
Alexa controlled most of the match, but after a few minutes, Charlotte hit her with a sit out powerbomb. She went for the Figure 8, but Alexa escaped before she could lock it on. Charlotte went for a top rope moonsault, but missed. DDT by Bliss for a near fall. Alexa was frustrated and threw a tantrum. She went for Twisted Bliss off the top, but Charlotte got her knees up. Big boot by Charlotte, followed by the Figure 8… Alexa tapped.
Winner: Charlotte Flair (~15 minutes)
---
Universal Champion Brock Lesnar vs. WWE Champion AJ Styles
Jinder Mahal was shown cutting a promo backstage saying that he is rooting for his brand, but he hopes Lesnar beats the hell out of Styles because he wants his title back.
Lesnar manhandled and toyed with AJ Styles early on, nailing him with three German suplexes and tossing him into the German announce table. Lesnar went for an F5 but Styles escaped and hit Lesnar with a DDT. Styles then started kicking at Lesnar's left knee, then hit a Pele kick. Styles went for a Phenomenal Forearm, but Lesnar caught him and completely flipped him over onto his face with a huge German suplex. Styles looked like he landed badly on his leg.
Styles regained control, though, hitting a springboard moonsault off the ropes, then a springboard 450 splash for a near fall. Styles called for the Styles Clash, but Lesnar broke free and went for an F5, but Styles escaped and locked on a calf crusher submission, but Lesnar broke free by smashing Styles' head into the ring about five times.
Lesnar went for an F5 again but Styles escaped and hit a Phenomenal Forearm for a near fall. Styles got up and went for a Phenomenal Forearm again, but Lesnar caught him and nailed him with an F5 for the win. Really good match.
Winner: Brock Lesnar (~15 minutes)
---
They hyped up that the "score" is now tied with each brand picking up 3 wins tonight.
---
Men's 5-on-5 Elimination Match
Team Raw (Kurt Angle, Braun Strowman, Finn Bálor, Samoa Joe, Triple H) vs. Team SmackDown (Shane McMahon, Bobby Roode, John Cena, Randy Orton, Shinsuke Nakamura)
Everyone was wearing a red or blue shirt but John Cena, who was wearing lime green arm bands. Balor and Nakamura faced off early, which the crowd liked. Michael Cole kept calling Nakamura "Shin." Later, Roode faced off with Triple H and started to do his "Glorious" taunt, but Triple H punched him in the face before he could finish. HHH hit a spinebuster, then did his own Glorious taunt, into a crotch chop / "suck it." Kurt Angle entered and hit Roode with three German suplexes in a row, then went for an Olympic Slam, but Roode escaped. Nakamura was tagged in and knocked Strowman off the apron, which pissed him off. Nakamura then took out almost the entire Raw team until Braun Strowman was tagged in. Nakamura ran at Strowman, but Strowman picked him up and hit him with a running powerslam for the pin. Shinsuke Nakamura was eliminated.
Bobby Roode then came in but Strowman made quick work of him and hit him with a running powerslam after about a minute to eliminate him. Bobby Roode was eliminated.
Samoa Joe tagged himself in and Strowman got in his face and shoved him. Kurt Angle tried to break it up, then Triple H tried to break it up. HHH and Angle then got in each other's face as their was dissension among Team Raw. Team SmackDown came in and attacked them though. Cena and Orton double teamed Braun Strowman and tried to suplex him through an announce table, but couldn't get him up. Shane, Nakamura and Roode then came over to help and they suplexed Strowman through the table. Shane McMahon went to the top rope, but Samoa Joe went up and hit him with a belly to belly suplex off the top. Later, Samoa Joe tagged himself in and he and Balor started to argue, which allowed John Cena to hit an AA on Joe, then Balor, then Joe again for the 1-2-3. Samoa Joe was eliminated.
Cena and Angle then wrestled for a bit until Angle locked on an Ankle Lock, then an Olympic Slam, but Shane broke up the pin. Coup de Grace by Balor onto Cena, then another Olympic Slam by Angle… John Cena was eliminated.
Orton went for an RKO on Balor, but Balor escaped. He went for the Coup de Grace, but Orton moved then hit him with an RKO. Finn Balor was eliminated.
Suddenly, Kevin Owens and Sami Zayn ran out and attacked Shane McMahon. Shane fought back though, nailing the both with a steel chair. Owens ran into the ring and was hit with an RKO by Orton. Braun Strowman ran in and hit a running powerslam on Orton. Randy Orton was eliminated.
Shane McMahon was the only member of Team SmackDown left, going 1 on 3 against Braun Strowman, Kurt Angle and Triple H. Strowman faced off with Shane and licked his chops, but Triple H tagged himself in before he could do anything. Triple H prepared to attack Shane, but Kurt Angle tagged himself in. Kurt and HHH argued, which allowed Shane to go on the attack. After a few near falls, Angle hit an Olympic Slam then locked on an Ankle Lock. Shane was about to tap, but Triple H ran in and broke it up for some reason, then nailed Kurt Angle with a Pedigree. Triple H placed Shane on top of Kurt Angle… Kurt Angle was eliminated.
Triple H and Braun Strowman stared each other down. Strowman looked confused. Triple H helped Shane McMahon up, but then suddenly kicked him in the stomach and nailed him with a Pedigree. Shane McMahon was eliminated.
Winners: Team Raw (Triple H and Braun Strowman survived) (~33 minutes)
After the match, Triple H laughed and raised his and Braun Strowman's arms in victory as Strowman still looked confused. Suddenly, Strowman grabbed Triple H by the throat and screamed, "If you ever try to rob (?) me again, you will never play this game again!" He let go, then Triple H got up and tried to Pedigree him, but Strowman blocked it and hit Triple H with a running powerslam. Strowman's theme hit, then Triple H got up after a couple of minutes. Strowman picked him up and hit him with another running powerslam. His theme hit again, he tore off his Raw shirt, and walked down the ramp as Triple H lay in the ring. A really good, unpredictable main event.