WWE Raw Results – Apr. 23, 2018 – 10-Woman Tag Match
WWE RAW Results
April 23, 2018
St. Louis, Missouri
Commentary: Michael Cole, Corey Graves and Jonathan Coachman
Results by: Mike Tedesco of Wrestleview.com
---
Bruno Sammartino Tribute
In memory of Bruno Sammartino: 1935-2018. We go into the arena to hear loud "Bruno" chants. The WWE superstars are all on the stage with Vince McMahon. They are all wearing Bruno Sammartino shirts. To honor the life of WWE Hall of Famer Bruno Sammartino, they have a 10-bell salute. They then play an unbelievable video showcasing the life and times of Bruno Sammartino.
---
In-Ring: Brock Lesnar, Paul Heyman, Roman Reigns
Brock Lesnar's music hits, and the WWE Universal Champion makes his way to the ring alongside Paul Heyman. Lesnar comes out to a big reaction. This is RAW episode 1,300. Lesnar holds up the title, taunting the crowd, which is now booing him. Brock Lesnar is mugging for the camera when we return from the commercial break. The crowd is loudly booing. Paul Heyman clears his voice on the microphone. Heyman says, "Ladies and gentlemen, my name is Paul Heyman, and I am the advocate for – and here's how it goes – and STILL reigning, defending, undisputed Universal Champion, Brock Lesnar." The crowd loudly boos, and Heyman just cackles into the microphone. Heyman says they're bestowing them with their anger because they think he's going to come out here tonight and gloat. They think Heyman and Lesnar are here to say they told us so and talk about how they conquered Roman Reigns, John Cena, and The Undertaker's undefeated streak. When it comes to Brock Lesnar this is real. Any member of the locker room stands as much of a chance as the wannabes in the crowd. Heyman doesn't give predictions. He gives spoilers. Brock Lesnar does not gloat. Brock Lesnar conquers. Paul Heyman gloats all night long over the fact that Brock Lesnar used very non-PG era elbows to scar up Roman Reigns' face. Heyman gloats over Lesnar taking Reigns to Suplex City and multiple F5s. Lesnar left Reigns in a heap like Samoan trash at the biggest WrestleMania of all time. None of this means anything to Brock Lesnar. Lesnar does not dwell in the past, even when the past was only two weeks ago at WrestleMania. Lesnar looks forward to the future, especially when the future is this Friday in the Kingdom of Saudi Arabia at the Greatest Royal Rumble event. Brock Lesnar, who so craves to be in a UFC fight, will get on a private jet and fly across the world to the Kingdom of Saudi Arabia for the mere opportunity to be locked inside of a cage with Roman Reigns.
A "Roman" chant lightly picks up. Heyman says being in a cage wasn't Reigns' idea. Lesnar pinned Reigns. WWE had no choice, so they had to give Lesnar a big, fat, beautiful contract with a substantial raise that was earned. The WWE told Lesnar they need the title defended in the Kingdom of Saudi Arabia. Lesnar said if Reigns is still breathing, he wants Reigns in a fight for the title inside a steel cage. The odds are stacked against Reigns even more so than at WrestleMania. That is not a prediction. It's a spoiler. Reigns is stepping into the cage against the greatest cage fighter in the Brock-tagon. This Friday in Saudi Arabia, Lesnar will shred Reigns and send him back to the United States in multiple boxes as a former WWE superstar and a victim of Brock Lesnar.
Roman Reigns' music hits, and he comes out to boos from the crowd. Reigns gets in the ring and stares at Lesnar. Heyman watches with a maniacal look on his face from the apron. Lesnar laughs at Reigns and talks some trash. Reigns says Lesnar is right. He doesn't know how he'll get back, but he does know one thing. Reigns is coming home iwth the title. That gets a mixed reaction. Reigns says, "And you can believe that." Lesnar lets out a sarcastic, "Oooh." Reigns leaves the ring without any action taking place.
---
Elias vs. Bobby Roode
Elias is in the ring, but he's immediately interrupted by Bobby Roode's entrance theme. They lock up, and Elias hooks a side headlock. Roode whips him off, but Elias shoulder blocks him down. Roode comes back with a back elbow and chops him in the corner a few times. Elias chops back, but Roode kicks and chops him. Elias reverses a whip to the corner, but Roode boots him in the face. Roode jumps over him and hits an inverted atomic drop followed by a dropkick for a two count. They're pointing out that Roode may have tweaked his knee. Roode keeps him grounded with an arm bar. Elias fights up, but Roode wrenches the arm. Elias soon takes him down and chops the chest. Elias send him into the ropes, but Roode tries for a Glorious DDT. Elias gets out of it, and Roode clotheslines him over the top rope.
We come back from the break to see Elias make a comeback on Roode and send him shoulder-first into the ring post. Elias locks on a nerve hold while they show a video hyping up Rusev taking on The Undertaker in a Casket Match at the Greatest Royal RUmble event. Roode fights up and punches out. Elias punches and stomps Roode down before the referee backs him up. Elias comes right back with a kick and slams the chest off the ring apron. Elias hits a running knee to the face for a near fall. Elias hooks a chin lock, but Roode eventually fights up and gets out with a back suplex. Elias is first to his feet. Roode blocks a right hand and punches away at him. Roode chops the chest. Roode has a whip reversed, but he comes back with a forearm and a clothesline. Roode clotheslines him in the corner and hits a swinging neckbreaker. Roode goes to the top rope and hits a diving clothesline. Roode sets up and does his "GLORIOUS" chant. Roode goes for a Glorious DDT, but Elias counters. Roode comes back with a roll-up for a two count. Roode boots him back and hits a blockbuster. Roode tries to follow up, but Elias immediately gets out of the ring. Roode goes outside and throws him back in. Elias snaps the arm off the ropes while he comes back in and rolls Roode up for the win.
Winner by Pinfall: Elias
---
Woken Matt Hardy and Bray Wyatt vs. The Ascension
"WOKEN" Matt Hardy is shown on a pre-taped promo. At the most humongous rumble of royalty, they will procure the Tag Team Championships. They will descend into the abominable wasteland. The lights go dim, and Bray Wyatt walks up. Wyatt says, "Without darkness, there can be no light. Together, we will cast a shadow that will engulf all living things." They do their crazy laughs before saying together, "RUN!"
They are calling the tag team of Hardy and Wyatt, "The Deleters of Worlds."
Hardy starts against Viktor. They lock up, but eventually separate. Hardy gives him an ovation and shouts, "WONDERFUL." Hardy takes Viktor down and tags in Wyatt. They hit a double-team back elbow followed by a leg drop/senton splash combo. Viktor gets out of a uranage and tags in Konnor. Wyatt soon takes him down with a vicious clothesline. Hardy tags in and boots Konnor before Wyatt hits a shoulder tackle. Hardy goes for a Twist of Fate, but Konnor powers him to the corner and tags in Viktor. They stomp Hardy down before Konnor tags back in. Konnor takes Hardy down before tagging Viktor back in. Hardy gets out of a chin lock and tags in Wyatt. Wyatt powers Viktor to the corner and knocks Konnor off the apron. Wyatt then hits Viktor with a flying body block. Hardy tags in. Wyatt avalanches Viktor into the corner, and Hardy hits a Side Effect for a near fall. Hardy goes for a Twist of Fate, but Konnor breaks it up. Wyatt then hits Konnor with Sister Abigail. Wyatt tags in, and he holds Viktor up for Hardy to hit a Twist of Fate. Wyatt covers for the win.
Winners by Pinfall: "WOKEN" Matt Hardy and Bray Wyatt
---
In-Ring: Kevin Owens, Sami Zayn, Kurt Angle
Kevin Owens and Sami Zayn make their way to the ring to Zayn's music for "The Sami & Kevin Show." They have pictures of them beating people up on poster boards. The desk is set up like a podcast studio. They welcome the crowd to the hottest new interview show in WWE. They'll do this whenever they feel like it. Last week, a huge void was left with the loss of The Miz. Who better to step up and fill the void than them? They'll also step up and win the Greatest Royal Rumble. Owens asks if you know why they call this the Greatest Royal Rumble event. Zayn tries to come up with suggestions before settling on them proving their greatness by winning the Greatest Royal Rumble match. Owens agrees. Zayn tells everyone to take off from work or stay home from school, and they'll prove they're the greatest superstars and show why they were handpicked to be the crowd jewels of this show by none other than Stephanie McMahon. Owens says those are all facts, but they're probably rubbing their guest the wrong way. In respect to their guest, they came up with a song. They then sing, "You suck," to the tune of Angle's theme song.
Kurt Angle then makes his way to the ring. Owens wonders where his manners went and pulls out a yard chair from under the table. Zayn asks what he thought of their song. Angle tells them not to quit their day jobs. Owens says Angle is bitter about last week, but they got off on the wrong foot. Owens should be mad if his boss had his manhood in a jar in Hartford, Connecticut. Zayn says they've come from a toxic work environment. Owens says they were victims of a conspiracy by Shane McMahon. Owens took matters into his own hands and cracked the skull of Vince McMahon. Zayn says Stephanie McMahon either really appreciates their talents or she must really dislike Angle. Angle wouldn't blame her if she did. If it wasn't for him, she'd have Ronda Rousey under her thumb while having full use of her arm. Owens says Angle desperately needs this job. Zayn asks if he has five kids, but Owens says it's six. Zayn double checks his notes and puts on some nerdy reading glasses. Owens says he forgot Jason Jordan. Zayn says that's no big deal because Angle forgot about him for years as well. Owens says tonight is not about the past. It's about the future. Angle is going to tell them how he'll maximize the investment his boss made in them.
Angle sarcastically says he appreciates the way they treated him. He'll pay them back at the Greatest Royal Rumble match because he'll be in that match. So will Daniel Bryan, Chris Jericho, and every other superstars they've endeared themselves to over the years. That's Friday and this is Monday Night RAW. Angle would love to repay them. Tonight, they'll have a tag team match. Their opponents will be Bobby Lashley and Braun Strowman. Owens and Zayn look upset.
---
Backstage: Seth Rollins, Bo Dallas, Curtis Axel
Seth Rollins is texting backstage when Bo Dallas and Curtis Axel walk up to him. Bo Dallas says they said goodbye to The Miz and want to reclaim their future. They then reveal themselves to be wearing Rollins' t-shirt. They want to be the new Shield with him. Rollins says their wins are in the right place… They put their fists out, but Rollins says this is a hard no.
---
Titus Worldwide vs. Drew McIntyre and Dolph Ziggler
Dolph Ziggler starts against Titus O'Neil. O'Neil sends him to the corner and stomps away at him. Apollo Crews tags in and hits a standing moonsault. Crews sends Ziggler into the ropes, but he eats an elbow. Drew McIntyre tags in and big boots Crews. McIntyre chops the chest and clubs away at him. McIntyre then sends him across the ring with a belly-to-belly overhead suplex. McIntyre gets him in position for an inverted Alabama Slam. Ziggler tags in and superkicks him before McIntyre completed the move. They then hit the double-team Zig-Zag/Claymore attack for the win.
Winners by Pinfall: Drew McIntyre and Dolph Ziggler
Charly Caruso gets in the ring and asks Ziggler why he brought McIntyre with him. Ziggler says since day one, no one has had his back. Now McIntyre is watching his back. This man is dangerous. McIntyre takes the microphone and says he is dangerous, especially to a locker room that's gone soft. There is no fire or ambition. These people are just collecting checks. It makes him sick. McIntyre says he is what a superstar looks like. The times are changing. McIntyre is not what WWE wants. He is the wakeup call and reality check this place desperately needs. Ziggler says they don't give a damn about stealing the show. They are the show. They then leave the ring.
---
Backstage: Kurt Angle, Chad Gable, Jinder Mahal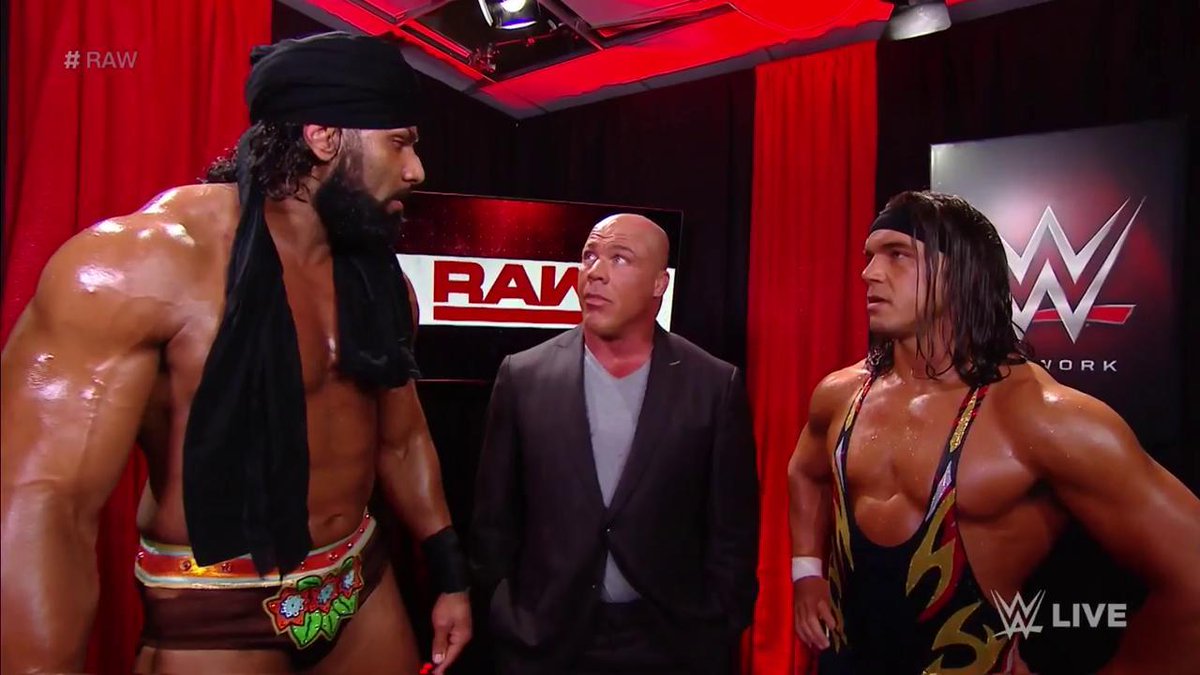 Kurt Angle is backstage when Chad Gable walks in. Gable says he doesn't intend to waste this opportunity. Angle says he knows that. Gable asks how Jason Jordan is. Angle says he'll be back soon, but he's here as a singles competitor. Jinder Mahal comes in and is furious with Angle for making him defend his title against Jeff Hardy. Mahal says at the Greatest Royal Rumble event and will win back his United States Championship. Mahal demands to be sent back to Smackdown Live. Gable tells Mahal to have some respect. Mahal thinks Gable is Nicholas, the former Tag Team Champion and current fourth grader. Mahal then says he thought Mini Me passed away this week. Gable shoves him. Angle tells them to settle it in the ring right now.
---
Jinder Mahal vs. Chad Gable
While Gable is making his entrance, Mahal attacks him and knocks him to the floor. Mahal throws him into the barricade. Mahal gets him in the ring and stomps Gable. The referee backs him up and checks on Gable.
Gable agrees to start the match. Gable ducks a punch and attacks Mahal. Gable takes him down, but Mahal kicks him away before hitting a kick to the face. Mahal stands over him before going for a back suplex, but Gable counters into a pin. Gable pulls the top rope down to get him out of the ring. Gable charges at ringside, but Mahal clotheslines him down. We come back from a break to see Mahal hit Gable with a suplex for a two count. Mahal stomps Gable and cuts off a comeback. Mahal sends him to the corner, and Gable hits sternum first. Mahal hits a lame looking crossface and elbow to the head. Mahal then applies a chin lock. Mahal chokes him on the ropes and drops some knees. Gable soon boots him back and attacks the knee. Gable hits a dragon screw and stretches the leg. Mahal knees him and lifts, but Gable elbows out. Mahal quickly drops him on the ropes and hits a running knee. Mahal goes for the Khallas, but Gable climbs the ropes and pushes back to pick up the win a la Bret Hart vs. Roddy Piper at WrestleMania 8.
Winner by Pinfall: Chad Gable
---
Backstage: The Riott Squad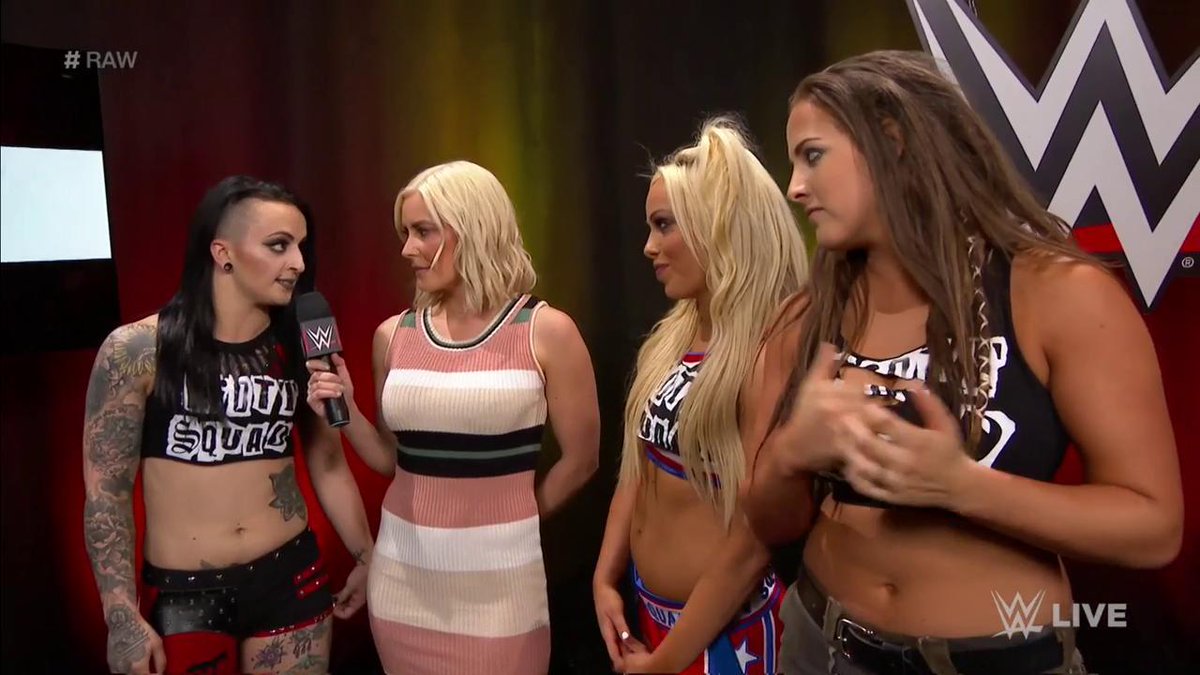 Renee Young is backstage with The Riott Squad. Renee asks if they were trying to send a message to Sasha Banks and Bayley. Riott says it was a message to the whole division. Liv Morgan says they're not here to build bridges or make friends. Sarah Logan says she spent her life tracking animals and knows how to take things down. Riott says they're like a can of tear gas. They're equal opportunity agitators. Everyone will be on their knees begging for help. It's messy and unpleasant. That's the way they like it.
---
Video Promo: Samoa Joe
Samoa Joe is shown in a pre-taped promo. Joe says Brock Lesnar will leave Roman Reigns buried in the sands of the desert.
---
Backstage: Finn Balor, Bo Dallas, Curtis Axel
Bo Dallas and Curtis Axel are talking to Finn Balor about wanting to team with him. Balor turns them down.
---
Kevin Owens and Sami Zayn vs. Bobby Lashley and Braun Strowman
The bell rings, and Owens and Zayn get out of the ring. They go in and out to avoid them, but eventually they're caught. Lashley hits Owens with a neckbreaker and a spinebuster. Lashley punches Owens back and hits a running shoulder block. Lashley clubs him down and stomps him. Owens is sent into the ropes, but Lashley lowers his head and eats a kick. Zayn tags in. Lashley fights out of the corner and hits a suplex. Lashley hits some back elbows and charges, but Zayn boots him down. Owens tags in and punches away at Lashley. Zayn tags back in. They send Lashley into the ropes. Lashley fights them off, but Owens soon pulls the top rope down to get him out of the ring. Owens follows up with a senton splash on the floor.
We come back from the break to see Zayn chopping Lashley in the corner. Zayn charges, but Lashley sends him across the ring with a huge belly-to-belly suplex. Owens stops a tag to Strowman and punches away at Lashley. Owens goes for a senton splash, but Lashley gets the knees up. Zayn tags in, and he jumps on Lashley's back for a sleeper hold. Lashley fights up and hits a sidewalk slam. Lashley nearly gets the tag, but Owens pulls Strowman off the apron. Strowman angrily gets back on the apron. Lashley comes back with a club to OWens and a forearm to Strowman.
Strowman is tagged in, and he runs around ringside to murder Owens with a shoulder tackle. Strowman gets in the ring and viciously clotheslines Zayn. Owens gets to his feet at ringside, so Strowman runs him over again. Strowman gets in the ring and turns Zayn inside out with a clothesline. Strowman then goes outside and levels Owens with a dropkick! Strowman gets in the ring, and Zayn runs away. Lashley chases and catches him before putting him back in the ring. Strowman grabs Zayn and clubs him down. A loud "Get these hands" chant picks up. Strowman throws Zayn across the ring after tagging Lashley in. Lashley holds Zayn up for a wild delayed vertical suplex. Strowman is tagged in. Strowman hits Zayn with a Running Powerslam for the win.
Winners by Pinfall: Bobby Lashley and Braun Strowman
---
In-Ring: No Way Jose, Baron Corbin
No Way Jose makes his way to the ring dancing with his conga line.
Baron Corbin says the conga line is an excuse for them to attack him. Corbin's idea of fun is ruining other peoples' fun. Corbin is here to be a champion. Jose isn't on his level. As long as Jose is running around with freaks, he says No Way, Jose. Corbin walks off. Jose grabs a microphone. Just because Corbin doesn't want them to have fun, it doesn't mean the party has to stop. Jose then tells them to hit his music. Jose dances up the ramp before Corbin attacks him from behind. Corbin kicks him in the ribs and sends him headfirst into the LED wall on the stage. Corbin waits for Jose to get up before hitting a chokeslam backbreaker.
---
Segment: Alexa Bliss
A fake ad about bullying is shown for Alexa Bliss. Bliss talks about being bullied by Nia Jax. She warns Nia's tag team partners to not fall victim to Jax' bullying. This has been a moment of Bliss.
---
Finn Balor and Seth Rollins vs. Bo Dallas and Curtis Axel
Finn Balor starts against Bo Dallas. Dallas shoulder blocks him down and poses. Curtis Axel tags in and shoulder blocks Balor down. Balor applies a waistlock, but Axel elbows out. Axel gets a sunset flip, but Balor rolls through and dropkicks him. Balor wrenches the arm, but Axel elbows him before choking him on the ropes. Dallas tags in and drops a knee. Dallas applies a chin lock and keeps him grounded. Balor gets out and hits an overhead kick.
Seth Rollins and Axel are tagged in. Rollins hits a springboard clothesline before knocking Dallas off the apron. Rollins hits Axel with a Sling Blade and sends him into Dallas before clotheslining him over the top rope. Rollins hits Axel with a suicide dive. Rollins gets Axel in the ring and boots him back. Rollins then hits a blockbuster. Rollins gets the crowd going and superkicks Dallas. Rollins then kicks Axel and hits a Curb Stomp. Rollins tags in Balor and hits Dallas with a plancha. Balor hits the Coup de Grace for the win.
Winners by Pinfall: Finn Balor and Seth Rollins
---
Alexa Bliss, Mickie James, and The Riott Squad vs. Bayley, Ember Moon, Natalya, Sasha Banks, and Nia Jax
Sasha Banks will start against Liv Morgan. Morgan has a blue tongue. Morgan immediately tags in Sarah Logan, and they double-team Banks down. Logan womanhandles Banks and taunts the crowd. Logan knees her before Banks kicks her back. Banks knees her in the head and hits a slingshot double knee for a one count. Banks then applies an arm bar. Logan fights up and tags in Morgan. Morgan sends her to the corner and runs into a boot. Morgan bends under a clothesline, but Banks takes her down before slapping her. Banks works on the arm and tags in Ember Moon. Moon wrenches the arm and takes Morgan down for a two count. Moon sends her to the corner and hits a handspring forearm. Moon hits a springboard cross-body block for a two count. Moon then wipes Morgan out with a crazy suicide dive.
We come back from the break to see Morgan applying a chin lock to Banks. Banks gets out and tries to make a tag, but Logan slams her down. Mickie James tags in and stomps Banks down. James applies a chin lock, but Banks gets out. A promo is shown for Brock Lesnar vs. Roman Reigns at the Greatest Royal Rumble. Banks fights up, but James knees her. Banks does a slingshot and tweaks the knee. Natalya tags in and hits James with a Discus Clothesline before hitting a pair of snap suplexes. Natalya hits a snapmare and a dropkick. Natalya goes for a Sharpshooter and locks it in. Logan chop blocks the knee to break it up. The referee checks on Natalya. Natalya gets to her feet, but she's limping. James then kicks Natalya in the leg again. Natalya holds her knee at ringside. The referee calls for help. Natalya is crying.
Bayley hits Ruby Riott with a back suplex. Riott takes her down with an STO for a near fall. Riott then applies a chin lock. Bayley fights up, and Nia Jax tags in. Jax powers Riott to the corner and sends her to the opposite corner before hitting an avalanche. Jax military presses her and throws her down. Jax then drops a leg, but the whole heel team breaks it up. A brawl breaks out, and the ring clears. Jax then leaps off the apron and wipes everyone out, including her own team. On the opposite side of the ring, Natalya is struggling to get to her feet. James baseball slides her and attacks the knee.
Ronda Rousey's theme song hits, and she comes out to a huge reception. James runs off. Rousey helps her friend Natalya up. James then baseball slides Rousey. Rousey furiously gets up with a scowl on her face. Rousey gets in the ring and takes her down with a judo throw before applying an arm bar to James! Wow! Rousey then goes outside to check on Natalya again.
Winners by Disqualification: Alexa Bliss, Mickie James, and The Riott Squad
Ronda Rousey helps Natalya to the back. The commentators put over the Greatest Royal Rumble event one last time.
---
Quick Match Results
* Elias def. Bobby Roode
* "WOKEN" Matt Hardy and Bray Wyatt def. The Ascension
* Drew McIntyre and Dolph Ziggler def. Titus Worldwide
* Chad Gable def. Jinder Mahal
* Bobby Lashley and Braun Strowman def. Kevin Owens and Sami Zayn
* Finn Balor and Seth Rollins def. The Miztourage
* Alexa Bliss, Mickie James, and The Riott Squad def. Bayley, Ember Moon, Natalya, Sasha Banks, and Nia Jax via DQ
---
E-Mail – MikeyT817@gmail.com
Twitter – @MikeTedescoWV
AUTHOR'S LINK: