August 7, 2018
Orlando, Florida
Commentary: Tom Phillips, Byron Saxton and Corey Graves
Results by: Roy Nemer of Wrestleview.com
---
In-Ring: Randy Orton
Smackdown Live kicks off with Randy Orton coming down to the ring. Orton gets on the mic and says that last week Jeff Hardy called him out. They air the highlights from last week's Smackdown where Orton beat down on Jeff.
Orton says the question is if they still believe. He said he could have warned people to turn away but watching the fans squirm is why he did it in the first place. He made a vow to take out and destroy every superstar and dismantle their identities. He will become so violent that they will want to change the channel. But they won't change the channel because they still believe. They believe in super heroes, they hope that Jeff Hardy will come down and save the day but he won't because he erased the enigma. Orton says Jeff Hardy is somewhere lost looking for his identity which he stole last week.
Randy says he is doing what he is doing because he doesn't get the respect he deserves from the fans or from anyone in the back. He gives a rundown of his career stating that he was the youngest World Heavyweight Champion ever, he has won the title 13 times, he has main evented WrestleMania. But they still don't respect him. Sometimes in life when you are not given respect, you have to take it. You have to make choices. He says they have all made their choice and so has he. Orton says he will erase every superstar they believe in starting with Jeff Hardy. Orton says this is on each and every one of them.
---
Backstage: Becky Lynch, Charlotte Flair
"So we're good for this tag match then?" – @MsCharlotteWWE

"Of course, we're not @SashaBanksWWE & @itsBayleyWWE!" – @BeckyLynchWWE

The 🍵 has been spilled… #SDLive pic.twitter.com/eTPTRn5A3N

— WWE (@WWE) August 8, 2018
Backstage Becky is approached by Charlotte who tells Becky that she wasn't trying to ruin her moment last week. Becky says they both want the same things and it's probably why they get along. Becky says she wants to be happy for her but she wanted Carmella alone at SummerSlam. Charlotte asks if they are good for their tag team match and Becky says of course, they aren't Sasha or Bayley.
---
Charlotte Flair and Becky Lynch vs. The IIconics
Out comes Carmella and she sits at the announce table.
Billie and Peyton come out and play a name association game. Peyton says Orlando and Billie says the saddest place on earth. Charlotte Flair? Overrated and bad dancer. Becky Lynch? Nothing comes to mind. She doesn't even see Becky out here. A loud boring chant from the crowd. Peyton says Becky is where she always is, in Charlotte's shadow.
The bell rings and we are under way. Becky and Billie lock up and Becky gets Billie in an arm bar and tags Charlotte in. Charlotte with chops to the chest and she tags Becky back in. They send Billie to the rope and a double hip toss. In comes Peyton and a double hip toss takes her down. Becky goes for the Disarm-Her but Peyton drags Billie to the outside. Becky tags Charlotte in and Charlotte jumps over the top rope taking both ladies out.
Back from commercial and Charlotte and Billie Kay both take each other out with a double boot. Charlotte tags Becky in and Billie gets Peyton in. Becky goes after Peyton with right hands and an uppercut. She flies off the top rope and a forearm to the face. She goes for the cover but Peyton kicks out. Becky gets the Disarm-Her but BNillie breaks it up. Becky tags Charlotte in. Charlotte flies off the top rope and a moonsault takes both women out. Charlotte with the Figure 8 on Peyton who taps out.
Winners: Charlotte and Becky Lynch
After the match, Carmella stands on the announce table and poses with her women's title.
---
Backstage: The New Day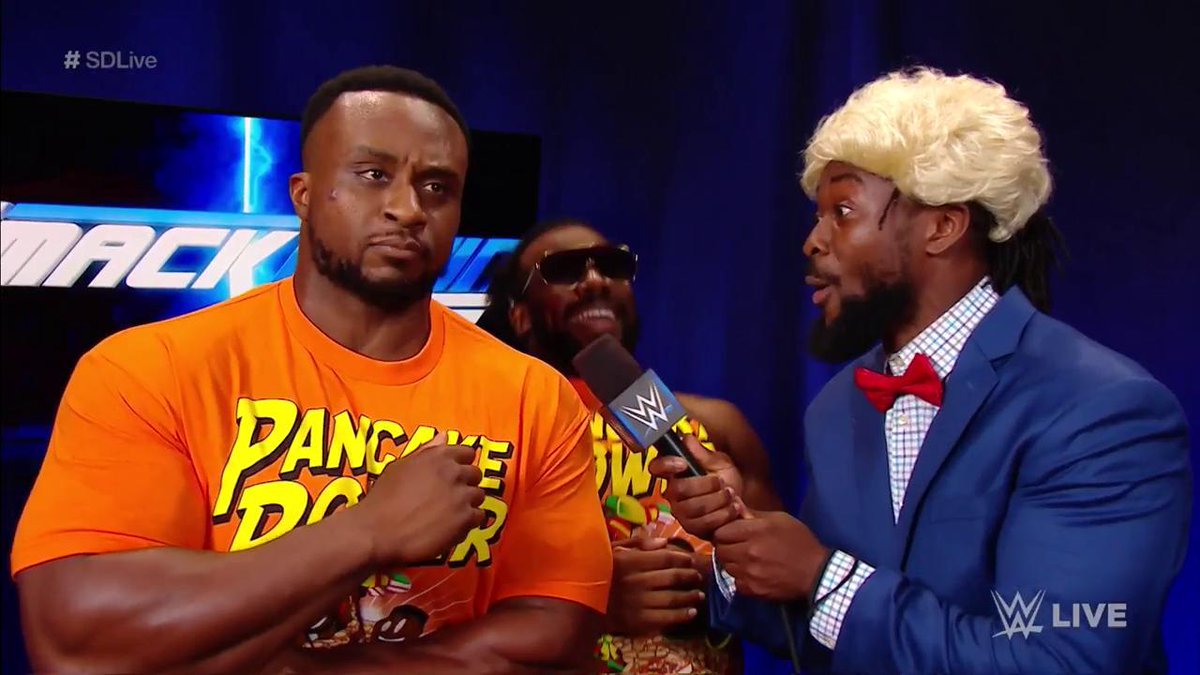 Backstage, Renee Young is standing with The New Day. Renee says that last week they were on commentary and social media went crazy for them. Big E says last week they were on commentary but this week they are trying something different. Kofi takes off his shirt and is wearing a suit and calls himself Kramer King. He interviews Xavier and Big E asking them how they will do tonight. Xavier says they beat them before and they will beat them again.
Kofi asks about The Bludgeon Brothers. Big E says they are no stranger to danger and at SummerSlam they will make sure that The Bludgeon Brothers bow down to the power of positivity.
---
Video: The Miz
They air a video of The Miz talking from earlier today. The Miz says all he says is give. He gives access to his fairy tale life. He says after a week of negotiations, he will give the gift of relevancy to Daniel Bryan. Because at SummerSlam, it will be himself against Daniel Bryan.
---
Backstage: Becky Lynch, Charlotte Flair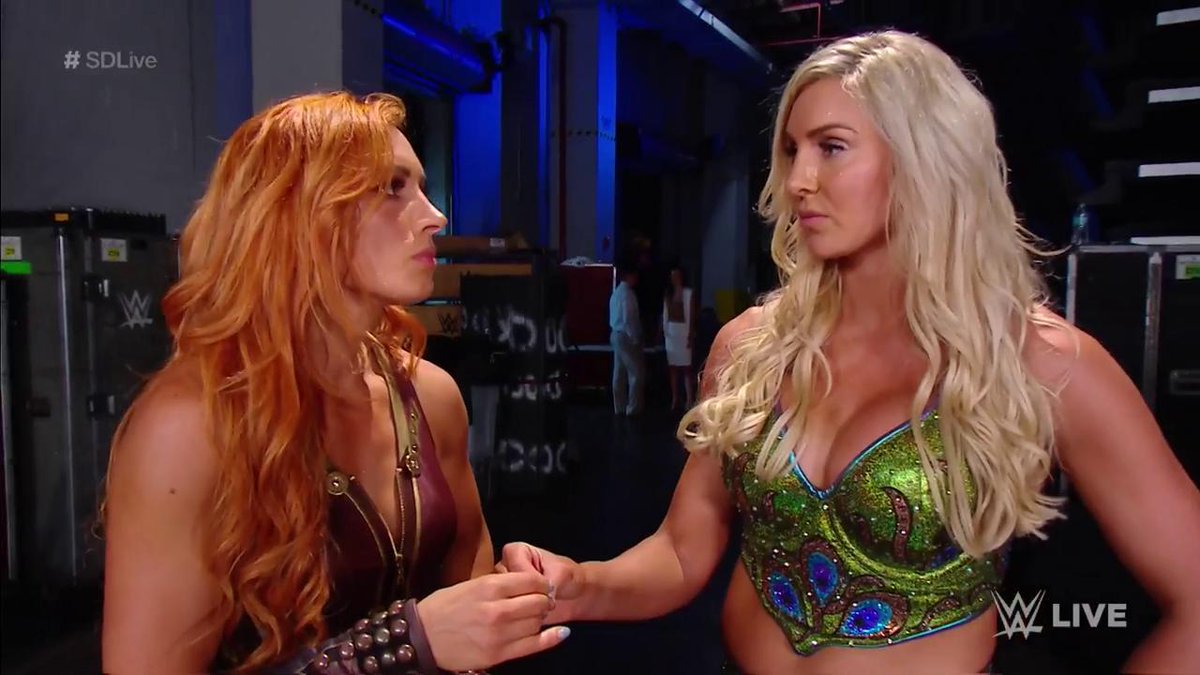 Backstage, Charlotte says she likes to tag with Becky and they are great together. Becky says in two weeks it will be a little different. Charlotte says they will have to be great against each other and both women stare at each other.
---
In-Ring: AJ Styles
AJ Styles makes his way down to the ring. An AJ Styles chant from the crowd. Styles gets on the mic and says he hasn't forgotten about that sound. He says a lot goes on between the ropes. A lot of trash talking and man hood tested and usually when that happens, it gets personal. And last week, Samoa Joe made it personal when he talked about his family.
He says here's the thing. He wants to be one of the greatest WWE superstars for his family. And that doesn't make him special because we all make sacrifices as parents. That's what he does as a father and as a real man. He says he is away from home for over 200 days a year and just like them, he misses little league sports. He misses birthdays. He celebrated 18 years with his wife on August 5 but the truth is that his wife is basically a single parent. Because he can't be there. That's the sacrifices they make.
AJ says just like them, when their kids fall and ask for their parent, he wants to be there. But that's what pisses him off the most. Because Joe knows his wife and his kids long before this was the house that AJ Styles built. They both shared a cockroach infested apartment complex along with pizza. And he threw away over a decade of friendship in a matter of seconds. He says he won't let Joe's hands get on his WWE title. AJ says at SummerSlam, Joe won't be walking out as WWE champion. At SummerSlam, he will be lucky to walk out period.
---
Backstage: Rusev, Lana, Aiden English
Backstage, Rusev tells Lana he will be at ringside supporting her for her match. Because it is Happy Lana Day. In comes Aiden English and he says he wants to apologize and if he wants to hit him to hit him. Aiden tells Lana he didn't mean to cost her the match last week. He says he doesn't know who he is without them and he's there to say he is sorry. Rusev says they forgive him and they shake hands. Rusev tells Aiden they forgive him, but maybe it's better if he stays backstage tonight.
---
Zelina Vega vs. Lana
The bell rings and we are under way. Lana goes after Vega right away as Vega slides out of the ring. Lana kicks Vega down and throws her back in. A right hand by Vega as she goes for the cover but a kick out by Lana. Vega gets Lana in a headlock and Lana tries to get out of it but Vega slams her to the mat.
Vega goes to send Lana to the ropes but Lana reverses it into a suplex. She goes for the cover but a kick out by Vega. Lana with standing elbows onto Zelina. Lana with two more suplexes. Almas gets on the ring apron and distracts Lana as Vega takes Lana down. On the outside, Rusev takes Almas down. Zelina gets on the ring apron and kicks Rusev which gets his attention as Almas takes Rusev down. Vega turns around and a big kick by Lana takes Vega down.
Lana gets on the top rope but out comes Aiden who attacks Almas but Almas falls on Lana who falls onto the ring mat. With Lana sitting down in the corner, Vega delivers a running double knee to the face. She goes for the cover and gets the win. After the match, Rusev and Lana are in the ring as Aiden walks away.
Winner: Zelina Vega
---
Backstage: Shinsuke Nakamura, Tye Dillinger, R-Truth
Renee Young is backstage and she's speaking with Shinsuke Nakamura. She tells Nakamura that at SummerSlam, he will face Jeff Hardy for the Untied States title. Nakamura says Jeff Hardy was erased. Renee says he wasn't actually erased. Nakamura says he understands metaphors. He says he will erase what is left of Jeff Hardy.
In comes Tye Dillinger with R-Truth who says he wants a match with Nakamura at SummerSlam for the title. Nakamura asks how he would do that. Truth says the same way everyone else does, he wants to pin Carmella. Tye tells R-Truth he can't do that. Nakamura tells him off in Japanese and leaves. R-Truth says the match with Carmella is off and he wants Shinsuke tonight.
---
Segment: The Miz, Daniel Bryan
Byron Saxton is in the ring and introduces The Miz who is not in the area. Byron asks The Miz why he is not here tonight and if he is afraid of Daniel. The Miz cuts him off and says this is why he will never be more than a second rate commentator. Byron tells him that The Miz was just resigned for another season and if he sees his show having that success. The Miz says his episodes had more viewers than all of season 7 of The Bella Show. He says his show doesn't have one bad review and the reason he is not in the arena is because he is a star.
Byron asks The Miz if he has anything to say to the WWE universe. The Miz says yes, he tells them not to miss episode 3 of The Miz and Mrs tonight. Byron asks him about his match against Daniel Bryan at SummerSlam. He asks if he is concerned if he can't back up all his talk. The Miz says he should be representing the company as WWE champion. He says he doesn't need a match with Daniel Bryan but Daniel Bryan needs a match with him. He says he has been carrying Bryan on his back. He says he is done sharing the spotlight with him. He says for the past 2 years he has been home crying in bed while The Miz has been in the arena night after night. He says he is not hiding from anyone and at SummerSlam he will expose Daniel Bryan for what he is which is beneath him.
The Miz tells Byron to go find Bryan and just as he says that, Bryan attacks him from behind. Security stops Bryan but The Miz hits him in the back with a glass vase.
---
Shinsuke Nakamura vs. R-Truth
The bell rings and Nakamura gets R-Truth in the corner and starts kicking him down. The referee breaks it off. Nakamura taunts R-Truth who runs towards him taking him down but Nakamura gets up. Nakamura runs towards R-Truth but a side kick takes Nakamura down. Nakamura gets up and a hip toss takes him down.
R-Truth runs to the ropes and went for the scissor kick but Nakamura moves and hits R-Truth behind the beck. Nakamura gets R-Truth in a triangle lock. R-Truth reaches the ropes as the referee breaks it up. Nakamura with knees to the shoulder. Nakamura with a reverse exploder takes R-Truth down. Nakamura with the Kinshasa. He goes for the cover and gets the win.
Winner: Shinsuke Nakamura
---
The Bludgeon Brothers vs. 3SK in a 2 on 3 handicap match
The bell rings and Harper and Rowan drop kick the two men off the ring apron. They double team the wrestler in the ring and go to the outside and beat down the two other men.
Back in the ring, Harper is tagged in and they double team the wrestler. Harper goes for the cover and gets the win.
Winners: The Bludgeon Brothers
---
The Bar vs. The New Day
The winner will face the Bludgeon Brothers for the SmackDown Tag Team Championship at SummerSlam.
The bell rings and we are under way. Cesar is in with Big E as Kofi is on the ring apron. A loud we want pancakes chant from the crowd. Cesar and Big E with reversals to start off the match. Big E lifts Cesaro and throws him down as he taunts Cesaro.
A right hand by Cesaro and he gets Big E in a headlock as Big E sends him to the ropes. A shoulder block by Big E takes Cesaro down as he tags Kofi in. Kofi with a drop kick takes Cesaro down. He goes for the cover but Cesaro kicks out. Cesaro tags Sheamus in. Kofi with a drop kick takes Sheamus to the corner. Sheamus grabs Kofi and throws him onto the top turnbuckle. A right hand by Sheamus drops Kofi to the outside of the ring.
Cesaro goes to the outside and slams Kofi's head onto the ring apron. A big uppercut by Sheamus takes Kofi out. He throws Kofi back into the ring and tags Cesaro in. A headlock by Cesaro.
Kofi tries to fight out of it and eventually does but Cesaro tags Sheamus in. In comes Sheamus and a double clothesline takes Kofi out. Sheamus goes for the cover but Kofi kicks out.
Back from commercial and Kofi throws Cesaro over the top rope. Kofi is down trying to tag Big E in but Cesaro gets in and tags Sheamus. In comes Sheamus who throws Kofi into the corner. Sheamus runs after Kofi but Kofi moves out of the way as Sheamus hits his shoulder into the post. Kofi tags Big E in. Big E cleans house taking out both Sheamus and Cesaro.
Big E clotheslines Cesaro to the outside of the ring. He goes for the cover on Sheamus but Sheamus kicks out. Big E tags Kofi in and lifts Sheamus onto his shoulders. Sheamus gets out and throws Big E to the outside. Sheamus runs and tags Cesaro in. Cesaro and Kofi the legal men as they battle but Kofi with a tag in on Big E. Kofi takes Cesaro down and places him on the ring apron. Big E on the ring apron jumps for a big splash towards Cesaro but Cesaro moves out of the way and Big E misses.
Kofi and Sheamus fight on the outside. Cesaro throws Big E in and tags Sheamus. They double team Big E and Sheamus goes for the cover but another kick out by Big E. Sheamus tags in Cesaro. They double team Big E and Cesaro tags Sheamus back in. The double team continues. Sheamus tags Cesaro in and they continue to double team Big E.
Back from commercial and Sheamus beating on Big E. He lifts Big E and sits him on the top turnbuckle. Sheamus goes for a suplex but Big E with right hands. In comes Cesaro who pounds on Big E. Sheamus on the opposite top turnbuckle and Cesaro with a superplex takes Big E down. Sheamus flies off the top rope and a knee to the face. He goes for the cover but Big E kicks out.
Sheamus goes for submission hold but Big E kicks Sheamus out of the ring. Cesaro on the outside throws Sheamus back in. Big E gets the tag as does Sheamus and Kofi and Cesaro are the legal men. Kofi takes Cesaro out. Sheamus grabs Cesaro out of the ring. Kofi flies over the top rope and takes out both men. He tosses Cesaro in and KKofi flies off the top turnbuckle and takes Cesaro down. Sheamus gets in but KOfi throws him to the outside.
Kofi goes for the trouble in paradise but Cesaro catches him and he tags Sheamus in. A double back breaker onto Kofi. Sheamus goes for the cover but Kofi kicks out. Sheamus goes for the bro kick but Kofi ducks. Kofi hits Cesaro down and tags Big E. Both men go to double team Cesaro but Sheamus pushes Kofi off the top rope. They take Big E down. Cesaro goes for the cover but Kofi breaks it up.
Cesaro grabs Big E by the legs and swings him around. He gets Big E into the sharpshooter. Kofi goes to break it up but Sheamus pulls him out. Kofi grabs Sheamus and a tornado DDT takes Sheamus out. In the ring, Big E is still trying to get out of it. Cesaro lets go and turns it into a crossface.
Big E gets out of it and lifts Cesaro up. He walks with Cesaro still having the crossface in and he tags Kofi. He lifts Cesaro up and the midnight hour! Kofi goes for the cover and gets the win.
Winners: The New Day