September 16, 2018
San Antonio, TX – AT&T Center
---
Quick Match Results
SmackDown Team Championship: The New Day (c) defeated Rusev & Aiden English via Trouble in Paradise by Kofi on English (~9 minutes)
Hell in a Cell Match: Randy Orton defeated Jeff Hardy via Hardy falling through a table (~25 minutes)
SmackDown Women's Championship: Becky Lynch defeated Charlotte Flair (c) via DDT to become the new SmackDown Women's Champion (~14 minutes)
Raw Tag Team Championship: Dolph Ziggler & Drew McIntyre (c) defeated Dean Ambrose & Seth Rollins via Claymore by McIntyre on Rollins (~23 minutes)
WWE Championship: AJ Styles (c) defeated Samoa Joe via falling on Joe while locked in Coquina Clutch (~19 minutes)
The Miz & Maryse defeated Daniel Bryan & Brie Bella via rollup by Maryse on Brie (~13 minutes)
Raw Women's Championship: Ronda Rousey (c) defeated Alexa Bliss via armbar submission (~12 minutes)
Universal Championship: Hell in a Cell Match: Roman Reigns (c) vs. Braun Strowman went to a no contest after Brock Lesnar interfered and attacked both men (~24 minutes)
---
SmackDown Team Championship – Kickoff Show
The New Day (c) vs. Rusev & Aiden English
New Day came out to sing a song, but Aiden English interrupted them, clearing his throat. They then took turns clearing their throats at each other. English eventually sang his song, and Rusev and Lana came out. Big E and Kofi Kingston were wrestling for New Day. After a few minutes, Big E helped launch Kofi over the top but Rusev caught him with a Machka Kick on the outside. English then hit a DDT on Big E on the apron. Later, English went to tag Rusev, but Rusev had been taken out and was down on the outside, so English took things into his own hands and locked on the Accolade on Kofi, but Kofi was able to get out of it. In the end, Kofi was able to nail English with a kick to the head ("Trouble in Paradise") for the win. Rusev tried to break up the pin, but Big E held him back. Rusev and Lana looked upset and argued with English after the match. This was good for a Kickoff show match, since those are usually awful.
Winners: The New Day (~9 minutes)
---
Hell in a Cell Match
Jeff Hardy vs. Randy Orton
The red cell looks kinda cool but is also giving me a headache because there is so much red on screen and it looks like shit. A few minutes in, a ladder was set up upside down outside and opened up, and Orton picked Hardy up and dropped him on the inside of the ladder. Everything is so red… Eyes hurt…
Orton dominated the match for a few minutes, then went to the outside and grabbed a screwdriver from under the ring. He then stuck his finger in the gauge hole in Jeff Hardy's ear, stretched it out a lot… then stuck the screwdriver inside of the hole and started to twist it with the screwdriver. lol… Jesus.
Later, Orton went for the RKO, but Jeff blocked it and hit the Twist of Fate. He put a steel chair on top of Orton, then hit a Swanton Bomb from the top… 1-2-no. Orton's back was bloody from slamming into the cell, and his leg was also bleeding and it looked like a piece of skin was hanging off. Gross.
Jeff set up a tall ladder in the center of the ring, a smaller ladder next to it, and a table on the other side of the tall ladder. Twist of Fate on Orton, and Hardy placed him on top of the table. He climbed the small ladder, then looked like he was going to leapfrog it, but climbed on top of the tall ladder instead… Then grabbed on to the top of the cell and started swinging from it, then dropped down onto the table, but Orton moved and Hardy crashed through it hard. Holy shit.
The referee called for EMTs to come down, screaming that Hardy was hurt. Orton pinned him and demanded that the ref count, and he did, 1-2-3. This was really good and brutal.
Winner: Randy Orton (~25 minutes)
The cell was lifted and EMTs came down to check on Hardy. They put him on a stretcher as Orton celebrated.
---
Backstage: AJ Styles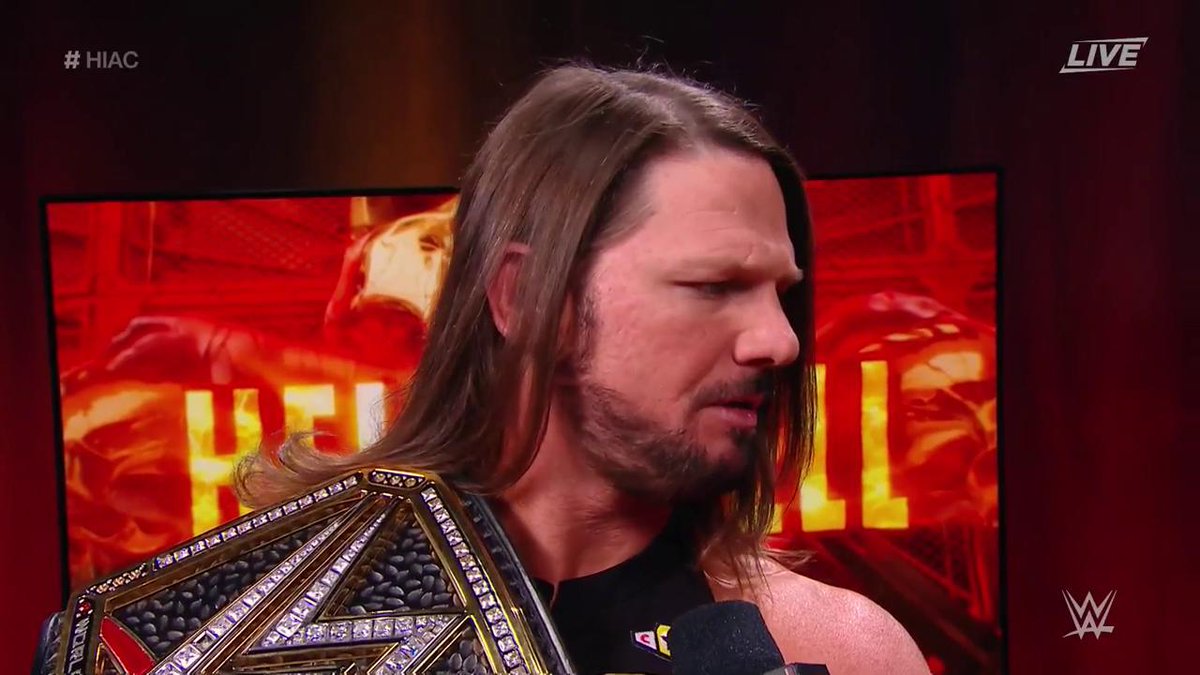 AJ Styles was interviewed backstage and said that he was going to rip Samoa Joe's heart out of his chest.
---
SmackDown Women's Championship
Charlotte Flair (c) vs. Becky Lynch
It sounded like Becky was getting mostly cheers and Charlotte was getting mostly boos during the intros. A few minutes in, Charlotte went for a top rope moonsault, but Becky moved. Becky tried to lock on the Disarm-her, but Charlotte lifted her up and nailed a sit out powerbomb. A little later, Becky locked on the Disarm-her out of nowhere, but Charlotte was able to get out of the ring to break the hold. Back in the ring, Charlotte went for a spear but Becky caught her with a sort of DDT and went for the pin… for the win.
Winner and New SmackDown Women's Champion: Becky Lynch (~14 minutes)
Charlotte sat in the ring in disbelief after her loss while Becky celebrated with the title. Charlotte stood up and looked like she was going for a handshake, but Becky raised the title in her face and left.
---
Raw Tag Team Championship
Dolph Ziggler & Drew McIntyre (c) vs. Dean Ambrose & Seth Rollins
The heels worked on Rollins for a while until he made the hot tag to Ambrose. Later, Rollins tried a suicide dive on Ziggler and McIntyre, but they caught him. Ambrose then hit a suicide dive on them, taking everyone out. In the ring, Rollins hit a falcon arrow on Ziggler then went for the stomp, but Ziggler moved, but Rollins picked him up and hit him with a buckle bomb. He went for the pin, but McIntyre broke it up. Zig Zag by Ziggler on Rollins for a near fall. McIntyre was tagged in and went for a claymore on Rollins, but Rollins ducked and nailed him with a superkick. Frog splash by Rollins, but McIntyre kicked out.
Rollins hit a top rope superplex on Ziggler, then picked him up for a Falcon Arrow, but McIntyre nailed him with a claymore kick and Ziggler pinned him for the win.
Winners: Dolph Ziggler & Drew McIntyre (~23 minutes)
---
Backstage: Braun Strowman, Mick Foley
Backstage, Mick Foley came up to Braun Strowman and said that no matter how chaotic it gets in the cell, he needs him to respect his authority. Strowman told him that all he needs to do is count to 3 and to not get in his way because "you do not want a monster problem."
---
WWE Championship
AJ Styles (c) vs. Samoa Joe
Samoa Joe controlled most of the match. After a few minutes, Styles hit a springboard 450 splash, but Joe kicked out. He set up for the Styles Clash, but Joe countered and slingshotted him into the turnbuckle, then nailed him with a lariat. AJ was bleeding from his mouth. Joe went for a muscle buster, but Styles reversed into a Styles Clash attempt, but Joe broke free. Phenomenal forearm attempt by Styles, but Joe caught him with a Coquina Clutch… He tried to take him to the ground but Styles fell backwards on top of Joe, pinning his shoulders down for the 1-2-3.
Winner: AJ Styles (~19 minutes)
Joe got up and was furious after the match, screaming that Styles tapped. He grabbed the title and raised it up, but Styles nailed him with a Pele kick, knocking him out of the ring. They showed a replay, which did show AJ Styles tapping as he was on top of Joe, but it was out of the referee's sight…
---
Backstage: The Miz and Maryse
The Miz said that Brie was wrestling to promote her brand, but tonight they were going to turn it into a PR nightmare. Maryse called Daniel and Brie "irrelevant losers."
---
Daniel Bryan & Brie Bella vs. The Miz & Maryse
The Miz pounded at Bryan for a few minutes until Bryan finally was able to make the tag to Brie, which meant that Maryse had to come in. The Miz tried to get in Brie's way, but she slapped Miz, then attacked Maryse. Bryan and Brie set up Miz and Maryse in the ring, then nailed them with Yes Kicks. Miz and Maryse rolled out of the ring and tried to walk down the ramp, but Bryan and Brie followed them and attacked them. Back in the ring, Brie rolled up Maryse, but Maryse reversed and rolled her up and got the pinfall. Pretty bad match.
Winners: The Miz & Maryse (~13 minutes)
---
The commentary team said that Jeff Hardy was at a "medical facility" and was throwing up blood and had severe abdominal pain after his match against Randy Orton.
---
Raw Women's Championship
Ronda Rousey (c) vs. Alexa Bliss
Alexa was accompanied by Alicia Fox and Mickie James, and Ronda was accompanied by Natalya. The commentary team said that Ronda had injured ribs. Ronda tried to lock on the armbar on Alexa a couple of times, but Mickie James and Alicia Fox either distracted her or pulled Alexa out of the ring. Alexa pulled at Ronda's ponytail and took her down, then attacked her "injured" ribs for a few minutes. Fox and James also got involved, ramming Rousey's ribs into the ringpost while the ref wasn't looking.
After pounding away at her ribs for like eight minutes, Alexa taunted Rousey, but Rousey finally Hulked up and got a burst of energy and powerbombed Alexa, then tossed her with an arm drag. She then hit her modified death valley driver and locked on an armbar and Alexa immediately tapped.
Winner: Ronda Rousey (~12 minutes)
---
Backstage: Samoa Joe, Paige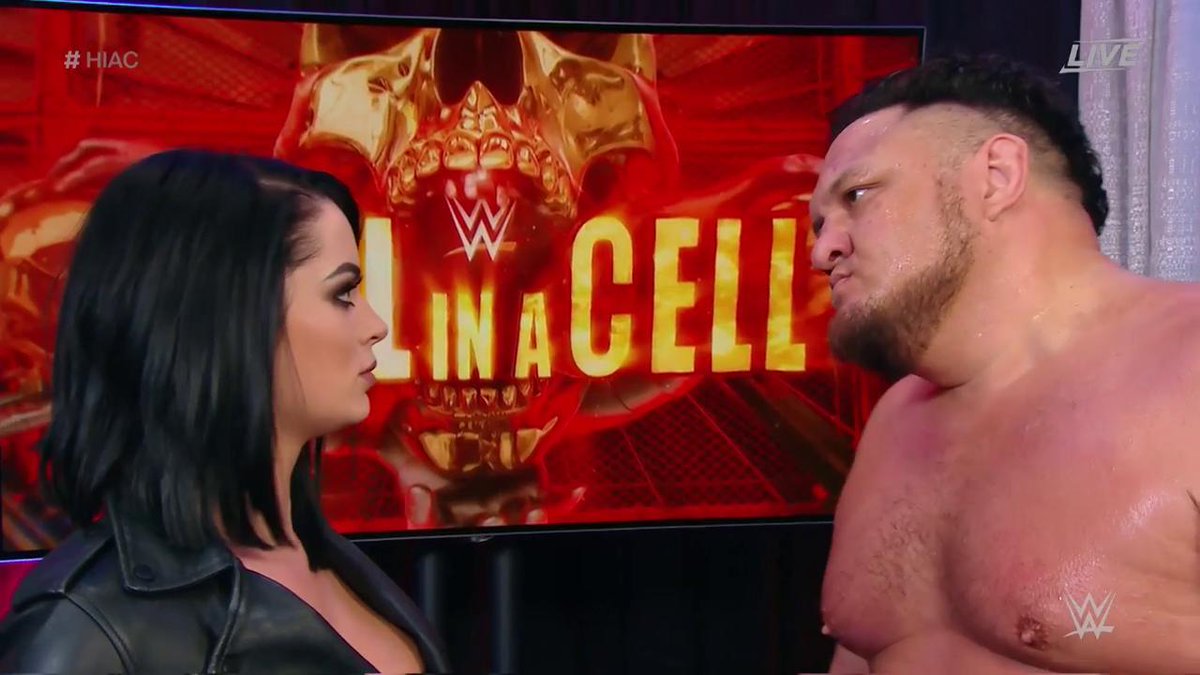 Backstage, Samoa Joe was screaming at the referee for missing AJ Styles tapping tonight. He then yelled at Paige, but she said that the ref's decision tonight was final, but he'll get a rematch at Super Show-Down in three weeks. He said that wasn't good enough and he should be WWE Champion right now. He said he wanted no DQ, no count out. Paige said she agreed with him, there has to be a winner. Joe said that there will be.
---
Universal Championship – Hell in a Cell Match, Mick Foley as Referee
Roman Reigns (c) vs. Braun Strowman
Braun dominated Reigns early, but Reigns fought back using a kendo stick and chair. Reigns hit two superman punches, then went for a third but Braun caught him with a chokeslam. Foley appeared to accidentally count to three, but he said that it was only a two count. Braun's nipple hanging out over the edge of his tank top. Later, Braun set up a table in the corner, but Reigns hit him with two superman punches, then nailed him with a spear through the table, but only got a two count.
Drew McIntyre and Dolph Ziggler ran out to the cell and yelled at a referee, but Dean Ambrose and Seth Rollins ran down and attacked them. Ziggler climbed up the cell and got to the top, and Rollins followed him and they fought on top of the cell. Drew McIntyre then climbed to the top, and Ambrose climbed to the top with a kendo stick. All four men fought on top. Ziggler climbed back down and Rollins chased him, and they fought while halfway down the cell. They smashed each other's heads into the cell and fell down, with Rollins crashing through the Spanish announce table and Ziggler crashing through the German announce table.
Suddenly, BROCK LESNAR'S music hit and he came out along with Paul Heyman… Lesnar kicked the cell door and broke it open. Outside, Foley argued with Paul Heyman and Heyman sprayed Foley in the face with mace. Lesnar, who had a beard, picked up a piece of the broken table and smashed it on Strowman and Reigns. F5 on Strowman and an F5 on Reigns, dropping him on top of Strowman. Crowd chanted "one more time," but Lesnar walked backstage along with Heyman.
A new referee came down and he called off the match, as Strowman and Reigns lay in the ring. A couple of more refs came down to check on them, and the show went off the air…
No Contest (~24 minutes)