WWE Evolution
October 28, 2018
Uniondale, NY – Nassau Coliseum
Commentary: Michael Cole, Renee Young, Beth Phoenix
---
Quick Match Results
Trish Stratus & Lita defeated Alicia Fox & Mickie James via Chick Kick by Trish on Mickie (~11 minutes)
Battle Royal: Nia Jax won a 20-woman battle royal to win a future title shot, eliminating Ember Moon last (~16 minutes)
Mae Young Classic Finals: Toni Storm defeated Io Shirai via Storm Zero (~10 minutes)
Sasha Banks, Bayley & Natalya defeated The Riott Squad via frog splash by Sasha on Liv (~13 minutes)
NXT Women's Championship: Shayna Baszler defeated Kairi Sane (c) via Kirifuda clutch to become the new NXT Women's Champion (~12 minutes)
SmackDown Women's Championship – Last Woman Standing Match: Becky Lynch (c) defeated Charlotte Flair via powerbomb through table (~29 minutes)
Raw Women's Championship: Ronda Rousey (c) defeated Nikki Bella via armbar submission (~14 minutes)
---
Opening
Some band opened the show with a live performance of a horrible song. Michael Cole said they were the "legendary" Lzzy Hale and Nita Strauss.
---
Trish Stratus & Lita vs. Alicia Fox & Mickie James
Alexa Bliss came out to introduce Mickie James and Alicia Fox, then said that it was past Lita and Trish's bedtimes and told them to turn up their hearing aids.
After a back and forth match, Trish hit the "Stratusfaction" bulldog on Mickie James, but Alicia broke up the pinfall. Lita then hit a Twist of Fate on Fox, then a top rope moonsault on both Mickie James and Alicia Fox. Trish then hit a "chick kick" on Mickie James for the win. OK match.
Winners: Trish Stratus & Lita (~11 minutes)
---
Backstage: Bella Twins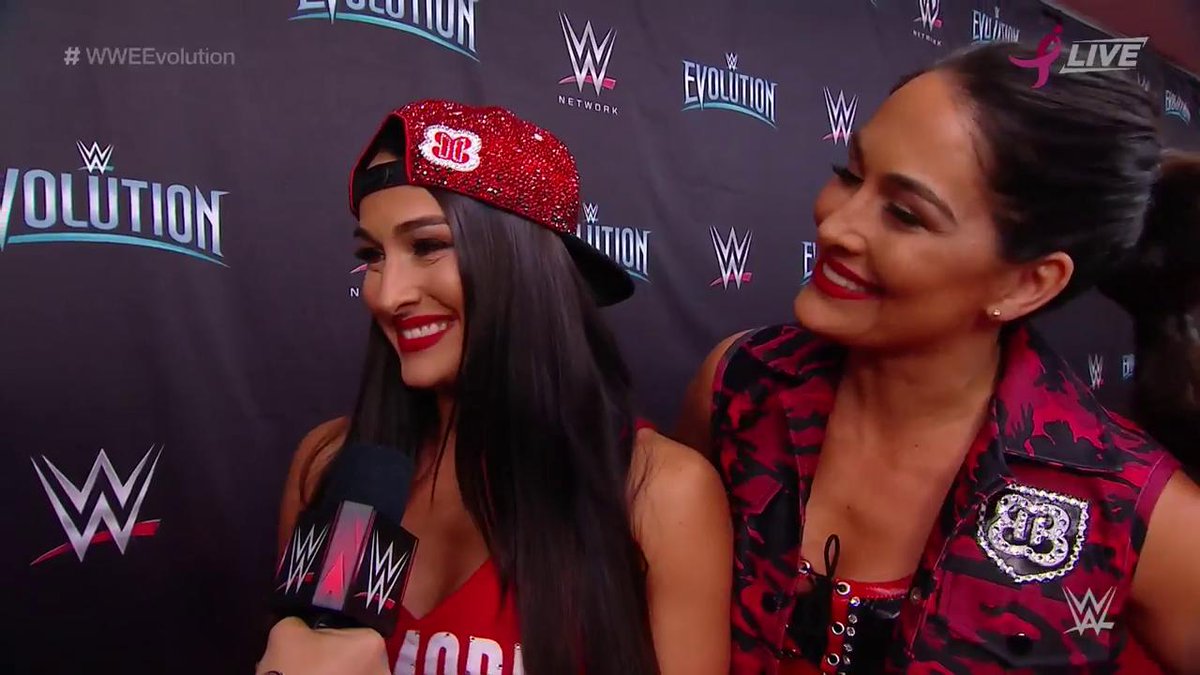 The Bella Twins said that they were dedicating their match tonight to Ronda Rousey's mother because she's overcome so much adversity every time Rousey breaks her word. They said that Ronda's mom is an honorary member of the Bella army.
---
Battle Royal for Future Title Shot
Order of entrances: Naomi, Michelle McCool, Sonya Deville, Alundra Blayze, Carmella, Zelina Vega, Kelly Kelly, Tamina, Ember Moon, Lana, Maria Kanellis, Mandy Rose, Molly Holly, Dana Brooke, Nia Jax, Ivory, Asuka, Torrie Wilson, Peyton Royce and Billie Kay.
Mike Kanellis was at ringside with his and Maria's baby. Michelle McCool and The Miz were also at ringside to cheer on Asuka, who is Miz's Mixed Match Challenge partner.
Peyton and Billie made fun of Evolution being in Long Island, then said that people in Long Island had weird, tacky accents. They said that there were women in the ring who paved the way for women's wrestling, and that after tonight was over, those women could go back to doing whatever it is that losers with no purpose do.
The bell rang and everyone immediately teamed up on the IIconics to eliminate them. Peyton Royce and Billie Kay were eliminated.
Mandy Rose and Sonya Deville picked up Molly Holly and tossed her over the top, then knocked her off the apron less than a minute into the match. Molly Holly was eliminated by Mandy Rose and Sonya Deville.
Mandy and Sonya then tossed Kelly Kelly over. Kelly Kelly was eliminated by Mandy Rose and Sonya Deville.
Sonya Deville and Torrie Wilson then were knocked over the top and landed on the apron. Mandy then knocked Torrie Wilson out. Torrie Wilson was eliminated by Mandy Rose.
Sonya celebrated, then Mandy Rose knocked her out! Sonya looked angry. Sonya Deville was eliminated by Mandy Rose.
Nia Jax tossed Alundra Blayze out and she sloppily bounced off the apron to the outside. Alundra Blayze was eliminated Nia Jax.
Headbutt by Nia on Maria Kanellis and she's out. Maria Kanellis was eliminated by Nia Jax.
Tamina and Nia Jax faced off with each other, but Lana got in between and told them to not fight, but they gave Lana a double headbutt and Tamina tossed her out. Lana was eliminated Tamina.
They did a suplex spot where four women gave a quadruple suplex to four other women. Carmella emerged from the outside and started dancing in the ring. Ivory then started dancing with her… Whatever. Mandy tried to toss Ivory out, but she landed on the apron. Carmella then knocked Mandy out. Mandy Rose was eliminated by Carmella.
Michelle McCool was superkicked by Naomi and she was out. Michelle McCool was eliminated by Naomi.
Naomi ran at Tamina, but she tossed her out. Naomi was eliminated Tamina.
Carmella was then tossed out by Ember Moon. Carmella was eliminated Ember Moon.
Ember Moon, Asuka, Tamina, Nia Jax and Ivory were the final five. Top rope crossbody block by Ivory on Nia Jax. She went up to the middle rope for another, but was knocked down by Asuka, who then nailed her with her ass and knocked her off the apron. Ivory was eliminated Asuka.
Ember Moon and Asuka faced off and the crowd chanted "NXT." Kick to the head by Ember Moon on Asuka, then she tossed her out… Asuka was eliminated by Ember Moon.
Ember went to the top and hit the Eclipse on Tamina, then tossed her out. Tamina was eliminated by Ember Moon.
Ember Moon and Nia Jax were the final two. The crowd was really loud and was behind Ember. Jax tossed Ember over but she landed on the apron. Moon then tried to pull her over… Zelina Vega suddenly ran into the ring from "out of nowhere" and tried to toss Nia and Ember over, but they both landed on the apron. Zelina thought she had eliminated them and celebrated. Nia Jax got up and grabbed her with a gorilla press and tossed her over the top onto Tamina on the outside. Zelina Vega was eliminated by Nia Jax.
Ember tried to take some shots at Nia, but Jax fought her off, then threw her over the ring for the win… Ember Moon was eliminated by Nia Jax.
Decent battle royal. Battle royals are usually really shitty and sloppy. This one got pretty good at the end and the crowd was really into it. Good performance by Ember Moon, who was the star of the match. Everything else was really rushed, but that's what always happens in battle royals. None of the "legends" really did anything other than Ivory.
Winner: Nia Jax (~16 minutes)
Jax was interviewed in the ring after the match and looked "very emotional." Jax said that she wished the best of luck to both Ronda and Nikki and whoever wins should enjoy the moment because it won't last long. Then she smiled and gave a hug to The Rock's mom at ringside…
---
Mae Young Classic Finals
Toni Storm vs. Io Shirai
Teagan Nox, Rhea Ripley, Taynara Conti and Meiko Satomura from the Mae Young Classic were at ringside.
They started off grappling early on. The crowd was into it. Big German suplex by Storm, tossing Shirai on her neck. Later, Shirai hit a big top rope moonsault onto Storm on the outside. Storm then hit a German suplex on Shirai on the apron.
Storm hit a big clothesline on Shirai, then hit the Storm Zero (tiger driver), but only got a near fall. Shirai hit a 619 then did a springboard sunset flip, which was really cool… Shirai went to the top for a moonsault, but Storm got her knees up. Another Storm Zero… 1-2-3. Nice. Really good match and easily the best of the night so far.
Winner: Toni Storm (~10 minutes)
Storm and Shirai hugged each other after the match. Triple H, Stephanie McMahon and NXT "assistant head coach" Sara Amato were in the ring. They gave Storm and Shirai roses, and Triple H gave the Mae Young Classic trophy to Toni Storm.
---
Sasha Banks, Bayley & Natalya vs. The Riott Squad
Backstabber by Sasha onto Ruby Riott, into a Bayley to Belly suplex by Bayley onto Ruby. Sasha then got nailed from behind and fell into Bayley, breaking up the pin. Sasha tried to go over the top rope onto the Riott Squad on the outside, but seemed to botch it and landed on the apron. The Riott Squad caught her and tossed her into the barricade.
Ruby went to the top to hit a move on Sasha, but Bayley got on top of Sasha to sacrifice herself. Ruby then hit a senton off the top onto both of them. Natalya was tagged in, put Ruby Riott on top of Sarah Logan, and locked on a double sharpshooter…
Powerbomb by Natalya on Liv Morgan, then a top rope elbow by Bayley, then a top rope frog splash by Sasha Banks. 1-2-3. This match felt sloppy and like a "Raw match" for the most part, but kinda picked up towards the end.
Winners: Sasha Banks, Bayley & Natalya (~13 minutes)
---
NXT Women's Championship
Kairi Sane (c) vs. Shayna Baszler
NXT wrestlers were shown at ringside, but weren't announced by name. Bianca Belair, Marina Shafir, Jessamyn Duke, Candice LeRae and Lacey Evans were there.
Baszler controlled most of the match early on, doing several moves to Kairi's arm. Kairi tried to fight back and eventually hit a spear on Baszler. Baszler regained control though, climbed to the middle rope and and picked up Kairi Sane by her arm and held her there, before dumping her outside.
Later, Kairi was able to hit a DDT out of nowhere, then went to the top for her elbow drop, but Baszler rolled outside. Sane then dived off the top and nailed Shayna with a crossbody block on the outside.
Suddenly, Jessamyn Duke grabbed Sane by her hair at ringside. Sane fought her off with a backhand punch. Sane went to the top but Marina Shafir ran in and stopped her. Sane then fought off Shafir. Shayna locked on a chokehold on Sane from behind… Sane tried to roll out and pin Baszler, but she kicked out. Shafir then punched Sane in the head while the ref wasn't looking and Baszler locked on a "Kirifuda clutch" again… and Kairi was out.
Baszler celebrated with Shafir and Duke and walked back down the ramp with them.
Winner and New NXT Women's Champion: Shayna Baszler (~12 minutes)
---
SmackDown Women's Championship – Last Woman Standing Match
Becky Lynch (c) vs. Charlotte Flair
The crowd booed Charlotte during her in-ring intro and cheered Becky loudly, then chanted "Becky." Early on, Becky pulled out a kendo stick from under the ring and nailed Charlotte a bunch of times. Charlotte fought back and started throwing chairs into the ring until there was a pile of about ten chairs. In the ring, Becky went for a Becksploder on the pile of chairs, but Charlotte got out and instead dropped Becky on them with a back body drop. Later, Becky chokeslammed Charlotte on the chairs.
Later, a table was set up in the ring. Charlotte put Becky on it, then hit a top rope moonsault, but the table didn't break, unfortunately. Charlotte set Becky up on the table again and went to the top to try again… She hit a somersault senton and the table broke this time.
A ladder was then brought into the ring, and Becky eventually bodyslammed Charlotte onto it. Charlotte was able to hit a chop block on Becky's leg, then she put her leg between the ladder rungs and started to stomp on it, then she locked on a figure eight using the ladder… Becky tapped, but there are no submissions. Becky was able to break the hold by grabbing a chair and hitting Charlotte with it.
Becky grabbed her title and started to walk back down the ramp, but Charlotte followed her and they started fighting through the crowd. Back at ringside, Becky set Charlotte up on one of the announce tables. She then climbed up a ladder about 3/4 the way and jumped down with an elbow drop on Charlotte through the announce table. She put a bunch of chairs on top of her and the ref started to count, but Charlotte got up at 9.
Charlotte nailed Becky with a kendo stick and put her on a table at ringside then she climbed up to the middle rope, but Becky Lynch got up on the apron and powerbombed her through the table on the outside… Charlotte tried to get up but the referee counted to 10…
Winner: Becky Lynch (~29 minutes)
---
Raw Women's Championship
Ronda Rousey (c) vs. Nikki Bella
Rousey tossed Nikki around early, then locked on an armbar and tried to get her to say "I'm really sorry." On the outside, Brie Bella got in Rousey's face, which allowed Nikki to shove Rousey into the ring post. Then, as Nikki was distracting the ref, Brie grabbed Rousey and slammed her head into the ring post.
Nikki was able to take control of the match for a few minutes after that, with Brie interfering a couple of more times when it seemed like Rousey was about to regain control. Ronda was finally able to pick up Nikki on her shoulders, but Brie tried to interfere again. Brie somehow ended up on Rousey's shoulders also, and she gave them both her modified F5 / death valley driver move.
Later on the outside, Brie tried to slap Rousey, but Rousey picked her up and tossed her over the announce table. In the ring, Nikki hit an Alabama slam out of nowhere. Rack Attack by Nikki, but Ronda kicked out. Nikki climbed to the middle rope but Ronda ran up and tossed her down by the arm, then locked on an armbar… And Nikki immediately tapped.
Winner: Ronda Rousey (~14 minutes)
Nia Jax was shown watching on a monitor backstage. She has a future title shot after winning the battle royal earlier tonight.
The women's roster was at the stage and they all embraced Rousey as the show went off the air.