October 2, 2018
Portland, Oregon
Commentary: Tom Phillips, Byron Saxton and Corey Graves
Results by: Roy Nemer of Wrestleview.com
---
In-Ring: AJ Styles, Paige
Smackdown Live kicks off with general manager Paige in the ring. She starts off by saying that when she took the job, she was told it would be exhilarating, emotional and exhausting. But she never thought she would be in the situation she is in right now. What Samoa Joe did last week was out of line. Last week's footage airs of Samoa Joe at the AJ Styles residence.
Paige goes on to say that the Styles family is fine and as soon as the video stopped, they sent authorities to the house right away and Joe didn't enter the house. Paige says she spoke to WWE management and they decided that Samoa Joe should be fired.
But before she took the decision, she called AJ Styles. She wanted to tell him the news. However, AJ said that he is dropping the charges against Joe and he begged her not to fire Samoa Joe. He said that termination was too good for him. Styles said he wants to hand out the punishment himself. And this Saturday at Super Showdown, the match is on.
But before the show, AJ Styles wanted to see a clip. They air a clip of AJ at his home apologizing for not being at Smackdown Live tonight but under the circumstances, he wouldn't be able to perform tonight. He says this is bigger than WWE. And he doesn't want to do something stupid and do something he would regret. That's why he is at his house tonight and he's not leaving until he gets confirmation that Samoa Joe is on a plane to Australia.
AJ Styles says he has four amazing kids and they need him right now. He says he needs to be at his house. He needs to be there before he leaves for Australia. He says that throughout the week, his daughter has been waking up at night and looking under her bed and in her closet for Uncle Joe as if he was the boogeyman. He tells Joe that this is going to end and it needs to end. Styles says he will not come back from the land down under because that is exactly where he will put him.
---
R-Truth and Carmella vs. Andrade "Cien" Almas and Zelina Vega
Zelina Vega and Carmella start the match. Both women lock up and Vega gets Carmella in a head lock but Carmella reverses it into a head lock of her own. Zelina drags Carmella by the hair and drops her. Vega taunts the crowd and Carmella hits her with a drop kick from behind. She runs towards Vega but Vega kicks her and delivers a kick to the head.
Vega goes for the cover but Carmella kicks out. Both women stand up but Carmella with a jaw breaker. Both women are down and they tag the men in.
R-Truth sends Andrade to the ropes but he hangs onto the middle rope and taunts R-Truth. Vega slides under Andrade and does the same post. In comes Carmella who does the splits and R-Truth jumps over her and does the splits as well. Andrade and Vega go after R-Truth and Carmella but they throw Andrade and Zelina to the outside.
R-Truth goes after Andrade who runs around the ring and slides in. R-Truth goes inside the ring and Andrade starts to beat on him. He sends R-Truth to the corner and runs towards R-Truth. Andrade jumps but R-Truth moves out of the way and Andrade goes flying over the top rope onto the outside.
Back from commercial, R-Truth with a jumping side kick onto Almas as both men are down. The men tag the women in and a running clothesline by Carmella onto Vega. Carmella climbs the top rope and a hurricanrana takes Vega down into the corner. Carmella with the bronco buster followed by the flat liner. She goes for the cover but Almas pulls Carmella off.
Carmella gets up and she goes for the super kick but Andrade catches her leg. R-Truth attacks Almas and throws him out of the ring. Carmella goes to roll Carmella up from behiund but Carmella fights it off. She goes for the super kick but Vega reverses it into a cover which is reversed by Carmella into the Code of Silence as Vega taps out.
Winners: R-Truth and Carmella
---
Backstage: Paige, Tye Dillinger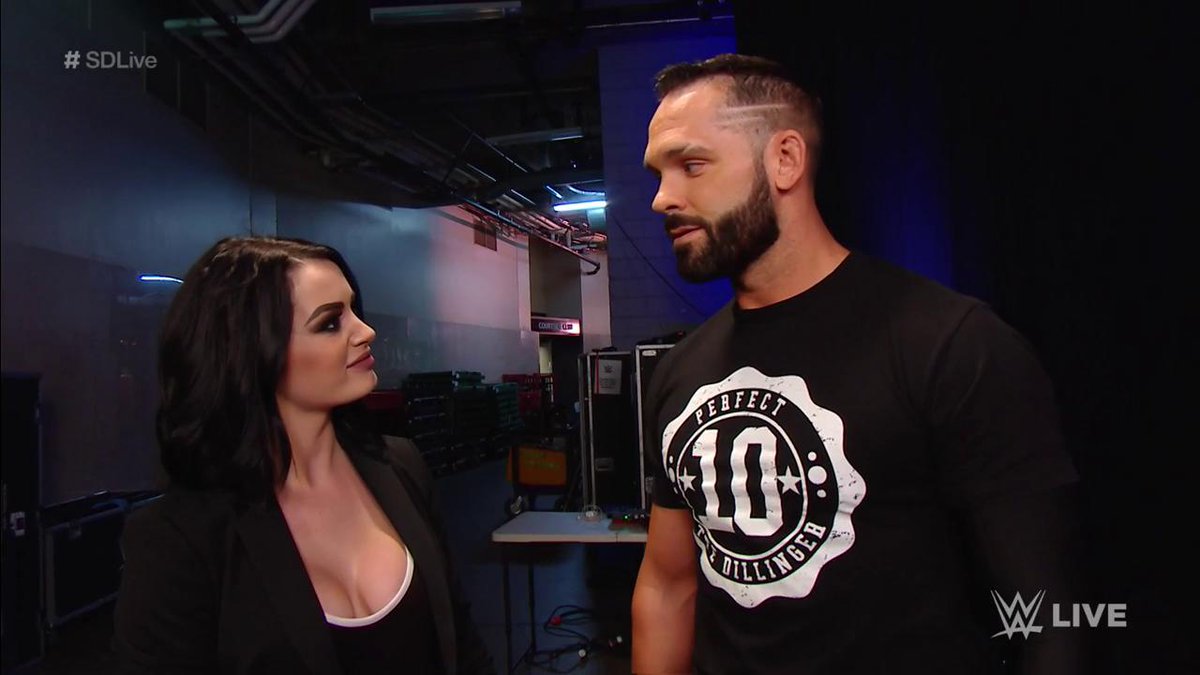 Backstage, Paige is with Tye Dillinger. Tye tells her he wants Randy Orton. Paige tells him technically he beat Shinsuke, Tye cuts her off and says the attack by Orton was unprovoked. Paige asks him if he's sure. Tye says he hasn't changed his mind. It's something he needs to do. Paige says she likes this new fire in him and the match is on.
---
In-Ring: The New Day, The Bar
Big E welcoems everyone to the pilot episode of New Day Cooks as they are in the ring with a table full of food. They hype up their match against The Bar at Super Showdown. There's a man next to them and they say that this man is the one who has been making the pancakes. The chef's name is Mr. Bootyworth.
Out come The Bar who say that The New Day just keep acting like children. Instead of preparing for their title match, they come out here and are playing with food. Xavier Woods says that this pilot is going straight to Guy Fieri. The Bar say that it's already ruined. Sheamus says that Cesaro is from Switzerland and the Swiss know a thing or two about making pastries. Sheamus flips the table in the middle of the ring which has pancakes and food. All five men fight. Sheamus throws flower onto The New Day and turn the tables against them as they wipe out The New Day.
The Bar turn their attention to the chef in the ring holding a pancake batter. Cesaro grabs the pancake batter and fills some of it into the chef's hat. Sheamus puts the hat back on the chef. Cesaro pours the rest of the batter on the chef and they yell at him to leave the ring.
---
Randy Orton vs. Tye Dillinger
As Randy Orton is coming down to the ring, Tye attacks him on the outside. He throws Orton in and Orton goes after Tye. Several upper cuts by Orton but Tye with right hands of his own and a clothesline takes Orton to the outside. Orton with right hands of his own as both men fight on the outside.
Tye picks Orton up and drops him on top of the announce table. Right hands by Tye but Orton fights back and throws Tye over the barricade. Orton grabs Tye and with Tye's legs on the barricade, he drops him with a DDT. Orton grabs the steels steps and drops them on the floor. Instead, he removes the padding from the back of the turnbuckle.
Randy Orton grabs Tye's finger and puts it in between the turnbuckle and twists Tye's finger backwards as he tries to break it. Referees break it up.
No contest
---
Backstage: Shelton Benjamin, The Miz
Backstage, Shelton Benjamin is preparing for his match tonight. The Miz walks in and tells him you're welcome. Shelton asks him for what. The Miz says he is overlooked and calls Shelton the real deal. He says he made a call and got him an opportunity against Daniel Bryan. Shelton replies and says in a word, yes.
The Miz says he knows who will but he has to do more than just beat him. He has to make a statement. He has to rip his beard off and feed it to him. Shelton says his statement is he has been sitting on the bench every week waiting for an opportunity to remind the world who he is. And Daniel Bryan is just unlucky casualty number one. The Miz says he will be on commentary watching it happen as the two shake hands and The Miz walks away.
---
In-Ring: Rusev, Lana, Aiden English
Backstage, Aiden English is speaking with a producer and asks if his video is ready and the producer says yes.
Rusev's music hits and he comes down to the ring with Lana. Rusev says two weeks ago, Aiden English attacked him and ended his team and friendship. But he took it a step further by saying there is a video tape involving his wife and the city of Milwaukee. Rusev says it makes him want to tear English apart. But first, he calls Aiden out.
Out comes Aiden English who says the evidence they have all been waiting for is right here. But first, a little back story. Aiden says did you know Milwaukee is the largest city in Wisconsin? Which borders two of the great lakes. Lana says he is stalling and tells him he has nothing, he is just messing with all of these people. Aiden says he is providing context. He says Milwaukee is a city of science, culture. Milwaukee was the filming location for many unforgettable movies and television shows.
Aiden says but tonight, we get to see One Night in Milwaukee. A video of Aiden in his hotel room shirtless recording himself singing. A knock on the door is heard, Aiden opens and it's Lana. She walks in and Lana tells him it won't take long. She tells him that she wants to tell him something she has been thinking about for a long time. She says it's important to say it out loud. She says "I want you" and the video immediately stops.
English says he wants to show the rest but he can't due to legal obligations. He's entertaining an attractive offer from TMZ and he wouldn't want to cheat on them. Lana tells Rusev that's not all of it. Rusev leaves the ring and chases Aiden to the back.
After commercials, backstage, Rusev is looking for Aiden English. Lana tells him there is more to it and Rusev tells her that they won't do it here.
---
Daniel Bryan vs. Shelton Benjamin
The bell rings and Shelton goes after Daniel Bryan right away. He drops Daniel Bryan midsection first onto his knee. Right hands by Shelton Benjamin but Daniel starts to fight back. He throws Shelton into the corner and starts with the Yes Kicks. Daniel runs towards Shelton but Shelton picks him and drops him onto the mat. He goes for the cover but Daniel kicks out.
Shelton runs towards Daniel Bryan but Bryan reverses it into the Yes Lock. Shelton reaches the ropes as Daniel breaks it up. Shelton slides to the outside of the ring and Daniel Bryan follows him but Shelton starts to throw Daniel into the barricade and into the side of the ring.
Back from commercial, Daniel Bryan with a diving headbutt onto Shelton Benjamin. Both men get up and a German suplex by Shelton Benjamin. He goes for the cover but Daniel Bryan kicks out. Shelton runs towards Daniel Bryan but Daniel trips Shelton who lands face first onto the turnbuckle. Bryan backs up and runs towards Daniel but Shelton wit ha flying kick and a Germany suplex onto Daniel Bryan.
Shelton lifts Daniel onto the top rope. Benjamin climbs the middle rope and goes to lift Daniel onto his shoulders but Daniel fights back. Bryan reverses it and lands a hurricanrana.
Daniel Bryan starts with the Yes Kicks and takes Benjamin out. Daniel taunts Shelton as The Miz runs onto the ring apron. Daniel attacks The Miz off the ring apron and Shelton Benjamin lands the Paydirt onto Daniel Bryan. He goes for the cover and gets the win.
Winner: Shelton Benjamin
After the match, The Miz grabs Daniel Bryan to the outside and starts to beat on him. The Miz throws Daniel Bryan into the ring and delivers the Skull Crushing Finale.
---
Asuka vs. Peyton Royce
Naomi was at ringside for Asuka and Billie Kay was at ringside for Peyton. Asuka with a roll-up on Peyton but Peyton kicks out. Both women get up and a modified back breaker by Peyton onto Asuka. She goes for the cover but Asuka kicks out. A sleeper hold by Peyton onto Asuka but Asuka gets out of it but Peyton with a clothesline. She goes for the cover but Asuka kicks out again.
Peyton Royce with another sleeper hold and Asuka starts getting up and gets out of it. She pushes Royce into the corner and right hands by Asuka. Peyton sends Asuka to the corner but Asuka jumps off the corner and a drop kick takes Peyton down. Asuka with the Asuka lock as Peyton Royce taps out.
Winner: Asuka
---
In-Ring: Becky Lynch, Charlotte Flair
Becky Lynch says at SummerSlam she stopped waiting and started taking. And since that night, her, the champion, has been the best thing about Smackdown Live. And since she ran through the entire locker room and toppled the queen, she runs the division. And she has made it the most relevant thing in all of WWE. Because she learned that being kind and being patient gets you nothing but stabbed in the back and treated for a fool but no more. But now, she is relentless. She strikes first, like this. They air a video of Becky Lynch's feud with Charlotte Flair.
A loud "Becky" chant from the crowd. She says that time and time again she has proven that she owns Charlotte Flair. She asks where her magazine covers are, where her action figures are of her with her WWE title. Instead, it's Charlotte with the press releases. Becky says that come Saturday, it will be her face who deserves to be on the magazine covers and PPV posters. It's her face that is the face of the company. And if no one will give it to her, she will do it herself. She says that she went through the trouble and designed a new poster for Super Show Down.
Becky Lynch reveals a large poster of her standing on top of Charlotte Flair holding her WWE women's title. Out comes Charlotte Flair. She runs to the ring and the two begin to fight. Charlotte with the spear. Charlotte throws Becky into the poster and locks in the figure four off the ring apron. Charlotte gets in the ring and kicks Becky in the face taking her out.
---
Quick Match Results
R-Truth and Carmella defeated Andrade "Cien" Almas and Zelina Vega
Randy Orton vs. Tye Dillinger was a no contest
Shelton Benjamin defeated Daniel Bryan
Asuka defeated Peyton Royce