WrestleMania 35
East Rutherford, NJ – MetLife Stadium
---
Quick Match Results
Cruiserweight Championship (Kickoff Show): Tony Nese defeated Buddy Murphy (c) via Running Nese to win the title (10:40)
Women's Battle Royal (Kickoff Show): Carmella won, last eliminating Sarah Logan (10:30)
Raw Tag Team Championship (Kickoff Show): Curt Hawkins & Zack Ryder defeated The Revival (c) via small package by Hawkins on Dawson to win the titles (13:20)
Andre the Giant Memorial Battle Royal (Kickoff Show): Braun Strowman won, last eliminating Colin Jost (10:20)
Universal Championship: Seth Rollins defeated Brock Lesnar (c) via three Stomps to win the title (2:30)
AJ Styles defeated Randy Orton via Phenomenal Forearm (16:20)
SmackDown Tag Team Championship: The Usos (c) defeated Ricochet & Aleister Black, The Bar, Shinsuke Nakamura & Rusev via Double Uce on Sheamus (10:04)
Falls Count Anywhere Match: Shane McMahon defeated The Miz via landing on top of him after a Miz superplex took both men out (15:26)
Women's Tag Team Championship: The IIconics defeated Bayley & Sasha Banks (c), Beth Phoenix & Natalya, and Nia Jax & Tamina to win the titles via pinning Bayley after Beth Phoenix hit her with a Glam Slam (10:45)
WWE Championship: Kofi Kingston defeated Daniel Bryan (c) via Trouble in Paradise to win the title (23:43)
United States Championship: Samoa Joe (c) defeated Rey Mysterio via Coquina Clutch (1:00)
Roman Reigns defeated Drew McIntyre via spear (10:10)
No Holds Barred / HHH's Career on the Line: Triple H defeated Batista via sledgehammer shot (24:45)
Kurt Angle's Farewell Match: Baron Corbin defeated Kurt Angle via Deep Six (5:58)
Intercontinental Championship: "The Demon" Finn Bálor defeated Bobby Lashley (c) via Coup de Grace to win the title (4:02)
Winner Takes All – Raw and SmackDown Women's Championships: Becky Lynch defeated Ronda Rousey (c) and Charlotte Flair (c) via countering Piper's Pit into a pin on Rousey to win both titles (21:30)
---
Cruiserweight Championship (Kickoff Show)
Buddy Murphy (c) vs. Tony Nese
This was a pretty good/OK match. Not much better than a typical 205 Live match, though. The crowd was quiet at first, but they were won over.
Towards the end, Nese hit a 450 splash for a near fall. He ran at Murphy but Murphy caught him with a flying knee, then Murphy's Law, but Nese got his foot up on the rope.
Murphy pulled down his knee pads and went to hit Nese with his own finisher, a running knee, but Nese got up and superkicked him, then hit him with a German Suplex into the corner. Nese then hit the Running Nese (running knee in the corner) and got the pinfall.
Winner: Tony Nese (New Cruiserweight Champion) (10:40)
---
Women's Battle Royal (Kickoff Show)
Participants: Asuka, Candice LeRae, Carmella, Dana Brooke, Ember Moon, Kairi Sane, Lana, Liv Morgan, Mandy Rose, Mickie James, Naomi, Nikki Cross, Ruby Riott, Sarah Logan, Sonya Deville, Zelina Vega.
Naomi, who won last year's battle royal, got her own entrance, and so did Asuka. Everyone else just entered the ring together beforehand.
Maria Kanellis was eliminated first by Ember Moon.
Candice LeRae was eliminated by Asuka.
Nikki Cross was eliminated by Asuka.
Naomi was eliminated by Ember Moon.
Ember Moon hit the Eclipse on Mandy Rose. She went to the top again, but Lana knocked her out. Ember Moon was eliminated by Lana.
Lana was eliminated by Sarah Logan.
Top rope elbow by Kairi Sane on Sarah Logan. Riott Squad then attacked her. Kairi Sane was eliminated by Ruby Riott.
Riott Squad started attacking everyone, but Dana Brooke fought back and tossed out Ruby. Ruby Riott was eliminated by Dana Brooke.
Dana then tossed out Liv. Liv Morgan was eliminated by Dana Brooke.
Zelina Vega was eliminated by Mandy Rose and Sonya Deville.
Dana Brooke was eliminated by Sonya Deville.
Final five were Mandy Rose, Sonya Deville, Mickie James, Asuka and Sarah Logan. Superkick by Mickie James on Mandy. Mandy Rose was eliminated by Mickie James.
Sonya then immediately knocked Mickie out of the ring. Mickie James was eliminated by Sonya Deville.
Final three: Asuka, Sonya Deville, Sarah Logan. Asuka knocked out Deville. Sonya Deville was knocked out by Asuka.
Sarah Logan then immediately tossed Asuka out. Asuka was eliminated by Sarah Logan.
Sarah Logan celebrated what she thought was her win, but Carmella, who apparently was never eliminated and was hiding somewhere, suddenly snuck up from behind. They fought for a minute, with Carmella eventually hitting a superkick to knock her off the apron. Sarah Logan was eliminated by Carmella.
Winner: Carmella (10:30)
---
Raw Tag Team Championship (Kickoff Show)
The Revival (c) vs. Curt Hawkins & Zack Ryder
Commentary played up Hawkins' 269 loss streak and that Ryder and Hawkins are from New York. Hawkins wore New York Jets colors, green and white. Neither team really got a good reaction. Crowd was pretty quiet, despite Wilder being a huge face on the internet for punching the guy who attacked Bret Hart last night.
The Revival basically just attacked Zack Ryder with very basic moves for like 10 minutes straight until he finally tagged in Curt Hawkins and the action picked up a lot.
On the outside, Dawson hit Hawkins with a brainbuster, then rolled him into the ring. The crowd chanted "let's go Hawkins." Dawson toyed with him, then Hawkins suddenly rolled him up with a small package… 1-2-3. Pretty good pop from the crowd.
Winners: Curt Hawkins & Zack Ryder (New Raw Tag Team Champions) (13:20)
---
Andre the Giant Memorial Battle Royal (Kickoff Show)
Participants: Ali, Andrade, Apollo Crews, Bo Dallas, Bobby Roode, Braun Strowman, Chad Gable, Colin Jost (SNL), Curtis Axel, EC3, Gran Metalik, Heath Slater, Jeff Hardy, Jinder Mahal, Kalisto, Karl Anderson, Konnor, Lince Dorado, Luke Gallows, Luke Harper, Matt Hardy, Michael Che (SNL), No Way Jose, Otis, Rhyno, Shelton Benjamin, Titus O'Neil, Tucker, Tyler Breeze, Viktor
Most guys came out to the ring together. Colin Jost and Michael Che got their own entrance. Jost was wearing an Odell Beckham Cleveland Browns jersey. The Hardys also got their own entrance, as did Braun Strowman.
As soon as the bell rang, Jost and Che rolled out and went to hide under the ring.
Curtis Axel was eliminated (off camera)
Lince Dorado was eliminated by Braun Strowman
Tyler Breeze was eliminated by Braun Strowman
EC3 was eliminated by someone
Shelton Benjamin was eliminated by someone
Bo Dallas was eliminated by Braun Strowman
Heath Slater was eliminated by Titus O'Neil
Titus O'Neil was eliminated by Ali
No Way Jose was eliminated by Ali
Braun Strowman was tossed into the ring post by Anderson and Gallows and fell through the middle ropes to the outside.
Karl Anderson was eliminated by someone
Rhyno was eliminated by The Hardys
Bobby Roode was eliminated by Jeff Hardy
Gran Metalik was eliminated by Jinder Mahal
Kalisto was eliminated by Andrade
Chad Gable was eliminated by Andrade
Otis hit the caterpillar on The Ascension. The Ascension were both eliminated by Heavy Machinery
Luke Gallows was eliminated by Braun Strowman
Heavy Machinery was eliminated by Braun Strowman with a double clothesline.
Jinder Mahal was eliminated by Braun Strowman
Ali and Luke Harper were eliminated by Braun Strowman. Harper had Ali on the apron and tried to suplex him out of the ring, but Braun gave Harper a big boot and knocked them both out in a pretty cool spot.
Andrade and Apollo Crews were eliminated. They fell over the top onto the apron, then Andrade hit a hurricanrana on Crews to the outside, eliminating himself along with Apollo.
Final five: Braun Strowman and The Hardy Boyz were left in the ring, and Colin Jost and Michael Che were still hiding under the ring. The Hardys tried to eliminate Braun and Jost and Che finally entered the ring and tried to help throw Braun out, but Braun fought them off and eliminated the Hardys.
The Hardy Boyz were eliminated by Braun Strowman
Braun was left in the ring with Jost and Che and stared them down. Jost grabbed a mic and said "Braun, there are other solutions. Not everything has to end in violence. That's why I've invited my therapist. I want you guys to work through some of this anger." A man in a suit came into the ring and tried to talk to Braun. Braun tossed him around and hit him with a chokeslam, then threw him into Jost. Jost said "get him" to Michael Che. Che tried to climb over the top, but Braun grabbed him and slapped him in the face, knocking him out of the irng.
Michael Che was eliminated by Braun Strowman
Braun tried to hit Jost with a big boot, but he moved and Braun almost got himself eliminated. Jost tried to throw him out, but Braun fought him off, picked him up and tossed him over the top onto a bunch of other wrestlers at ringside.
Colin Jost was eliminated by Braun Strowman
Winner: Braun Strowman (10:20)
---
Segment: Alexa Bliss, Hulk Hogan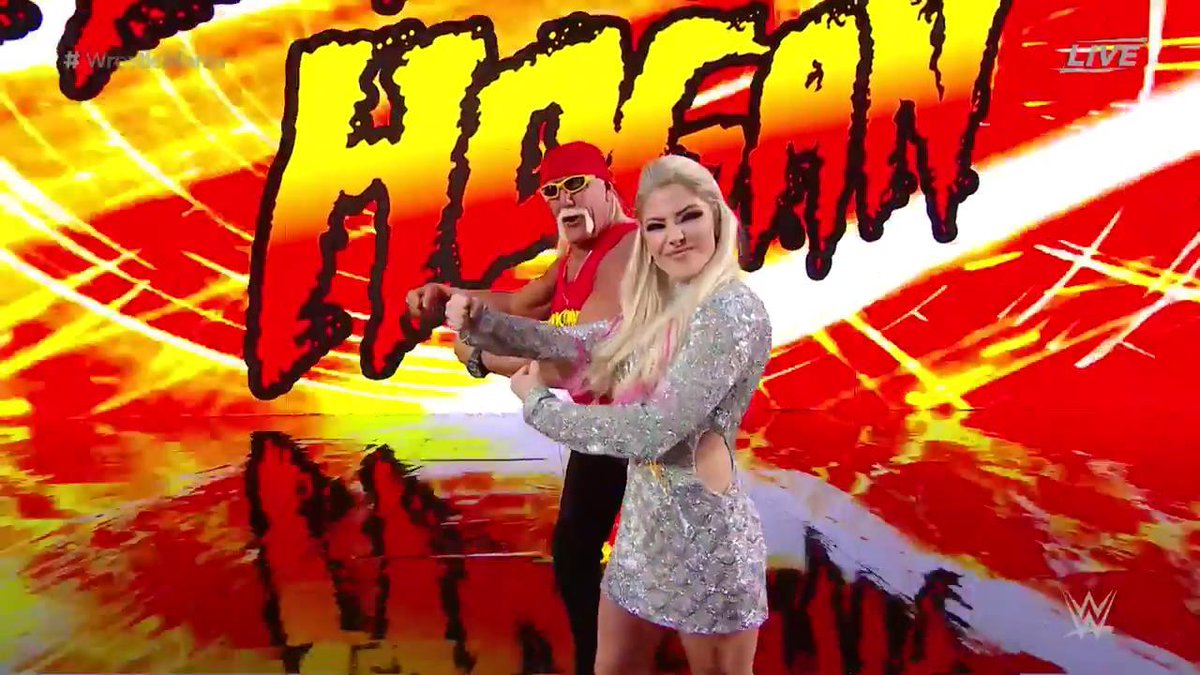 Alexa Bliss, the host of WrestleMania, was introduced and came out onto the stage. Alexa said that she has everyone in the palm of her hands, so if she wants a WrestleMania moment, she just has to snap her fingers. She did and Hulk Hogan's theme hit and out he came.
Hogan got a big pop. He said it's great to be at WrestleMania and great to be here in the Silverdome, then corrected himself and said it's great to be at the "MetLife Center." He then said, "Whatchya gonna do when Hulkamania and Alexa Bliss run wild on you." Hogan and Alexa then did Hogan poses together on the stage.
Paul Heyman suddenly walked out past them and to the ring…
---
In-Ring: Paul Heyman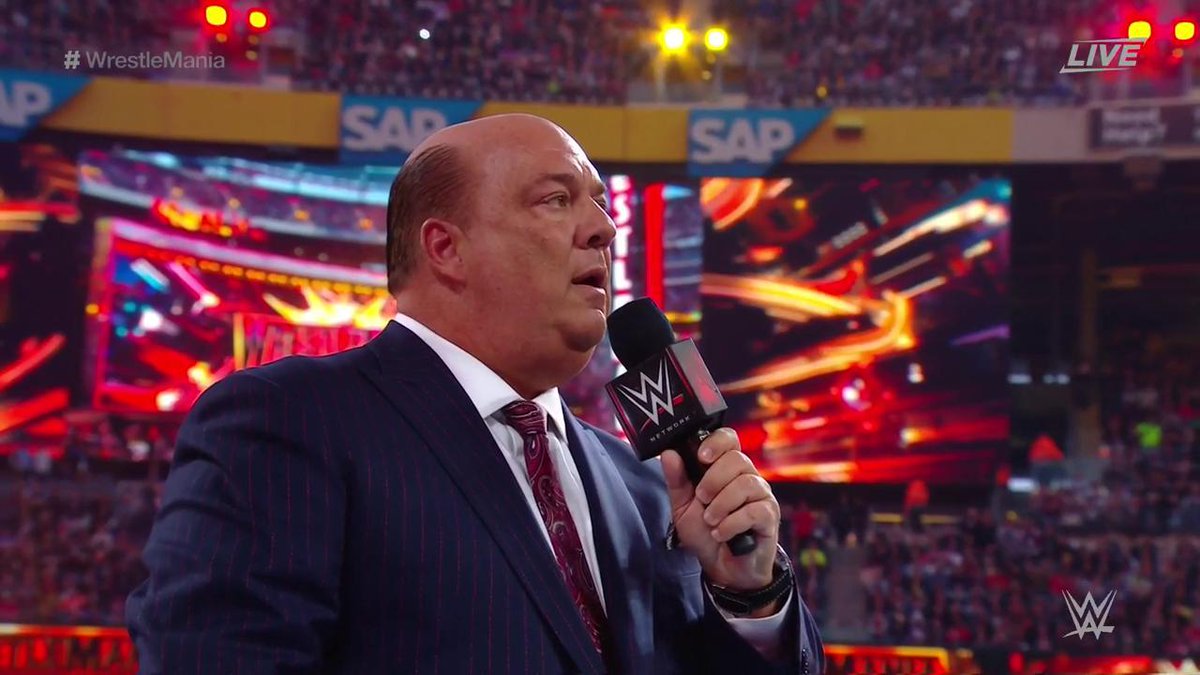 Heyman went into the ring and said that if his client doesn't go on last, he and Lesnar not hanging around all night. They are getting their business done and flying to Las Vegas where his client will be "ultimately appreciated." He then introduced Lesnar… and this match is happening now.
Universal Championship
Brock Lesnar (c) vs. Seth Rollins
Lesnar immediately attacked Rollins as he stepped into the ring, then hit him with an F5 on the outside before the bell even rang. He tossed him around onto the announce tables several times. He rolled him into the ring and the bell finally rang to start the match. Rollins' back had a big red mark on it from being thrown through the top part of the announce table.
Three German suplexes by Lesnar, then he went for an F5, but Rollins broke free and the referee got knocked out of the ring. Low blow by Rollins as the ref was out… Superkick by Rollins. The ref came back in.
The Stomp… and a second one. This is sweet… Crowd was pumped. A third stomp. 1-2-3!
Perfect, quick match. Awesome.
Winner: Seth Rollins (New Universal Champion) (2:30)
Rollins celebrated with his title as the crowd was loud for a great opening to WrestleMania.
---
Jerry Lawler joined Tom Phillips and Corey Graves on commentary for the next match.
---
AJ Styles vs. Randy Orton
The first 10 minutes of this match were super slow, like most Randy Orton matches. The crowd seemed distracted by something, randomly chanting and loudly popping. It was apparently because lights were blinding them in the venue and they were finally turned off.
Orton suddenly hit an RKO, but Styles kicked out. Orton went for an RKO off the middle rope, but Styles knocked him out of the ring, then hit a Phenomenal Forearm to the outside. Styles rolled him into the ring and went for another forearm, but Orton went for an RKO… but Styles blocked it. He then hit a Phenomenal Forearm… 1-2-3. Pretty bad, very forgettable, basic match that zapped a lot of energy from me.
Winner: AJ Styles (16:20)
---
Segment: Lacey Evans
This just became the classiest #WrestleMania ever.#WrestleMania @LaceyEvansWWE pic.twitter.com/gSDPsRuU45

— WWE WrestleMania (@WrestleMania) April 7, 2019
Lacey Evans walked out, walked around the stage, and back. She was called the "sexy southern belle" instead of the "sassy" southern belle.
---
SmackDown Tag Team Championship
The Usos (c) vs. Ricochet & Aleister Black vs. The Bar vs. Shinsuke Nakamura & Rusev
A few minutes in, Cesaro swung Ricochet around like maybe 30 times. Later, Ricochet hit a 630 on Sheamus, but it was broken up.
Uppercut by Cesaro on Jey Uso. Superkick by Jimmy on Cesaro. Kick by Rusev on Jimmy. Black Mass by Aleister Black on Rusev. Kinshasa by Nakamura on Black. Codebreaker-like move by Ricochet on Nakamura. Brogue Kick by Sheamus on Ricochet. Superkick by The Usos on Sheamus. Double top rope splash by The Usos on Sheamus… 1-2-3. Good, fun match.
Winners: The Usos (10:04)
---
Segment: 2019 WWE Hall of Fame Class
They played a highlight video of the Hall of Fame ceremony, then introduced the Hall of Fame class of 2019 on the stage. Honky Tonk Man, Harlem Heat, Torrie Wilson, Brutus Beefcake, The Hart Foundation, Sue Aitchison, and D-Generation X.
---
Falls Count Anywhere Match
Shane McMahon vs. The Miz
Shane McMahon was introduced as "The Best in the World, Shane McMahon." He told the announcer to do it again and he did. Shane entered, grabbed the ring announcer and told him to introduce him better, and the announcer did, a third time, with passion.
The Miz's father was at ringside. Early in the match, Shane laid Miz out on the announce table, then went to the top rope, but Miz's dad ran out in front of him to get Shane to stop. Miz's dad then stepped into the ring and put his fists up… Shane told him to get out, but then hit him with a surprise attack, kneeing him in the stomach. The Miz immediately ran into the ring for the save and pounded on Shane.
The Miz beat down on Shane throughout the stage area for about ten minutes, then hit him with a Skull Crushing Finale, but Shane kicked out. Shane climbed the scaffolding to try to get away but Miz followed him up. Shane begged for mercy, saying that he's sorry. Miz then kicked him and hit him with a huge suplex off the scaffolding into a (padded) area about 15 feet below, crashing through it and laying both men out. Shane landed on Miz amidst the carnage somehow and the ref counted… 1-2-3.
Winner: Shane McMahon (15:26)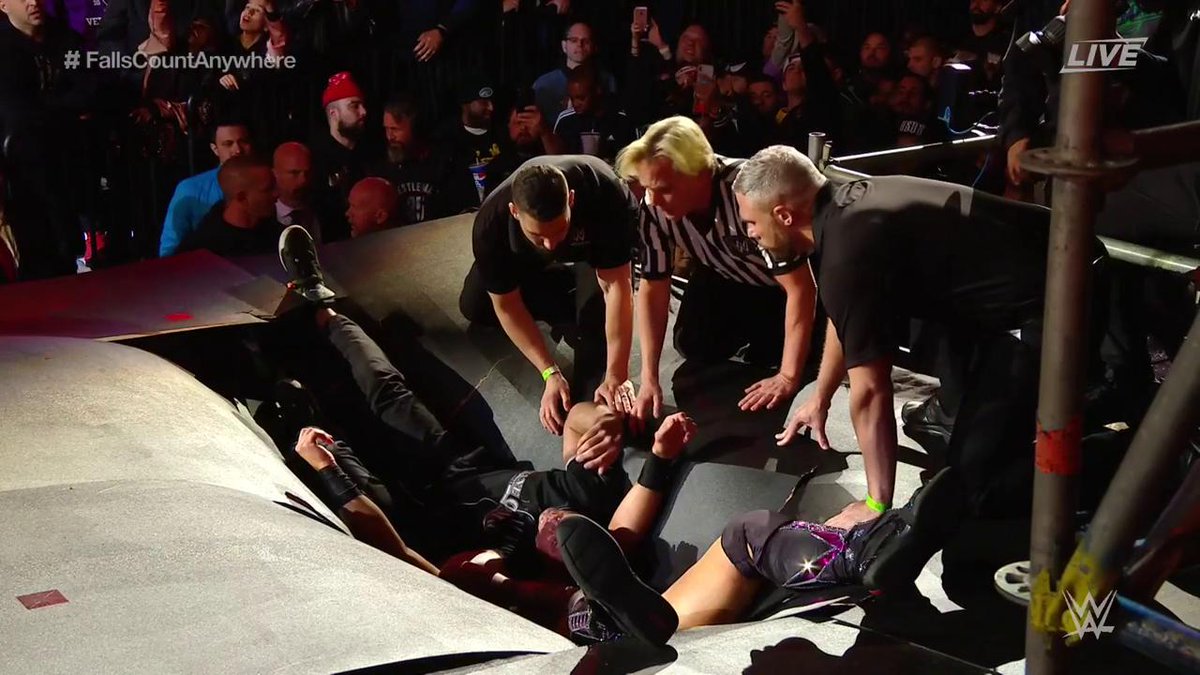 ---
Women's Tag Team Championship
Bayley & Sasha Banks (c) vs. Beth Phoenix & Natalya vs. The IIconics vs. Nia Jax & Tamina
Paige joined the commentary team for this match along with Michael Cole and Renee Young. Bret Hart briefly accompanied Natalya and Beth Phoenix on the stage for their entrance, then went to the back. Peyton Royce was dressed as an angel and Billie Kay was dressed as a demon.
A few minutes in, Sasha locked on the Bank Statement on Beth Phoenix, but she broke free and went for the Glam Slam, but Sasha broke free. Natalya tagged in and locked on a Sharpshooter on both Sasha and Bayley, but Tamina broke it up.
Double Samoan Drop by Nia and Tamina on the IIconics. Nia and Tamina went to the top rope on opposite corners, but Beth Phoenix knocked Nia down.
Later, Beth Phoenix hit the Glam Slam on Bayley off the middle rope, then went for the pin, but the IIconics ran in and tossed her out and Billie Kay pinned Bayley for the win! A replay showed that Billie tagged herself in as Beth Phoenix climbed to the top.
This match was not bad or even pretty good for what it was. The crowd was pretty quiet for most of it, but it felt a lot more entertaining than the Orton match…
Winners: The IIconics (New Women's Tag Team Champions) (10:45)
---
WWE Championship
Daniel Bryan (c) vs. Kofi Kingston
Big E had a mystery box that he set aside at ringside… They kept showing the WWE locker room watching on TV in the back rooting for Kofi. The crowd was hot for this match and very much behind Kofi.
A few minutes in, Bryan went for the running knee, but Kofi escaped, then hit the SOS, but Bryan reversed the pin into the LeBell lock, but Kofi got his foot on the rope.
Later, Bryan rolled out of the ring and Kofi followed him, but Rowan blocked him. Big E and Xavier Woods then came in and hit the Midnight Hour on Rowan.
Back in the ring, Bryan nailed Kofi with a running knee but Kofi kicked out at 2.9 to a huge pop. Bryan stomped repeatedly on Kofi's face, then locked on the LeBell lock again, but Kofi fought out, then he started stomping on Bryan's face…
Trouble in Paradise… 1-2-3! Really great match.
Winner: Kofi Kingston (New WWE Champion) (23:43)
Big E grabbed the mystery box at ringside… and inside of it was the previous leather and gold WWE Championship with Kofi side plates. Kofi's two sons came into the ring to celebrate with Kofi. Big E grabbed another box and inside were Kofi t-shirts that said "It's a New Champ, Yes It is."
---
Backstage: Colin Jost, Michael Che, Alexa Bliss, Scott Hall, Kevin Nash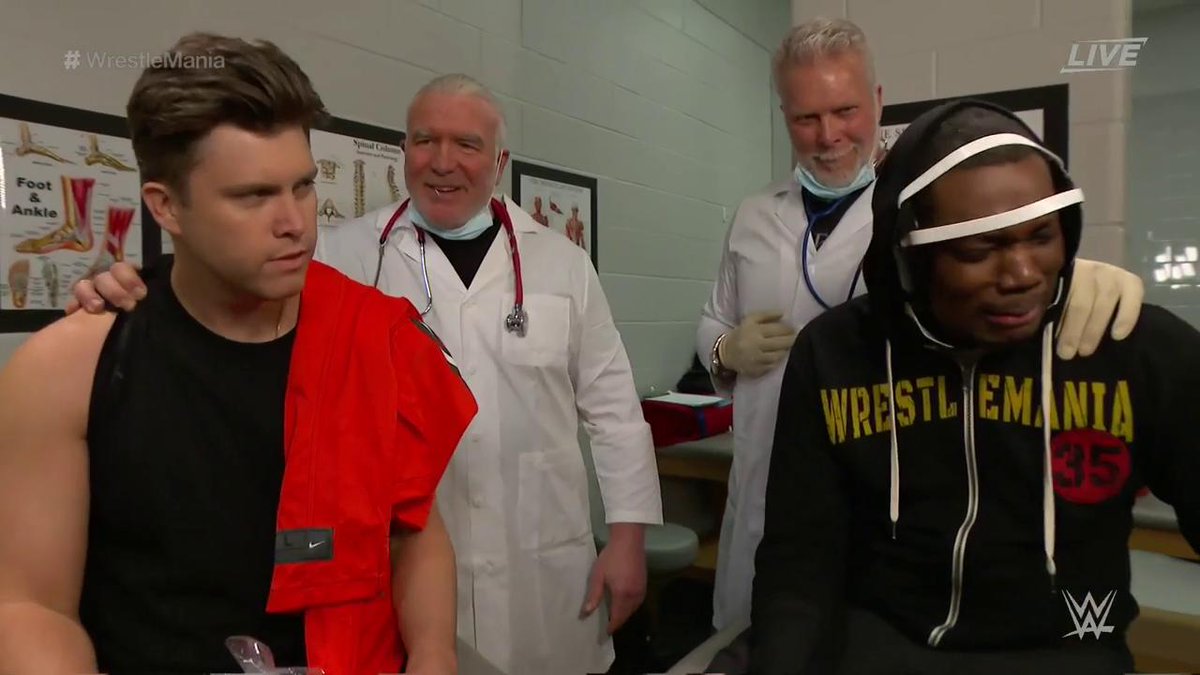 Backstage, Colin Jost and Michael Che were in a medical office icing their wounds. Alexa Bliss came up to them and said she was sorry about what happened, but Braun Strowman was actually a nice guy. She then told them to not worry because they were in good hands.
Scott Hall and Kevin Nash came up from behind dressed as doctors. Hall said "Hey yo" and Nash said, "Gentlemen, should we start with a prostate exam?"
---
United States Championship
Samoa Joe (c) vs. Rey Mysterio
Booker T was on commentary for this match with Tom Phillips and Byron Saxton.
Mysterio hit a DDT then a 619 seconds into the match, then went to the top rope, but Joe caught him and locked on the Coquina Clutch… and Mysterio was out… Damn. I guess Mysterio's injured ankle wasn't healed enough to have a full match.
Winner: Samoa Joe (1:00)
---
Roman Reigns vs. Drew McIntyre
Reigns actually got sort of a mixed reaction for his entrance, with mostly cheers, but some boos.
This was a strange match. McIntyre controlled most of it, then a few minutes in, Reigns hit a superman punch, then a spear… and that was it. 1-2-3.
Winner: Roman Reigns (10:10)
---
Segment: Elias, John Cena
Elias was introduced and he was shown playing the drums. He was introduced again and he was shown playing the piano. He was introduced again, and he appeared in the ring live this time. He then started playing the guitar with "himself" playing drums and piano on the big screen.
All of a sudden, a highlight video of the 1932 World Series appeared on the screen… and John Cena came out dressed up with his old "Thuganomics" gimmick. He had an "accent" and said that the "doctor of Thuganomics is back."
He said that WWE stands for "wasted wrestling experiment" then said, "I'm a bad man, my style like a pitbull bit you. And you ain't even half a dog, you just a piece of shih tzu." A pic of Elias as a shih tzu showed up on the screen. "And they call me the golden shovel so I'm about to bury your push. Your face looks like my nuts except you got a hairier bush. Looks like I wore out my welcome, it's about time I left you so there'll be no AA today, but you're about to get the FU."
Cena then hit Elias with the mic and hit him with the five knuckle shuffle, then the AA and his theme hit again.
Crowd seemed to love it.
---
No Holds Barred / HHH's Career on the Line
Triple H vs. Batista
Shawn Michaels was on commentary for this match with Michael Cole and Corey Graves. Triple H's dad was at ringside and Batista taunted him. Triple H entered on a Mad Max-style car.
Early in the match, Triple H attacked Batista on the outside and hit him with a chain, then grabbed plyers and crushed Batista's fingers, then stomped on his hand.
Triple H then brought a chair in the ring and sat down on Batista's throat, then grabbed needle nose plyers and pulled out Batista's nose ring… lol.
After a few minutes of slow back and forth, Batista set up Triple H on the announce table and called for a Batista Bomb, but Triple H reversed and dropped Batista back-first on the other announce table. Triple H gave him a crotch chop then hit a spear through one of the announce tables.
Triple H grabbed a sledgehammer from under the ring, but in the ring, Batista nailed him with a spear. Batista Bomb by Batista… but Triple H kicked out.
Batista brought in the bottom part of the ring steps and set them up in the ring, then punched Triple H in the corner, but Triple H countered and powerbombed him into the steps. He then hit the Pedigree… 1-2-no.
Triple H tried to hit him with the sledgehammer, but Batista hit him with a DDT onto the steps and grabbed the hammer.
Ric Flair suddenly came out and handed Triple H another sledgehammer. He then started yelling at Batista. Batista got up and yelled back at Flair, then turned around and Triple H launched himself off the steps and nailed Batista with the sledgehammer… 1-2-3.
Winner: Triple H (24:45)
---
Backstage: Alexa Bliss, The B-Team, Faarooq
……………….DAMN! #WrestleMania pic.twitter.com/kMdHfeCyPQ

— WWE Universe (@WWEUniverse) April 8, 2019
Alexa Bliss introduced the B-Team, who were modeling "And Still the Planet's Champion" Daniel Bryan t-shirts… Alexa Bliss said that they were on sale on WWEshop.com.
Faarooq appeared on screen and said "DAMN."
---
Kurt Angle's Farewell Match
Kurt Angle vs. Baron Corbin
JBL was on commentary for this match with Cole and Graves.
A couple of minutes into the match, Corbin hit a Deep Six, but Angle kicked out. Angle then suddenly hit the Angle Slam, but Corbin kicked out. German suplex by Kurt, then he went for a top rope moonsault, but missed.
End of Days… 1-2-3. wtf…
Winner: Baron Corbin (5:58)
Angle got on the mic after the match: "For the past 20 years, I have had the time of my life. And I wanna thank each and every one of you. But to end this night the way I want to, I want to hear those two words that epitomized my career. So play my music and let's do it." His music hit and the crowd chanted "you suck" as Angle stood in the ring. Angle then embraced his family at ringside and walked down the ramp…
---
Intercontinental Championship
Bobby Lashley (c) vs. "The Demon" Finn Bálor
The crowd was totally dead for the start of this match after the Corbin/Angle thing.
Balor started off hot, but Lashley quickly took control. Lashley hit a great spear from the ring onto Balor, who was on the apron, flying through the middle rope to the outside.
Back in the ring, Balor retook control after a minute and hit a powerbomb on Lashley, then a Coup de Grace… 1-2-3.
Winner: Finn Balor (New Intercontinental Champion) (4:02)
---
Segment: Alexa Bliss, Carmella, R-Truth
Alexa Bliss came out to the stage and said that they've broken a WWE MetLife Stadium attendance record with 82,265 fans. That number is usually inflated.
Bliss wore a different outfit each time she appeared tonight.
Alexa said that with all the excitement, she thinks it's time for a break. R-Truth and Carmella then came out. Carmella said it's time for the world's largest 7 second dance break. It was more like 30 seconds.
---
Winner Takes All – Raw and SmackDown Women's Championships
Ronda Rousey (c) vs. Charlotte Flair (c) vs. Becky Lynch
Charlotte was shown arriving on a helicopter, then walked on a red carpet into the arena. Joan Jett did a live performance of "Bad Reputation" for Rousey's entrance. Lynch had a "regular" entrance, nothing spectacular.
Becky and Rousey started off immediately going after each other, with Rousey gaining the upperhand and knocking her to the outside. A couple of minutes in, Charlotte held Rousey upside down over the ropes and Becky dropkicked Rousey's back and she fell to the outside on her back/neck hard.
Later, Charlotte went for a top rope moonsault, but Becky caught her with a Disarm-Her… but Rousey got back in to break it up. She tried to lock on the armbar, but Charlotte broke it up.
Later, Becky hit a top rope Bexploder, but Charlotte kicked out. Rousey hit a double top rope crossbody on Charlotte and Becky, then tried to lock on a double armbar on both, but they got up and doubleteam powerbombed her three times.
After a couple of minutes, Becky Lynch suddenly locked on the Disarm-her on Rousey, but she grabbed the rope. It was about 12:15 AM and the crowd seemed really tired, with lots of cool spots barely getting a reaction.
Charlotte came in and hit a great top rope Spanish fly on Becky. Charlotte then locked on the figure four… into the figure eight onto Rousey, but Becky broke it up with a top rope leg drop.
A table was set up in the corner. Charlotte ran at Becky and Rousey, but they hip tossed her through the table.
Rousey and Becky exchanged a flurry of punches until Rousey nailed her with a running kick. Rousey went for Piper's Pit, but she sold her leg being hurt… Becky then countered and pinned Rousey's shoulders down… 1-2-3…
Winner: Becky Lynch (New Raw and SmackDown Women's Champion) (21:30)
It was a very strange finish and almost looked like a botched ending. It looked like Rousey was trying to get her shoulders up, but the ref counted to 3. She immediately got up and looked shocked and angry and protested to the ref that her shoulders were up. Corey Graves said that it was worth a replay. The replay showed that Rousey did get her shoulders up at 1, then was pinned back down. Commentary didn't acknowledge it though and said that it was hard to tell.
Becky celebrated with both titles in the ring as fireworks went off to end the show.