April 1, 2019
Washington, DC
Commentary: Michael Cole, Corey Graves and Renee Young
Results by: Mike Tedesco of Wrestleview.com
---
Quick Match Results
Sasha Banks, Bayley, Natalya & Beth Phoenix defeated Nia Jax, Tamina & The IIconics via Glam Slam by Phoenix on Royce
Lumberjack Match: Apollo Crews defeated Jinder Mahal via frog splash
RAW Tag Team Championship: The Revival (c) defeated Ricochet & Aleister Black by countout
Becky Lynch, Charlotte Flair & Ronda Rousey defeated The Riott Squad via armbar by Rousey on Morgan
Heavy Machinery defeated Bobby Roode & Chad Gable via the Compactor on Gable
Braun Strowman defeated Two local wrestlers via double powerslam on both wrestlers
Baron Corbin defeated Rey Mysterio via Deep Six
---
On-Stage: Stephanie McMahon
Stephanie McMahon is on the stage to start the show. She said she is adding herself to the WrestleMania main event, which draws boos. She asks if they can take an April Fools' Day joke. She is proud of the women being in the main event. The real news is when RAW Women's Champion Ronda Rousey takes on Smackdown Live Women's Champion Charlotte Flair and Becky Lynch, all titles will be on the line. This Sunday, three of WWE's greatest athletes will meet in the ring. At WrestleMania, it will be winner take all! McMahon goes to the back.
---
In-Ring: Brock Lesnar, Paul Heyman, Seth Rollins
Brock Lesnar's music hits, and the WWE Universal Champion makes his way to the ring with Paul Heyman. Lesnar draws loud boos from the crowd. Lesnar paces around the ring while the crowd boos. Heyman goes to speak, but stops to listen to the crowd. Heyman starts his usual shtick by saying, "Ladies and gentlemen, my name is Paul Heyman, and I am the advocate — and I'll be saying this next Monday as well — for the reigning, defending, undisputed Universal Heavyweight Champion Brock Lesnar." Heyman finds it poetic that Stephanie McMahon just described a match as winner take all. That pertains to the Universal Championship match as well. The winner, Brock Lesnar, will take everything Seth Rollins has, including his best shot, and then take everything Rollins has in life. That's what Lesnar does to people and WrestleMania. Lesnar took the Streak from The Undertaker at WrestleMania. Last year, he took the hopes and dreams of Roman Reigns when they all thought it was fait accompli that he would win. This Sunday, he'll take everything from Rollins. For those that watch hockey for the fights, NASCAR for the car crashes, and football for the riots, Lesnar will violate Rollins at WrestleMania. With his foot on Rollins' chest and the title above his head, Lesnar will define the saying that life isn't what you want, but what you make. Lesnar and Heyman will then go out to dinner and discuss what's next in the career of Brock Lesnar. Rollins is just an afterthought…
Seth Rollins' music hits to cut him off, and Lesnar is furious. Rollins says this is the biggest match of his career, but it is the same for Lesnar. After WrestleMania, everything changes for Lesnar. Lesnar won't be able to come here and make demands. Nobody wants Lesnar here. Lesnar laughs at him. Rollins doesn't want him here, the locker room doesn't want him here, and the people are sick and tired of Brock Lesnar. A "Burn it down" chant picks up. Lesnar continues to laugh. Rollins says Lesnar doesn't give a damn about anyone but himself. Lesnar made a hell of a career at being himself. Lesnar is the most decorated athlete in combat sports history. Rollins beating him at WrestleMania may be improbable, but not impossible. This Sunday, he is going to beat Lesnar, take his title, and there's not a damn thing he can do about it.
Lesnar goes to leave and bumps Rollins. Rollins turns him around and low blows him. Rollins attacks, but Lesnar quickly comes back with an amazing German Suplex. Lesnar goes for an F5, but Rollins slides off and low blows him again. Rollins superkicks him before hitting the Stomp! Rollins holds the title up to loud cheers from the crowd. Rollins throws the title down and walks off.
After commercials, Seth Rollins is walking backstage when Charly Caruso comes up to him. She says if he does what he did on Sunday, he'll be disqualified. Rollins says Lesnar had it coming.
---
Nia Jax, Tamina & The IIconics vs. Sasha Banks, Bayley, Natalya & Beth Phoenix
This is Beth Phoenix's first match in six years.
Beth Phoenix will start against Peyton Royce. Sasha Banks immediately blind tags in, which upsets Phoenix. They lock up, and Royce powers her to the corner. Royce knees her in the midsection and talks trash. Banks fights back and tries for a rope climbing arm drag… but she falls. Banks hits an arm drag and tags in Bayley. Bayley and Banks take her down and drop an elbow. Banks tags back in, and they send Royce into the ropes for a dropkick. Billie Kay tags in, but she's taken down. Natalya tags in and hits a suplex. Phoenix tags in, and they try for a double-team arm drag, but Kay lands on her feet. Phoenix pulls her down for a two count. Phoenix wrenches the arm and lifts Kay up, but Royce runs in. They're taken out. Banks and Bayley argue with Phoenix and Natalya.
We come back from the break to see Bayley attacking Kay in the corner. Royce pulls Kay away, and Bayley hits the corner hard. Kay whiffs on a big boot, and Bayley sells it. Royce tags in and punches away at Bayley for a two count. Royce goes for a tag, but Nia Jax and Tamina get off the apron. Kay tags in while The IIconics argue with Jax and Tamina. Bayley snaps Kay off the ropes. Banks is knocked off the apron, and Phoenix runs in to take out The IIconics. Phoenix hits a slow motion, scary powerslam. Tamina pulls the middle rope down to get Phoenix out of the ring. Phoenix angrily gets to her feet and spears Tamina through the barricade. Phoenix gets to her feet while the crowd chants, "You still got it." Royce gets Phoenix in the ring and slaps away at her. Phoenix blocks a slap and hits a Glam Slam for the win.
Winners by Pinfall: Sasha Banks, Bayley, Natalya, and Beth Phoenix
---
In-Ring: Batista
Batista's music hits, and The Animal makes his way to the ring to a nice reaction from his hometown Washington, DC. We see footage of Triple H accepting Batista's challenge to put his career on the line. Batista stands in the ring and listens to the crowd. The lights are down and the spotlight is on him. A "Welcome back" chant picks up. Batista puts his head down and points at the screen.
Video Package: Triple H vs. Batista in a No Holds Barred Match
Batista holds the microphone up and takes his glasses off. Batista says, "Hunter, kiss my ass." Batista drops the microphone, smirks, and puts his glasses back on before posing. The crowd cheers him while his music plays. Batista walks up the ramp, bows before his hometown crowd, and smiles.
---
Segment: Elias
Elias is standing outside MetLife Stadium and talking about his performance this Sunday at WrestleMania.
---
Lumberjack Match
Jinder Mahal vs. Apollo Crews
The ring is surrounded by competitors that will be in the André The Giant Memorial Battle Royal (except Braun Strowman, Michael Che, and Colin Jost). Mahal quickly takes him down and cinches in a chin lock. Crews fights up, dropkicks him down, goes to the top rope, and hits a frog splash for the win.
Winner by Pinfall: Apollo Crews
People are taking turns posing in front of the trophy, so a brawl breaks out in the ring. Titus O'Neil takes the initiative, clearing most of the ring before Mahal knocks him over the top rope. Mahal and The Singh Brothers try to attack Crews, but he stops them, knocking them all over the top rope. Crews then press slams Samir Singh over the top rope.
---
In-Ring: Kurt Angle, Baron Corbin, Rey Mysterio
Kurt Angle's music hits, and he makes his way to the ring to compete in a match on RAW for the final time of his career. The crowd lovingly chants, "You suck" to the theme of his music. Angle stands in the ring with a microphone and listens to the crowd chant, "Thank you, Kurt." Angle says they're making this hard. This is his last night ever on Monday Night RAW. Angle is appreciative of the good times and bad times. Angle has heard boos, but mostly cheers. From the bottom of his heart, he wants to thank the crowd. Another "Thank you, Kurt" chant picks up. Angle smiles widely. The ring announcer asks the crowd to look at the titantron as they celebrate the career of Kurt Angle.
Video Package: The incredible 20-year career of Kurt Angle
We go into the arena to see Angle breaking down in tears while the crowd wildly cheers him, chanting, "Thank you, Kurt" at him.
Baron Corbin's music hits, and he comes out to loud boos from the crowd. Corbin sarcastically apologizes for interrupting a stroll down memory lane. That should have been in black and white because it's ancient history. The man in that video is not the man in the ring. That man in the ring struggles to take his jacket off and can't get down the ramp without huffing and puffing. Angle can't hang with the stars of today. They're just plain better, especially him. Corbin says on another note, he's getting irritated with the crowd filling his social media saying Angle deserves someone better as his last opponent in WWE. The crowd loudly cheers. Corbin tells them to cheer all they want, but it won't change anything. Their last image of Angle will be a broken down old man laying in the ring this Sunday.
Angle says they will square off on Sunday, but since it's his last match on RAW, they should have an exhibition match right now. Corbin marches down to the ring and teases getting in, but stops. Corbin then gets off the apron and smiles. Corbin says that's the old Angle intensity, but where's the intelligence. If he gets in the ring, Angle won't make it to Sunday. Corbin says he'll just wait until WrestleMania.
Rey Mysterio's music hits, and he runs down to stand by Angle's side. Mysterio says Corbin doesn't want to fight Angle, but someone needs to teach Corbin a lesson in respect. Mysterio says on behalf of Angle, he'll throw down with Corbin instead. Corbin says he's not going to do that before blindsiding Mysterio. Angle punches Corbin and goes for a German Suplex, but Corbin fights it. Mysterio hits a seated senton on Corbin. Angle then follows up with an Angle Slam. Angle and Mysterio stand tall in the ring.
---
Backstage: Charlotte Flair
🗣 @MsCharlotteWWE says she has CHANGED. THE. GAME. #RAW pic.twitter.com/x5n4Ko4jkW

— WWE (@WWE) April 2, 2019
Charly Caruso is backstage with the new Smackdown Women's Champion Charlotte Flair. She asks Flair about Winner Take All. Flair says someone should ask Asuka if she was blindsided by her tapping her out. Sunday, the whole world will be blindsided when she breaks Becky's leg and taps out Ronda Rousey. Of course Stephanie changed the match because she changed the game. Flair will win it all. Caruso asks if she'll lose her cool and not be able to compete at WrestleMania. Flair says she's professional. She's not a hothead like Lynch and Rousey. After the match, Lynch and Rousey better stay the hell away from her or they won't make it to WrestleMania. Flair lets out a "WOO" before walking off.
---
RAW Tag Team Championship
The Revival (c) vs. Ricochet & Aleister Black
Aleister Black starts against Scott Dawson. They're quickly at a stalemate, but Black soon applies a side headlock. Dawson fights out and chops the chest. Dawson hits a snapmare and shoulder blocks him down. Black leapfrogs him, but Dawson feeds him a back elbow. Dash Wilder tags in, but Black soon fights back at him. Ricochet tags in and wrenches the arm of Wilder. Ricochet keeps him down, but Wilder fights up and knees him in the midsection. Dawson tags back in, and he takes Ricochet down. Dawson chokes him with his shin and tags in Wilder. Wilder attacks before tagging Dawson in. Ricochet backflips over them and hits a double hurricanrana. Black tags in, and he turns Dawson inside out with a knee. Ricochet dropkicks Dawson. Black and Ricochet then give Wilder a hip toss onto Dawson for a two count. Dawson quickly comes back by snapping Black's arm off the top rope.
We come back from the break to see Dawson working over Black's arm. Black eventually fights The Revival off and tags in Ricochet. Ricochet clotheslines Wilder down and hits Dawson with a neckbreaker. Ricochet rolls Wilder up for a two count. Ricochet gets an inside cradle for a two count. Ricochet knocks Wilder into Dawson and rolls him up again for another near fall. Ricochet rolls Wilder up, but he kicks out, sending Ricochet into a forearm from Dawson. Wilder hits a nasty Gory Special for a near fall! Wilder cannot believe it.
Black comes up and attacks The Revival. Black knees Dawson in the face, but Wilder takes him down with a tornado DDT on the floor! Ricochet then flips over the ring post and wipes out The Revival with an amazing flipping senton! Wow! Wilder tries to stop Ricochet from getting back in the ring, but he fights him off. Ricochet tries to get in the ring, but Dawson grabs the leg to get him counted out.
Winners by Count-Out and still RAW Tag Team Champions: The Revival
Black wipes out Wilder with the Black Mass. Ricochet gets Dawson in the ring, and Black hits him with the Black Mass. Ricochet goes to the top rope and hits the 630 on Dawson!
---
Backstage: Ronda Rousey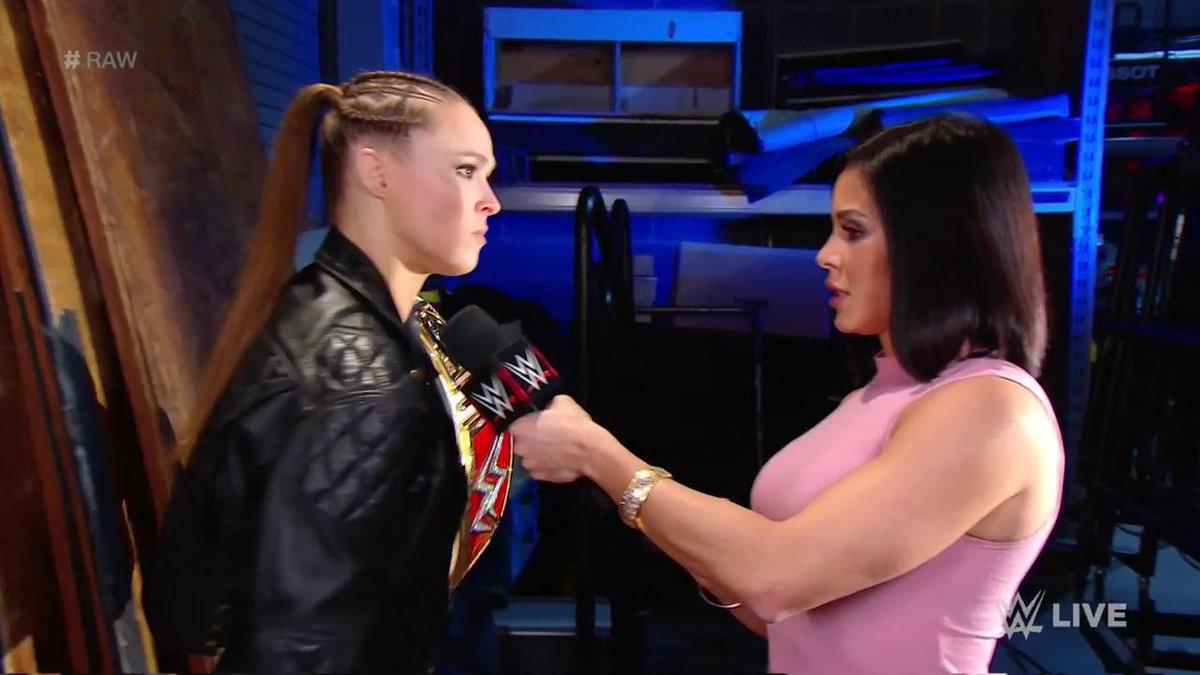 Ronda Rousey is warming up backstage. Charly Caruso walks up, but Rousey says she doesn't feel like talking. Judgment day is coming for Becky and Charlotte this Sunday.
---
Backstage: Alexa Bliss, Tyler Breeze, EC3, Braun Strowman
Alexa Bliss is backstage talking to Tyler Breeze. EC3 is standing next to him. Bliss brags about how she's doing as the host of WrestleMania. EC3 talks about how Saturday's Weekend Update was great, but stops when Braun Strowman walks up. EC3 and Breeze cower away.
Strowman storms off and looks at two guys watching Weekend Update on his iPad. Strowman says he's thinking of them as Colin Jost and Michael Che. Strowman tells them to meet him in the ring.
---
Backstage: Roman Reigns, Drew McIntyre
Roman Reigns is backstage with one of the other backstage interviewers. Reigns is addressing the rumors that he is not able to compete. Reigns thinks the rumors came from Drew McIntyre. McIntyre doesn't know him. Reigns says he is 100% cleared.
McIntyre viciously attacks him from behind and says he should have said no to the match. McIntyre sends him into a steel barricade before agents order him away. Reigns angrily gets to his feet and looks in a lot of pain.
---
Backstage: Becky Lynch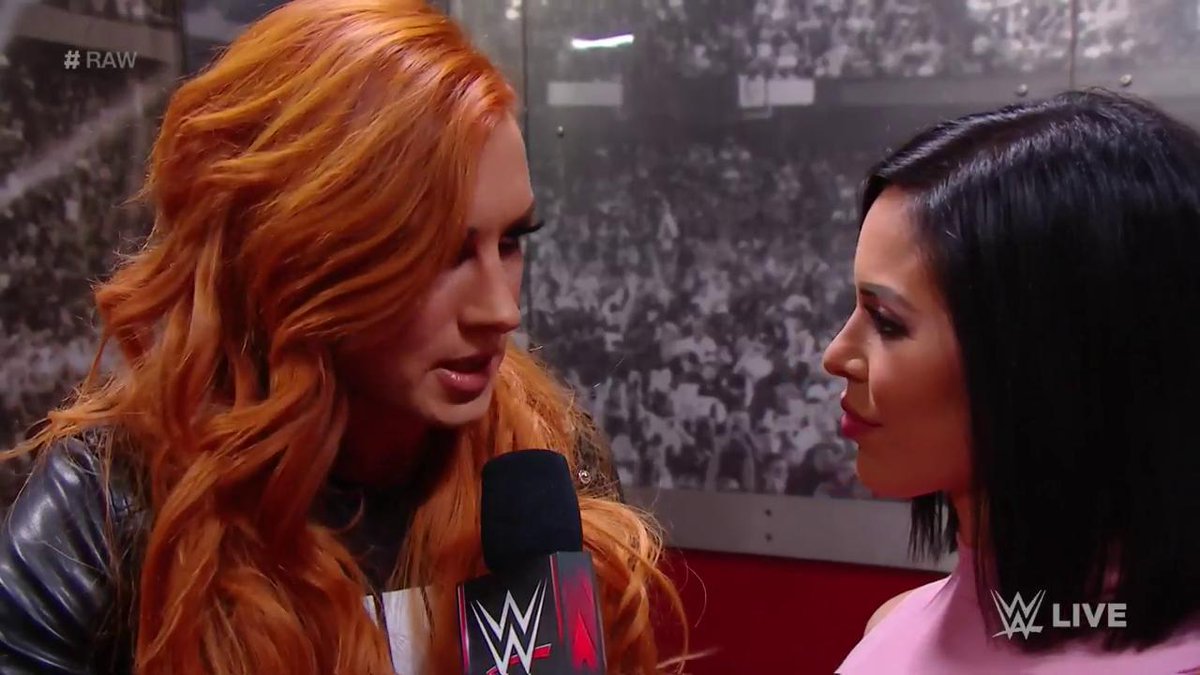 Becky Lynch is backstage with Charly Caruso. Lynch says she'll make this simple: she's leaving MetLife Stadium this Sunday as the first ever RAW and Smackdown Women's Champion. She beat Ronda Rousey months ago by calling out her god complex. She's being forced to tag with Rousey and Flair, but she's wise to their game. She will keep her cool. As for the McMahon family, the only way she can keep them from sinking her is to make history and take the titles. She has no choice but to make history.
---
The Riott Squad vs. Becky Lynch, Charlotte Flair & Ronda Rousey
If anyone betrays her teammate during this match, they will be removed from the WrestleMania main event.
A "Becky" chant picks up. Charlotte Flair starts against Ruby Riott. Flair takes her down by the hair and poses. Flair chops the chest before choking her on the ropes. Becky Lynch blind tags in and mocks Flair's strut. Lynch dares Flair to hit her, but Flair declines. Lynch kicks Riott, but Riott soon takes her down with a shoulder block. Lynch bends out of a pin and dropkicks her out of the ring. The Riott Squad regroups at ringside.
We come back from the break to see Sarah Logan applying a chin lock to Lynch. Lynch fights up, but Logan sends her to the corner. Lynch comes off the second rope with a diving clothesline before dropkicking her off the apron. Riott quickly tags in, but Lynch hits an enzuigiri. Logan tags back in and knees Lynch in the face. Lynch then applies an inverted cloverleaf. Liv Morgan tags in, but Lynch clotheslines her down before hitting Logan with a Bexploder. Lynch then hits a Bexploder on Morgan for a two count. Flair tags in, but Rousey tags herself in immediately after. Rousey and Flair go face-to-face. Morgan tries to roll her up, but Rousey immediately gets out and taps her out with an arm bar.
Winners by Submission: Becky Lynch, Charlotte Flair, and Ronda Rousey
Rousey immediately attacks Flair at the sound of the bell. Lynch gets involved, but Rousey takes her down. Security runs down, and Michael Cole says, "Security runs down to separate these three men… er these three women!" Rousey and Lynch fight out of security, so police officers run down. Rousey then charges through and attacks Lynch again. The police power Rousey to the corner and handcuff her. One officer has her hand on her handgun holster. Lynch attacks Rousey, so she's arrested by the police as well. Flair just watches from ringside. Flair attacks Rousey while she's being walked up the ramp, so the police handcuff her. Flair big boots Lynch before she's also put in handcuffs. Rousey continues to fight the police, but eventually all three women are marched to the back.
We go backstage to see the police still struggling to keep these women in line. Rousey and Lynch wind up in the same car, so they start kicking at each other, blowing out one of the windows. The cops remove Lynch from the car, and Flair greets her with some kicks. Rousey somehow gets in the driver's seat of a cop car and crashes it into another cop car. Rousey is put in the backseat and sticks her head through the broken window, so Flair knees her in the face. The cars then quickly drive off.
---
Bobby Roode & Chad Gable vs. Heavy Machinery
Otis quickly takes Gable down before tagging Tucker in. They hit a double splash to Gable's head. Tucker nearly kills Gable with a slam onto his head. Gable looks like he's shaken up. Roode tags in and clotheslines Tucker for a two count.
Lacey Evans' music hits, and she struts out to the stage and poses a bit before going to the back. Tucker elbows Roode and avoids a splash. Otis tags in and shoulder blocks Roode before knocking Gable off the apron. Otis sends Roode into the ropes, but he lowers his head and eats a kick. Otis powers Roode to the corner and avalanches him. Otis gets pumped up and does the Caterpillar elbow drop, but Gable breaks it up. Gable then takes Tucker over the top rope. Roode boots Otis, and Gable tags in. Otis gets out of a double-team and catches Gable. Heavy Machinery hits the Compactor for the win.
Winners by Pinfall: Heavy Machinery
---
Braun Strowman vs. Two local wrestlers
Strowman viciously attacks both men and says they are Colin Jost and Michael Che. Strowman knocks them out of the ring and bulldozes them with a pair of running shoulder blocks on the floor. Strowman repeats this and puts them in the ring. Strowman viciously avalanches them in the corner and powerslams them both. Strowman then lifts them both onto his shoulder and hits a double powerslam for the win!
Winner by Pinfall: Braun Strowman
---
In-Ring: Bobby Lashley, Lio Rush, Finn Balor
Bobby Lashley is in the ring with Charly Caruso. She asks Lashley if he has any cause for concern. Lio Rush asks if she's serious. Last week was a fluke. Finn Balor didn't pin Lashley last week. This Sunday, Lashley won't have to deal with dead weight Jinder Mahal. Their only concern at WrestleMania is where the after party is. It sure as hell won't be in DC. She asks about The Demon showing up. Lashley says he's not afraid of an Irish fairy tale. Finn Balor is The Demon, and The Demon is Finn Balor. He whoops Balor every time.
Finn Balor appears on the titantron. Balor says Lashley should be concerned. He's always been a guy with demons. At WrestleMania, his demons will be Lashley's nightmare. Smoke fills the screen and The Demon appears.
---
Rey Mysterio vs. Baron Corbin
Baron Corbin tries to corner Mysterio, but he fights out and dropkicks him in the knee. Corbin pushes him into the ropes, but he lowers his head and eats a kick. Mysterio slides out of the ring and plays a little cat and mouse with Corbin. Mysterio then knocks him off the apron as he tries to get back in the ring. Corbin eventually gets in and goes for a powerbomb, but Mysterio sends him over the top rope with a hurricanrana. Mysterio sets up for a dive, but Corbin forearms him.
We come back from the break to see Corbin send Mysterio into the barricade. Corbin gets him in the ring and puts him in the corner. Corbin puts him on the top rope and rips at the mask. Mysterio flips through a back suplex, but he appears to twist his knee. Corbin concentrates on the knee. Mysterio gets out of the ring and limps around. Corbin follows him outside and sends him into the barricade. Corbin taunts the crowd and puts him back in the ring. The referee is checking on Mysterio. The referee backs Corbin up, and Mysterio starts to fight back. Corbin quickly hits a flapjack and slides him out of the ring chest-first. Mysterio slowly gets to his feet, so Corbin gets out of the ring and clotheslines him down. Corbin looks for a count-out, but Mysterio gets to his feet. Corbin pulls him up by one arm, so Mysterio shoulders away at him. Corbin quickly sends him into the ring post.
Corbin gets him in the ring and nearly trips over Mysterio's foot. Corbin goes for a slam, but Mysterio counters into a sleeper hold. Corbin quickly whips him off and charges, but Mysterio sidesteps him. Mysterio hits a beautiful springboard hurricanrana before hitting a head-scissor tornado DDT for a near fall. Corbin quickly sends him to the apron, but Mysterio fights back and puts him in position. Mysterio hits the 619 and goes to the top rope. Corbin avoids a frog splash, and both men are down.
Corbin gets Mysterio to his feet and goes for a powerbomb, but Mysterio fights out. Corbin falls down, but he quickly comes back with the Deep Six for the win.
Winner by Pinfall: Baron Corbin
Baron Corbin goes up the ramp celebrating when Kurt Angle attacks him from behind. Angle grabs the leg and applies the Ankle Lock! Corbin taps off until the referees pull him off.
---
Replays are shown of Becky Lynch, Charlotte Flair, and Ronda Rousey being arrested. No matter what, they will main event WrestleMania in a Winner Take All match.
---
E-Mail – MikeyT817@gmail.com
Twitter – @MikeTedescoWV