April 29, 2019
Lexington, Kentucky
Commentary: Michael Cole, Corey Graves and Renee Young
Results by: Mike Tedesco of Wrestleview.com
---
Quick Match Results
Braun Strowman & Ricochet defeated Drew McIntyre & Baron Corbin via Shooting Star Press by Ricochet on Corbin
The Usos defeated Anderson & Gallows via top rope splash by Jimmy on Gallows
Bobby Lashley defeated The Miz via spear
The Viking Raiders defeated Lucha House Party via The Viking Experience on Kalisto
Naomi defeated Alexa Bliss via split-legged moonsault
Zack Ryder & Curt Hawkins defeated The Revival via backslide by Ryder on Wilder
Rey Mysterio defeated Samoa Joe via roll up
---
A Moment of Bliss: Alexa Bliss, Braun Strowman, Ricochet, Drew McIntyre, Baron Corbin
We go live into the arena to hear Alexa Bliss' music. She'll be kicking off the show with A Moment of Bliss. The Money in the Bank briefcases are hanging over the ring. Tonight we'll see a Universal Championship Contract Signing with Seth Rollins and AJ Styles.
Bliss welcomes us to a special edition of A Moment of Bliss. In less than three weeks, we'll have Money in the Bank. This event will have two Money in the Bank matches – one for the men and one for the women. There will be four people from RAW and four from Smackdown in the match. They will be competing for a contract where they can have a title opportunity for one year any time and any where.
The first competitor on the RAW side will be Braun Strowman. Strowman makes his entrance and gets in the ring. Bliss then announces Ricochet as the next competitor. Ricochet makes his entrance, and the crowd chants his name. The third RAW competitor in the Men's Money in the Bank Ladder Match is Drew McIntyre. McIntyre makes his entrance. Finally, the last competitor on the RAW side will be Baron Corbin. Bliss was initially reading off an index card of Corbin's accolades, but she stops. Corbin makes his entrance to loud boos.
Corbin says his list of accolades can be quite the mouthful, but he'll soon be adding in that he's a two-time Money in the Bank winner. Ricochet asks if he'll be a two-time loser. The last time Corbin tried to cash in the contract, he failed. Corbin makes fun of Ricochet's height. McIntyre says Ricochet has a point. After Corbin stole his opportunity last week, he blew it. Corbin says that AJ Styles had two hours to prepare while he only had an hour. McIntyre says he's tired of outside forces screwing up his Universal Championship opportunities. When he wins, the power will be in his hands. Ricochet says he's not here to talk. McIntyre tells him to shut up. Since Ricochet is the new guy, McIntyre will give him some advice. Ricochet can stick to his impressive high flying, but he should keep let the adults do the talking or he'll drop him where he stands. Corbin says while McIntyre does that, he's going to take the briefcase. Corbin and McIntyre stare at each other.
Strowman tells them all to shut up. None of them have what it takes to stop him from winning and becoming Mr. Monster in the Bank. Strowman proposes they have a match. McIntyre and Corbin versus him and Ricochet. Corbin and McIntyre will get these hands right now.
---
Braun Strowman & Ricochet vs. Drew McIntyre & Baron Corbin
Corbin knocks Strowman into Ricochet and punches away at him. Strowman soon shoves him over the top rope. Corbin quickly gets in the ring, but Strowman grabs him. Corbin fights out, but Strowman clotheslines him over the top rope. Ricochet tags in, kicks Corbin from the apron, and hits him with a moonsault off the second turnbuckle. Ricochet gets him in the ring and hits a springboard clothesline. The crowd chants Ricochet's name. Drew McIntyre tags in, and they lock up. McIntyre throws him to the corner, but Ricochet gets out and punches him. Ricochet hits the ropes, but McIntyre catches him and goes for a suplex. Ricochet gets out and hits the ropes, but McIntyre viciously chops him down. Ricochet quickly punches at him, but McIntyre just as quickly back elbows him down. Corbin tags in and chokes him on the ropes. Corbin knees away at him before applying a chin lock. Corbin cinches it in, and we see Ricochet is bleeding from the mouth. Ricochet fights up and punches him. Corbin sends him to the ropes, but Ricochet flips over him before hitting a head-scissor takeover. Ricochet kips up and dropkicks him down. Ricochet knocks McIntyre off the apron. Ricochet goes for a springboard maneuver on Corbin, but Corbin uppercuts him out of mid-air.
We come back from the break to see Corbin standing over Ricochet. Corbin elbows him in the chest a few moments. During the commercial break, McIntyre hit Ricochet with a massive back body drop. Corbin stomps Ricochet before taunting Strowman. Corbin sends Ricochet to the corner, but he runs into a boot. Ricochet goes for a dropkick, but McIntyre sidesteps it before throwing him out of the ring. McIntyre goes for a sneak attack, but Strowman comes to Ricochet to cut him off. Corbin tries to attack Strowman from behind, but it doesn't hurt him. Strowman chases Corbin around the ring until McIntyre wipes him out with a Claymore Kick. Corbin gets Ricochet in the ring and picks up a two count.
Corbin punches away at Ricochet in the corner before bouncing him off the top turnbuckle. McIntyre tags in and chops Ricochet down for a two count. McIntyre applies a modified arm bar and digs his forearm into Ricochet's face. Ricochet fights up, but McIntyre takes him down with a tilt-a-whirl backbreaker for a two count. Corbin tags in and mocks Ricochet. Corbin puts him in the corner, and Ricochet catches him with an enzuigiri. Ricochet then hits a rolling dropkick.
Strowman and McIntyre are tagged in. Strowman hits two running shoulder blocks before avalanching him in the corner. Strowman clubs him in the chest to take him down before trying another avalanche, but he hits the ring post shoulder-first when McIntyre moves. Ricochet quickly tags in, and he attacks McIntyre. McIntyre then hits him with a Glasgow Kiss. Corbin blind tags in on McIntyre and goes for Ricochet, but Ricochet gets away and tags in Strowman. McIntyre attacks Corbin from behind. Strowman tags Ricochet in before hitting Corbin with a Running Powerslam. Ricochet follows up with a shooting star press for the win.
Winners by Pinfall: Braun Strowman and Ricochet
---
The Usos vs. Anderson & Gallows
The Usos come down to the ring jumping around and singing their own theme song over the vocal track… The Usos will face Anderson and Gallows, who have been moved to RAW following the Superstar Shake-up. This was another unannounced move.
Jey Uso starts against Karl Anderson. They lock up, and Jey takes him down. Jimmy tags in and takes out Anderson. Anderson fights back and tags in Luke Gallows. Gallows punches Jimmy down, but Jimmy comes back with an uppercut. Gallows quickly pushes him away, but Jimmy avoids a big boot. Jimmy pulls the top rope down to get Gallows out of the ring. Jimmy teases a plancha, but Gallows punches him. Gallows then throws him throat first into the middle ropes. Gallows repeats the move, and Jimmy grabs at his throat. Gallows then takes him down with a big boot for a near fall. Gallows then knocks Jimmy out of the ring. Gallows goes outside and sends him into the barricade.
We come back from the break to see Jimmy fighting up from a chin lock, but Gallows takes him down. Anderson tags in, and he hits Jimmy with a high knee for a two count. Anderson then applies a chin lock. Jimmy hits a jawbreaker, but Anderson quickly comes back with a back elbow for a two count. Gallows tags in, and they hit a back suplex/neckbreaker combo for a two count. Gallows rips at the face, but Jimmy comes back with an enzuigiri.
Jey and Anderson tag in. Jey hits a pair of clotheslines before kicking Anderson and giving him an uppercut. Jey catches him with a Samoan Drop before hitting a running hip attack in the corner for a near fall. Jey goes for an avalanche, but Anderson moves. Anderson hits a spinebuster for a near fall. Gallows tags in, and they go for Magic Killer. Jimmy runs in and hits a superkick on Anderson. Jey then superkicks Gallows. Jimmy tags in, and they hit Gallows with stereo superkick. Jey then hits Anderson with a plancha. Jimmy follows up with a top rope splash on Gallows for the win.
Winners by Pinfall: The Usos
Segment: The Usos, The Revival
Jey Uso says there is one tag team calling themselves The Top Guys… but they're not. Jey tells them to make sure their kids are sleeping, grandma has her eyes closed, and your throw up in your mouth. They then show footage of themselves backstage earlier today spying on The Revival in the shower. Dash Wilder was shaving Scott Dawson's back. No one in the arena is laughing.
The Revival comes out to the stage. Scott Dawson says they are men and have body hair. Considering the size of his arms and girth of his lats, it's not easy to reach his back. Therefore, he asked his best friend to give him some help. Dash Wilder says he was there for his best friend. They have each other's back. Jimmy Uso tries to clarify who shaves the back. The Revival says they have a match later tonight, but they'll be coming for them after. The Usos welcome them to The Uso Penitentiary.
---
Miz TV With Bobby Lashley
The Miz is in the ring, and he tries to wake up the dead Lexington crowd. The Miz says it's good to have Miz TV back on Monday Night RAW. Miz then introduces Bobby Lashley to the ring.
Lashley makes his way to the ring without Lio Rush. Lashley says he'll only answer questions he feels like answering. Lashley is speaking in the third person. Miz says Lashley is one of the most athletically gifted superstars to ever enter a WWE ring. Some people think Lashley has yet to put it all together. Lashley says he's been back in WWE for a year and is already a two-time Intercontinental Champion. What has Miz done. Miz removes his sunglasses and starts listing off his accomplishments. If you read off his list of accolades, we'd be here for a long time. Nobody is questioning Miz' potential. He's an overachiever. Have you seen his wife? Miz did all that without a shred of Lashley's athletic ability.
Lashley says he'd like to talk about what he didn't do at WrestleMania. Shane McMahon put a whooping on Miz and his father. Miz had an opportunity at payback and screwed it up. No wonder Miz' father thinks he's worthless. Miz attacks Lashley and punches him to the corner. Lashley quickly powers him to the corner and shoulders him. Miz fights out and knocks him out of the ring. Miz throws some chairs at Lashley, one of them hitting him in the leg.
The Miz vs. Bobby Lashley
We join this match in progress. Lashley hits Miz with a delayed vertical suplex. Miz quickly boots Lashley back and kicks away at him in the corner. Miz hits a running double knee in the corner twice…
…before Shane McMahon's music hits. McMahon dances around the stage. Miz quickly knocks Lashley out of the ring and catches him with a baseball slide. Miz stares at McMahon before getting Lashley in the ring. McMahon tries to distract him, but Miz cuts off Lashley. Miz DDTs Lashley for a near fall. Miz stares at McMahon before hitting his IT Kicks. McMahon gets on the apron and has a picture of Miz' father shown on the titantron. Miz goes after McMahon, but he gets away. Lashley then spears Miz for the win.
Winner by Pinfall: Bobby Lashley
McMahon waits for Miz to get up before kicking him in the ribs. McMahon punches him, and Miz takes him down. Lashley gets in the ring and pulls Miz off. Lashley then hits a big spinebuster on Miz. McMahon punches and kicks away at Miz and talks some trash. McMahon makes Miz look at a picture of his father before taking him out with a triangle choke. McMahon then releases the hold. McMahon says it's too bad that Miz is unconscious, but he has to remember that McMahon is the best in the world. McMahon then walks off.
---
The Viking Raiders vs. Lucha House Party
The Viking Raiders make their entrance. The Lucha House Party attacks them from behind during the entrance. Gran Metalik and Lince Dorado hit stereo suicide dives.
Kalisto starts against Ivar and takes him down. Gran Metalik tags in, and Ivar takes him out with a cartwheel clothesline. Erik tags in, and he applies a rest hold. Ivar tags in, and they go for a double-team suplex, but Metalik gets out. Kalisto tags in, but Erik slams him down. They then sandwich Metalik in the corner. They follow up with The Viking Experience on Kalisto for the win.
Winners by Pinfall: The Viking Raiders
Lince Dorado is pulled into the ring, and The Viking Raiders hit a springboard clothesline/German suplex combo to take him out.
---
A Moment of Bliss: Alexa Bliss, Natalya, Dana Brooke, Naomi
Alexa Bliss is back for another edition of A Moment of Bliss. The first RAW woman superstar in the Money in the Bank Ladder Match is Natalya. Natalya says she's going to win, but Bliss tells her to stop. The next competitor is Dana Brooke. Brooke says she's tired of being held down. Natalya asks if Brooke thinks she's been holding her down, and they get into an unconvincing argument. Naomi is announced as the next competitor. Naomi says she's focused on winning. They all get into another bad argument. Bliss says they're taking away from the fourth woman's announcement. The last competitor is… Alexa Bliss.
Bliss tries to send them away, but Naomi suggests they give the WWE Universe a preview of Money in the Bank. Naomi challenges Bliss to a match. Bliss says she would, but she doesn't want to. These aren't even her shoes. Naomi says she can beat her with shoes on or off. Naomi goads her into accepting the match.
---
Firefly Fun House With Bray Wyatt
It's time for another edition of Firefly Fun House. Bray Wyatt is shown painting on a canvas. Wyatt says, "Bonjour!" Wyatt says he loves to paint as a way to express your repressed feelings. When you express yourself, no one can hurt you. A rabbit puppet pops up and asks what he's painting. Wyatt shows him, and it's a picture of Wyatt's house burning with Sister Abigail inside.
Abby The Witch pops up and says this is no time for painting. Abby says Wyatt didn't learn his lesson from last time. Wyatt tells her to take it easy. That's all in the past. Wyatt says he's sorry for what he did. The audience of children says they forgave him. Wyatt says Abby is a sociopath, which is the word of the day. Wyatt says he'll light the way if you let him in.
---
Alexa Bliss vs. Naomi
We join this match in progress. Naomi is taking it to Bliss, who is fighting with untied shoes. Bliss quickly hits a flapjack and ties her shoes. Bliss then hits a snapmare and applies a chin lock. Naomi fights out and kicks away at her, but Bliss pushes her down for a one count. Bliss ties her shoes again. Bliss chokes her on the ropes, but Naomi comes back with an inside cradle for a two count. Bliss kicks her and reapplies a chin lock. Naomi fights out, but Bliss sends her into the corner before slamming her down. Bliss kicks her in the ribs before shoving her down. Naomi soon takes her down with a jawbreaker and tries to reposition her, but Bliss' shoes come off. Bliss quickly takes Naomi down and argues with the referee about her shoes. Bliss turns into the Rear View from Naomi. Naomi follows up with a split-legged moonsault for the win.
Winner by Pinfall: Naomi
---
Backstage: Rey Mysterio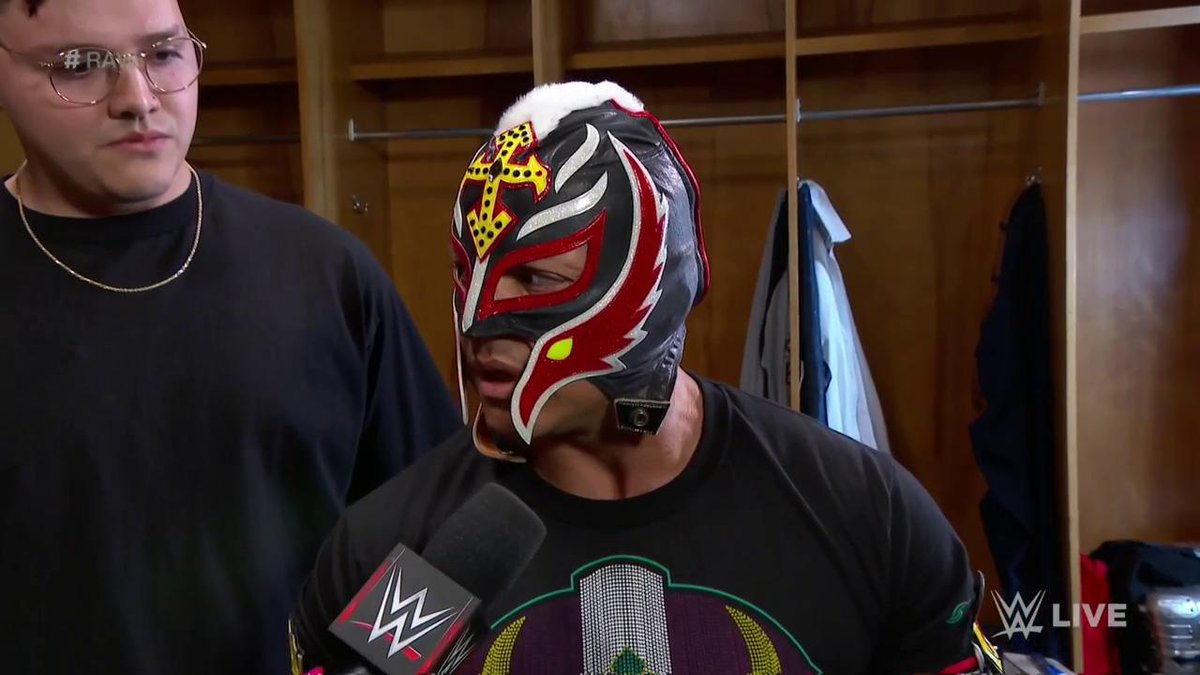 Rey Mysterio is backstage with his son, Dominic. Mysterio says it's tough living in a land of giants, but you keep getting up.
---
In-Ring: Becky Lynch, Lacey Evans
RAW and Smackdown Women's Champion Becky Lynch is in the ring. At Money in the Bank, she'll defend the RAW Women's Championship against Lacey Evans. Then that same night, she'll defend the Smackdown Women's Championship against Charlotte Flair. Charly Caruso is in the ring. A "Becky" chant picks up. Charly says she made an impulsive decision and asks why. A "Becky Two Belts" chant picks up. Lynch says she didn't do anything impulsive. All she knows how to do is fight, so that's what she's doing. Charly mentions that the odds of defending both belts in the same night is low. Lynch says she doesn't care about odds. A year ago, no one thought she'd main event WrestleMania, but she did. Another "Becky" chant picks up. A month ago, Ronda Rousey was unbeaten. Many thought Rousey was unbeatable… until she beat her to become Becky Two Belts. Another "Becky Two Belts" chant picks up. Her whole career has been a long shot, but nothing she's done has been an accident. She will not do what Charlotte Flair did and hold the division and titles hostage. She'll defend these titles. Lynch didn't make history by dodging anybody. She made it by beating everybody. Charlotte Flair may have the pedigree, but The Man still has her number. As for Lacey Evans, she made a mistake by punching someone that likes it.
A replay is shown of Lacey Evans attacking Becky Lynch last week on RAW. Lynch takes the microphone and calls out Lacey Evans.
Lacey Evans' music hits, and she comes out to the stage. Lynch removes her jacket and prepares to fight. Evans says it's just like a man to want what he wants when he wants it. Evans says she's trying her best not to lose her manners, but she warned Lynch to not let her emotions get the better of her. Lynch didn't listen, so she's done talking.
Evans charges Lynch at ringside, and they get into a big brawl. Referees run down to break it up. Lynch breaks free and goes after Evans. Producers run down to help, and they finally separate them. They once again break free and brawl before being broken up for the last time. The crowd chants, "Let them fight!"
---
Zack Ryder & Curt Hawkins vs. The Revival
This is a non-title match. Curt Hawkins starts against Dash Wilder. Wilder takes him down, but Hawkins kips up before hitting a dropkick for a one count. Zack Ryder tags in and hits Wilder with a baseball slide. The Revival soon gains an advantage on Ryder. Dawson tags in and attacks Ryder before hitting a back suplex. A "Shave your back" chant picks up. Dawson drops a knee for a two count. Wilder tags in and chops Ryder. Dawson tags in and drops an elbow on Ryder. Dawson applies a chin lock before kicking away at Ryder. Wilder attacks Ryder while the referee was distracted. Wilder tags in and drops a leg for a two count. Wilder applies an overhead wristlock, but Ryder gets out with a neckbreaker. Ryder soon counters a roll-up into a backslide for the upset victory.
Winners by Pinfall: Zack Ryder and Curt Hawkins
---
Backstage: The Miz
The Miz is backstage when one of the backstage interviewers walks up. She asks for a response to Shane McMahon's attack. Miz says Shane McMahon made this personal by bringing his father into this. That's why they fought all over MetLife Stadium. Miz suggests they keep it in the ring and challenges McMahon to a Steel Cage Match at Money in the Bank.
Later, it's announced that Shane McMahon has accepted The Miz's challenge.
---
In-Ring: Sami Zayn
Sami Zayn says he showed some pictures last week of how beautiful his life is without the toxic walls of WWE around him. Zayn's life isn't just great because he went on vacation. Zayn studied a great many subjects while he was off, including psychology. Zayn shows the definition of "Psychological Entitlement," a belief that one deserves more or is entitled to more than others. It's almost not their faults, but it is. For years, the crowd has been fed the lie that the customer is always right. There's a number of reasons why they believe this. The crowd thinks that whatever they want should be given to them. If the crowd doesn't get exactly what they want when they want it, they throw tantrums. Last week when he was flying home at 4 in the morning, a soulless father told his 5 year old to go up to Zayn for an autograph. Zayn declined, and the child cried. Did that make him feel good? It didn't. It made him sick. This kid already at age 5 has been taught that he is owed something. At age 5, the kid thinks Zayn owes him something. Zayn says he doesn't owe anyone a damn thing. Zayn has been more than generous. Three shoulder surgeries and 17 years of 5 star matches is pretty good. From here on out, they'll get whatever Zayn gives them. That is the new dynamic of this relationship.
People have been telling him to quit WWE if he doesn't like it. Zayn says quitting WWE would be amazing. It would be amazing, but what would be even more amazing is coming out here week after week and holding the crowd accountable for their actions. Zayn wants to be the critic of the critics. They've been drunk with power. It's high time that Sami Zayn takes the power back. Zayn's music plays, and he taunts the crowd.
---
Samoa Joe vs. Rey Mysterio
Samoa Joe says he watched the segment with Rey Mysterio and his son, Dominic. Joe says Mysterio's son's body language shows that he is ashamed of his father. Mysterio should have bought his son a mask to hide his shame. Joe is furious that Mysterio prevented him from winning the match last week. Joe should be signing the contract later tonight. Mysterio is going to get a beating worse than WrestleMania tonight.
This is a non-title match. Joe quickly boots Mysterio down and punches away at him. Mysterio punches back, but Joe knees him before throwing him out of the ring. Joe teases a suicide dive, but Mysterio avoids it. Mysterio then hits a seated senton off the apron. Mysterio goes for a splash on the floor, but Joe gets the knees up.
We come back from the break to see Joe hit a scoop powerslam on Mysterio for a two count. Joe applies a neck vice, but Mysterio fights out. Joe goes for a senton splash, but Mysterio rolls out of the way. Mysterio hits a seated senton and dropkicks the knee. Joe soon catches him, but Mysterio counters into a DDT for a near fall. Mysterio hits a head-scissor into the top turnbuckle before hitting a 619 to the ribs. Mysterio hits a flying hurricanrana to put Joe into position. Mysterio goes for a 619, but Joe counters into a Coquina Clutch attempt. Mysterio drops down and kicks him in the face. Mysterio charges, but Joe hits a uranage. Joe goes for another uranage, but Mysterio counters into a roll-up right next to the ropes for the win.
Winner by Pinfall: Rey Mysterio
Mysterio's son Dominic joins him on stage and lifts his dad up in victory.
---
Contract Signing: Seth Rollins, AJ Styles
Michael Cole is in the ring, and he introduces the two competitors in the WWE Universal Championship match at Money in the Bank: AJ Styles and Universal Champion Seth Rollins.
Cole asks Styles what winning the Universal Championship would mean to him as he continues to build his legacy in WWE. Styles says that's the whole reason he came to RAW. Smackdown Live was good to him for two years. RAW is where it's at. The craziest fans are on RAW. As for Rollins, Styles has always liked him. Rollins is a good guy, but he's got something he wants. Styles wants the Universal Championship. They both know when you want something bad enough, you'll do some unexpected things to get it. Styles says winners find a way, and Rollins is a winner. Rollins is the Universal Champion. How many times has it been said that Rollins could be the next AJ Styles? Styles says the hard truth is Rollins will never be "The Phenomenal" AJ Styles.
Rollins says Styles is correct. There is only one AJ Styles. Rollins says he never wanted to be the next AJ Styles. Rollins always wanted to be the first Seth Rollins. Things are different here. This is not the house that AJ Styles built. This is Monday Night Rollins. What Styles did on Smackdown was phenomenal, but he'll have to be better than phenomenal to take the title from him at Money in the Bank.
Styles knows what Rollins did to get the title. At what cost was that to Rollins? Styles asks Rollins how he's holding up. A light "Burn it down" chant picks up. Styles says they'll burn it down, but he'll build it back up. Styles asks Rollins how he's doing since his brotherhood isn't here to keep him going. Rollins went through hell at WrestleMania, but Styles doesn't think he has much left. As for him, Styles says he's ready to go. Styles will be the bulldog nipping at Rollins' heels. At Money in the Bank, he'll sink his teeth in and not let go until he's standing over him as the new Universal Champion. Styles then signs the contract.
Rollins says they have a lot of things in common, but there's a lot of differences. Styles likes to build things up while he likes to burn it down. Their stories may be similar, but one thing separates them. Rollins says he beat Brock Lesnar, which is why he's holding the title and Styles is trying to take it from him. Rollins beat Lesnar at his best at WrestleMania, and he'll be at his best at Money in the Bank when he beats Styles.
Rollins then signs the contract and goes face to face with Styles. Styles hands Rollins the Universal Championship and smirks. Rollins holds the title up. A "Shave his back" chant picks up. Styles then attacks Rollins and punches him down. Rollins fights back and knocks Styles out of the ring. Rollins connects with a suicide dive and gets in the ring talking trash. Styles gets on the apron, knocks him back, and hits a Phenomenal Forearm through the table!
---
E-Mail – Mike@wrestleview.com
Twitter – @MikeTedescoWV