May 21, 2019
Providence, Rhode Island
Commentary: Tom Phillips, Byron Saxton and Corey Graves
Results by: Roy Nemer of Wrestleview.com
---
Quick Match Results
Ali defeated Andrade via rollup
Mandy Rose vs. Carmella was no contest when wrestlers ran out for R-Truth's 24/7 title
Kofi Kingston defeated Sami Zayn via Trouble in Paradise
Becky Lynch & Bayley defeated Charlotte Flair & Lacey Evans via rollup by Bayley on Charlotte
Roman Reigns defeated Elias via spear
---
Backstage: Shane McMahon, Elias
WWE Smackdown Live kicks off with Elias and Shane McMahon backstage. Elias says he got too invested in his concert at Money in the Bank that he wasted all his energy in it and lost focus. And he feels like he let Shane down and Shane deserves better.
Elias tells Shane he will be in his corner at Super Show-Down. Shane says he doesn't need him in his corner against Elias but that Shane will be in Elias' corner later tonight during his match against Roman Reigns.
---
In-Ring: The New Day, Kevin Owens, Sami Zayn
We cut to the ring where The New Day's song hits and WWE champion Kofi Kingston comes down to the ring with Xavier Woods. Kofi gets on the mic and says that tonight is a very special night. Xavier says "Ladies and gentlemen, after 6 long, hard, cold weeks, tonight, marks the return of Big E!"
Xavier Woods walks to the stage with someone dressed in a black curtain. They take off the black curtain and the person is not Big E. Kofi asks who he is. Xavier says he's not E. They kick him out and apologize to the fans. Kofi says "The real Big E" and out comes Big E to with Kofi and Xavier to the ring.
In the ring, there's a big "Welcome Back, Big E" banner with gifts wrapped in two corners of the ring. Big E asks to sell Kofi and Xavier Woods. Kofi looks a little surprised as Big E says how he has missed them. And how he has missed the WWE Universe. Woods tells Big E that he has been crushing it on Twitter and that Becky Lynch's mother is taken. Big E says "But she's so fine".
Kofi Kingston interrupts them and says he has to be serious as he is champion. He says that at Money in the Bank, Brock Lesnar became Money in the Bank. Woods says that also at Money in the Bank, Kofi Kingston defeated Kevin Owens. Kingston says but tonight is about Big E.
Kevin Owens' music hits and he walks down the ramp. Sami Zayn's music hits and he follows him in coming out. Sami asks Kevin if he can believe the nonsense. Big E gets a return? How long was he out, 6 weeks? He was gone for over 9 months and got nothing when he came back. Big E says he made a good point and they should get him something. Big E tells Zayn they will get him the same thing his friend Kevin Owens got at Money in the Bank. And that is nothing.
Owens hands his microphone over to Sami and walks to the back. Sami says the only reason Kevin didn't beat Kofi in 5 minutes is because he was distracted after seeing his friend beat down and missed his chance at being Money in the Bank. Sami says this whole celebration is disgusting. It's disgusting how they can continue to talk about pancakes when they should look in the mirror and take accountability in what a toxic culture they've created. After every word Sami says, Woods plays the trumpet. Sami says their night is not going to end in fun because he will beat Kofi and when he is done, he will be lucky to just be walking out at all.
Kingston tells Sami not to let the smile fool him. When it's time to throw down, they throw down. And not only will he walk out on his own two feet but he will walk through him. Big E adds "Because" as the fans chant "New Day Rocks".
---
Backstage: R-Truth, Carmella
Backstage, Carmella is looking for R-Truth as she runs into him wearing a blonde wig. He's holding the 24/7 title. Carmella tells him everyone is looking for him. Truth says he has people looking for him 24/7 since he won. Carmella says a blonde wig won't help him and asks him why he came to Smackdown. R-Truth tells her he can't do this without her and asks for her help. There are wanted posters plastered all over the walls with R-Truth's faces on them.
---
Ali vs. Andrade
The bell rings and we are under way. An armbar by Ali as he sends Andrade to the ropes. Andrade hangs onto the middle of the rope and poses with Zelina. An arm bar take down by Ali. He runs to the ropes but a big clothesline by Andrade. He goes for the cover but Ali kicks out. A chop to the chest by Andrade. He lifts Ali up but Ali drops to his feet. A reverse hurricanrana by Ali. He goes for the cover but Andrade kicks out. Ali onto the second rope, Vega distracts him buying Andrade time. Ali jumps off but Andrade catches him with a drop kick.
Back from commercial break, Ali with a DDT and Andrade rolls to the outside of the ring. Ali with a suicide dive through the second rope. Ali gets back in the ring. He runs and jumps over the top rope landing onto Andrade. Both men are hurt on the outside of the ring. Ali throws Andrade back in the ring as he stays on the outside in pain. Ali gets on the ring apron but Andrade with a shoulder block as Ali falls onto the barricade. Andrade asks the referee to count Ali out.
The referee counts to 9 as Ali gets back in the ring. Andrade attacks Ali's injured back with stomps. He lands two suplex on Ali and throws him back first into the top turnbuckle. Ali falls to the outside of the ring. Andrade goes to the outside and throws Ali back first into the barricade. A chop to the chest by Andrade. Andrade lifts Ali and slams him back first into the ring post.
Andrade throws Ali over the barricade into the time keeper's area. Andrade gets back in the ring as the referee starts to count to ten. Ali gets back in the ring right as the referee is about to count him out. Andrade throws Ali face first in the corner. Andrade with the double knees to the back of Ali. He goes for the cover but Ali kicks out. Andrade goes to lift Ali but Ali with a quick roll-up on Andrade as the referee counts to three for the pin.
Winner: Ali
---
Backstage: R-Truth, Carmella
Carmella is backstage with R-Truth as she applies spray onto his wig and gives him glasses. R-Truth looks at himself in the mirror and he's wearing a crop top. He tells Carmella something is missing. Carmella hands him a bra as he looks at her and tells her he needs help getting one open.
---
Mandy Rose vs. Carmella
The bell rings and we are under way. Carmella jumps onto Mandy and right hands by Carmella. Sonya grabs Mandy and pulls her to the outside. Carmella goes to the outside and throws Mandy in. A kick to the face by Carmella. Sonya gets on the ring apron as Carmella throws her in the ring. Right hands by Carmella. Mandy with a roll-upo on Carmella but a two count only. A kick to the face by Carmella onto Mandy.
Several of the WWE Smackdown Live locker room rush to the ring as the referee calls for the bell. Carmella jumps onto R-Truth's back as R-Truth runs and the locker room chases him.
Winner: No contest
---
Backstage: Bayley
Kayla is backstage and she introduces the Smackdown women's champion, Bayley. She asks her about her Money in the Bank match and the cash in. Bayley says it was a brutal night but she would do it again in a heart beat. People still doubted her and that's why at Money in the Bank, she created her own opportunity and made sure no one can doubt her. Bayley says she moved passed the hugs and she wants everyone to bring their best.
---
Backstage: R-Truth, Carmella
Still backstage, R-Truth and Carmella are running as they enter the female locker room. They come back out and the locker room is still chasing them. Maverick is running holding the R-Truth wanted sign. Sami Zayn stands there looking at them running.
---
Backstage: The New Day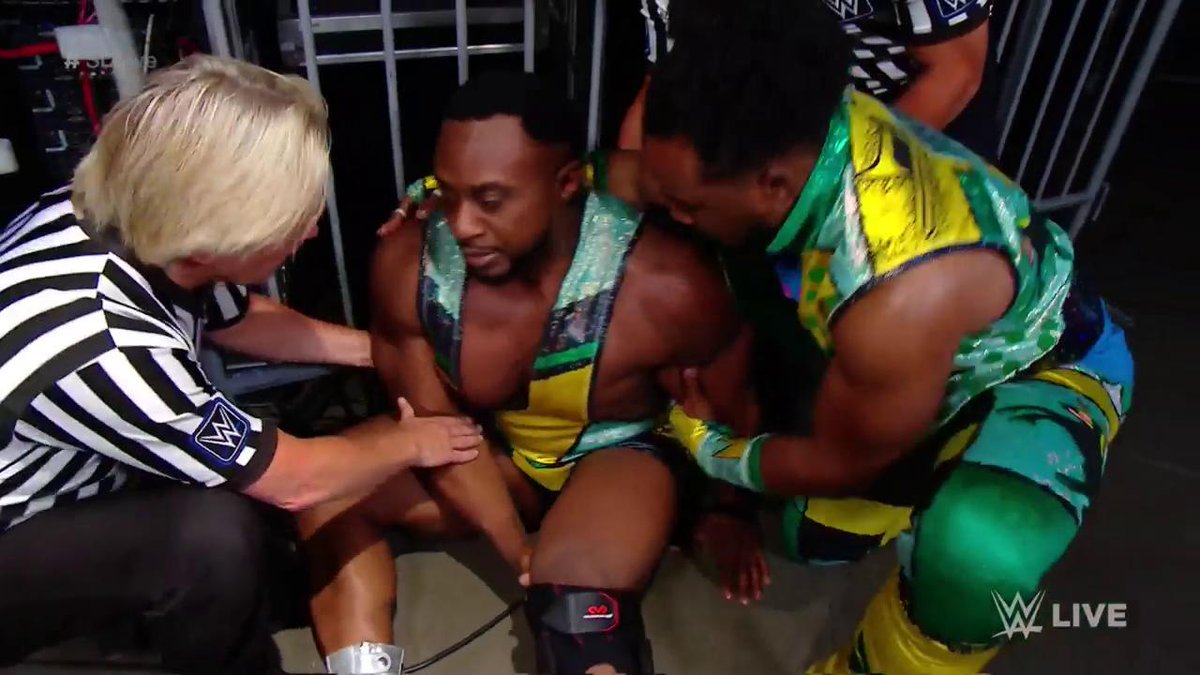 The camera cuts backstage where we see Big E down holding his knee with Kofi and Xavier Woods checking on him. Big E is heard saying Kevin Owens.
---
Kofi Kingston vs. Sami Zayn
Sami with a superplex off the top rope. He goes for the cover but Kofi kicks out. Both men are back up and Kofi with a right hand on Sami. He sends Sami to toe corner and a big boot by Sami. He runs towards Kofi but Kofi jumps up and knees first onto Sami.
Kofi goes for Trouble in Paradise, Sami ducks, reverses it and Kofi with Trouble in Paradise.
Winner: Kofi Kingston
Paul Heyman walks to the stage holding the Money in the Bank briefcase. He looks to the back and to the ring.
Dolph Ziggler attacks Kofi Kingston from behind. Ziggler wraps a chair around Kofi's head and slams him chair and head first into the side of the announce table. Medics and WWE officials come to the aid of Kofi Kingston. They get him a stretcher but Kofi refuses and walks off on his own.
---
Backstage: Roman Reigns, Elias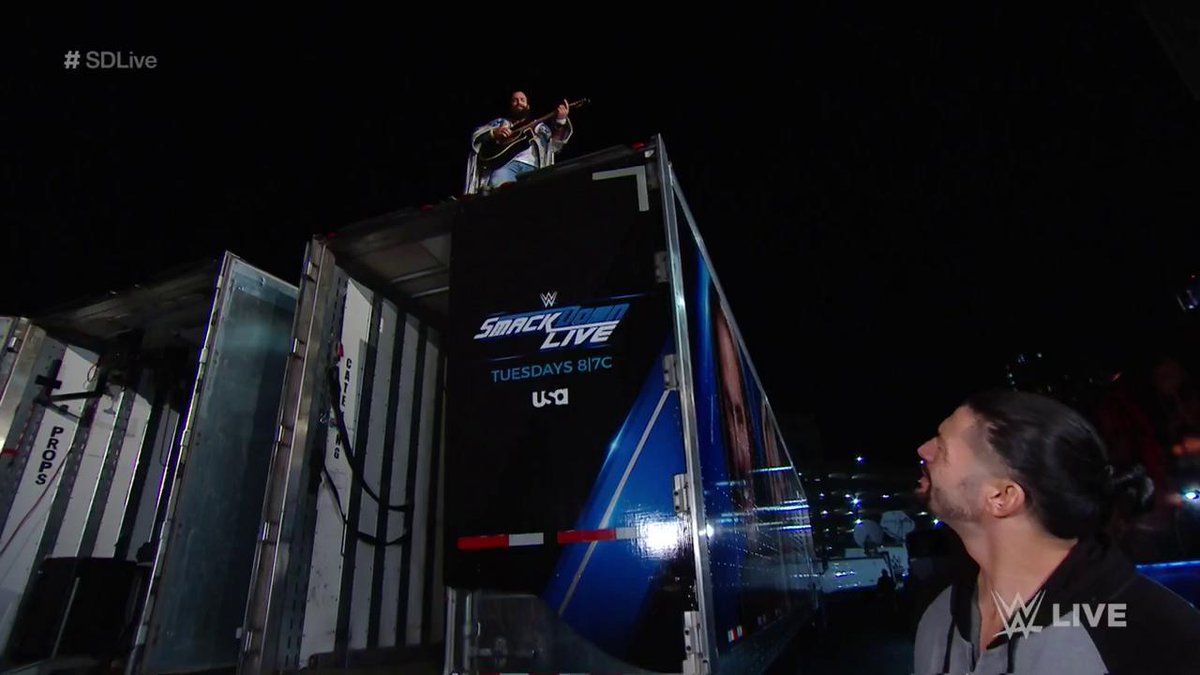 Roman Reigns arrives to the arena and we see Elias playing the guitar on top of one of the television production trucks. He sings a song insulting the city of Providence, calling Roman jealous. Roman walks away.
---
Becky Lynch & Bayley vs. Charlotte Flair & Lacey Evans
Kayla is backstage with Becky Lynch. She asks her about defending the two titles at Money in the Bank. Becky says she doesn't feel right without her blue belt but if someone has to walk around without beating her, she's glad it's Bayley. And into the picture comes Bayley who jokes she wouldn't mind Bayley two belts. Becky tells her when they are done with tonight, she is going after her. Bayley says she wouldn't have it any other way.
Bayley is in the ring with Charlotte Flair. A chop to the chest by Charlotte as Bayley pushes her away. A big boot to the back of the net by Charlotte. Lacey is tagged into the match. Lacey slams Bayley's head into the mat of the ring. A modified head lock by Lacey who throws Bayley into the turnbuckle. Charlotte is tagged back into the ring.
Charlotte stomps at Bayley in the corner. A knee to the face by Bayley. She goes to tag Becky but Charlotte pulls Becky off the ring apron. Charlotte spears Bayley into the corner. Lacey tags herself in. She beats on Bayley and Charlotte tags herself back in. They double team Bayley. A right hand by Charlotte who goes for a body slam but Bayley lands on her feet and a clothesline takes Charlotte down. Bayley tags Becky. Charlotte on the outside tried to trip Becky but it didn't work. A knee to the face by Becky. Charlotte back in the ring and a drop kick off the top rope by Becky. She attacks Lacey off the ring apron.
Becky on the ring apron climbs the second rope and a forearm. The Becksploder by Becky onto Flair. She runs towards Charlotte but Charlotte with an elbow. A kick to the face by Becky as she hits Lacey Avens as well. Becky turns around and a big boot by Charlotte who goes for the figure four but Becky kicks her away. Becky goes for the cover but Charlotte reverses it into a cover of her own. Becky with the Disarm her. In comes Lacey who hits Becky with the Woman's Right. Bayley is tagged in. Charlotte goes for the figure four on her but Bayley reverses it into the cover and gets the pin.
Winners: Becky Lynch and Bayley
---
Backstage: R-Truth, Jinder Mahal, The B-Team
R-Truth is backstage with Carmella. Jinder with a roll-up on R-Truth but he kicks out. Carmella grabs him as the two continue to run.
The B-Team attack R-Truth from behind. Bo goes for the cover but Axel pulls him off. The two argue as R-Truth and Carmella run away.
---
Segment: Dolph Ziggler
We see Dolph Ziggler walking backstage. He's asked about his return tonight. Ziggler says it deserves an honest answer. He grabs the microphone and walks to the ring.
Without any music, Dolph walks to the stage. He says this goes back to when Ali got hurt and Kofi got an opportunity and he stepped up and he knocked it out of the park and that should have been him. Ziggler says that Kofi jumped through hoop after hoop and he walked in and ran the gauntlet. And after 11 years, he earned everything and became an over night success and that should have been him.
Ziggler talks about how Kofi went into the Elimination Chamber and walked out a star. How he walked into Wrestlemania and left the WWE champion while he sat at home. And every day since, Kofi has outperformed every single critic. And they all respect and admire him but it should be him. And that's why he did what he did. He had to, he had no other choice. Ziggler says at Super Showdown, he will beat Kofi for the WWE title because he has to. And he will become WWE champion and everyone will admire him and respect him. And they will love him. The WWE champion should be him. Dolph drops the microphone and walks away.
---
Roman Reigns vs. Elias
Shane McMahon comes out as he introduces Elias. Out comes Elias who plays the guitar while he walks down to the ring with Shane.
The bell rings and we are under way. A right hand by Roman and another as Elias rolls to the outside. Roman follows him and another right fist by Roman. Elias tries to get in the ring but Roman with a drive by. Roman walks towards Shane McMahon outside of the ring and as he's getting in the ring, Elias kicks the middle rope which results in a low blow. He goes for the cover but Roman kicks out. Elias stomps on Roman and throws Roman shoulder first into the turnbuckle as Roman falls to the outside. Elias with a clothesline.
Back from commercial, Roman clobbers Elias in the corner. A big boot by Roman Reigns takes Elias out. Roman goes for the Superman Punch but Shane holds Roman's arm for a split second. Elias runs towards Roman from behind but a right hand by Roman. He picks Elias up and places him on the top rope. Roman lifts Elias up on his shoulders but Elias fights back. Elias lands on his feet and lifts Roman on his shoulder. He flips it around and a power bomb by Elias. He goes for the cover but Roman kicks out.
Elias goes for the Drift Away but Roman fights back. Both men exchange fists and a knee to the face by Elias but Roman with the Superman punch. He goes for the cover but Shane places the foot on the ropes. Shane is arguing with the referee and Roman with the drive by. Elias takes advantage and throws Roman into the barricades and finally into the steel steps. Elias climbs the top rope hits Roman with the elbow drop. He goes for the cover but Roman Reigns kicks out.
Fists by Elias and with the referee distracted, Elias removes the turnbuckle pad. The referee still distracted as Shane gives Elias the guitar. Elias goes to hit Roman with the guitar but Roman hits him with the spear. He goes for the cover and gets the pin.
Winner: Roman Reigns
Shane McMahon jumps into the ring after the match and attacks Roman Reigns. Shane grabs the guitar but Roman Reigns with the Superman punch onto Shane. Roman grabs the guitar but Drew McIntyre hits the Claymore kick onto Roman Reigns. Shane raises Drew's arm in the air as the two celebrate.