June 4, 2019
Laredo, Texas
Commentary: Tom Phillips, Byron Saxton and Corey Graves
Results by: Roy Nemer of Wrestleview.com
---
Quick Match Results
Kofi Kingston & Xavier Woods defeated Kevin Owens & Sami Zayn via Trouble in Paradise by Kofi on Zayn
24/7 Championship – Lumberjack Match: Elias defeated R-Truth (c) via knee to the face to win the title
24/7 Championship – R-Truth defeated Elias (c) while under the ring to win the title
#1 Contender Triple Threat Match: Alexa Bliss defeated Charlotte Flair and Carmella via DDT on Carmella
Andrade vs. Apollo Crews was no contest when Finn Balor interfered
---
In-Ring: Kofi Kingston, Dolph Ziggler
WWE Smackdown Live kicks off with the WWE champion Kofi Kingston coming out to the ring with Xavier Woods. A loud "Kofi" chant from the fans. Kofi says if there's one thing he has learned over the past three months is that life is crazy. Life is full of surprises. He thought over the past 11 years, he had seen it all and done it all. Championships, friendships. Another loud "Kofi" chant by those in attendance. Kofi says there's been lows too but he takes a lot of pride in fighting through those lows. And by doing that, he won the WWE title at WrestleMania. The fans chant "You deserve it" to Kofi Kingston as he thanks the crowd. And as amazing as it was winning the title, what is most important for him is to be bale to inspire people to do what they want to do and believe in themselves. Kofi points to the tron as we see a video of his trip Ghana.
The camera cuts back to a teary eyed Kofi. He says after 26 years, he was finally able to go back to his home country, where he was born. Kofi says it was an amazing feeling to go back home and see a young child and tell him that he can do what he did. As Kofi is talking, out comes Dolph Ziggler to interrupt.
Dolph Ziggler tells Kofi that he is an absolute inspiration. And if this were Friday at Super ShowDown, he would be in the ring beating him up but he respects him too much. His sacrifices and journey. But this isn't about Kofi, this is about why he is the way he is. Ziggler says it's about him. We see a video of Dolph's WWE career. Ziggler says he gave his soul to WWE. Ziggler goes on to call Kofi a hero but the story should have been him.
Kofi says there's one thing he seems to neglect as we cut to the giant screen. We go back to December 2017 where Ziggler forfeited his WWE United States championship. The fans chant "You walked out" to Dolph. Kofi tells him that he keeps saying it should have been him but if it should have been him, it would have been him. And it could have been him. But when things didn't go his way, he did what he always did. He quit, walked out. That's the difference between them. No matter how tough things were for Kofi, he never quit. Not on himself, his brothers or the WWE universe. The fans chant "Kofi" once again. He says he keeps saying it should have been him but at Super ShowDown, it won't be him. And as long as he is WWE champion, it will never be him.
Dolph points to the giant screen as we cut to two weeks ago on Smackdown Live where Dolph attacked Kofi. Dolph says on Friday, it will be him as he drops the microphone and leaves.
---
Kofi Kingston & Xavier Woods vs. Kevin Owens & Sami Zayn
The bell rings and we are under way. Sami Zayn attacks Xavier Woods and beings to stomp on him. A head lock by Sami as he runs to the ropes but a drop kick by Woods. He goes for the cover but Sami kicks out. An arm bar by Woods as Kofi is tagged in. Kofi with a double axe handle off the top rope followed by an arm bar but Sami escapes and tags Kevin Owens into the match. A take down by Kofi as Owens gets up and gets in the corner. Kofi with right hands but a kick to the face by Owens who starts beating up in Kofi Kingston.
Kevin backs off and a drop kick by Kofi. Sami is tagged in and a drop kick by Kofi onto Sami. Kofi begins to stomp on Zayn as Woods is tagged in. Xavier stomps on Sami and Kofi is tagged in. Kofi stomps on Sami and Woods is tagged in. A low drop kick by Woods as he goes for the cover but Sami kicks out. Sami is sent to the ropes but Sami rolls to the outside. Kofi jumps off the top rope and lands on Kevin Owens and Woods with a drop kick takes Sami Zayn out.
A chop to the chest by Woods onto Sami. Woods throws Sami into the ring but Kevin Owens holds Xavier's leg and Sami beats up on Woods. Owens is tagged in. He throws Woods into the barricade. Kevin Owens sends Woods into the ring and a senton by Owens. He goes for the cover but Xavier Woods kicks out. Woods starts fighting back but a clothesline by Owens. Another senton by Owens as he goes for the cover but once more Woods kicks out.
Back from commercial, Kevin Owen has Xavier Woods on the top rope. Woods punches Owens down and a drop kick by Xavier off the top rope. Sami Zayn is tagged in as is the WWE champion. Kofi takes out Sami with a number of combinations. Owens grabs Kofi's leg but Woods takes out Owens. Kofi hits the Trouble in Paradise on Sami. He goes for the cover and gets the pin.
Winners: Kofi Kingston and Xavier Woods
As Kofi Kingston is celebrating, in comes Dolph Ziggler who hits Kofi with a super kick. Xavier gets in the ring and Dolph hits him with the super kick as well.
---
Backstage: Shane McMahon
"Anything you can do, I can do better because I'm The #BestInTheWorld." – an ultra-confident @ShaneMcMahon to @WWERomanReigns #SDLive pic.twitter.com/U8fLwz4m5e

— WWE (@WWE) June 5, 2019
Shane McMahon is backstage. Shane says there's a lot of speculation that he brutalized Roman Reigns last night to soften him up for Super ShowDown. He asks to roll the footage as we see the clip from last night's Raw where Roman was assaulted. Shane says it all came about when Roman said he doesn't hold a chance in the ring with him. Shane says anything Roman can do, he can do better because he is the best in the world. Shane says he will go to the ring and call him out but which Roman will show up. The big dog or a little dog?
---
A Moment of Bliss: Bayley, Carmella, Charlotte Flair
Alexa Bliss welcomes everyone to a very special blue brand edition of A Moment of Bliss. She says it's honored to be one of tonight's wild cards. She welcomes the Smackdown Live women's champion Bayley to the stage. Bliss welcomes Bayley and has a sip of her coffee. Alexa jokes which blue brand incompetent made that coffee. A staff employee comes out and gives her another cup of coffee. Bliss tastes it and tells him to put it in her other mug.
Bayley says she's the champion and if she will be asked any questions. Bliss says she will, she will wait until she gets her coffee. Bayley calls Alexa rude and Alexa says it started at Money in the Bank. Bayley says it started earlier. Bliss says she won't argue but she won Money in the Bank, cashed it and won in one night. Bayley says it wasn't all in one night, she fought for it her entire career. Bliss says she knows because she won Money in the Bank too and she goes on to talk about her accomplishments. Bliss says it's almost as if when she was champion, the title meant something. Bliss asks Bayley if the title means something when it's around her waist. The champion says she is trying to bait her but a lot has changed. She is looking at the future of the division.
Bliss says not to cut her off but she thinks her coffee is coming and the worker comes out again and hands Alexa her mug. Bayley slaps the mug off of Alexa's hands. Alexa asks if that's the kind of champion she wants to be.
Out comes Carmella. She says if they want to talk about a former women's champion and miss Money in the Bank? You can't have that conversation without mentioning her name. Carmella says the person who will have a go at that title, is her.
Charlotte Flair's music hits and she joins the women on stage. Charlotte says she is sorry to interrupt but she talked to her good friend Shane McMahon and she was informed that there will be a match tonight to determine who Bayley will face at Stomping Grounds. And that match will be Carmella against Alexa Bliss against herself.
---
Backstage: R-Truth, Carmella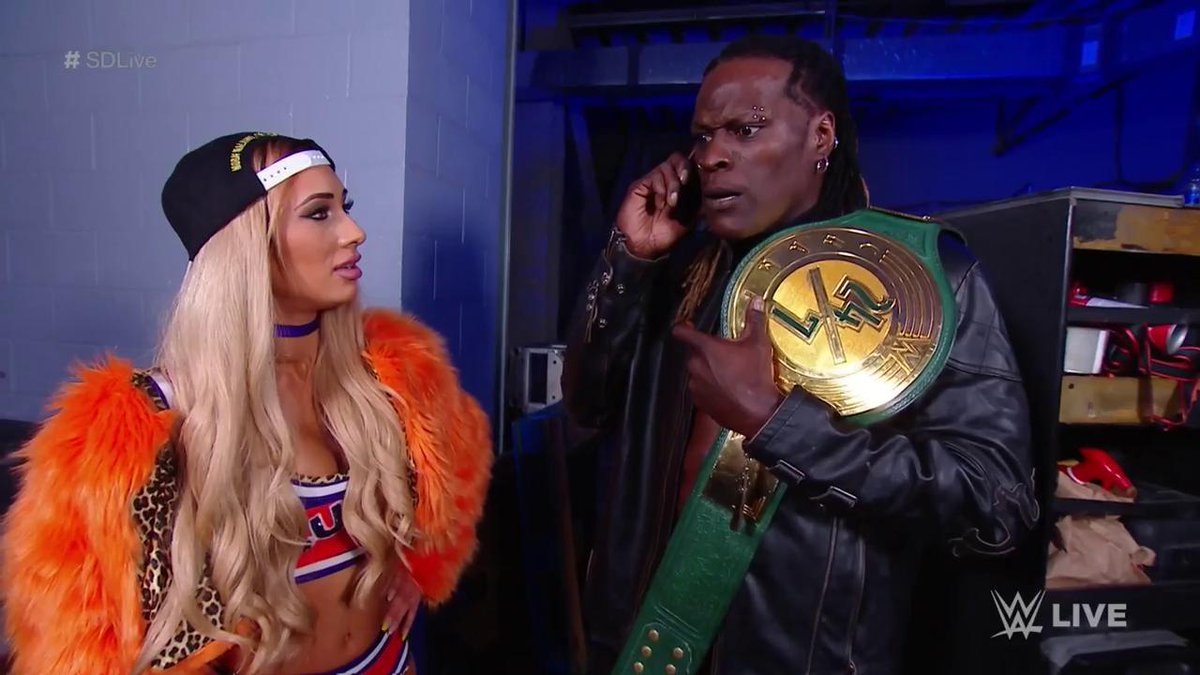 It cuts backstage and we see R-Truth with his 24/7 title talking to Carmella. He says she has a huge chance tonight but it's going to be 24/7, he's had to defend that title even on holidays. He's been leaving Shane McMahon messages, he's waiting on Shane to call him back. Carmella's phone rings and it's Shane. Truth says he has used her phone. R-Truth asks who it is and asks if it's "Shane, Shane?" He asks Shane to help him because the title is ruining his life. Truth asks if he appreciates how sorry he is for interrupting Shane McMahon appreciation night last week. R-Truth mentions a proper match and standard rules and asks when he has a match. Right now, right now he asks. He asks who his opponent is and we hear no as R-Truth runs saying that his opponent is going to the ring.
---
24/7 Championship – Lumberjack Match
R-Truth (c) vs. Elias
Elias is in the ring surrounded by a number of WWE Smackdown Live superstars. No other superstar will be able to pin the champion during the match. The bell rings and we are under way. R-Truth goes for the roll-up but Elias kicks out. Elias throws R-Truth to the outside as they start to stomp on him and throw him back in the ring. A knee to the face by Elias. He goes for the cover and gets the pin.
Winner: New 24/7 champion, Elias
After the match, all the lumberjacks stand on the ring apron and get in the ring. They all attack Elias as he rolls to the outside of the ring. He crawls on the outside and faces R-Truth. He tries to run away and goes underneath the ring and R-Truth follows him along with the referee. The bell rings and we see R-Truth coming from under the ring holding the 24/7 title.
Winner: New 24/7 champion, R-Truth
After the match, R-Truth grabs his championship and runs through the crowd leaving.
---
Backstage: Aleister Black
Aleister Black is backstage in a dark room. He mentions how last week he opened an open challenge and it's either people being cowards or intelligence which kept people from challenging him. Black says his track record speaks for itself and what he inflicts, it isn't exactly your daddy's WWE. But until that time, where somebody, anyone does knock on his door, he will be sitting, waiting impatiently.
---
In-Ring: Shane McMahon, The Revival, Roman Reigns
Shane gets in the ring and asks a proper introduction from Craig Hamilton as we hear Hamilton introducing him as the best in the world. A loud "CM Punk" chant from the crowd. Shane says last night, he had such a great time and he thanks The Revival. He asks the crowd to applaud them. Shane says he appreciates them being here for emotional support but he wants to know if it's okay because he wants to see the end of last night. We see the footage of Roman Reigns being beat up by Shane McMahon and The Revival.
McMahon that was just last night and to imagine what he will do to Roman Reigns at Super ShowDown. Shane says what he did last night was like training a dog. He brought the dog home and he had to discipline the dog, show it who is boss. But there's that one dog who is a little more high spirited, like Roman. What do you do with a dog like that? You have to take it to another level and that is exactly what he will do to Roman Reigns at Super ShowDown when he snip, snip, snip and neuter the big dog and it lays at his heels of the best in the world.
Roman's music hits and a physically hurt Roman is walking down to the stage. The Revival run towards Roman but he beats them both up deliver two superman punches. Roman looks towards Shane in the ring. Roman approaches the ring but out of no where comes Drew McIntyre who hits the Claymore. Drew throws Roman Reigns in the ring as Shane instructs him on what to do. Drew stands Roman up and Shane hits a spear on Roman Reigns.
---
#1 Contender Triple Threat Match
Charlotte Flair vs. Alexa Bliss vs. Carmella
The bell rings and we are under way. Charlotte attacks Carmella, Alexa goes for a German suplex but Charlotte throws her to the outside of the ring. Carmella sends Charlotte to the corner but Charlotte launches Carmella onto the ring apron. A kick by Carmella and Alexa hits Carmella to the outside. A sunset flip by Alexa onto Flair. She goes for the cover but Carmella breaks it up. A hurricanrana by Carmella and Bliss is on the outside. Flair goes for a cover on Carmella but Carmella reverses it into the code of silence. Charlotte reverses it but Carmella counters it into a cover. Alexa breaks it up and a right hands takes Carmella down.
A big boot by Charlotte Flair takes Alexa Bliss out. Carmella with a kick and a super kick onto Flair. Sonya Deville and Mandy Rose start walking to the ring. Carmella is distracted by the two women but goes to the outside. Alexa throws Carmella into the barricade. Charlotte with a chop to the chest onto Alexa. And another. Flair chases Alexa around the ring and catches her. Flair with another chop and she throws Alexa into the ring. A drop kick by Alexa. She goes for the cover but Charlotte kicks out.
Back from commercial, Carmella with a hurricanrana off the top rope on Charlotte. She goes for the cover but Flair kicks out. Carmella stomps on Alexa Bliss and the bronco buster. A running clothesline by Flair onto Carmella. She locks in the figure four as Carmella tries to reach the ropes. Flair turns it into the figure eight. Bliss off the top rope and the Twisted Bliss. She goes for the cover but Carmella breaks it up.
Flair with a big boot takes Carmella to the outside. Bliss drops Flair into the turnbuckle. She grabs the tights and goes for the cover but Flair kicks out. A kick to the knee by Flair. She goes for the figure four but Carmella with a super kick. Rose and DeVille hold Carmella's leg. Bliss with the DDT onto Carmella. She goes for the cover and gets the pin.
Winner: Number one contender, Alexa Bliss
---
In-Ring: Lars Sullivan
Kayla Braxton asks Sullivan what drives him to do what he does. Lars looks at Kayla and asks Kayla if she would ever ask a lion why they stalk their prey before sinking their teeth into flesh and viciously ripping it apart? Then why would she ever ask what drives a man like him. Because he has realized that he is no man, for his entire life, he has been described by one word. He asks Kayla if she knows what that word is and to say it. Kayla looks scared. Lars says he has been called that word his entire life, he can take it and to say it. Kayla says freak. Lars looks angry and says when a lion does what he does, they call it a lion. But when he does what he does, people use that word. His primary function is to hurt and dehumanize people. His function is to show people that the world isn't full of rainbows, it's full of pain, agony and a real life freak of nature like him.
Kayla asks if that's what he hopes to show Lucha House Party at Super ShowDown. Lars laughs. He asks if she likes nursery rhymes and she nods her head. "Three blind mice, watch how they run. Watch how their caught. Watch how they're tails are ripped apart with my bear hands a beautiful portrait is painted with their bodily fluids."
Lars laughs as Kayla walks away.
---
Andrade vs. Apollo Crews
Before the bell rings, Andrade hits Apollo Crews with the Hammerlock DDT.
Finn Balor's music hits as the Intercontinental champion comes running down to the ring. He hits Andrade and stomps on him. The sling blade by Balor. He gets in the corner but Vega holds Balor's leg. Andrade hits Balor with the Hammerlock DDT.
---
In-Ring: Goldberg, Undertaker
The security knocks on Goldberg's door as they escort him from his locker room. No pyro for the Hall of Famer as he walks down to the ring.
A loud "Goldberg" chant as he tells them not to do this to him again. He thanks the crowd. He says it's time to get down to business. He's been waiting over 20 years to experience what it would be like in this ring, one on one with The Undertaker. Now, he finally gets the match he always wanted. He listened to The Undertaker on Raw and he made an interesting point. He stated that he did not want to share the ring with a family man Goldberg but the icon, ass kicking machine Goldberg that went 173-0 in WCW. He appreciates his advice and what it did was make a light switch in his head. He doesn't want the family man Goldberg anywhere near The Undertaker because he would fall short. He left his ass at home.
Goldberg says on Friday, he can guarantee The Undertaker that he will get the Goldberg that he watched for 20 years. The one where he wonders how he stacks up against. He will get that ass kicking Goldberg that he asked for because Friday, once and for all, we will all find out who the better man is. Because Undertaker, you're next to rest in peace.
The Undertaker's bell is heard as the lights go out in the arena.
The blue lights go on and The Undertaker is standing behind Goldberg. He turns around laughing as the two go face to face. The bell is heard as the lights go out again. The lights go back on and The Undertaker is gone. Goldberg laughs and grabs the microphone. Goldberg says that's it, Friday night it is.