Sunday, August 11
Toronto, Ontario, Canada – Scotiabank Arena
---
Quick Match Results
Kickoff: Cruiserweight Championship: Drew Gulak (c) defeated Oney Lorcan via Cyclone Crash (8:45)
Kickoff: Apollo Crews vs. Buddy Murphy was no contest due to interference from Rowan (4:20)
Kickoff: Women's Tag Team Championship: Alexa Bliss & Nikki Cross defeated The IIconics via Twisted Bliss from Bliss on Royce (6:15)
Raw Women's Championship Submission Match: Becky Lynch (c) defeated Natalya via Dis-Arm-Her (12:35)
Goldberg defeated Dolph Ziggler via Jackhammer (1:50)
United States Championship: AJ Styles (c) defeated Ricochet via Styles Clash (13:00)
SmackDown Women's Championship: Bayley (c) defeated Ember Moon via middle rope Bayley to Belly (10:00)
Kevin Owens defeated Shane McMahon via Stunner (9:20)
Charlotte Flair defeated Trish Stratus via Figure Eight (16:40)
WWE Championship: Kofi Kingston (c) vs. Randy Orton was a double count out (16:45)
"The Fiend" Bray Wyatt defeated Finn Balor via Mandible Claw (3:25)
Universal Championship: Seth Rollins defeated Brock Lesnar (c) via the Stomp to win the title (13:25)
---
Kickoff Show
Cruiserweight Championship
Drew Gulak (c) vs. Oney Lorcan
This was a pretty quick match. It started at about 6 PM ET and the seats still looked about half empty.
In the end, Gulak punched Lorcan in the throat while the referee's back was turned, then hit him with the Cyclone Crash for the win.
Winner: Drew Gulak (8:45)
---
Kickoff Show
Apollo Crews vs. Buddy Murphy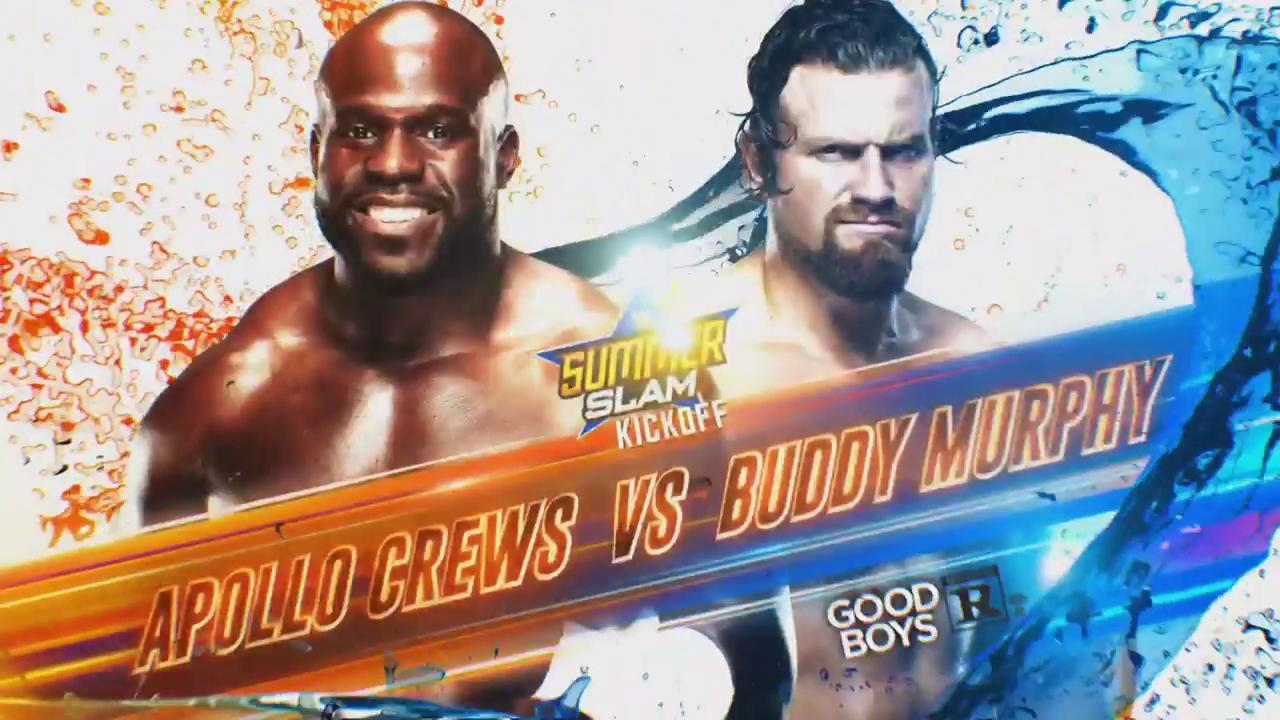 Towards the end, Murphy went for his Murphy's Law finisher, but Crews escaped. Murphy hit a big over the top rope flip onto Crews on the outside.
Suddenly, Rowan came out of nowhere and hit Murphy with a big boot, then started to viciously attack him. He picked him up and hit him with a powerbomb into the ring post, then started screaming at him to "keep my name out of your mouth!"
Daniel Bryan was shown watching on a TV backstage.
No Contest (4:20)
---
In-Ring: Elias, Edge
Elias was in the ring and sang a song about Toronto, including shots at at the Maple Leafs not winning a Stanley Cup, the Blue Jays having poor attendance, and how he can't wait to leave to join his friend Kawhi Leonard in LA.
Edge's theme suddenly hit and he came out to a big pop. He stepped into the ring and gave Elias a spear, getting another big pop, then he left to more applause.
---
Kickoff Show
Women's Tag Team Championship
Alexa Bliss & Nikki Cross vs. The IIconics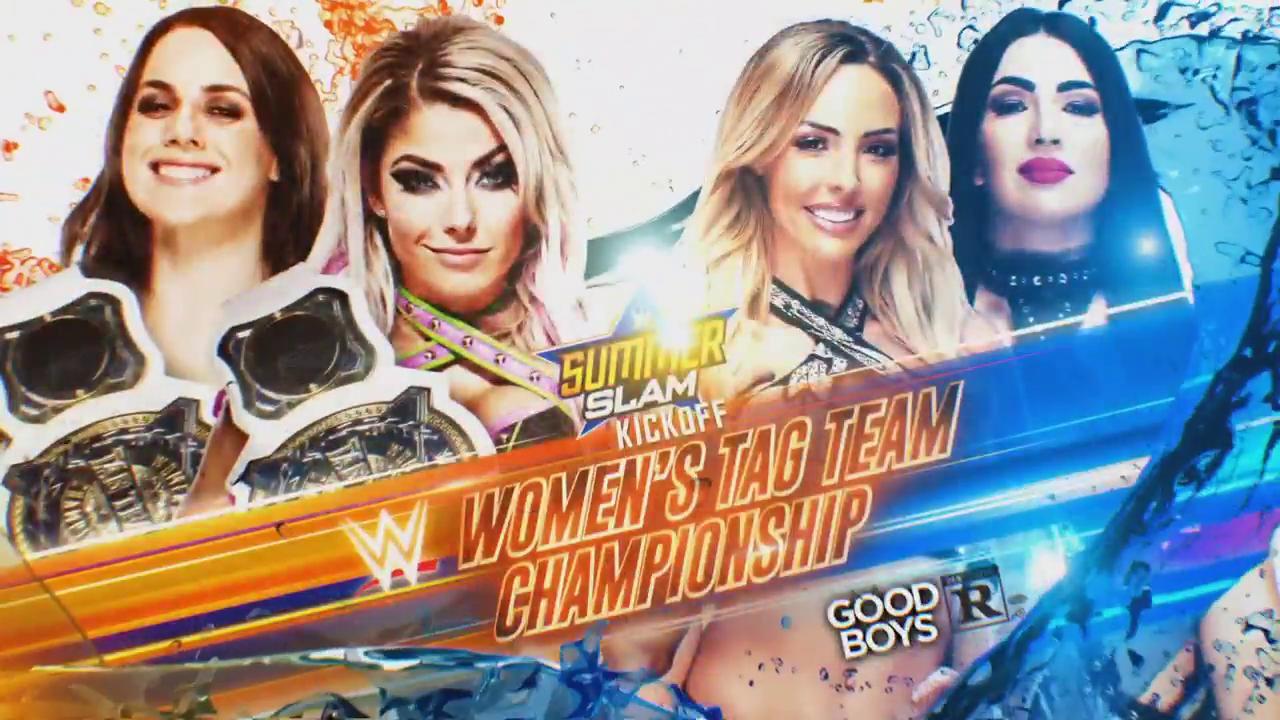 Alexa had Buzz Lightyear-inspired gear on.
In the end, Alexa hit Peyton with a big right hand, then went to the top rope. Billie Kay tried to stop her, but Nikki Cross took out Billie.
Alexa hit a Twisted Bliss for the win.
Winners: Alexa Bliss & Nikki Cross (6:15)
---
Raw Women's Championship Submission Match
Becky Lynch (c) vs. Natalya
The crowd seemed split between Becky and Canada's own Natalya.
A few minutes in, Becky locked on the Sharpshooter in the middle of the ring, but Natalya escaped after about 30 seconds. Natalya then locked on a Dis-Arm-Her, but Becky escaped.
Natalya then locked on a Sharpshooter, but Becky was able to crawl over to the ropes. Natalya dragged her back into the middle of the ring and tried to lock on another Sharpshooter, but Becky blocked it and locked on a Dis-Arm-Her! Natalya tried to withstand the hold, but it was too much and she had to tap after about 15 seconds.
Winner: Becky Lynch (12:35)
---
Backstage: Trish Stratus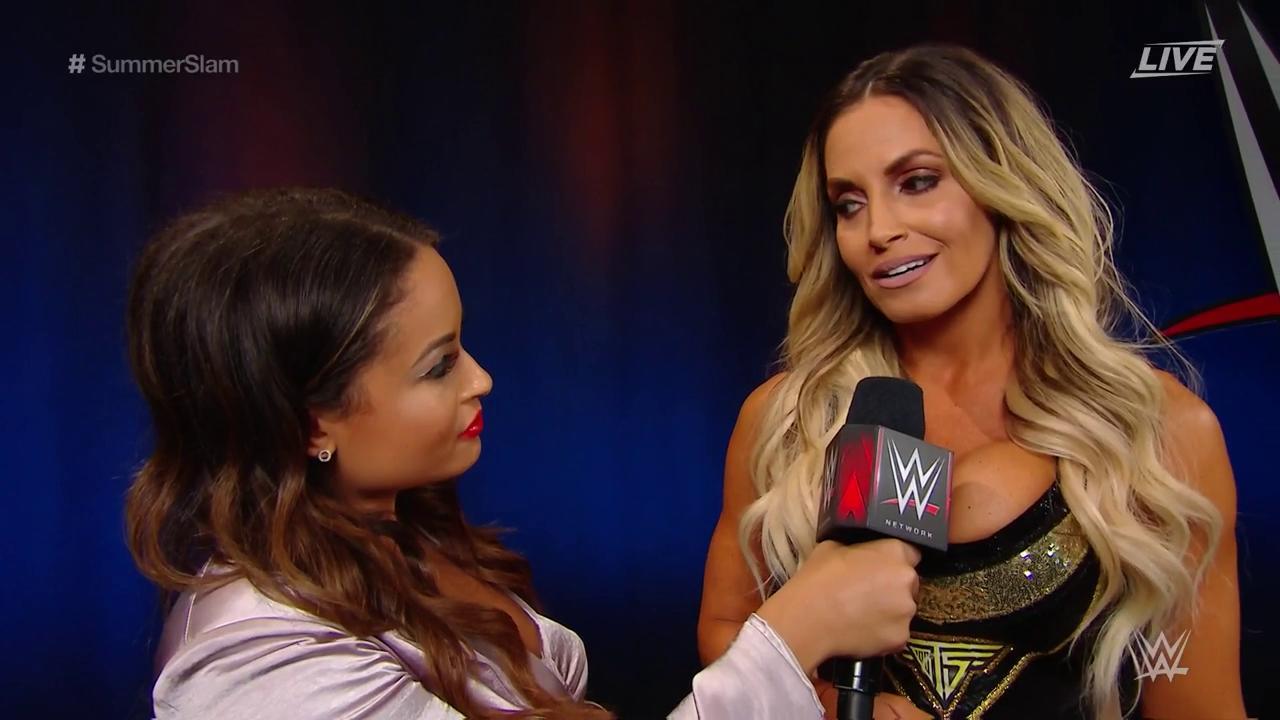 Trish Stratus was interviewed backstage and cut a promo about her match against Charlotte tonight, saying that she paved the way for women's wrestling, was going to beat Charlotte, etc.
---
Goldberg vs. Dolph Ziggler
Ziggler entered and grabbed a mic. He said that he was the best damn thing that has ever happened to pro wrestling. "Legends come and legends go, but old DZ is always here stealing the damn show." He said he wouldn't be surprised if Goldberg didn't show up because he tends to not show up for matches. "Goldberg fears Ziggler."
Goldberg's theme interrupted him and out he came with his classic entrance, including security knocking on his door. Good reaction for Goldberg, and a "Goldberg" chant.
The bell rang and Ziggler immediately hit Goldberg with a superkick, but he kicked out at 1. Another superkick, but another kick out. Ziggler went for a third superkick, but Goldberg absolutely destroyed him with a huge spear. "Goldberg" chant again.
Jackhammer, and there you have it.
Winner: Goldberg (1:50)
Goldberg's theme hit and he celebrated and walked back down the ramp. Ziggler grabbed a mic and said that wrestling Goldberg was like getting hit by a baby, and that Goldberg doesn't have the guts to fight him man to man. Goldberg walked back down into the ring and nailed him with another spear. His theme hit, and he walked backstage.
Ziggler struggled to grab a mic again and said "Anybody can get lucky twice. I knew you didn't have the balls to face me man to man! You never did! That's why you are a laughing stock in this business and I am the best! I will never be defeated! I will never stay down! I'm the best thing going today and forever!"
Goldberg's music hit again and out he came… lol. Goldberg picked up Ziggler's practically lifeless body, looked at him, then patted him on the back as if he was showing mercy. But then he bounced off the ropes and nailed him with another spear.
---
Backstage: The New Day, Drake Maverick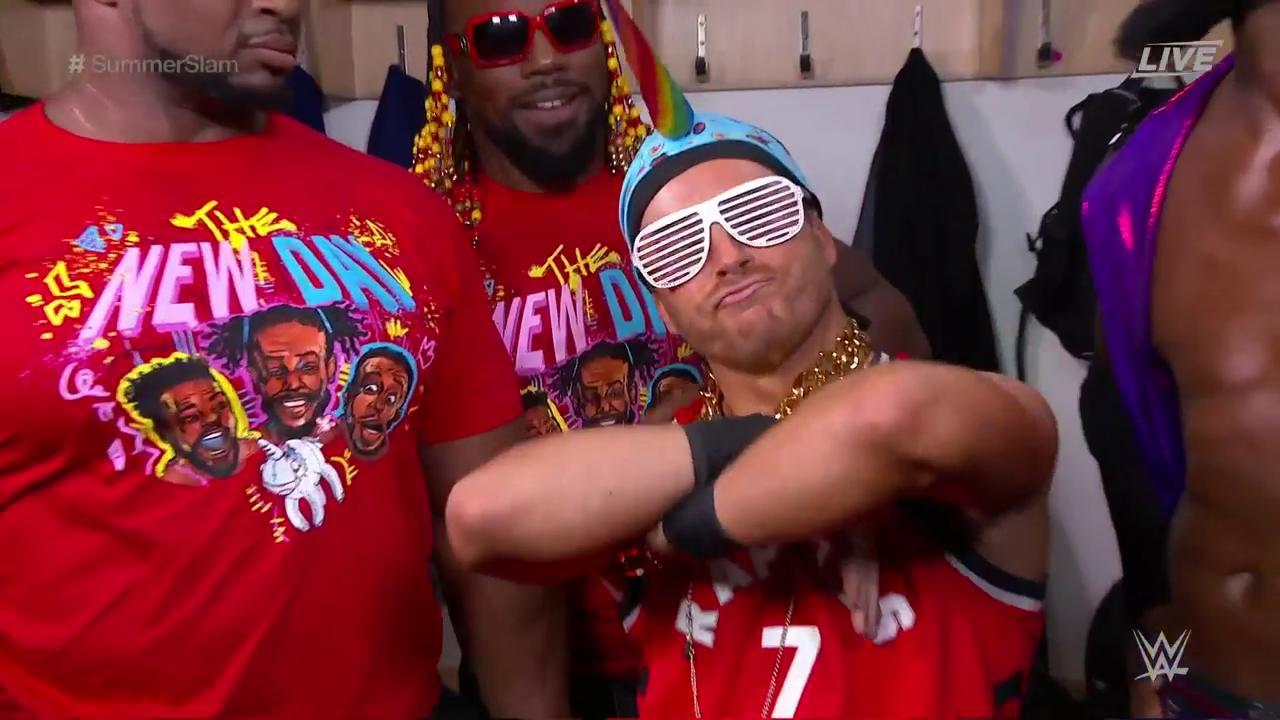 Big E and Xavier came into Kofi Kingston's locker room and said that they got him a good luck charm… Drake. The Toronto crowd popped…
But then Drake Maverick came in dressed like the rapper Drake. He said that they told him R-Truth was here, but they lied, so he's leaving.
---
Segment: R-Truth, Carmella, Drake Maverick
Hmmmmm…. we've never seen this international announce team before. #SummerSlam 🤔🤔@RonKillings @CarmellaWWE pic.twitter.com/QDio8kNQpg

— WWE Universe (@WWEUniverse) August 11, 2019
They introduced the international commentary teams. Carmella and R-Truth were there in disguise, faking English accents. Drake Maverick ran down to announcer's row a seconds later looking for R-Truth, but he was already gone.
---
United States Championship
AJ Styles (c) vs. Ricochet
Styles was accompanied by Anderson and Gallows.
Styles attacked Ricochet's left leg early and kept pounding away on it. Each time Ricochet tried to hit some offense, he would sell his hurt leg.
A few minutes in, Ricochet finally was able to knock down Styles and tried to go to the top. Anderson and Gallows tried to interfere, but Ricochet hit a moonsault to the outside off the apron, taking them out.
Ricochet went to the top and flipped off but Styles caught him, then hit him with a Styles Clash! Cool… Styles went for the pin and got it.
Winner: AJ Styles (13:00)
After the match, the OC celebrated in the ring. Anderson and Gallows grabbed Ricochet and hit him with a Magic Killer for good measure.
---
Backstage: Street Profits, Ric Flair
The dream team we never knew we needed. WOOOOOOO!@AngeloDawkins @MontezFordWWE @RicFlairNatrBoy #SummerSlam pic.twitter.com/lGIFd7AXf0

— WWE (@WWE) August 12, 2019
The Street Profits were backstage and hyped up SummerSlam. Angelo Dawkins mentioned Alexa Bliss and Nikki Cross winning earlier and said that Nikki should @ him on Twitter.
Ric Flair walked in and they all started "woooing" together.
---
SmackDown Women's Championship
Bayley (c) vs. Ember Moon
The crowd seemed behind Ember, with Bayley getting a smattering of boos during her intro. Not a good reaction for Bayley during the match either, with either silence or boos each time she did anything.
In the end, Ember hit a middle rope powerbomb on Bayley, then went to the top for the Eclipse, but Bayley chased her up and hit a Bayley to Belly off of the middle rope for the win. The crowd was pretty dead for this match, which hurt it.
Winner: Bayley (10:00)
---
Kevin Owens vs. Shane McMahon
If Owens Loses, He Must Quit WWE
Shane, who was already profusely sweating before the match started, got on the mic and said that the special guest enforcer for this match will be Elias. Elias ran down wearing a referee shirt with the sleeves cut off, and stood at ringside.
The bell rang and Shane immediately rolled outside and stood behind Elias. Owen chased after him, but Elias got in his face and blocked him. Later, Owens ran after Shane on the outside again, but Elias tripped him.
With the help from Elias, Shane was able to take control of the match. He tried to lock on a Sharpshooter, but Owens countered and hit him with a pop up powerbomb.
Elias threw in a chair for Owens to use. Shane opened his arms and asked Owens to hit him. Shane slapped Owens, then prepared for a chair shot, but Owens didn't do it.
Owens got in Elias's face on the apron. Shane tried to hit Owens from behind but he ducked and Shane hit Elias.
Owens went to the top and hit a senton bomb, then a top rope frog splash. He went for the pin, but Elias dragged the referee out of the ring. The ref argued with Elias on the outside, and Owens hit a cannonball off of the apron, taking out both Elias and the ref.
Owens went to hit Shane with the chair, but Elias interfered again, so Owens hit him with the chair several times instead, then tossed him into the time keeper's area.
Owens went back into the ring and went to hit Shane with the chair, but the referee crawled back into the ring. Owens handed the chair to the ref and he went to put it outside. When the ref wasn't looking, Owens kicked Shane in the balls, then hit him with a Stunner. 1-2-3. Well-booked, pretty entertaining match, with no slow or boring parts.
Winner: Kevin Owens (9:20)
---
Trish Stratus vs. Charlotte Flair
The hometown Toronto crowd was behind Trish Stratus.
Charlotte controlled most of the match early on and was toying with Trish. After a few minutes of domination by Charlotte, she went to the top for a moonsault, but Trish moved, allowing Trish to finally get in some offense.
Trish went for a top rope Frankensteiner, but Charlotte caught her and was about to give her a middle rope powerbomb… but Trish hit the Frankensteiner after all.
Trish locked on a figure four leg lock, then bridged it into a figure eight… but Stratus couldn't hold the bridge long enough and Charlotte was able to crawl over to the ropes.
Trish hit the Stratusfaction (springboard bulldog) but Charlotte kicked out.
They exchanged chops, then Trish hit a Chick Kick for another near fall.
Trish waited for Charlotte to get up to give her another kick, but Charlotte nailed Trish with a big boot, then locked on the Figure Eight… and Trish tapped. Good match.
Winner: Charlotte Flair (16:40)
After the match, the crowd chanted "thank you, Trish" and Trish played to the crowd. She has said that this would be her final match.
---
Backstage: Seth Rollins, Bret Hart
Seth Rollins was shown backstage and the crowd booed. Bret Hart walked in and they popped big. Bret said that he wanted to wish Rollins luck, and Rollins thanked him.
---
WWE Championship
Kofi Kingston (c) vs. Randy Orton
A few minutes in, Orton dropped Kofi back-first onto the announce table.
After the crowd started off hot, they were pretty dead for a lot of this match, understandably. Really slow paced…
Orton hit the draping DDT, then did the RKO taunt and waited for Kofi to get up. RKO attempt, but Kofi countered into a backslide. He went for Trouble in Paradise, but Orton ducked.
Kofi went to the top rope and jumped off, but Orton nailed him with an RKO. Orton lay on the mat and smiled. Kofi was able to roll out of the ring.
Kofi's wife and kids were in the front row. Orton grabbed Kofi by the head in front of Kofi's family. Kofi then started punching Orton and the bell rang for some reason…??? Double count out? Commentary didn't explain…
Kofi grabbed a kendo stick and started to hit Orton relentlessly. Trouble in Paradise from a fired up Kofi.
The crowd booed at the bullshit finish, which was a double count out, Corey Graves finally explained.
Not good…
Double Count Out (16:45)
---
Finn Balor vs. "The Fiend" Bray Wyatt
Balor came out first. The Firefly Fun House theme then hit, then the lights went out… a new, much darker theme hit and Wyatt walked down in the darkness (with flashing lights), wearing his Fiend mask and attire. He was carrying a lantern of a head (which looked like Wyatt's head, with dreads and all), with light coming from the mouth. Very interested to see how they handle this match… Cool entrance so far.
Wyatt dominated for a couple of minutes, then suddenly looked looked down at his "HURT" and "HEAL" gloves and looked anguished, grabbing at his own head and mask. He regained his composure and went for Sister Abigail, but Balor escaped and hit a flurry of offense.
Dropkick into the corner by Balor, then he went to the top and went for the Coup de Grace, but Wyatt caught him and applied the mandible claw… Balor was out and the ref counted to 3.
Winner: Bray Wyatt (3:25)
That was good and WWE luckily made Wyatt look like a monster and didn't just have him sell a lot like a "normal guy."
Wyatt's theme hit, then the lights went dark again. His laugh played over the PA and he stood in the ring with flashing lights on him. When the lights came back on a few seconds later, he was gone and Balor was left alone in the ring struggling to breathe after taking the mandible claw.
---
Universal Championship
Brock Lesnar (c) vs. Seth Rollins
Rollins entered first to a smattering of boos. Paul Heyman introduced Lesnar and got a good reaction. Rollins' ribs were taped up from Lesnar's attacks on Rollins the past two weeks.
The bell rang and Lesnar immediately went for Rollins' "injured" ribs, hitting him with several shoulders and knees to the ribs.
Lesnar went for a German suplex, but Rollins landed on his feet and hit a Stomp! 1-2-no!
Rollins went for a superkick, but Lesnar blocked it and went for a German suplex, but Rollins landed on his feet again. Superkick by Rollins, then he went for the Stomp again, but Lesnar got up and hit Rollins with an F5! But he didn't go for the pin…
Lesnar picked up Rollins by the bandages on his ribs, and swung him around several times and tossed him a few feet across the ring. Crazy…
Three German suplexes by Lesnar. And another one outside on the floor. Lesnar grabbed Rollins, but Rollins shoved him into the ring post twice.
In the ring, Rollins hit a springboard flying knee. He jumped off the top, but Lesnar moved and hit another German suplex.
Later, Lesnar set up one of the announce tables, but Rollins threw him into the ring post and put him on the table… Rollins went to the top and hit a frog splash off of the ring post onto Lesnar through the announce table!
Back in the ring, Rollins hit another frog splash, then hit the Stomp… 1-2-no!
Rollins set Lesnar up for another Stomp… The crowd chanted "burn it down," and Rollins had clearly won them back. Rollins ran at Lesnar for a Stomp, but Lesnar caught him and went for an F5, but Rollins escaped and hit a superkick… and another Stomp! 1-2-3!
Winner and new Universal Champion: Seth Rollins (13:25)
That was a good match and very good for Rollins, who won back the fans with this performance after a super lackluster past couple of months.
---
The show ended at about 10:30 PM ET, so the main card was 3.5 hours, which is a very good time. The Kickoff show started at about 6, so including that it was 4.5 hours. Overall a pretty entertaining, easy to watch show that definitely benefited from not running until midnight.