September 27, 2019
Las Vegas, NV – Sam's Town Casino
Results by ImpactWrestling.com
---
Quick Match Results
Rob Van Dam & Rhino defeated The North via Five Star Frog Splash by RVD on Alexander
Mahabali Shera defeated Cousin Jake via powerslam
Tenille Dashwood defeated Madison Rayne via the Spotlight
X-Division Championship Ladder Match Qualifier: Tessa Blanchard defeated Dave Crist via Buzzsaw DDT
---
The North vs. Rob Van Dam & Rhino
The music of LAX hits but it's none other than Tag Team Champions The North dressed as the team they forced out of IMPACT Wrestling. The North talk about being the best tag team in the world after LAX wrestled their final match last week. Konnan has heard enough and comes to the ring. Konnan says he has two extreme individuals that the North haven't taken out – Rob Van Dam & Rhino. The brawl is on and an impromptu tag team match is made.
Rhino attempts the Gore but Page cuts him off with a superkick. RVD and Page spill to the outside with RVD taking a nasty spill. The referee is checking on RVD on the floor. Meanwhile, Alexander attempts to use the title as a weapon but Konnan stops him. Rhino connects with the Gore on Alexander, followed by a Five Star Frog Splash from RVD to win.
Winners: Rob Van Dam & Rhino
---
Backstage: Desi Hit Squad
The solution to the #DesiHitSquad's problems – @MahabaliShera!

▶️ https://t.co/sWu6SEiYN7@GR8GamaSingh @HakimZane @TrueRajSingh #IMPACT pic.twitter.com/YytIoTZ8Jq

— IMPACT (@IMPACTWRESTLING) September 28, 2019
Backstage, Gama Singh tells Rohit Raju and Raj Singh that they have humiliated him in recent months and that's why he recruited Mahabali Shera to the Desi Hit Squad. Gama warns them that if they don't start winning, he'll replace them.
---
Wedding Segment: Eddie Edwards, Reno Scum, Johnny Swinger
Our wedding correspondent @GabbyLorenTV welcomes guests to the wedding of @MrGMSI_BCage & @ThisIsMelSantos – there's a lot going on!

▶️ https://t.co/sWu6SEiYN7#IMPACT @TheEddieEdwards pic.twitter.com/0gqkPkugrD

— IMPACT (@IMPACTWRESTLING) September 28, 2019
Eddie Edwards has arrived to the wedding but Reno Scum quickly slip something into his drink. Johnny Swinger makes his IMPACT Wrestling debut as he arrives.
---
Mahabali Shera vs. Cousin Jake
Rohit distracts Jake from the outside, allowing Shera to gain control with big clothesline. Jake hits a series of running strikes in the corner and takes out Rohit and Raj on the apron. Shera connects with Sky-High, followed by a powerslam to pick up the dominant victory.
Winner: Mahabali Shera
Cody attacks Shera after the match but falls victim to the numbers game as Rohit and Raj join the fight.
---
Wedding Segment: TJP, Fallah Bahh, Eddie Edwards
Uh @TheEddieEdwards, you don't look so good…

▶️ https://t.co/sWu6SEiYN7@MegaTJP @FALLAH1 @GabbyLorenTV #IMPACT pic.twitter.com/OebQGCpt49

— IMPACT (@IMPACTWRESTLING) September 28, 2019
TJP and Fallah Bahh arrive to the wedding of Brian Cage and Melissa Santos. TJP criticizes Fallah for wearing shorts. Eddie Edwards makes an appearance and it's clear that whatever Reno Scum slipped into drink is working.
---
Madison Rayne vs. Tenille Dashwood
Madison is in control in the early going. Tenille gains momentum with a running dropkick. Madison tries to retreat up the ramp but Tenille stops her and hits a slingshot neckbreaker. Tenille connects with a running forearm strike into the corner. Madison comes right back with an Enzuigiri, followed by a Northern Lights suplex for a near fall. Tenille hits the Spotlight to score the victory.
Winner: Tenille Dashwood
---
Wedding Segment: RVD, Rich Swann, Willie Mack
Everyone's got their eye on the Tag Team Championships!

▶️ https://t.co/sWu6SEiYN7#IMPACT @TherealRVD @TheKatieForbes @GottaGetSwann @Willie_Mack @GabbyLorenTV pic.twitter.com/hdq3C38dxj

— IMPACT (@IMPACTWRESTLING) September 28, 2019
Back at the wedding, Rob Van Dam, Katie Forbes, Rich Swann and Willie Mack arrive. Swann and Mack congratulate RVD on his big win over The North earlier tonight. Since Swann and Mack defeated LAX last week, both teams have legitimate claim to the next shot at the Tag Team Championships.
---
It's official, Tenille Dashwood will challenge Taya Valkyrie for the Knockouts Championship at Bound for Glory.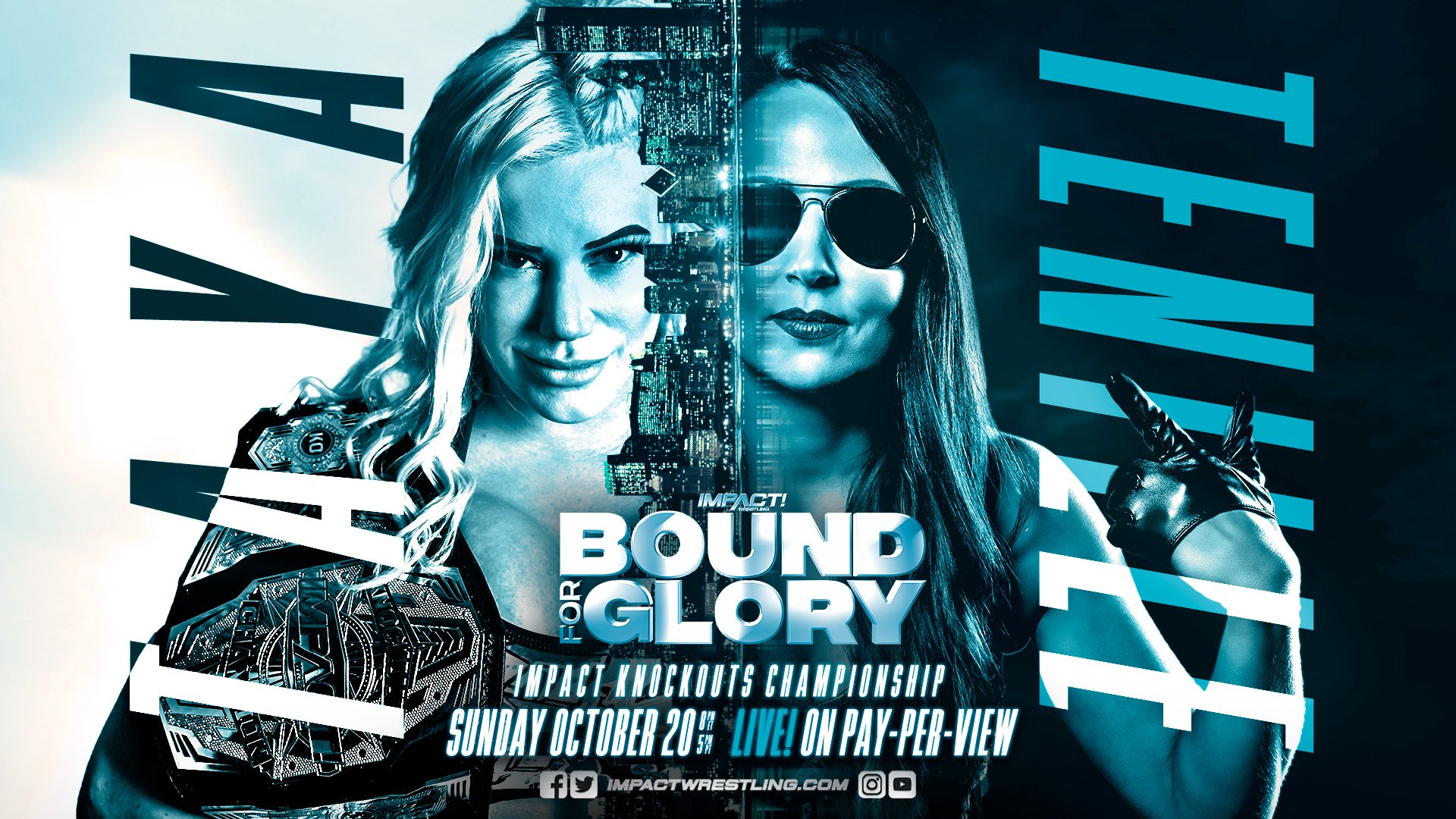 ---
In-Ring: Ken Shamrock, Moose
Ken Shamrock returns to IMPACT Wrestling to address his match with Moose at Bound for Glory. Shamrock says he came back for one reason, to put an end to Moose. Shamrock questions where the self-proclaimed most dangerous man in the world is.
Moose appears on the big screen and he's at Ken Shamrock's MMA school, Syndicate MMA. Moose sends a message to Shamrock as he attacks his students.
---
Backstage: Taya Valkyrie, Rosemary
They're (not) the two best friends that anyone could have…

▶️ https://t.co/sWu6SEiYN7@TheTayaValkyrie @WeAreRosemary #IMPACT pic.twitter.com/k04gYaklej

— IMPACT (@IMPACTWRESTLING) September 28, 2019
Knockouts Champion Taya Valkyrie asks Rosemary to help her take out Tenille Dashwood and in return, she'll give Rosemary a shot at the Knockouts Title. Rosemary declines and tells Taya that until she finds her old self, there will be no assistance from the Shadow.
---
Wedding Segment: oVe
Access denied for #oVe!

▶️ https://t.co/sWu6SEiYN7#IMPACT @TheSamiCallihan @TheJakeCrist @TheDaveCrist @FultonWorld pic.twitter.com/43rnV9n2JY

— IMPACT (@IMPACTWRESTLING) September 28, 2019
oVe arrive to the wedding but are denied at the door because they weren't invited.
---
Wedding Segment: Brian Cage, Tommy Dreamer, Rich Swann
Brian & his brother RYAN Cage?! 😂

▶️ https://t.co/sWu6SEiYN7#IMPACT @MrGMSI_BCage pic.twitter.com/Geo7ELgZdq

— IMPACT (@IMPACTWRESTLING) September 28, 2019
Meanwhile, Brian Cage chats with Tommy Dreamer and Rich Swann about being committed to one woman for the rest of your life. Brian Cage's brother, Ryan Cage arrives.
---
Wedding Segment: Madison Rayne, Kiera Hogan, Taya Valkyrie
Knockouts Champ @TheTayaValkyrie always scheming!

▶️ https://t.co/sWu6SEiYN7#IMPACT @MadisonRayne @HoganKnowsBest3 @MrsAIPAlisha pic.twitter.com/1FsS4mf2gZ

— IMPACT (@IMPACTWRESTLING) September 28, 2019
Madison Rayne tries to coach the other Knockouts on how to walk down the aisle. Kiera reminds Madison that she's not in the bridal party. Taya interrupts and asks them for help with her Tenille Dashwood problem.
---
X-Division Championship Ladder Match Qualifier
Dave Crist vs. Tessa Blanchard
The winner of this match will move on to a 5-person ladder match for the X-Division Championship at Bound for Glory. Dave hits a bit boot out of the corner but Tessa comes right back with a flurry of fists. Tessa sends Dave over the top rope to the floor with a backdrop. Fulton grabs hold of Tessa but Jake holds him back, preventing the referee from disqualifying Fulton. The referee ejects Fulton from ringside as a result. Dave distracts the referee while Jake attacks Tessa on the apron. Tessa connects with the Buzzsaw DDT to win and qualify.
Winner: Tessa Blanchard
After the match, Fulton returns to ringside and hits Tessa with two devastating Chokeslams. Jake Crist stands over Tessa with the X-Division Championship held high.
---
Wedding Segment: Ace Austin, Alisha
Is it wrong to think that @The_Ace_Austin is behind all of this?

▶️ https://t.co/sWu6SEiYN7#IMPACT pic.twitter.com/vv4egPOQw7

— IMPACT (@IMPACTWRESTLING) September 28, 2019
It's time for the wedding to begin and Eddie Edwards is no where to be found. Ace Austin arrives just in the nick of time to be Alisha's partner.
---
The Wedding of Brian Cage and Melissa Santos
Report via Stuart Carapola of PWInsider.com
Back to the wedding, where the Rascalz are high, nobody wants to sit next to Jessicka Havok until the Deaners do, RVD is high, Rosemary teleports in out of nowhere, the Desi Hit Squad are tearing up until Gama threatens to slap them, Brian and his brother Ryan are at the altar, and the wedding party comes out.
Tommy Dreamer walks Melissa down the aisle, and Brian's brother Ryan is officiating. We get to anyone having objections, and Taya goes off all valley girl and then tells Melissa and Brian to continue. Next objection is from Ethan Page, who has objections with how Impact treats its superstars, himself and Josh Alexander (who is wearing his amateur headgear with his shirt and slacks), and wants to know where his royalties are, and says he's starting a wrestler union. Brian's brother asks if anyone has an actual objection, and Eddie Edwards staggers in all drunk and throws up in the official's dress before suckerpunching Ace Austin. Tommy asks if anyone here can officiate the wedding since the preacher got knocked out, and he wants anything, a priest, a shaman, or even a minister. In comes Father Jim Mitchell, who gives them the rings to put on each other's hands, reads them their rights, so with the power vested in him by the Church of Satan (and the state of Nevada) he pronounces them man and wife.
We head to the ring for the reception, with all the wedding guests surrounding the ring. Brian and Melissa make their way to the ring, and the wedding party trots behind. They do the first dance and are interrupted by Sami Callihan, who congratulates them and says he's not here for a fight, he's here for a party. He's not a bad person, he's happy for Brian and Melissa, but his feelings are kinda hurt because he and the rest of oVe tried to get into the wedding and weren't let in. A lot of people might not know their past, they all used to be friends, but that got messed up and he's sorry for that. After they consummate the marriage, he wants to get back the Brian Cage of old, and when he faces him at Bound For Glory, he doesn't want to face the has-been, he wants the Machine. He makes a toast to Brian and Melissa, he hopes they have lots of children and a long and healthy one, and that's his toast to the bride and the bitch.
Cage grabs Sami, Sami swings a wine bottle at Cage, Cage ducks and hits Melissa instead, and she goes down. Sami looks astonished at what he's done as everyone around ringside swarms into the ring to check on Melissa as we call it a night.