September 10, 2019
New York City, New York
Commentary: Tom Phillips, Byron Saxton and Corey Graves
Results by: Doug Lackey of Wrestleview.com
---
Quick Match Results
The Miz defeated Andrade via Skull Crushing Finale
Nikki Cross defeated Mandy Rose via schoolboy pin
Heavy Machinery defeated Johnny Silver & Alex Keaton via the Compactor
Bayley defeated Ember Moon via Bayley to Belly
King of the Ring Semifinal Match: Chad Gable defeated Shane McMahon via ankle lock submission
---
In-Ring: Undertaker, Sami Zayn
From the fabled Madison Square Garden in the heart of New York City, the gong sounds and the lights go out heralding the entrance of The Undertaker to kick off tonight's "Smackdown Live"! The crowd erupts as he makes his way down the aisle to the ring.
In the ring, Undertaker surveys the raucous MSG crowd as they chant his name. "I wanted to come out here and take a minute, and absorb all of this. For the past 30 years, I've considered these hallowed grounds my home. And I don't know how many times I'm going to get to come home anymore, but there's one thing that I want everyone to remember about this place: The titans that were born here… the legends that made their name here… and the heroes that were created right here in Madison Square Garden. It's a rewarding for me to know that each and everyone of those souls, I took a little piece of them with me. But they will not be forgotten because the echoes of their memories will go through these hallways for all of eternity. And now… we usher in a new era of Superstar…"
Sami Zayn's music interrupts The Undertaker and Zayn makes his way down the aisle to a chorus of boos from the crowd.
"Ladies and gentlemen, c'mon! The Undertaker! The Phenom! I don't know much but there's one thing I do know about New York City is that they respect legends! And you sir are a legend! And truthfully what I find most impressive about your illustrious career is probably your history in this very arena, because you have been selling out this arena, not for 10 years, not 20 years, but for 30 years! For 30 years, Madison Square Garden has been your yard!"
"Now, first and foremost, I have nothing but the utmost respect for you sir. However I think that even you can admit that it shouldn't be you opening "Smackdown Live" in Madison Square Garden. Even you can probably admit, that probably should have been me. Nothing but respect but… 30 years is a long time. When is enough enough? Look, I know how much you love the WWE, and I know that everything you've ever done is about paving the way for the future. I'm just trying to tell you that the future is here and the future is Sami Zayn. I know these unruly fans in New York City would like nothing more than for Sami Zayn to take out The Undertaker."
"I am here out of respect and I am here to ask you… to turn around and leave this ring right now. I'm asking you to do the right thing and to pass the torch. I promise you that the future of the WWE is in good hands with Sami Zayn. I give you my word."
With Zayn in the ring, Undertaker bores his eyes into Zayn… and hands him his microphone… and slowly makes his way through the ropes. Undertaker turns and notices that Zayn is celebrating. He re-enters, Zayn in shock… chokeslams Zayn. Undertaker than makes his way out of the ring.
---
Backstage: Shane McMahon, Chad Gable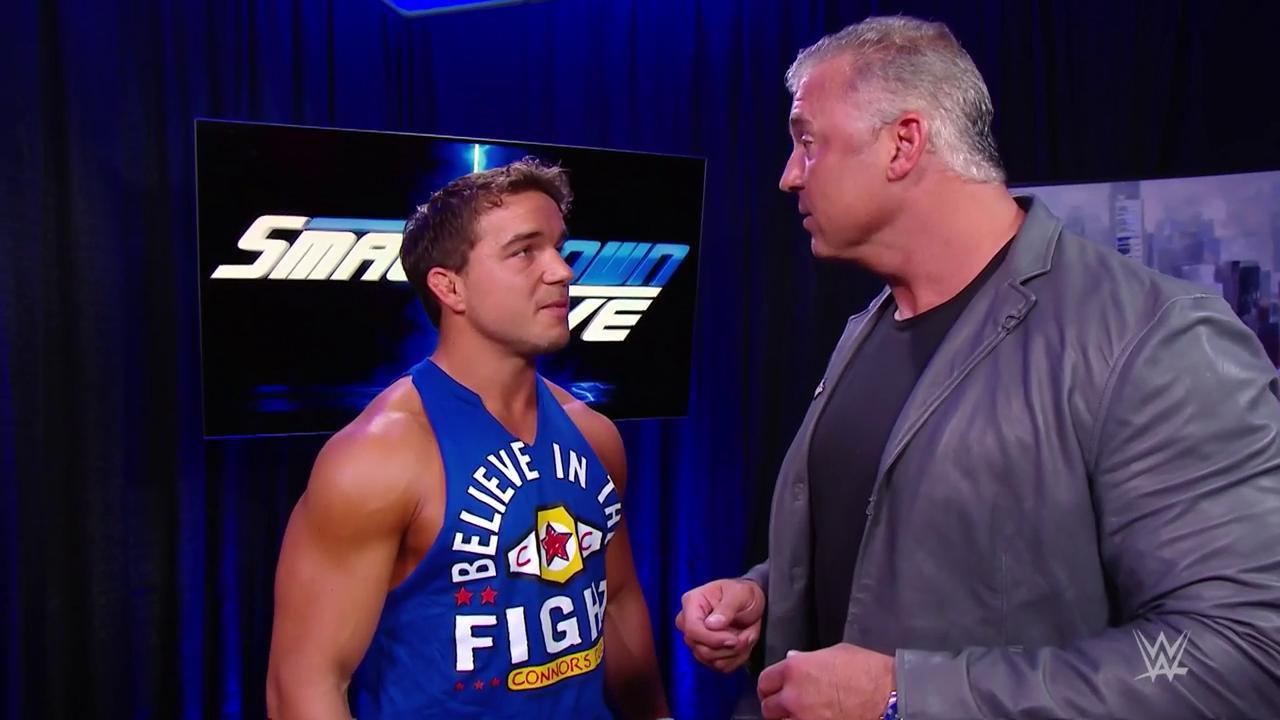 In his office, Shane McMahon reacts to The Undertaker's exit as Chad Gable makes his way in. Shane compliments Gable on his matches throughout the King of the Ring tournament and informs him that Elias has broken his ankle and can no longer compete in the tournament. Gable says that he knows, he gets a bye, and is in the finals. Shane replies that he knows a little bit about tournaments and that Gable doesn't want to just sneak into the finals with a bye. He wants to earn his way into them. So he tells Gable that he will be competing tonight for his Finals spot but it could be someone from Raw, Smackdown or even someone who is already eliminated, but until he finds that out, he'll let him know.
---
The Miz vs. Andrade
Intercontinental Champion Shinsuke Nakamura is at ringside for commentary during the match.
After a series of holds and counter-holds, Andrade is sent to the ropes and executes 'Tranquilo" on the ropes with Zelina underneath as Nakamura provides his commentary completely in Japanese. Miz with a school boy roll up for a 2… Andrade off the ropes, flapjack by Miz and a Tranquilo of his own. Monkey-flipped to the outside, Miz tries to go off the ropes for the attack but Vega stops him from the apron. Andrade tries to attack from behind, Miz dodges, narrowly hitting Vega, Miz with another Schoolboy. A kick-out, Miz eats a back elbow sending him to the corner.
Zelina begins to choke Miz in the corner while Andrade distracts the ref, leading to a running dropkick. Stomps to Miz in corner leads to the double knees by Andrade. A kick out after a count of 2!
Back from the break, Miz is fighting back! Off the ropes, Miz is on a roll with a backbreaker/neckbreaker combo. Kick out after 2. Nakamura continues to only speak Japanese at ringside as Miz levies a barrage of kicks to Andrade's chest. Misses the final kick but doesn't miss a big boot out of the corner. Miz chops and kicks Andrade into the corner… running knee… another knee.. Andrade tries to meet Miz on the opposite corner but tumbles over to the outside!
Miz baseball slide kicks Andrade into the commentary table and stares into Nakamura. He takes Andrade and slings him into Nakamura. Picks Andrade back up, sends him into the ring. He tries to enter back in but Vega has his ankle, leading Andrade to connect with a feint kick/back elbow to his temple! Kick out at 2!
Andrade scales the top turnbuckle… Moonsault misses… the second attempt misses! Miz from behind… Skull Crushing Finale! 1… 2.. 3!
WINNER: THE MIZ by pinfall
Nakamura bum-rushes the ring and takes out The Miz with the Kinshasa!
---
Backstage: Shane McMahon, Chad Gable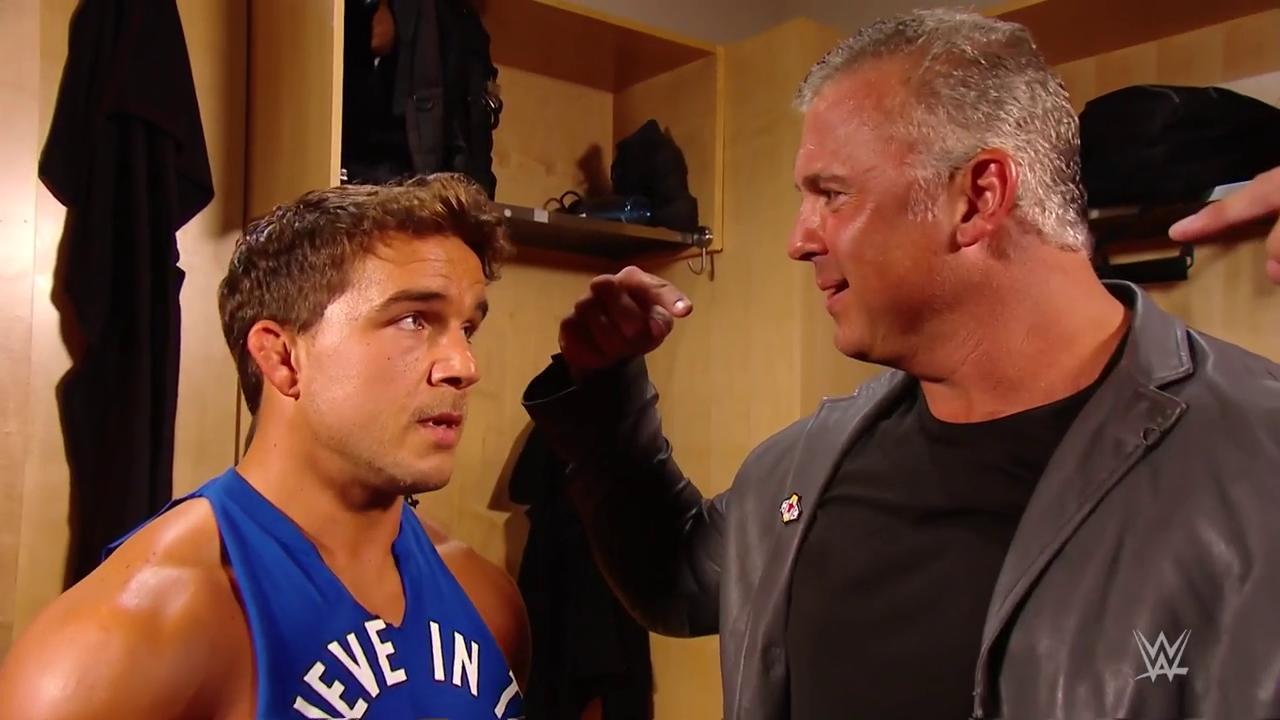 In the locker room, Shane is looking for Chad Gable and asks Apollo Crews and Matt Hardy if they've seen him. Gable walks in… "Oh! There you are!" Gable asks if Shane has found an opponent yet and Shane says he has. Shane even asked for Elias' approval and he received it. Tonight… Chad Gable… you get to take on The Best in the World! Shane McMahon!
---
Mandy Rose vs. Nikki Cross
Mandy Rose, along with Sonya DeVille, is making her way to the ring to face Nikki Cross. "Last week, I told my opponent Nikki Cross that she would never look as good as me," says Rose. "Because I'm beautiful and she's… ugly." Video is shown in comparison of headshots of the two. "She looks like an oversized rat crawling out of the Lincoln Tunnel!"
Out comes Alexa Bliss… the calm before the storm… as Nikki Cross bum rushes down the aisle, into the ring, and here we go!
There's nothing scientific about this match, Cross is just mauling Rose! Some composure is maintained as Rose sends Cross into the ropes, Cross tries for a crossbody but Rose catches her into a fall-away slam. Kick-out at 2. Rose kicks Cross into the corner. Snapmare into a straight-jacket choke by Rose.
Cross fights her way out of it and sends Rose's face repeatedly into the turnbuckle. Forearms send Rose into the opposite turnbuckle and Cross follows it up with a bulldog out of it. Cross climbs to the top, misses the crossbody even though Bliss kept DeVille from interfering from the apron! Rose misses a boot to the face, Schoolboy from Cross! 1… 2.. 3!
WINNER: NIKKI CROSS by pinfall
---
Backstage: Bayley, Ember Moon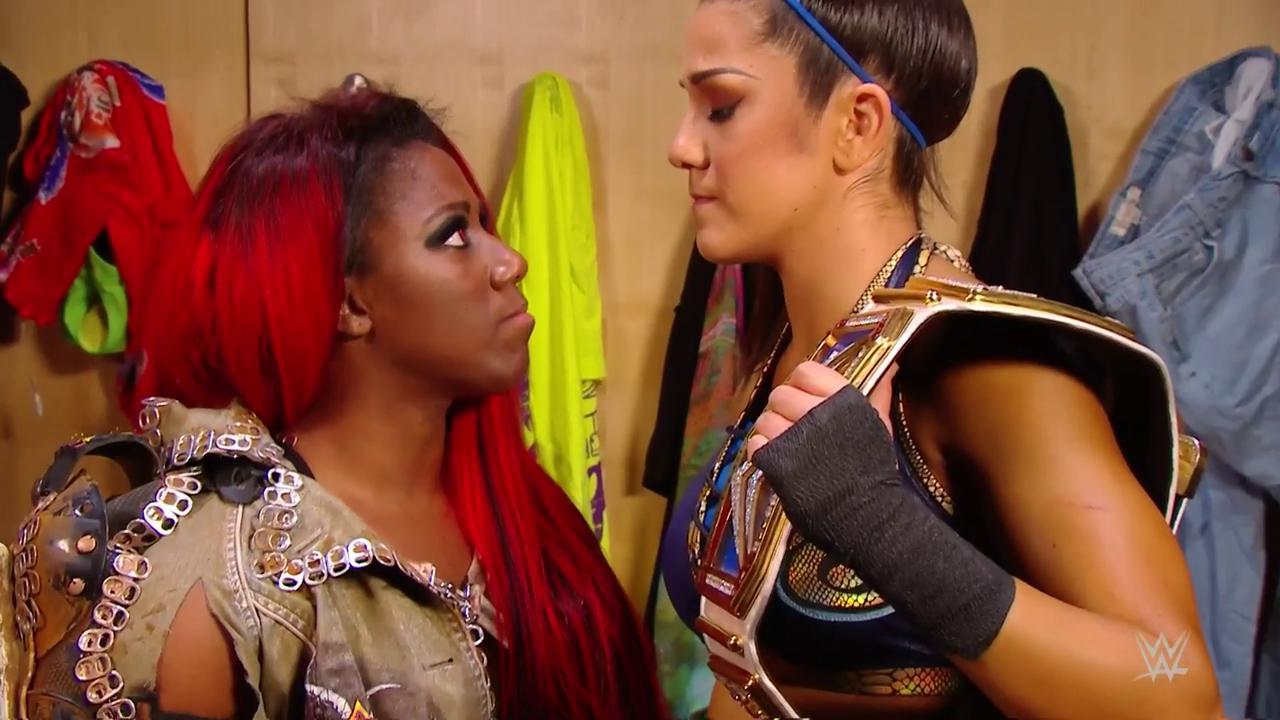 Bayley is backstage tending to her ring gear as Ember Moon enters. "Is there a problem?" Bayley asks.
"Two weeks ago, you and I talked about elevating the entire Women's division," Ember Moon replies. "But last week, you attack Becky with a chair. That's not the Bayley I know. It must be Sasha's influence. What's happening?"
Bayley says that nothing is happening, she's the same person she always has been and what she did she did for Smackdown. Ember says that this is more about Bayley trying to be relevant as a champion. Bayley retorts, "What do you know about being a Champion?" Ember says she knows that this champion got pinned by Charlotte last night.
Bayley steps to Moon, Ember tells her to save that for the ring and their match tonight.
---
Heavy Machinery vs. Johnny Silver & Alex Keaton
Heavy Machinery makes their way down the aisle to face… some guys…
Tucker with a BIG hip toss sending one guy to the corner… the other guy gets flattened by a clothesline… um… look… this isn't even fair…
Tucker tags in Otis, splashes both guys in the corner. One flat on their back, the straps are down and out comes the Caterpillar.
One Compactor later… 1… 2… 3.
WINNER: HEAVY MACHINERY via pinfall
---
Backstage: Shane McMahon, Kevin Owens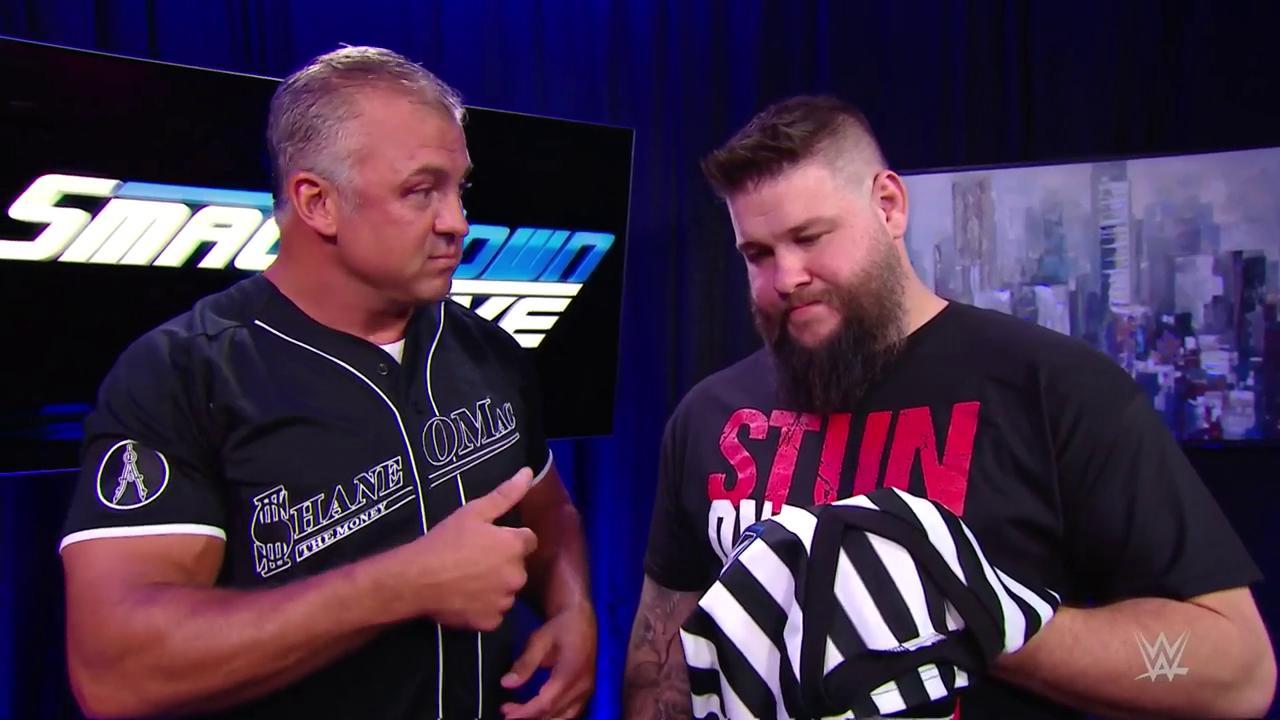 Shane is in his office speaking with a member of the production team before Kevin Owens enters. Shane has been thinking a lot about reconsidering fines and being the benevolent soul he is, he's rescinding the fine. Owens asks what's the catch? Well… that's simple… Shane hands him a referee's shirt… and tells him that something that's important to him is hearing "The Best in the World… and King of the Ring!!" Shane also understands what's important to Owens is his family. Before Owens could even get an answer to what would happen if he said no… he walks out of the office with the referee's shirt.
---
In-Ring: Rowan, Roman Reigns
With a brand new theme and new graphics, Erick Rowan makes his way to the ring.
"All my life, people just don't seem to get me. All of you think I'm controlled by somebody, somebody tells me what to do. Until last week. You see, all of you… all of you need to look me in the eyes and see what it is that makes me tick. You need to look deep, deep, deep in these eyes and see what I'm capable of. I'm mastermind, a schemer, but no! All you people seem to see is a big brute who terrorizes and brutalizes… just like what I did to Roman Reigns last week…"
Roman Reigns' music interrupts, he marches to the ring and here we go!
Superman Punch! Rowan sent to the outside. An approaching spear from Reigns is met by a boot from Rowan. The two of them scatter into the crowd fighting through the MSG crowd! The two end up being met by security as they try to spill back to ringside. Reigns meets Rowan with another Superman Punch! Rowan… picks up a fan and hurls him into Reigns!!
Rowan walks around the perimeter of the ring to make his way to the opposite side of his carnage… and flattens the security detail with a crossbody!
Reigns and Rowan are fighting their way back up the ramp, with Rowan getting the upper hand sending Reigns' face first into it. Only until Reigns meets him with a third Superman Punch! They have now made their way to the King of the Ring throne. Rowan is eyeballing the camera crane hanging above the throne. He grabs it and sends it into Reigns and the remaining security detail!
Rowan finally leaves the ramp… and the destruction in his wake. Reigns slowly stands up, knowing what he will be facing this Sunday at Clash of Champions.
---
Bayley vs. Ember Moon
Charlotte Flair is at ringside for commentary as Bayley is making her way to the ring. She is followed by Ember Moon for their eminent match.
Moon starts it off with a dropkick out of the corner! After a hip toss, Bayley is regrouping on the outside. Bayley tries to send Moon into the timekeeper's barricade, Moon straddles it and forearms Bayley. Moon tries to climb the barricade but Bayley pushes her feet out and knees her in the face!
Charlotte applauds Bayley's work, getting her attention.
Back from the break, both women are on the mat. They both get to their feet with Moon getting the best of their exchange. Moon with the springboard crossbody! 1… 2.. kick out! An exchange of pinfall attempts leads Moon to standing on the apron and Bayley delivering a kick to the side of her head! Moon tumbles to the outside, Bayley tries a suicide dive through the middle rope but eats a kick of her own!
Moon is climbing the top rope thinking about The Eclipse… she leaps but Bayley rolls forward out harm's way. Bayley-to-Belly! 1… 2… 3!
WINNER: Smackdown Women's Champion BAYLEY
Charlotte stands from the table, sarcastically clapping as she makes her way up the steps and into the ring, pointing at Bayley's title. She poses as Bayley backsteps out of the ring and up the ramp.
---
In-Ring: Kofi Kingston, Randy Orton
WWE Champion Kofi Kingston makes his way to the ring! He garbs the mic and lauds how great it feels being back in the building where his career changed forever.
"It was here where I decided to step up to one of the top superstars in the WWE and prove that I belong here! That's exactly what I did when I whooped Randy Orton's ass all of this damn building! I whooped in the ring, I whooped him outside of the ring, into the walls, into the barricade, into the crowd, all over the damn place! And the icing on the cake was when I laid Orton out and put his ass throughout the table! The entire arena, hell the entire city, was chanting my name. And then I knew…. I knew that one day I would be back here, at Madison Square Garden, standing before you as WWE Champion and that day has come!"
"There a lot of kids out here, y'all might be too young to remember what happened, some people might have forgotten what happened. If you did, that's okay because we have some footage to remind you."
Footage is shown from 10 years ago of Kingston's match with Orton in 2009 in MSG.
"That righ there is just a small taste of what I'm going to do to Randy Orton when I remain your…"
"STUPID! STUPID! STUPID! STUPID!" Randy Orton emerges from the crowd near the entrance ramp interrupting Kingston.
"I can't go on listening to you talk about the two things you've done in the last ten years! What'd you do? You won the World Title and you put me through a table? Big deal, Kofi! You know what I've done in the last ten years? I've won the World Title 7 times, I've won the Royal Rumble twice, a Money in the Bank contract, but none of that matters. What matters is now, what matters is I'm taking that title from you, Kofi. I'm going to do it because you have pretended to be something that you're not ever since day one, with that Jamaican accent and your dreadlocks… or whether it was that phony 'Power of Positivity' bulls**t."
Kofi drops the mic, takes off his vest and meets Orton in the crowd… only to be met with a chairshot to the stomach by Orton. Orton levels Kingston with the chair and sends him into the staging area. Orton finds a table to prop Kingston on for a draping DDT but Kofi fights back, grabs the chair, and lays into Orton!
Kofi finds a table to lay Orton out on, but Orton fights back laying Kofi on it instead. He grabs a chair for good measures, but Kofi kicks him away… as the table collapses underneath him… but Kofi kicks him again and finds a brand new table!
Kofi lays Orton out… and reenacts the same 2009 scene for the MSG crowd!
---
King of the Ring Semifinal Match
Chad Gable vs. Shane McMahon
Kevin Owens is in the ring as our Special guest referee.
Chad Gable's music hits, he makes his way down the ramp… only to be interrupted halfway by Shane McMahon's music. After Greg Hamilton graces us with his introduction of McMahon, Shane makes his way into the ring for our main event, the King of the Ring semifinals match!
Shane drops to his knees, puts up his fists, and mocks Gable before the two of them lock up. A missed punch from Shane… Gable pushes him into the corner…. rolling German Suplex!!! Owens for the count! 1… 2.. 3!!
WINNER: CHAD GABLE via pinfall
McMahon, perplexed, motions Owens to the outside as he grabs a microphone. "No! Stop that! This match is now 2 out of 3 falls!"
Shane and Owens argue on the outside, Gable makes his way to Owens, giving Shane room to attack him from behind, laying him into the announcers' table!
The rest of this report via Richard Trionfo of PWInsider.com
Chad struggles to get back into the ring as the referee makes his count but Chad gets back into the ring. Shane poses on the turnbuckles and he kicks Gable in the head. Shane with a slam. Shane with an elbow and back heel kick. Gable with a crucifix and Kevin hesitates on the count and Shane kicks out. Shane kicks Gable and then rolls up Gable and gets a near fall. Shane with punches but Gable with kicks. Gable with a running swinging neck breaker. Gable goes to the turnbuckles and hits a moonsault and Kevin makes a very slow count and Shane kicks out.
Shane is sent to the floor but Shane with a Northern Lariat and TKO for a near fall. Shane goes to the floor and he grabs a chair. Kevin warns Shane about using the chair. Shane gives Kevin the chair and Shane tries to kick Gable low but Gable blocks the kick and Gable with an ankle lock. Gable with a grapevine of the leg and Shane taps out.
Winner: Chad Gable (Advances to Finals)
After the match, Kevin tells Shane he did what he could and Shane tapped out. Shane clotheslines Owens from behind and kicks Owens.
Shane with 'punches' to Owens.
Shane takes the mic and he tells Kevin that he is fired.
Shane hits Owens with the mic.