October 6, 2019
Sacramento, CA – Golden 1 Center
---
Quick Match Results
Kickoff Show: Natalya defeated Lacey Evans via sharpshooter (9:25)
Raw Women's Championship – Hell in a Cell Match: Becky Lynch (c) defeated Sasha Banks via Dis-Arm-Her (21:50)
Tornado Tag Team Match: Daniel Bryan & Roman Reigns defeated Erick Rowan & Luke Harper via spear by Reigns on Harper (16:45)
Randy Orton defeated Ali via RKO (12:10)
Women's Tag Team Championship: The Kabuki Warriors defeated Alexa Bliss & Nikki Cross (c) via green mist and a kick to the head by Asuka on Nikki Cross to win the titles (10:25)
Braun Strowman & The Viking Raiders defeated The OC by disqualification when they attacked Strowman 3 on 1 (8:15)
24/7 Championship: Tamina defeated Carmella (c) via roll up to win the title
Chad Gable defeated King Corbin via roll up (12:40)
24/7 Championship: R-Truth defeated Tamina (c) via roll up to win the title
SmackDown Women's Championship: Charlotte Flair defeated Bayley (c) via Figure Eight to win the title (10:13)
Universal Championship – Hell in a Cell Match: Seth Rollins (c) vs. "The Fiend" Bray Wyatt ended in a match-stoppage by the referee when Rollins hit Wyatt with a sledgehammer (17:03)
---
Kickoff Show
Natalya vs. Lacey Evans
Evans kept going for a sharpshooter, but Natalya kept fighting her off. In the end, Lacey tried to hit her top rope moonsault, but Natalya moved. Natalya then locked on the sharpshooter and Evans tapped.
Winner: Natalya (9:25)
After the match, Lacey stood up and Natalya gave her a taste of her own medicine with a "woman's right" to the head, knocking her down.
---
Raw Women's Championship – Hell in a Cell Match
Becky Lynch (c) vs. Sasha Banks
They battled for a while with chairs and kendo sticks. A few minutes into the match, Becky wedged a few kendo sticks horizontally in the corner of the cell, then she set up a chair on the kendo sticks. She then sat Sasha on the chair and hit her with a running dropkick off the apron, which got a "this is awesome" chant.
Later in the ring, Sasha hit a top rope meteora onto Becky through a table. Banks locked on a Bank Statement using a kendo stick, but Becky broke free.
Sasha tossed in about 10 chairs in the ring, then went to the top, but Becky got up and hit her with a Becksploder onto the pile of chairs, then locked on the Dis-Arm-Her… and Sasha tapped.
Winner: Becky Lynch (21:50)
---
Tornado Tag Team Match
Daniel Bryan & Roman Reigns vs. Erick Rowan & Luke Harper
There were no tags and anyone can wrestle at any time. A few minutes in, Bryan hit Harper with a few Yes Kicks, then ran off the ropes but Rowan tripped him. Reigns nailed Rowan, but Harper hit a suicide dive on Reigns and kinda accidentally hit his head on the announce table, but he seemed OK.
Harper grabbed a pencil from somewhere and broke it in half. Harper and Rowan went onto the announce table with Bryan. Rowan picked him up so that Harper could powerbomb him, but Bryan hit a hurricanrana on Harper off of the table. Reigns then hit Harper with a spear through the announce table.
In the ring, Bryan went for a frankensteiner on Harper, who was sat on the top rope, but Harper blocked it and hit him with a big powerbomb off the middle rope. Harper then hit Bryan with two dragon suplexes and went for a third, but Bryan landed on his feet. Reigns ran in and hit Harper with a superman punch, Bryan hit him with a running knee and Reigns hit a spear for the win.
Winners: Daniel Bryan & Roman Reigns (16:45)
After the match, Reigns extended his hand to Bryan for a handshake, but Bryan pulled his hand away. Instead, Bryan wanted a hug. The crowd chanted "yes" and the two hugged.
---
Backstage: Seth Rollins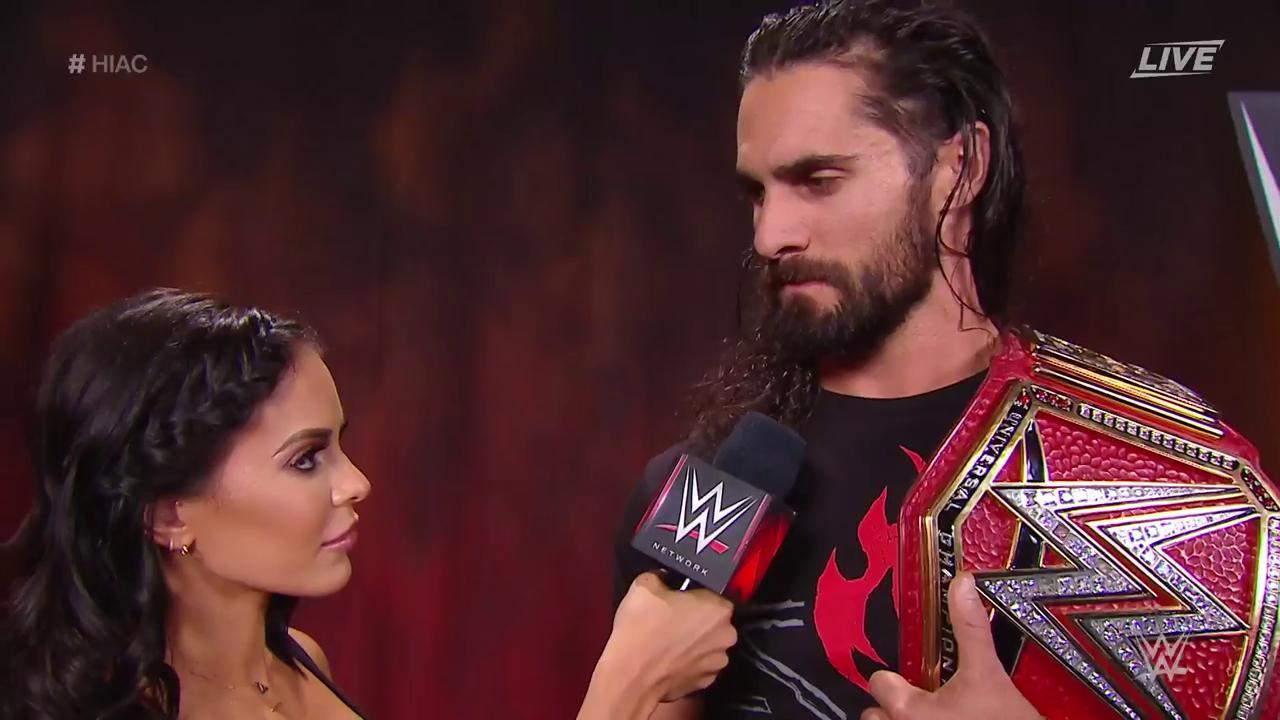 Seth Rollins was interviewed backstage and said that he's never faced anyone like The Fiend, but he'll have no choice but to "burn it down" tonight. "…At least I hope so."
---
Randy Orton vs. Ali
Randy Orton controlled the match for like the first ten minutes, doing chin locks and other shit. Crowd was dead.
Ali finally fought back a little and went for a 450 off the top, but Orton moved, but Ali landed on his feet. He hit Orton with a tornado DDT and went for the 450 again, but Orton moved and Ali crashed down to the mat this time.
Orton hit him with a draping DDT and tried to hit the RKO, but Ali extended his arms and blocked the impact. Ali tried to roll up Orton, but Orton kicked out. Ali rolled into the ring and jumped up, but Orton hit him with an RKO out of nowhere. 1-2-3.
Winner: Randy Orton (12:10)
---
Women's Tag Team Championship
Alexa Bliss & Nikki Cross (c) vs. The Kabuki Warriors
The Kabuki Warriors played the heels in this match, but the crowd was still pretty behind them. Kairi Sane walked over to Nikki Cross, who was on the apron, and eye-poked her.
A few minutes in, Kairi went for a top rope elbow on Nikki Cross, but Cross got her legs up to block it.
Later on the outside, Alexa flipped off the apron onto Kairi Sane. The ref was distracted by that and behind the ref's back, Asuka spit green mist into Nikki's face. Kick to the head by Asuka, 1-2-3.
Winners and new champions: The Kabuki Warriors (10:25)
---
The OC vs. Braun Strowman & The Viking Raiders
The OC took out the Viking Raiders on the outside, then started attacking Braun Strowman 3 on 1 in the ring… and the referee disqualified them. Total "nothing" match.
Winners by DQ: Braun Strowman & The Viking Raiders (8:15)
The Viking Raiders ran in and fought with Gallows and Anderson, leaving Styles and Strowman alone in the ring. Styles went for a Phenomenal Forearm, but Strowman hit him with a punch, knocking him out in the ring. Gallows and Anderson picked him up and helped him to the back.
---
Backstage: The Street Profits, Carmella, Tamina, R-Truth
THIS JUST HAPPENED.@TaminaSnuka is your NEW #247Champion! #HIAC pic.twitter.com/wSed2hJdWg

— WWE (@WWE) October 7, 2019
Backstage, the Street Profits hyped up the draft starting Friday on SmackDown.
Carmella and R-Truth suddenly ran into them and Truth fell down. Tamina rolled up Carmella and won the 24/7 Championship. Tyler Breeze was standing there and stared at Tamina for a couple of seconds, but she punched him in the face and ran off.
New 24/7 Champion: Tamina
---
King Corbin vs. Chad Gable
Corbin got on the mic before the match and said that like Gable's legs, he hopes Gable's career is short. He said that as your king, he's now dubbing Chad Gable "Shorty Gable."
The crowd was mostly dead, probably because this PPV has been filled with rematches that have happened on Raw like three times already in the past month.
Corbin controlled a mostly slow match for the first few minutes. Gable eventually hit a moonsault for a near fall. Corbin rolled to the outside and grabbed his scepter and tried to hit Gable with it in the ring, but the ref grabbed it. Corbin struggled with the ref and Gable rolled him up for the win. The ring announcer said "Here is your winner, Shorty Gable." Hellish. This PPV has been very hard to watch…
Winner: Chad Gable (12:40)
---
Segment: Tamina, R-Truth, Carmella
YOU DON'T WANT TO MESS WITH @shofufu824! #HIAC pic.twitter.com/Xi9dz1Qm6C

— WWE (@WWE) October 7, 2019
Tamina was shown running from R-Truth. She ran to the international announce table section and grabbed Funaki. Funaki did some karate poses, then Tamina threw him into R-Truth. Carmella came up from behind and superkicked Tamina and R-Truth rolled her up to win the 24/7 Championship again.
New 24/7 Champion: R-Truth
---
SmackDown Women's Championship
Bayley (c) vs. Charlotte Flair
Crowd is dead again. This PPV has been just brutal. After a few minutes, Bayley rolled Charlotte up and tried to use the ropes as leverage, but the referee caught her. Charlotte gave Bayley a big boot, then locked on the Figure Eight, and Bayley tapped.
Winner and new champion: Charlotte Flair (10:13)
Bayley "threw a fit" after the match and sat on the floor at ringside "crying."
---
Backstage: Chad Gable, King Corbin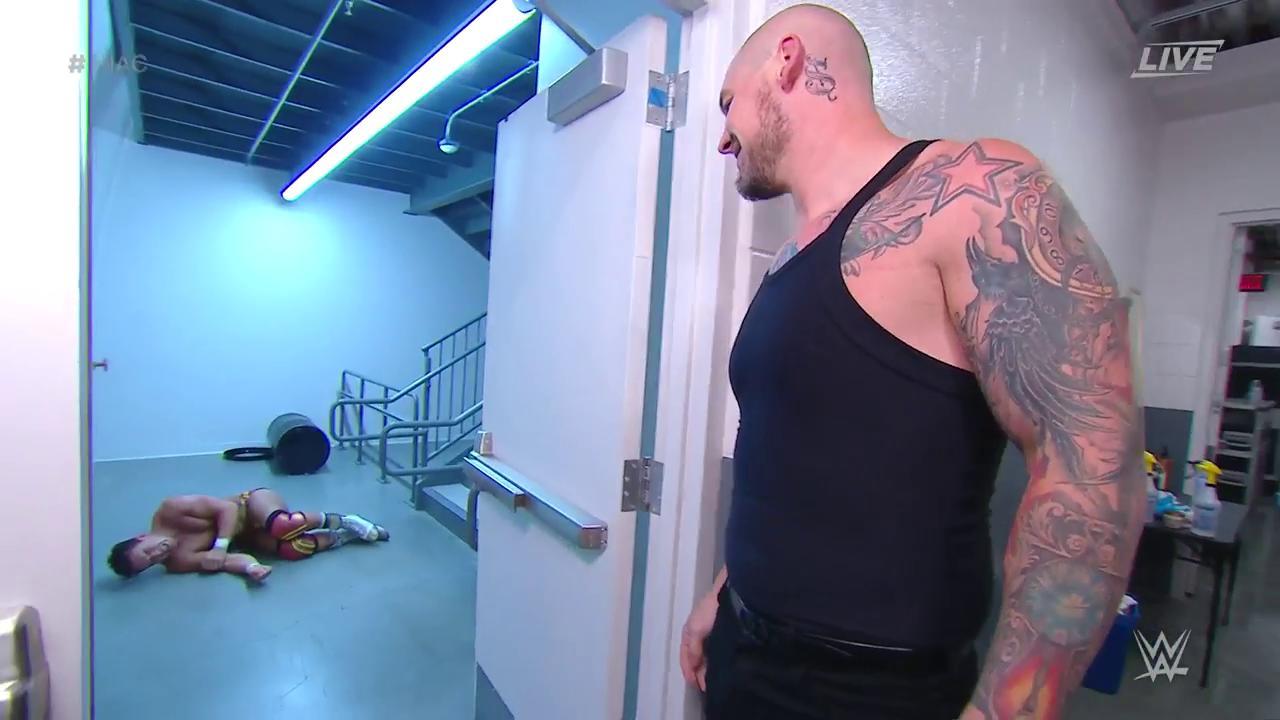 Backstage, Kayla Braxton said "Excuse me, Shorty…" to Chad Gable. Gable looked happy and said that's fine, she can call him whatever she wants. He said that Corbin "came up short" tonight and Gable "was the bigger man." Corbin then came up and attacked him from behind. This sucks.
---
Universal Championship – Hell in a Cell Match
Seth Rollins (c) vs. "The Fiend" Bray Wyatt
Rollins entered first and Wyatt entered next, with his head lantern. The match started and the arena was lit up with red lights, which look like they'll be on for the entire match. It's an interesting idea but it's giving me a headache and it's hard to see what's happening.
Rollins grabbed a kendo stick from under the ring and went to hit Wyatt, but Wyatt attacked Rollins and took control of the match. Rollins fought back after a few minutes with a couple of suicide dives, then went for a third but Wyatt caught him and gave him a Sister Abigail into the cage.
Wyatt tried to put Rollins through a table in the ring, but Rollins superkicked him onto it, then hit a top rope splash on Wyatt through the table.
Rollins hit the Stomp! But Wyatt immediately stood up. Rollins ran at him again but Wyatt hit Sister Abigail! But Rollins kicked out… Wyatt stood in the ring and looked distressed, burying his face in his hands briefly, but he regained composure.
Wyatt pulled out the giant mallet from Firefly Fun House from under the ring, then drove it into Rollins' midsection. Rollins made that "hurling" sound that he keeps making. Rollins fought Wyatt off with three superkicks, then hit him with two springboard flying knees and two superkicks.
A stomp by Rollins… and another… and a third. The crowd erupted into boos. Wyatt stood up and the crowd popped. Pedigree by Rollins… and another Stomp… Rollins went for the pin and Wyatt kicked out at 1!
Three more stomps… Crowd booing… another stomp… and another. Rollins grabbed a chair from under the ring and stood over Wyatt cautiously… then smashed him in the head with the chair. And Wyatt kicked out at 1 again…
Rollins grabbed a ladder. He put the chair on Wyatt's head, then smashed the ladder into the chair… and Wyatt kicked out at 2.
Rollins grabbed a big toolbox from under the ring. He put the chair and ladder on Wyatt's head, then repeatedly smashed the toolbox on the ladder. The crowd booed again.
Rollins went to the outside and looked like he didn't know what else to do. He finally grabbed a sledgehammer from under the ring. He went to hit Wyatt, but the ref tried to talk him out of it. Rollins hesitated for a few seconds then smashed the sledgehammer into the ladder on Wyatt's head.
And the referee called for a disqualification… lol. Jesus. The crowd erupted into boos and loudly chanted "bullshit."
Update: WWE says that the official ruling is not a disqualification as everyone originally assumed, but that the match "ended in a match-stoppage ruling that led to Rollins retaining the title." Whatever.
Match ends in referee stoppage (17:03)
The cage was elevated and officials ran down to check on Wyatt. Seth went to attack Wyatt some more, but Wyatt rose from the dead and locked on the Mandible Claw… then hit him with Sister Abigail on the outside.
The crowd loudly chanted "AEW."
Wyatt took off the padding on the floor, then hit Rollins with another Sister Abigail on the concrete. He locked on the Mandible Claw again, Rollins made vomiting sounds, the Fiend sound effects played over the PA, the lights went out and Wyatt's laugh played over the PA as the show went off the air with the crowd booing in the background.
Welcome to Hell, "The Fiend" @WWEBrayWyatt… #HIAC pic.twitter.com/kNT7aSCHep

— WWE (@WWE) October 7, 2019