November 26, 2019
Mississauga, Ontario – Don Kolov Arena
Results by ImpactWrestling.com
---
Quick Match Results
Rapid Delivery Pete (Rich Swann) defeated Rip Rayzor (Ace Austin) via the Rapid Delivery Splash
The Hard Workers (Oats & Hall) (The Deaners) defeated Xcessive Force (Pummel & Plunder) (Fallah Bahh & D'Lo Brown) via double sunset flip on Pummel
Johnny Swinger defeated Buck Gunderson via Swinger Neckbreaker
Jazzy Fitbody (Madison Rayne) defeated Agnes Beerhart via splash off middle rope
The Rough Riders (Tessa Blanchard, Jordynne Grace, Havok, Alexia Nicole) defeated Tim Burr (Josh Alexander), Jim Nasium (Dez), Bill Ding (Trey) & Ray Strack (Wentz) via pin by Blanche Ardmore (Tessa) on Strack (Wentz)
Body Slam Challenge: Muscles McGhee (Brian Cage) successfully slammed Kongo Kong
DJ 2 Large (Moose) defeated Captain Joystick (Joey Ryan) via lariat
Blindfold Match: Cowboy Colt McCoy (Eddie Edwards) defeated Gama Singh via neckbreaker
Loser Leaves Town Match for the International Commonwealth Television Championship: Downtown Daddy Brown (Willie Mack) defeated Julian Cumberbun (Ethan Page) (c) via roll up to win the title
---
For one night only, step out of the time machine and into the world of the IMPACT Provincial Wrestling Federation. Guiseppe Scovelli Jr. (Josh Matthews) and Sexton Hardcastle (Don Callis) were on commentary.
WAKE UP!

IPWF is NOW on @AXSTV! #ThrowbackThrowdown pic.twitter.com/yVeF7MITiR

— IMPACT (@IMPACTWRESTLING) November 27, 2019
---
Rip Rayzor (Ace Austin) vs. Rapid Delivery Pete (Rich Swann)
Rayzor refuses to put out his cigarette. Pete reminds him that smoking is bad for his health. Pete reaches for Rayzor but gets burned by his cigarette. Rayzor rakes the chest of Pete and puts in a headlock. Pete turns it around with a series of dropkicks, followed by a powerslam and the Rapid Delivery Splash to win.
Winner: Rapid Delivery Pete
---
Backstage: Sonny Sanders (Sami Callihan), Julian Cumberbun (Ethan Page), Downtown Daddy Brown (Willie Mack)
IPWF host The Iceman interviews International Commonwealth Television Champion Julian Cumberbun with his manager Sonny Sanders ahead of Cumberbun's title defense against Downtown Daddy Brown tonight where the loser will be forced to leave town. They are interrupted by Daddy Brown who avoids a sneak attack from Sanders and rips the pants off of Cumberbun.
Julian Cumberbun says this town, this territory would be nothing without him.

Downtown Daddy Brown disagrees. #ThrowbackThrowdown @OfficialEGO @Willie_Mack @TheSamiCallihan pic.twitter.com/z09EIfHAyL

— IMPACT (@IMPACTWRESTLING) November 27, 2019
---
Backstage: Xcessive Force (D'Lo Brown & Fallah Bahh)
The Iceman brings in Pummel and Plunder of Xcessive Force before they face Oats and Hall of the Hard Workers in tag team action next.
Xcessive Force are the most imposing duo in IPWF! #ThrowbackThrowdown @FALLAH1 @dlobrown75 pic.twitter.com/0aUFSzu85X

— IMPACT (@IMPACTWRESTLING) November 27, 2019
---
Xcessive Force (Pummel & Plunder) (Fallah Bahh & D'Lo Brown) vs. The Hard Workers (Oats & Hall) (The Deaners)
Xcessive Force attack The Hard Workers from behind to jumpstart the match and gain the early advantage. Hall takes out both Pummel and Plunder with a double clothesline, followed by a huge powerslam to Pummel. The Hard Workers connect with a unique double sunset flip into a pin on Pummel to win.
Winners: The Hard Workers
After the match, Xcessive Force attack the Hard Workers like sore losers. Plunder squashes The Hard Workers' hats on top of Oats to send a message.
---
Segment: The New Wave (Jake & Dave Crist)
The New Wave go wherever the waves take them – and that wave will arrive in IPWF TUESDAY at 8/7c on @AXSTV! @TheDaveCrist @TheJakeCrist pic.twitter.com/zEA1yk0gmI

— IMPACT (@IMPACTWRESTLING) November 23, 2019
---
Johnny Swinger vs. Buck Gunderson
Swinger is in tune with the times as he takes control. Gunderson pulls his strap down in an attempt to turn it around but Swinger slams him to the mat with a Spinebuster. Swinger connects with the Swinger Neckbreaker to win in dominant fashion.
Winner: Johnny Swinger
---
Backstage: Frank the Butcher (Rhino)
Frank the Butcher cuts a promo and says he's coming to the IPWF soon.
---
Backstage: The Rough Riders (Tessa Blanchard, Jordynne Grace, Havok, Alexia Nicole)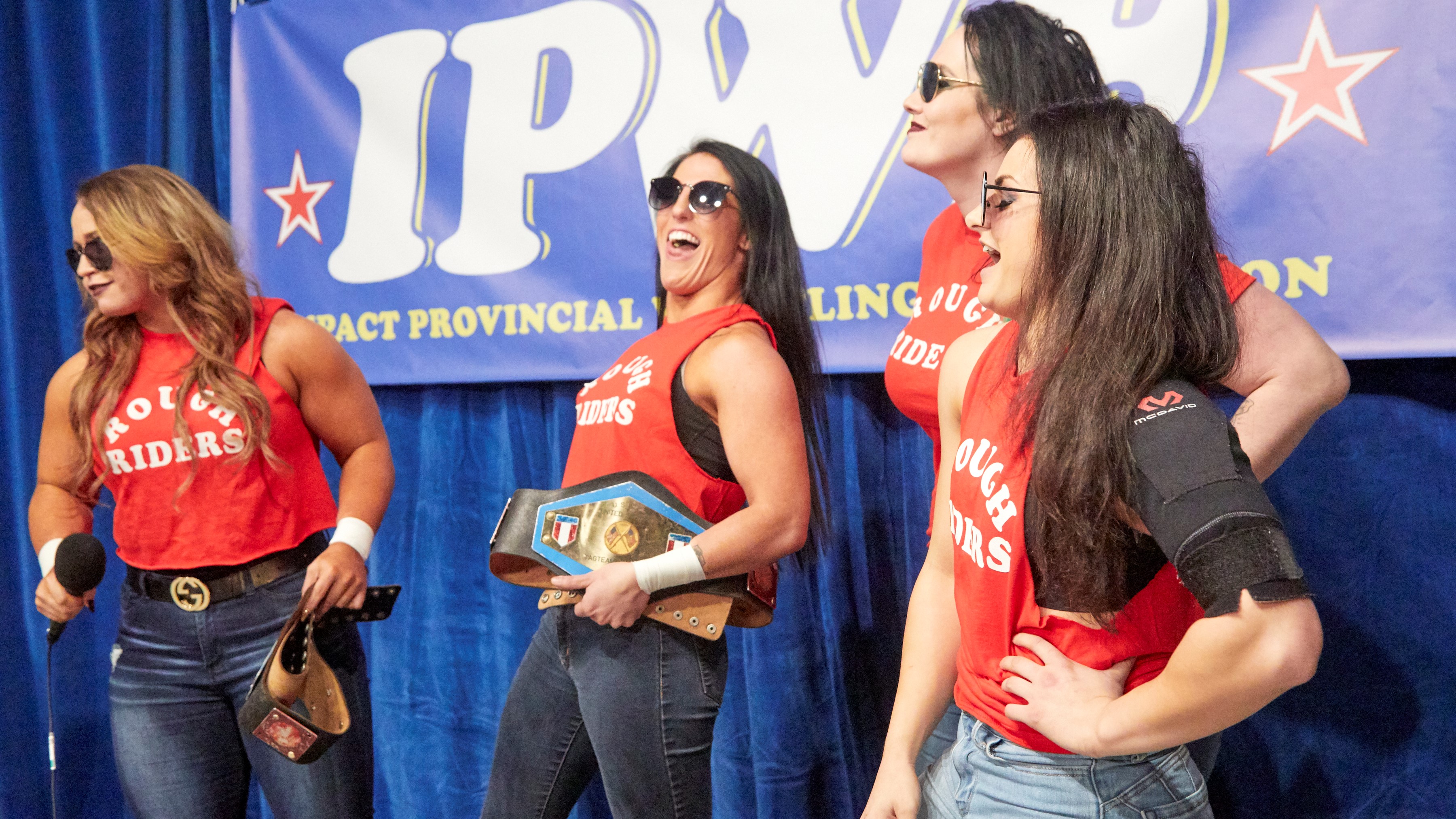 Iceman interviews The Rough Riders ahead of their 8-person tag team match later tonight. They promise to ride right over whoever gets in their way.
---
Jazzy Fitbody (Madison Rayne) vs. Agnes Beerhart
The Hitmaker Sebastian Baker (Jimmy Jacobs) comes down to ringside as he continues to pressure Jazzy Fitbody into signing a contract with him. Agnes wears down Jazzy with a snap suplex. Jazzy feeds off the energy of the crowd to build momentum. Jazzy hits a splash off the second rope to win.
Winner: Jazzy Fitbody
Post-match, Baker threatens Jazzy that she may get struck with some bad luck if she doesn't' sign his contract. In a shocking turn of events, Jazzy signs the contract but it's all part of her plan as she delivers a low blow to Baker and rips up the contract.
---
Tim Burr (Josh Alexander), Jim Nasium (Dez), Bill Ding (Trey) & Ray Strack (Wentz) vs. The Rough Riders (Tessa Blanchard, Jordynne Grace, Havok, Alexia Nicole)
Strack goes through the gears but Georgia puts him in park as she sends him retreating to his side of the ring. Nasium does pushups to show his strength but can't keep up with the speed of Mildred. Lady Bird locks in a Bear Hug on Burr but he escapes and hits a double axe handle off the top. Strack hits all the Rough Riders with a flurry of superkicks but misses the follow up splash off the top. Blanche takes out Strack with a revolutionary maneuver to win.
Winners: The Rough Riders
---
In-Ring: Body Slam Challenge w/ Kongo Kong and the $300,000 Man
Mr. Atlantis answers the challenge but as soon as he attempts the body slam, Kong beats him down. Muscles McGhee (Brian Cage) comes to the ring and says he's not here for the money, he's here for the people. McGhee sends the $300,000 Man to the outside before exchanging with Kong. McGhee uses his muscles to successfully body slam Kong.
---
Backstage: Tommy Dreamer
Report via PWInsider: Tommy Dreamer and his Ribera Steakhouse jacket says in two weeks, he's coming back to reclaim what is rightfully his. That son of a bitch Jack Tunney stripped him of his title because he piledrove his champion right in front of Vince McMahon, and slapped his son Vinnie Jr. He doesn't care if it's Rhodes, Race, Bockwinkel, Backlund, or the Funks, he's coming back to reclaim what's his, you EGG SUCKING DOGS!
---
DJ 2 Large (Moose) vs. Captain Joystick (Joey Ryan)
We see footage from last week showing DJ 2 Large defeat Captain Joystick in a highly competitive bout.
Winner: DJ 2 Large
Segment: DJ 2 Large, Captain Joystick, Ms. Mile High (Kiera Hogan)
Captain Joystick and Ms. Mile High welcome DJ 2 Large into their cockpit. DJ starts freestyling but Joystick isn't a fan. They get into a physical altercation and tear down the cockpit.
The Cockpit flew off the rails when Captain Joystick couldn't handle DJ 2 Large's banter. #ThrowbackThrowdown @JoeyRyanOnline @HoganKnowsBest3 @TheMooseNation pic.twitter.com/4M98xf10OK

— IMPACT (@IMPACTWRESTLING) November 27, 2019
---
Blindfold Match
Gama Singh vs. Cowboy Colt McCoy (Eddie Edwards)
Both Gama and Cowboy must wear bags over their heads in this bout. Dada reaches in and trips up Cowboy from ringside. Dada distracts the referee, allowing Gama peak out from under his blindfold and gain the advantage. Dada tries to get involved again but this time, Cowboy grabs hold of him and knocks him to the floor. Cowboy hits a modified neckbreaker to win.
Winner: Cowboy Colt McCoy
After the match, Iceman interviews Cowboy when he's jumped by The Soviets (Michael Elgin & ?). Cowboy's father tries to stop the beatdown but The Soviets flatten him too. The Soviets place the flag over the body of Cowboy.
---
Loser Leaves Town Match for the International Commonwealth Television Championship
Julian Cumberbun (Ethan Page) (c) vs. Downtown Daddy Brown (Willie Mack)
Cumberbun was accompanied by Sonny Sanders (Sami Callihan). Cumberbun escapes the wrath of Daddy Brown by hiding amongst the fans. Daddy Brown spots him and continues the attack inside the ring. Cumberbun goes low to regain control. Daddy Brown hits the ropes but Sanders crushes him in the back with his tennis racket. Cumberbun fakes an injury to distract the referee, allowing Sanders to pummel Daddy Brown on the outside. Cumberbun locks in the Figure Four but Daddy Brown reverses the pressure. Daddy Brown has the match won but Sanders puts Cumberbun's foot on the bottom rope to break the pin. Sanders once again distracts the referee, Cumberbun hits Daddy Brown with his signature tennis racket but Daddy Brown somehow kicks out. Daddy Brown rolls up Cumberbun to score the win, becoming the new ICT Champion and forcing Cumerbun to leave IPWF.
Winner: Downtown Daddy Brown – ***NEW ICT Champion***
The locker room empties to celebrate with Downtown Daddy Brown as IPWF goes off the air.