December 4, 2019
Winter Park, Florida
Commentary: Mauro Ranallo, Nigel McGuinness, and Beth Phoenix
Results by: Mike Tedesco of Wrestleview.com
---
Quick Match Results
Killian Dain defeated Pete Dunne via falling back on Dunne as he had a sleeper hold on the ropes
Shayna Baszler defeated Xia Li via Kirifuda Clutch
The Forgotten Sons defeated Adrian Alanis & Leon Ruff via double team stomp / reverse DDT on Alanis
Dakota Kai vs. Rhea Ripley never started due to interference by Mia Yim
Matt Riddle defeated Kassius Ohno via Bro Derek
Kushida defeated Cameron Grimes via roll up
Keith Lee, Dominik Dijakovic, & Tommaso Ciampa defeated The Undisputed ERA (Cole, Strong, O'Reilly) via Jackhammer by Lee on Cole
---
Mauro Ranallo welcomes us to the show.
---
Killian Dain vs. Pete Dunne
Killian Dain is in the ring and is angry that Damian Priest couldn't face him. Dain makes an open challenge. Pete Dunne accepts!
Dunne gets in the ring, and they start brawling. Dunne punches Dain out of the ring and throws his jacket at him. Dain gets in the ring, and Dunne takes him down for a submission attempt. Dain fights it and stomps Dunne. Dunne gets up and takes Dain down before kicking him in the arm. Dunne manipulates the fingers and jumps on him to bend the arm. Dain counters into a suplex attempt, but Dunne gets out. Dunne drops down after a whip and strikes him, but Dain stays on his feet. Dain knocks Dunne out of the ring, but Dunne kicks him in the head. Dunne jumps over Dain, and Dain wipes him out with the running cross-body block. Dain connects with a Belfast Bomb (senton splash) before ripping at the face. The crowd chants, "Shave your back" at Dain. Dain kicks Dunne and taunts the crowd. Dunne fights up and boots Dain. Dunne goes to the second rope, but Dain pulls him off for a short-arm clothesline for a near fall. Dain works on the arm, but Dunne fights up and puts him in the corner. Dain then takes him out with another running cross-body for a two count. Dain attacks the chest and applies a neck vice. Dunne fights up and sidesteps him before backflipping over him. Dunne connects with a kick to the head followed by a missile dropkick to the knee. Dunne goes for a German Suplex, but Dain elbows out. Dunne avoids a bicycle kick and clubs him. Dunne then connects with a German Suplex for a near fall. Dain rolls out of the ring to recover. Dain grabs Dunne on the apron, but Dunne stomps his hand. Dunne backflips over him and tweaks his knee landing on the floor. Dain then wipes him out with a suicide dive!
We come back from the break to see Dunne fighting up on the apron. During the commercial, Dain hit a Belfast Bomb on the knee. Dunne also hit him with a superplex. Back to live action, Dunne hits a tornado DDT followed by a roundhouse kick to the head for a near fall. Dain rolls out of the ring to recover. Dunne goes to the second rope, takes a while to get set, and then hits a moonsault block to the floor on Dain. Dain grabs Dunne going back in the ring and hits a fireman's carry slam on the apron. Dain follows up with a Belfast Bomb followed by a Belfast Blitz (cannonball) into the steel steps.
Dain gets Dunne in the ring and hits an avalanche. Dain goes for a Vader Bomb, but Dunne counters into a triangle choke attempt. Dunne grabs the fingers, but Dain fights it. Dain then powers him up and hits a sit-out powerbomb to break the hold. Dain goes back to the second rope, but Dunne cuts him off. Dunne climbs the ropes, elbows him, and applies a sleeper hold on the ropes. Dain then leaps back and lands full force on Dunne for the win!
Winner by Pinfall: Killian Dain
---
Backstage: Dakota Kai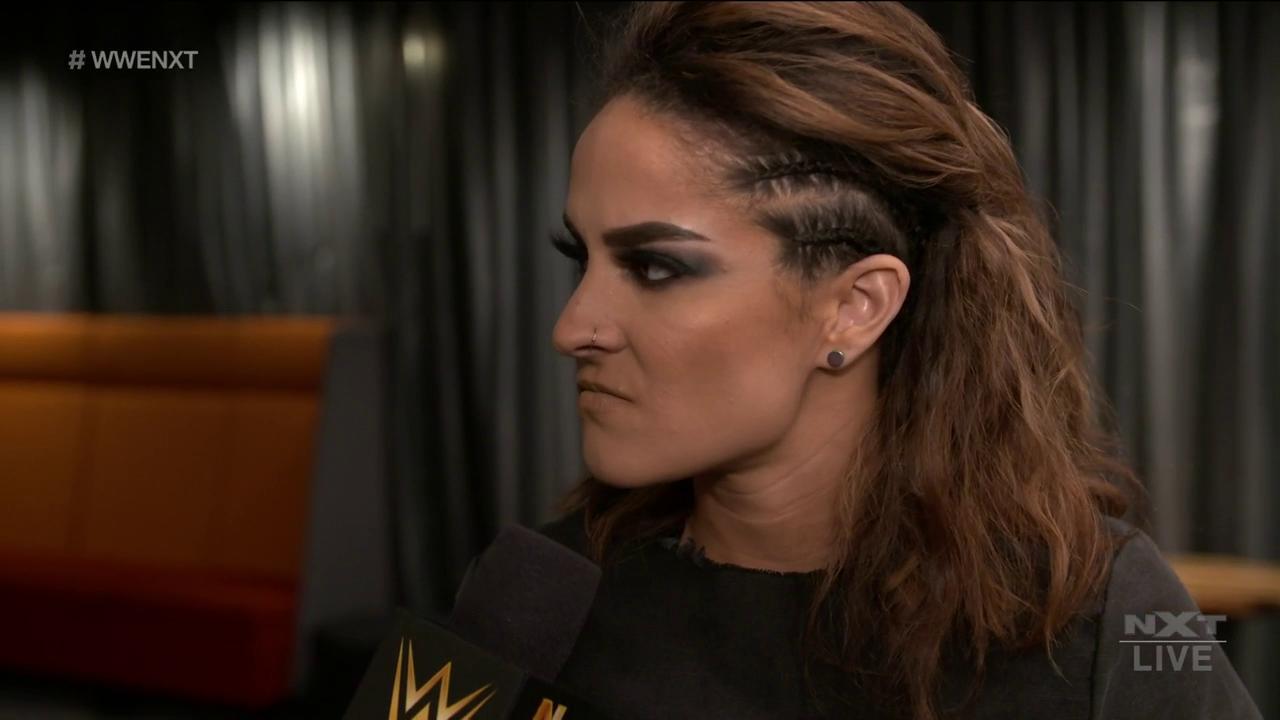 Cathy Kelley is backstage with Dakota Kai. Kai says Tegan Nox isn't worth her time. Also, how dense can Rhea Ripley be? Ripley wants to play the almighty hero, but Kai doesn't care. She'll take Ripley out tonight, just like she did to Mia Yim.
---
In-Ring: Undisputed Era, Keith Lee, Tommaso Ciampa
The Undisputed ERA makes their way to the ring. Bobby Fish is not with them tonight due to his injury last week. NXT Champion Adam Cole says the Undisputed ERA had a November to remember. They took over Raw and SmackDown before embarrassing them at Survivor Series. The year of the prophecy has only just begun. They are the iron men of NXT. How does NXT repay them? They injured Bobby Fish's neck last week. How about Keith Lee pouncing him into the crowd like a rag doll? Cole says he is not a rag doll. He is the NXT Champion and deserves respect. A "Keith Lee" chant picks up.
After all the obstacles they overcame, Finn Balor turned him back on them by kicking Cole in the face. Cole demands answers from Balor. Cole says the Undisputed ERA is not leaving the ring until they get their answers.
Keith Lee comes out instead to new music. The crowd chants for Lee. Kyle O'Reilly says there are so many moments, but so little time. What does Lee have to show for those moments because they're the ones standing here with all the gold? O'Reilly says everyone is talking about Lee after Survivor Series. Lee lost to Roman Reigns because he's a loser. Lee says he'll give them credit. Some of what they say is true. He's a moment maker, but they forgot to add that he's a game changer. While they may be there with all the gold, he turned the champion into a viral gif. Lee says he's also victorious against their cohesive unit at WarGames. Lee looks at the titles. Lee says he's trying to decide which of the titles he should take first. Cole says they can make a moment right here and now when the Undisputed ERA beats him down and ends Lee's career.
Lee punches Cole down before clotheslining Roderick Strong and O'Reilly. Lee throws O'Reilly into Strong, and Cole escapes the ring. Tommaso Ciampa attacks Cole from behind and puts him in the ring. Lee goes for a Spirit Bomb on Cole, but Strong and O'Reilly pull him away. The Undisputed ERA escapes through the crowd while Lee stands in the ring with Ciampa. Ciampa picks up the NXT Championship.
---
Xia Li vs. Shayna Baszler
The NXT Women's Championship will not be on the line.
The bell rings, and Li ducks a clothesline. Baszler blocks a kick and kicks the leg. Li hits a leg sweep and stands over Baszler. Baszler takes her down and punches away at her. Li gets out and avoids a Kirifuda Clutch. Li jumps on the back, but Baszler pulls her off. Li rolls her up for a one count. Li then hits a tornado kick to the skull. Baszler quickly gets out of the ring and snaps the arm off the ropes. Baszler gets back in the ring and attacks the left arm. Baszler bends the arm back and viciously stomps it. Baszler covers for a two count. Baszler kicks her in the spine and stretches the arm. Li tries to get out with kicks, so Baszler counters into a single leg crab. Li twists out and takes her down with a kick to the chest. Li fights back at Baszler and forearms her in the corner. The referee backs Li up. Li attacks Baszler again, but Baszler powers her into the corner. Baszler puts Li on the top rope and goes for a gutwrench superplex, but Li fights it. Li goes for a sunset flip powerbomb and connects, but Baszler kicks out. Li misses a tornado kick, and Baszler immediately applies the Kirifuda Clutch for the win.
Winner by Submission: Shayna Baszler
---
Segment: Kassius Ohno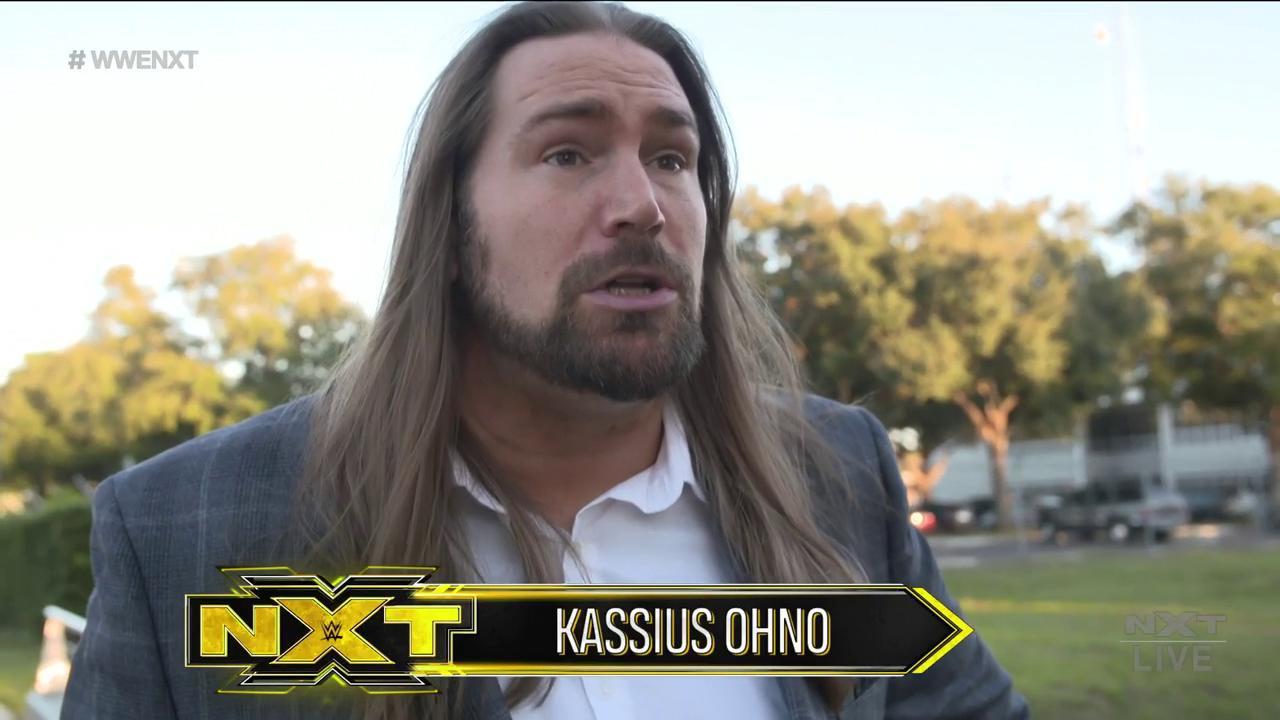 Kassius Ohno talks about how he's been at NXT UK having a career renaissance. With Worlds Collide coming up, he wants to give the people a preview.
---
The Forgotten Sons vs. Adrian Alanis & Leon Ruff
Wesley Blake immediately attacks Ruff before taking him down and tagging Steve Cutler in. Cutler stomps the spine and gives Ruff a buckle bomb. Alanis tags in and punches away at Cutler. Cutler drops him with a Busaiku Knee before connecting with a German Suplex. Blake tags back in, and they hit a double-team diving stomp/reverse DDT for the win.
Winners by Pinfall: The Forgotten Sons
Jaxson Ryker grabs Leon Ruff and chokeslams him over the top rope onto the apron! The Forgotten Sons stand tall in the ring.
---
Dakota Kai vs. Rhea Ripley / In-Ring: Kai, Ripley, Mia Yim, Shayna Baszler
Dakota Kai comes out carrying the knee brace of Tegan Nox, which she stole at NXT TakeOver: WarGames III. Kai's entrance video is a replay of her beating up Nox.
Rhea Ripley says what Dakota Kai did at WarGames was clever, but the funny thing about those setups are right now. Mia Yim joins Ripley. Yim gets in the ring, ducks a shot from the knee brace, and takes her down. Yim and Kai brawl in the ring before Yim takes her down. Yim big boots Kai out of the ring. Ripley then throws Kai back into the ring. Kai takes Yim down and punches away at her. Yim gets out and pulls her down by the hair. Yim kicks her in the face a few times before Kai gets out of the ring. Kai tackles Yim into the apron and big boots her in the face. Yim makes a comeback and throws her into the barricade four more times. Kai goes through the crowd, so Yim follows.
Ripley looks pleased with herself at ringside. Shayna Baszler comes out with Jessamyn Duke and Marina Shafir. Ripley gets in the ring, and Duke and Shafir attack. Ripley fights them off before brawling with Baszler. Baszler avoids a kick and goes for the Kirifuda Clutch, but Ripley gets out. Ripley fights off Duke and Shafir before Baszler applies the Kirifuda Clutch. Ripley fights out and takes Duke and Shafir out. Baszler goes for another Kirifuda Clutch, but Ripley fights it. Ripley fights up, but Duke and Shafir take her arms out. Baszler then chokes Ripley out with the Kirifuda Clutch. Baszler stands over Ripley and says she's not so tough. Ripley talks a big game, but she can't back it up. Baszler says if she wants a title match, she'll get it on December 18. Baszler tells her to sleep tight.
Kai vs. Ripley never started.
---
Video: Finn Balor
Video Package: Finn Balor says his future will be his past. Balor calls out Adam Cole in the video.
---
Kassius Ohno vs. Matt Riddle
Ohno taunts Riddle before angrily looking at the crowd. They lock up, and Ohno applies a waistlock. Riddle gets out and applies a waistlock. A "Riddle" chant picks up in the style of "Goldberg." Riddle takes him down, but Ohno quickly fights up. Riddle gets away from him. They lock up, and Ohno applies an arm lock. Ohno takes him down and cinches in the hold. Ohno shouts that he's a wrestling genius. Riddle fights up and goes for a waistlock. Ohno gets away. Riddle goes for a takedown, but Ohno fights it again. Ohno knees him in the midsection before applying a facelock. Riddle fights up, but Ohno knees him. Riddle fights out and hits a big German Suplex. Riddle kicks away at him in the corner before hitting a running forearm. Riddle goes for a second forearm, but Ohno gets out of the ring. Riddle then floors him with a running kick on the apron.
We come back from the break to see Riddle viciously kicking Ohno in the chest. Ohno eventually blocks one and hits a throat thrust. Ohno then big boots him down. Ohno continues to attack, and Riddle looks out on his feet. Ohno applies a neck vice and takes him down to the mat. Riddle tries to fight out, so Ohno floors him with a sit-out powerbomb for a near fall. Ohno applies a straightjacket submission and pulls back, but Riddle rolls through and hits a Broton splash. Riddle misses a PK and a moonsault. Ohno grabs the feet and goes to bite the toe, but Riddle knees him. Riddle hits a Bro To Sleep before hitting a powerbomb and the Final Flash knee. Riddle goes to the top rope for a Floating Bro, but Ohno kicks out.
Riddle goes for another Final Flash, but Ohno counters with a right hand. Ohno then connects with a neck trap suplex. Ohno goes for a move, but Riddle fights out. Riddle hits a Ripcord Knee followed by the Bro Derek for the win.
Winner by Pinfall: Matt Riddle
---
Kushida vs. Cameron Grimes
While Raul Mendoza was making his entrance, Cameron Grimes hits him with a Cave In out of nowhere! Grimes challenges KUSHIDA instead.
The bell rings, and Kushida avoids some takedowns. Grimes applies a side headlock and punches him. Kushida whips him off, but Grimes viciously shoulder blocks him down. Grimes hits the ropes, but Kushida kicks him out of the ring. Kushida goes to the top rope for a crazy summersault plancha!
Kushida gets him in the ring and chops him. Grimes misses a strike, and Kushida chops him down. Grimes reverses a whip to the corner, but Kushida slingshots over him. Kushida goes for an octopus stretch, but Grimes gets out. Kushida tries again, but Grimes kicks him. Kushida then applies an octopus stretch. Kushida viciously takes him down and twists the arm bad. Grimes grabs the bottom rope to break the hold. Grimes fights back and hits an Everest German Suplex for a near fall. Grimes knees him and stomps the recently repaired wrist. Kushida fights up and hits a hip toss followed by a dropkick. Grimes quickly hits a superman forearm before going for a backflip German Suplex, but Kushida counters into a roll-up for the win.
Winner by Pinfall: KUSHIDA
---
The Undisputed ERA (Cole, Strong, O'Reilly) vs. Keith Lee, Dominik Dijakovic, & Tommaso Ciampa
Keith Lee starts against Roderick Strong. Lee powers him to the corner and tags in Tommaso Ciampa, who slams Strong. Dominik Dijakovic tags in, but Strong gets away. Kyle O'Reilly tags in and applies a guillotine. Dijakovic powers out with a release suplex. Dijakovic clotheslines him in the corner and hits a backbreaker. Dijakovic hits a springboard splash for a two count. Dijakovic forearms O'Reilly and picks him up. Strong blind tags in, but Dijakovic uses O'Reilly to knocks Strong down. Dijakovic then hits Cole with O'Reilly to knock him off the apron.
We come back from the break to see Strong applying an abdominal stretch. During the commercial break, Dijakovic took Strong and O'Reilly down before Cole hit him with a Last Shot. Back to live action, Strong dropkicks Dijakovic down. Dijakovic comes back with a clothesline. O'Reilly quickly tags in and stops Dijakovic from making a tag. The Undisputed ERA pulls Dijakovic back to their corner. Dijakovic fights them off, but O'Reilly knees him. O'Reilly dropkicks Keith Lee off the apron. Dijakovic then tags Ciampa in.
Ciampa clotheslines Strong and O'Reilly. Ciampa clotheslines Strong out of the ring before hitting Strong and O'Reilly with running knees. Ciampa hits a draping DDT on Cole. Ciampa drops a knee before hitting Project Ciampa for a near fall. O'Reilly gets out of a Fairy Tale Ending and boots him back. Strong blind tagged in. O'Reilly and Strong hit Total Elimination, but Dijakovic breaks up the pin. O'Reilly hits an axe kick to Dijakovic before hitting a double knee with Strong. Strong grabs Ciampa, but Ciampa gets away. Strong hits a gutbuster, but Ciampa quickly comes back with a dropkick.
Lee and Cole tag in to a big ovation. Lee hits a shoulder block on Cole before turning him inside out with a clothesline. Cole quickly gets out of the ring. The crowd is really buzzing over Lee. Lee goes for a plancha, but stops when the UE moves. Lee hits a double shoulder block on the floor on Strong and O'Reilly. Cole then hits a superkick on Lee. Dijakovic wipes out Cole and Strong with a wild plancha. O'Reilly goes to the top rope, but Dijakovic pulls him off. Cole cuts Dijakovic off.
Finn Balor all of a sudden gets in the ring and dropkicks Cole into the referee, who hits everyone on the turnbuckles. Balor then hits the 1916 on Ciampa. Balor sets up for a dropkick, but Lee attacks him. Lee counters a Sling Blade into a Spirit Bomb on Balor. Cole superkicks Lee and goes for a Last Shot, but Lee counters into a Jackhammer for the win!
Winners by Pinfall: Keith Lee, Dominik Dijakovic, and Tommaso Ciampa
NXT General Manager William Regal comes out to the stage. Regal says on December 18, Adam Cole will defend the NXT Championship. Next week, we'll determine the challenger. It'll be Finn Balor versus Tommaso Ciampa versus Keith Lee in a triple threat match!