December 6, 2019
Fayetteville, North Carolina
Commentary: Michael Cole and Corey Graves
Results by: Roy Nemer of Wrestleview.com
---
Quick Match Results
Alexa Bliss defeated Mandy Rose via Twisted Bliss
Fatal Four Way Tag Team Elimination Match: The Revival defeated Mustafa Ali & Shorty G, Lucha House Party and Heavy Machinery, last eliminating Gable & Ali via the Shatter Machine on Gable
Lacey Evans defeated Haley Jones via the Woman's Right
Roman Reigns defeated Dolph Ziggler via spear
---
Miz TV and Firefly Fun House
Live in the arena, it's The Miz who comes out for Miz TV. He says his guest was supposed to be Daniel Bryan but after what Wyatt did to him, that won't happen. Bryan has disappeared. Miz says he and Bryan have never been friends but he knows him better than anyone in the company. He knows how much Bryan means to Smackdown and the WWE Universe. And for the first time in a long time, last week we saw the real Daniel Bryan. But Wyatt took that away and Bryan has been nowhere to be found.
Miz says he never liked Daniel Bryan but he cares and he will get to the bottom of this. He says he will find out what happened to Daniel Bryan. FireFly Fun House music plays and we have another episode. Wyatt says hi to Miz and he doesn't want to know what happened to Daniel Bryan. He's not sure he wants to know because Bryan could be with him. Oh and he may not be done with Daniel Bryan just yet. All he knows is that Bryan was supposed to play with him at TLC but he probably won't be there. But maybe Miz would like to play instead.
Back in the arena, Miz says it's about Daniel, not him and Daniel is like family. Wyatt says he gets sad when people don't want to play. Out comes Ramblin' Rabbit who tells Miz to run. Wyatt says family is the word of the day. Wyatt says he used to have a family as we see flashes of the Wyatt Family. He says he has a chance to join a new family and if you can believe it, you can achieve it. Wyatt holds up a picture of The Miz and his family. He asks Miz if he wants to come and play with him as an angry Miz is standing in the ring.
The Miz leaves the ring and walks out.
After commercials, Miz is backstage on the phone with Maryse telling her everything will be fine but as precaution to lock the doors and to set the alarm. He says he has to do something about it. Miz says he's going home and they'll discuss it after.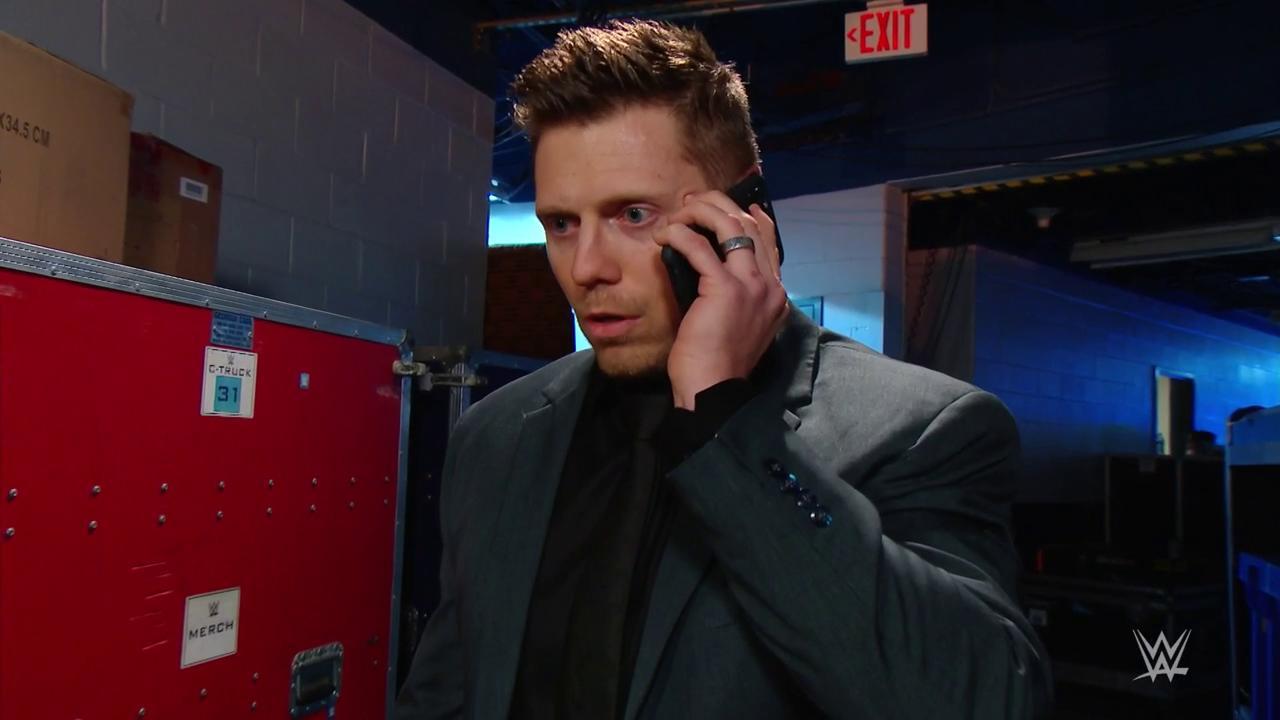 ---
Mandy Rose vs. Alexa Bliss
The bell rings and we are under way. Alexa takes Mandy down but Mandy throws her off. Alexa with a drop toe hold as Mandy rolls to the outside. Alexia goes for a baseball slide but Mandy moves out of the way. Mandy hits Alexa with a running knee. Mandy throws Alexa back in the ring. She goes for the cover but Alexa kicks out.
An arm bar submission by Alexa. Mandy rips Alexa's eyelashes off as Alexa hits her with a right hand but Mandy hits Alexa with a drop kick followed by a big boot. Mandy lifts Alexa up but Alexa escapes. Mandy goes for thee high knee but Alexa goes for the cover as Mandy kicks out. Both women back up and a right hand by Alexa followed by a drop kick. Alexa stands on top of Mandy while using the ropes for leverage.
Alexa with a double knee as Sonya gets on the ring apron. Nikki with a cross body takes Sonya out. With Alexa distracted Mandy goes for the cover but Alexa kicks out. Both women up as Alexa drops Mandy on her face. She goes for the cover but Mandy kicks out. Alexa climbs the top rope and lands the Twisted Bliss. She goes for the cover and gets the pin.
Winner: Alexa Bliss
---
Backstage: Dana Brooke, Drake Maverick, Elias
We can't tell you 𝘸𝘩𝘢𝘵 @IAmEliasWWE said in his song to @WWEMaverick, but we can tell you that it was 𝘷𝘦𝘳𝘺, 𝘷𝘦𝘳𝘺 𝘦𝘮𝘣𝘢𝘳𝘳𝘢𝘴𝘴𝘪𝘯𝘨.#SmackDown @DanaBrookeWWE. pic.twitter.com/oVGA5rR99T

— WWE (@WWE) December 7, 2019
We see Dana Brooke backstage at catering as Maverick walks up to her. He says that Brooke mentioned she was going on a dinner date with Batista. She says she is excited about it as Maverick says he feels rejected because they had something last week. He asks her what Batista has that he doesn't.
Elias walks in with a guitar. He says when words fail us, a song can provide the answers. Elias says Batista is a millionaire and Batista is tall while Drake has a better chance to get lucky with a blow up doll. The only action he's been getting is with lotion and tissues. You're the best I ever had, at least that's what his wife said after she woke up in Elias' bed. Maverick slaps Elias and walks away. Brooke asks if that really happened with his wife as Elias says no but something will happen.
In-Ring: Drake Maverick, Elias, Dana Brooke
After commercials, Drake Maverick is in the ring and he says everyone thinks it's funny. He says Drake Maverick's life is nothing but a joke to everyone. He says no one makes a mockery of his life, marriage or his wife. He calls Elias out not to compete but to fight. Elias he walks down with Dana Brooke.
Elias leaves the guitar outside of the ring and gets in the ring. Maverick runs towards him as Elias holds him away and drops him. Drake goes for a right hand as Elias moves out of the way and Drake falls to the mat. Elias lifts Drake up by his belt and drops him. He grabs Maverick and spanks him in the middle of the ring. Elias runs and kicks Drake on his ass as he falls to the outside.
Brooke throws Drake back into the ring. Elias hits him with the Drift Away. Elias asks Brooke to get into the ring. She places her foot on Drake as Elias makes the three count.
---
Backstage: The Miz, Bray Wyatt
The Miz is seen walking backstage. He stops by one of the rooms and walks into it. In it is a picture of The Miz's family but The Miz is cropped out and instead it's a picture of Wyatt. We suddenly hear Wyatt saying "Say cheese" as The Miz turns around and Wyatt hits him with Sister Abigail. Wyatt places the picture on The Miz and says "There's no place like him for the Holidays".
After commercials, a referee is backstage with The Miz as The Miz asks where Wyatt is and where that photo is.
---
Fatal Four Way Tag Team Elimination Match
Mustafa Ali & Shorty G vs. Lucha House Party vs. The Revival vs. Heavy Machinery
The New Day are on commentary for the next match as the winners will face them for the WWE Smackdown Tag Team titles at TLC.
Shorty G is in the ring with Gran Metalik. The two men exchange reversals as Shorty G drops him. Mustafa Ali is tagged in as they double team Metalik. Ali with an arm bar headlock. He's sent to the ropes and an arm drag by Metalik. Both men exchange moves as Ali goes for a hurricanrana but Metalik lands on his feet.
Tucker tags himself in for Ali as Dorado is tagged in. Both men go for drop kicks. In come The Revival but they get knocks down. Tucker lifts Dorado up and he uses him as a weapon knocking The Revival off the ring apron. Dorado lands on his feet and lands a stunner. Otis is tagged in and Dorado with a drop kick takes Otis to the outside. The Lucha House Party both jump off the top rope onto their opponents on the outside.
Otis is sent into the ring. Dawson suplexes Dorado on the outside. Metalik off the top rope but Otis catches him and Tucker is tagged in. The Compactor as Tucker goes for the cover and gets the pin.
Lucha House Party are eliminated
In the ring it's Shorty G and Tucker. Tucker with a body slam and Wilder tags himself in. Tucker pushes Wilder off him as Shorty G tags himself in. A hip toss by Tucker. Dawson tags himself in but Tucker with a back body drop. Otis is tagged in. He bulldozes his way through Dawson. A spinning powerslam. Dawson with a boot to the jaw and a right hand but Otis dancing. Otis throws Dawson around and squashes him in the corner. Wilder tags himself in. Otis knocks him to the outside. Otis with the caterpillar on Dawson. Wilder with a sunset flip, aided by Dawson and he gets the cover.
Heavy Machinery are eliminated
The Revival are celebrating and in come Mustafa Ali and Shorty G. All four men fight in the ring. The fight goes to the outside. The Revival with big chops to the chest. They get in The New Day's face but Shorty G and Ali throw The Revival onto The New Day. All six men are outside.
Shorty G is in the ring with Dash Wilder. A German suplex by Shorty G as Ali is tagged in and Shorty G with a second and third German suplex. Ali with the cover but Dawson breaks up the cover. In comes Shorty G who takes Dawson to the outside. Ali with a kick to Wilder's face but Wilder counters into a bodyslam. He goes for the cover but Ali kicks out. Wilder goes for a suplex but Ali lands on his feet. A roll up by Ali but Wilder kicks out. A tornado DDT by Ali takes Wilder out. Ali climbs the top rope, he jumps but Dawson takes Wilder out. Ali lands on his feet as Shorty G is tagged in. Ali jumps to the outside as The Revival throw him into the barricade. Shorty G jumps and lands on the Revival. Shorty G gets Wilder in the ring and gets the ankle lock. Wilder throws Shorty G into the ropes as Dawson hits him with a right hand. The Shatter Machine followed by the pin.
Winners: The Revival
After the match, The Revival say the fun and games are over. They take this very seriously. They tell The New Day no more pancakes, unicorns, rainbows or silly gimmicks. And most importantly, no longer will they disgrace the tag team championships. They say it is a New Day no more. They are taking it back to the old days. Taking it back to what brought them to the dance, the fundamentals. They will beat them doing what they do best, old school tag team wrestling. And after TLC, they can go back to their podcast and go complain. And talk about how they got beat by the absolute best tag team in the company.
---
Backstage: Roman Reigns
#TheBigDog @WWERomanReigns vows to embarrass King @BaronCorbinWWE at #WWETLC. #SmackDown pic.twitter.com/sJXKA2jK5s

— WWE (@WWE) December 7, 2019
Kayla Braxton is with Roman Reigns backstage. She asks what he will do to Ziggler tonight. He says he goes about his business every night and if they can't deal with it, that's on them. Roman says Team Corbin can't get the job done against him. He doesn't know why Corbin needs them. Corbin is bigger and stronger than him but he's the big dog. And at TLC, he will embarrass Corbin.
---
Backstage: Sheamus
Sheamus is backstage and he says Smackdown has become weak. He says he is ready to go through everyone on the roster.
---
Lacey Evans vs. Haley Jones
Evans with an arm drag. Evans gets her in the corner as the referee breaks it up. A kick by Jones followed by right hands. Evans hits her with the Woman's Right. She goes for the cover and gets the pin.
Winner: Lacey Evans
In-Ring: Lacey Evans, Sasha Banks
Sasha Banks comes out. She tells Lacey to stay in the ring because they have business to take care of. Sasha says Lacey got lucky last week. She's the standard, the legit boss and the leader of the women's division. Banks says Lacey is pathetic. She's here to tell her to never, ever mess with her or Bailey. Banks says she's a role model to her 6 year old daughter as Evans cuts her off. Evans says never to mention her daughter and the reason why she interrupted them last week is because they keep blaming everyone for their failures.
Evans says she learned leadership and to hear her and Bailey call themselves Bailey, if that isn't pathetic, she doesn't know what is. Evans says if Banks is going to keep running her mouth, she will drop her where she stands. Banks gets in the ring as the two go face to face. Evans goes for the Women's Right as Banks screams and falls to the mat. Evans walks out of the ring.
Bayley attacks Evans on the ramp from behind. The two beat up on Evans.
---
Roman Reigns vs. Dolph Ziggler
The bell rings and we are under way. Ziggler tries to take Roman down but Roman catches him with a headlock as Ziggler reaches the ropes. The referee breaks it up as Ziggler kicks him in the knee. Ziggler with a swinging neckbreaker. He goes for the cover but Roman kicks out. Ziggler with a rake to the eyes followed by a submission. Roman gets to his feet but Ziggler drops him to the mat.
Ziggler runs towards Roman but Reigns with a right hand as Ziggler rolls to the outside. Roman rolls to the outside and goes for the drive by but Ziggler moves out of the way and throws Roman into the steel steps.
Back from commercial, both men are in the ring. Ziggler with a drop kick. He goes for the cover but Roman Reigns kicks out. Both men back up and Roman with a right hand. Ziggler falls but grabs Roman and throws him face first into the turnbuckle. Roman rolls to the outside as Ziggler throws him into the barricade. He grabs Roman and sends him back into the ring. He goes for the cover but Roman kicks out.
A sleeper hold by Ziggler onto Roman in the ring. Reigns gets out of the sleeper and hits Ziggler with a clothesline onto the outside. Roman Reigns goes for the Superman Punch but Ziggler with a kick to the face.
Baron Corbin's music plays and out comes Corbin to the ring accompanied by four men.
Back from commercial, Ziggler hits the DDT on Roman. He goes for the cover but Roman kicks out. Both men back up, Roman with the Superman Punch. He goes for the cover but Ziggler kicks out. Roman goes for the spear but Ziggler reverses it and Roman hits the turnbuckle. Ziggler with the ZigZag. He goes for the cover but Roman Reigns kicks out.
Baron Corbin gets on the ring apron as the referee tells him to get off the apron. Roman with the Superman Punch onto Corbin. Ziggler goes for the cover but Roman kicks out. Roman with the spear. He goes for the cover and gets the pin.
Winner: Roman Reigns
After the match, Roman hits Corbin with the drive by. Roman gets attacked by the four men who accompanied Corbin to the ring. Roman fights them off. Corbin attacks Roman Reigns from behind. The fight spills to the outside. Roman throws Corbin off him. Someone catches Roman's leg from under the ring as Roman is attacked by Corbin. Roman throws Corbin onto the announce table.
Dolph Ziggler hits Roman Reigns with a super kick. Ziggler grabs handcuffs and goes to handcuff Roman to the ring post. Roman fights back but he gets attacked by Corbin and the four other men. Roman Reigns is handcuffed to the ring post as he gets beaten up by Dolph Ziggler and Baron Corbin.
Dolph Ziggler grabs dog food from under the ring and pours it on Roman Reigns.