February 21, 2020
Glendale, Arizona
Commentary: Michael Cole and Corey Graves
Results by: Roy Nemer of Wrestleview.com
---
Quick Match Results
The New Day & The Usos defeated The Miz, John Morrison, Dolph Ziggler, Robert Roode via superkick by Jimmy on Roode
Symphony of Destruction Match: Braun Strowman & Elias defeated Cesaro & Shinsuke Nakamura via powerslam onto a piano by Strowman on Nakamura
Daniel Bryan defeated Heath Slater via running knee
#1 Contender Match: Naomi defeated Carmella via split-legged moonsault
---
In-Ring: The Usos, The New Day, The Miz & John Morrison
The Usos make their way down to the ring for their 8 man tag team match. They get in the ring and talk about how last week they couldn't be on Smackdown. But they kept getting mentioned by Miz and John Morrison and they were disrespected. But this week, The Usos are here and they are teaming with The New Day as Big E's voice is heard through the PA system.
Out come Big E and Kofi to the ring. The Usos joke about how they hope The New Day kept their tag team titles warm for them. The New Day say The Usos are one of the best of all time and are six time tag team champions. And that is one less tag team title reign than The New Day. Big E says that makes them better than The Usos.
Jimmy and Jey start to laugh as The Miz's song hits and out he comes down the stage with John Morrison. They get on the mic as Miz says The Usos decided to show up on SmackDown. And they also have New Day Rocks! Morrison says people don't know what to chant when they see them. They suggest, Miz and Morrison, Hey, Hey, Ho, Ho! They try and get the crowd to go along with it but the fans boo.
Miz says that is what everyone will be chanting after they beat The New Day for the WWE championships at Super ShowDown. Out come Ziggler and Roode for the match.
---
The New Day & The Usos vs. The Miz, John Morrison, Dolph Ziggler, Robert Roode
Ziggler and Jimmy start the match. A number of quick tags and it's now Morrison and Kofi in the ring. Miz gets in the ring as he and Morrison are knocked down. With the referee distracted by Roode, Morrison drops Kofi to the outside. Miz attacks Kofi on the outside. Kofi gets double teamed on the outside as Miz is tagged in. He throws Kofi back in the ring and he goes for the cover but Kofi kicks out. Morrison is tagged in as he and Miz double team Kofi.
Morrison goes for the cover but Kofi kicks out. Roode is tagged into the match. Roode gets a headlock in on Kofi as Kofi fights out of it. Kofi tries to get the tag but Roode with an eye poke as Ziggler is tagged in. He beats up on Kofi as Morrison is tagged in. Kofi tries to make the tag as Morrison throws him into the corner. He places Kofi on the top rope and goes for a suplex off the second rope. Kofi with a headbutt dropping Morrison. He knocks Roode, Miz and Ziggler off the ring apron but Morrison with a kick onto Kofi.
Back from commercial, Ziggler goes for the cover on Kofi but Kofi kicks out. He slams Kofi into the corner and Roode is tagged in. Ziggler runs towards Kofi but Kofi throws him to the outside. Kofi takes Roode down. Miz and Big E are tagged in. The camera glitches and Big E with a belly to belly onto Miz. He knocks Morrison off the ring apron. Big E with another belly to belly onto The Miz.
Big E with the big splash. He lifts Miz up going for the big ending but Miz gets out of it. Big E throws Miz to the outside and as he's being thrown, Morrison tags himself in. Big E plants Morrison down. He goes for the cover but Morrison kicks out. Roode fights The Usos on the outside as Big E is distracted. Morrison hits him with the Shinning Wizard. He goes for the cover but Kofi breaks it up. In comes The Miz. He goes for the Skull Crushing Finale but Kofi throws him to the outside.
Morrison with a corkscrew off the top rope takes Kofi down. Jimmy is tagged in and as is Roode. A spine buster Zig Zag double team on Jimmy. Roode goes for the cover but Jey breaks it up. Roode with the Glorious DDT on Jey. He turns around and goes for the Glorious DDT on Jimmy but Jimmy hits him with the Superkick. He goes for the cover and gets the pin.
Winners: The New Day and The Usos
---
Backstage: Daniel Bryan, Drew Gulak, Heath Slater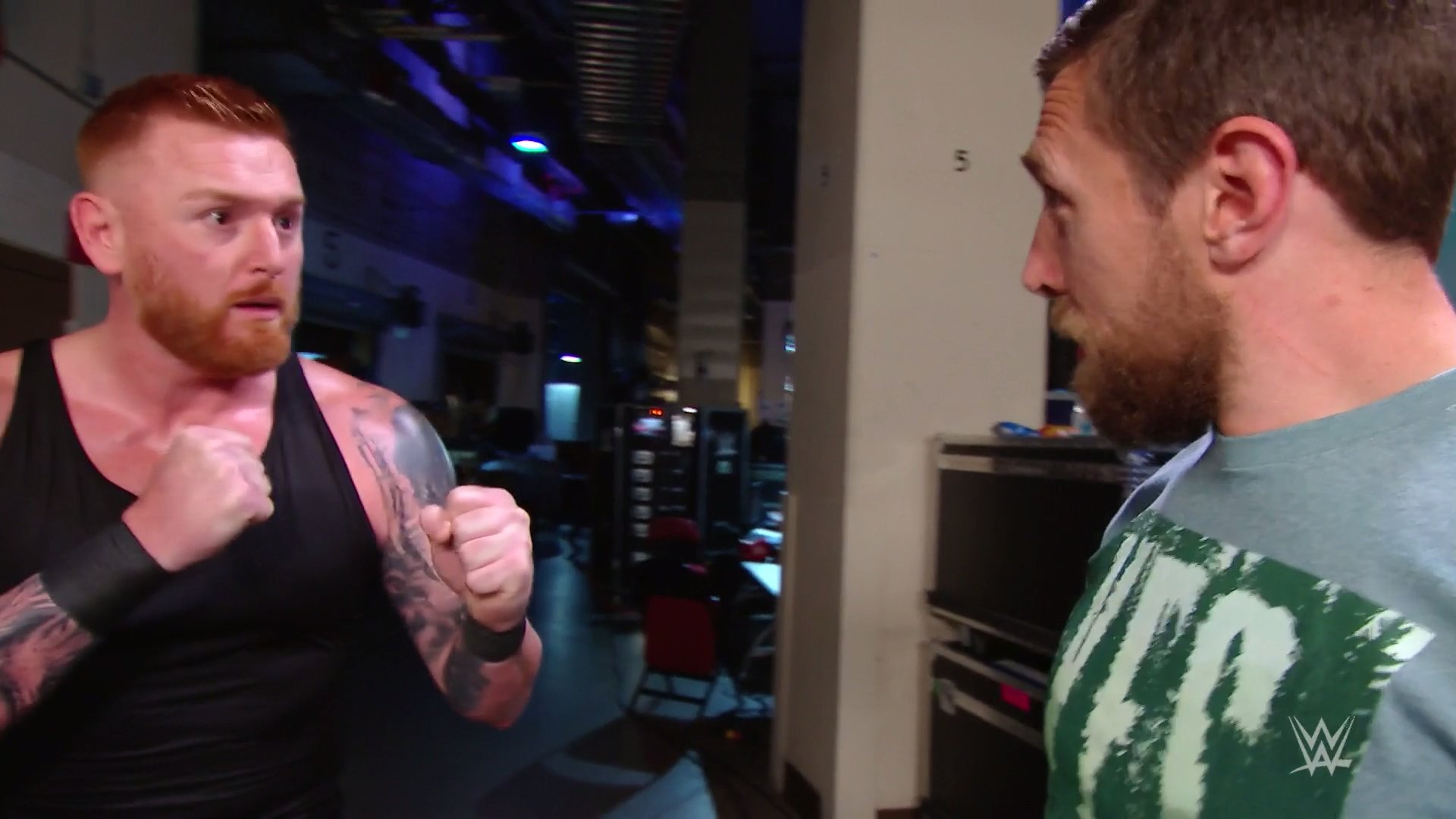 Daniel Bryan is walking backstage as he's stopped by Gulak. He tells Daniel that he has some holes in his game but he made a Powerpoint presentation about all the things he's doing wrong. He watched his match with Heath Slater and in comes Heath Slater. He gets in Daniel's face. Slater says he wasn't ready as Daniel asks if he's ready now and Heath says he's always ready and wants a rematch. Bryan looks at Gulak and tells him if he has all these holes in his game, maybe he can help Slater.
---
Video: Goldberg
We get a video hyping up Goldberg.
---
Backstage: Mandy Rose, Sonya Deville, Tucker
Back from commercial, we see a video of the history involving Otis and Mandy Rose. Last week's date did not happen as we saw Ziggler with Mandy at the restaurant.
Backstage we have Sonya with Mandy and in comes Tucker. He tells Mandy that she hurt Otis. She agreed to go on a date and she invited Ziggler after Otis got her a cake and flowers. He says Otis doesn't have the courage to leave the hotel. Mandy says she ran into Ziggler and did not invite him. Tucker says why did she message Otis saying she was running late? Mandy looks confused saying what text, she didn't text him. Tucker walks away but Mandy tells Sonya that she had a good time with Ziggler but was kind of looking forward to her date with Otis. Sonya tells her Ziggler is more her type.
---
Backstage: Lacey Evans
Renee Young is backstage with Lacey Evans. Young says this is her first appearance since her Rumble loss to Bayley. Lacey says she will keep fighting and takes no loss lightly, especially against a bully. Young says it wasn't long ago that Evans was a bully. Lacey says she is from the south and the word nasty has many meanings. She tells Renee that she was a bully but it took her coming to SmackDown and seeing how Bayley and Sasha Banks treated the division and how they tormented her child for her to see how she was a bully.
Evans says going forward it is progress and she will keep fighting. Young asks her what is next for her. Evans says her sights are set for the Elimination Chamber and she has five women she needs to eliminate to become champion at WrestleMania.
---
Symphony of Destruction Match
Cesaro & Shinsuke Nakamura vs. Braun Strowman & Elias
Elias comes down and he says he wants to know who has hiss back as he asks who wants to walk with Elias? We are going into WrestleMania and things change but there is one universal truth and that is that WWE stands for Walk With Elias as the fans chant it with him.
He says he wrote a song called "Sweet, sweet symphony" and he asks people to clap along. "We're here in the land of the sun, it's a symphony of destruction. There's no rules in music everywhere, falls count anywhere. Let's blow the roof off once again as I introduce my partner the monster among men."
Braun Strowman is walking down to the ring with a double bass. He places it on the outside.
The bell rings and we are under way. Elias and Nakamura are in the ring. Nakamura with a kick followed by punches. He runs to the ropes but an elbow to the face by Elias takes Nakamura down. He sends Nakamura to the ropes and a hip toss. Sami hands him a tambourine but Elias knocks him down and hits Nakamura with it.
Nakamura fights back. He goes to hit Elias but Elias with a jumping knee as Nakamura is knocked to the outside. Elias goes to the outside and he picks up a kick drum. Cesaro grabs the drum but Strowman grabs it from him and hits Cesaro with it. Zayn hits Strowman with the ukulele as Strowman chases him but Nakamura hits Strowman with a guitar.
Back from commercial Cesaro is playing the cow bell in the ring./. He tries to hit Elias with it but Elias who is on the ring apron hits him. With a table behind him, Elias goes for a suplex as Cesaro blocks him. Nakamura kicks Elias and he falls through the table onto the outside.
Strowman running on the outside with a big shoulder block takes Cesaro down. He knocks Nakamura off the ring apron. Strowman grabs Cesaro and throws him onto the announce table. Strowman grabs Nakamura and Slams him into the steel steps. He grabs Cesaro and chokeslams him onto the ring apron.
With a the standing bass next to him, Strowman goes to grab it but Zayn hits him from behind with a keyboard. Zayn places the double bass on the floor. Cesaro and Nakamura suplex Strowman through the double bass. On the outside, Cesaro goes for the cover but Strowman kicks out. Elias attacks Nakamura throwing him into the barricade.
Elias grabs the saxophone but Nakamura hits him with a kick to the head. Nakamura goes for a kick as Elias moves out of the way and Nakamura hits the gong. Elias throws Nakamura into the timekeeper's area. He grabs a guitar and hits Cesaro with it from behind.
Elias places Cesaro on a table on the outside. Elias climbs the top rope but Nakamura slows him down. Strowman grabs Nakamura and throws him over the announce table. Strowman stands on the announce table as he lifts Nakamura up. Elias with an elbow off the top rope onto Cesaro through the table. Strowman bodyslams Nakamura off the announce table onto a piano. He goes for the cover and gets the pin.
Winners: Braun Strowman and Elias
Nakamura is bleeding from the back of his head with the piano not breaking.
---
Backstage: King Corbin
A video package involving Roman Reigns and Baron Corbin airs showing their history.
Corbin is backstage with Kayla. He says Roman's face is everywhere but Roman is just an egomaniac fed with a silver spoon. He says Roman has never defeated him in a one on one match and that is why at Super ShowDown, it's a steel cage match. He will grate Roman's face using the chain linked fence. After Super ShowDown, he will replace Roman on the posters and advertisements. Everyone will bow down to the king.
---
A Moment of Bliss: The Bella Twins
Alexa Bliss welcomes everyone to a very special Hall of Fame edition of A Moment of Bliss. She goes through the class of 2020 with Batista getting inducted. After that is the nWo with X-Pac, Scott Hall, Kevin Nash and Hulk Hogan.
Bliss says it is her pleasure to announce the next inductees into the 2020 Hall of Fame, Nikki and Brie, the Bella Twins. Out come the sisters. Alexa congratulates them both. They talk about how it's special and they are honored. Nikki says they are grateful for the Bella army and she wants everyone to know that they would not be where they are right now without them.
Brie says that the announcement was made on Alexa's show, the first female talk show in WWE history. Brie says that Alexa and the WWE superstars keep raising the bar and they are honored to be here. Alexa says they want to hear about the new Hall of Famers. Brie says they want to hear about twins being pregnant. Brie mentions that they are pregnant with a week and a half apart between both and being inducted into the Hall of Fame makes it that much better. They thank everyone as they hug Alexa.
Daniel Bryan's music hits and out he comes with his daughter. He hands Birdie over to Brie as he walks down to the ring.
---
Daniel Bryan vs. Heath Slater
The bell rings and we are under way. Gulak is doing announcing. Bryan grabs Slater and goes for a submission but Slater grabs the ropes. Slater attacks Daniel's leg. He slams Daniel's knee into the mat. Bryan fights back with right hands. Bryan does a flip over Slater and lands on his leg but he holds his leg in pain. Slater takes Bryan down. He goes for the cover but Bryan kicks out.
Slater climbs the top rope as Gulak tells him to get down from there. Slater jumps as Bryan moves out of the way. Bryan with the Yes kicks. Bryan goes for a flying knee as Slater moves out of the way. He goes for the cover but Bryan kicks out. Bryan with the running knee. He goes for the cover and gets the pin.
Winner: Daniel Bryan
After the match, Bryan looks at Drew Gulak who is doing commentary as Bryan celebrates.
---
Backstage: Mandy Rose, Dolph Ziggler, Otis
💔💔💔#SmackDown @otiswwe pic.twitter.com/mCJ3sRwEyV

— WWE (@WWE) February 22, 2020
Mandy Rose is backstage on her phone as the camera glitches and in comes Ziggler. He asks her what she is doing and she says she is waiting for her ride. Ziggler says he has his car and she can go with him. She agrees as the two leave the arena. In comes Otis who sees them leaving.
---
Backstage: Sheamus
"The time has come to exterminate every last rat in that locker room."#SmackDown @WWESheamus pic.twitter.com/g8ne2Gi0rI

— WWE (@WWE) February 22, 2020
Sheamus cuts a promo talking about his win vs. Shorty G and Apollo Crews. He talks about how he now has to exterminate every lat rat in the locker room.
---
Backstage: Apollo Crews, Shorty G
Apollo Crews is backstage and in comes Shorty G. Gable says it was embarrassing last week but he's not backing down. Crews says he doesn't need his pep talk. He handles things his own way.
---
#1 Contender Match
Naomi vs. Carmella
WWE SmackDown women's champion Bayley is at ringside. The bell rings and we are under way. The two women shake hands and Naomi gets a head lock take down on Carmella. The head lock is reversed by Carmella into a scissor lock. Naomi gets out of it and another headlock by Naomi as Carmella reverses it into a headlock of her own.
She sends Naomi to the ropes and a shoulder block by Carmella. Both women back up. A running clothesline by Naomi. She goes for the cover but Carmella kicks out. Naomi slams Carmella onto her tail bone. She goes for the cover but Carmella kicks out. Another cover by Naomi but again Carmella kicks out. Both women back up as Naomi sends Carmella to the ropes but Carmella with a Mella-Go-Round takes Naomi down. She throws Naomi to the outside of the ring.
Carmella runs to the ropes and goes for a suicide dive but Naomi with a kick to the face. Naomi jumps off the top rope with a cross body.. She goes for the cover but Carmella kicks out. Naomi climbs the second rope but Bayley gets on the ring apron and distracts her. A hurricanrana by Carmella off the second rope. She goes for the cover but Naomi kicks out. Naomi rolls to the outside as Bayley walks towards Naomi. The referee throws Bayley to the back. A suicide dive by Carmella onto Naomi.
Naomi with a back breaker. A kick to the side by Naomi followed by another. Carmella catches one of her kicks and drops her. She goes for the cover but Naomi kicks out. A right hand by Carmella, followed by another. She goes for the cover but Naomi kicks out. Carmella runs to the ropes but a flying kick by Naomi takes Carmella to the outside. Naomi runs and jumps over the top rope taking Carmella out. She throws Carmella back into the ring.
She goes for the cover but Carmella kicks out. Naomi goes for a splash but Carmella moves out of the way. Carmella with a cross body off the top rope. She goes for the cover but Naomi kicks out. Naomi on the ring apron as Carmella goes for a suplex. Naomi blocks it and a kick to the side of the head by Naomi. A sunset flip by Naomi but Carmella kicks out. Naomi goes for the cover but Carmella reverses it as she wraps her legs around Naomi's head but Naomi is able to reach the ropes.
Carmella runs to the ropes and hits Carmella with the Rear View. She goes for the cover but Carmella kicks out. Naomi goes to climb the top rope but Carmella knocks her down and hits her with a kick to the face. She goes for the cover but Naomi kicks out. Carmella runs towards Naomi as Naomi hits her with a kick to the jaw. Naomi with the split legged moonsault. She goes for the cover and gets the pin.
Winner: Naomi
---
Video: John Cena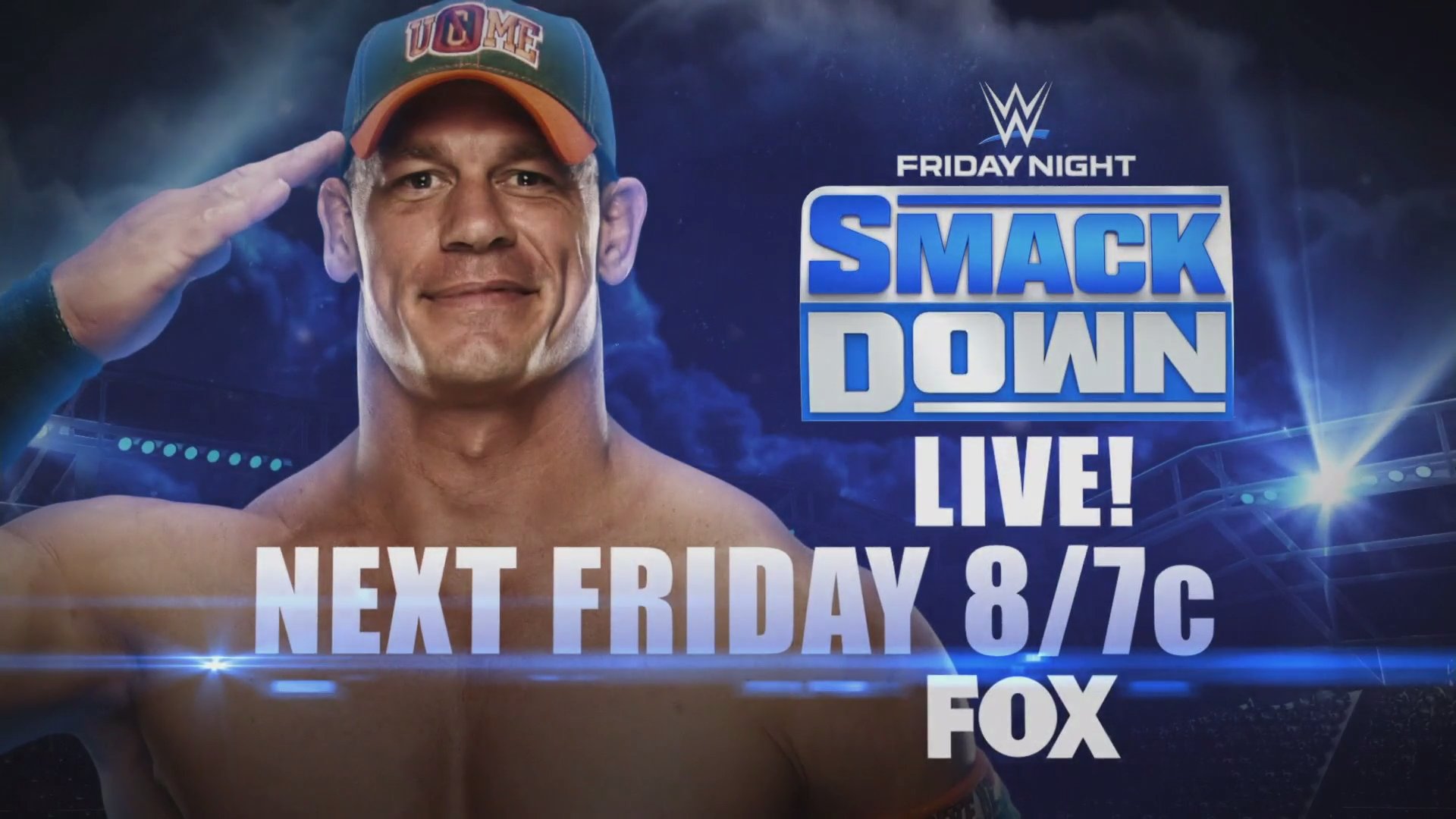 A video hyping up John Cena's return to Smackdown next week airs.
---
In-Ring: Goldberg, Bray Wyatt
Goldberg's music hits as we cut to the back. Security knocks on Goldberg's door as he makes his trademark walk down to the ring.
Goldberg gets in the ring as the fans chant his name. He says it's good to be back and it's been a while since he's been here. He says The Fiend, whoever and whatever you are, he is ready.
Firefly Fun House plays on the screen. Wyatt is in the Fun House. He was hanging up Bryan's picture on the wall. Goldberg says he's not here to talk, he's here to take his WWE Universal championship. Wyatt says he is not taking anything from anyone. And before Super ShowDown, he wants Goldberg to meet his friends. We go through Wyatt's animal friends in the Fun House.
Wyatt says he knows someone who is dying to meet him. The lights start go off in the arena. The lights come up and Goldberg says "The Fiend and you are right behind me". Goldberg turns around as The Fiend is standing there. The fans chant "Goldberg" as Goldberg spears The Fiend.
Wyatt slowly gets up as Goldberg tells him to get up. The lights go off and come back on with Wyatt no where to be seen.