March 16, 2020
Orlando, Florida (WWE Performance Center)
Commentary: Tom Phillips, Byron Saxton, and Jerry "The King" Lawler
Results by: Mike Tedesco of Wrestleview.com
---
Quick Match Results
Rey Mysterio defeated Andrade via top rope splash
---
Intro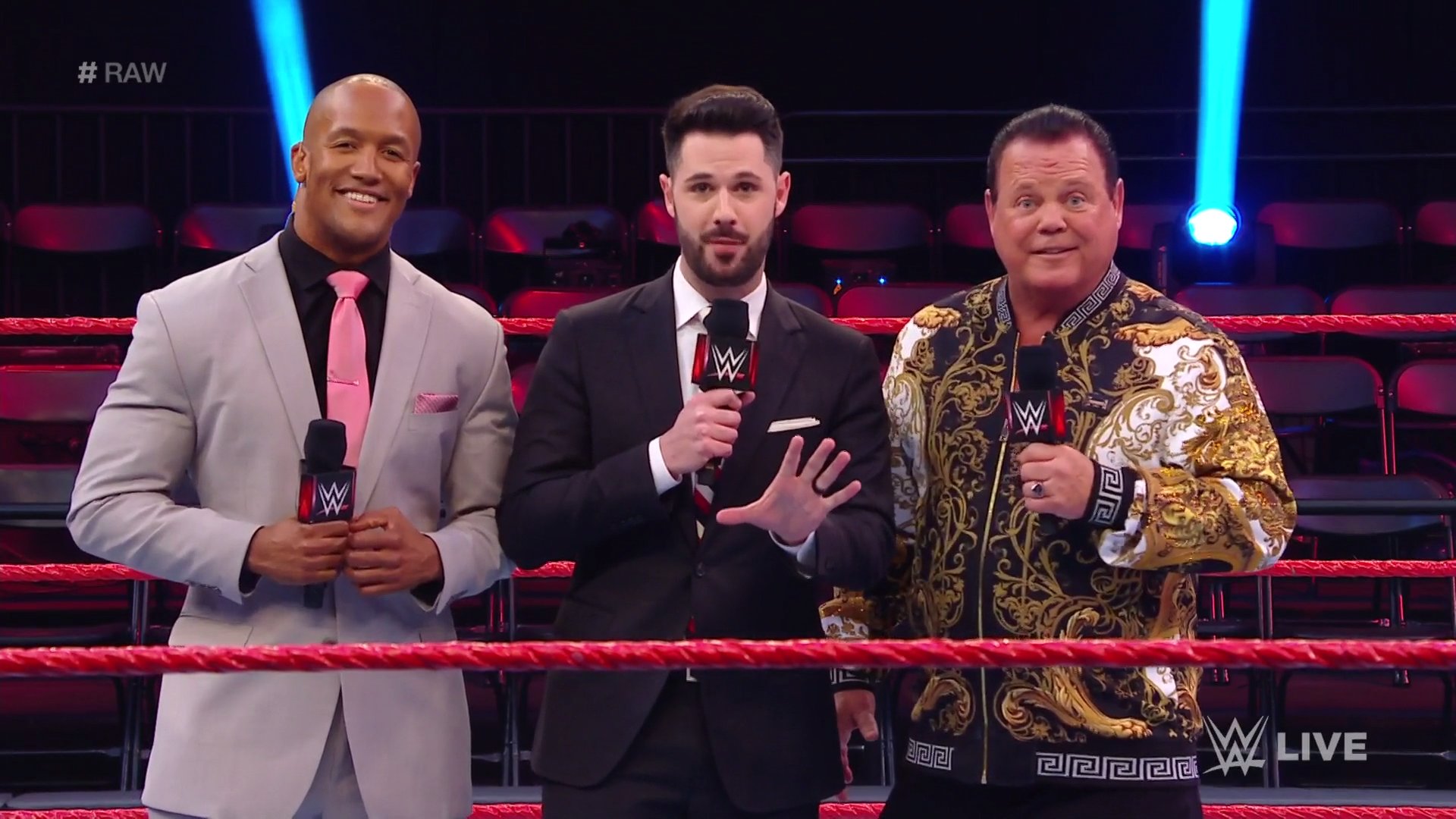 The Raw video plays, and we go live into the empty WWE Performance Center. Tom Phillips, Byron Saxton, and Jerry "The King" Lawler are standing in the ring. They talk about what we'll be seeing tonight. Even though there are no fans in attendance, the WWE performers are still here to put a show on.
---
In-Ring: Edge
Edge's music hits, and the Rated-R Superstar makes his way to the ring. Edge says it's been a strange few months for he and his wife, Beth Phoenix.
Video Package: Randy Orton viciously attacks Edge with a con-chair-to and weeks later gives Beth Phoenix an RKO
Edge says when he met Randy Orton 20 years ago when Bob Orton introduced them, he knew their careers would intertwine. Tearing down houses for the Intercontinental Championship and trying to destroy DX as Rated-RKO. They also owe credit to Mick Foley, who handed the torch to both of them. They grabbed it, but there was one lesson he took from Foley that Orton didn't: grit. Edge used the grit to persevere through the neck surgeries to get back and compete at the Royal Rumble.
Edge and Orton have a lot in common, but Orton is an entitled brat. Orton is one of the best to ever do this, but he had all of this handed to him on a silver platter. Orton's dad handed this all to him. It makes Orton so jealous that a guy like Edge had to work for everything and got it. Edge was raised by a single parent who broke her back to see that his dreams came true. Edge did it. It makes Orton jealous that he came back after nine years and threw him out. That's what this is all about. It's not love. Orton doesn't love him. Orton is jealous of him because he can't do what Edge can do.
Two weeks ago, Beth comes back to give a medical update on him. What no one realizes… what Orton didn't realize is that she was here to retire for him again. She didn't think it was fair that someone should be forced to retire from what they love not once, but twice. Orton couldn't let her finish what she was going to say. Orton talked about how Edge pulled him out of all those holes… Orton pulled Edge out of a hole. Orton pulled him away from a horrible decision. Edge says it's simple math. At WrestleMania… if Orton has the guts, it's Edge versus Orton in a Last Man Standing match! This is not a story that Orton dictates. Edge writes this story. It's not a tragedy. It's a redemptive story. At WrestleMania, Orton won't stand back up.
---
Earlier Today: Becky Lynch
What an ENTRANCE for #TheMan!#RAW Women's Champion @BeckyLynchWWE is live NEXT! pic.twitter.com/SMRN1WkR7b

— WWE (@WWE) March 17, 2020
Earlier today, Raw Women's Champion Becky Lynch rode up to the WWE Performance Center in a semi. It is decorated with her face and logo. Lynch gets out of the truck and walks into the center.
---
30-Man Men's Royal Rumble Match
They re-aired the entire men's Royal Rumble match from January, which was won by Drew McIntyre.
---
WrestleMania Announcement
The commentators talk about WrestleMania not taking place at Raymond James Stadium, but it will rather take place at the WWE Performance Center with essential personnel only on Sunday, April 5.
WrestleMania Update:
https://t.co/DLbgSVYWZM

— WWE (@WWE) March 16, 2020
---
Contract Signing: The Undertaker, AJ Styles
Jerry "The King" Lawler is in the ring for the contract signing. He introduces Undertaker, who does not come out as the Dead Man! He does not do the Undertaker entrance. Undertaker gets in the ring and flips the table over.
The Undertaker is pacing in the ring. AJ Styles' music hits, but he doesn't come out. Undertaker looks around for a blindside attack, but it doesn't come. The music stops, then starts again, but Styles still doesn't come out.
Styles appears on the video screen with Gallows and Anderson. Styles says he has the contract with him. They're in the Performance Center where hundreds of prospects come to hope to be Undertaker. They didn't have to, of course. Undertaker is on the Mount Rushmore of WWE Superstars and carried the company on his back. However it's 2020 and Undertaker is interjecting himself into a world that would rather see him removed from it. You don't see Michael Jordan in the NBA Finals or Peyton Manning and Brett Favre in the Super Bowl. You just know Undertaker will put himself into WrestleMania season. It's "Money" Michelle McCool's fault. She makes him dust off the jacket, walk down the aisle, and embarrass himself. Styles says, "Undertaker… Mark… you are a shell of your former self." Styles tells Undertaker to let it go. Something tells him to have some sympathy for the old guy, but he can't find it. Not once, but twice Undertaker has stuck his nose in O.C. business. Undertaker stole the victory at Super ShowDown and then at Elimination Chamber. When WrestleMania is over, Styles will pay for his assisted living costs. Styles will do everyone a favor when he has Undertaker Rest in Peace.
Styles signs the contract. Styles tells Gallows and Anderson to take the contract to the Undertaker, but they decline. Styles orders Karl Anderson to take it and makes Luke Gallows go with him. They reluctantly take it and walk off. Undertaker is angrily standing in the ring.
Gallows and Anderson slowly make their way to the ring with the contract. They slide it into the ring and backup. The Undertaker's bell tolls and the lights go out. When they come back on, Undertaker is standing behind Gallows and Anderson. Undertaker drives them both into the apron before whipping Anderson into the steel steps. Undertaker boots Anderson before sending Gallows into the barricade. Undertaker then signs the contract and shoves the contract into Anderson's mouth.
---
Rey Mysterio vs. Andrade
Asuka will be on commentary for this match.
The bell rings, and Mysterio quickly trips him into the ropes. Andrade quickly gets out and slams Mysterio down before hitting a low dropkick in the face. Andrade drops an elbow on the lower back and talks trash. Andrade chops the chest before sending him into the ropes, but Mysterio fights back and springboards off the ropes with a head-scissor. Andrade drops him on the apron, but Mysterio knocks him back. Vega grabs the ankle, but Mysterio fights her off. Mysterio goes to the top rope, but Andrade dropkicks him out of mid-air for a near fall.
We come back from the break to see Andrade stretching Mysterio, but Mysterio counters into a hurricanrana that sends Andrade shoulder-first into the turnbuckle. Mysterio goes to the apron and hits a springboard seated senton. Mysterio follows up with a head-scissor takeover and rolls through a sunset flip to kick him in the head for a two count. Mysterio goes for a springboard moonsault, but Andrade gets out. Mysterio gets out of a suplex and puts him in position for the 619. Mysterio hits the ropes, but Andrade elbows him in the face for a near fall. Asuka is just shouting a grunting.
Andrade shouts that he is the champion. Andrade starts the Three Amigos, but Mysterio flips through into a head-scissor takeover! Mysterio hits a 619 and goes to the top rope for a splash. Mysterio pins the United States Champion.
Winner by Pinfall: Rey Mysterio
Asuka is absolutely disgusted on commentary and is grunting and groaning.
---
In-Ring: Becky Lynch
Raw Women's Champion Becky Lynch makes her way to the ring. She calls out Shayna Baszler. Baszler thinks she can just bully her way to the top. Now she comes to Raw and sees a ginger legend of a woman, and it makes Baszler question the natural order of things. As long as she's champion, Baszler's whole world is a lie.
She'll explain it in terms an "animal scumbag" like Baszler can understand. She's the one that was hunted and got tired of being hunted. Lynch is the prey that kills the predator. Lynch warns Baszler not to make the same mistake others did. Every tweet, interview, and action is designed to make Baszler think what Lynch wants. Baszler can cut through the rest of the division, but she's a different proposition. Lynch wants Baszler to think, something she never does. Lynch wants her to think about what it'll feel like to be beat. She watched Baszler demolish the division, but at WrestleMania she'll prove that Baszler's life is a lie and it will hit her like a truck.
We see Shayna Baszler angrily watching backstage. She is absolutely seething.
---
A video recaps Stone Cold Steve Austin attacking Vince McMahon while he was in the hospital. We're celebrating 3:16 Day tonight.
---
Backstage: Kevin Owens
Charly Caruso is backstage with Kevin Owens. Owens is asked about Seth Rollins' challenge. Owens says he's challenging Rollins to a match at the Performance Center at WrestleMania. Owens will have the home field advantage. Rollins never spent time at the Performance Center, but Owens started his career here. Owens had his tryout here and a lot of people like Rollins said he doesn't belong in WWE. When he faces Rollins, he'll add one more memory to the list at WrestleMania.
---
Footage is shown of Stone Cold Steve Austin defeating Shawn Michaels at WrestleMania XIV to win the WWE Championship.
---
Next Week
NEXT WEEK LIVE on #RAW…#TheViper @RandyOrton, @DMcIntyreWWE, and #WWEChampion @BrockLesnar! pic.twitter.com/9DGrNAdwZP

— WWE (@WWE) March 17, 2020
WWE Champion Brock Lesnar and his WrestleMania opponent Drew McIntyre will be on Raw next week. Randy Orton will also be on the show.
---
In-Ring: Stone Cold Steve Austin, Becky Lynch, Byron Saxton
Stone Cold Steve Austin's music hits, and he makes his way to the ring smiling and drinking beer. Austin poses on all four turnbuckles for the empty Performance Center. Someone tosses Austin some Broken Skull IPAs, and he smacks them together and drinks them. Austin then takes a bump into the beer pool. The commentary team is laughing and giving him a standing ovation.
Austin says he blew himself up during his entrance. Austin is here to make a declaration. From here on out, the 16th day of March is a National Holiday. If you want to know what 3:16 Day is all about, give me a Hell Yeah. They show a shot of the empty seats. All of a sudden, Byron Saxton shouts, "Hell Yeah!" Austin gives him a "What?" Austin says 3:16 Day is when someone gives you a load of crap and you give him a one-finger salute. Saxton holds up an "8" sign. Austin asks if Saxton is rating him. 3:16 Day means you can open up a can of whoop ass on anyone. Saxton holds up a "6." Austin says it's a tough crowd and there's no crowd. The speed limit is a suggestion, and Saxton gives him a "10." 3:16 Day is when your boss works for you. Saxton gives that a "7" and Austin doesn't get it. 3:16 Day is when you can have beer instead of coffee. Saxton gives that an "8." Four-letter words are always acceptable. Saxton holds up a "5." Austin tells him to reconsider, but Saxton doesn't. Austin says 3:16 Day is a day you can whoop anyone's ass and that's the bottom line.
Austin invites Byron Saxton into the ring for all his help. Lawler and Phillips laugh. Austin says Saxton could have taken it a little easier on him. Austin appreciates all the levels of fabric Saxton brought to the broadcast. Austin calls Saxton a jackass and clinks beer cans with him. Austin then gives Byron Saxton a Stone Cold Stunner! Austin drinks some beer and celebrates.
Raw Women's Champion Becky Lynch makes her way to the ring with a cooler. She steps on Saxton getting in the ring. Austin says the last time they were in the ring, she hit him with a Stone Cold Stunner. Austin asks if she's on his side. She respects 3:16 Day. Austin and Lynch then drink beer together. Saxton gets up to his feet and is stumbling and bumbling. Austin pours beer on his head and crushes him with another Stone Cole Stunner. Lynch shouts that's what happens when Stone Cold and The Man come around!