June 17, 2020
Winter Park, Florida (Full Sail University)
Commentary: Mauro Ranallo, Tom Phillips, and Beth Phoenix
Results by: Mike Tedesco of Wrestleview.com
---
Quick Match Results
NXT Tag Team Championship: Imperium (Fabian Aichner & Marcel Barthel) (c) defeated Breezango via DDT by Aichner on Fandango
Damian Priest defeated Killian Dain via The Reckoning
Aliyah defeated Xia Li via roll up
Dakota Kai defeated Kayden Carter via submission
Bronson Reed defeated Leon Ruff via diving splash
WWE Women's Tag Team Championship: Sasha Banks & Bayley (c) defeated Shotzi Blackheart & Tegan Nox via Bank Statement by Banks on Blackheart
---
WWE Women's Tag Team Champions Sasha Banks and Bayley are shown making their way into the NXT Arena.
THEY'RE BAAAAAAACK.

We missed you, @SashaBanksWWE & @itsBayleyWWE. #WeAreNXT #WWENXT pic.twitter.com/acHVWvJdLL

— WWE NXT (@WWENXT) June 18, 2020
---
NXT Tag Team Championship
Imperium (Fabian Aichner & Marcel Barthel) (c) vs. Breezango
Breezango does a parody of Imperium's entrance calling themselves "Emporium." They're going by the names Marsupial and Fabio.
The bell rings, and Imperium blindsides them with uppercuts. Marcel Barthel punches away at Tyler Breeze and applies a chin lock. Barthel kicks him in the back and applies a rear chin lock. Breeze fights up and punches out before hitting a jawbreaker. Fabian Aichner tags in and hits Breeze with an arm drag. Breeze punches out, but Aichner takes him back down and applies an arm bar. Breeze fights up and punches out. Breeze then takes Aichner over the top rope with a running cross-body block. Barthel blindsides Breeze at ringside, and Aichner sends Breeze head-first into the plexiglass surrounding the ringside area. Aichner gets Breeze in the ring and picks up a two count.
Aichner rakes his boots on Breeze's face before sending him hard into the corner. Barthel tags back in and punches Breeze down. Barthel taunts the crowd before hitting a snapmare and applying a rear chin lock. Barthel goes for a back suplex, but Breeze flips through and sends Barthel out of the ring. Fandango and Aichner tag in. Fandango boots him back and hits a diving forearm. Fandango hits Barthel with a modified neckbreaker before hitting Aichner with a powerslam. Fandango follows up with a tornado DDT off Barthel. Fandango wipes out Imperium with a somersault senton and clutches his recently healed elbow.
We come back from the break to see Barthel put Breeze on the top rope and tag in Aichner. Aichner grabs Breeze and hits a brainbuster, but Fandango breaks it up. Barthel tags in and punches Breeze down. Barthel talks some trash to Breeze, so Breeze hits a step-up enzuigiri. Breezango hits a catapult backbreaker/elbow drop. Breezango calls that the Faux Pas. Aichner tackles Breeze into Fandango before the three count. Barthel kicks Fandango back. Aichner tags in. Fandango hits Barthel with a back body drop, and Breeze superkicks Aichner. Fandango kicks Aichner down and hits the Last Dance (diving leg drop), but Barthel breaks it up.
Barthel sends Breeze out of the ring, and Fandango clotheslines Barthel out of the ring. Indus Sher comes down to the ringside area, but Lorcan and Burch attack them from behind! Barthel uppercuts Breeze off the apron into Indus Sher, Lorcan and Burch. Fandango rolls Barthel up, but Aichner is the legal man. Aichner hits Fandango with a DDT for the win.
Winners by Pinfall and still NXT Tag Team Champions: Imperium
Malcolm Bivens gets control of Indus Sher at ringside. Imperium celebrates on the ramp.
---
Interview: Velveteen Dream
Tom Phillips, sitting by himself as Beth Phoenix and Mauro Ranallo commentate from home, will interview Velveteen Dream. Phillips asks about losing the Backlot Brawl and not being able to challenge for the NXT Championship. Dream has no recollection of that. Dream takes out a drawing made by Dexter Lumis of Dream and Lumis as NXT Tag Team Champions. Dream says he's a solo act.
---
Damian Priest vs. Killian Dain
They lock up and tussle around the ring for position. Dain applies a side headlock and reverses a whip. Priest hits shoulderblock, but Priest doesn't go down. Priest leapfrogs him, but his lower back gives up. Dain hits a running dropkick into the corner and starts clubbing away at the back. Priest injured his back against Finn Bálor at NXT TakeOver last Sunday. Dain puts Priest on the apron, but Priest kicks him back. Dain quickly attacks him getting in the ring and goes to the second rope. Dain hits a guillotine leg drop, and Priest is in a lot of pain. Dain elbows him in the back a few times before applying a chin lock. Priest fights up, but Dain knees him in the back. Priest gets out, but Dain head-butts him. Priest elbows him back and kicks away at him. Dain quickly hits a two back suplexes before hitting a swinging face-buster for a near fall.
Dain continues to club the back before going for a back suplex, but Priest shifts his weight to take Dain down. Priest sidesteps an avalanche in the corner and goes down hard. Priest gets to his feet and trades punches from Dain. Priest clubs him back a few times before hitting a spinning forearm. Priest then floors him with a clothesline. Dain reverses a whip into the corner, but Priest hits a springboard forearm for a near fall. Priest continues to clutch his back. Priest hits a leaping back elbow before hitting a running back elbow. Priest backs up and charges, but Dain hits the Divide (running cross-body block) for a near fall. Dain gets Priest up in the electric chair, but Priest counters into a victory roll for a two count. Priest hits a spin kick followed by the Reckoning for the win.
Winner by Pinfall: Damian Priest
---
Xia Li vs. Aliyah
During the break, Killian Dain was making his way to the back when he saw a drunken Robert Stone in the crowd. Dain knocked him over.
Before the match, Aliyah rushes over to Robert Stone, who is crumpled in a heap next to the stage. Aliyah helps him up and puts him at ringside to be her manager. Stone is absolutely wiped out.
They lock up, and Li powers her into the ropes. Aliyah takes her down and hits a Thesz Press. Aliyah avoids a kick, but Li catches her in the corner. Li puts Aliyah on the top rope and clubs her. Aliyah hits a tornado northern lights suplex for a two count. Aliyah pushes Li a few times. Li jumps to her feet and hits a big kick. Li hits some kicks and punches before hitting a running dropkick. Robert Stone drunkenly pulls himself up to the apron before projectile vomiting into the ring. Aliyah rolls up a distracted Li. Li's shoulder lifts up, so the referee stops counting. Aliyah has to cover her again for the win.
Winner by Pinfall: Aliyah
Aliyah celebrates and Stone face plants off the apron in a drunken stupor. Aliyah helps him to the back.
---
Video: Timothy Thatcher
Video Package: Timothy Thatcher is teaching (torturing in this instance) a bunch of trainees with Fujiwara Arm Bars and double wrist locks.
---
Segment: Undisputed Era
Undisputed Therapy for Roderick Strong, who has been haunted by Dexter Lumis. Adam Cole says they're going to get Strong professional help. Strong can get back to being himself after this. The psychologist is Kyle O'Reilly in disguise. The psychologist orders some inkblot tests, but Strong only sees Lumis in them. The psychologist tells Strong to confront the trunk. Cole and Bobby Fish try to get Strong in a trunk, but Strong runs away.
---
In-Ring: Adam Cole, Keith Lee, Finn Balor
NXT Champion Adam Cole is interviewed backstage. Cole is staring at the hourglass left by Scarlett last week. He's asked about Karrion Kross' challenge. Keith Lee walks up to him and asks for a word. Lee says Karrion Kross isn't taking the NXT Title from Cole. Lee smashes the hourglass and says it will be him. Cole angrily walks off, and Lee says, "Tick, tock."
After commercials, NXT Champion Adam Cole makes his way to the ring. Cole says he's been champion for 381 days and not one of those days has been taken for granted. He's the hardest working and greatest champion in the history of this business. For 381 days, people have tried to knock him down and failed. You can't just throw your name into the hat and get a title shot. For example, Karrion Kross beat Tommaso Ciampa and wants a title shot. He's beaten Ciampa already.
As for Keith Lee, Lee may have his eyes on the NXT Title, but Cole has his eyes on the North American Championship. He was the first North American Champion. Maybe he wants to hold that title for 381 days. Maybe he wants two titles and will be known as "Champ, Champ bay-bay."
NXT North American Champion Keith Lee makes his way to the ring. Lee gets in the ring… and Johnny Gargano's music hits. Gargano comes out to the stage and says this is a cool moment. However, he doesn't care about moments anymore. Gargano cares about results. Gargano pinned Lee last week and is coming after the North American Championship… but why stop there? He's the first-ever triple crown champion in NXT. It's about time he gets the title reign he deserves. They'll be the first couple to ever be NXT Champion and NXT Women's Champion. Lee asks Gargano about Candice LeRae and says he seemed to care more about her than Gargano. Lee picked her up, and LeRae apparently
Finn Bálor comes out and says if they're done being marks for themselves, they can be marks for him. Bálor says he's had championships all over the world, but he's never held the North American Championship. Gargano says Bálor has never been a triple crown winner. Bálor says he doesn't wait in line. He's going to take Lee's title. When he does, he's coming for Cole. Bálor says Cole is a great transitional champion… Cole says he beat Bálor's record. Just like Bálor's career, Cole shows up and betters him.
NXT General Manager William Regal appears on the screen. Next week, Johnny Gargano and Finn Bálor will face Keith Lee for the NXT North American Championship. Whoever wins that match will face Adam Cole in a Winner Take All Match on July 8.
---
Backstage: Keith Lee, Candice LeRae, Mia Yim
Keith Lee is walking backstage, but Candice LeRae corners him. She's furious over what he said moments ago. Mia Yim attacks her from behind, and they brawl big time.
---
Kayden Carter vs. Dakota Kai
Carter takes Kai down quickly and rolls her up for a two count. Carter quickly springboards off the bottom rope for a basement dropkick. Gonzalez distracts Carter. Kai tries to blindside her, but Carter cuts her off. Kai hits a scorpion kick for a near fall. Carter fights back and hits a dropkick. Carter counters a wheelbarrow into a victory roll and follows up with a superkick for a two count. Kai sends Carter to the corner, but Carter drops her on the apron. Carter hits a modified face-buster. Gonzalez distracts Carter, so Catanzaro goes for a cross-body off the apron. Gonzalez catches her and throws her into the ring apron. Kai quickly rolls Carter up for a two count. Kai then applies a submission for the win.
Winner by Submission: Dakota Kai
---
Backstage: Scarlett, Karrion Kross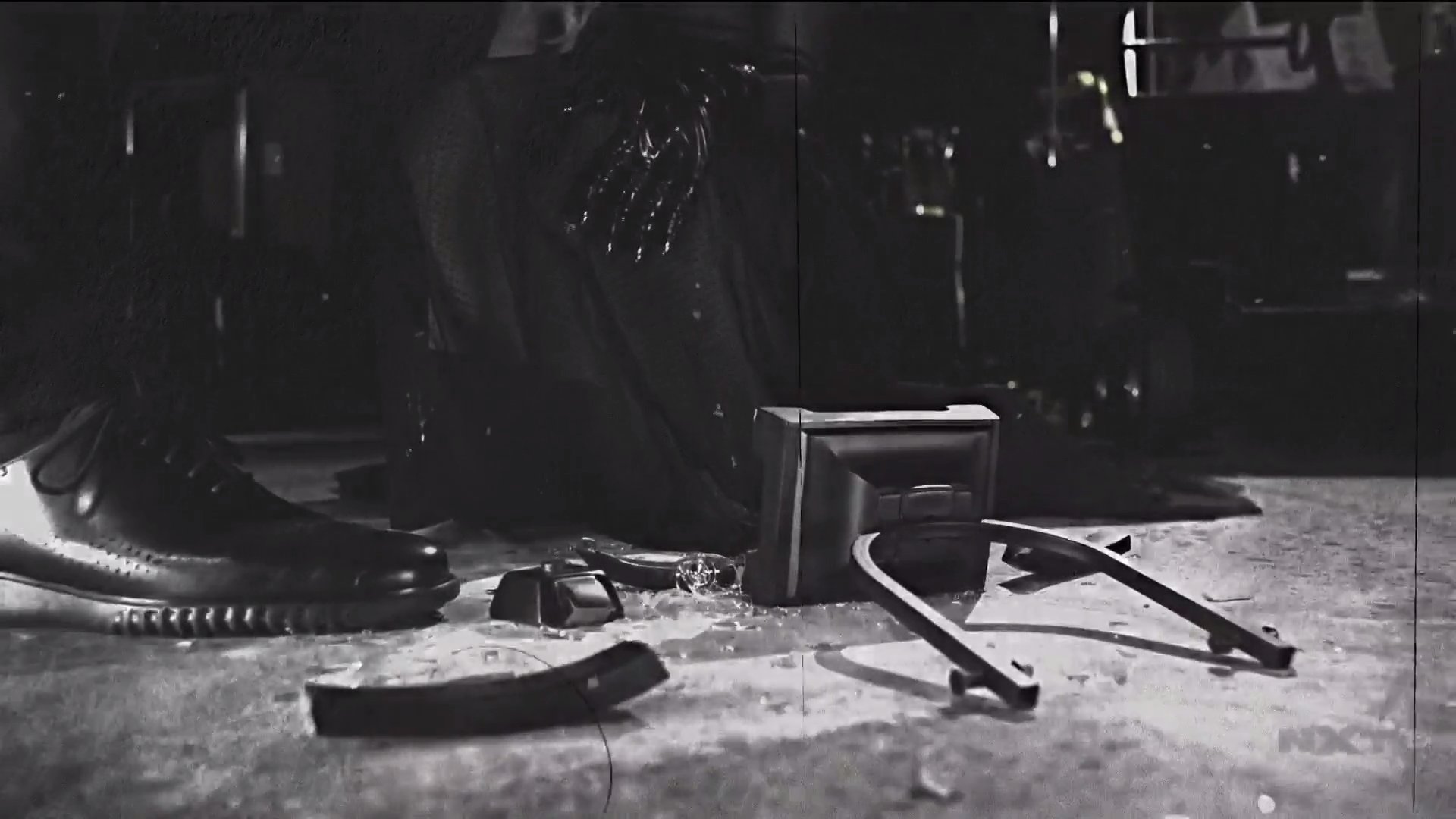 We see Scarlett walk up to the destroyed hourglass backstage. We see Karrion Kross' boot stomp on the glass.
---
Video: Mercedes Martinez
Mercedes Martinez is coming soon.
---
Bronson Reed vs. Leon Ruff
Reed immediately takes Ruff down and hits a senton splash. Reed goes to the top rope for a diving splash to pick up the win.
Winner by Pinfall: Bronson Reed
Bronson Reed says he's not one to forget. That's why he's going to do what no one else has. He calls out Karrion Kross for a match next week. Reed helps Ruff up and carries him to the back.
---
Segment: Damian Priest, Cameron Grimes
We go outside to see Damian Priest by his car. All the tires are slashed. Cameron Grimes drives up and asks if he should call him an Uber. Grimes laughs as he drives off.
---
In-Ring: Santos Escobar, Raul Mendoza, Joaquin Wilde, Drake Maverick
NXT Cruiserweight Champion Santos Escobar comes out with Raul Mendoza and Joaquin Wilde. Escobar says El Hijo del Fantasma was known in the Latin culture as the best Lucha Libre artist ever. Of course when you wear a mask, that's all you'll ever be – a luchador in a mask. For 20 years, that was him. Then he earned a shot at coming to NXT, a worldwide platform. Escobar knew the book on El Hijo del Fantasma was at an end. His father, El Fantasma, always told him he'd be a leader, not a luchador. Escobar tells Mendoza and Wilde that he'll make them leaders because he's the leader of leaders. They'll make a new legacy.
Drake Maverick walks out to the stage and congratulates Escobar on fooling everyone. Maverick says he has more guts than brains and gets in the ring. Maverick attacks Escobar and fights off Wilde and Mendoza. Maverick hits Escobar with a suicide dive, but Mendoza and Wilde take him down. They drop him on the barricade and dump him over. They attack him some more. Escobar gets on a platform and gives Maverick the Phantom Driver through a table! Escobar stands tall with Mendoza and Wilde.
During the commercial, Drake Maverick was taken away in an ambulance.
---
Next Week
NEXT WEEK on #WWENXT.
👊@bronsonreedwwe vs. @WWEKarrionKross
👊@ArcherOfInfamy vs. @CGrimesWWE
👊@RealKeithLee vs. @JohnnyGargano vs. @FinnBalor for the #WWENXT #NATitle.

Yes. Next week is gonna be HUGE. pic.twitter.com/oADXmv7VbE

— WWE NXT (@WWENXT) June 18, 2020
Karrion Kross will battle Bronson Reed next week. We'll also see Damian Priest take on Cameron Grimes, as well as an NXT North American Championship match with Keith Lee defending against Finn Bálor and Johnny Gargano.
---
WWE Women's Tag Team Championship
Sasha Banks & Bayley (c) vs. Shotzi Blackheart & Tegan Nox
Sasha Banks starts against Tegan Nox. Banks takes her down, but Nox fights up. Banks applies a waistlock, but Nox turns it on her. Banks quickly elbows her away and backs up. They lock up, but Banks pulls her down by the hair. Banks rolls her up for a two count. Nox catches her with a backslide for a two count. Shotzi Blackheart tags in. Nox hits Banks with a drop-toe-hold, and Blackheart follows up with an Oklahoma Roll for a near fall.
Smackdown Women's Champion Bayley tags in. Bayley kicks Blackheart and clubs her down. Bayley sends her into the ropes and charges, but Blackheart moves. Blackheart kicks her and catches her with an inside cradle for a two count. Bayley applies a side headlock before sending her to the corner. Bayley avoids a slingshot, gets out of a roll-up, and knees Blackheart in the head.
We come back from the break to see Bayley beating on Nox. During the commercial, Nox hit Bayley with a cross-body block. Later on, Banks kneed Nox in the face. Back to live action, Nox floors Bayley with a head-butt.
Banks and Blackheart tag in. Blackheart knocks Bayley off the apron, slingshots over Banks, and avalanches her. Blackheart hits a facebuster before kneeing her in the face. Blackheart forearms her and hits a vicious high angle back suplex for a near fall. Blackheart misses a wrecking ball dropkick on Banks. Banks hits a meteora on Blackheart on the floor, gets her in the ring, and picks up a near fall.
Bayley tags in and whips Banks into Blackheart, but Blackheart moves. Blackheart hits a head-scissor takeover on Bayley and tags Nox in. Nox and Blackheart hit stereo cannonballs on Bayley and Banks. Nox then Chokeslams Banks off the apron onto Bayley. Blackheart then hits a cross-body block on Bayley and Banks to the floor!
Blackheart gets Bayley in the ring and hits a flipping reverse DDT. Blackheart covers, but Banks tackles Nox onto then to break it up. Banks and Nox tag in and get into a hockey fight. They stun each other with punches. Nox gets Banks in the electric chair. Blackheart tags in. Banks gets out of the electric chair, but Blackheart hits a missile dropkick. Blackheart covers, but Banks counters into a Bank Statement. Blackheart fights it and applies Cattle Mutilation. Bayley runs in with a chair, but Nox stops her. Bayley breaks up the Cattle Mutilation while the referee deals with Nox. Banks applies the Bank Statement for the win!
Winners by Submission and still WWE Women's Tag Team Champions: Sasha Banks and Bayley
NXT Women's Champion Io Shirai attacks Bayley from behind with a springboard dropkick and hits Banks with a German Suplex. Shirai hits them with running knees in the corner before teasing a dive and backflipping into the ring. Banks and Bayley escape. Shirai holds up her championship and stands tall.