June 3, 2020
Winter Park, Florida (Full Sail University)
Commentary: Mauro Ranallo, Tom Phillips, and Beth Phoenix
Results by: Mike Tedesco of Wrestleview.com
---
Quick Match Results
Candice LeRae vs. Mia Yim was a double count out
Candice LeRae & Johnny Gargano defeated Mia Yim & Keith Lee via roll up by LeRae on Yim
Isaiah "Swerve" Scott defeated Tony Nese via roll up
#1 Contenders Triple Threat Tag Team Match: Breezango defeated Undisputed ERA and Oney Lorcan & Danny Burch via top rope leg drop by Fandango on Strong
Santana Garrett defeated Aliyah via headscissors
Cameron Grimes defeated Bronson Reed via Cave In
NXT Cruiserweight Championship Tournament Finals: El Hijo del Fantasma defeated Drake Maverick via Phantom Driver to win the title
---
Candice LeRae vs. Mia Yim
While Mia Yim is making her entrance, Candice LeRae attacks her. The referee regains order and starts the match. Yim shoulder blocks her down before kicking her in the face. Yim hooks a waistlock and throws her. Yim hits a running big boot in the corner, twists the hair, and hits a hairmare. Yim kicks her in the back, and LeRae rolls to the apron in pain. Yim grabs her and drags her over the top rope into the ring with a full nelson. LeRae quickly drops down and hits a mule kick. LeRae clubs away at her before stepping on her back and hitting a senton splash for a two count. LeRae hits two more step-up senton splashes for a near fall.
LeRae pulls on the hair, but Yim fights up and backs her to the corner. Yim hits a cannonball in the corner and covers for a two count. Yim boots her in the head, but LeRae chops back at her and clubs her to the corner. LeRae angrily backs up and charges with an avalanche. LeRae goes to the apron, but Yim forearms her in the face to knock her to the floor. Yim grabs her and slings her into the barricade. Yim clubs her, and they start brawling on the floor. The referee counts them out.
Double Count-Out
Yim goes to powerbomb LeRae on the ramp, but LeRae counters with a hurricanrana into the video board. The board shorts out. Tegan Nox runs out and gets in LeRae's face. Dakota Kai and Raquel Gonzalez run in and attack Yim some more before grabbing Nox. Shotzi Blackheart runs down and attacks Kai. The women all brawl to the back. Yim breaks free and continues brawling with LeRae until the referees pull her off.
Johnny Gargano comes out and gets in the referee's face. LeRae charges and attacks Yim some more. NXT North American Champion Keith Lee comes down, and Gargano and LeRae get in the ring. Lee helps Yim up before they get in the ring, but Gargano and LeRae run off.
The ring announcer announces that NXT General Manager William Regal has made this a mixed tag team match.
Candice LeRae & Johnny Gargano vs. Mia Yim & Keith Lee
Gargano and LeRae go to walk off, but Lee grabs Gargano. Lee presses him up, so LeRae jumps on his back. Lee doesn't drop Gargano and walks to the ring with LeRae on his back. Lee throws Gargano into the ring and swipes LeRae off. In the ring, Yim dropkicks Gargano down.
The bell rings, and it'll be LeRae starting against Yim. Yim dropkicks LeRae down and chops her before throwing her across the ring. Yim kicks her before throwing her again. Yim hits Sole Food for a near fall. Yim goes for a suplex, but LeRae blocks it. Yim scares Gargano away with a boot, and LeRae chop blocks her. LeRae hits a leg DDT for a near fall. LeRae boots her a few times before clubbing the back. Yim kicks LeRae back before hitting a running big boot in the corner. Yim digs her boot into LeRae's face and face washes her. Yim talks trash to Gargano before going to tag Lee. LeRae stops her, so Yim powers her up and hits a dragon suplex, but Gargano breaks up the pin!
Lee gets in the ring and grabs Gargano. Lee brings him in the ring the hard way and punches away at the midsection. Lee sends Gargano to the corner and avalanches him. Lee goes for a Spirit Bomb, but Gargano takes his car keys out and digs them into Lee's eyes! LeRae then rolls up a distracted Yim for the win!
Winners by Pinfall: Candice LeRae and Johnny Gargano
Lee manages to grab Gargano as he leaves the ring, but Gargano escapes. Lee reaches for him and puts his hand on the steel steps. Gargano then kicks the steps into Lee's hand! Gargano grabs the NXT North American Championship and lays it on the ground. Gargano and LeRae walk off laughing.
---
Backstage: Dexter Lumis
Dexter Lumis is being interviewed backstage. The interviewer asks about Adam Cole vs. Velveteen Dream, but he walks off. Lumis returns with an easel and starts doing something.
After commercials, we go back to Dexter Lumis in the interview area. Lumis drew a caricature of the Undisputed ERA in a car driven by Lumis. Lumis silently walks off.
---
Segment: Drake Maverick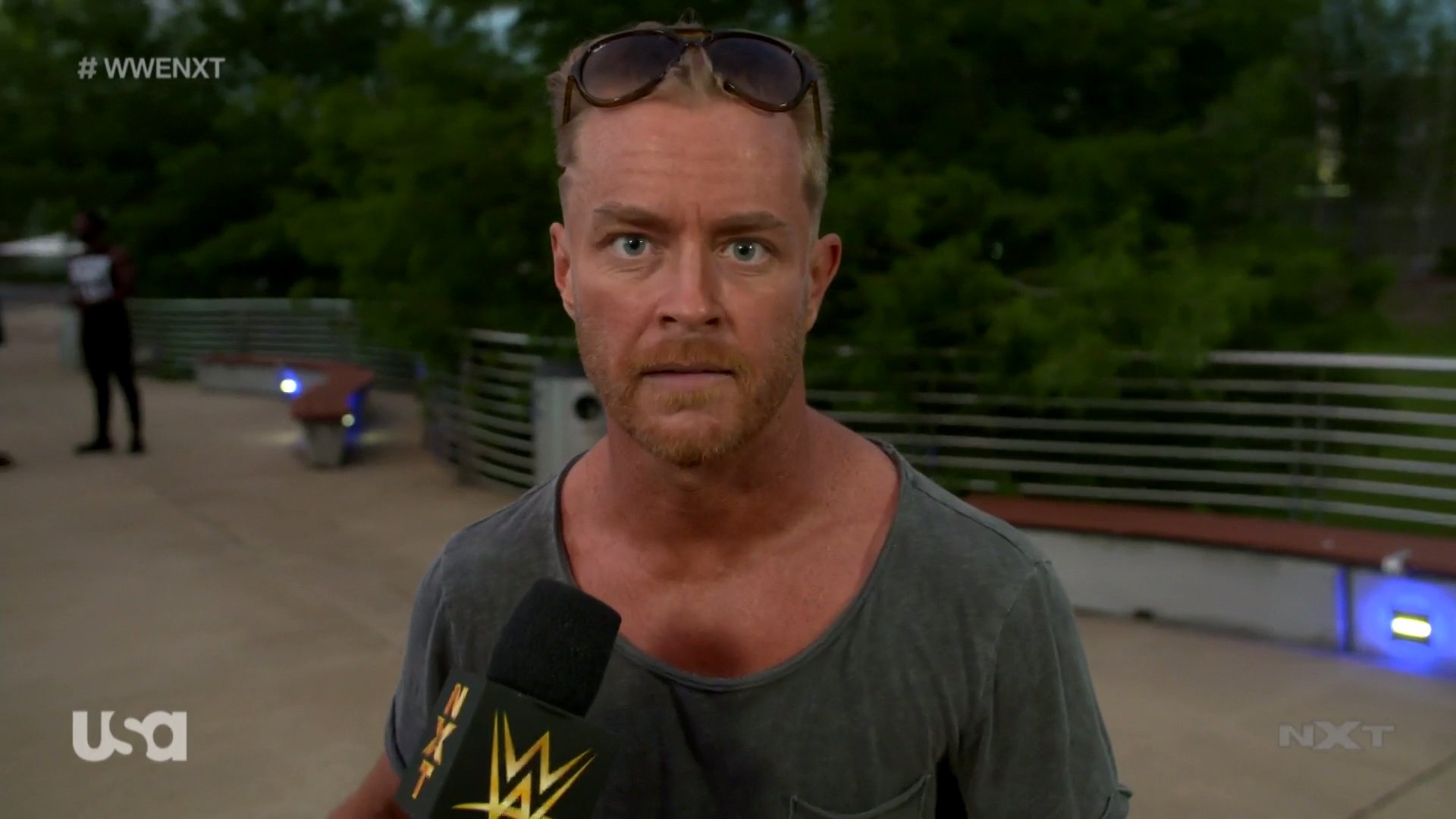 Drake Maverick is interviewed as he enters into Full Sail University. Maverick says he feels no pressure. It could be the best day of his life of the worst day. Tonight he could be the NXT Cruiserweight Champion. Maverick is going to have some cookies and chocolate cake, which he hasn't been able to do since he's been on a diet. Maverick can look directly into the camera because he doesn't know what's going to happen. Tonight we'll find out how his day is going.
---
Video Package: Adam Cole, Velveteen Dream
Video Package: Adam Cole vs. Velveteen Dream for the NXT Championship in a Backlot Brawl at NXT TakeOver: In Your House — Prime Target.
---
Tony Nese vs. Isaiah "Swerve" Scott
Scott gets in Nese's face before the match begins. Nese poses. The bell rings, and Scott takes him down before punching away at him. Nese gets out of the ring, so Scott clubs him and sends him into the barricade. Scott punches him around ringside and drills him in the face with a right hand. Nese blocks a whip into the ring steps and rips at the face. Nese gets in the ring looking for a count-out, but Scott gets in the ring at nine. Nese attacks Scott with a back elbow as he gets in the ring. Nese clubs the back and boots him in the chest for a one count. Nese boots him in the face and stomps the head. Nese whips him hard into the corner, and Scott collapses in pain. Nese picks up a two count. Nese applies a body scissor, and they exchange some stiff shots. Scott turns him over and punches away at him. Nese applies a guillotine. Scott fights up and hits a brainbuster!
Scott chops away at Nese and kicks him in the chest. Nese reverses a whip and hits a drop-toe-hold. Nese goes for a springboard moonsault, but lands on his feet when Scott moves. Scott quickly gives him a back body drop out of the ring, gets on the apron, and boots him in the face. Scott looks at the steel steps and viciously whips Nese into them. Scott gets Nese in the ring, and Nese scurries to the ropes. Nese gives him a shot to the throat, but Scott kicks him back. Scott hits a running uppercut and goes to the second rope. Gentleman Jack Gallagher walks down and distracts Scott. Nese attacks and goes for the sunset driver, but Scott counters into a roll-up for the win!
Winner by Pinfall: Isaiah "Swerve" Scott
Gallagher angrily gets in the ring, and Scott leaves. Nese and Gallagher look menacingly at him.
---
#1 Contenders Triple Threat Tag Team Match
Undisputed ERA vs. Oney Lorcan & Danny Burch vs. Breezango
Breezango makes their return with a special entrance featuring astronauts and rockets.
Oh my goodness. They're doing a multi-team match the right way! Three members are in the ring. It's Bobby Fish, Tyler Breeze, and Danny Burch starting it off. Breeze and Burch take turns attacking Fish. Breeze gives Fish a spinebuster before Burch gives Fish a head-butt. Breeze goes for a pin, but Burch breaks it up. Breeze and Buch go face-to-face. Roderick Strong runs in, but Breeze gives him a big spinebuster. Burch then clotheslines him out of the ring. Fish rolls Burch up for a two count. Breeze hits Fish with a step-up enzuigiri before rolling Burch up for a two count. Breeze and Burch start shoving. Fandango and Oney Lorcan run in.
We come back from the break to see Breeze and Burch stomping away at Strong in the corner. Strong fights back at them before having a whip to the corner reversed. Burch avalanches Strong before throwing him back. Breeze superkicks Strong before Burch gives Breeze a missile dropkick. Burch punches Strong before knocking Fish off the apron. Strong sends Breeze into Burch before hitting a big backbreaker. Outside the ring, Fish takes Burch down.
Fish tags in and stomps Breeze. Fish punches Breeze and puts him in the corner before tagging Strong in. Strong attacks Breeze for a one count. Strong goes for a wristlock before going to a chin lock. Burch runs in and breaks it up before punching away at Fish and Strong. Fandango tags in and knocks Strong back before hitting a flying knee off the top rope. Fandango gives powerslams to both Fish and Strong before hitting a tornado DDT on Strong. Fandango follows up with a falcon arrow, but Fish breaks up the pin.
Oney Lorcan tags in and runs wild before hitting a double blockbuster on the UE. Fandango grabs Lorcan and gives him a back suplex over the top rope onto their competitors. Breeze gives Fandango a back body drop out of the ring onto the others. In the ring, Burch is knocked out by Breeze. Fish and Strong attack Breeze. Dexter Lumis is seen in the crowd. Breeze hits the Beauty Shot on Strong before Fandango hits a top rope leg drop for the win.
Winners by Pinfall: Breezango
Breezango are the new #1 Contenders for the NXT Tag Team Championship held by Imperium. Imperium walks out to the stage and stares at Breezango. Rinku and Saurav, led by Malcom Bivens, also walk out to the stage.
---
Aliyah vs. Santana Garrett
Footage is shown of Chelsea Green firing Robert Stone last week after NXT.
Aliyah viciously takes Garrett down and punches away at her. Robert Stone, looking disheveled, makes his way down to the ring. Aliyah throws Garrett and attacks her in the corner for a near fall. Aliyah applies a double arm submission, but Garrett fights up. Garrett hits a handspring head-scissor off the second rope for the win!
Winner by Pinfall: Santana Garrett
A lost and shaken Robert Stone walks off while Aliyah tries to explain herself.
---
Video Package: Women's Title Match
Video Package: Prime Target – NXT Women's Championship at NXT TakeOver: In Your House
---
Cameron Grimes vs. Bronson Reed
Grimes spends the first few moments trying to avoid Reed before going for a takedown. Reed powers him up, but Grimes gets out and chops him. Reed is angered and punches away at Grimes. Reed sends him into the ropes for an atomic drop followed by a bionic elbow. Reed military presses Grimes down before hitting a senton splash. Grimes tries to get out of the ring, but Reed pulls him back in. Grimes kicks him in the head before elbowing him in the face. Grimes goes for a running cross-body, but Reed catches him. Grimes gets out and forearms him. Reed quickly avalanches him down. Reed stomps around the ring before hitting a hip attack in the corner. Grimes falls out of the ring, so Reed puts him back in. Reed goes to the top rope for a splash, but Grimes moves. Grimes follows up with a Cave In for the win!
Winner by Pinfall: Cameron Grimes
Cameron Grimes celebrates before leaving the ring. Karrion Kross all of a sudden appears in the ring and hits Reed with a Doomsday Saito. Kross looks into the camera and says, "Tick. Tock."
---
At NXT TakeOver: In Your House this Sunday, we'll have a 6-Woman Tag Team Match. Tegan Nox, Shotzi Blackheart, and Mia Yim will battle Candice LeRae, Dakota Kai, and Raquel Gonzalez.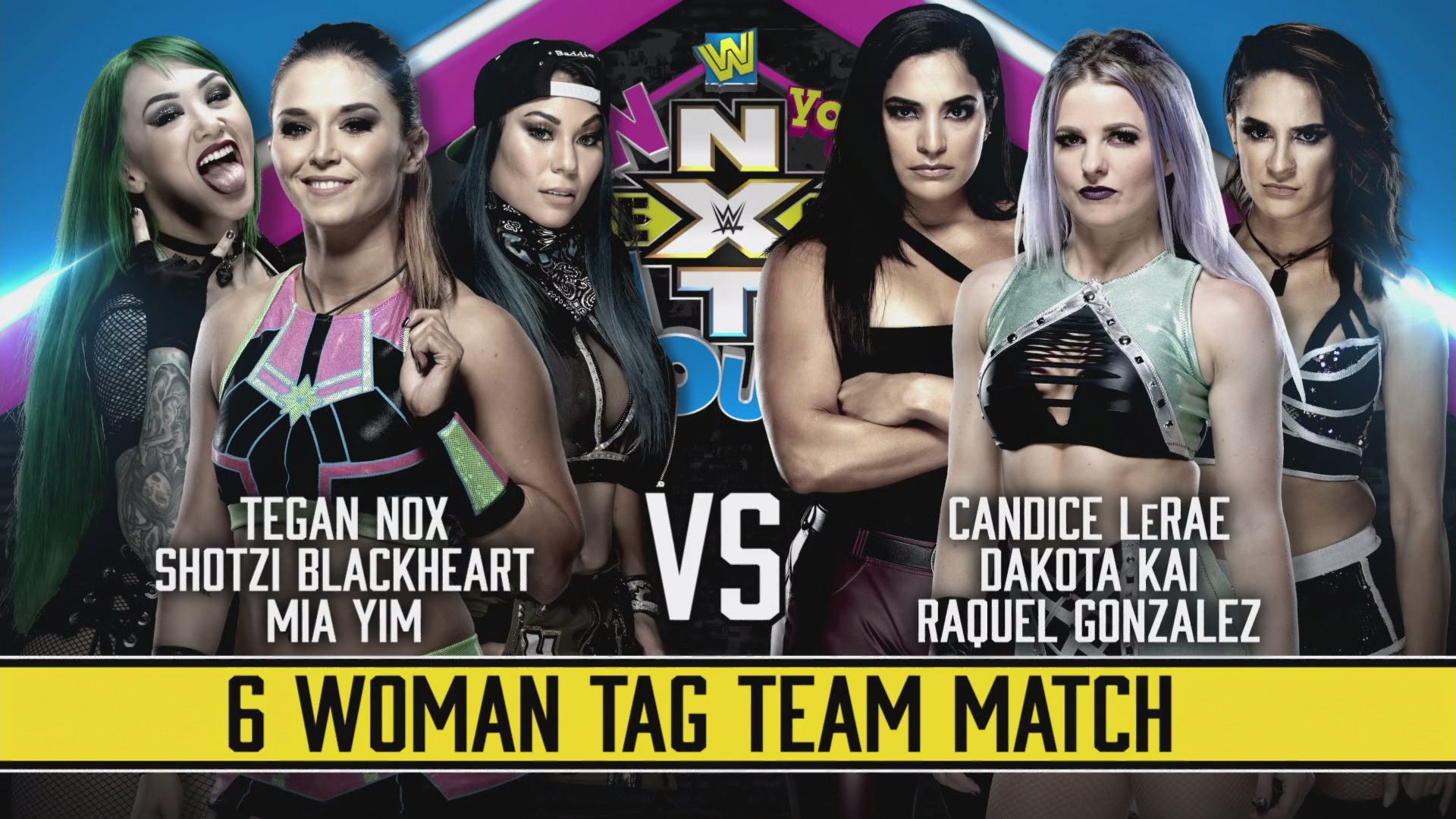 ---
NXT Cruiserweight Championship Tournament Finals
El Hijo del Fantasma vs. Drake Maverick
The bell rings, and both men take their time. Fantasma goes for a handshake, and Maverick obliges. Fantasma surprises Maverick with a roll-up for a one count. Maverick looks upset. Maverick goes after him, but Fantasma takes him down. Maverick turns him over and applies a hammerlock. Fantasma gets out and covers for a one count. Maverick circles the ring, and they lock up. Fantasma powers him to the corner. Fantasma takes Maverick down and spikes him on his shoulder with an arm drag. Fantasma follows up with a monkey flip and hits a crucifix pin for a two count. Fantasma lets Maverick know how close he was to his career being over.
They lock up again, and Fantasma sends him into the ropes. Maverick hits a head-scissor takeover to knock him out of the ring. Maverick follows him up and goes for a powerbomb, but Maverick gets on the apron. Maverick then drops him with a somersault senton off the apron.
We come back from the break to see Maverick punching Fantasma down before dropkicking him into the corner. Maverick hits a kick to the face followed by a missile dropkick off the second rope. Fantasma gets out of the ring to recover. Maverick goes after him, but Fantasma gives him a sit-out powerbomb on the floor! Fantasma gets him in the ring and picks up a near fall! Wow!
Fantasma throws him into the ropes and hits a forearm to the small of the back. Maverick groans in agony. Fantasma goes for a Romero Special and locks it on. Fantasma drops him down for a pin, but Maverick is too close to the ropes. Fantasma drops an elbow on the back before hitting a back suplex for a near fall. Fantasma goes for another back suplex, but Maverick punches out. Maverick boots him back and dropkicks him into the corner. Maverick stuns him with a kick to the face before trying for a missile dropkick, but Fantasma counters into a Boston Crab! Maverick screams in pain, but he makes it to the bottom rope. Maverick screams that he's not going to quit.
Maverick gets to his feet as the crowd claps for him. Fantasma destroys Maverick with a sit-out powerbomb for a near fall. Fantasma looks like he doesn't know how Maverick is doing it. Maverick pulls himself to his feet and holds himself up on the ropes. Maverick slaps Fantasma in the face, so Fantasma turns him around and forearms the lower back.
Fantasma shouts in frustration, and Maverick floors him with a clothesline. Maverick punches away wildly at Fantasma before the referee backs him up. Maverick connects with a wheelbarrow bulldog before going to the top rope. Maverick hits a diving elbow drop off the top rope, but Fantasma kicks out at one! Fantasma quickly hits a jawbreaker followed by a spinebuster. Fantasma goes to the top rope, but Maverick crotches him up there. Maverick goes to the second rope, and they start punching it out. They head-butt each other and fall to the floor!
An "NXT" chant fires up. All of a sudden, the luchadors that have been targeting Fantasma come down. Maverick hits them with a suicide dive and fights them off. Maverick gets in the ring. Fantasma immediately superkicks him in the face before hitting a Phantom Driver for the win!
Winner and new NXT Cruiserweight Champion: El Hijo del Fantasma (3-1)
El Hijo del Fantasma celebrates with the NXT Cruiserweight Championship. Drake Maverick's WWE career is over. Fantasma walks off with the title. Maverick sits up and is in tears. His WWE career has come to an end.
The crowd gives Maverick a great hand and bangs on the dasher boards. Maverick looks into the camera and says, "Thank you." Maverick walks off and thanks the trainees in the crowd. Maverick is wiping away tears from his eyes as he walks up the ramp for the final time. All of a sudden, Paul "Triple H" Levesque comes out and puts his arm around Maverick. Triple H says, "You've earned this," and hands Maverick an NXT contract. Maverick cries as he signs it. Maverick and Levesque embrace. Maverick holds up the NXT contract and tearfully celebrates as the show comes to an end.