June 29, 2020
Orlando, Florida (WWE Performance Center)
Commentary: Tom Phillips, Byron Saxton, and Samoa Joe
Results by: Mike Tedesco of Wrestleview.com
---
Quick Match Results
Andrade & Angel Garza defeated The Viking Raiders via Wing Clipper by Garza on Erik
WWE 24/7 Championship: R-Truth defeated Akira Tozawa (c) via roll up to win the title
Seth Rollins & Murphy defeated Aleister Black & Humberto Carrillo via Stomp by Rollins on Carrillo
Peyton Royce defeated Ruby Riott via spinning brainbuster
1-on-2 Handicap Match: The Big Show defeated Andrade & Angel Garza via chokeslam by Big Show on Andrade after Garza walked out
MVP defeated Apollo Crews via fisherman's suplex after a distraction by Lashley
Bobby Lashley defeated Ricochet via full nelson submission
Dolph Ziggler & Sasha Banks defeated Drew McIntyre & Asuka via Banks reversing an Asuka Lock into a pin on Asuka
---
Contract Signing: Asuka, Sasha Banks, Bayley, Dolph Ziggler, Drew McIntyre
We go into the Performance Center to see Sasha Banks and Bayley double-teaming Asuka in the ring! Order is restored by the referees. Samoa Joe welcomes us to the show. There's a table set up in the ring with two contracts. Joe starts to introduce what is about to happen when the brawl picks up with Banks and Bayley against Asuka. Referees pull them apart again.
Dolph Ziggler cuts off Samoa Joe. Joe sarcastically thanks him for waiting for his introduction. Joe goes to introduce Drew McIntyre, but Ziggler takes it. Ziggler introduces Drew McIntyre, who will be WWE Champion for three more weeks. WWE Champion Drew McIntyre makes his way to the ring. Joe says now that all the volatile components are here, Ziggler can begin.
Ziggler says McIntyre is WWE Champion because of him, but where would he be without him? McIntyre would be scratching and clawing in obscurity thinking about his blown chances. While McIntyre was trying to find himself, Ziggler was here carrying monsters like McIntyre on his back. Ziggler knows what he was willing to sacrifice for that title. In the back of McIntyre's mind, he knows he's unsure. At Extreme Rules: The Horror Show, McIntyre can kick him down, but he'll keep getting up. Ziggler will survive and the 19 year redemption story will disappear. Ziggler created McIntyre, but at Extreme Rules: Horror Show he will destroy him. Ziggler signs the contract, and McIntyre signs it as well.
McIntyre says those were some passionate words. There was a time they were like family, like brothers. It's true he was fired and went through hell personally and professionally, but the biggest lesson of all is this is a mental game, not physical. He knows why Ziggler needs the title so bad. He's never been the center of attention. Every time Ziggler gets close to the finish line, he drops the ball. Always the bridesmaid, never the bride. At Extreme Rules: Horror Show, he'll hurt and slaughter Ziggler. Ziggler will lose because of McIntyre. Being that they're family and Ziggler thinks he can hurt him, he'll allow Ziggler to pick the stipulation for their match. Ziggler cannot believe it.
Asuka all of a sudden starts shouting in Japanese at Ziggler, Banks, and Bayley. Asuka signs the contract. Banks says she's not the same person Asuka faced before. She is the legit boss, the blueprint, and the conversation. At Extreme Rules, she will be Two Belts Banks when she beats Asuka for the Raw Women's Champion. With her and Bayley being double champions, they'll take over both locker rooms and the whole damn company. Bayley says that will be a Horror Show! Asuka attacks them again, and a brawl breaks out. Ziggler tries to take advantage of the situation by superkicking McIntyre, but McIntyre blocks it. McIntyre throws him off and goes for a Claymore Kick, but Ziggler escapes the ring.
---
Backstage: Angel Garza, Zelina Vega, Big Show
What do you get when you put @WWELadyRefJess, @CharlyOnTV, @WWETheBigShow, @Zelina_VegaWWE, @AndradeCienWWE AND @AngelGarzaWwe together? 🤔🤔🤔

One INTERESTING moment on #WWERaw! pic.twitter.com/AH2B4C5T8a

— WWE (@WWE) June 30, 2020
Footage is shown of Andrade and Angel Garza attacking The Street Profits last week before being run off by The Viking Raiders.
Angel Garza is talking to the woman referee Jessika Carr. She's the official for their match. She just walks off. Charly Caruso comes up, but Zelina Vega steps between her and Garza. Vega says they were just making sure the referee calls everything fairly. Big Show all of a sudden walks up and says he's superseding them and going out next. Vega is furious.
---
In-Ring: Big Show, Andrade, Zelina Vega, Ric Flair
The Big Show is already in the ring. Big Show calls Randy Orton out to the ring. Big Show says he's a legend and Orton is a Legend Killer.
Andrade's music hits, and he comes out with Zelina Vega and Angel Garza. Big Show apologizes for interrupting their interview, but he's not in the mood to play right now. Andrade laughs at Big Show being considered a legend. Big Show says he has boots older than Andrade. Angel Garza also mocks Big Show for thinking he's a legend. Garza says it doesn't matter what Big Show is. He will learn what the Street Profits will soon realize. Big Show calls them to the ring for a fight. Vega says they'll do the "Legend Killer" Randy Orton a favor by showing Big Show what happens when you disrespect Andrade and Angel Garza. Big Show's days on Raw are numbered, but he can say hi to Edge and Christian for them in the retirement home. Andrade and Garza get on the apron.
Ric Flair's music hits, and "The Nature Boy" comes out to the stage. Flair says he respects Vega, Andrade, and Garza, but he has to have a word with his old friend The Big Show. No one is going to run or focus on Big Show's career other than his friend the greatest wrestler alive today, as well as the man who will take him out whenever he feels like it. Flair says Orton will come out whenever he feels like it. Flair is doing the light work. Big Show has been making cartoons for Netflix. That's great. Everyone wants that spot in Hollywood. Big Show had his day and run. He'll be in the Hall of Fame. If you play around with Randy Orton, he'll be a bigger Legend Killer and Big Show will be on the outside looking in. Flair then tells Vega to have Andrade and Garza have some fun at Big Show's expense.
Andrade and Garza go to get in the ring, but The Viking Raiders run down. A brawl breaks out.
---
Andrade & Angel Garza vs. The Viking Raiders
Zelina Vega is on commentary for this match.
We join the match in progress. Erik viciously slams Garza down on his chest. Ivar tags in, and The Viking Raiders knee Garza in the chest for a two count. Ivar hits a snapmare, fixes up his beard, and smothers Garza's face. Erik tags back in, and he tackles Garza to the corner. Ivar tags back in, and he shoulders Garza in the corner for a one count. Ivar whips Garza down before dropping a forearm for a one count. Ivar applies an arm bar, but Garza fights up. Ivar knees him in the midsection and tags Erik in. Erik hits a scoop slam before slamming Ivar onto Garza for a near fall. Garza flips through a suplex and tags in Andrade. Erik attacks Andrade before Garza grabs him. Erik grabs him, but Garza's pants rip off. Andrade attacks Erik from behind and Garza superkicks him for a two count.
Andrade stomps Erik's midsection before tagging Garza back in. Garza attacks Erik's leg before kicking him in the ribs. Garza gives a nonchalant cover for a one count. Garza clubs Erik's back before Erik annihilates him with a forearm. Andrade immediately tags in and kicks Erik in the face. Andrade shoves Garza, which constitutes a tag. Andrade yells at Garza and walks off. Vega gets off commentary and tries to talk some sense into Andrade.
We come back from the break to see Garza knee Erik in the ribs in the corner. Andrade is back on the apron, and Vega is on commentary saying she's the best manager in the business. Andrade tags in and punches away at Erik. Erik fights Andrade off, elbows Garza down, and hits a big knee to Andrade's face.
Ivar and Garza tag in. Ivar slams Garza before hitting a splash. Andrade runs in, but Ivar cartwheels away and clotheslines him. Ivar avoids Garza and hits a seated senton. Ivar scoops up Garza, but Garza slides off. Garza tries for a handspring back elbow, but Garza dropkicks him in the back. Erik tags in. The Viking Raiders stack up Garza and Andrade on Erik for a slam. They try for the Viking Experience on Andrade, but he gets out. Andrade hits double knees on Ivar in the corner. Erik goes for a German Suplex, but he holds the ropes. Andrade throws Erik out of the ring and distracts the referee. Garza sends Erik into the post. Andrade elbows Erik in the head. Garza follows up with the Wing Clipper and covers. Andrade stops Ivar from breaking up the pin.
Winners by Pinfall: Andrade and Angel Garza
Andrade quickly walks off. Angel Garza and Zelina Vega celebrate while going up the ramp.
---
Backstage: Ruby Riott, The IIconics
You've gotta be JOKING us…@RubyRiottWWE wants a fight with one member of The #IIconics?!#WWERaw @BillieKayWWE @PeytonRoyceWWE pic.twitter.com/OKIzVGaL9t

— WWE Universe (@WWEUniverse) June 30, 2020
Footage is shown of Natalya defeating Liv Morgan last week on Raw. Lana was in Natalya's corner for the match. Ruby Riott came up to Morgan after the match. Morgan didn't want to hear what she had to say.
Ruby Riott is backstage when The IIconics walk up. They make fun of Riott not having any friends. Morgan doesn't pick up her phone like she doesn't pick up wins. They call Riott a loser. Riott says they're the ones that blew their WWE Women's Tag Team Championship opportunity last week. Peyton Royce says they at least have each other. Riott challenges them to a singles match. The other friend can cart them off when Riott beats them up. Riott mocks their pose.
---
Backstage: Andrade, Angel Garza, Zelina Vega, Ric Flair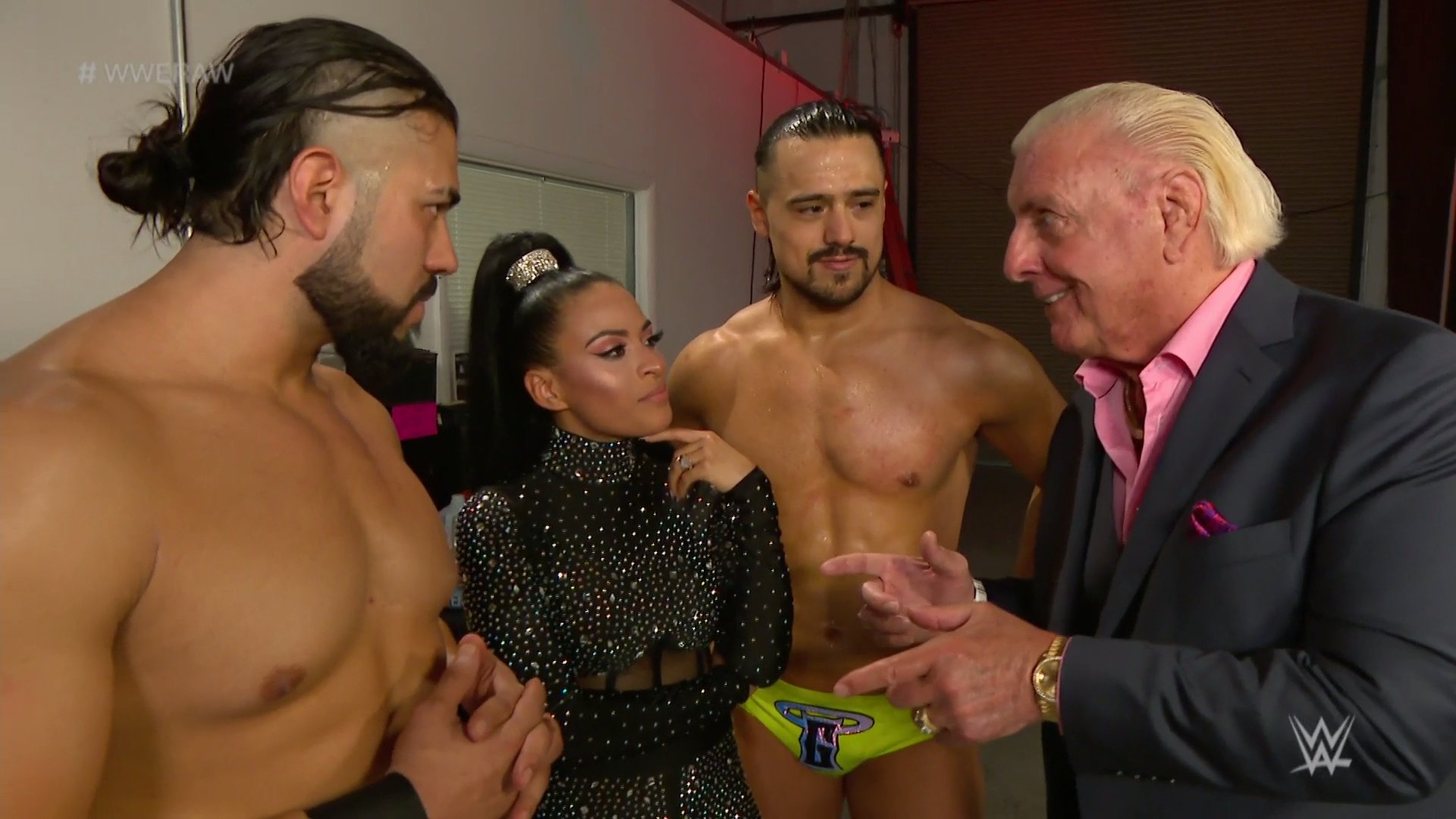 Andrade and Angel Garza are having a disagreement with Zelina Vega in the middle. Ric Flair walks up and says they got a great win and wants to talk to them privately.
---
WWE 24/7 Championship
Akira Tozawa (c) vs. R-Truth
Footage is shown of Bobby Lashley attacking R-Truth last week, allowing Akira Tozawa to pin R-Truth for the WWE 24/7 Championship.
The bell rings, and Tozawa gets ready to fight. Tozawa rolls him up for a two count. Tozawa sends him into the ropes, but R-Truth holds on and does a dance. Tozawa gets fired up and charges, but R-Truth sends him out of the ring. Tozawa angrily gets in the ring, and R-Truth fakes a knee injury. R-Truth then rolls Tozawa up for the win.
Winner by Pinfall and new WWE 24/7 Champion: R-Truth
One of the ninjas tries to roll R-Truth up, but he kicks out. R-Truth splits under another one and runs off.
---
Backstage: Bobby Lashley, MVP, Seth Rollins
The #MondayNightMessiah @WWERollins is on his way to ask for 𝒻𝑜𝓇𝑔𝒾𝓋𝑒𝓃𝑒𝓈𝓈 … NEXT on #WWERaw! pic.twitter.com/eDwdrOArez

— WWE (@WWE) June 30, 2020
Footage is shown of MVP trying to get Apollo Crews to make him his manager, but Crews turned him down. Bobby Lashley attacked Crews after.
Bobby Lashley says Apollo Crews disrespected MVP and doesn't deserve another opportunity. MVP says Crews' opportunity is dead, just like his chances of holding the title for much longer. They walk off by Seth Rollins and Murphy. Rollins is holding a purple object and says his most important announcement will be made next.
---
In-Ring: Seth Rollins, Rey Mysterio, Dominik
Seth Rollins makes his way to the ring holding Rey Mysterio's mask. Murphy is by his side.
Video Package: Rey Mysterio, Dominik, Aleister Black, and Humberto Carrillo fighting off Rollins, Murphy, and Austin Theory last week on Raw
Seth Rollins says last week, Rey Mysterio, along with his son, Dominik, made a very heartwarming return to Monday Night Raw. Mysterio stood right where he's standing and said nothing would stop him from returning to the ring. Mysterio believes that with all his heart… so does Rollins. Mysterio has a duty to uphold. The problem is Mysterio hasn't been seeing things too clearly as of late. Mysterio thinks his duty is to his family, but his duty is to be a sacrifice for the future of Monday Night Raw. Rollins has given Mysterio every chance to take the easy way out and do this on his own terms. Mysterio has defied him at every turn. What he must do now is so important. Rollins needs to ask Mysterio to forgive him. Rollins begs for Mysterio's forgiveness… not for what he did in the past, but for what Mysterio is forcing him to do in the future. They are bound by fate. As fate would have it, he is the Monday Night Messiah. Mysterio is meant to be a sacrifice for the greater good of Monday Night Raw. Mysterio is correct in saying he will step foot in the ring again. Every time he does, Rollins will be forced to take a piece of him. Little by little, he'll tear Mysterio apart until there is nothing left but a memory.
Rey Mysterio and Dominik appear on the titantron. Mysterio wants forgiveness, but not from Rollins. Mysterio hopes Dominik will forgive him for what he does to Rollins. Dominik appears to have a black eye. Mysterio says he has to do something to Rollins that is as remorseless as what he did to him. Mysterio tells Rollins to remember: "An eye for an eye." What he'll do to Rollins isn't by fate. It'll be by design. Dominik says he forgives his father, but he'll never forgive Rollins. Rollins will never forget what his father does to him. That will be ordained by fate.
Rollins says those were some strong words. Mysterio taught his son well except to be careful what he wishes for. If he stands in the way of the greater good, he will be forced to end his career before it ever begins.
Aleister Black's music hits, and he comes down to the ring with Humberto Carrillo. Rollins quickly retreats.
Rollins wants to know why Black and Carrillo keep fighting for Mysterio. Why is Mysterio an idol to Carrillo. He's a fraud and a coward. Carrillo says Rollins is the coward. Black says he knows a thing or two about evil. He can recognize evil when he's looking at it. There will be no forgiveness for Rollins — just atonement for what he's done. Rollins says they haven't seen anything yet. This ends now.
Seth Rollins & Murphy vs. Aleister Black & Humberto Carrillo
It'll be Black and Murphy starting it off. Black lights him up with some kicks before turning him inside out with a knee to the midsection. Black hits a running kick to the face before kicking Rollins down. Murphy tackles Black into the corner. Black soon boots him back and goes to the top rope, but Rollins sweeps the feet. Murphy attacks Black and tags Rollins in. Rollins attacks Black at ringside before putting him in the ring and punching away at him. Rollins whips him hard into the corner before kicking him in the head. Rollins digs a knee into Black's face before tagging Murphy in. Murphy clubs Black down before applying a chin lock. Murphy cinches it in, but Black fights up and elbows him in the face.
Carrillo tags in and takes Murphy down with some elbows. Carrillo stomps away at Murphy before stopping Rollins from getting in the ring. Murphy attacks Carrillo, but Carrillo stuns him with a kick. Carrillo follows up with a nice springboard cross-body block. Rollins runs in, but Carrillo sends him to the floor. Murphy drops Carrillo on the apron and hits a missile dropkick on Murphy. Carrillo sets up for a 619 in tribute to Mysterio, but Rollins pulls Murphy out of the ring. Carrillo then takes Rollins and Murphy out with a cross-body to the floor!
We come back from the break to see Carrillo kick Murphy away, but Rollins tags in. Carrillo flips through a back suplex and kicks Rollins in the face. Black and Murphy tag in. Black takes Murphy down and dropkicks him. Rollins runs in, but Black hits him and Murphy with a springboard moonsault block. Black lifts Murphy, but Murphy rolls him up for a two count. Black kicks Murphy back and knees him. Carrillo tags in and hits a 619, but Rollins breaks up the pin! Rollins knocks Black out of the ring and hits a suicide dive. Carrillo dropkicks Rollins down, and Murphy knees Carrillo in the face for a near fall!
Murphy kicks Black back and goes to the top rope. Carrillo cuts him off, but Murphy tries for a sunset flip bomb. Rollins tags in. Rollins and Murphy hit a flying knee/powerbomb double-team combo for a near fall! Rollins cannot believe Carrillo kicked out. Rollins sets up for a Stomp, but Black and Murphy start fighting at ringside. Carrillo rolls Rollins up for a near fall. Rollins immediately hits a Stomp for the win.
Winners by Pinfall: Seth Rollins and Murphy
Black immediately attacks Rollins, but Murphy stops him. Rollins and Murphy double-team Black before sending him into the timekeeper's area.
They grab Carrillo and bring him to the ring steps. Rollins says he'll pay for standing up for Rey Mysterio. Carrillo fights them off, but Murphy rocks him with the ring steps. Rollins looks furious and looks at Mysterio's mask. Rollins puts Mysterio's mask onto Carrillo and brings him to the steps. Rollins says this is for the greater good. Rollins goes to drive Carrillo's eye into the steps, but Black stops him. Rollins fights away and hits Carrillo with a Stomp on the ring steps! Rollins and Murphy run off. Black looks devastated.
---
Backstage: Drew McIntyre, Asuka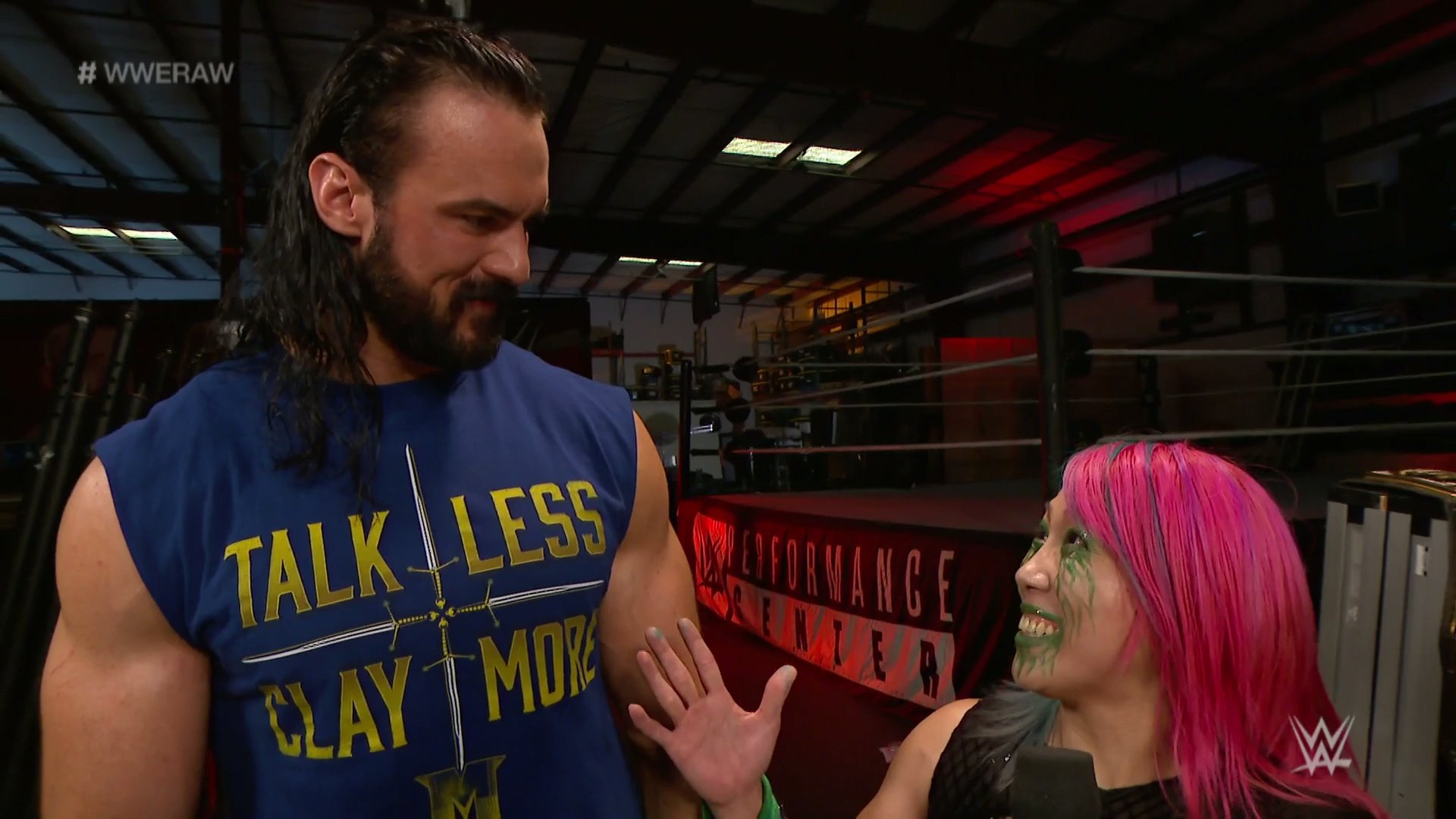 WWE Champion Drew McIntyre is talking with Raw Women's Champion Asuka. Sarah Schreiber ask them about their match tonight. Asuka shouts in Japanese. McIntyre says the Empress of Claymore Country is saying she wants to get the advantage. The reason he's letting Ziggler pick the stipulation is so when Ziggler loses, he'll have no one to blame but himself. Asuka says no one is ready for Drew.
---
Backstage: Ruby Riott, Lana
👀 👀 👀@RubyRiottWWE goes one-on-one with @PeytonRoyceWWE of The #IIconics NEXT on #WWERaw! pic.twitter.com/E7iDQOUN9x

— WWE (@WWE) June 30, 2020
Ruby Riott is warming up when Lana walks up. Riott says Lana should be off ruining someone else's career. Lana says she was so depressed, but a woman with more wisdom than Trish Stratus or Lita got her going. That woman is Natalya. Riott is in action, next.
---
Peyton Royce vs. Ruby Riott
Footage is shown of Nia Jax attacking Charlotte Flair last week. The commentators say Flair fractured her collarbone.
Billie Kay quickly distracts Riott, so Royce kicks her down and attacks the arm. Royce knees Riott in the arm and picks up a one count. Royce kicks Riott in the arm again and chokes her with her boot in the corner. Royce takes Riott down and applies a hammerlock. Royce hits a hammerlock back suplex for a near fall. Royce goes for an avalanche, but Riott ducks and kicks her. Riott forearms her and hits a standing STO for a two count. Riott sets up for a Riott Kick, but Kay distracts her. Royce rolls her up for a near fall. Riott rolls her up for a two count. Royce hits a spinning brainbuster for the win.
Winner by Pinfall: Peyton Royce
---
Backstage: The Big Show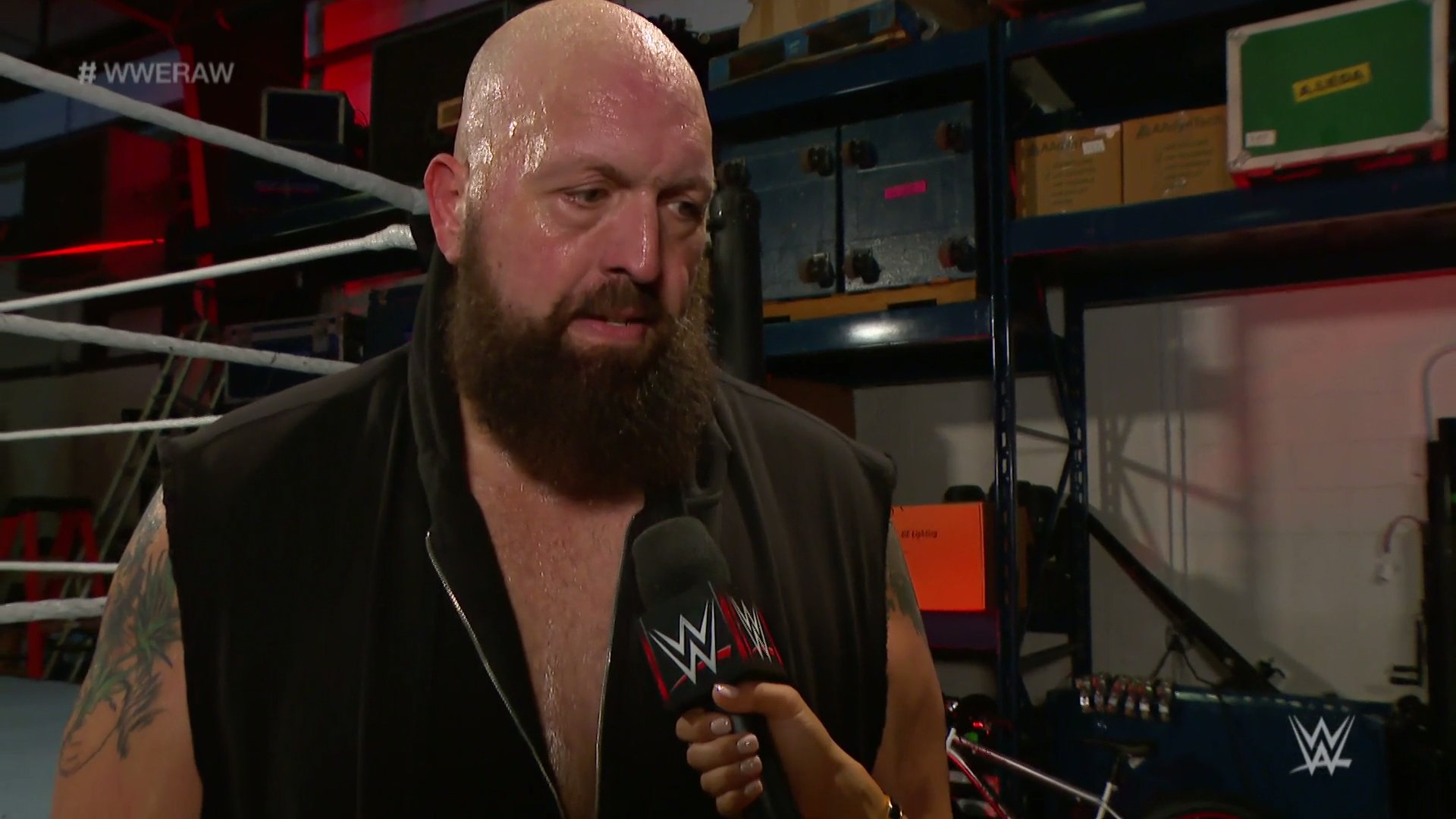 The Big Show says Ric Flair was a legend when he was growing up and is the real deal. Now he's mentoring Randy Orton, which makes Orton the most dangerous Apex Predator. Andrade and Angel Garza are getting an angry giant. He'll face them next.
---
1-on-2 Handicap Match
The Big Show vs. Andrade & Angel Garza
Andrade and Garza fight over who is going to start. Andrade tricks Garza into getting into the ring, and Big Show catches him. Big Show rips Garza's shirt off and chops him. Big Show head-butts him down and viciously chops him against the ropes. Big Show throws Garza out of the ring. Garza regroups with Andrade and Vega. Garza then desperately tags Andrade in. Andrade looks trepidatious. Big Show quickly powers him to the corner and chops the chest. Big Show flips him into the ring and hits a scoop slam. Big Show steps on Andrade's midsection. Andrade tries to fight back, but Big Show head-butts him down. Andrade tags Garza in. Garza manages to dropkick Big Show in the knee and bring him to a knee. Andrade blind tags in and wants a piece of Big Show now that he's weakened. Andrade and Garza argue, so Garza walks off. Garza says this is Andrade's moment. Andrade turns into a Chokeslam from The Big Show, who covers for the win.
Winner by Pinfall: The Big Show
Big Show grabs Andrade by the hair and delivers a Knockout Punch to make a statement to Randy Orton.
---
Backstage: Apollo Crews, Ricochet, Cedric Alexander, R-Truth
Are those ninjas still after @RonKillings? 🤷‍♂️🤷‍♀️#USChampion @WWEApollo goes one-on-one with @The305MVP NEXT on #WWERaw! pic.twitter.com/W3VRaFs6Dy

— WWE (@WWE) June 30, 2020
Apollo Crews is warming up with Ricochet and Cedric Alexander around him. New 24/7 Champion R-Truth comes up and says he finally got away from Tozawa and the ninjas… or did he? R-Truth thinks they're ninjas. Alexander says he's not a ninja. R-Truth apologizes to "Cedric the Entertainer." R-Truth calls Ricochet, "Richard O'Shea." They all laugh.
---
MVP vs. Apollo Crews
MVP and Bobby Lashley make their way to the ring. Bobby Lashley tells MVP to explain why they're doing this. MVP says he's had a great career and a lot of success. All he wants to do is give back. He tried to give back to Crews and be his mentor, but he turned him down. You don't turn down the advice of the longest-reigning United States Champion.
Apollo Crews cuts him off and says he doesn't need or want MVP's help.
This is a non-title match. Crews quickly powers MVP down and tosses him around. Lashley pulls MVP out of the ring, and Crews hits him with a somersault plancha! MVP then comes up from behind and sends Crews into the ring steps.
We come back from the break to see MVP big boot Crews down for a two count. MVP applies a modified chin lock and takes him down for a two count. MVP forearms him to the corner and elbows away at him. MVP whips him hard into the corner and charges for a running big boot, but Crews avoids him. Crews punches and clubs MVP to the corner before taking him down. Crews avalanches him in the corner before hitting another avalanche. Crews follows up with a big spinebuster for a two count. Crews goes to the top rope, but Lashley distracts him. MVP crotches him on the top rope and hits a running big boot in the corner followed by a fisherman's suplex for the win.
Winner by Pinfall: MVP
Apollo Crews angrily gets up and attacks MVP. Lashley quickly runs in and applies a full nelson to Crews. Ricochet and Cedric Alexander run down to try and break Lashley off Crews. They can't pry Lashley off. Alexander and Ricochet hit Lashley with a kick and a missile dropkick to fight him away.
---
Bobby Lashley vs. Ricochet
We join this match in progress. Lashley quickly overpowers Ricochet and throws him off the top rope. Lashley shoulders him in the corner and hits a delayed vertical suplex for a two count. Lashley sends him out of the ring, and MVP drops Ricochet on the commentary table. Lashley gets Ricochet in the ring, but Ricochet fights back. Lashley quickly puts Ricochet on his shoulder and slams him down for a near fall. Lashley throws Ricochet across the ring, and he rolls out of the ring to recover. Lashley scares Alexander away and throws Ricochet on the floor! Lashley puts Ricochet on his shoulders and drives him headfirst into the ring post! Lashley gets in the ring to break the count. Lashley puts Ricochet in the ring and waits for him to get up. Lashley goes for a Spear, but Ricochet collapses. Lashley then sets up behind him and goes for a full nelson, but Ricochet fights it. Ricochet pulls the top rope down to get Lashley out of the ring.
Ricochet goes for a cross-body off the apron, but Lashley catches him. Ricochet slides off and sends him into the ring post. Ricochet hits a springboard moonsault for a near fall. MVP gets on the apron, but Alexander pulls him off. Ricochet hits Lashley with an enzuigiri and brings him to a knee with a superkick. Lashley blocks a kick to the head and DESTROYS him with a one-armed spinebuster! Lashley follows up with a full nelson for the submission.
Winner by Submission: Bobby Lashley
Cedric Alexander gets in the ring to check on Ricochet, so Lashley puts the full nelson on him as well. MVP and Lashley celebrate in the ring.
---
Backstage: Dolph Ziggler, Sasha Banks, Bayley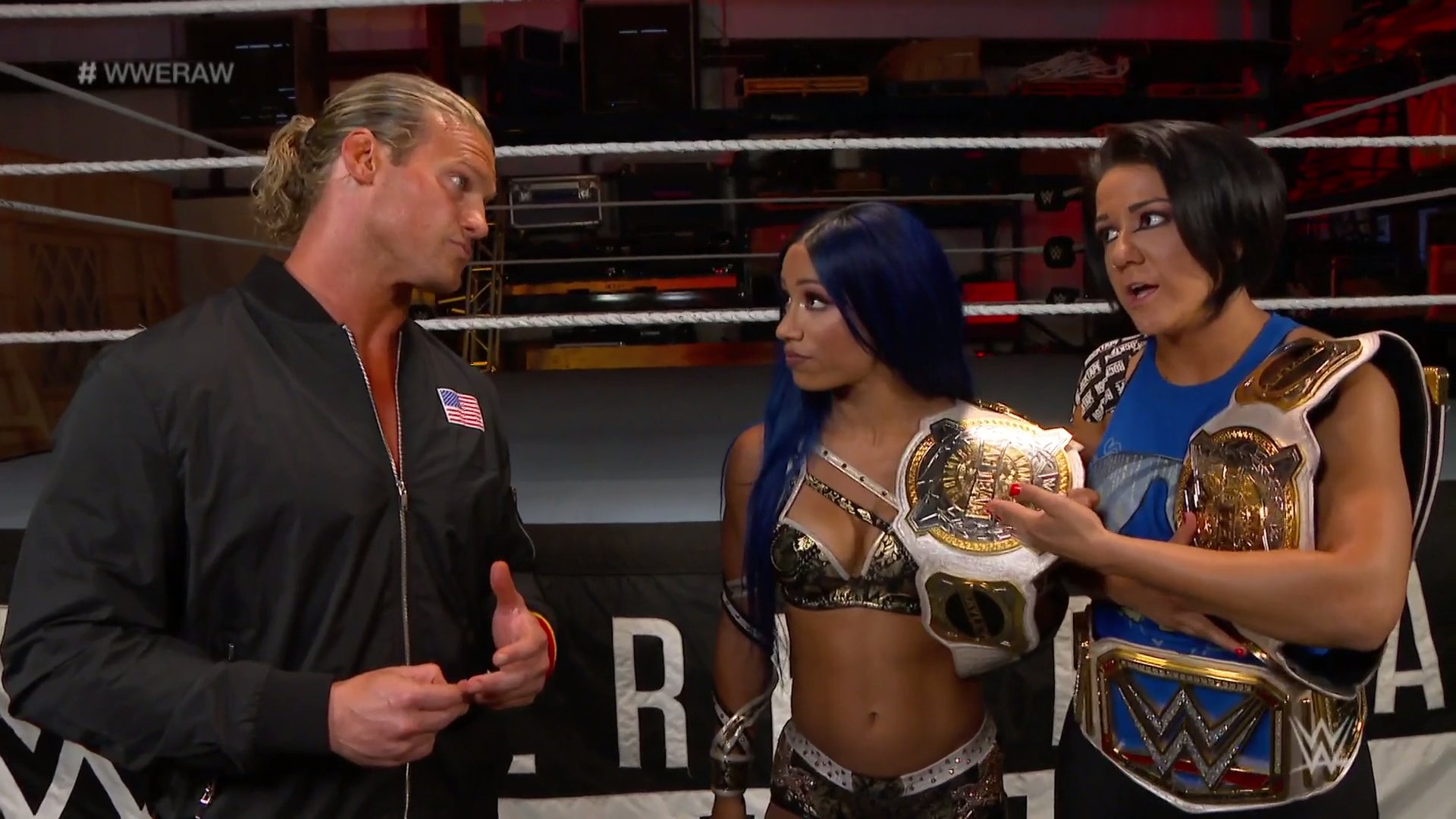 Dolph Ziggler is talking with Sasha Banks and Bayley. Ziggler wants to take the lead and be a player-coach like Pete Rose. Banks says last time they saw him on SmackDown, he got dominated by Mandy Rose and Otis. Meanwhile they were running SmackDown. Bayley tells Ziggler not to ruin this for Banks.
---
Drew McIntyre & Asuka vs. Dolph Ziggler & Sasha Banks
SmackDown Women's Champion Bayley will be on commentary for this match. McIntyre starts against Ziggler. McIntyre quickly overpowers him a few times. Ziggler talks a little trash, but McIntyre takes him down. Ziggler quickly comes back with a famouser for a one count. Sasha Banks tags in. Asuka also comes in. They go back and forth with neither getting the advantage. Ziggler comes in, so McIntyre runs in and hits a Glasgow Kiss. Asuka then knocks Banks out of the ring.
We come back from the break to see McIntyre fight Ziggler off his back. McIntyre goes for an inverted Alabama Slam, but Ziggler counters into a roll-up. Ziggler then hits a spike DDT.
Banks tags in, so Asuka comes in and dropkicks her down. Asuka knees her in the face and hits a running hip attack. Asuka connects with a German Suplex followed by a sliding knee for a near fall. Asuka knocks Banks off the apron with a hip attack. Bayley distracts Asuka, and Banks sweeps the feet. Banks follows up with a big meteora off the apron for a two count. Banks attacks Asuka and slams her down for another two count. Banks applies a chin lock, but Asuka fights up. Asuka has a whip to the corner reversed, and Banks takes her down with double knees for a two count. Banks applies a sleeper hold before applying a surfboard stretch. Asuka fights up, but Banks blocks a kick. Banks kicks her in the head, but Asuka immediately responds with a codebreaker.
McIntyre and Ziggler tag in. McIntyre hits a clothesline followed by a belly-to-belly overhead suplex. McIntyre hits a second one before going to the top rope. McIntyre hits a diving lariat followed by a kip up. Ziggler gets out of a Future Shock DDT, but McIntyre powers him to the corner. Banks blind tags in and gets in McIntyre's face. McIntyre knocks Ziggler off the apron with a single right hand and turns to face Banks. Asuka comes up from behind Banks and kicks Banks in the head for a near fall. Outside the ring, Ziggler sends McIntyre into the ring post. Asuka sets up for an Asuka Lock, but Banks rolls her up for a near fall. Banks rolls her up again for a two count. Banks then goes to the Bank Statement, but Asuka fights out. Asuka goes for an Asuka Lock, but Banks twists out and pins Asuka!
Winners by Pinfall: Dolph Ziggler and Sasha Banks