August 17, 2020
Orlando, Florida (WWE Performance Center)
Commentary: Tom Phillips, Byron Saxton, and Samoa Joe
Results by: Mike Tedesco of Wrestleview.com
---
Quick Match Results
Apollo Crews defeated Shelton Benjamin via jackknife pin
24/7 Championship: Shelton Benjamin defeated R-Truth (c) via big boot to win the title
Angel Garza defeated Ivar via low dropkick
Natalya defeated Mickie James by count out when Natalya knocked her outside
Asuka & Shayna Baszler defeated Bayley & Sasha Banks via Kirifuda Clutch by Baszler on Bayley
Peyton Royce defeated Ruby Riott via Deja Vu
24/7 Championship: Cedric Alexander defeated Shelton Benjamin (c) via rollup to win the title
6-Man Elimination Tag Team Match: The Hurt Business (MVP, Bobby Lashley & Shelton Benjamin) defeated Apollo Crews, Ricochet & Mustafa Ali, with Lashley last eliminating Crews via spear
WWE 24/7 Championship: Cedric Alexander (c) defeated Akira Tozawa via Lumbar Check
WWE 24/7 Championship: Shelton Benjamin defeated Cedric Alexander (c) via Pay Dirt to win the title
Montez Ford defeated Andrade via rollup
---
"Then. Now. Forever." The WWE video goes to lead us into the show… but there are big technical glitches, which the commentators apologize for. It is implied to be RETRIBUTION.
Welcome to the final #WWERaw before #SummerSlam! pic.twitter.com/f2XufEoe4j

— WWE (@WWE) August 18, 2020
---
Segment: Drew McIntyre, RETRIBUTION
WWE Champion Drew McIntyre makes his way to the ring. We see footage of Randy Orton giving Ric Flair a punt kick to the head last week on Raw. McIntyre will face Orton this Sunday at SummerSlam with the WWE Championship on the line.
McIntyre says what Randy Orton did last week was completely unforgivable. Orton brutalized Ric Flair. Not just the legend… a 16-time champion, 2-time Hall of Famer, and an icon for multiple generations. Flair is a 71-year-old man. Orton grew up around Flair for 21 years and had him as a mentor and friend. Last week, with a tear in his eye, Flair told Orton that he wanted him to break his legendary record and that he loved him. Orton is evil. What did he do after Flair poured his heart out? Orton kicked him in his damn skull. At SummerSlam, Orton isn't facing a defenseless old man. He's facing a pissed off 6'5″ Scottish fire breathing dragon. McIntyre will hurt Orton not just for himself but for everyone he has hurt in his life… not just Flair.
Odd camera angles and graphics come up… more technical glitches. This goes on for a bit. It's RETRIBUTION. McIntyre says he is a weapon and wishes SummerSlam was right now.
We go backstage to the WWE Production Truck while McIntyre is talking. They're destroying the truck and intimidating the staff. The WWE Champion continues to talk, but no one is paying attention. Then the show abruptly goes to commercial.
---
Backstage: Drew McIntyre, Seth Rollins, Murphy
Mustafa Ali, Titus O'Neil, The Viking Raiders, Humberto Carrillo, Ricochet, and Cedric Alexander are talking backstage when WWE Champion Drew McIntyre walks up. McIntyre says he doesn't appreciate RETRIBUTION coming over and crapping all over their backyard. McIntyre suggests they band together and stomp these guys out.
Seth Rollins and Murphy walk up. Rollins is laughing and clapping. Rollins appreciates McIntyre trying to fire everyone up, but Raw already has a Messiah who is capable of leading the locker room. McIntyre says Rollins has been trying for five years. If they don't respect him by now, they never will. Rollins says being a champion doesn't make you a leader or a teacher. Rollins says he was the first person to teach McIntyre about being a champion, just like he taught Dominik Mysterio what it takes to be a WWE Superstar. Ricochet says Rollins is going to get a receipt for that. Rey Mysterio is going to be here tonight. Rollins says that's literally impossible. Alexander says he heard the same birdie say Mysterio is coming back. McIntyre asks if Rollins is scared. Rollins says he knows how to protect himself and the people around him. Last week, McIntyre couldn't protect Flair from Orton or he'll walk out of SummerSlam on Sunday as an ex-WWE Champion. McIntyre says he'll drop Rollins, so Murphy steps up. They're quickly pulled apart.
---
In-Ring: The Hurt Business, Apollo Crews
The Hurt Business make their entrance. There is no fancy camera angle or lighting effects as the Production Truck was attacked and the cameramen cleared the ringside area. It's just the hard camera long shot on the ring. MVP says wherever RETRIBUTION is, the Hurt Business is open for business. MVP knows what is going on. While the rest of the WWE roster is worried about where RETRIBUTION will strike next, the Hurt Business is calling them out. Do they think they're tough by terrorizing people in the shadows? Tough is Bobby Lashley, Shelton Benjamin, and himself. MVP knows what is going on.
A lone cameraman finally shows up. MVP says you have to follow the money. Who stands to benefit the most from RETRIBUTION? The trail will lead you to catering with Apollo Crews, Ricochet, Mustafa Ali, and Cedric Alexander. Crews probably hatched this RETRIBUTION angle while sitting on the couch after the Full Lashley. The camera angles begin to change now. RETRIBUTION showed up when he faced Apollo Crews for the United States Championship. Lights flickering… technical difficulties… it was all just a ploy for Crews to steal his United States Championship that he paid thousands of dollars for.
WWE United States Champion Apollo Crews makes his way to the ring. Crews says he knew MVP would make excuses, but to accuse him of being a part of RETRIBUTION is low. MVP says Crews' subversive actions are low. Crews says he's just trying to distract him before SummerSlam. MVP can't beat him without help. MVP says until Crews won the United States Championship, his career has had more starts and stops than an old car. MVP says he sees fear in his eyes. Crews doesn't fear MVP. He fears losing the title because as soon as he loses it, it's back to catering. Crews says he does fear that, which is why he fights so hard to be United States Champion. If he was anything like MVP, he'd have joined the Hurt Business. MVP says if Crews was like him, he'd understand this business. Crews says they can do some business right now. If he beats Shelton Benjamin, then Benjamin and Lashley will watch the SummerSlam match from catering. They'll both be banned from ringside at SummerSlam. Then MVP will find out he can't beat him without help. MVP says he's a petulant child and will be sonned by him at SummerSlam. Benjamin goes to attack Crews, but Crews gets away.
Shelton Benjamin vs. Apollo Crews
If Crews defeats Benjamin, Benjamin and Bobby Lashley will be banned from ringside at SummerSlam. This is a non-title match.
We join this match in progress. Benjamin goes for a German Suplex, but Crews counters into a roll-up for a two count. Benjamin then clotheslines him down. Benjamin puts Crews in the corner and stomps him down. Benjamin whips him hard into the corner. Crews comes back with a spinebuster and goes for a Toss Powerbomb, but Benjamin counters into a DDT.
WWE 24/7 Champion R-Truth all of a sudden runs in the ring. Akira Tozawa chases him in and out of the ring. Benjamin is distracted by this. Crews then catches Benjamin with a jackknife pin for the win.
Winner by Pinfall: WWE United States Champion Apollo Crews
Lashley immediately attacks Crews at the sound of the bell. Mustafa Ali, Ricochet, and Cedric Alexander run down to help. Lashley goes for a Full Lashley on Alexander, so Ali jumps on Lashley's back. Ricochet superkicks Lashley, and they knock him out of the ring. The Hurt Business seethes in anger at ringside. Lashley and Benjamin are banned from ringside at SummerSlam.
R-Truth runs back to ringside, so Benjamin big boots him and pins him for the WWE 24/7 Championship. MVP says they are not going out like this. They will not be disrespected by clowns like R-Truth, ninjas, and Apollo Crews. MVP tells Crews to find two partners and face them in a 6-Man Elimination Tag Team Match.
New 24/7 Champion: Shelton Benjamin
---
Backstage: Angel Garza, Ivar
UP NEXT: @Ivar_WWE and @AngelGarzaWWE will square off one-on-one … and @BachelorABC's @demi_burnett will be watching closely! #WWERaw pic.twitter.com/hx5XYdoxDR

— WWE (@WWE) August 18, 2020
Angel Garza if flirting with Demi Burnett of The Bachelor backstage. Ivar walks up and asks if she wants to join the raid by being his plus one to Raw Underground. She happily accepts. Garza looks completely surprised. Ivar gives her a turkey leg and says it isn't poisoned, unlike what Garza would do. Garza gets in his face and challenges him. Burnett looks confused, holding a turkey leg and a rose.
---
WWE ThunderDome is coming this Friday on SmackDown and will run through next Monday's Raw. Join WWE as they bring the thunder.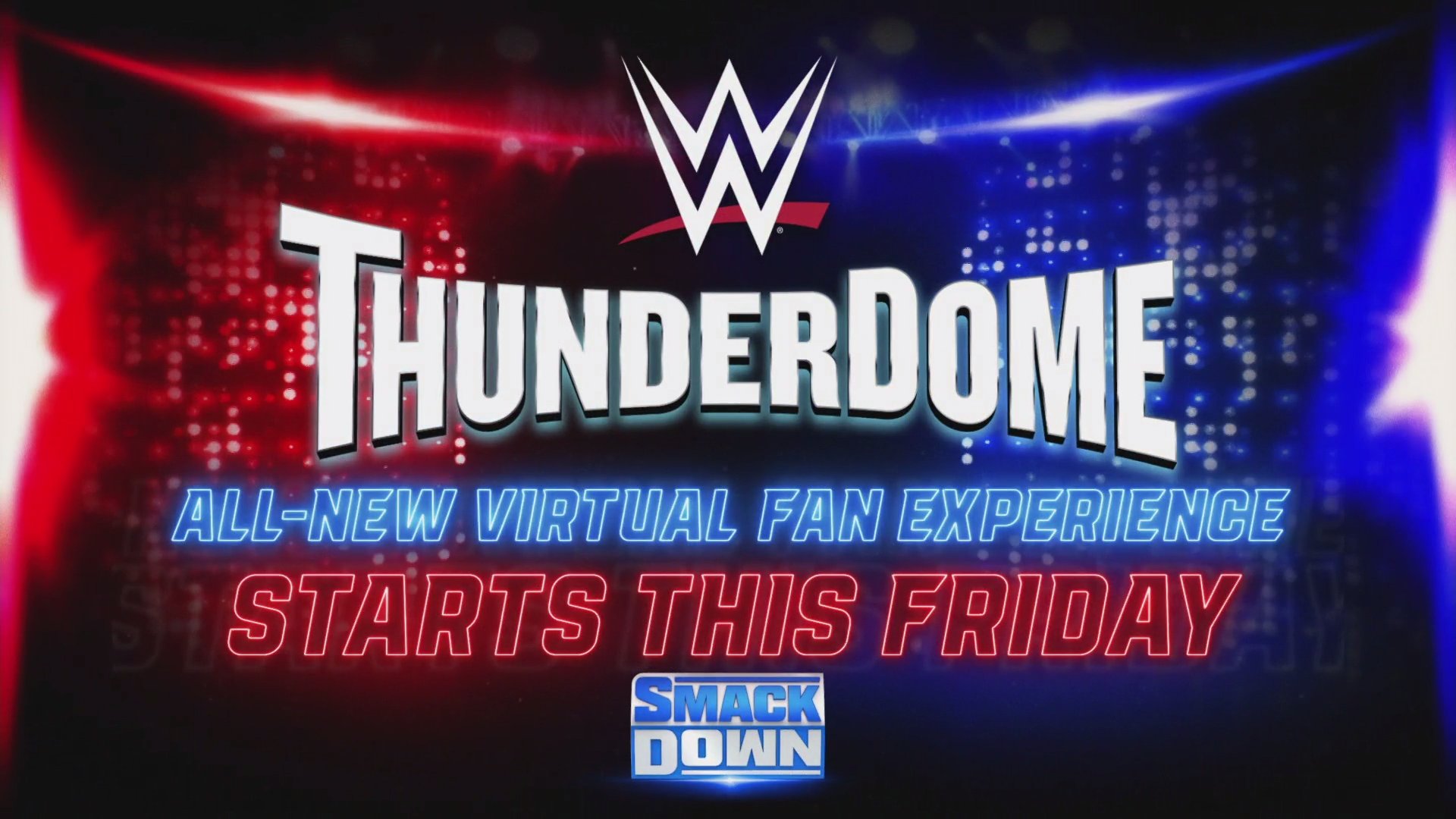 ---
Angel Garza vs. Ivar
Ivar sidesteps Garza and applies a waistlock. Garza elbows him and applies a side headlock. Ivar whips him off and goes for a slam, but Garza slides off. They hits the ropes. Garza blocks a spin kick and knees Ivar before pulling him down by the beard. Garza rips his pants off and throws them at Ivar. Demi Burnett is watching backstage until Raw Tag Team Champion Angelo Dawkins walks up to her.
Back in the ring, Garza forearms Ivar back until Ivar hits an exploder suplex. Ivar hits a shoulder block and a sidewalk slam. Ivar follows up with a diving splash and poses. Ivar sends Garza to the corner and avalanches him. Ivar repeats the move, and Garza is on wobbly legs. Ivar goes for a slam, but Garza gets out. Ivar hits a seated senton for a near fall. Ivar puts Garza on the top rope for a back superplex, but Garza gets out and slams Ivar's head on the turnbuckle. Garza gets on the apron, but Ivar hits a diving clothesline. Ivar sets up for a suicide dive, but Vega stands in the way. Ivar puts the brakes on. Ivar goes outside and throws Garza into the apron before throwing him into the barricade. Ivar puts Garza in the ring, but Garza dropkicks him coming in. Garza hits a low dropkick to the head for the win.
Winner by Pinfall: Angel Garza
Demi Burnett appears on the screen with Angelo Dawkins. Dawkins says they were talking about their Raw Tag Team Title match. Garza tells Dawkins to mind his own business. Dawkins says you can tell a lot about a person by the squad they're rolling with. Dawkins mentions a video, but it doesn't play. Garza runs off.
Vega walks over to Samoa Joe. Andrade joins her. She doesn't know about this video. Joe says WWE security has reviewed hundreds of hours of security to up their game. Joe says it's amazing what happens when you think no one is watching. The clip was shared with Joe, and he shared it with Dawkins. Vega looks worried.
---
SummerSlam 1992 highlights are shown.
---
Backstage: Street Profits, Angel Garza, Andrade, Zelina Vega
Angelo Dawkins is still backstage with Demi Burnett. Angel Garza walks up and is upset. Andrade and Zelina Vega come up and are upset with Dawkins. They want to know what's on the video. Charly Caruso walks up and asks what is on the video.
We see video footage of Zelina Vega backstage with her back to the camera. She appears to be doing something in secret before running off. Montez Ford's crown and solo cup were left behind. It's implied she poisoned him. Dawkins says Ford is family to him and it's taken every bit of restraint he has to not go crazy. All of a sudden, Montez Ford comes back. The Street Profits fight off Andrade and Garza.
---
Natalya vs. Mickie James
Both women are in the ring with no entrance. Natalya quickly attacks a distracted Mickie James, who was looking at Lana. Natalya stomps away at her and poses for a photo. James fights back and kicks Natalya in the face. James hits a Thesz Press and punches away at her. Natalya quickly cuts her off, but James gets out. James shoulder blocks her down, and Lana is not happy. James goes for a DDT, but Natalya gets out. They wipe each other out with a double clothesline.
Seth Rollins and Murphy come down to ringside pointing at Samoa Joe. Rollins wants to know how Joe knows Rey Mysterio will be here tonight. The cameras stopped filming Mickie James return match. We finally go in the ring, and James takes Natalya down before kipping up. James goes to the top rope, but Lana distracts her. Natalya knocks James off the turnbuckles to the floor. James loses by count-out, but no one notices since Rollins and Joe are still talking.
Winner by Count-Out: Natalya
Lana takes pictures of James, so James superkicks her.
---
Segment: Seth Rollins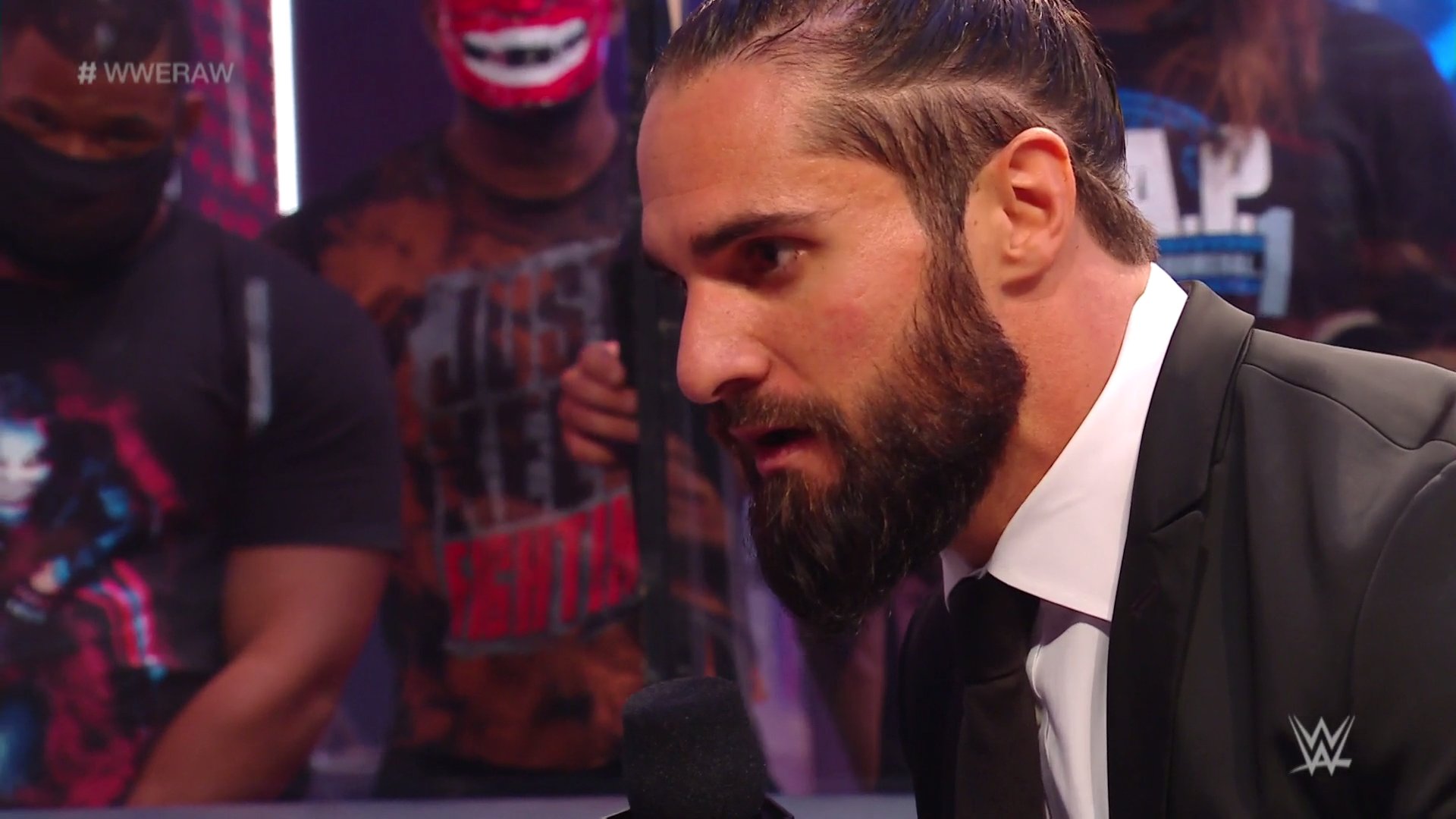 Rollins grabs a microphone and says if Rey and Dominik have the audacity to spit in his face and show up on his show tonight, it'll be the last mistake either of them make. Neither of them will be making it to SummerSlam. Rollins and Murphy angrily walk off.
---
In-Ring: Bayley, Sasha Banks, Shayna Baszler
Nothing can lessen the confidence of the ⭐️ #GoldenRoleModels ⭐️#WWERaw @SashaBanksWWE @itsBayleyWWE pic.twitter.com/lgQGa6gQfI

— WWE Universe (@WWEUniverse) August 18, 2020
Bayley and Sasha Banks make their way to the ring. Sasha Banks puts her and Bayley over before saying they have to both face Asuka at SummerSlam. Bayley says they can't wait for SummerSlam. It'll be like a day off. Asuka is the Empress of Stupidity. Banks says there's no chance in hell Asuka can beat them both in one night. They then fight over who should go first. Bayley then says she'll wrestle Asuka first and carry the heavy load. That way Banks can beat her by submission without breaking a sweat. Banks says they can then celebrate. Life is good and no one can stop them. They'll celebrate all the way to Payback when they defend their WWE Women's Tag Team Championship. Who will be the losers? It could be Alexa Bliss and Nikki Cross, The IIconics, or even The Riott Squad. Bayley then says maybe Asuka and Kairi Sane can… but then laugh at how Sane isn't here anymore.
Shayna Baszler comes out. She has one thing to say. No matter what happens at SummerSlam, whoever it is that has the Raw Women's Title, she's got them next. Asuka then makes her entrance and shouts into the microphone. She yells in Japanese before saying tonight she'll fight Banks and Bayley with Baszler. Baszler has to fight with her before she fights against her. Baszler and Asuka get in the ring, and Banks and Bayley bail out.
Bayley & Sasha Banks vs. Asuka & Shayna Baszler
Asuka starts against Bayley, but Bayley quickly powers her to the corner. Sasha Banks tags in, and she takes Asuka down. Bayley tags back in and knocks Asuka down. Bayley applies a chin lock before tagging Banks back in. Banks attacks Baszler, but Asuka makes a comeback and hits a double knee facebuster.
Baszler is all of a sudden attacked by Nia Jax. Jax knocks a plexiglass wall onto her and stomps her. Pat Buck and other officials yell at her. Jax was suspended without pay. Baszler and Jax brawl, but no disqualification is called. In the ring, Asuka knocks Banks and Bayley off the apron with a hip attack.
We come back from the break to see Bayley attacking Asuka. Banks tags in, and The Golden Role Models give Asuka a double-team suplex for a near fall. Bayley talks trash to Asuka saying, "No Shayna. No Kairi. No chance." Banks hits a meteora for a two count. Bayley tags in and takes Asuka down for a two count. Bayley applies a chin lock, but Asuka gets to the ropes. Asuka fights Bayley back, but Bayley quickly cuts her off. Banks tags in, and they whip Asuka hard into the corner for a two count. Bayley tags back in, and they hit Asuka with a double-team slam for another near fall. Banks cannot believe it. Bayley goes to the top rope for a diving elbow drop, but Asuka gets the feet up. Asuka pins Bayley for a near fall. Banks tags in, and Asuka hits a spinning back fist on Bayley. Banks hits Asuka with a backstabber into the Bank Statement. Baszler returns and kicks Banks in the back to break it up. Banks stops Asuka from making a tag, but Asuka kicks her away.
Baszler tags in and viciously forearms Banks down before hitting a step-up knee. Baszler hits a sliding knee to Banks before going to stomp the arm. Banks rolls her up for a two count. Bayley blind tags in as Baszler goes for a Kirifuda Clutch. Banks hits a backstabber, and Bayley follows up with Bayley-To-Belly for a near fall. Baszler knocks her out of the ring. Baszler hits Bayley with an inverted gutwrench. Baszler applies a Kirifuda Clutch, but Banks breaks it up. Asuka knocks Banks out of the ring and applies an Asuka Lock at ringside. Banks taps out. In the ring, Baszler applies a Kirifuda Clutch to Bayley for the submission victory.
Winners by Submission: Shayna Baszler and Asuka
---
Backstage: Apollo Crews, Mustafa Ali, Ricochet, Cedric Alexander
Apollo Crews is talking with Ricochet, Cedric Alexander, and Mustafa Ali. Crews choose Ali and Ricochet to fight with him. Alexander isn't happy about that, but Crews explains it is because he was briefly put in the Full Lashley. They walk off.
---
Backstage: Drew McIntyre, Shawn Michaels
WWE Champion Drew McIntyre is pacing backstage when Shawn Michaels, who is sporting a big beard, comes up to him. Michaels says Ric Flair means a lot to everyone, but McIntyre needs to stay focused. He's worked too hard to lose focus now. McIntyre says Michaels is a big part of what he does. McIntyre talks about how Michaels spent a lot of time here at the Performance Center when he came back. McIntyre says Randy Orton has run roughshod over this place on Edge, Christian, Big Show, and Randy Orton. Michaels says McIntyre did not let him down. McIntyre is a Scottish stud that has great passion for this business. Michaels says at SummerSlam, he will win. As for tonight, he has to confront Randy Orton. Michaels asks for McIntyre to give him his space.
---
Backstage: The IIconics, The Riott Squad
The IIconics come up to The Riott Squad. The IIconics make fun of the Riott Squad and call Liv Morgan trash. Riott takes exception to that. They walk off.
---
Backstage: Shayna Baszler, Jessamyn Duke, Marina Shafir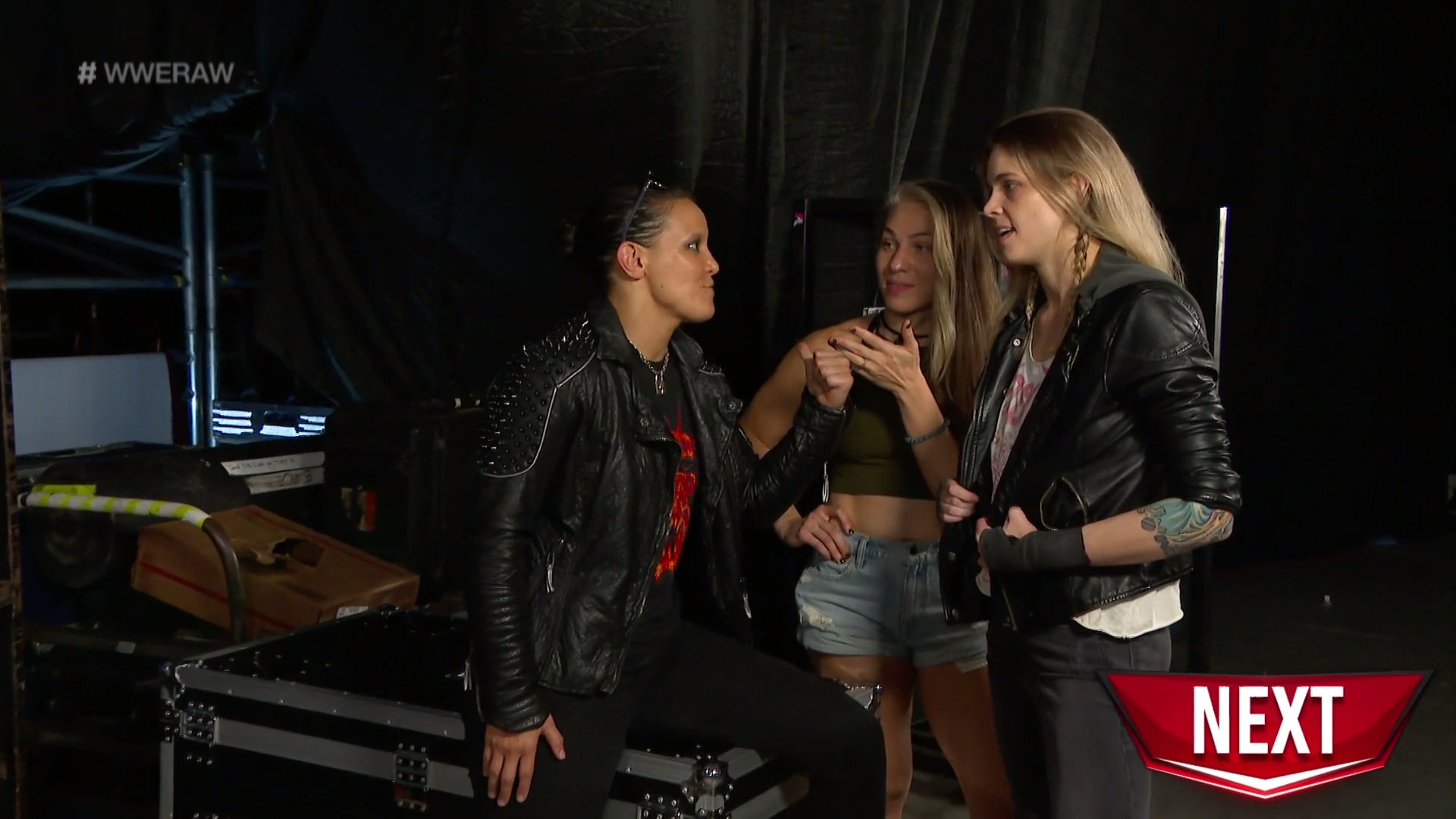 We see Shayna Baszler talking with Jessamyn Duke and Marina Shafir.
---
Ruby Riott vs. Peyton Royce
Riott quickly takes Royce down and sends her out of the ring. Riott sends her into the apron, but Royce comes back by sending her into the barricade. Royce puts her in the ring and knees her in the face for a two count. Royce chokes her with her boot in the corner, but Riott gets out and punches Royce down. Riott hits a back elbow. Riott kicks Royce out of the ring and goes to the apron. Riott hits a cross-body block to the floor on Royce. Liv Morgan gets in Billie Kay's face. Royce knocks Riott into Morgan. Royce puts Riott in the ring and hits Deja Vu for the win.
Winner by Pinfall: Peyton Royce
---
Raw Underground: Shane McMahon, The Viking Raiders, Dolph Ziggler
We're outside of Raw Underground with the large security guard watching. Shane McMahon walks up and says it's almost time. The security guard says it's time for Raw Underground and opens the door for McMahon.
After commercials, we head into Raw Underground to see Erik of The Viking Raiders destroy some kid with knees to the head. Dolph Ziggler is watching with Shane McMahon. Ziggler gives the fight a 4 out of 10. McMahon says it was better than that. Ivar calls Ziggler out. It'll be Ziggler against Erik. Ziggler and Erik have a pretty even fight with Erik slamming him at one point. Ziggler applies a rear naked choke and thumbs Erik's eye. Ziggler then cinches in the rear naked choke, and Erik passes out. Ivar shoves Ziggler off the platform.
---
In-Ring: Rey Mysterio, Dominik Mystery, Seth Rollins, Murphy
Rey and Dominik Mysterio make their way to the ring. Rey says there is one word to describe how he has felt since The Horror Show at Extreme Rules: pain. First the pain of losing the Eye for an Eye Match… then pain after watching Seth Rollins destroy his son with a kendo stick. Rey wanted to take that beating himself so he didn't have to see Dominik suffer. Rey may not be fully recovered and may never fully recover… but no doctor on this planet can stop him from protecting his son. Rey tells Seth Rollins to listen. Rollins won't repeat what he did to Dominik. At SummerSlam, he'll be in Dominik's corner and watch him kick Rollins' ass in a Street Fight.
Dominik says he really appreciates that… but he knew what he was in for when he signed his contract to be a WWE Superstar. Dominik also knows what he has to do to defend their family. He'll be ready. Rey embraces his son. Rey says he is so proud of Dominik and loves him so much. Rey admires Dominik's fight and determination and will to defend the family name. He know Dominik is ready to kick some ass at SummerSlam. If Rollins is here tonight, he won't make it to SummerSlam.
Seth Rollins and Murphy appear on the video wall. Rollins says Rey Mysterio is a lot of things… some good, some bad… but he didn't take him for an idiot. Six days from a huge night and Rey is making it about himself. Rollins asks what kind of father Mysterio is. Rollins can't understand how Rey continues to put his son in situations like this. Everyone has a role to play in the greater good, including Rey. This all could have been avoided if Rey knew his role, but he and his son got hurt. Rey hasn't learned. The real tragedy is it won't just be Rey and his son… it'll be the Mysterio name and legacy that will end up being the ultimate sacrifice for the greater good.
Rey says Rollins is the Monday Night Messiah with big words. Why doesn't he come out here and back up his words? Rollins says Mysterio has one eye and his kid can't stand up straight. Rollins tells him that he asked for this and to not move an inch. Rollins and Murphy walk off.
Seth Rollins' music hits… Rollins and Murphy go down to the ring, so Rey and Dominik get out of the ring. Dominik is holding his ribs in pain. Rey Mysterio distracts Rollins, who begs him to get in the ring. Dominik grabs two kendo stick and attacks Rollins and Murphy from behind. Rey gets in the ring and takes a kendo stick. Rey and Dominik take turns beating Rollins and Murphy with the kendo sticks. They go to tie Rollins in the ropes, but he and Murphy escape.
---
Backstage: Cedric Alexander, MVP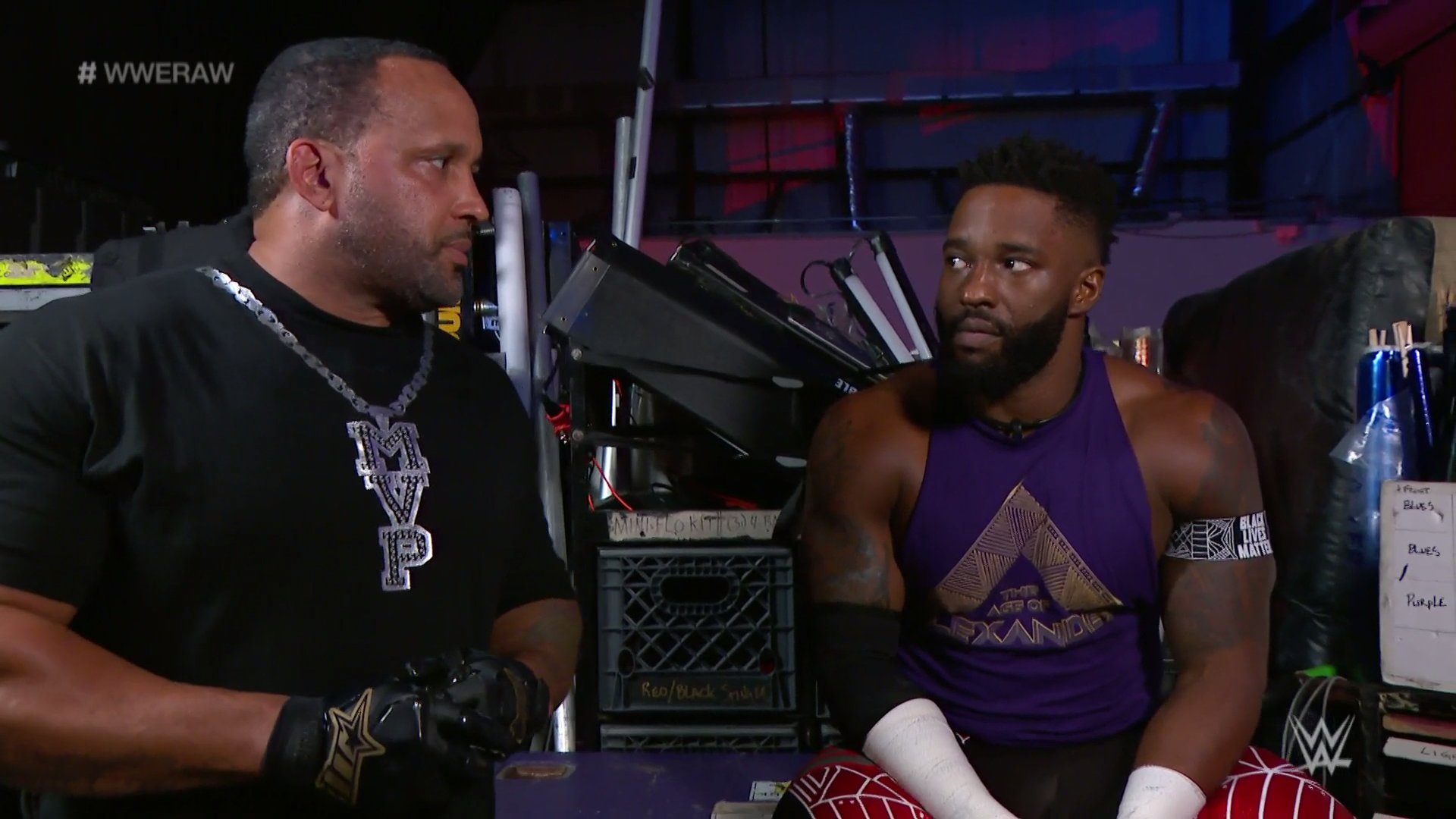 Cedric Alexander is sadly sitting backstage when MVP walks up. MVP says he knows how Alexander is feeling. When he was backstage, he wanted to be out here. The difference here is his friends didn't hold him back like what is happening to Alexander. Maybe Apollo Crews was concerned about him… or he thought Alexander was the weak link. MVP says he made an offer a little while ago and it still stands. MVP tells him to think about it. MVP walks off. Alexander goes to say something, but stops himself. Alexander takes a sip of water and angrily slams it down.
---
Raw Underground: Riddick Moss, Arturo Ruas
Back to Raw Underground, it's Riddick Moss taking on Arturo Ruas. Moss takes him down, but Ruas fights back. Moss then grabs him by the beard and viciously forearms him. Ruas takes him down and punches away at him before applying a sleeper hold. Moss flings himself back onto Ruas to break it. Ruas goes for a knee bar, but Moss fights it. They roll off the platform. Ruas then punches an innocent bystander in the face. Moss also punches a bystander… and McMahon just ends the brawl saying it was "sick." Who's next?
---
6-Man Elimination Tag Team Match
Apollo Crews, Ricochet & Mustafa Ali vs. The Hurt Business (MVP, Bobby Lashley & Shelton Benjamin)
Benjamin starts against Ali, but Ali takes him down with a pair of arm drags. Ali applies an arm bar and tags Ricochet in. Ricochet attacks Benjamin's arm and wrenches the limb. Ricochet flips through an attack and takes Benjamin down for a two count. Ali tags back in and applies a waistlock, but Benjamin gets out. Bobby Lashley tags in and turns Ali inside out with a clothesline before knocking Crews and Ricochet off the apron. Lashley hits Ali with the Dominator for the elimination.
Mustafa Ali has been eliminated.
Ricochet enters the match in place of Ali. Lashley immediately kills Ricochet with a wild one-armed spinebuster. Benjamin tags in and hits Pay Dirt on Ricochet for the elimination.
Ricochet has been eliminated.
It's Apollo Crews in 1 vs. 3 odds. Benjamin knees Crews and forearms him. Benjamin sends Crews to the corner, but Crews comes back with a Toss Powerbomb for the elimination.
Shelton Benjamin has been eliminated.
MVP enters the match to take on Crews. Outside the ring, Cedric Alexander rolls up Shelton Benjamin to win the 24/7 Title.
New 24/7 Champion: Cedric Alexander
We come back from the break to see MVP viciously stomping and punching Crews down. MVP whips him hard into the corner, and Apollo Crews goes down hard. MVP sends him out of the ring before putting him back in. Lashley tags in and viciously attacks Crews in the corner. Lashley viciously shoulders him in the corner. MVP tags back in and hits a running boot in the corner for a near fall. MVP whips him to the corner and tries for another running boot, but Crews moves. Crews hits a Toss Powerbomb and pins his opponent at SummerSlam clean.
MVP has been eliminated.
Lashley immediately attacks Crews, but Crews comes back with a diving clothesline. Crews hits a pair of step-up enzuigiris before hitting a standing moonsault for a near fall. Crews goes for a Toss Powerbomb, but Lashley gets out. Lashley tries for the Full Lashley, but Crews elbows out. Lashley hits a Spear and pins the WWE United States Champion.
Winners by Pinfall: The Hurt Business
The Hurt Business stands tall over Apollo Crews.
---
Backstage: Shane McMahon, Shayna Baszler, Jessamyn Duke, Marina Shafir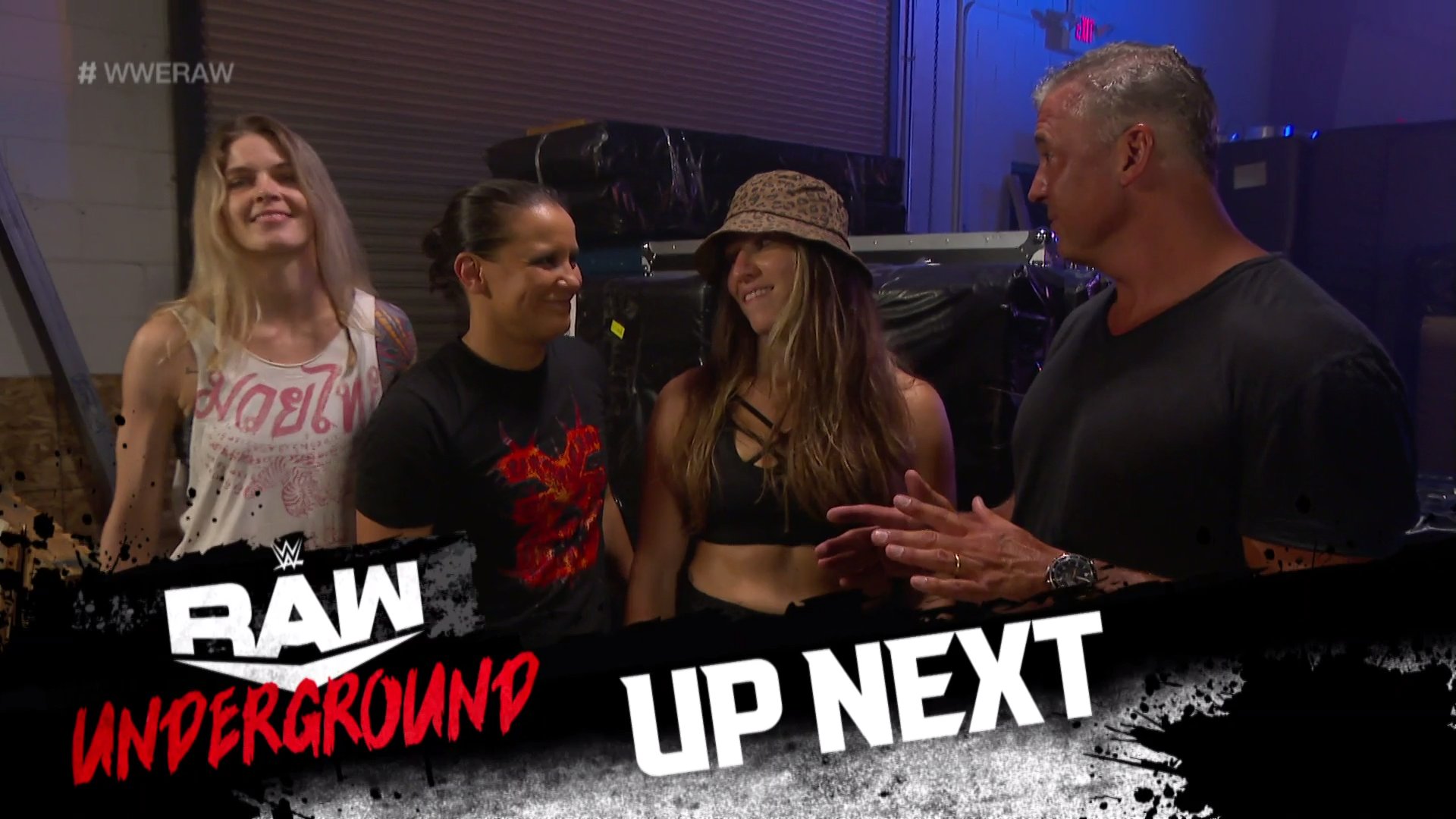 Shayna Baszler, Jessamyn Duke, and Marina Shafir are shown talking with Shane McMahon.
---
WWE 24/7 Championship
Cedric Alexander (c) vs. Akira Tozawa
Alexander quickly takes Tozawa down, so Tozawa calls on the Ninjas. Alexander knocks one off the apron into the others. Alexander soon hits Tozawa with a Neuralyzer and a Lumbar Check for the win.
Winner by Pinfall and still WWE 24/7 Champion: Cedric Alexander
The commentators say Alexander did that to prove to MVP he can do it on his own. Shelton Benjamin quickly attacks Alexander from behind and wins back the title after Pay Dirt.
New 24/7 Champion: Shelton Benjamin
---
Raw Underground: Marina Shafir, Nia Jax, Shayna Baszler
Ivar takes on Dolph Ziggler next week on Raw Underground.
Over to Raw Underground now. Marina Shafir quickly takes someone out. Nia Jax then attacks her from behind. Shayna Baszler prepares to square off against Nia Jax, but Jax leaves the room. McMahon says anything can happen on Raw Underground.
---
Andrade vs. Montez Ford
Ford comes out hot with some quickly punches to Andrade. Andrade kicks him in the face, but Ford comes back with a dropkick out of the ring. Ford then hits a huge summersault senton. Ford puts Andrade in the ring and goes to the top rope. Andrade sweeps the feet and chops the chest. Andrade goes for a superplex. Ford fights it, but Andrade eventually hits the superplex for a two count. Ford soon comes back and hits Andrade with a standing moonsault for a near fall. Andrade quickly boots him away and goes to the second rope. Ford leaps up and hits a super hurricanrana before shaking the ropes. Zelina Vega gets on the apron, but Bianca Belair soon catches her and slams her down on the floor. Ford then rolls up Andrade for the win.
Winner by Pinfall: Montez Ford
---
In-Ring: Shawn Michaels, Randy Orton, Drew McIntyre
Shawn Michaels makes his way to the ring. Michaels wishes he was here under happier circumstances, but he wants everyone to watch something.
Replay: Ric Flair says all he wants is to be part of Randy Orton's life
Michaels says Flair reminded everyone of the worst 31 days of his life and the lives of many people. Flair sat on his deathbed wanting to tell the people that mean the most to him how much he loves them. Michaels gets choked up. Flair, like many of them, loved performing inside this ring for the WWE Universe. If it wasn't for guys like Ric Flair, there would be no Shawn Michaels, Triple H, Batista, Edge, Christian, Big Show, or Drew McIntyre. The one guy that is also on that list is Randy Orton, but unlike the rest of them Orton doesn't have the same gratitude and appreciation for Flair. Orton had the greatest wrestler ever mentoring him on a daily basis, but he wasn't appreciative of that. Orton felt like he was owed that and deserved it. Michaels isn't sure how it will happen, but it will happen. At SummerSlam he doesn't know if he'll receive justice from Sweet Chin Music or a Claymore Kick, but at SummerSlam he will see it coming.
Michaels goes to leave, but Randy Orton sneaks up and hits an RKO. Orton then punts Michaels in the head before being run off by WWE Champion Drew McIntyre. McIntyre checks on Michaels, who looks loopy.
Orton returns to the ring to attack McIntyre, but McIntyre cuts him off. McIntyre knocks him out of the ring and bounces him off the commentary table before throwing him into the plexiglass a few times. McIntyre then wildly throws Orton over the commentary table. McIntyre checks on Michaels. Orton then gets back in and hits McIntyre with an RKO out of nowhere. Orton then walks off.