September 18, 2020
Orlando, Florida (Amway Center)
Commentary: Michael Cole and Corey Graves
Results by: Roy Nemer of Wrestleview.com
---
Quick Match Results
Cesaro defeated Gran Metalik via the Neutralizer
Nikki Cross defeated Lacey Evans via neckbreaker
AJ Styles defeated Sami Zayn via roll up
Samoan Street Fight: Roman Reigns & Jey Uso defeated King Corbin & Sheamus via Uso Splash by Uso on Corbin
---
In-Ring: The Miz, John Morrison, Otis
WWE SmackDown kicks off from inside the ThunderDome and it's The Dirt Sheet with The Miz and John Morrison. Both men are already in the ring as Morrison welcomes everyone to the show. Morrison says it's their duty to keep everyone up to date on the WWE Universe.
Miz says they will talk about the biggest secrets, the biggest stories. Tonight, they will expose the truth about Bayley's savage attack on Sasha Banks, they will reveal the true reason WWE management tried to erase Sami Zayn from history. They will also dig into the Samoan family secrets that Jey Uso tried to bury. But first they are talking about the biggest story, Mandy Rose leaving SmackDown.
Morrison says it was so scandalous, you had to see it to believe it. We sere a clip from Talking Smack where Miz and Morrison announce that Mandy Rose is now on Raw. Miz says people accused him of being vindictive, that they have a problem with Otis and that he is trying to break them up. Miz says he is not playing mind games with Otis, he is not using his considerable power and influence to get some petty revenge. He is simply trying to help Otis. As a former Money in the Bank winner, he says you have to look for every opportunity possible. And Otis can't do that with Mandy around.
Miz says his point is that Otis should be thanking him. He sent away the one true obstacle that was going to hold him back. Sure Otis is heart broken but he'll get over it. And from what he hears from his friends on Raw, Mandy already has. Morrison says the guys over there want to do a lot more than just smell that rose.
Out comes Otis holding his two mini briefcases. He gets in the ring and takes Miz down. He knocks Morrison down too. Otis throws them both out of the ring and tosses the chairs. Tucker grabs Miz from the outside and throws him back in the ring. He tosses Morrison back in too as Otis beats them both up. Otis with the caterpillar on The Miz. Otis climbs the second rope and a big splash. Otis takes Miz's shirt off and as the Miz is trying to escape, Otis pulls down Miz's pants as Miz is in his underwear. Morrison takes off his jacket and tries to block the Miz.
---
Backstage: The Miz, John Morrison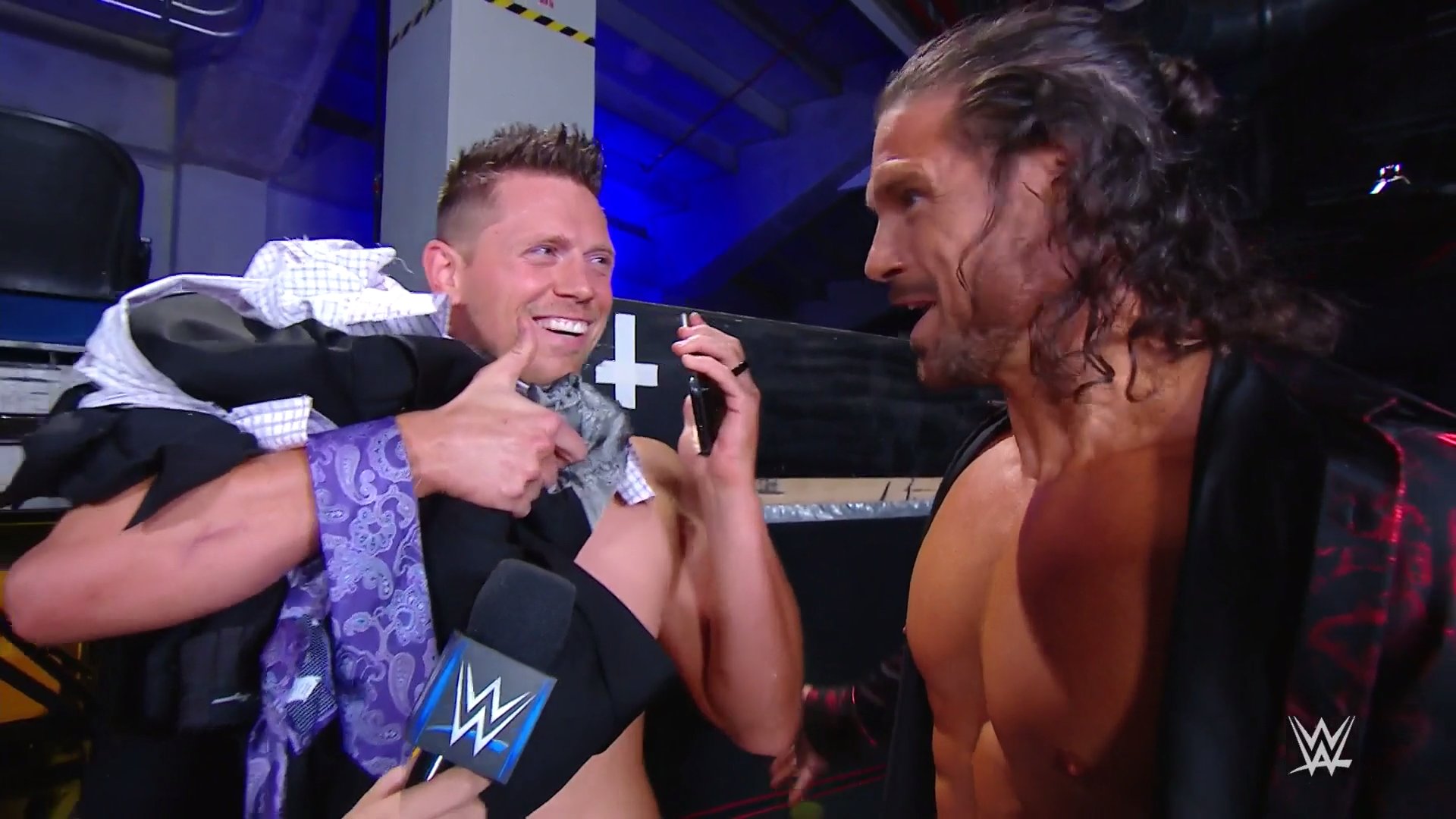 Miz and Morrison are backstage as Miz tells him that it's all part of the plan. In comes Kayla and she asks if he regrets provoking Otis. Miz pulls out his phone and he asks the person on the phone if it's enough. Miz with a thumbs up as Morrison says they have a plan.
---
Cesaro vs. Gran Metalik
The bell rings and we are under way. Metalik with an acrobatic head scissor take down. Metalik on the second rope as he's talking to the House Party on the outside. He jumps as Cesaro catches him and slams him down. A right hand by Cesaro but a kick to the face by Metalik. He climbs the top rope and takes Cesaro down.
A right hand by Metalik but a clothesline by Cesaro. He goes for the cover but Metalik kicks out. An arm bar submission by Cesaro as he sends Metalik into the corner. Metalik on the ring apron and a kick to the face. Kalisto and Dorado are on the ring apron as the referee ejects them from ringside. Cesaro with a right hand takes Metalik down to the outside. Cesaro throws him back into the ring as Kalisto and Dorado argue. Cesaro tells them to leave as Metalik flies off the top rope taking Cesaro down.
Back from commercial, Cesaro goes for the cover but Metalik kicks out. Cesaro with an uppercut as he places Metalik on the top rope. A right hand by Cesaro as he climbs the second rope. Metalik with a right hand. Metalik stands on the ring post and lands a hurricanrana. He goes for the cover but Cesaro kicks out. Metalik jumps off the top rope but Cesaro gets his leg up. Cesaro with a running uppercut followed by the Neutralizer. He goes for the cover and gets the pin.
Winner: Cesaro
---
Backstage: Jey Uso
Jey Uso is backstage with Kayla. She asks him about last week in the tag team match where Roman Reigns didn't come out until late and the celebration at the end. Jey says Heyman told him that last week was a miscommunication and he trusts Roman tonight. He says they've been teaming since they were kids and tonight won't be different. He says Sheamus, Corbin, welcome to the Uso Penitentiary.
---
Backstage: Matt Riddle
Matt Riddle cuts a promo backstage talking about why he says bro so much. He says it's a universal language which can convey any emotion or thought. We see a clip of him being happy, sad, angry, afraid and confident while saying the word bro.
---
A Moment of Bliss With Nikki Cross
Alexa welcomes everyone to the first Moment of Bliss in the WWE ThunderDome. She says normally, her guest would be sitting in the co-host chair as she welcomes her best friend Nikki Cross to the show.
We see a clip of last week's fatal four way match where Bliss hit Cross with the Sister Abigail. Cross would go on to win the match and will face Bayley at Clash of Champions for the SmackDown Women's Title.
Bliss says as her friend, congratulations and that she is happy for her. She asks what is her plan of action for this match, it has to be different because she kept losing to Bayley in the summer. She hasn't beaten Bayley since last year. Cross says she wasn't kidding. Cross says this time it's different because there's no Sasha Banks helping Bayley. And now she can just focus on defeating Bayley. And she saw what Bayley did to Sasha, her best friend. Cross says come Clash of Champions, Nikki Cross will become the new WWE SmackDown Women's Champion.
She asks Alexa if that answers her question and Alexa says it does. Cross says she has a question for her. She asks Alexa what's going on with her as Alexa asks what she means. Cross mentions the Sister Abigail. Bliss says she doesn't know how to explain it. "I feel like there's some kind of change and I can't control it."
Out comes Lacey Evans to the stage. Evans asks if this is Dr. Phil. She tells Alexa she is changing, what else are we going to talk about? Her feelings? Evans mocks Alexa. And instead of Cross asking questions, she should be on her knees thanking her because when she walked away from that match, she simply took Evans off of her game which is the only reason Cross won last week.
Evans says Bayley has a mean streak and Cross will never have it. She says Cross doesn't have the back bone and that is why she will never beat Bayley. Cross gets in Lacey's face and blows on Lacey's handkerchief. Evans attacks Evans as the two start to fight.
---
Lacey Evans vs. Nikki Cross
Alexa Bliss is at ring side. Lacey sanitizes her hands before the match as Nikki attacks her. Both women fight into the ring. Nikki on the second rope and a cross body. She goes for the cover but Lacey kicks out. A clothesline by Nikki as she goes for the cover but Lacey kicks out again. Lacey gets up and takes Nikki down. A knee to the elbow by Evans. She gets Nikki in the corner and Evans continues to work on the shoulder.
Evans beats up on Cross in the corner. She goes for the cover but Cross kicks out. Evans continues to work on the shoulder. A clothesline by Evans takes Cross down. Evans continues to work on the arm. Evans grabs the hand sanitizer and sprays it across Nikki's face. Nikki with a right hand as she slams Evans. Cross with a running splash followed by right hands in the corner.
Cross slams Lacey down. Cross stomping on Evans as she climbs the second rope and lands a tornado DDT. Cross places Evans on the top rope and lands a neck breaker. She goes for the cover and gets the pin.
Winner: Nikki Cross
After the match, Evans goes towards the announce table and asks Alexa if she will get The Fiend. As she says that, Alexa's eyes change as she gets up and hits the Sister Abigail on Lacey Evans.
---
Video: Paul Heyman
We see a clip of the previous wrestling families which were involved in the WWE. Paul Heyman narrates it and how the Samoan family spans over 40 years in the industry.
---
Interview: Sasha Banks
Michael Cole and Corey Graves interview Sasha Banks who is at the WWE Performance Center. Sasha Banks is asked by Michael Cole about how she's feeling. Sasha says she is still here. Cole says last week we Bayley blamed her for the attack. Sasha says now she is nothing to Bayley. She says Bayley was using her and now she is useless to her. She says she heard very word Bayley said and she can't help but be filled with emotions. She says her and Bayley trained every day and spoke about their dreams, their goals, what they wanted to do together.
Sasha says they used to walk the halls just to talk about everything that they have achieved. This whole summer they showed the world and they told the world that they were going to take over the company together. And when she goes to the locker room and when she sees everyone, it's because they did all of that together. All the rooms, their pictures, posters, accomplishments, they did it all together.
Banks says she knows Bayley is watching this and she tells her "you are nothing without me. Nothing without me." And "one day, I am going to take the one thing that you love, the SmackDown Women's Championship."
In comes Bayley who attacks Sasha from behind as Bayley's attack is stopped by people in the arena.
---
AJ Styles vs. Sami Zayn
Styles attacks Sami on the outside and throws him in the ring as the bell rings. A flying splash by AJ followed by a knee to the neck. He goes for the cover but Sami kicks out. Styles goes for the Styles Clash but Sami rolls out of the ring. A right hand by AJ on the outside as he throws Sami back in.
A back breaker by AJ as he goes for the cover but Sami kicks out. Sami rolls back out of the ring as AJ throws him back in. Sami stomps on AJ as he's getting in the ring. Sami with a DDT. He goes for the cover but AJ kicks out. A head lock by Sami in the middle of the ring. AJ gets out of it and an elbow to the face. AJ on the ring apron but Sami slams him face first into the top turnbuckle. Sami on the ring apron goes for the Helluva Kick but AJ moves out of the way as Sami hits the ring post. AJ with a clothesline takes Sami down. AJ flies over the top rope onto Sami on the outside.
Back from commercial, Sami has AJ on the top turnbuckle. Sami on the top rope but AJ slides under and drops Sami face first on the turnbuckle. AJ gets on the ring apron and jumps but Sami moves out of the way. Sami hangs AJ up on the top rope. Sami goes for a suplex but AJ blocks it and lands a neck breaker. He goes for the cover but Sami kicks out. Sami with a jaw breaker as both men are getting up. A right hand by Sami, one by AJ as both men with right hands. An overhead kick by AJ takes Sami down.
AJ goes for a suplex but Sami lands on his feet and Sami lands the Blue Thunder Bomb. He goes for the cover but AJ kicks out. Sami throws back first into the turnbuckle. Sami goes for the Helluva Kick, AJ ducks, Sami reverses it and goes for the cover but Sami has the tights and the referee sees it. AJ goes for the cover from behind and gets the pin.
Winner: AJ Styles
Sami knocks AJ down after the match and argues with the referee. Out comes Jeff Hardy and he knocks AJ down. He goes after Sami and throws him into the barricade. He throws Sami into the ring and he grabs a table and a ladder. He hits AJ with the ladder and out comes Sami. Jeff hits them both with the ladder. He throws Sami inside the ring and hits him with the Twist of Fate. Jeff places the ladder and climbs it but Sami rolls out of the ring.
Jeff asks for a microphone. He says he is sick and tired of this Intercontinental title situation. He is sick of being called a cheat and tired of being called a fraud. He challenges them both to a triple threat ladder match at Clash of Champions.
---
Backstage: Heavy Machinery
Otis is backstage with Tucker. In comes someone with a brown envelope who tells Otis that he has been served. Otis asked what he has been served as Tucker opens it and says he has been served with a lawsuit.
After commercials, Otis and Tucker are backstage and Tucker says Miz and Morrison are suing him for emotional distress, creating an unsafe work environment. They are claiming Money in the Bank negligence. They want him to forfeit the Money in the Bank contract or they will take him to court and he has one week to decide.
---
Backstage: Sheamus, King Corbin, Big E
Sheamus and Corbin are backstage and they are talking about the Samoan Street Fight. In comes a security guard as Sheamus says that's the guy he was talking to Corbin about. He said him tricking Big E into the parking lot like that a few weeks ago was great. He tells Sheamus that his car is getting towed.
Sheamus is talking to someone wearing all black and he turns around and it's Big E. He beats up Sheamus as Sheamus runs away. Big E confronts the security guard who set him up and he beats him up. Big E gets the security guard on top of the car as WWE officials try to talk him out of it. Big E with a belly to belly slamming the security guard on top of the windshield. He places the security guard in the trunk as Adam Pearce tells him to leave the building.
---
Video: Mystery Woman
We see a video of a woman changing her clothes and getting into a red dress and high heels.
---
Samoan Street Fight
Roman Reigns & Jey Uso vs. King Corbin & Sheamus
Roman Reigns comes down to the ring with Paul Heyman. Roman says he came out here first because he doesn't want any confusion this week. You can call this place anything you like but this is his yard, his island, his ring, his WWE. And if you want it, come and take it.
The bell rings and we are under way. Roman takes out Sheamus as he and Jey double team Corbin. Roman with right hands on Sheamus as he throws Sheamus over the barricade. Jey with a super kick onto Sheamus. He turns around but Deep Six by Corbin takes Jey down.
Corbin throws Roman into the ring and he grabs a steel chair. Corbin gets in the ring but a kick by Roman as he grabs the chair and hits Corbin across the back with it. Roman goes to the outside and grabs a table from under the ring but Sheamus hits him with a knee to the face. Right hands by Corbin onto Reigns on the outside. They double team Roman and throw him over the announce table. Corbin and Sheamus throw a chair in the ring.
Sheamus stomps on Jey in the corner as he and Corbin set up the chair. Jey with an enzuigiri takes Sheamus down. Jey climbs the top rope but Sheamus and Corbin trip him up. Corbin and Sheamus pick Jey up and slam him through the table. Sheamus goes for the cover but Jey kicks out. Corbin goes to the outside as Roman throws one of the announce chairs onto him. Sheamus goes to the outside and knocks Roman down. He grabs Roman on top of the announce table as he goes for White Noise but Reigns with a low blow. Reigns with a Samoan Drop onto the table which didn't break.
Corbin goes after Roman but Roman throws Corbin into the ring post. Roman with a spear onto Sheamus through the barricade. Corbin attacks Reigns from behind and slams him into the steel steps. Jey jumps through the ropes but Corbin catches him and throws him into the barricade. Corbin and Roman in the ring as Jey hits Corbin with the Universal Championship. Roman hits Corbin with the spear and Jey lands the Uso Splash. He goes for the cover and gets the pin.
Winners: Roman Reigns and Jey Uso
Jey celebrates as Roman looks a bit confused. Jey grabs the WWE Universal Championship and looks at it. He goes to raise it in the air but tosses it over to Roman as Roman smiles. Both men hug as Jey leaves the ring. Roman's smile turns into a frown.