October 19, 2020
Orlando, Florida (Amway Center)
Commentary: Tom Phillips, Byron Saxton, and Samoa Joe
Results by: Mike Tedesco of Wrestleview.com
---
Quick Match Results
The Hurt Business (Bobby Lashley, MVP, Shelton Benjamin & Cedric Alexander) defeated RETRIBUTION (Mustafa Ali, T-Bar, Mace & Slapjack) via the Hurt Lock by Lashley on T-Bar
AJ Styles defeated Matt Riddle via Styles Clash
Raw Women's Championship: Asuka (c) defeated Lana via Asuka Lock
Four Way Tag Match: Nia Jax & Shayna Baszler defeated Mandy Rose & Dana Brooke, Lacey Evans & Peyton Royce, The Riott Squad via Samoan Drop by Jax on Evans
Kofi Kingston defeated Sheamus via Trouble in Paradise
Tucker & El Gran Gordo (Otis) defeated The Miz & John Morrison via Vader Bomb by Otis on Miz
Braun Strowman defeated Keith Lee via big boot after a low blow
---
Raw gets a new intro video and music. We go live into the WWE ThunderDome. The commentators welcome us to the show and run down what we'll be seeing tonight as we head to Hell in a Cell this Sunday.
---
In-Ring: The Fiend, Alexa Bliss, RETRIBUTION, The Hurt Business
The Fiend's high pitched scream is heard and the lights go red. Alexa Bliss is standing in the center of the ring. She says, "Monday Night Raw… he's here! Let. Him. In."
The lights go out, and The Fiend makes his way to the ring. The Fiend takes some time getting into the ring and joins hands with Alexa Bliss in the center of the ring.
RETRIBUTION's music hits, and Mustafa Ali leads T-Bar, Mace, Slapjack, and RECKONING to the ring. The go to attack The Fiend and Bliss, but the lights go out. When the lights come back on, The Fiend and Bliss are gone. RETRIBUTION is spooked.
The Hurt Business makes their way to the ring and starts immediately brawling with RETRIBUTION. The Hurt Business clears RETRIBUTION out of the ring, and Cedric Alexander hits them with a somersault plancha.
---
RETRIBUTION (Mustafa Ali, T-Bar, Mace & Slapjack) vs. The Hurt Business (Bobby Lashley, MVP, Shelton Benjamin & Cedric Alexander)
Bobby Lashley starts against T-Bar. Lashley quickly attacks T-Bar and puts him in the corner with a shoulder. T-Bar fights back, but Lashley hits a flatliner. Slapjack tags in, but Lashley overwhelms him and hits a delayed vertical suplex. Cedric Alexander tags in and kicks Slapjack. Alexander gets out of a suplex and hits a front suplex followed by a kick to the face for a two count. MVP tags in and punches away at Slapjack. MVP whips Slapjack hard into the corner for a near fall. Alexander tags back in and punches away at Slapjack. Alexander attacks Slapjack in the corner and goes to whip him, but Slapjack's foot is caught in the ropes. Alexander goes to the second rope, but the rest of RETRIBUTION distracts him. Slapjack then knocks Alexander off the second rope.
Mustafa Ali tags in and attacks Alexander's arm. Ali stands on the arm and stomps it. Ali hits a low dropkick for a two count. Alexander fights him off, but Ali soon drops him on the apron. Alexander forearms him back and goes for a springboard move, but Ali hangs him up on the ropes. Ali attacks Alexander and taunts the Hurt Business. Ali then goes outside and slams Alexander into the barricade. The Hurt Business and RETRIBUTION face-off at ringside. All of a sudden, The Fiend's scream is heard and he appears on the big screen.
We come back from the break to see Benjamin and Mace exchanging punches in the center of the ring. Mace grabs him by the throat and powers him to the corner. Mace clubs him and charges, but Benjamin sends him into the ring post shoulder-first. Benjamin follows up with a German Suplex and a running knee to the face in the corner. Mace goes down for a two count. Benjamin covers again for a two count. Benjamin drops a knee and applies a chin lock. Lashley tags in and punches away at Mace. Lashley sends him into the ropes, but he lowers his head and eats a kick. Lashley furiously clotheslines Mace out of the ring and wipes out the rest of RETRIBUTION. Lashley hits Mace with a one-armed spinebuster and spears T-Bar. Ali breaks up the pin.
Ali begs Lashley off. T-Bar grabs Lashley and lifts him, but Lashley gets out. T-Bar elbows Lashley, but Lashley applies the Hurt Lock for the submission!
Winners by Submission: The Hurt Business
The lights go out, and The Fiend is back on the apron! The Fiend attacks Ali, gives Slapjack a Sister Abigail on the ground, and slams Mace on the commentary table. The Fiend chases Ali into the ring for Sister Abigail, but T-Bar big boots him. The Fiend quickly applies a Mandible Claw to T-Bar before giving him Sister Abigail. The Fiend then looks toward The Hurt Business.
Alexa Bliss appears on the screen and says in The Fiend's voice, "Let me in."
---
In-Ring: AJ Styles, Jordan Omogbehin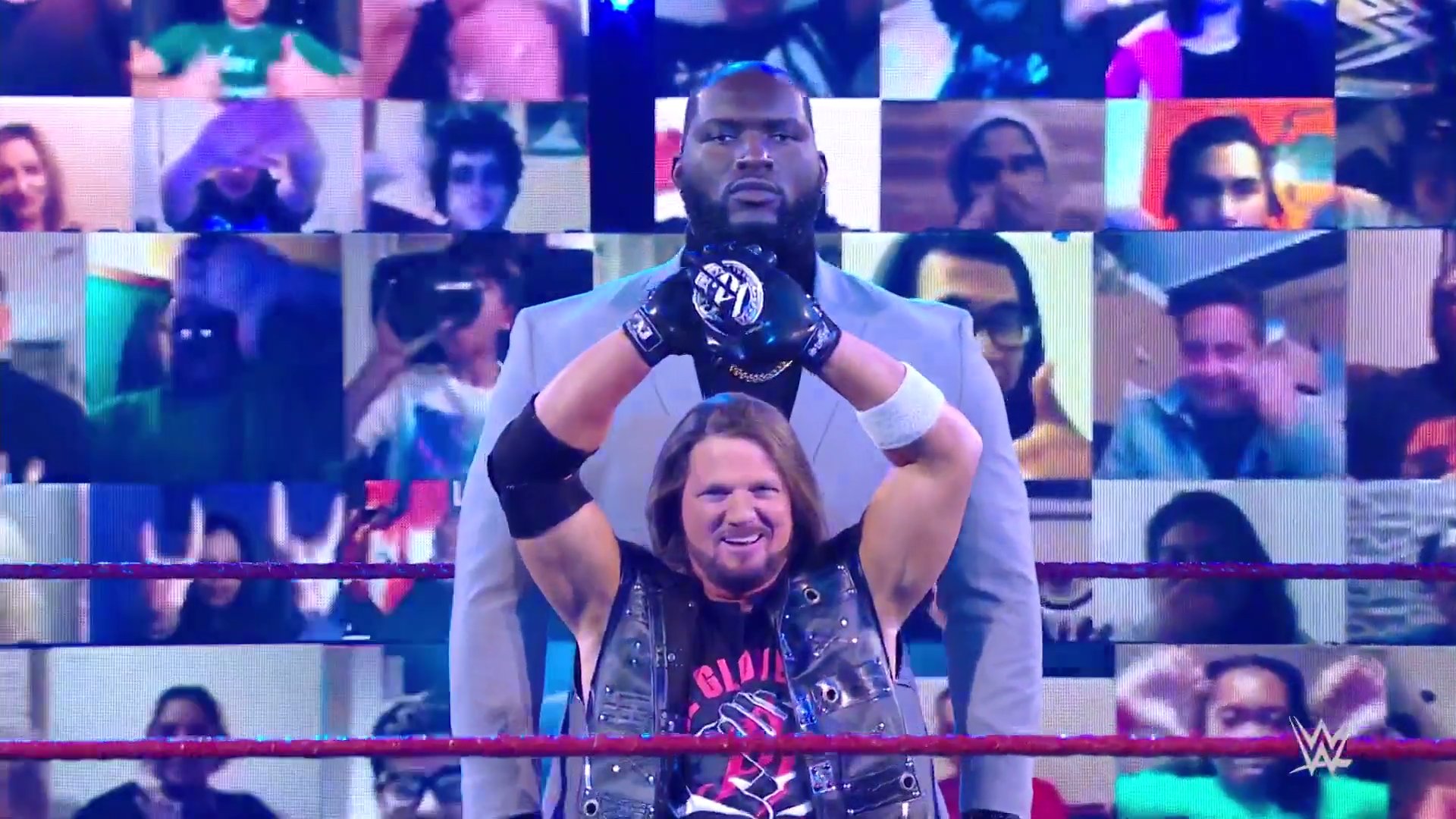 AJ Styles makes his way to the ring alongside Jordan Omogbehin. Styles appreciates that the Raw executives have embraced a true leader in AJ Styles. Seth Rollins with his Messiah-complex out here preaching and spewing his propaganda for the greater good… Styles can only assume it was Jeff Hardy stumbling out to the ring and screwing something else up that Styles realized he could reclaim the promised land. The real redemption of Raw was the return of the prodigal son… AJ Styles.
Styles beat Jeff Hardy and Seth Rollins in a Triple Threat Match last week to further prove that this never was Monday Night Rollins. Styles continues speaking, but the feed is lost. When it comes back, Matt Riddle is making his way to the ring.
The referee tells Omogbehin to get out of the ring, but he won't listen. Omogbehin stops the referee from counting, and the referee sheepishly backs up.
AJ Styles vs. Matt Riddle
The bell rings, and Styles punches away at Riddle. Riddle quickly kicks Styles down, but Styles gets to the ropes. Riddle tries to attack, but Styles stays in the ropes. Styles blindsides him, but Riddle immediately answers with a gutwrench suplex. Riddle rolls through and connects with two more. Riddle then clotheslines Styles out of the ring. Riddle goes for a running kick from the apron, but falls down in fear when Omogbehin steps in the way.
We come back from the break to see Styles turn Riddle inside out with a knee to the midsection. During the break, Styles hit him with a gutbuster. Styles applies a submission, but Riddle fights up. Riddle takes him down with a rebound kick. Riddle hits a running forearm in the corner and hits an exploder out of the corner. Riddle goes for a PK, but Styles avoids it. Riddle goes for a standing moonsault, but lands on his feet. Riddle goes for a Broton, but Styles kicks him out of mid-air!
Riddle responds after a few moments with a strike combo, but Styles strikes back. Riddle hits a Final Flash, but Styles connects with a Pelé Kick. Riddle bounces back and hits a German Suplex. Riddle gets Styles to his feet, but Styles stuns him with an ushigoroshi for a near fall. Styles sets up for a Styles Clash, but Riddle fights out and hits a fisherman's suplex for a near fall. Riddle looks completely frustrated. Riddle goes to the top rope, but Styles sweeps the feet. Styles goes for a back superplex, but Riddle elbows him off. Riddle turns around, but Styles cuts him off again. They're standing on the top rope. Riddle has a foot on the ring post to keep his balance. They punch each other before falling. Styles falls into the ring, while Riddle falls to the floor.
Omogbehin approaches Riddle, and Riddle is frozen in fear for a moment before getting in the ring. Styles attacks Riddle getting into the ring and hits the Styles Clash for the win.
Winner by Pinfall: AJ Styles
---
Backstage: Drew McIntyre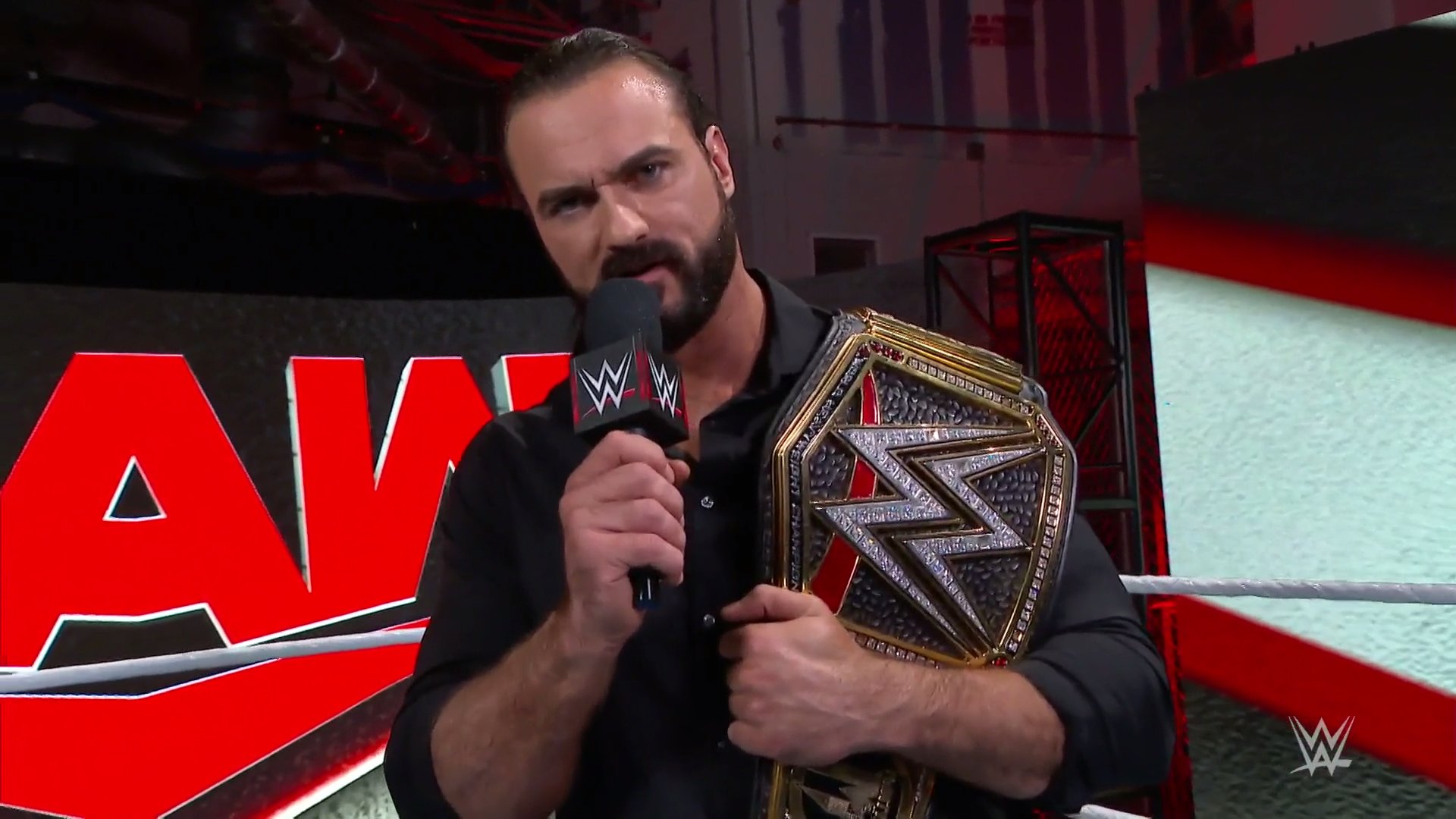 Charly Caruso is backstage with WWE Champion Drew McIntyre. She mentions that Randy Orton has been in Hell in a Cell many times, but this is McIntyre's first time. McIntyre takes the microphone. When he met Orton at 20 years old, it was always obvious that he was the most evil, selfish, entitled individual in WWE history. Orton is intelligent. When he kicked Orton in the head and slammed the door on him at Clash of Champions, he thought it was over. Then he attacked the legends. It was part of Orton's plan. McIntyre says he accepted the Hell in a Cell challenge. McIntyre says Orton thrives in environments such as this where pain is guaranteed. McIntyre has gone through hell before and will go through it again to keep the WWE Championship. The crew asked him why he's wearing all black like he's going to a funeral tonight. Maybe he is. Maybe he'll see Orton tonight.
---
Raw Women's Championship
Asuka (c) vs. Lana
Asuka comes out strong and applies a side headlock. Asuka takes her down and goes for an Asuka Lock, but Lana gets to the bottom rope. Lana quickly strikes Asuka down, but Asuka kicks her back. Asuka eventually applies the Asuka Lock for the submission.
Winner by Submission and still Raw Women's Champion: Asuka
Nia Jax' music immediately hits and she attacks Asuka from behind. Shayna Baszler grabs Lana. Jax clears off the commentary table. Jax then puts Lana through the table with a Samoan Drop for the fifth time. Baszler grabs Asuka in the ring, but Asuka slides out and kicks her down. Asuka then hits a hip attack to knock Baszler off the apron. Asuka goes up the ramp with her championship.
---
Nia Jax & Shayna Baszler vs. Mandy Rose & Dana Brooke vs. Lacey Evans & Peyton Royce vs. The Riott Squad
WWE Women's Tag Team Champions Nia Jax and Shayna Baszler are still in the ring. Jax says they showed some teamwork tonight. Baszler says she wouldn't go that far. They are dominant, though. They own the WWE Women's Tag Team Championships and own Raw and SmackDown. Jax asks anyone to refute that.
Mandy Rose, Dana Brooke, Lacey Evans, and Peyton Royce answer the call. The Riott Squad, who were drafted to SmackDown, also come out.
Dana Brooke starts off against Ruby Riott. Riott rolls her up for a two count. All four teams immediately get in the ring. Rose and Brooke hit a double baseball slide on Jax and Baszler. Royce hits a plancha to the floor. Evans follows up with a moonsault off the apron. The Riott Squad then hit (sort of) stereo planchas.
We come back from the break to see Evans attacking Riott. Rose and Jax eventually tag in (only two teams allowed at a time…). Mandy and Dana go for a double-team suplex on Jax, but Jax counters into a double suplex. Jax charges them, but she hits the ring post shoulder-first when they move. Rose attacks Evans and Royce before kneeing Jax in the face. Dana tags in. Mandy hits the Riott Squad. Dana hits a senton bomb, but Baszler breaks it up. A melee breaks out. Liv Morgan attacks Jax and dropkicks her into the ropes. Evans tags herself in off Jax. Dana stomps Evans down and tags Riott in. They hit double knees and a Riott Kick, but Baszler breaks up the pin. Baszler applies a Kirifuda Clutch to Riott. Baszler puts Riott in the ring, and Jax tags in. Jax hits Evans with a Samoan Drop for the win.
Winners by Pinfall: Nia Jax and Shayna Baszler
---
Segment: Elias, Jeff Hardy
"Ladies and gentlemen… Elias."
Elias greets the ThunderDome and asks who wants to walk with him. It is the season premiere of Monday Night Raw. The people have been dying for a live concert. Next Monday, his new album "Universal Truth" drops. There is a universal truth that everyone knows deep in their hearts and that is that WWE stands for Walk With Elias.
Elias is going to kick this off with a medley from the album. He hopes Jeff Hardy is listening closely. The song is called "Amen (I'm Going In)." He then goes into "Lead Me Home." Elias thanks his band and the ThunderDome. Elias says he loves none of them. The crowd is booing, but he wants to do an encore.
Someone starts playing guitar loudly, and Elias is not happy. It turns out to be Jeff Hardy. Hardy swings the guitar, but Elias moves. Elias retreats in fear.
---
Backstage: The Miz, John Morrison, Tucker
So, @tuckerwwe wants to find a partner to take on @mikethemiz & @TheRealMorrison tonight? #WWERaw pic.twitter.com/8AycNeMWH6

— WWE Universe (@WWEUniverse) October 20, 2020
The Miz and John Morrison are backstage. Morrison talks about Lars Sullivan, but Miz says this is about him. He saved Mandy Rose from Otis. Miz says he'll save the Money in the Bank contract when he wins his court case. Tucker walks up and says he's trying to ruin Otis' life. Miz used his influence to get him moved to Raw, as well as Mandy. Tucker says he'll ruin their lives tonight in a tag team match. Miz says he's not going to ruin Otis' life. He's trying to restore dignity to the Money in the Bank contract. Morrison says they accept. Miz says Tucker can't find a tag team partner. Miz and Morrison laugh and walk off.
---
Backstage: Elias
Elias is furious backstage and challenges Jeff Hardy at Hell in a Cell.
---
In-Ring: Kofi Kingston, Xavier Woods, Sheamus
Holdin' it down for #TheNewDay on #WWERaw: @TrueKofi & @AustinCreedWins.@WWEBigE will do the same on #SmackDown. No break-up here. pic.twitter.com/ZAo58LsSZE

— WWE Universe (@WWEUniverse) October 20, 2020
The New Day are in the ring. Kofi Kingston says for the first time in four years they are the WWE Raw Tag Team Champions. A lot has changed since then. Xavier Woods says one year ago he tore his Achilles Heel. Then 2020 was a garbage fire and they got split from Big E. Kingston says he just has to breathe.
Sheamus interrupts them and says he's glad they stopped whining and crying from SmackDown. It's been four years since they were on Raw, but Big E is on SmackDown. That makes them 2/3rds of The New Day. That means they're both going to wind up on the wrong end of a Brogue Kick.
Kingston says just because they're on different brands, it doesn't mean The New Day is finished. Big E will hold it down on SmackDown while they hold it down on Raw. That means The New Day get to spread their seeds of positivity all over the WWE Universe. They're like Johnny Appleseed. Sheamus says they have to look at reality. This Power of Positivity isn't reality. They're divided. Divided they will fall. Woods asks if Big E dropped Sheamus on the hood of a car? That's a fall. Kingston is going to kick him down because New Day Rocks!
Kofi Kingston vs. Sheamus
Kingston quickly dropkicks him down for a two count. Sheamus responds with a strike and punches Kingston to the corner. Kingston fights back and punches Sheamus in the face. Sheamus kicks him and clubs him down. Sheamus sends him into the ropes, but he lowers his head and eats a kick. Kingston charges, but Sheamus presses him up. Kingston gets out and clotheslines Sheamus over the top rope. Kingston then dropkicks him off the apron and goes for a trust fall, but Sheamus catches him! Sheamus drops him on the apron.
We come back from the break to see Kingston hit Sheamus with a jawbreaker. Sheamus angrily clotheslines him down before hitting 10 Beats of the Bodhrán. Kingston feebly tries to fight back, but Sheamus punches him in the midsection. Sheamus hits a high angle back suplex for a near fall. Sheamus applies a chin lock. Big E is one of the video callers in the ThunderDome! Kingston fights back with a double stomp.
Kingston double chops him, ducks a clothesline, and clotheslines Sheamus down. Kingston hits a Boom Drop and sets up for an avalanche, but Sheamus moves. Kingston hits a springboard cross-body block for a near fall. Kingston connects with a pendulum kick and goes back to the top rope. Sheamus catches him trying a dive and hits a swinging sidewalk slam for a near fall. Sheamus goes for a Cloverleaf, but Kingston fights out. Sheamus blocks a dropkick and applies the Cloverleaf. Kingston tries to get to the ropes, but Sheamus keeps him back. Kingston counters into a roll-up for a near fall. Sheamus fights back with an Alabama Slam for another near fall.
Sheamus takes some time before going for White Noise off the second rope. Kingston gets out and hits a side Russian Leg Sweep off the middle rope for a near fall. Kingston goes for SOS, but Sheamus rolls him up for a near fall. Kingston counters an Irish Curse Backbreaker into a crucifix pin for a near fall. Kingston immediately follows up with Trouble in Paradise for the win.
Winner by Pinfall: Kofi Kingston
---
Backstage: RETRIBUTION
Footage is shown of RETRIBUTION losing earlier tonight and being wiped out by The Fiend.
Mustafa Ali is backstage with RETRIBUTION. Ali says he is so dangerous. All it took was a click to expose the corruption in this company. WWE couldn't figure out how to make a buck off a guy named Mustafa Ali. Ali admits to being the mystery hacker. Good and talented individuals are being forgotten and abandoned. Their dreams are left to die. Ali united them and their truth will be heard. Whether it be The Fiend or the Hurt Business… anyone that tries to stop the truth from being heard, they will shut them down.
---
Backstage: The Hurt Business, Titus O'Neil
The Hurt Business talk with Titus O'Neil. O'Neil wants to join them. They instead attack him.
---
In-Ring: The Miz, John Morrison, Tucker, Otis
Miz and Morrison are in the ring. The Miz says Tucker time is up. Who will fill Otis' shoes? Morrison says, "Hey hey ho ho, if you've got a partner, let us know."
Tucker comes out to the stage. They can make jokes, but when the bell rings they won't be laughing. Tucker scoured the globe and found one of the world's premiere luchadors: El Gran Gordo (it's Otis in pink tights and a pink mask). Miz says that's Otis in a mask. "El Gran Gordo" talks some bad Spanish. Morrison asks how he scoured the globe after making a challenge 30 minutes ago.
Miz says it looks like he ate Lucha House Party. Otis is not championship material. When he won the contract, he upped his game and main evented WrestleMania. Otis is standing there spitting in the face of everyone that has held the contract. That contract changed Miz' career. Otis is wasting it. Otis is the joke. Miz says he has been in the WWE ring for 15 years. Miz is championship material, but he gets booed while Otis is cheered. Why? Otis is the underdog story. When he won Money in the Bank, an underdog won. When Mandy chose Otis over Dolph, an underdog won. When people call you an underdog, they feel sorry for you. They will feel even more sorry for them when the court case comes in his favor. Miz separated him and Tucker. Miz will separate him from the Money in the Bank contract and bring prestige back to it. Otis can play any character he wants. You can put a mask on a pig, but it's still a pig.
Tucker and El Gran Gordo charge the ring and attack them.
The Miz & John Morrison vs. Tucker & El Gran Gordo (Otis)
John Morrison and Tucker are fighting as we come back from the break. Tucker runs Morrison over for a two count. Morrison hits a kick to the head to take him down. The Miz chokes Tucker on the ropes while the referee is distracted. Miz tags in. Miz and Morrison hit a double-team gutbuster on Tucker. Miz continues to attack Tucker. Morrison tags in and knees Tucker. Miz then boots Tucker in the face. Morrison hits Tucker with a standing shooting star press for a near fall. Tucker tries to fight back, but Morrison hits a throat thrust. Morrison goes for an arm bar, but Tucker fights it. Morrison then applies a straitjacket submission.
El Gran Gordo tags in and runs over Miz before hitting Morrison with a flapjack. El Gran Gordo knocks Morrison over the top rope and hits Miz with a springboard arm drag. El Gran Gordo hits a scoop slam, but Morrison breaks up the pin. Tucker hits a sloppy slam on Morrison. Miz big boots Tucker out of the ring. All of a sudden WWE 24/7 Champion R-Truth runs in and out of the ring. Drew Gulak and Akira Tozawa chase him. Lucha House Party comes out to watch. El Gran Gordo hits a Caterpillar on Miz before hitting a Vader Bomb for the win.
Winners by Pinfall: Tucker and El Gran Gordo
---
Backstage: Heavy Machinery, The New Day, Mandy Rose
More of this crew, please.#WWERaw @AustinCreedWins @TrueKofi @tuckerwwe @WWE_MandyRose #ElGranGordo pic.twitter.com/4Zdz6iyoCm

— WWE Universe (@WWEUniverse) October 20, 2020
Tucker and El Gran Gordo are celebrating with The New Day. Mandy Rose walks up and hands El Gran Gordo a ham. They all dance.
---
Firefly Fun House
Bray Wyatt is in the Firefly Fun House. He's sad to be leaving his friends on SmackDown, but he's excited to make new ones on Raw. It's already going well. Ramblin' Rabbit mentions he has a wife now. Alexa Bliss walks in and says the fun is just getting started. Wyatt says he saved the best surprise for last.
---
Braun Strowman vs. Keith Lee
Strowman gets Lee in the corner and strikes away at him. Strowman avalanches him in the corner before clotheslining him over the top rope. Strowman goes outside and runs into Lee with a shoulder block. Strowman gets him in the ring and goes for a Running Powerslam, but his ribs are still injured from Friday's attack by Roman Reigns. Lee attacks the injured ribs and stomps him. Lee splashes him for a near fall. JBL is shown on the video wall. Lee punches Strowman in the corner, but Strowman fights out. Strowman goes for an avalanche, but Lee moves. Lee then hits Strowman with a running cross-body block. Lee goes for a Spirit Bomb, but Strowman can't stand. Strowman "inadvertently" low blows Lee with his head. Strowman big boots Lee for the win.
Winner by Pinfall: Braun Strowman
Keith Lee low blows Strowman after the match and says he has tangled with the wrong guy.
---
In-Ring: Randy Orton, Drew McIntyre
The Hell in a Cell structure is lowering over the ring.
Randy Orton's music hits, and the #1 Contender for the WWE Championship makes his way to the ring. Orton locks himself in the Hell in a Cell structure and takes a seat in the middle of the ring. Orton says he just wants to remember. He's been in this match 7 times in his career. Orton says he was told you leave a piece of yourself every time you're in this match, but he never has. He's only learned about himself. Orton reminisces about becoming WWE Champion twice in the structure and all the people he's defeated.
WWE Champion Drew McIntyre makes his way to the ring. McIntyre is locked out. Orton taunts him, so McIntyre produces bolt cutters and enters Hell in a Cell. Orton is in the ring holding the chair. The show goes off the air…